We haven't seen anything like the Super Bowl rise of Joe Burrow
Joe Burrow should not be here. Not yet, anyway. No previous No. 1 overall NFL Draft pick had led a team to a Super Bowl in just two years.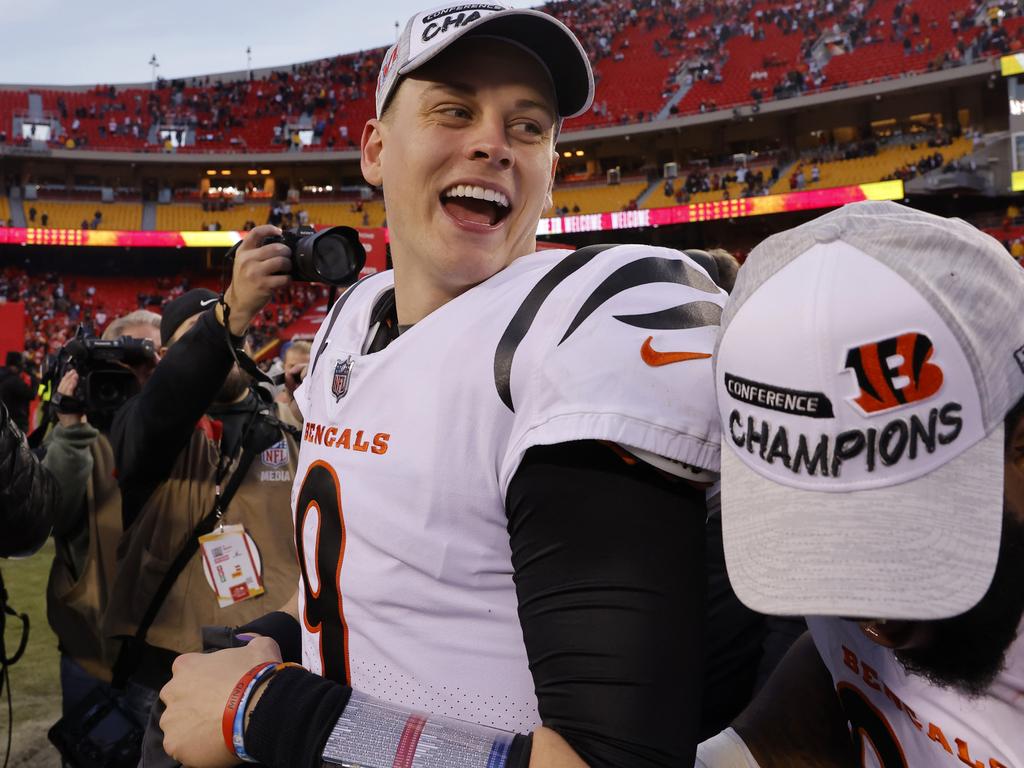 Joe Burrow celebrating the Bengals' AFC Championship win. Picture: David Eulitt/Getty Images
It took Peyton Manning nine years to reach the apex of the sport. Eli Manning, John Elway, Terry Bradshaw and Cam Newton needed five years. Troy Aikman and Drew Bledsoe waited four years. Somehow, Jared Goff played in the Super Bowl in his third season. But most top picks never play in the game. Most never come close.
Burrow is in position to become the first player to win a Heisman Trophy, national championship and Super Bowl. He is also one win from tying Russell Wilson as the fourth-youngest quarterback to win a Super Bowl (25 years, 65 days), barely one year removed from suffering a torn ACL and MCL — plus PCL and meniscus damage — and missing the final six games of his rookie season.
Burrow provided a promising 10-game preview of the potential ahead, but the Bengals still entered this season with the same odds (+12000) as the Jets to win the Super Bowl. Cincinnati, which hadn't won a playoff game in a league-worst 31 years, entered the postseason tied for the ninth-best odds (+2000) to win it all.
Yet again, Burrow — among the most confident human beings I've ever encountered — has summoned the unprecedented.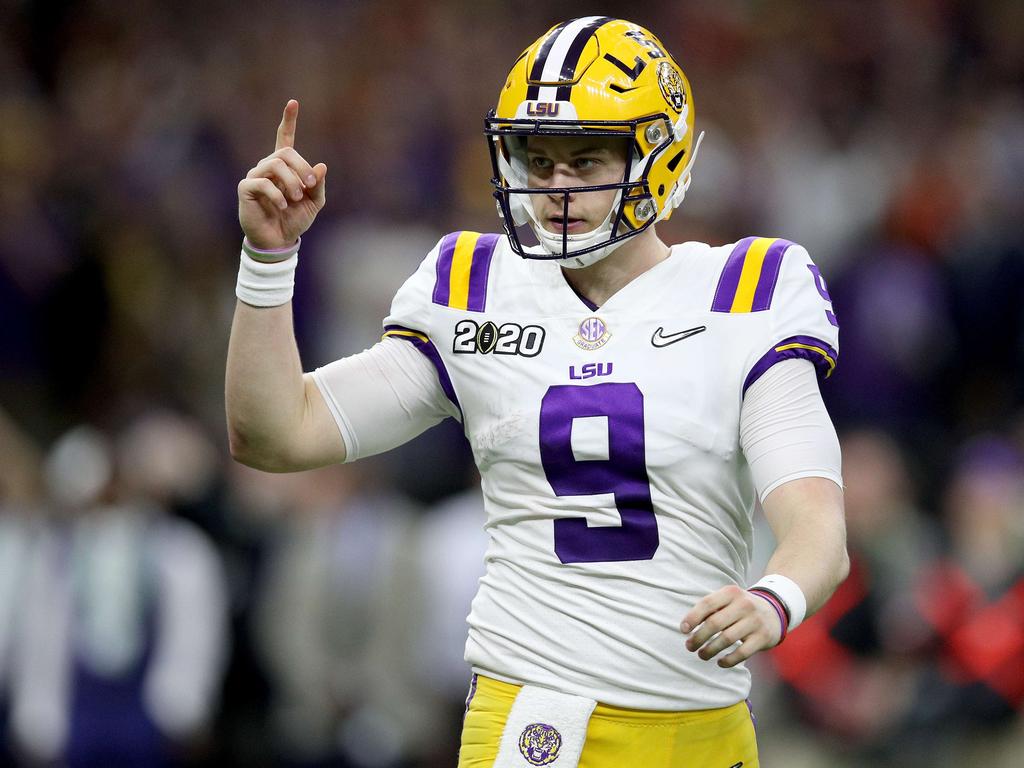 Burrow for the LSU Tigers. Picture: Chris Graythen/Getty Images/AFP
He should not be here. He was ranked the 210th-best player — by 247Sports — in the 2015 high school class. He threw a total of 37 passes in his first three years at Ohio State. As a first-year starter at LSU, Burrow's completion percentage ranked behind 87 other quarterbacks. Then, in the 2019 season, he won the Heisman Trophy by the largest margin of victory ever, setting multiple all-time single-season marks.
Burrow was his best in big games. He threw for 393 yards and three touchdowns to end Alabama's 31-game home win streak. He won LSU's first SEC Championship in eight years with 349 passing yards and four touchdowns. In a playoff blowout against Oklahoma, Burrow threw for 403 yards and seven touchdowns — in the first half. In the national championship, he overcame a double-digit deficit and beat the reigning champs (Clemson) with 463 passing yards and six total touchdowns while carrying the weight of Louisiana on his shoulder pads.
After setting the Bengals' single-season franchise record for passing yards (4,616) and touchdown passes (34) while leading the NFL in completion percentage (70.4) and ranking second in quarterback rating (108.3) during the 2021 season, Burrow brought the Bengals their first playoff win in three decades, completing over 70 per cent of his passes and two touchdowns against the Raiders. Despite atrocious protection from a terrible offensive line in Tennessee, Burrow threw for 348 yards in the upset of the top-seeded Titans. Then he led Cincinnati's unthinkable comeback at Kansas City, throwing for 250 yards with two touchdowns, one interception and 25 rushing yards.
The list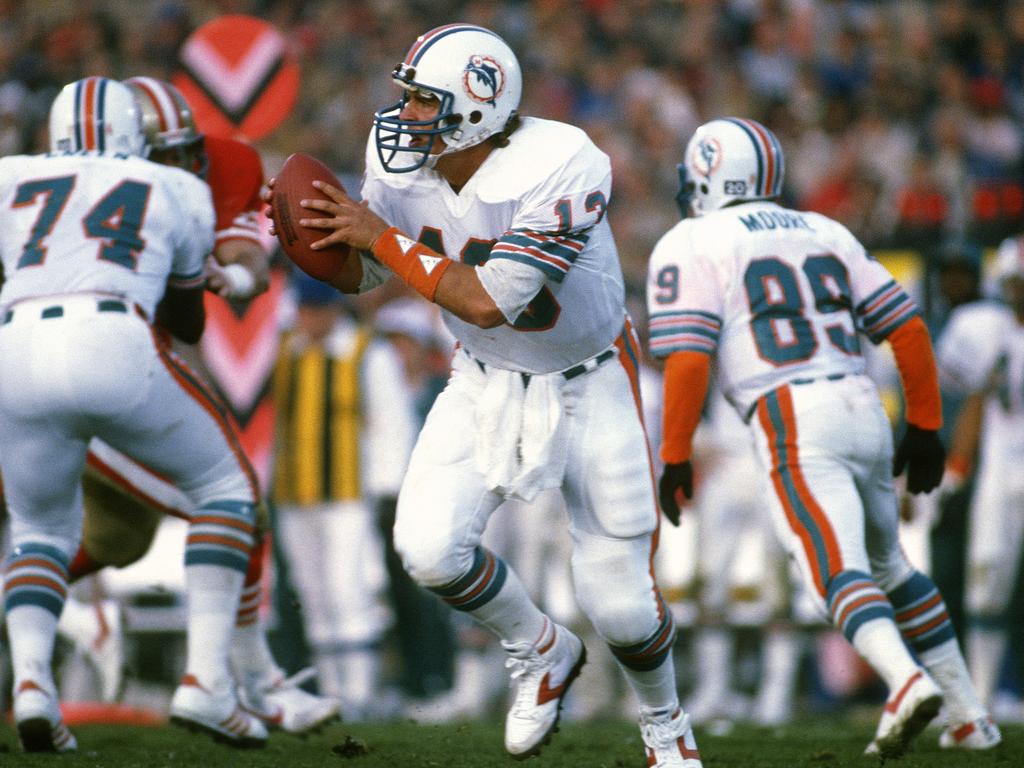 Dan Marino remains the youngest quarterback to start the Super Bowl, at age 23 in 1985. Picture: Focus on Sport/Getty Images
No moment or opponent has ever been too big for Burrow, but the Super Bowl has seen multiple future Hall of Famers flop in their first appearance. Here is a look at how the youngest starting quarterbacks in Super Bowl history have fared:
Dan Marino (23 years, 127 days): Like Burrow, Marino was in his second season in the league. After producing one of the greatest individual seasons in NFL history in 1984, Marino seemed certain to make multiple Super Bowls. Instead, the Dolphins superstar's lone Super Bowl appearance featured 318 yards passing, one touchdown and two interceptions in a 38-16 loss to the 49ers.
Ben Roethlisberger (23 years, 340 days): The youngest quarterback to win a Super Bowl has his teammates to thank for the ring. On a day when wide receiver Antwaan Randle El completed a 43-yard touchdown pass, Roethlisberger threw no touchdowns, completing just 9 of 21 passes for 123 yards and two interceptions, adding a controversial rushing score.
Jared Goff (24 years, 112 days): The most recent No. 1 overall pick to appear in the Super Bowl was a disaster, eventually leading to his trade to Detroit for Rams replacement Matthew Stafford. In the lowest-scoring Super Bowl in history, Goff completed 19 of 38 passes for 229 yards and an interception while failing to reach the red zone in the 13-3 loss to New England.
Patrick Mahomes (24 years, 138 days): The youngest quarterback to win Super Bowl MVP led the Chiefs to 10 points — and a 10-point deficit — through three quarters then carried the franchise to its first title in 50 years with three touchdown drives in the final seven minutes. Mahomes produced three total touchdowns and two interceptions, throwing for 286 yards and rushing for 29 yards.
David Woodley (24 years, 97 days): The former eighth-round pick looked the part in one of the worst performances in Super Bowl history. In the 27-17 loss to Washington in Super Bowl XVII, the Dolphins quarterback completed 4 of 14 passes for 97 yards with one touchdown and one interception.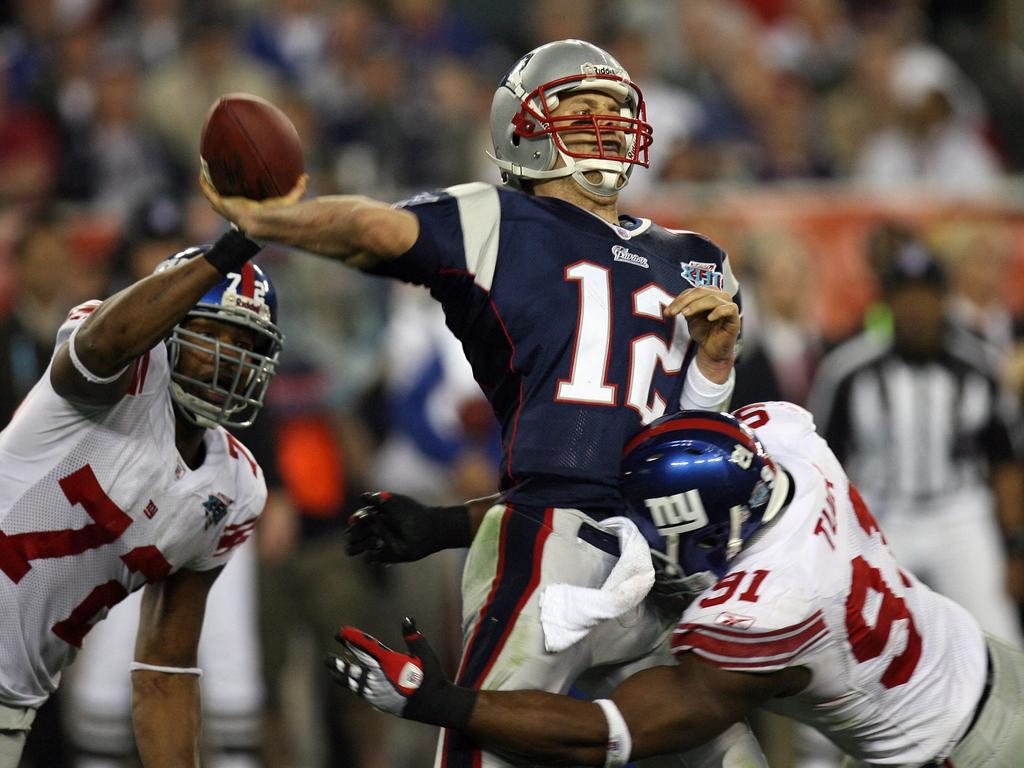 Tom Brady started Super Bowls in his 20s, 30s and 40s. Picture: Gabriel Bouys/AFP
Tom Brady (24 years, 184 days): Bill Belichick's bold decision to start the inexperienced sixth-round pick over Drew Bledsoe was validated in the final two minutes. Though New England's defense was the reason for the massive upset of the Rams in Super Bowl XXXVI, Brady began carving his legend by leading the game-winning drive, capped with Adam Vinatieri's field goal as time expired. Brady earned his first of seven rings after completing 16 of 27 passes for 145 yards with one touchdown and no interceptions.
Drew Bledsoe (24 years, 347 days): New England's former No. 1 overall pick never got the chance to avenge his dreadful Super Bowl XXXI showing. In the 35-21 loss to the Packers, Bledsoe threw four interceptions along with 253 yards and two touchdowns.
Russell Wilson (25 years, 65 days): Seattle's defense was responsible for destroying Peyton Manning and the Broncos, 43-8, in New Jersey, but Wilson did everything he was asked, completing 18 of 25 passes for 206 yards with two touchdowns, no interceptions and 26 yards rushing.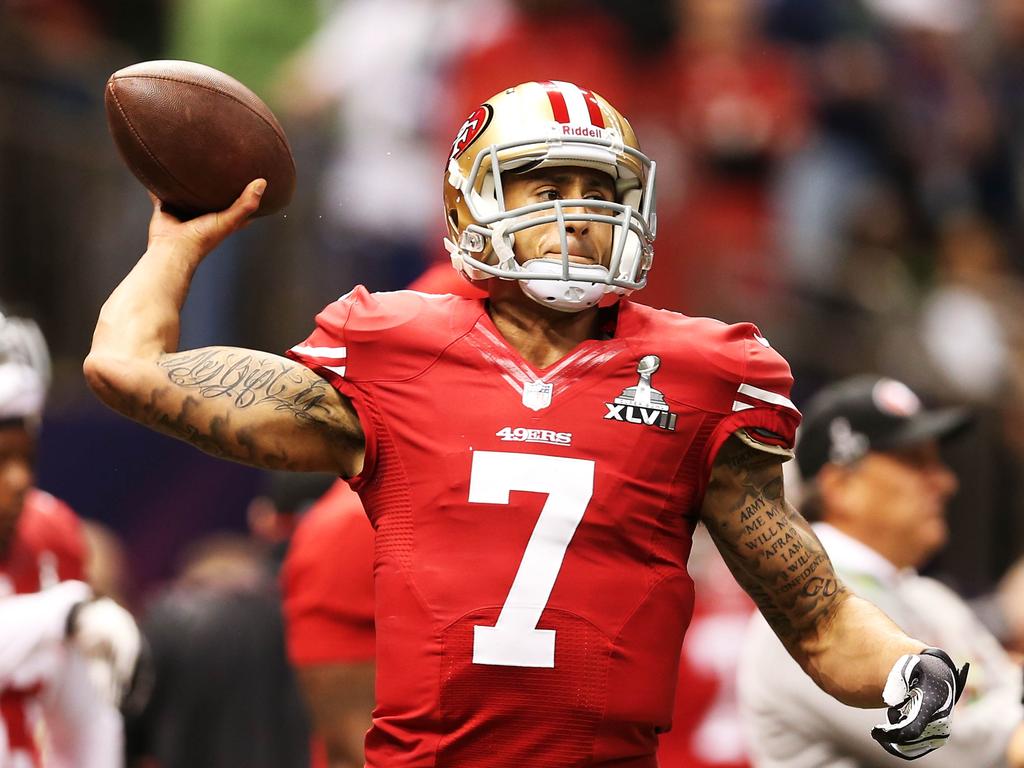 Colin Kaepernick brought the 49ers to the Super Bowl at age 25. He played his last game at 29. Picture: Christian Petersen/Getty Images/AFP
Colin Kaepernick (25 years, 92 days): It's easy to forget how electric he was after taking Alex Smith's job in Nov. 2012 and bringing the 49ers five yards from a title. Kaepernick nearly led San Francisco back from a 22-point second-half deficit to the Ravens in Super Bowl XLVII, throwing for 302 yards, one touchdown and one interception, adding 62 yards and a score on the ground.
Joe Namath (25 years, 226 days): Stats don't tell the story. Following his brazen guarantee to defeat the Colts as an 18-point underdog, Namath helped legitimise the AFL and authored the Jets' seemingly impossible 16-7 win over Baltimore in Super Bowl III, completing 17 of 28 passes for 206 yards with no touchdowns or interceptions.
Joe Montana (25 years, 227 days): The greatest quarterback of his generation collected his first of four rings with his quietest Super Bowl performance, completing 14 of 22 passes for 157 yards with one touchdown and no interceptions in a 26-21 win over the Bengals in Super Bowl XVI.