What's next for Tom Brady and Aaron Rodgers after early NFL playoffs exits
Tom Brady must decide whether to keep pursuing an eighth Super Bowl ring, while a raft of suitors will come calling for Aaron Rodgers if he opts to leave Green Bay.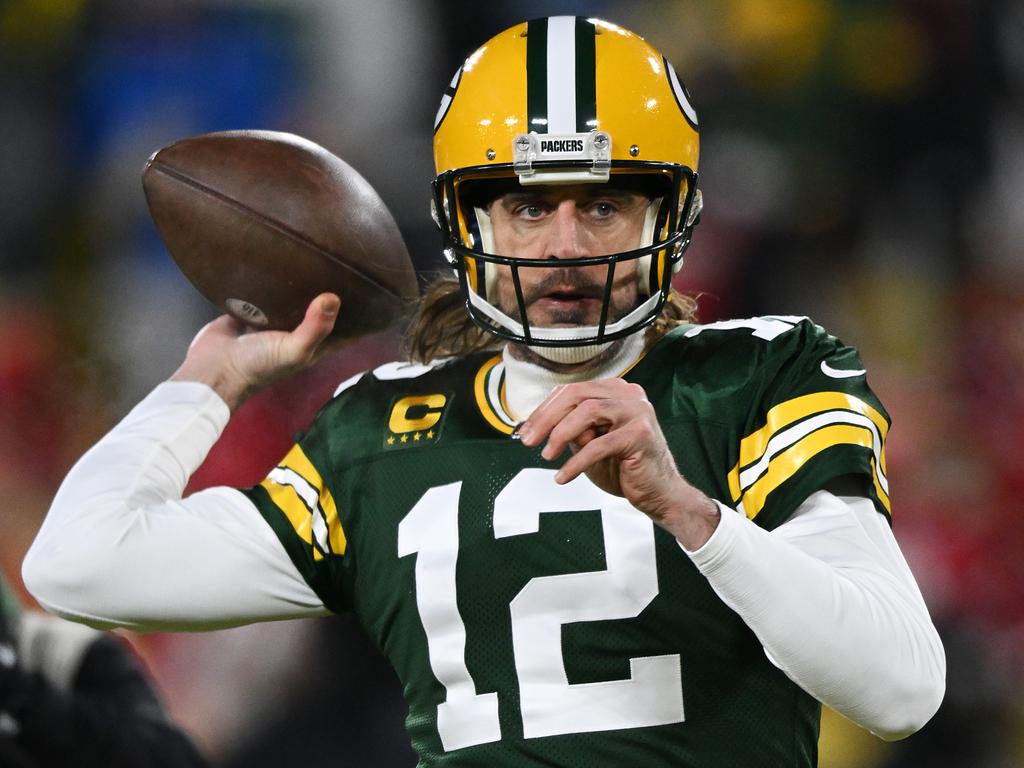 Green Bay quarterback Aaron Rodgers before the NFC Divisional Playoff game against the San Francisco 49ers. Another premature post-season exit may have finally ended his time with the Packers. Picture: Stacy Revere/Getty Images
The most exhilarating weekend slate in NFL history just may have served as the final act in the official changing of the guard atop the NFL's quarterback hierarchy.
Tom Brady could finally call it a career, and even if Aaron Rodgers doesn't do the same, he very well could have played his final game for the Packers.
Whether either or both of those changes regarding the Bay-based future Hall of Famers comes to pass, the future of the position looks to be firmly in the beyond-capable hands of AFC finalists Patrick Mahomes of Kansas City and fast-rising Joe Burrow of Cincinnati — as well as Bills superstar Josh Allen following a standout losing effort in overtime Sunday against the Chiefs.
I still believe that Brady, who will turn 45 in August, will come back for one more crack at an unprecedented eighth Super Bowl title next season with the Buccaneers, which would give him twice as many rings as any other quarterback in NFL history (Terry Bradshaw and Joe Montana won four apiece).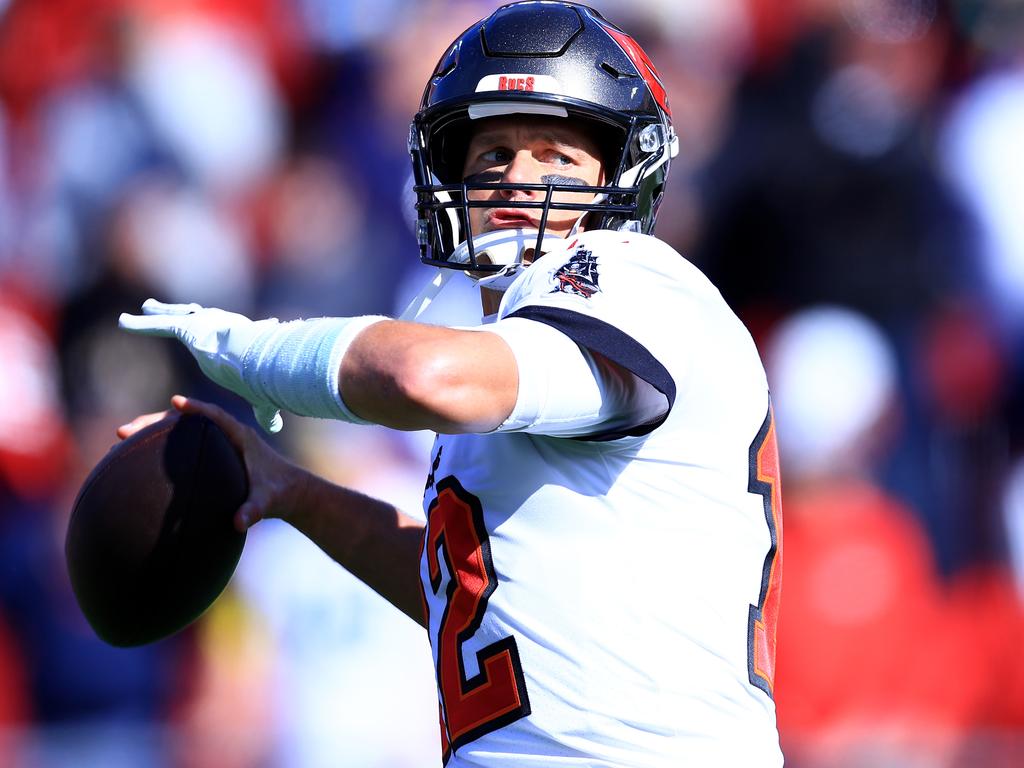 Tom Brady may be tempted to return for another crack at winning a record-extending eighth Super Bowl ring, having just exited the NFL playoffs with the Tampa Bay Buccaneers. Picture: Mike Ehrmann/Getty Images
As for Rodgers, has any superstar ever had as eventful a year on and off the field as the longtime Green Bay QB just gave us over the past 12 months? Consider the very real trade rumours last spring, his decision to play out his contract, his posting of another MVP-caliber regular season, his vaccination lies and increasingly outlandish media interviews about it, and finally Saturday's snowy 13-10 home loss to Jimmy Garoppolo and the 49ers.
The 38-year-old Rodgers sports a $46.1 million salary-cap hit for next season on a restructured deal, but the Packers — who spent a first-round draft pick on Jordan Love in 2020 — could recoup nearly $20 million of that amount if they release or trade him during the off-season.
"I'm going to take some time and have conversations with folks around here, and then take some time away and make a decision — obviously before free agency or anything gets going on that front," Rodgers said Saturday. "It's fresh right now. A little shocking, for sure. I was hoping to have a nice weekend for the NFC Championship, to enjoy the lead-up and then start contemplating some things, so I haven't even let the moment really sink in yet."
If Rodgers, whose career postseason record now stands at 12-10 with just one Super Bowl title, parts ways with his only NFL team over a 17-year career, what are the most likely landing spots for him in 2022?
Let's take a look at a few of the fun possibilities.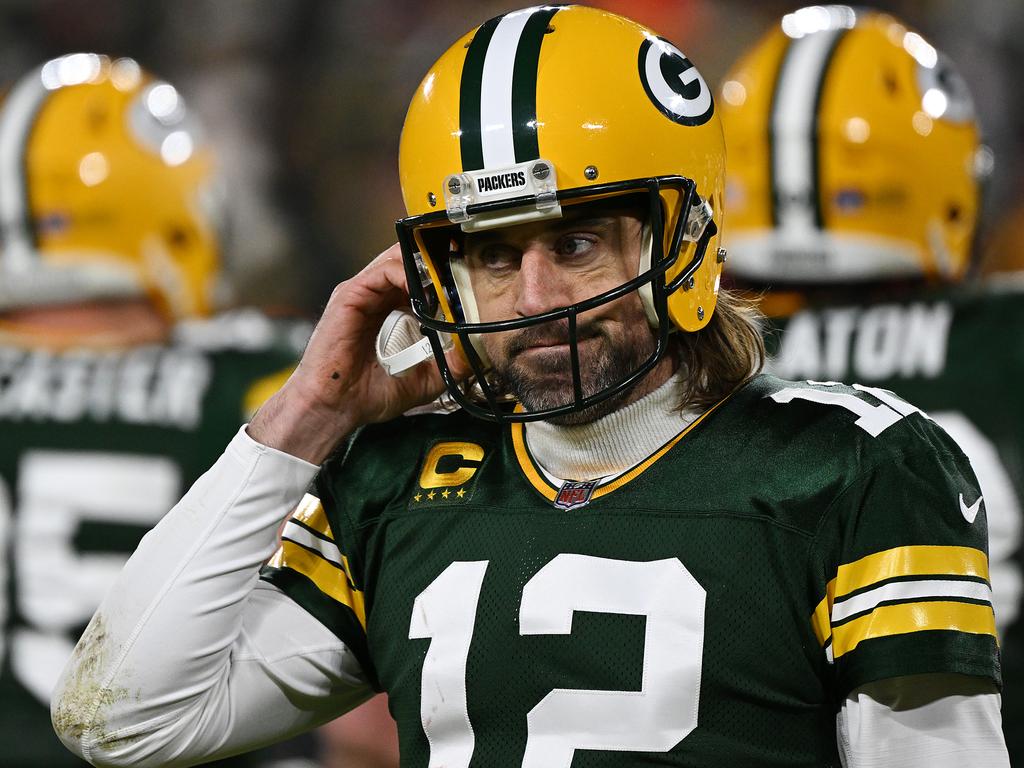 Aaron Rodgers reacts after failing to get a first down during a playoffs loss to the 49ers. Many suitors will come calling if he wants to leave the Packers. Picture: Quinn Harris/Getty Images
Pittsburgh: The Steelers will be in the market for a starting quarterback for the first time since drafting the likely retiring Ben Roethlisberger in 2004. Mike Tomlin's team still will be in win-now mode after reaching the playoffs for a second straight year and for the sixth time in the past eight seasons. They haven't been to the Super Bowl since losing to Rodgers and the Pack in 2011, and they aren't about to change that with either Mason Rudolph or Dwayne Haskins at quarterback.
New Orleans: Saints coach Sean Payton churned out nine wins in his first year without Hall of Famer Drew Brees, with the underwhelming trio of Jameis Winston, Trevor Siemian and Taysom Hill splitting time at quarterback. The Saints are one of the league's most cap-strapped teams heading into 2022, but if they could make the money work, a Payton-Rodgers pairing could be lethal in the Big Easy.
Denver: The Broncos finished this season with a 7-10 record, with Teddy Bridgewater (14 starts) and Drew Lock (three) behind centre. The addition of Rodgers to an offence with talented receivers Jerry Jeudy and Courtland Sutton and running back Javonte Williams could provide the boost that the addition of Peyton Manning did for team president John Elway's team in 2012.
Las Vegas: The Raiders reached the playoffs following the mid-season ouster of Jon Gruden with ever-serviceable Derek Carr at quarterback. Serviceable no longer cuts it in a loaded NFC West, however, with two of their division rivals fronted by Mahomes and up-and-coming Justin Herbert (Chargers), and it certainly won't if Rodgers lands in Denver.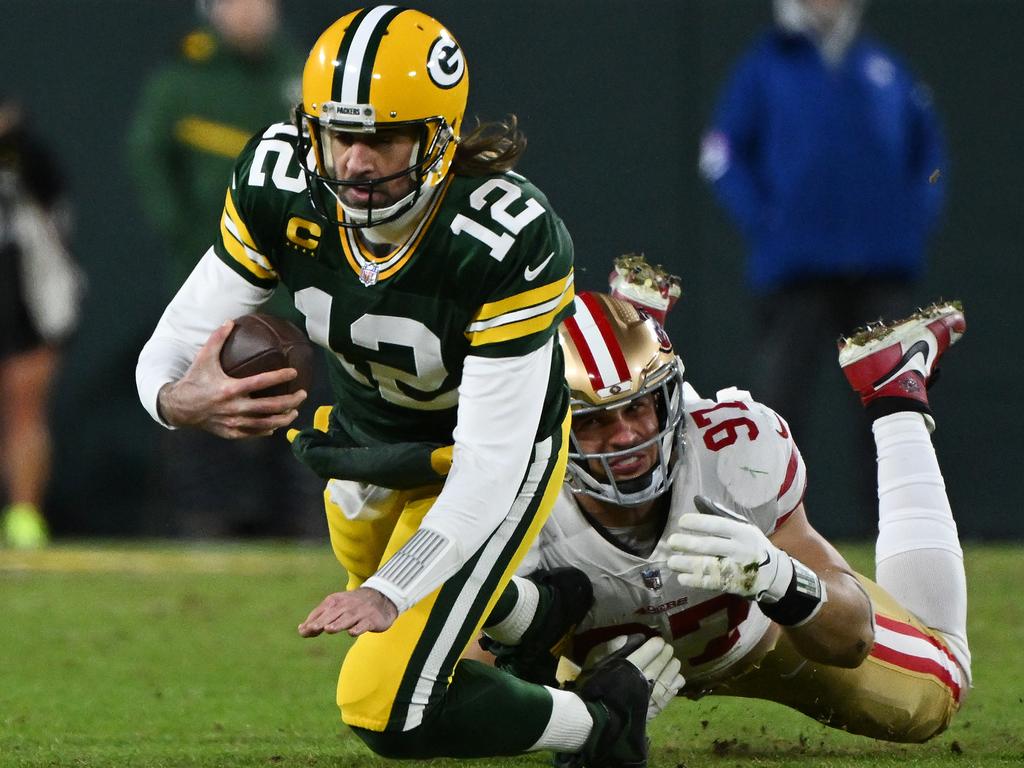 Aaron Rodgers is tackled by 49ers defensive end Nick Bosa. He was sacked five times in the Packers' playoffs loss, which tied a post-season career high. Picture: Quinn Harris/Getty Images
New York Giants: Just kidding here, really, especially after Rodgers said Saturday he has no desire to sign on for a rebuilding project in 2022. A potential blockbuster addition of the three-time (and likely four-time) league MVP certainly would be a juicy splash by new GM Joe Schoen, though, wouldn't it?
Washington: The Football Team finally will get a new nickname in 2022, so why not push for a short-term quarterback upgrade over Taylor Heinicke for a 7-10 team with an offence that features 1,000-yard rusher Antonio Gibson and 1,000-yard wideout Terry McLaurin?
Tampa Bay: If Brady hangs 'em up, would Rodgers be amenable to switching Bays to finish his career in a warm-weather locale? The Bucs still have potent offensive weapons, with Mike Evans and Chris Godwin if he returns strong following ACL surgery. It seems feasible, though, that if Brady goes, Rob Gronkowski also will walk away for a second time.
Green Bay: Rodgers' relationship with the Packers also looked like it was irreparable around last year's NFL draft, yet he patched things up with the front office and posted 13 wins — with 37 touchdowns and only four interceptions — for the top-seeded team in the NFC ahead of Saturday's loss to the Niners. If Green Bay refuses to trade him, Rodgers simply could retire or sit out the season with an eye on 2023 free agency.
– The New York Post