Why Tampa Bay Buccaneers' Antonio Brown just went too far even for NFL
Antonio Brown peeled off his jersey, tossed away his pads, flipping peace signs to confused fans as he departed the field. It figures to be just about the strangest end to just about the strangest NFL career we have seen.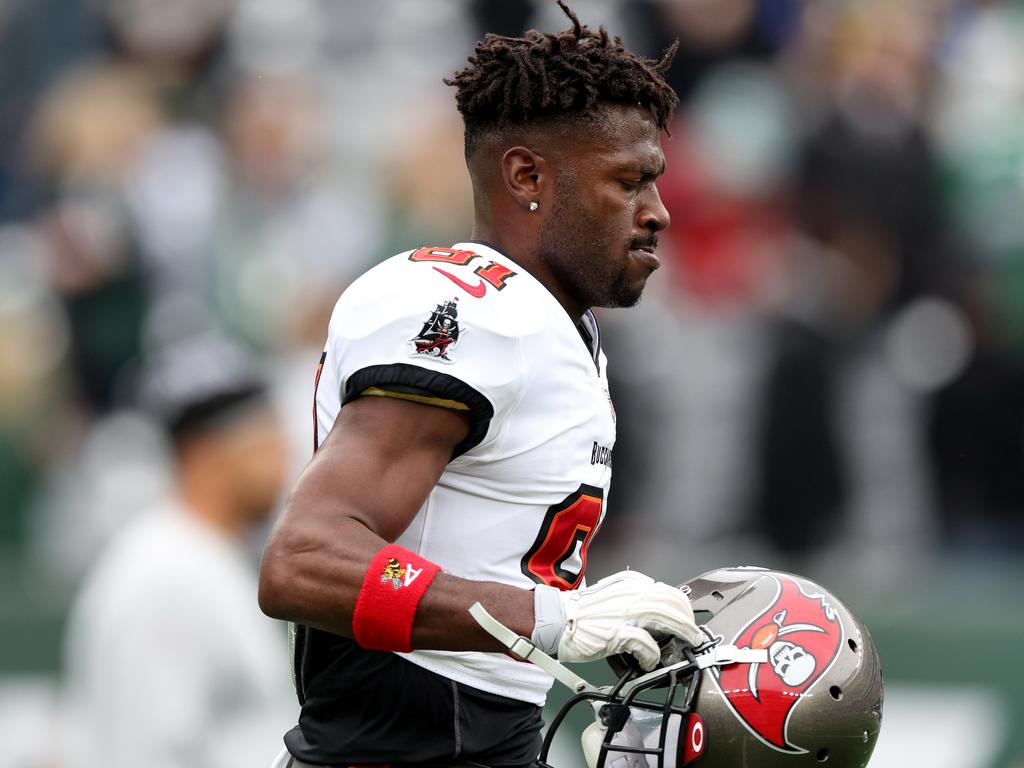 Antonio Brown committed what is seen as the gravest sin in the NFL world. Picture: Elsa/Getty Images)
Let us start with the disclaimer: We do not know what is going through Antonio Brown's head. We do not know why the Bucs receiver peeled off his jersey in the third quarter of Sunday's game against the Jets. We don't know why he tossed his pads away before stripping his undershirt and gloves and pelting them into the MetLife Stadium stands.
We have not heard his explanation — and would that even be reliable? — for crossing the field en route to the tunnel, flipping peace signs and waving to a confused but riled-up group of fans along the way.
We have heard his coach's thoughts. Bruce Arians told Fox Sports that he wanted Brown to go back into a game in which he'd caught three balls for 26 yards. Brown said no. As the team kept prodding him back into the game, he exited not just the receiver rotation but the field of play.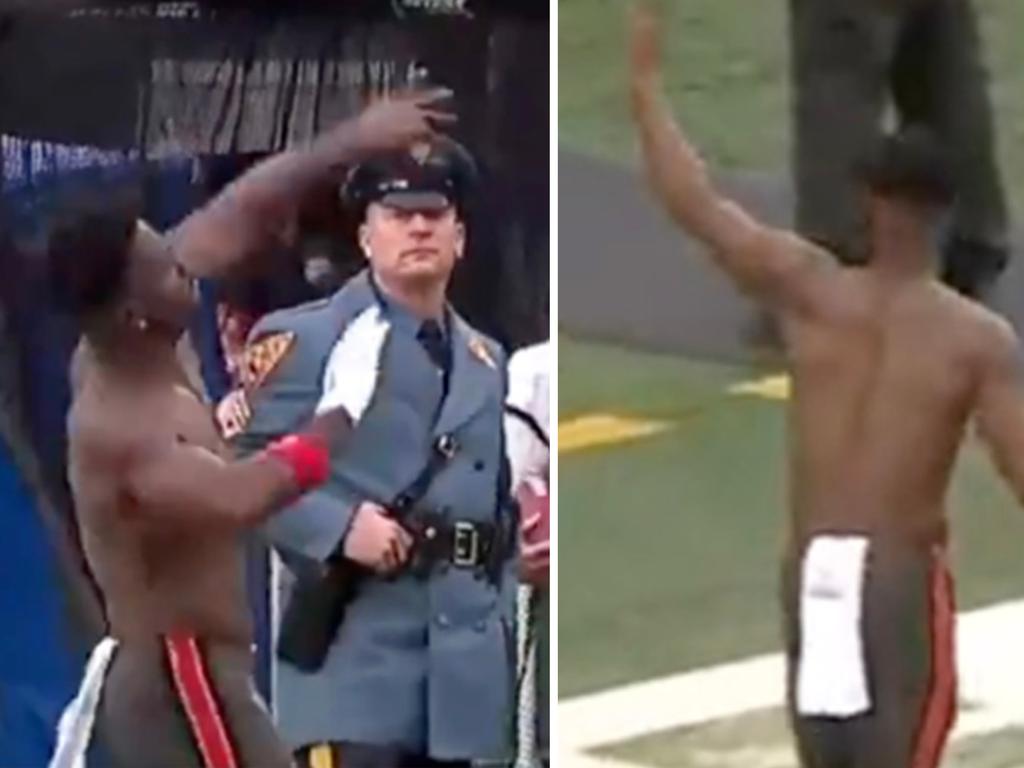 Antonio Brown ran off mid-game against the Jets.
What we do not know, but highly suspect, is those waves could double as a farewell to his NFL career. We do know Brown walked off the field and walked out on the Buccaneers. It is a leap, but not a long one, to say he quit, and in this twisted football world, he has committed the gravest sin there is.
You can come back from almost anything in the NFL, including possibly putting your head coach in danger by lying about your vaccination status. Brown told the league and team he had been jabbed, but the vaccine card he produced was a fake. Arians, who has fought off cancer three times, has a compromised immune system — and yet, he allowed Brown back after the league suspended him.
You can jeopardise your coach's health, but not his team's morale.
"He is no longer a Buc," Bruce Arians told reporters after the Bucs' miraculous 28-24 win over the Jets on Sunday afternoon.
Brown is closer to his 10th chance than his second, and it is possible enabling him to this point has only exacerbated the problem, whatever that may be. That is the trouble with trying to Monday Morning Psychiatrist issues like Brown's: They are not tangible, and a problem child and a person with a problem are too often conflated.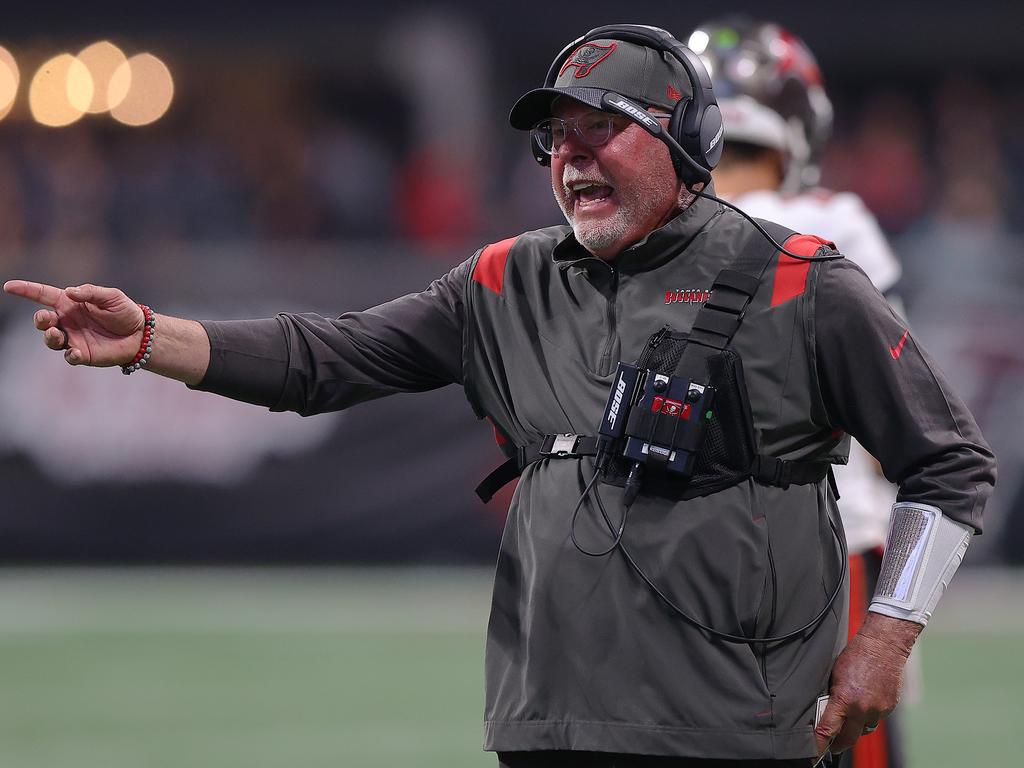 Tampa Bay head coach Bruce Arians on Antonio Brown: "His no longer a Buc." Picture: Todd Kirkland/Getty Images.
The Steelers, the Raiders, the Patriots and the Bucs looked at his brain, his skillset and his baggage and determined there was more value than harm in bringing him in. They looked at his past and passed their judgment that he was worth it, at least until he wasn't.
What we know is that Brown was still employable at the end of the 2018 season, even if Pittsburgh would not employ him. He essentially had walked out on the Steelers, too, reportedly throwing a football at Ben Roethlisberger during a practice leading up to the season finale and then didn't show up for the rest of the week's practices, leading to his benching in a game the Steelers needed (and didn't get) to enter the postseason.
He was still deemed worthy of an NFL roster despite altercations with his teammates, coaches and police. He was cited for driving in excess of 100 mph on a Pennsylvania road earlier that season. The citation followed reports that Brown was facing two lawsuits over an off-season incident in which he allegedly flung items out of his Miami apartment window, and a family claimed he nearly hit a 2-year-old boy.
He was still deemed worthy of an NFL roster after he ensured he would never play a game for the Raiders, who picked him up from the Steelers, amid a public meltdown that seemed to spiral further every day.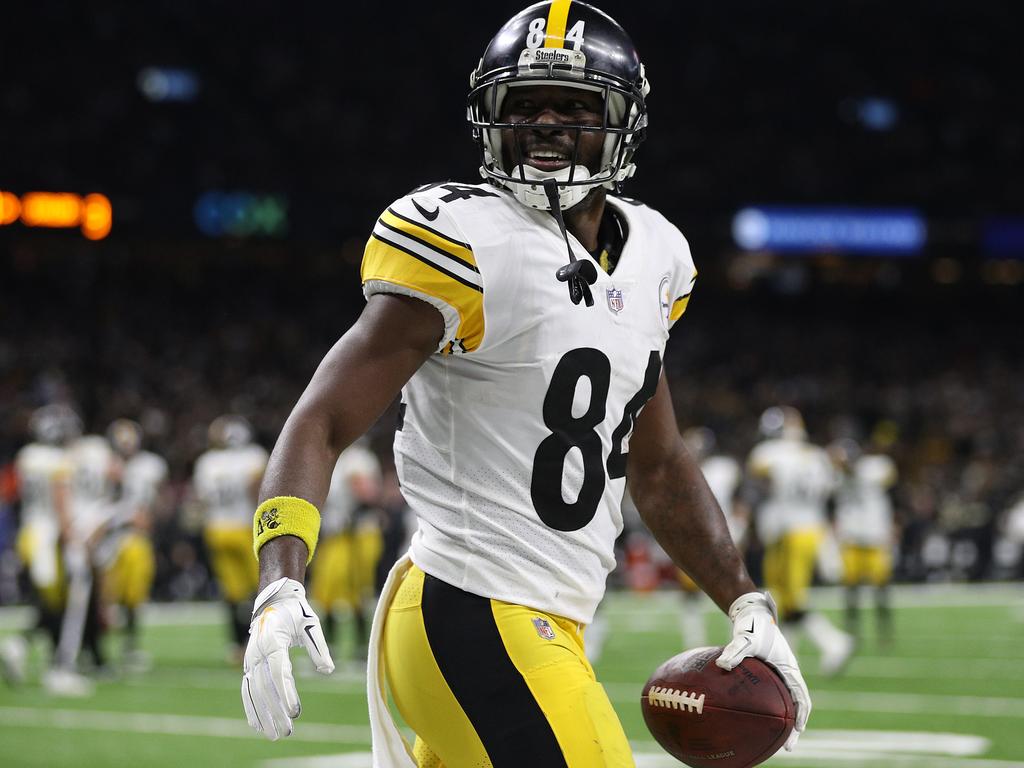 Antonio Brown essentially walked out on the Pittsburgh Steelers at the end of the 2018 season. Picture: Chris Graythen/Getty Images.
It was difficult to separate the silly from the serious, beginning with his missing practices because of frostbite from cryotherapy sessions. The NFL instituted a newer helmet the league said was safer, and Brown threatened to retire unless his old helmet could be grandfathered in. He skipped practices, was fined for doing so, then brought those fines to Instagram. When he met with Raiders GM Mike Mayock, the two fought, and Brown reportedly threatened to punch his boss.
The team and player seemed to make nice when Brown apologised — only to then demand his release because the Raiders voided guaranteed money in his contract.
He was still deemed worthy of an NFL roster when the Patriots added the problem the Raiders could not solve. They stuck by him as a lawsuit was filed by a former trainer who alleged Brown sexually assaulted her three times in a civil suit that was later settled. They could not stick by him as more allegations of misconduct — these from an artist who spoke to Sports Illustrated — became public about his unwanted advances. Brown reportedly tried to threaten the artist into silence, and only then did the Patriots feel the need to disentangle themselves from the star receiver.
Of course, he was still deemed worthy of an NFL roster because Tom Brady and the Bucs were around.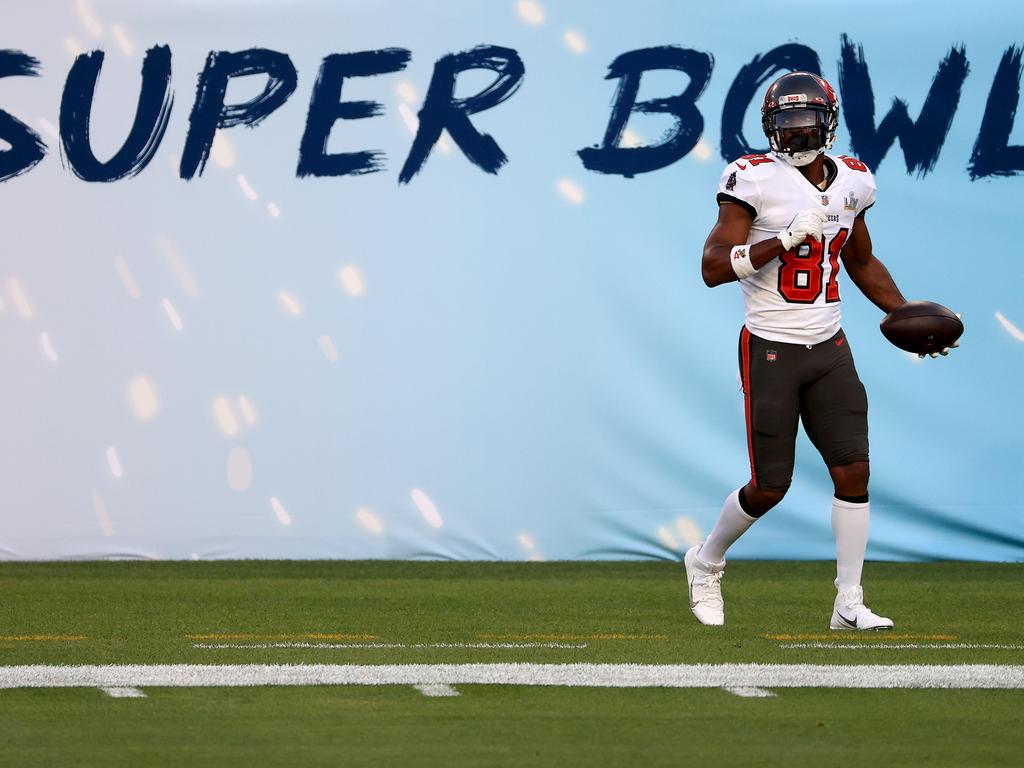 Antonio Brown was a part of the Buccaneers' Super Bowl winning team. Picture: Mike Ehrmann/Getty Images
It is easy to scold the NFL for valuing on-field production above all, and hell, Brady and Arians probably do not regret welcoming him in. He helped bring them a Super Bowl last season.
It is easy to call for Brown to get help because if there is a through line to his issues, it is that all of them should have been followed up by his seeking professional aid. But following up falls on Brown's shoulders.
Maybe on Sunday Brown needed a mental (or physical) break. Maybe Brown is selfish and lacked basic empathy as he walked out on his teammates.
But he got a chance to walk away, apparently of his own volition, and likely will not be seen in an NFL game again. He found the sin he could not come back from: betraying his coworkers on company ground.
It figures to be just about the strangest end to just about the strangest NFL career we have seen.
– New York Post