2022 State of Origin I: Held-back Junior Paulo says he would have stopped Daly Cherry-Evans try
It was the crucial try that gave Queensland a match-winning advantage, but Junior Paulo suggests the Maroons were lucky it was awarded.
NSW forward Junior Paulo says he was held back by a Queensland player inside a scrum and would've made the tackle that could've stopped a controversial Maroons try.
The Blues defensive line opened up in the 48th minute when Maroons half Daly Cherry-Evans stepped through from the scrum base to make the score 10-4 on Wednesday night.
Replays, however, showed Paulo being held back in the scrum.
Blues players protested with captain James Tedesco challenging referee Ashley Klein, but the try was allowed to stand.
Stream the FOX LEAGUE State of Origin Game 1 REPLAY on Kayo with no ads during play. Both full and condensed replays available from 11PM AEST Wednesday. New to Kayo? Try 14-days free now.
Paulo said he wasn't interested in making excuses for the Blues Origin I loss, but answered honestly when asked if he was impeded ahead of the try.
"You can't make excuses, it was awarded a try. They obviously checked it and they awarded it a try,'' Paulo said.
"I have (played in games where it is a no-try).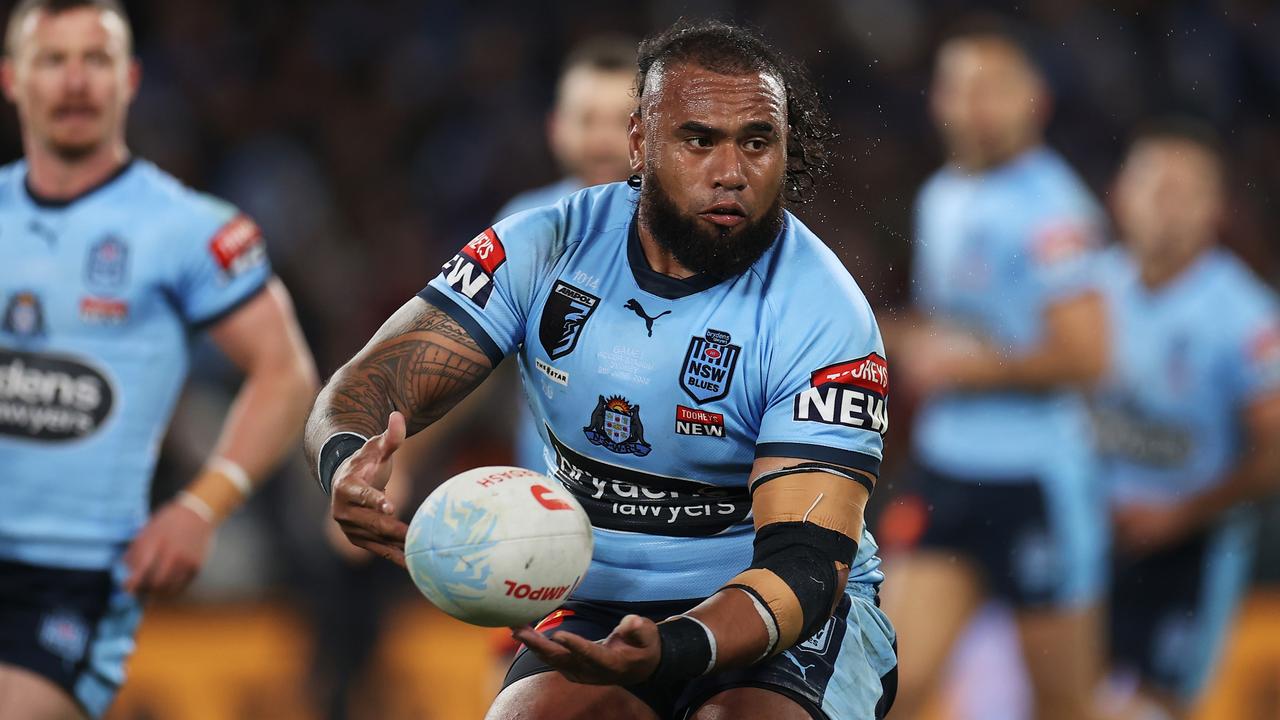 Junior Paulo admits the Blues were outgunned by the Maroons middles. Picture: Mark Kolbe/Getty Images
"I spoke to Teddy (Tedesco) and he went and questioned the ref and they said they checked it, so it was awarded.
Asked if he would have made the tackle, Paulo replied: "Oh yeah, look it's our job to tie in (defence) as middles, but I can't do anything now.''
Paulo was matter of fact in admitting the NSW were outgunned by the powerful Maroons pack.
"I thought their middles generated quick ruck speed and they were able to capitalise off the back of that," Paulo said.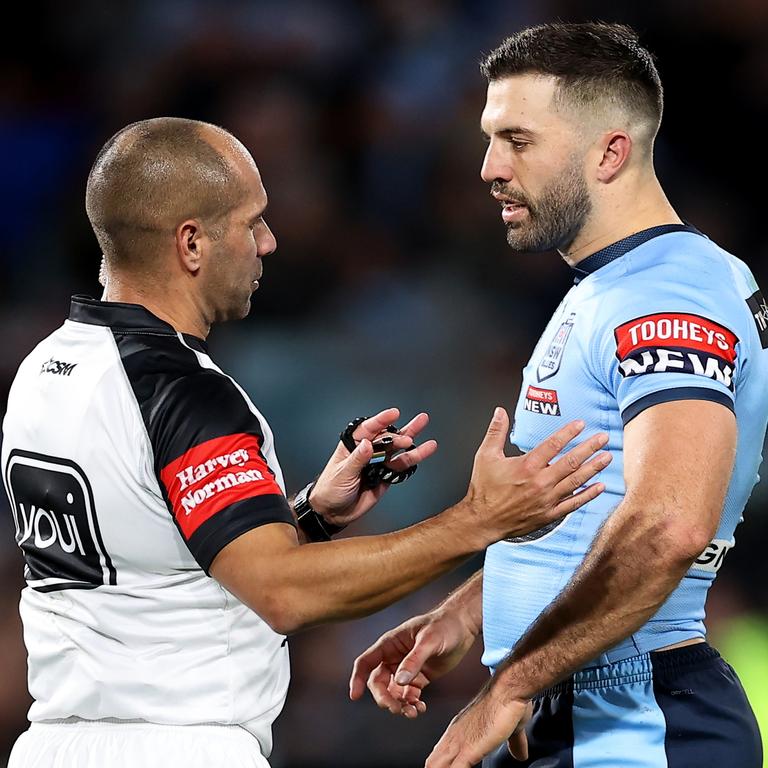 Blues captain James Tedesco talks to referee Ashley Klein. Picture: Mark Kolbe/Getty Images
"We obviously didn't win the forward battle.
"I thought our back five were tremendous, getting us on the front foot and a few key moments, with strips (Queensland's one-on-one steals), were the turning point.''
Paulo started the match from the interchange bench despite being originally named to start the match.
"I got told yesterday (Tuesday). Whatever role I have, I'll do,'' Paulo said.
"I thought it was going to work well for us.
"They certainly wanted it more, they scrambled really well.
"We got tackled half a metre from the tryline on the last play."
MAROONS 'PUSHED' REF IN ORIGIN AMBUSH
The Blues best player says NSW must retaliate by pushing the boundaries like Queensland to save the State of Origin series.
Jack Wighton, sensational at centre both in attack and defence for NSW, said the Blues failed to react quick enough to the ruck spoiling tactics of the Maroons.

"They (Queensland) played a very good game," Wighton said.

"They played tight, through the middle, they pushed the ref and they just played a very smart Origin game.
"That's something we have to retaliate with.
"It's a learning curve, we should've woke up earlier.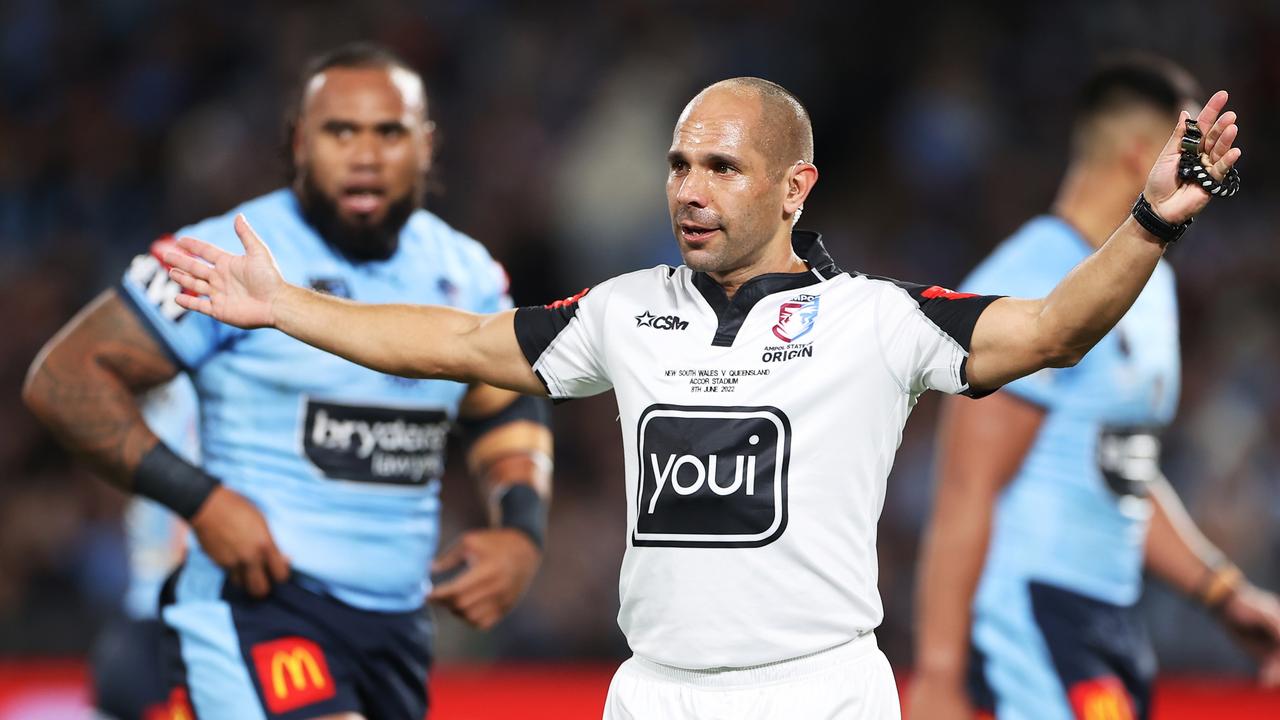 Referee Ashley Klein awards a penalty during Origin I. Picture: Mark Kolbe/Getty Images
"You saw the whole second-half they only had one or two passes and they were straight up the middle."
NSW coach Brad Fittler echoed Wighton's point of view.
"They (Queensland) won the ruck. They did a really good job there," Fittler said.

"They held on and (referee) Ashley (Klein) didn't want to give penalties away.
"We got a penalty with 17 minutes to go; it was the first penalty."
In a subtle sledge towards Klein's officiating, Fittler suggested the Blues were now aware that they could get away with much more in the ruck without being punished.
"We should have done a better job. We should have held them down longer – simple," he said.
Wighton was defiant after the loss. The Raiders captain said NSW had the arsenal to save the series in Perth.

"I'm always disappointed when we lose.

"There were a lot of people riding us and a lot of people we were representing, so it always hurts losing.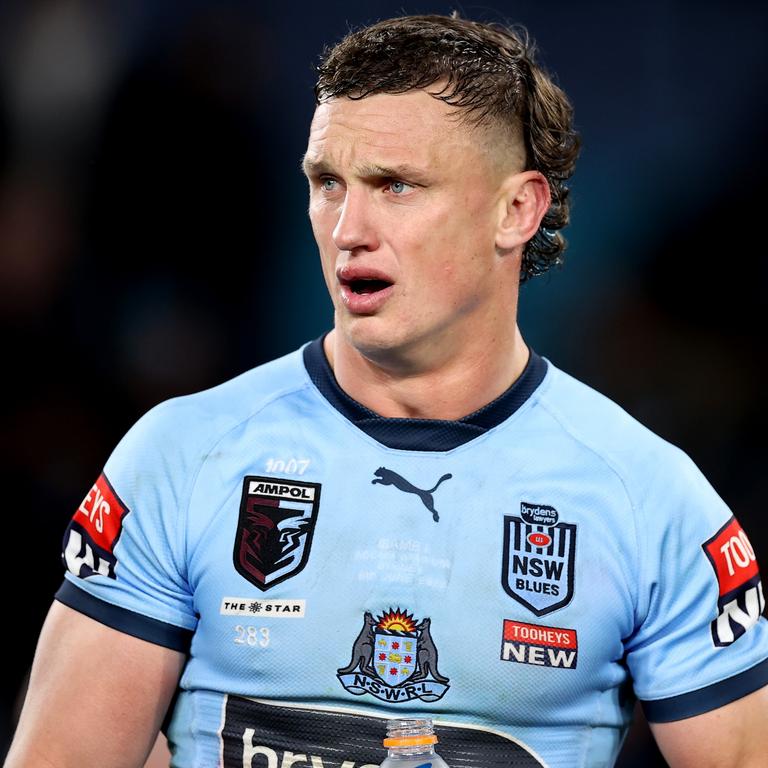 Jack Wighton was the Blues' best in Origin I.
"We've just got to go again.

"Everyone is very disappointed, but there's two more games.
"We've been in this position before and we've got to fix what went wrong and go again.
"Look at the boys we've got. If you don't have belief you shouldn't be here and that's the truth.
"We've got a great bunch of boys and we're all feeling hurt.''
Wighton, who scored a barnstorming 15th minute try, was the subject of conjecture ahead of the match and whether he or bench player Stephen Crichton would start the match.
"I didn't comment on it because it's no one else's business,'' Wighton said.
"I got put here to do a job, it's the coach's decision to pick the team and once he picks the team, I've got no questions.
"My only point to prove was having the other 17 blokes back.
"I heard a good thing through the week, we only borrow this jersey.
"We borrow it until someone else takes it and every time I get the chance to borrow this jersey, I will represent it with all my heart.
"I friggin love it."
Originally published as 2022 State of Origin I: Held-back Junior Paulo says he would have stopped Daly Cherry-Evans try