A nod to history, with an eye on the future: Behind the return of the Glebe Dirty Reds
Once the jewel in rugby league's crown, the Glebe Dirty Reds are back in business. And they brought their own beers, writes BRENDAN BRADFORD.
After nearly 90 years out of football, the Glebe Dirty Reds are back, and they're thriving. They even have their own beer.
Darren Flynn's mates all said the same thing when he told them his plan: "You're crazy."
In hindsight, he can probably see why.
"Most people thought we were mad when I told them I wanted to bring Glebe back to the Ron Massey Cup after more than 80 years out of the game," Flynn, now the Dirty Reds' president, tells CODE Sports.
"Some of those guys are on the board now though. No one had the heart to tell us we couldn't do it, but we got there."
Not only is Glebe back playing regular football, but the club is thriving. The Dirty Reds exists as a standalone, they're flying high in second spot on the Ron Massey Cup ladder after 16 games, and have seen seven players go on to play in the NRL.
Almost as exciting for footy fans who love a few cans on the hill while watching their team, the club also has its own beer. Known as The Immortal Pale Ale, the beer carries the image of club legend and rugby league Immortal Frank Burge on the side of the can, and it's proving a huge hit.
"We whacked his image on the front and called it The Immortal Pale Ale," Flynn says. "It's gone down a treat."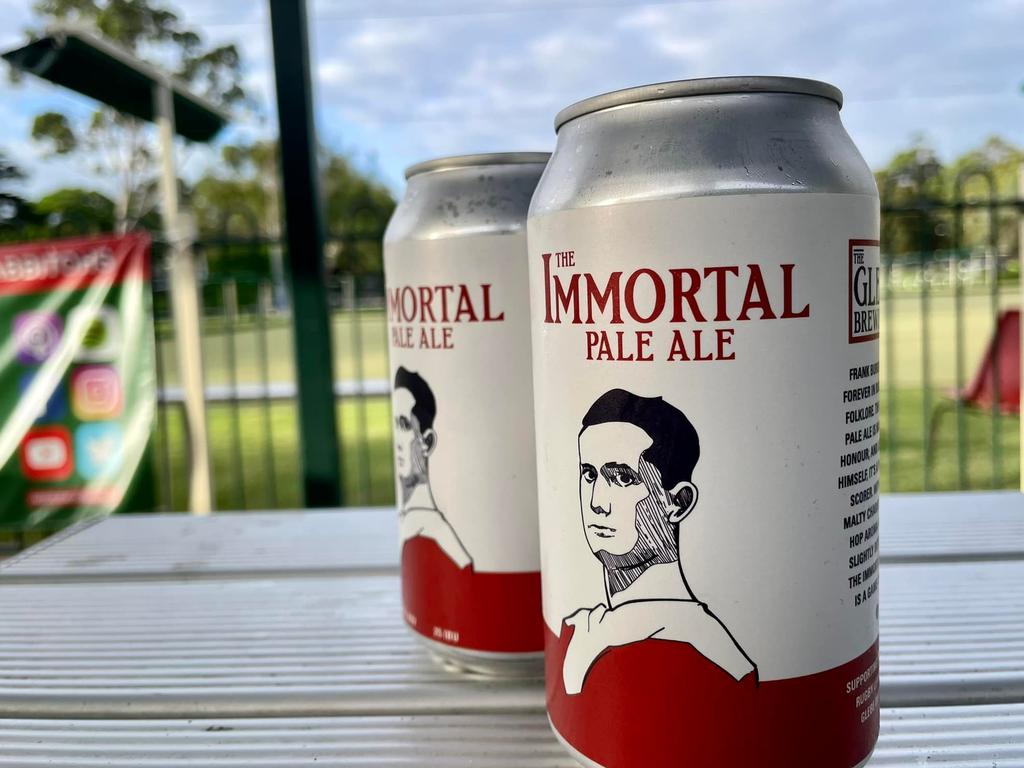 Glebe launched their own beer, The Immortal Pale Ale, in 2019.
BOOTED
There's almost as much debate about Glebe's ejection from the first grade competition in 1929 as there is about the club's formation in 1908.
Originally a rugby union powerhouse in the rough, working class suburb in the early 1900s, Glebe wore maroon – or dirty red – jerseys and dominated from first grade to third grade.
When rugby's best players broke away from union and joined the newly formed Rugby League so they could be paid to play, Glebe voted on January 9, 1908 to join the league too.
There's conjecture about whether Glebe or Newtown officially became the "first" rugby league club in Australia. Glebe diehards, and many historians, maintain January 9 as the day the Dirty Reds achieved that honour, with Newtown following on the 14th.
Many Newtown tragics claim their club held a vote on the 8th of January, pipping Glebe by a day.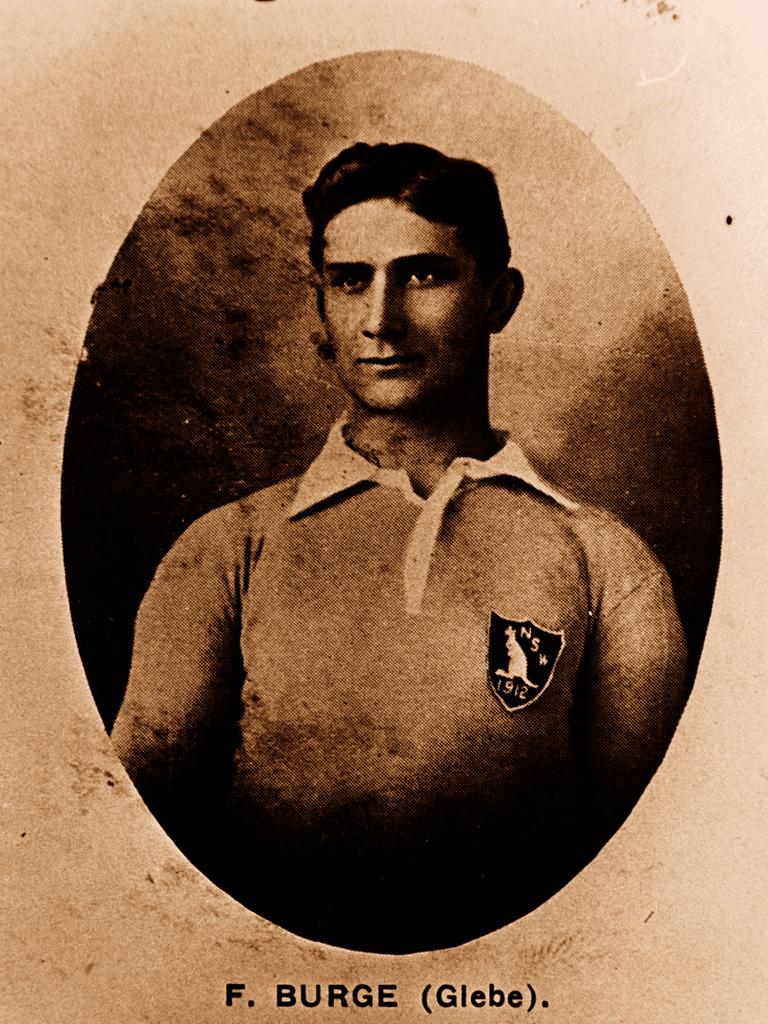 Rugby league Immortal, and Glebe icon, Frank Burge.
Either way, in addition to the recruitment of Wallaby great Dally Messenger, the mighty Glebe Dirty Reds were the jewel in the newly formed league's crown.
The team carried its union success into the breakaway code, for a few years at least.
Glebe never won a premiership, but claimed a minor premiership in 1911 and finished runner-up on four occasions.
Results fell away in the late 1920s though, and on November 11, 1929, by a vote of 13-12, Glebe – one of the most integral elements of rugby league's turbulent formative years – was unceremoniously dumped from the competition.
Mystery and intrigue still surrounds the decision.
Some say falling crowd numbers, poor results and a changing demographic would have seen the club continue to struggle anyway.
Others say there were dirty tactics at play by Balmain and Souths.
"The club was in the first grade competition from 1908 to 1929," says Flynn.
"It has the best winning percentage of any club to this day. But the club got kicked out in 1929 because Balmain and Souths wanted to wrestle that territory from them.
"So, that's how they left."
Rugby league died in the area, and that's the way it remained until Flynn started telling people he wanted to revive the forgotten old club eight decades later.
"I'd had a lot to do with Norths and Newtown (in the 2000s) and I'd commentated the game at that level," he says.
"I just decided that I'd try to do what Newtown have done, but with Glebe."
SMALL BEGINNINGS
To begin with, Glebe merged with existing club Concord-Burwood in the 2017 Ron Massey Cup as Flynn and others figured out how to run and fund a footy club.
"Trying to find one hundred grand every year for a budget is not easy, so those extra few years with Concord-Burwood, where they brought some of the money, really helped," he says.
"It allowed us to ease our way back in."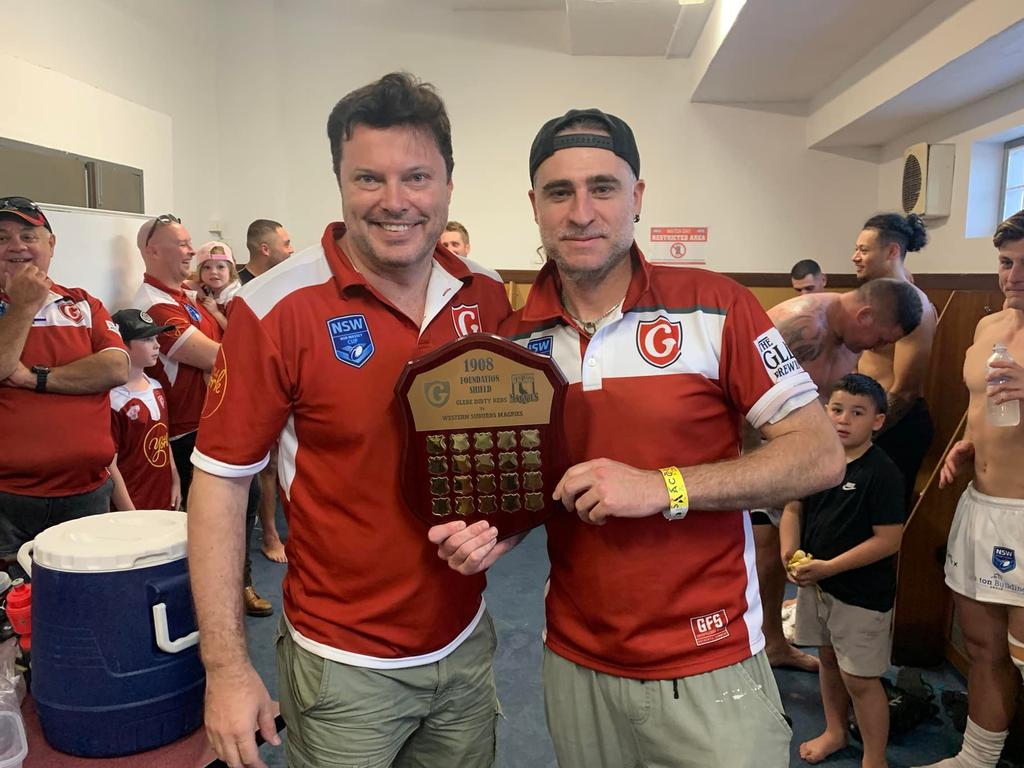 Glebe Dirty Reds President Darren Flynn (L) with long-time coach Aaron Zammit.
Now a standalone entity, Glebe receives the bulk of its sponsorship money from Club York, and also makes money from the sale of merchandise and on game day and online.
Not backed by a cashed-up leagues club, it still has the smallest budget of any team in the Ron Massey Cup, and with no paid staff other than the players, it relies heavily on volunteers.
But the level of financial stability Club York provides has allowed for an increased focus on getting the football department finely tuned.
A partnership with Newtown, and, in turn, with the Sharks, has also been beneficial.
"We've made the finals every year bar one, we made the state-wide Challenge Cup a few years back, and we made the final of the President's Cup in 2020 and lost by a point," Flynn says.
"We've got to the point where we have our own supporters and the club is successful.
"The relationship with Newtown has been really useful for us as well. We train together and play together and that helps keep the costs down. It also builds a really strong club environment. Newtown and Glebe were very much rival clubs, but now we're part of the one family."
BEERS ON THE HILL
Sponsorship brings in good money, and merch sales do well too, but Glebe still wanted to branch out and create even more streams of revenue.
What about a beer?
The idea received a much better reaction that when he said he wanted to resurrect a club that had been defunct for 80 years.
There were a few wannabe home brewers on the board, and in 2018, they set to work creating a recipe and working with a local brewery to get something brewed and bottled.
The main goal of the Glebe Brewing Co. was to produce a flavoursome pale ale that people could still drink all afternoon on the hill while watching the footy.
A little over a year later, and a few recipe tweaks, The Immortal Pale Ale was born.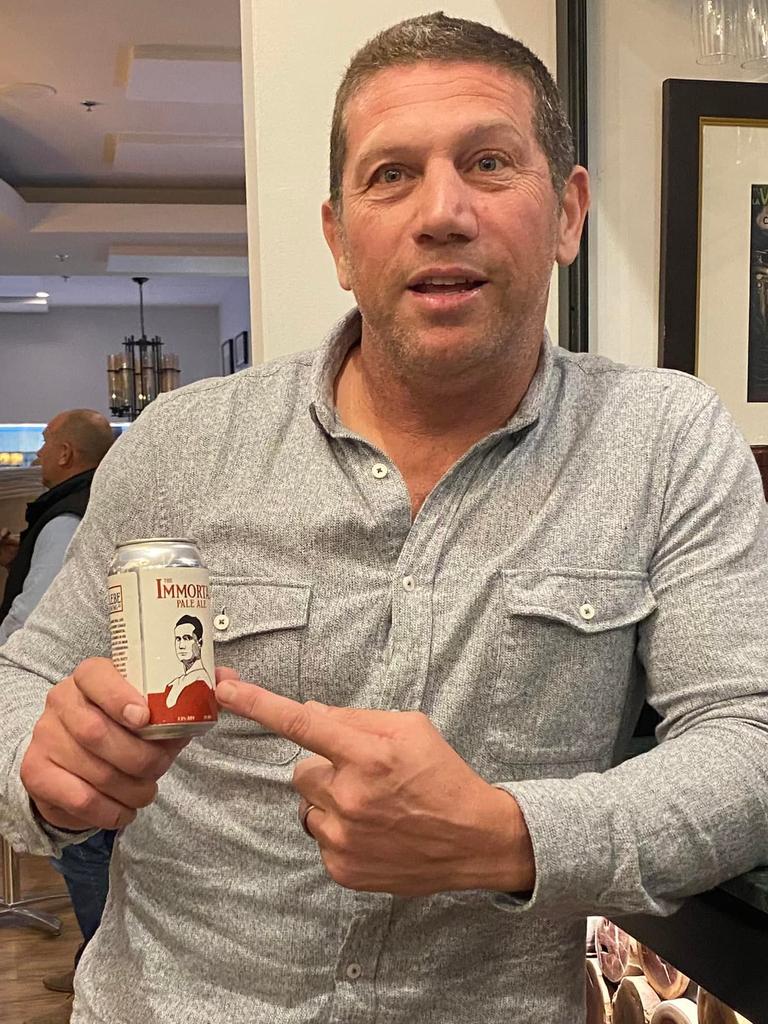 Bryan Fletcher enjoying an Immortal Pale Ale.
The beer was on tap at a few venues around Sydney before the first Covid lockdowns interrupted everything, including the Ron Massey Cup season, but the beer has done its job so far.
"Fortunately, we are in a number of venues around Sydney again, and we've got a really good relationship with Craft Cartel, one of the online liquor retailers," Flynn says.
"It has really provided a lot of support for the club. That's why we did it, to provide that money that we desperately need to compete with the big boys."
It's also a novel way to honour one of the game's legends in Frank Burge.
A freak of a try-scoring forward, Burge is considered a pioneer, paving the way for the likes of Johnny Raper and Bob Fulton later on.
"People who saw him at the time say he was one of, if not the best forward of all time," Flynn says.
"It's great to get that acknowledgement for him, and what better way to honour a great player than to put him on the front of a can?"
THE WHY
Honouring Glebe's past players was a big reason behind Flynn wanting revive the club in the first place. He isn't a local, but couldn't stand seeing so much history going unrecognised.
"We felt the game had forgotten this club and all the great players who played for this club," he says.
"Players like Chris McKivat, who, to this day remains the only person in history to captain both the Wallabies and Kangaroos.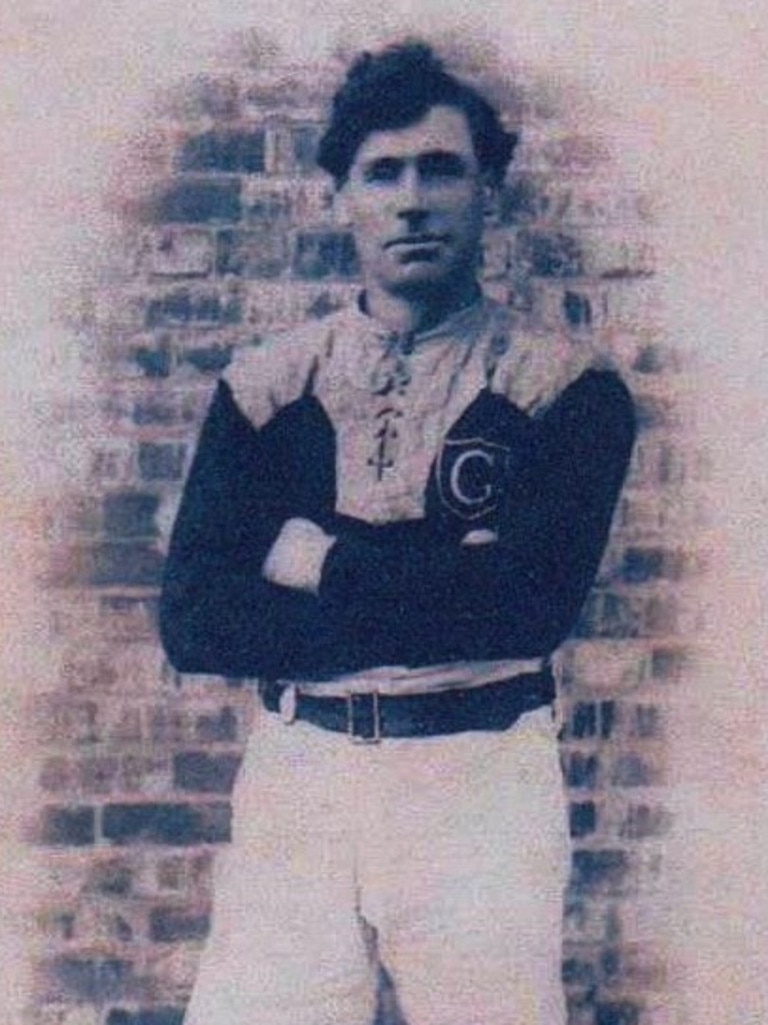 Glebe legend Chris McKivat is the only player in history to captain the Wallabies and Kangaroos.
"We wanted those players to be remembered and have a club that would champion them even years after they passed away.
"The game still remembers the greats who dug the well and created this great sport. We were the first club, and it seemed wrong to us that the club didn't exist and wasn't remembered all that well."
It's also about the next generation.
In the last six years, seven players have played in the NRL after previously running out for Glebe.
"We had Billy Tsikrikas play a couple of games for the Bulldogs earlier this year and he didn't let anyone down. He was really strong," Flynn says.
"Since 2018, the first player was Jaimin Jolliffe. We've also had Ben Marschke and Jackson Ferris.
"We've had former players like Greg Eastwood and Tyrone Phillips play as well.
"But creating pathways for blokes in the Inner West to play elite level football, that's been a goal and we've been pretty successful, so that's pleasing."
With a nod to history, and an eye to the future, Flynn still has plenty of big plans for the Dirty Reds.
"We want to get back to playing a few games at Wentworth Park," he says.
"It's got a really special place in rugby league history. It was one of two grounds, with Birchgrove Oval, to host the first every rugby league games in Australia.
"It was Glebe's home ground and we try to get back there when we can.
"We're happy with where we are in the Ron Massey Cup. Ideally we'd like to win this season, and we're in a good position.
"We had a women's team last year, and we'd love to get that back up and running in the future.
"It just shows that rugby league in the Inner West and the inner city still plays a really big part in peoples' lives."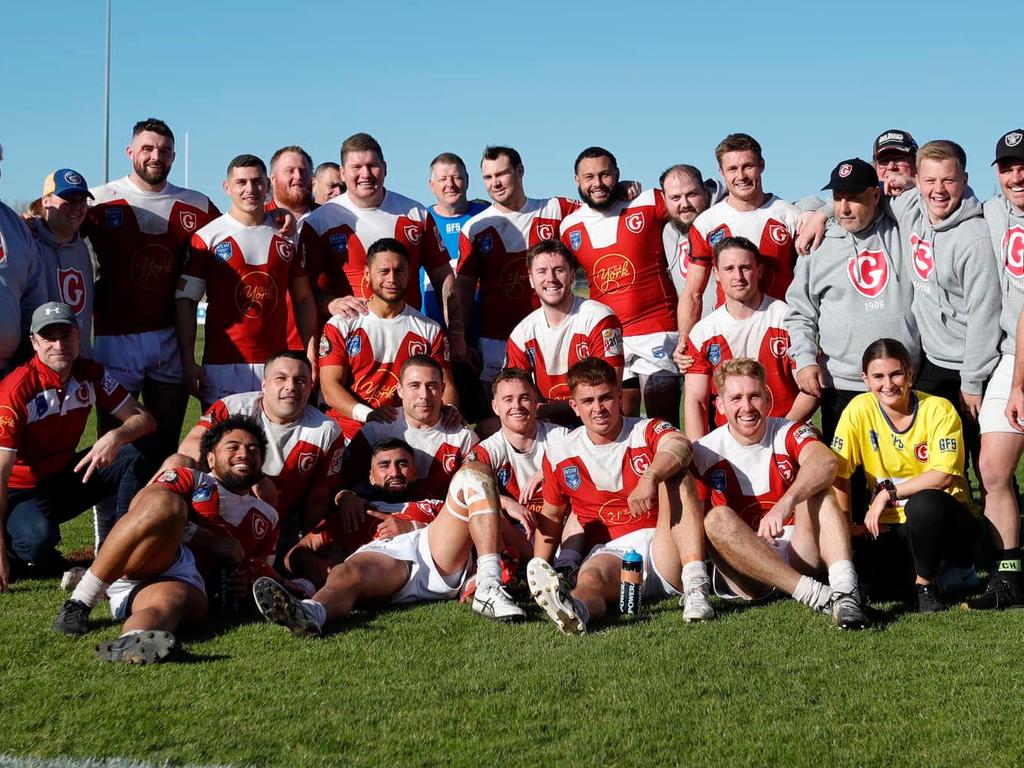 The 2022 Glebe Dirty Reds.
Besides, it's pretty cool to have your own beer, right?
"We want to have a lager as well, so that's another one for the future," Flynn says.
"The only thing is the temptation of drinking too much of the product."