Maroons ace Valentine Holmes weighing up shock Kangaroos defection
Queensland and Cowboys star Valentine Holmes has thrown open the door in a shock World Cup defection. Find out what he said here.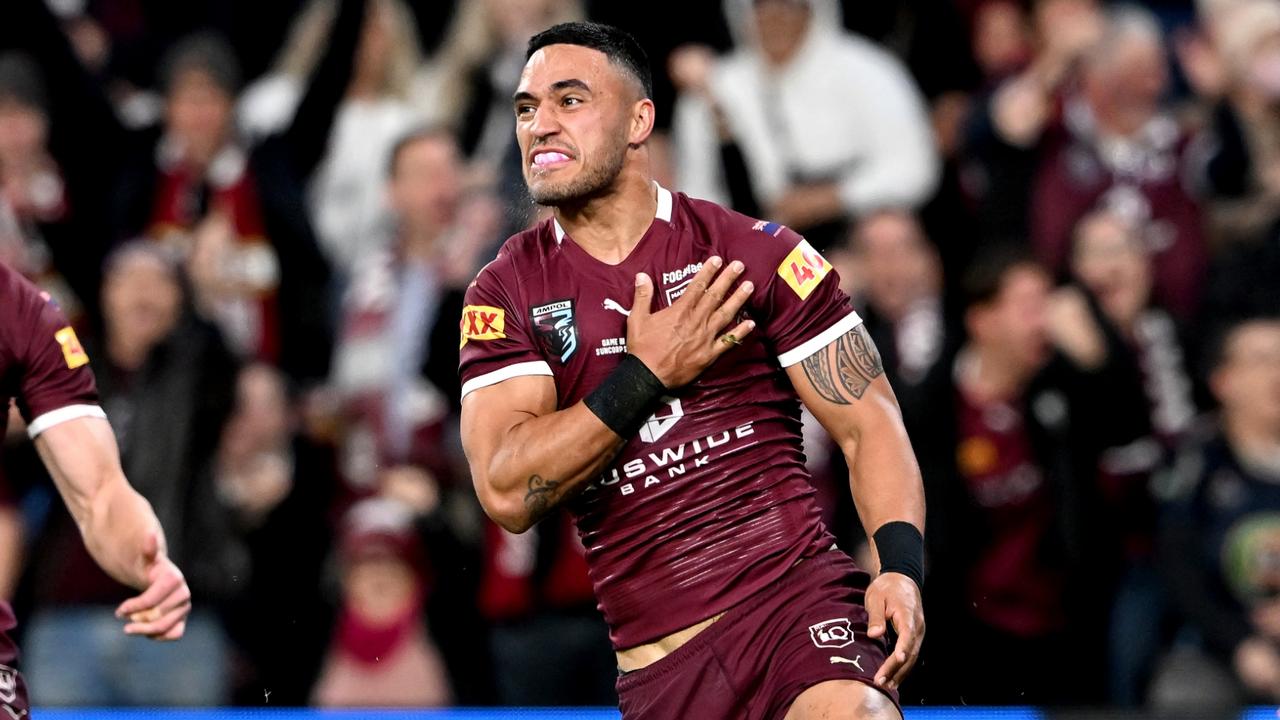 Valentine Holmes could follow his heart to the Cook Islands for the upcoming Rugby League World Cup. Picture: Getty Images
COWBOYS star Valentine Holmes is weighing up a bombshell switch to the Cook Islands ahead of the Rugby League World Cup in the UK in October.
Townsville-born Holmes was part of the Australian side which defeated England 6-0 in the World Cup final in 2017 and has played 13 times for the country of his birth.
The 27-year-old has a New Zealand father, while his mother was born in the Cook Islands.
While he can't play for the Kiwis because they are a first-tier league nation, he would be free to turn out for the Pacific Island country and while Holmes said his focus was on the Cowboys, he said his thoughts had turned to his international career.
"I have spoken to (Cook Islands coach) Tony Iro," he said.
"I think it was last year. The World Cup was meant to be then but got cancelled because of Covid and we spoke about it then.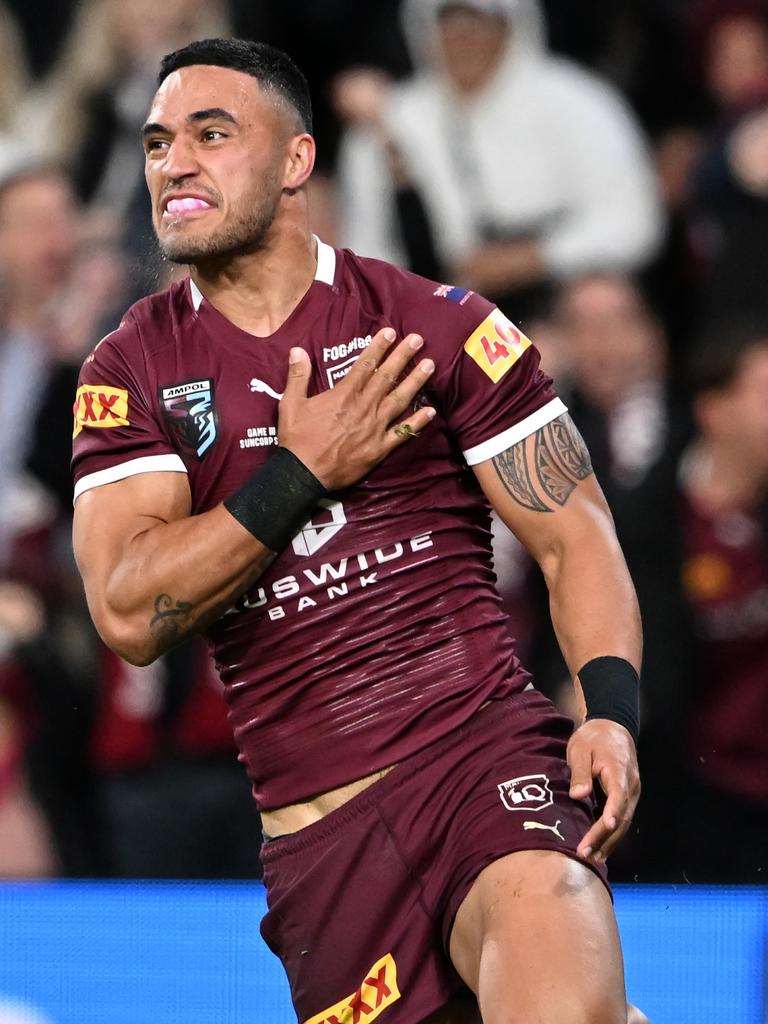 Valentine Holmes may follow his heart to the Cook Islands. Picture: Getty Image
"I know I can play for the Cook Islands, and I can play for Australia as well, so I have got some decisions to make, I guess."
If Holmes did decide to make the switch, it would be another hammer blow for Australian coach Mal Meninga after star prop Josh Papalii turned his back on the Kangaroos to play for Samoa.
Holmes said he was right behind the move from his State of Origin teammate after a trend set by his Cowboys teammate Jason Taumalolo, who switched from New Zealand to Tonga in 2017.
"I love it," Holmes said.
"It's awesome to see. We've seen what Jase, Andrew Fifita and (Sio Siua) Taukeiaho have done for Tonga and the benchmark they have set.
"They beat Australia a few years ago, which was a massive achievement for Tonga itself and for those boys.
"I think a lot of Pacific Islanders have probably seen that.
"Fiji look like they have a good team as well.
"It's good to see you know, they're playing for their heritage playing for their family and their culture. And hopefully, there's a good Cook Island side there too."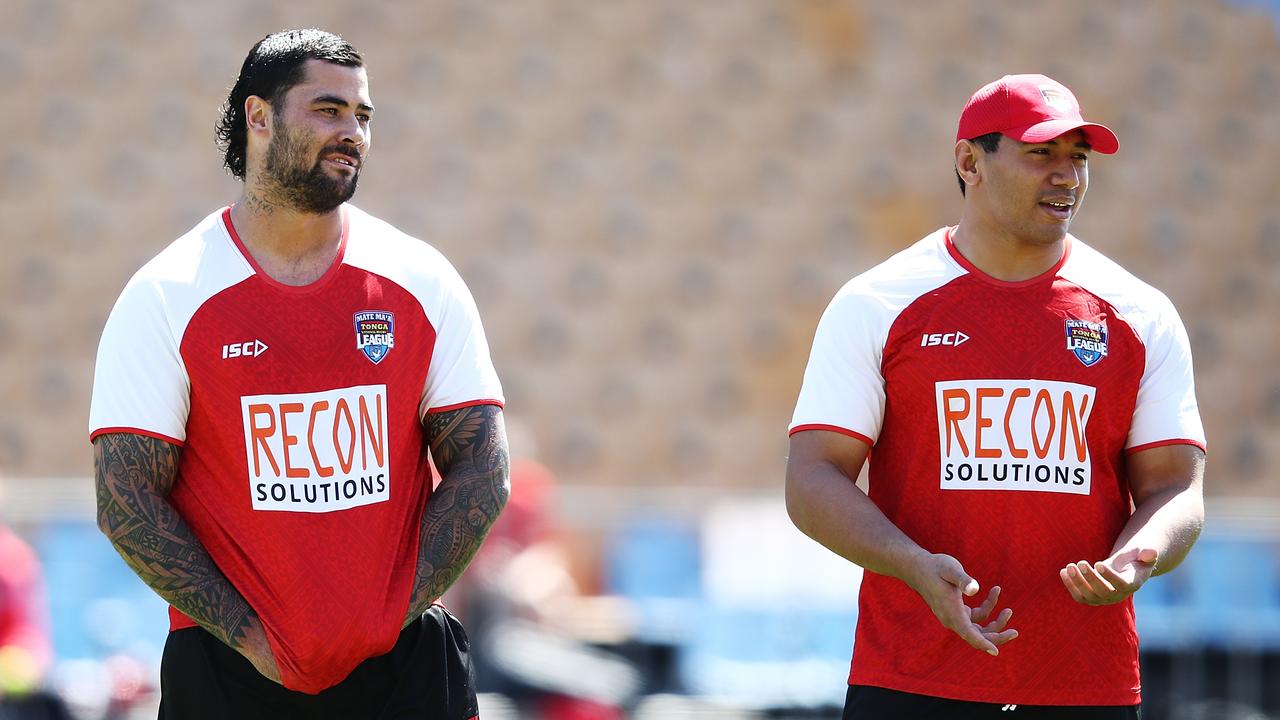 Andrew Fifita and Jason Taumalolo training for Tonga. Picture: Getty Images
Holmes has been a key man in Meninga's squad in the past few years and he said playing for his home country was in his thoughts. He added, however, that the Cowboys were at the forefront of his mind, now.
"That (representing Australia) is always in the back of the mind," he said.
"But to get there you've got to play consistent club footy in and injuries come into it.
"You have to be fresh by the end of the year. I'm not too fussed about that.
"I haven't made my mind up with where I want to go or play for, but I'm playing for the Cowboys at the moment and that's kind of what I am focused on."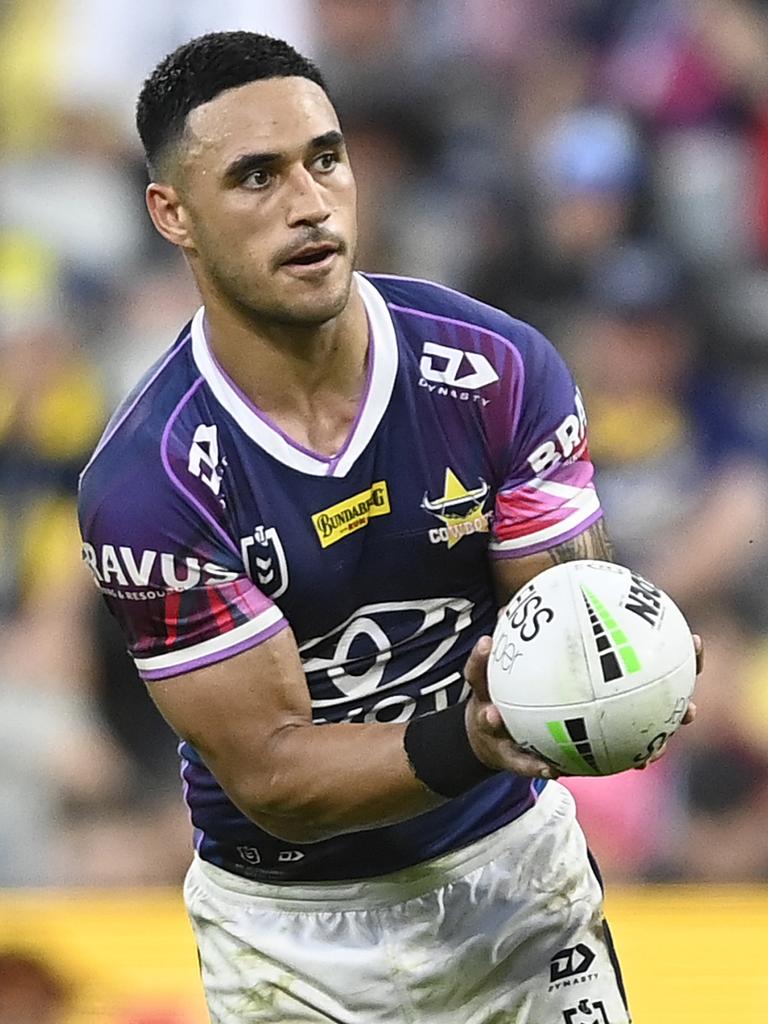 Valentine Holmes could have played his last match for the Kangaroos. Picture: Getty Images
The Cowboys ground down a determined Dragons outfit in the first half last week before running in a bag of tries late in the game at Kogarah.
Looking ahead to Sunday's clash with the Bulldogs in Bundaberg, Holmes, the NRL's leading point scorer this season, said nothing would change in their game plan.
"It's been our motto all year … win the game early, score the points," he said.
"It's all about grinding it down and making the tough contests in the first half.
"Going in 8-8 or 10-all at halftime is a win for us.
"Knowing what we can do late in second halves. If teams can't stay with us, then we know we can put points on.
"Rugby league is a simple sport. It's about tiring the other team out kick-chasing, kicking to the corners, bashing him in the corners, and then getting the result."
Originally published as Maroons ace Valentine Holmes weighing up shock Kangaroos defection