South Sydney v Broncos: how NRL stars fared in homecoming revenge games
From copping abuse to getting pelted by rubbish: we look back at 11 of the best and most brutal NRL homecomings - and what Adam Reynolds should expect against South Sydney.
Some players were abused, others cheered.
In Gorden Tallis' case, he was not only pelted by rubbish and missiles, angry Dragons fans even brought out the tennis balls for the Raging Bull's return to Kogarah in a Brisbane Broncos jersey — before big Gordie marched off the match-winning hero.
So what will it be for Adam Reynolds when the former South Sydney Rabbitohs captain runs onto Accor Stadium for his much hyped return as the Broncos' proud new leader?
Ahead of what's sure to be one of this season's highlight showdowns, we have gone back to revisit some of the more memorable homecoming grudge matches.
Stream every game of every round of the 2022 NRL Telstra Premiership Season Live & Ad-Break Free In Play on Kayo. New to Kayo? Try 14-Days Free Now >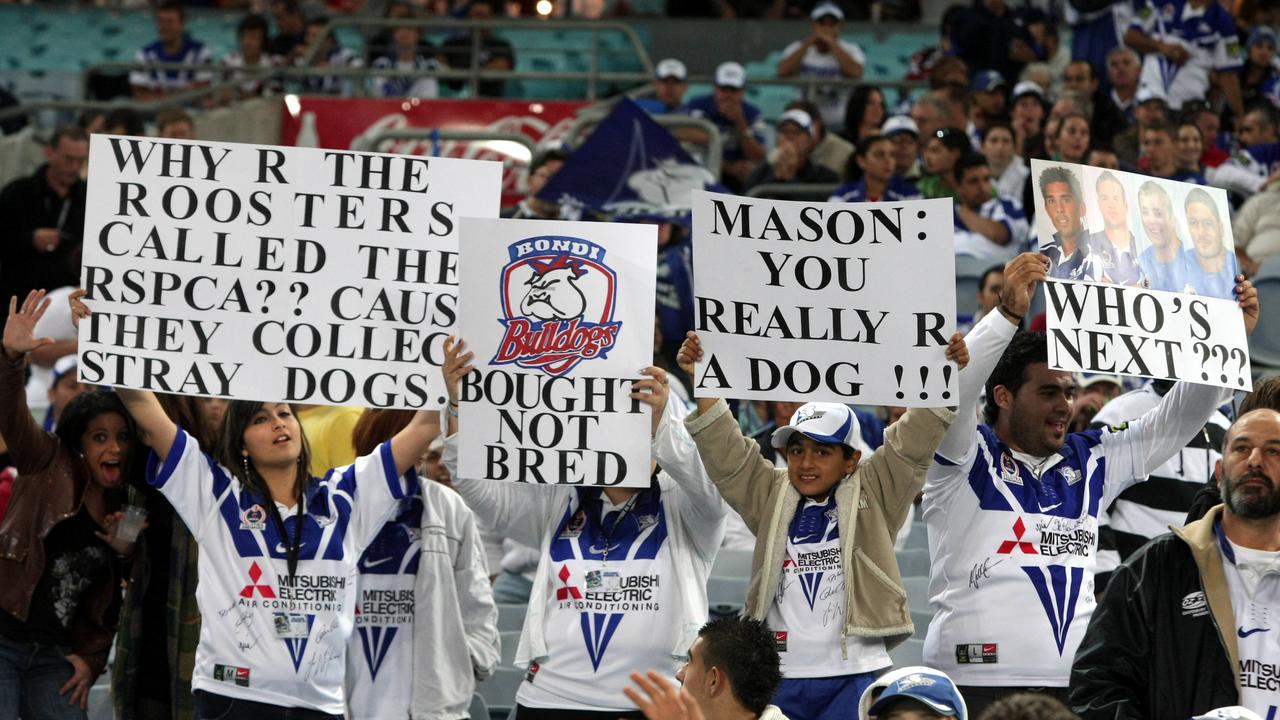 Bulldogs fans have had plenty of reason to get upset, with the Roosters taking a number of their stars over the years.
Sonny Bill Williams v Bulldogs
2013, round six: Roosters won 38-0
It was Sonny Bill's first game against the Bulldogs in 1753 days after he'd walked out on Canterbury to pursue a rugby union career.
But while Dogs fans turned up to give it to him, it was Williams who celebrated with a starring role in the Roosters' 38-0 demolition of Canterbury.
The star Kiwi finished with two tries while setting up another with his first touch of the ball.
Later that season he went on win the premiership with the Roosters beating Manly in the grand final.
Shaun Johnson v Warriors
2019 round 18: Warriors won 19-18
Shaun Johnson was the Warriors' main man for eight season as their halfback.
But after being forced to resurrect his career at Cronulla, Johnson conceded he was just thankful when the full-time hooter sounded in his return to New Zealand.
Despite going down in a one-point nailbiter in Wellington, Johnson was probably lucky the match wasn't played at Mt Smart Stadium where emotions might have been a bit more fiery.
While he copped some booing, overall the locals left him alone, with only some lighthearted banter from old teammates.
Mitchell Pearce v Roosters
2018, round three: Roosters won 38-8
As if the Roosters bringing in Cooper Cronk over the top of him wasn't enough to deal with, Mitchell Pearce then had to live through a demoralising loss on his return to the Roosters' home ground.
And just to rub the salt in it was Cronk who orchestrated the annihilation, playing a part in all seven Roosters tries.
Like he always did, Pearce tried his guts out but there was just nothing he could do to stop the onslaught from a team that then went on to win back-to-back premierships without him.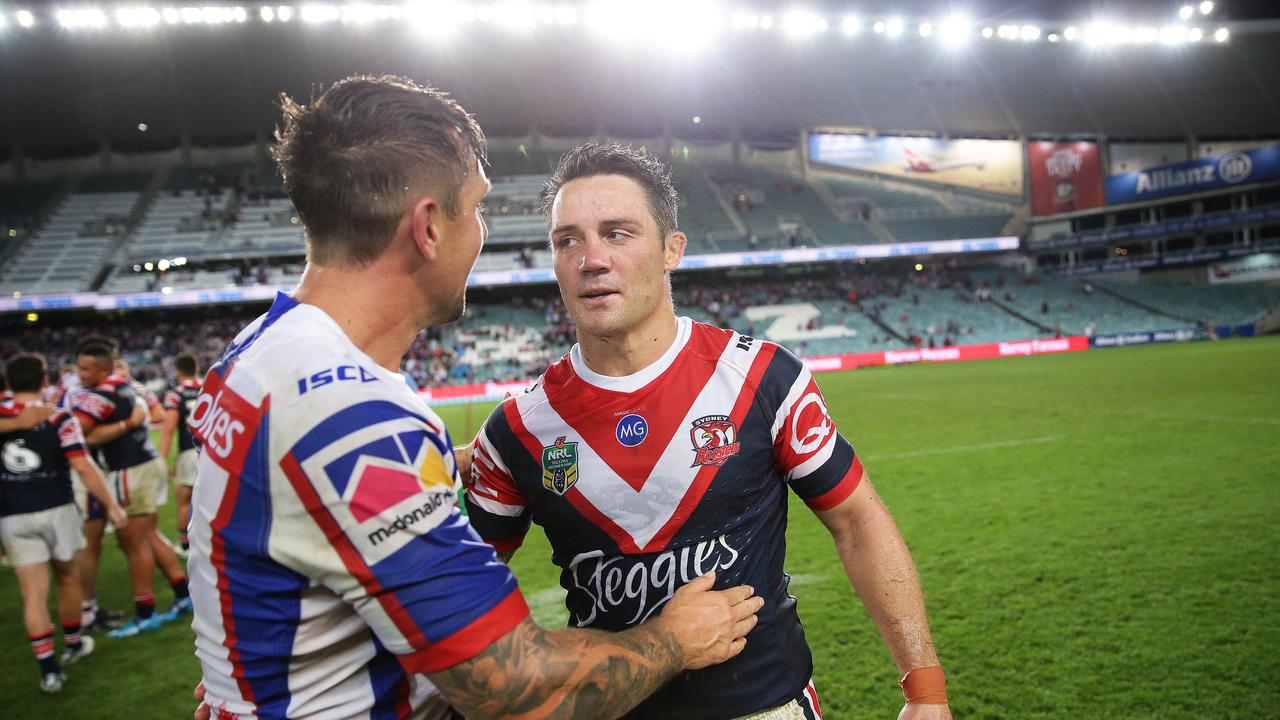 Cooper Cronk and Mitchell Pearce come together after the Newcastle star's ugly homecoming. Picture: Brett Costello
Matthew Johns v Knights
2002, round six: Knights won 52-8
As far as homecomings go, this was as embarrassing as it gets.
Even Newcastle captain Andrew Johns later admitted he felt sorry for brother.
It actually started with the former Knights five-eighth getting a cheer from the locals in his first game back following his release in 2000.
But by the end Johns was left shattered after the Knights raced in nine tries before the Sharks scored twice at the death.
Cooper Cronk v Storm
2018, round 16: Storm won 9-8
Of all the people it was Cameron Smith who snapped the winning field goal in the 79th minute to deny Cooper Cronk in his first game against the Storm.
The match was played at the Adelaide Oval where Cronk had a chance to send it into golden point in the dying seconds but had his field goal attempt charged down by Ryan Hoffman.
Hoffman had also smothered another attempt minutes earlier, leaving it to Smith to seal the victory with a stunning 40m field goal in the final minute.
Gorden Tallis v Dragons
1998, round 16: Broncos won 30-18
Gorden Tallis had sat out a season after signing to play for the Brisbane Broncos in the Super League.
But when he returned to Kogarah in 1998 in the combined ARL competition, he absolutely copped it, pelted with rubbish, missiles and, yes, even tennis balls.
Though it was the Raging Bull who had the final say when Tallis scored the match winning try.
"I didn't mind the boos but when they started throwing things it was a little more serious," Tallis said at the time.
"The fans are entitled to express their opinion and I think they still like me . . . sort of."
Wayne Bennett was all smiles after getting one over his former employers.
Wayne Bennett v Broncos
2009, round four: Dragons 25-12
Bennett refused to say it after the game, but this one would have had him smiling on the inside.
In his return to Suncorp Stadium after leaving to coach the Dragons, Bennett masterminded the four tries to two upset.
He said little afterwards he didn't feel relief or satisfaction.
When pressed on what emotion he actually felt, Bennett said: ``None. I am a football coach. I am doing my job. I am wearing a different jersey. The job is the same.''
Don't worry, it fooled no one.
Ivan Cleary v Tigers
2019, round four: Panthers 9-8
In Ivan Cleary's first game coaching against the Tigers it was left to his son Nathan to do the talking on the field, as the young halfback came up with two cracking clutch kicks to seal a thrilling win.
The Tigers were understandably shattered after leading for most of the match before Dylan Edwards scored in the dying minutes.
That left Nathan a sideline conversion after the full-time hooter had sounded to send it into overtime.
Then he nailed the match winner with a long-range field goal to send his dad home with a smile.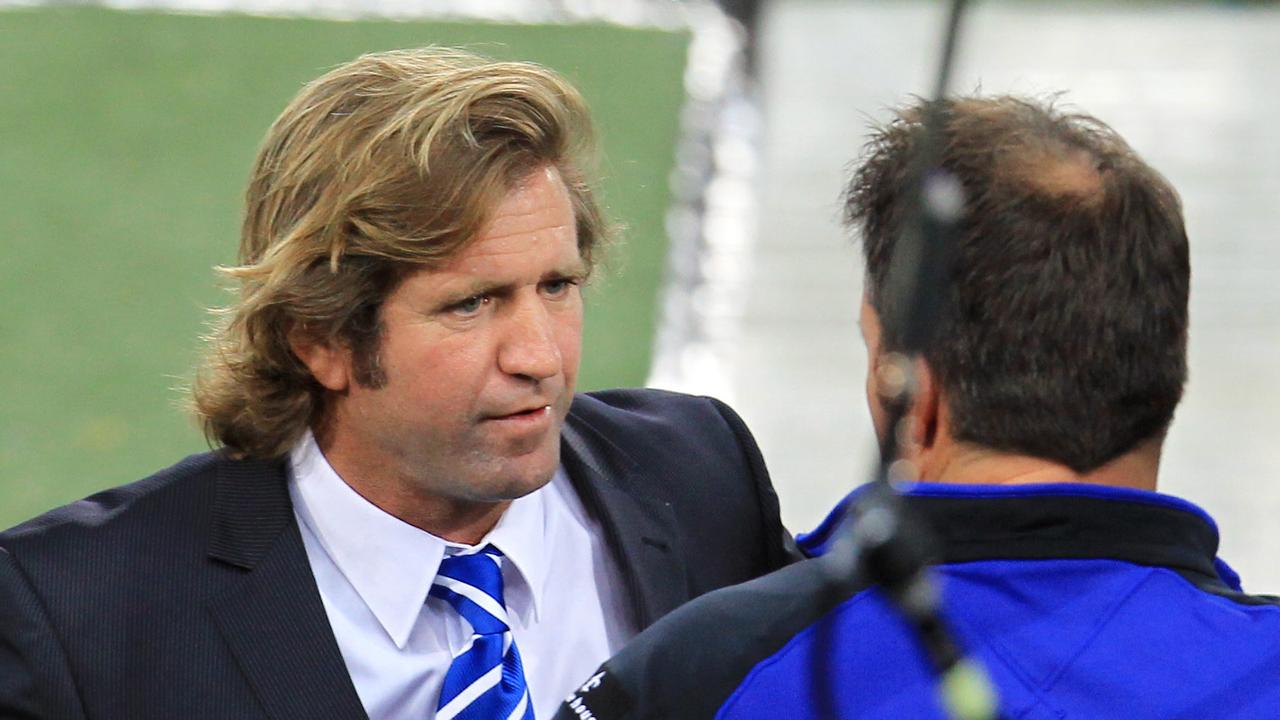 Des Hasler is used to winning at Brookvale Oval... but couldn't deliver this time.
Des Hasler v Sea Eagles
2012, round eight: Sea Eagles 12-10
It was a bitter end to Des Hasler's first spell as Manly coach when he left for the Bulldogs after taking the Sea Eagles to a premiership in 2011.
But Hasler came up just short in his first game against the Sea Eagles after the split, going down in a two-point thriller.
Of course, later that year he ended up getting the Bulldogs into the grand final after they'd finished with the minor premiership.
Benji Marshall v Tigers
2014, round 20: Dragons 28-12
When Benji left the Tigers to go and have a crack at Super Rugby with the Auckland Blues, no one expected he would end up back in the NRL with the Dragons.
But when he did it was Gareth Widdop who made sure Benji's homecoming against his former club didn't end in tears.
With Benji heavily marked, it opened up the match for Widdop to play a starring role.
"It was pretty hard to prepare for, to be honest,'' Marshall said.
"There were just times in the game where it was a bit surreal playing against the old club and looking across and seeing your mates there who you played with for so long."
Willie Mason v Bulldogs
2008, round four: Roosters 40-12
This was actually billed as the showdown between two of the competition's real heavyweights of the time _ Big Willie v Sonny Bill.
But it was Mason who destroyed his former club with a stunning two try performance following his defection to the Roosters.
To his credit, he stayed humble in victory after silencing what was a hostile crowd.
"I'm not going to start sledging my ex-teammates,'' he said. "I'd lose respect if I came out and bagged them.''
OLD MATE KNOWS HOW TO PUSH BUNNY'S BUTTONS
For years they were inseparable on the field. Now they stand on opposite teams.
And while most of the talk this week has been about how Adam Reynolds will handle the emotion of his homecoming match against South Sydney, it is going to be just as interesting to see how Cody Walker reacts when they come together for the first time at the Bunnies' home ground Accor Stadium.
Walker certainly has a reputation as one of the NRL's most emotional and sometimes fiery characters on the field.
It was on show when the Rabbitohs played the Dragons earlier this year in the Charity Shield and Walker had a running battle with his former teammate Jaydn Su'A.
But you'd expect this to be very different given the close relationship these two shared as halves partners for several years.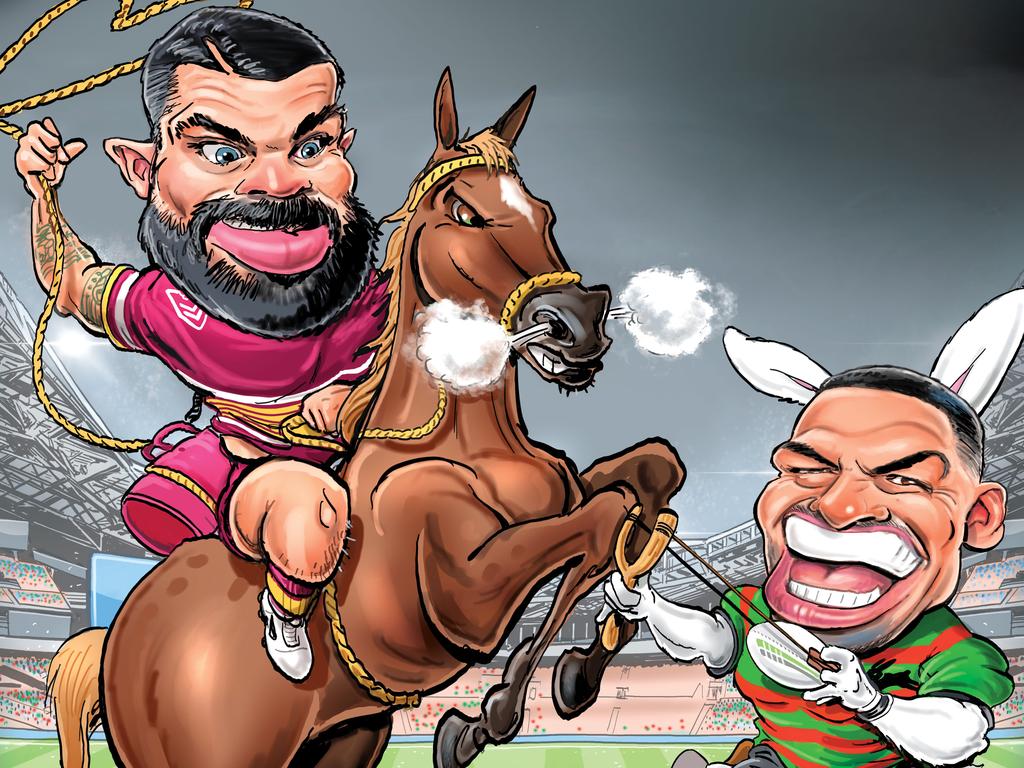 If anyone knows how to rein in Cody Walker it's his old mate Adam Reynolds. Art: Boo Bailey
Throw in the fact Reynolds is one of the game's coolest characters, who has never been known for even having a blow-up.
But will he try and bait a reaction out of Cody, or clue up his new Broncos teammates on how to push his old mate's buttons?
One thing's for sure, until recent weeks Walker was struggling to find his rhythm without his old mate.
Although he's clearly starting to warm up to the challenge with his last three games against the Bulldogs, Wests Tigers and Sea Eagles showing steady improvement.
All up this year, Walker has four tries, four assists and four contributions.
This time last year after eight rounds he had six tries, nine try assists and three contributions.
In comparison, Reynolds has two tries, seven assists and two contributions this year.
Last year he had three tries, four assists and six contributions.
SECRET BONDING RITUAL THAT GAVE RABBITOHS THEIR EDGE
South Sydney coach Jason Demetriou handed each of his players a ball last week and told them to take it everywhere they went.
For 36 hours leading into the Rabbitohs' game against Manly, the players were required to have their ball by their side.
They took it to dinner, into the ocean and for some, into their bed. They were told to cherish it like it was their first born. It was Demetriou's way of reminding his players that possession is King.
When Souths hold the ball, they generally win games. When they don't, they lose.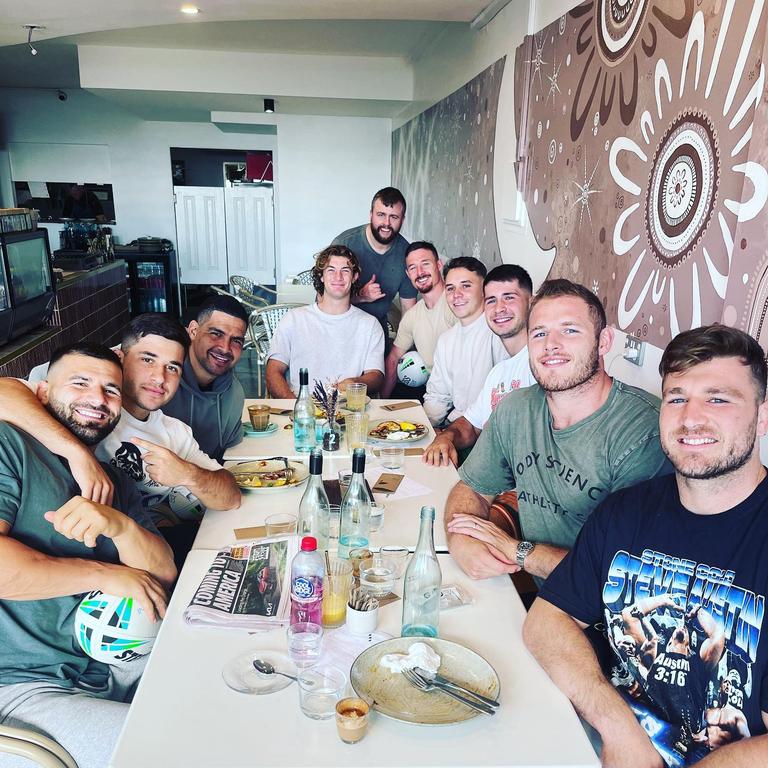 Rabbitohs players seemed to benefit from Demetriou's unusual 'bonding' exercise. Picture: Instagram
News Corp can reveal that Demetrou's radical plan had the desired effect – they completed at 80 percent against the Sea Eagles last Friday night as they secured their fourth win of the year.
The Rabbitohs had struggled with errors in the leadup to that game, leaving Demetriou searching for answers to his side's handling woes. He went back to basics.
"It was around valuing the ball," Demetriou said.
"I didn't feel like our mindset was right in terms of respecting the ball. So I gave them all a ball each and said they had to take it with them everywhere for next 36 hours, spend some time with it, nurture it and look after it.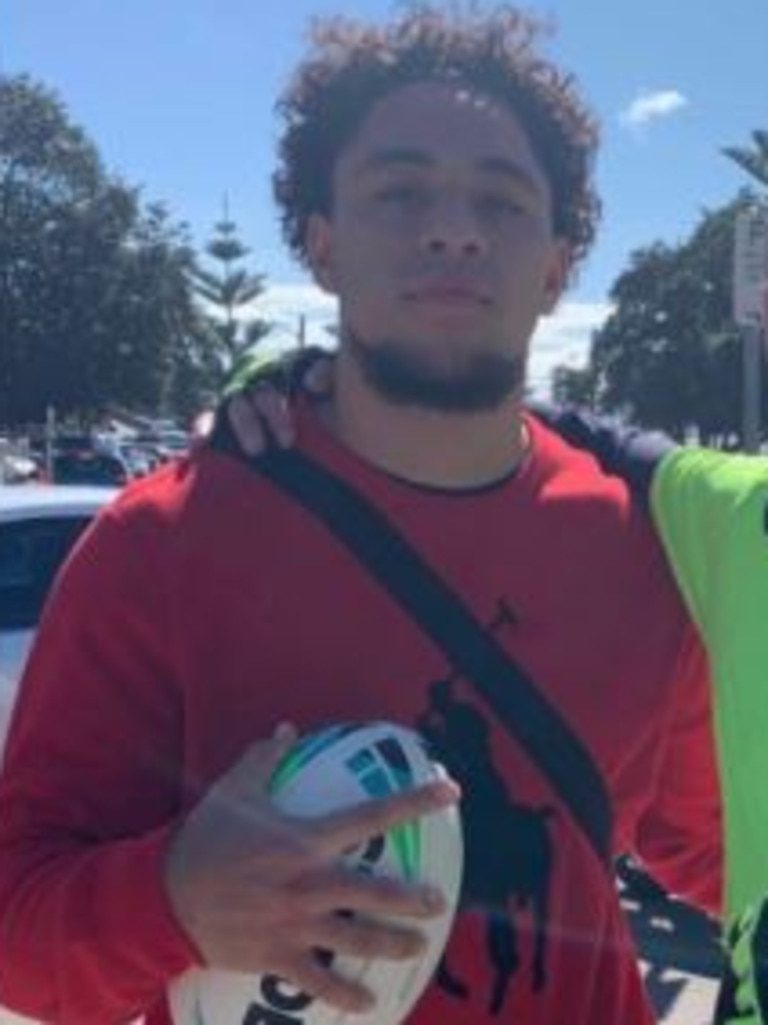 South Sydney's Davvy Moale holding his footy. Instagram
Shaq Mitchell with his footy. Instagram
"They had it in their rooms. It was up to them what they wanted to do with it. Some cuddled up with it, some took it on strolls for an ice cream along he beach, some gave theirs a tattoo, put a bit of ink on it.
"There is a bit of tongue-in-cheek in it but it is a serious message around respecting the footy and the value that will give us if they do."
The Rabbitohs had completed at an average of 69.5 per cent in their previous four matches but the turnaround was dramatic against Manly on the Central Coast.
In the leadup to the game, players were seen walking around Terrigal with a ball in their hands. They posted images on social media at dinner with their balls at the side.
The plan had the desired effect.
"I had done something similar with the Northern Pride (in the Queensland Cup) for a while pre-season where they had to have a ball at every weights session and bring it to every training session," Demetriou said.
"The good thing is the boys bought into it. We had a bit of fun but the message was pretty clear.
"We lost one or two (games) against Penrith last year when we were pretty high (with our completion rates).
"But generally if we give out best players the attacking opportunities they need, we are hard to beat."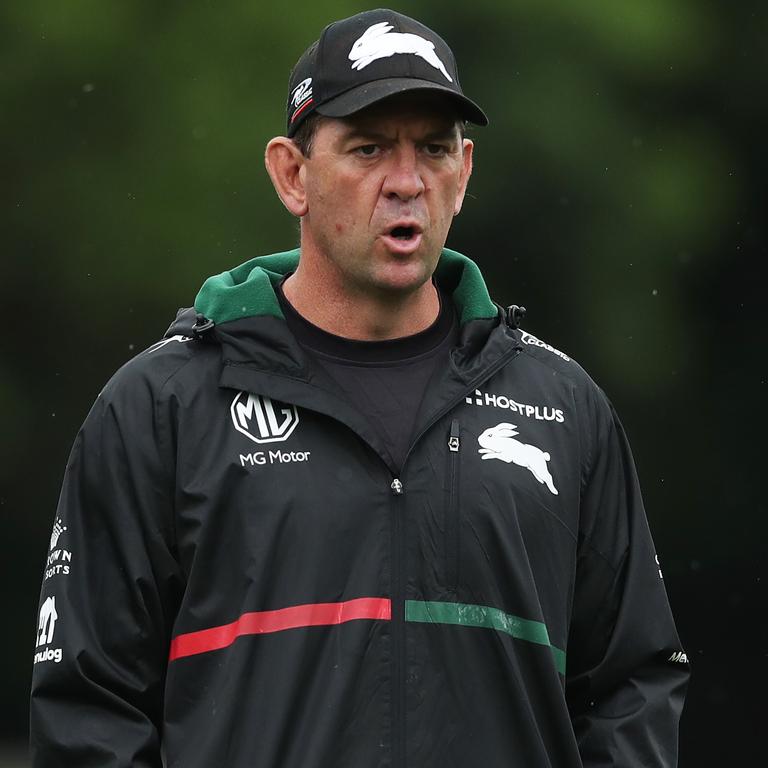 Rabbitohs head coach Jason Demetriou. Picture: Matt King/Getty Images
Meanwhile, Souths are locked in talks with Kodi Nikorima over an immediate move to the Rabbitohs as they look to fill the void that was created when the Anthony Milford deal fell over.
News Corp understands Nikorima, who is off contract at the end of the season, has been given permission to negotiate with rival clubs by the Warriors.
It is understood he had already indicated to the Warriors that he would not return with the club to Auckland next year. The New Zealand international has played just five matches this season, largely off the interchange bench, and would provide Souths with backup in both the halves and hooking positions.
Souths have room in their salary cap after a deal to sign Anthony Milford collapsed after he was charged by police with multiple offences – he eventually pleaded guilty to public nuisance and wilful damage.
Nikorima has missed the past two games due to Covid protocols and has not been named to play against the Sharks on Sunday.
In a twist to the deal, South Sydney are scheduled to play against the Warriors next week at Magic Round.
Originally published as South Sydney v Broncos: how NRL stars fared in homecoming revenge games