Banned ace Tim Simona makes pitch for NRL return on eve of pro boxing debut
Disgraced former Wests Tigers gun Tim Simona makes his return to big-time sport on Tuesday night, in the boxing ring — and an NRL comeback could follow, with his punishment served.
Exiled Wests Tigers winger Tim Simona is hopeful of making a shock NRL comeback in 2022 saying: "I've served my punishment and learned from my mistakes".
Five years after being punted from the NRL for betting on matches, Simona will finally return to big time Australian sport when he makes his professional boxing debut on a two-night Sydney fight fest topped by the likes of Paul Gallen, Harry Garside and Andrew Moloney.
While a host of headlines have been generated over the past fortnight by Gallen, Darcy Lussick, Joey Leilua and co., the debut of Simona, now 30, has gone effectively unnoticed.
Yet after being approached by News Corp at Monday's weigh in, where he looked in outstanding shape, the former Samoan Test player said he was now hopeful of securing an NRL return given the significant changes he has made in his life.
Currently working with disabled children, Simona insisted he was no longer the same person who made a series of indiscretions which, apart from the betting scandal, also included cocaine use and ripping off a children's charity.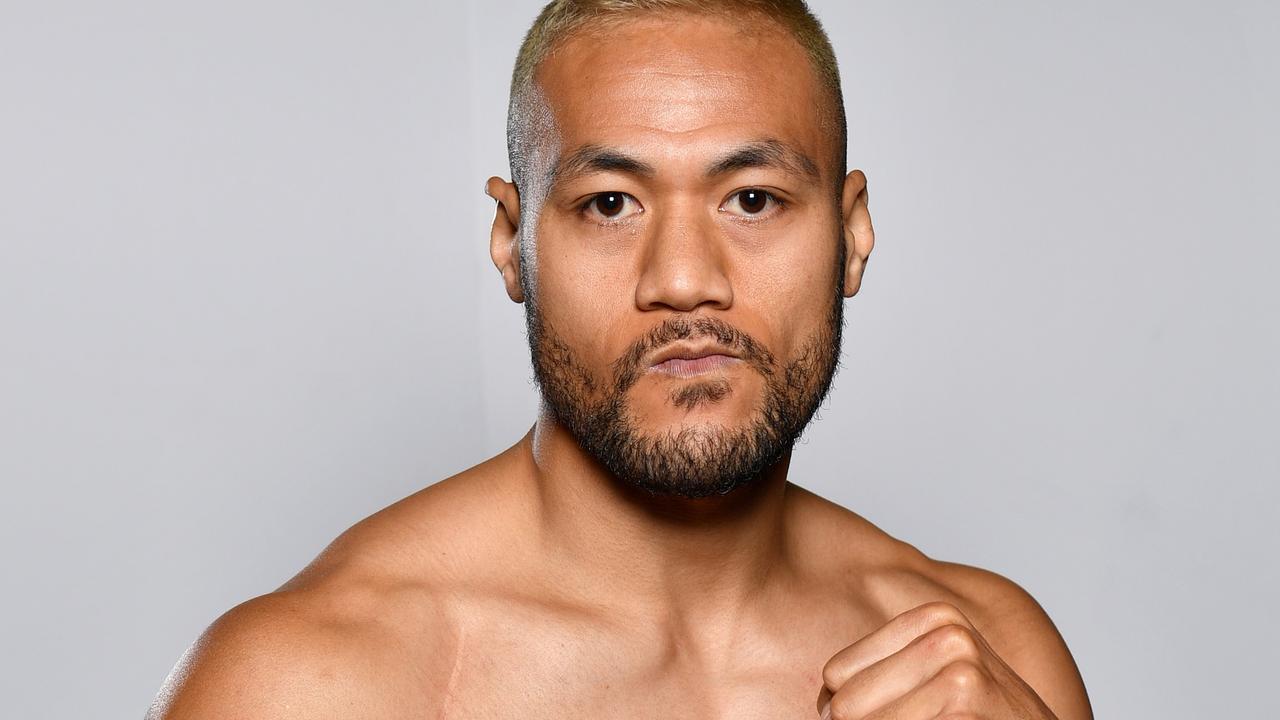 Tim Simona will make his professional boxing debut on Tuesday night. Picture: No Limit Boxing
While the former Tigers flyer will turn his hand to boxing on Tuesday night's Fox Sports card — which will be headlined by Australian super flyweight Moloney — he insisted his bigger goal remained an NRL return.
While Simona's management team has been involved in preliminary discussions with several NRL clubs, any interested franchise would have to lodge an application, and have it approved, by the Australian Rugby League Commission.
Asked if he was chasing a return to rugby league, Simona said: "Yes, I am.
"My heart has always been with footy and to get back to NRL, that's the dream."
Pushed on whether he felt his time had been served, the boxing debutant continued: "I feel like I've served my punishment and learned from my mistakes.
"But at the end of the day, it's out of my control.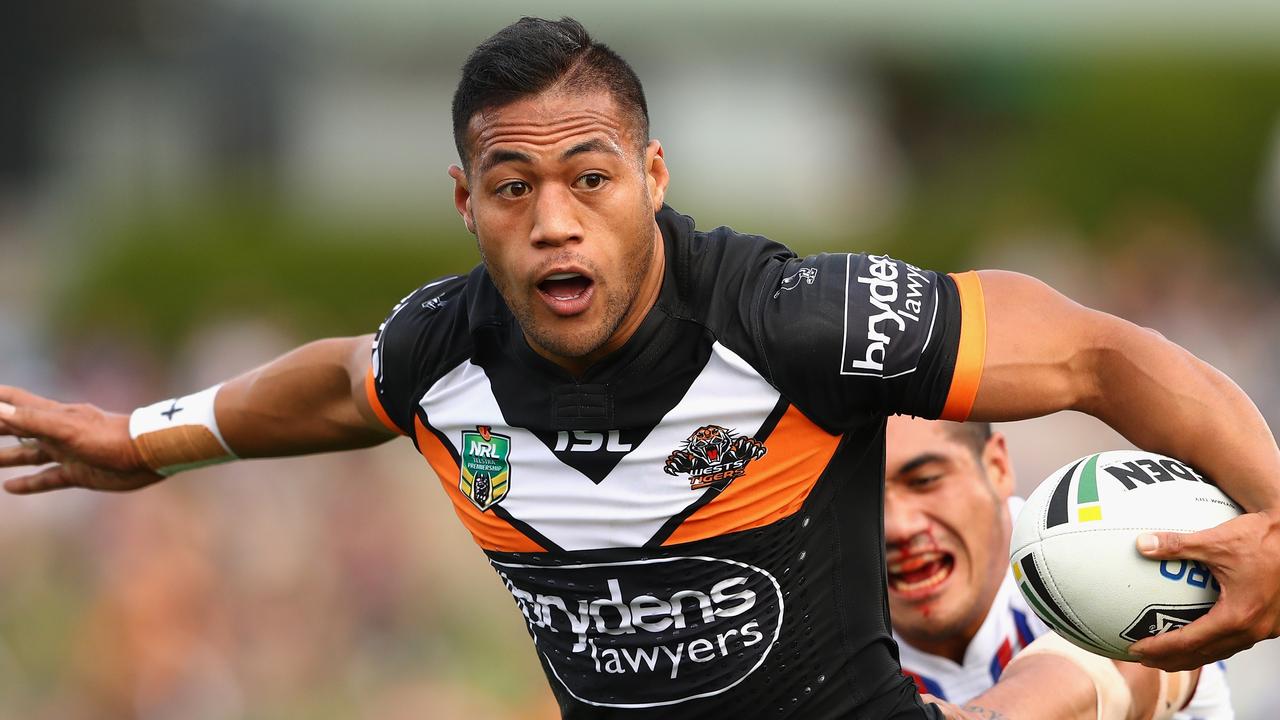 Tim Simona playing for the Tigers in 2016. Picture: Getty Images
"So I'll focus on what I can control, which means continuing to work hard, give back to the community and look after my family.
"I'll keep doing that and hopefully I will get an opportunity again."
The NRL suggested several years ago that Simona would be lucky to ever make a return to the top grade, with then NRL boss Todd Greenberg saying: "Based on the evidence we have identified it is very hard to imagine Tim Simona will be registered with the NRL at any time in the future".
However, the outside back with 79 games to his credit played this year with Manly Sea Eagles feeder club, Blacktown, after spending 2020 in club rugby with Eastwood.
While Simona is now set to debut on the last big Australian fight showcase of the year, he insisted his focus remains on rugby league.
"I'm not a fighter," he said.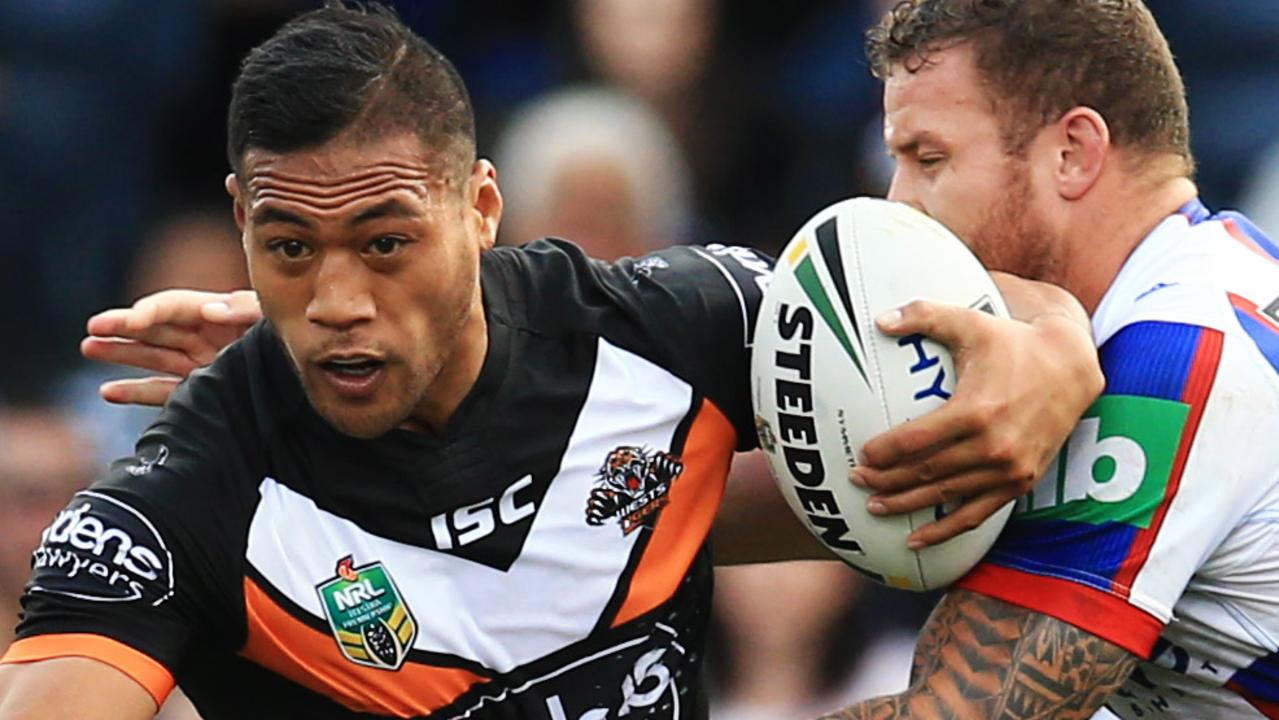 Tim Simona says rugby league remains his focus despite stepping into the boxing ring.
"But I do love competition.
"I've been out of the sporting arena for a while now so I wanted to test myself. Challenge myself.
"And I'm looking forward to it.
"It's been a hard preparation of about 10 weeks but I'm feeling fit and can't wait.
"In rugby league, you're playing in big stadiums but it's all about the team.
"With boxing though, it's one-one-one.
"So it's all pretty nerve-racking but I'll be ready.
"Once I get in the ring all the nerves will be gone."