Behind the rage is a Joey Leilua you don't know, fighting for one last chance
Joey Leilua is fighting, literally, for one last chance in the NRL. He's the untameable player who has been through four clubs – yet also a guy who'll never forget the day his dad carried him home.
Can Joey Leilua prove he still has what it takes to play in the NRL?
Joey Leilua sucks in a deep breath, steadies his wobbly legs and throws a tired but powerful one-two combination.
A southpaw, Leilua's jab falls short, but a straight left lands on his opponent's guard.
He is five rounds into his third ever sparring session, preparing for his professional boxing debut against Chris Heighington on the December 10 undercard of Paul Gallen vs Josh Aloiai.
Leilua is picking up some of the finer points of fighting but still makes plenty of basic errors.
After another heavy exchange, he yells out in frustration: "F--k sake …"
Watching from just outside the ring, leaning on the top rope, his trainer Hassan El-Achrafi asks what's wrong.
"I keep jumping in," Leilua responds, spit and sweat dripping from his lips.
'Jumping in' is asking for trouble. It's instinctive – a rush of blood to the head. Jumping in leaves Leilua off balance, exposed, and open to counter attacks.
A metaphor for Leilua generally, you might say.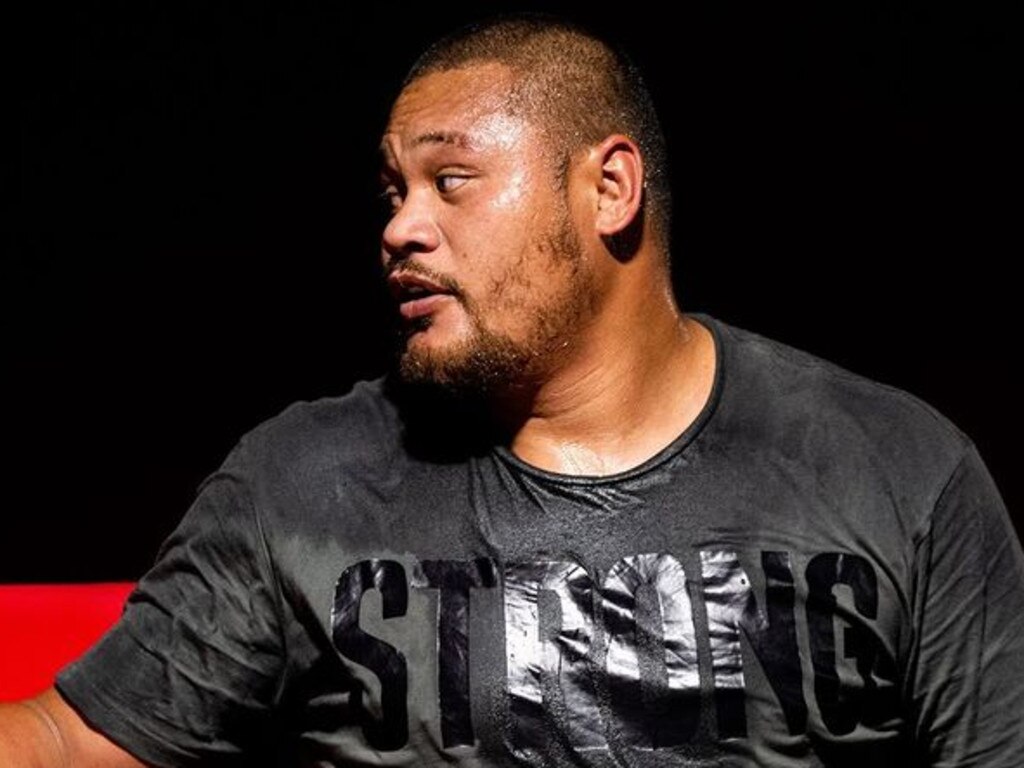 Last chance saloon? Joey Leilua deep in training for his boxing match with Chris Heighington in December. Picture: Karlo Tiscay/Supplied
On his day, Leilua is one of the most damaging centres in the NRL. But lapses in discipline and a penchant for self-inflicted drama contributed to the Tigers' decision to release him – his fourth split with an NRL club with time remaining on his contract – and he faces an uncertain future.
Leilua's fight with Heighington now shapes as his last chance to prove he still has what it takes to be a professional athlete.
'No money is enough to repay them'

To understand Leilua, start with his parents.
Joe and Aranata Leilua moved to Australia from Samoa for a better life and more opportunities for the family they were planning. Joey was born in 1991. Five more kids arrived over the next five years.
The whole Leilua clan lived in a two-bedroom Arncliffe house as they navigated life in a new country and culture.
"We didn't have anything growing up, but my Mum and Dad gave me everything they could," Leilua says. "We just thought it was normal."
Aranata worked at a dry cleaners in Hurstville. Every day, she'd collect the kids from school and walk 5km to work, making the return trip after her nightshift ended. She could have caught a bus, but walked instead to save a couple of dollars to spend on her kids.
The 10km round trip on foot was still a step up from working on the farm back in Samoa, especially if it meant a better future for her children.
"When she came here, she was just grateful to have a house, and that's how she brought us up," Leilua says. "She's the rock of the family and she does a lot for us. I love that lady."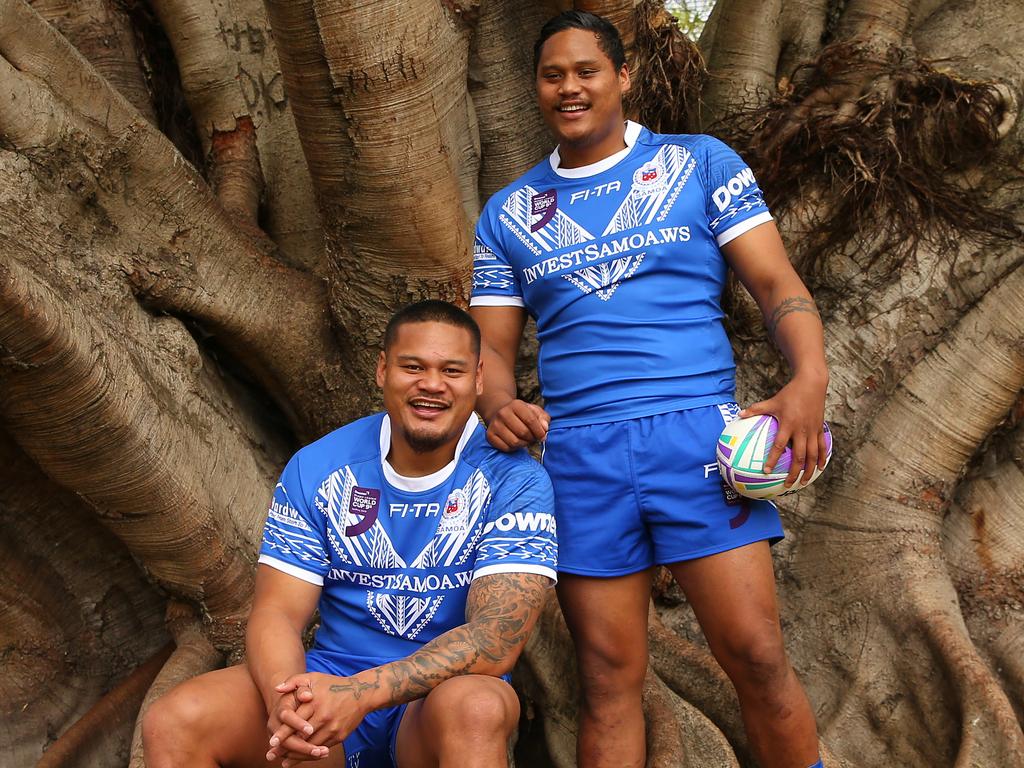 Joey and Luciano have played one Test alongside one another for Samoa, a 2019 loss to Fiji. Picture: Jason McCawley/Getty Images
Joe, meanwhile, worked long hours at a printers, producing TV guides for Foxtel.
He'd be up and out the door at 5:30am, returning home some 13 hours later. Joe was the disciplinarian, adamant his kids would live better lives than his.
Joey and Luciano trained with Hurstville United every Tuesday and Thursday night and played touch footy the rest of the week with their mates – but not before their old man made them run 10 laps of Gardiner Park down the road from the family home.
"The boys would be yelling out, 'BJ, Luch, come and play!' but we'd get a hiding if we played without finishing our runs," Leilua says.
"Dad always said that he wasn't going to let us waste our lives after the sacrifices he'd made. He was always going to make sure we made the best of our lives."
Joe is a hard, pragmatic man, but the Leilua patriarch has a softer side, too. One Saturday morning, Joe and a nine-year-old Joey were running late for the kid's footy game. So, in order to make it in time for kick-off, they used what little money they had to catch a taxi to Renown Park in Oatley.
Leilua remembers they each had a sandwich to last them for the whole day, and after full-time – his sandwich long gone – the youngster asked his dad how they were getting home.
Joe didn't have enough money for the 7km return trip, so he hoisted BJ off the ground and started walking.
"He walked all the way home with me on his shoulders. I'll never forget that – he was so sore," Leilua says.
"I was hungry, so he gave me his sandwich and he didn't eat for the whole day. I always think of him as a hard man but thinking about what he did for me that day makes me realise that what I've got now, I can't take for granted."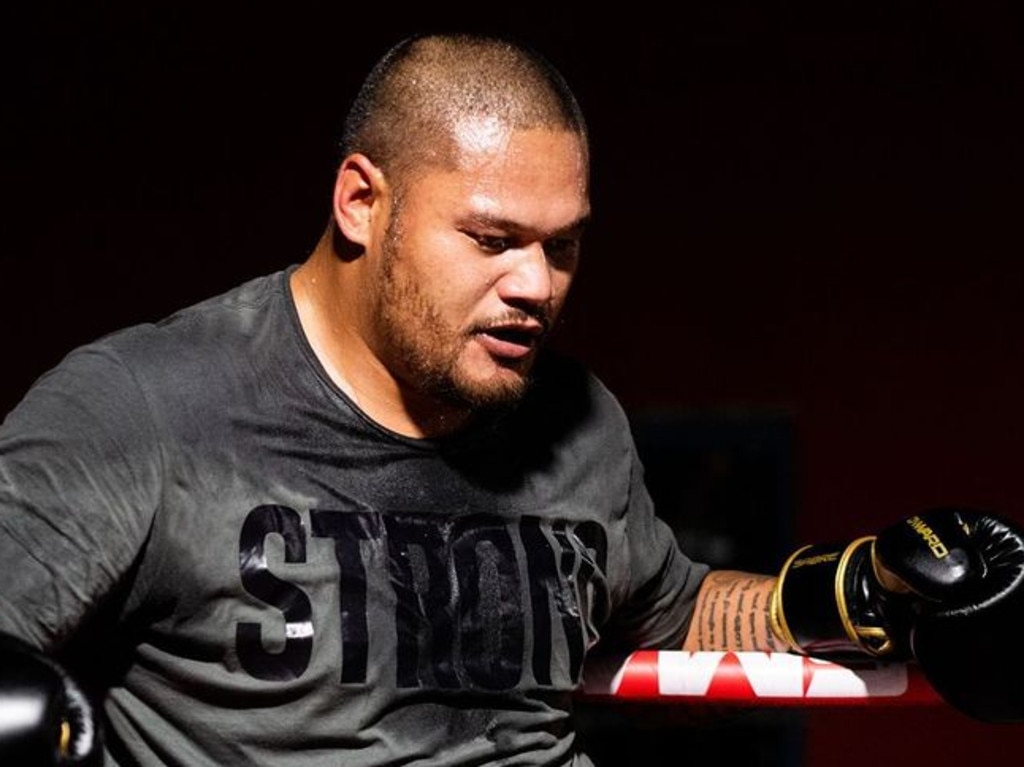 Joey Leilua is motivated by the sacrifices of his parents. Picture: Karlo Tiscay/Supplied
The sacrifices made by Joe and Aranata have long been ingrained in Leilua's exploits – good and bad – and still drive him to this day.
"I can honestly say they sacrificed more than I ever have in my entire life," he says. "I could give them all the money I've ever made in the NRL and it wouldn't be enough to pay them back.
"That's why I wish I could go back and give my dad money to catch a taxi so he didn't have to carry me home that day."
It weighs heavily on his shoulders.
"Because of his upbringing, he feels that responsibility," his boxing coach, El-Achrafi, adds
"A lot of people say he gives up, but I think it's disappointment in himself that he didn't do better.
"The way he portrays that might not be ideal, but everyone's different and I see someone who has very high expectations and if he doesn't meet them, he shuts down."
Coaches
Since his 2010 NRL debut as a teenager Leilua has fallen in and out with some of rugby league's biggest coaching names, searching for and craving the kind of leadership and example his parents set.
The closest he's come to finding it is with Wayne Bennett, who, Leilua says, is the best coach he's ever had.
"[Bennett] doesn't change who you are, but he chisels the things that need to be fixed," he says of his two seasons playing under Bennett at the Knights.
"He'll say something in a private manner instead of saying it in front of the whole group. Unless you need to be sprayed, then he'll tell you.
"He would always tell you things to motivate you to do your job."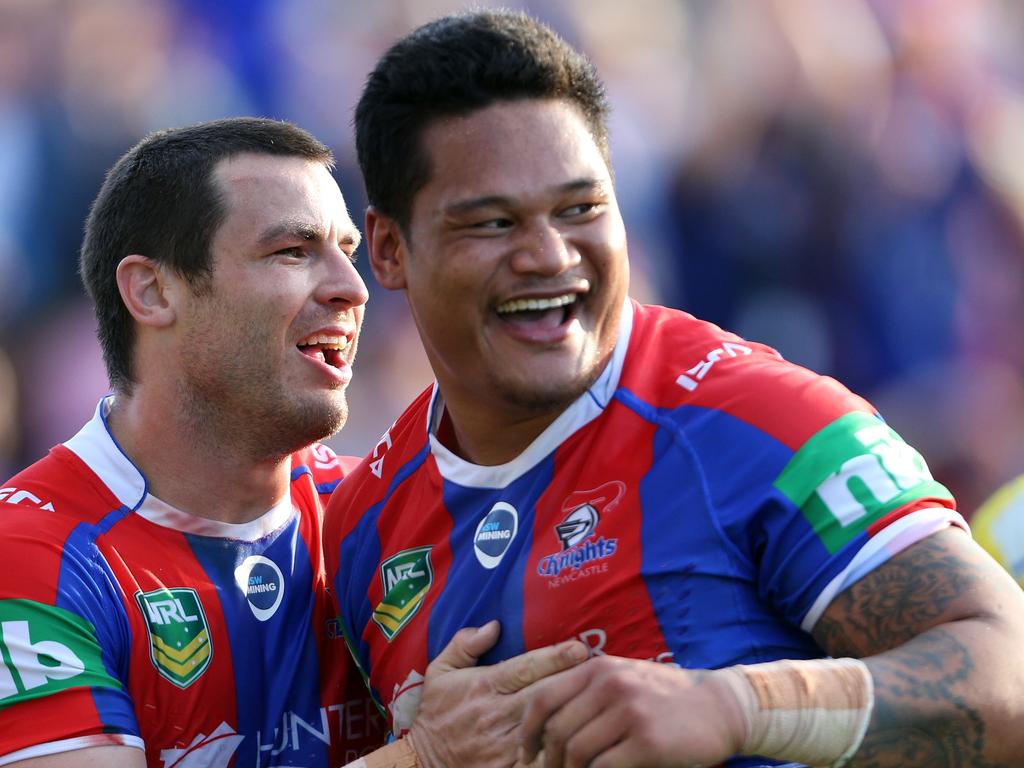 Good times under Wayne Bennett at the Knights. Picture: Renee McKay/AAP
El-Achrafi has taken a similar route over the past two months training Leilua in the ring.
Take, for example, a recent sparring session between Leilua and Tim Simona, another controversial ex-Tigers centre. El-Achrafi scheduled them in for three rounds, but wasn't happy after the nine minutes was up. He ordered them to go one more round. He still wasn't happy. Another round.
"The boys looked like they wanted to kill me," El-Achrafi says. "But it worked. The last round was the best one either of them sparred."
Leilua considers his four years at the Raiders the best of his career. Despite leaving in a huff after the club signed Curtis Scott from Melbourne in 2020, he insists he still loves the Green Machine and respects coach Ricky Stuart.
"[Stuart] has always been straight up with me," he says. "He said I wasn't good enough one week [and I was dropped], then the next week he said, 'We need you to play,' and I played.
"That was the thing I respected about Ricky. He was always straightforward. He never sugar-coated anything. He'd tell you to your face."
Joey Leilua's last game for the Raiders was 2019's heartbreaking grand final loss to the Roosters. Picture: Mark Metcalfe/Getty Images
Moving to the Wests Tigers, he says, was the biggest mistake of his career.
"I wish I could take it back, to be honest."
The decision to offer withering criticism of Tigers coach Michael Maguire has made for many a headline over the past month, but he explains his side of the story.
"Every week we'd change to different tactics," Leilua says of Maguire's approach. "For a few weeks, we had passive defence and teams were scoring on us. Then the next week, he'd say, 'We're gonna hold the line', and teams would keep scoring on us. Three weeks later, it changed to, 'Let's jam'. We just didn't have a system."
The approach created rifts within the playing group, Leilua says.
"You can see it in the team, you didn't know what you were going to get," Leilua says. "One day you'll have one guy jamming and another guy sliding, and it's just creating tension between two players."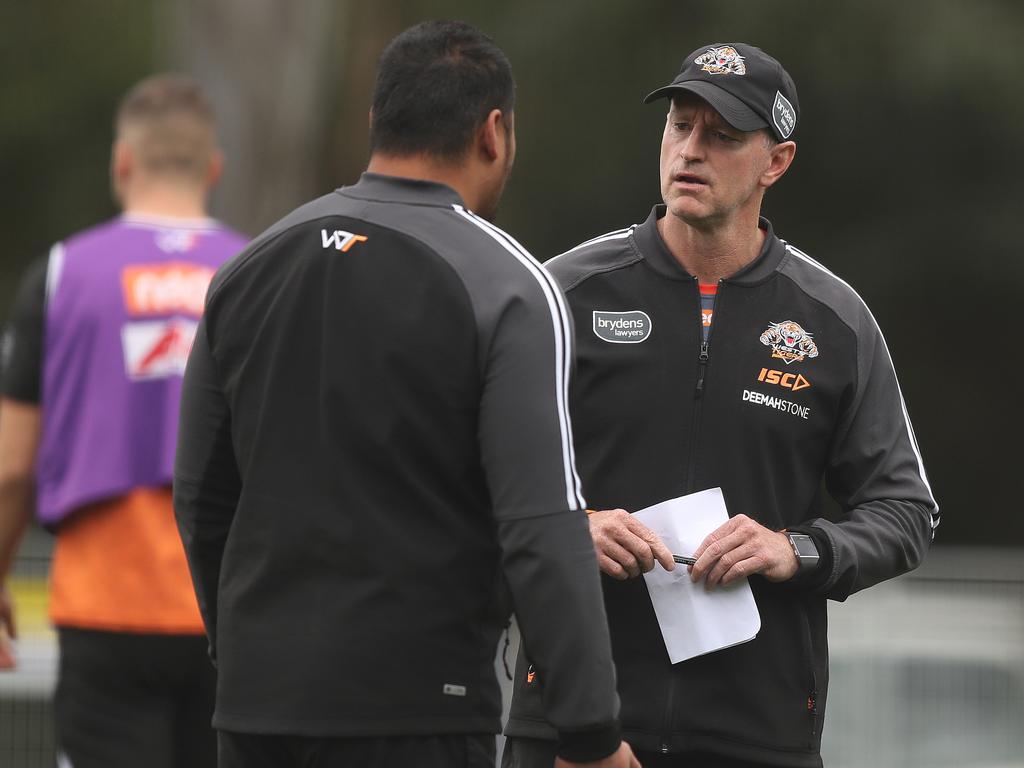 "I wish I could take it back." Joey Leilua says his move to the Wests Tigers was the worst decision of his career. Picture: Brett Costello
Did he ever try speaking with Maguire about it?
"Many times," he says.
Tension between the pair boiled over during the Tigers' 36-28 defeat to the Titans in May. Leilua and Maguire engaged in a heated confrontation in the tunnel at Campbelltown Stadium, part of which was captured in the fly-on-the-wall documentary, Wild Wests: Tales from Tiger Town.
"I just looked at him and went off at him," Leilua says. "That's the video in the doco, where he's going off at me, but actually I went off at him."
Leilua played just two more games in 2021 and is now without a club.
"I've got nothing against the Tigers. Nothing bad to say about them or the players – they have a great team," he says.
"They just need the right direction and unfortunately they don't have that at the moment."
A last chance
Leilua's release from the Tigers leaves him at a crossroads.
At 29, he still has quite a few years left in the game, but many clubs can't look past the baggage he carries. Two NRL sides have made inquiries, while Super League and rugby union are both options.
Then there's boxing.
When he first walked into Final Round Gym near Liverpool, Leilua and El-Achrafi didn't even train. They just spent a couple of hours talking about life, footy, kids and the future.
"The guy wears his heart on his sleeve, and even off the field, he's passionate, which can lead him to trouble," the coach says.
"He's very loyal, and he expects that loyalty in others as well. It makes him a good person at heart, but it's got him in trouble in the past.
"He's got a shield but he's very soft at heart."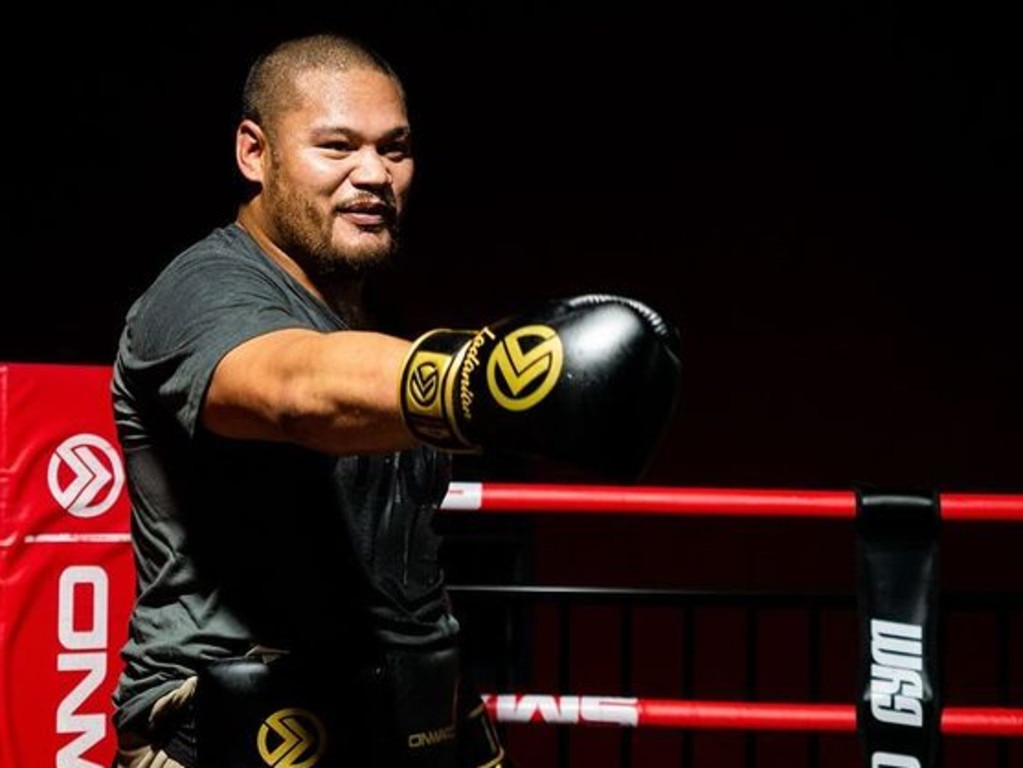 "He's very soft at heart", says boxing coach Hassan El-Achrafi Picture: Karlo Tiscay/Supplied
For his own part, Leilua knows he can overstep the mark on the field but says: "It's win no matter what – I've always been taught that.
"I'm not there to make friends," he continues. "As soon as a whistle goes, that's it. Whatever happens on the field stays on the field.
"Everyone thinks I'm a hard head when they see me on TV, but then they come and meet me and I'm the opposite."
Leilua and El-Achrafi have spoken at length about what December's fight with Heighington means for his footy career and image. They know most people want him to lose. They also know it might be his last chance to convince footy clubs he is worth a shot.
"If I was to retire, I'd be disappointed because I still think I have the ability to play first grade at a high level," Leilua says.
"It's been difficult, but I still love footy. I'm still passionate about it."
Seven weeks before fight night, Leilua pulls on a pair of black and gold boxing gloves.
On top of the left-hand glove, written in gold cursive lettering is the name of his oldest son: Leonidas. On the right glove, in the same spot with the same lettering, is the name of his youngest son. Ladanian.His daughter, Lyra-Rae, the youngest, is at home with mum, Tiana.
El-Achrafi gifted the gloves to Leilua as a reminder of why he's here.
On this night, his boys stand outside the ring, watching wide-eyed as their dad tries to stop himself 'jumping in' while sparring a couple of experienced professionals. He's getting there.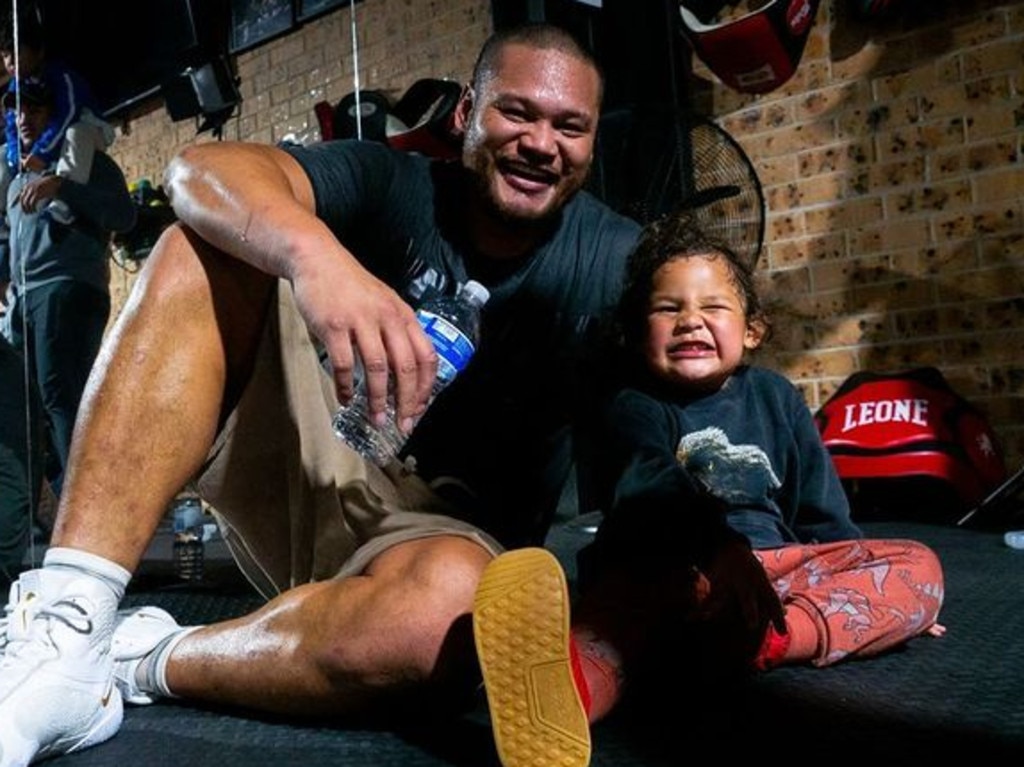 Joey Leilua and his youngest son, Ladanian, take a break from training. Picture: Karlo Tiscay
Later, Leilua warms down with some shadow boxing. Standing in front a mirror, he throws jabs, hooks and uppercuts. The figure he sees reflected isn't perfect, but he's doing his best to get it right.
Leonidas walks over, pulls on a pair of oversized gloves and takes up a fighting pose in front of a heavy bag. He studies his dad, but the controlled jabs and practised combinations don't look like much fun.
He throws wild haymakers instead.
"My dad used to work all day every day and I never got to see him – we never got to hang out with him as kids," Leilua says. "To see my son looking up to me, I just want to be there for him and be around him.
"I just want all my kids to know that Dad's always going to be there for them."