Greg Alexander: Why Penrith's grand final win brought me to tears on live TV
GREG ALEXANDER couldn't watch the thrilling climax of Penrith's grand final triumph, yet had never felt raw emotion so strong - all with the Fox Sports cameras rolling.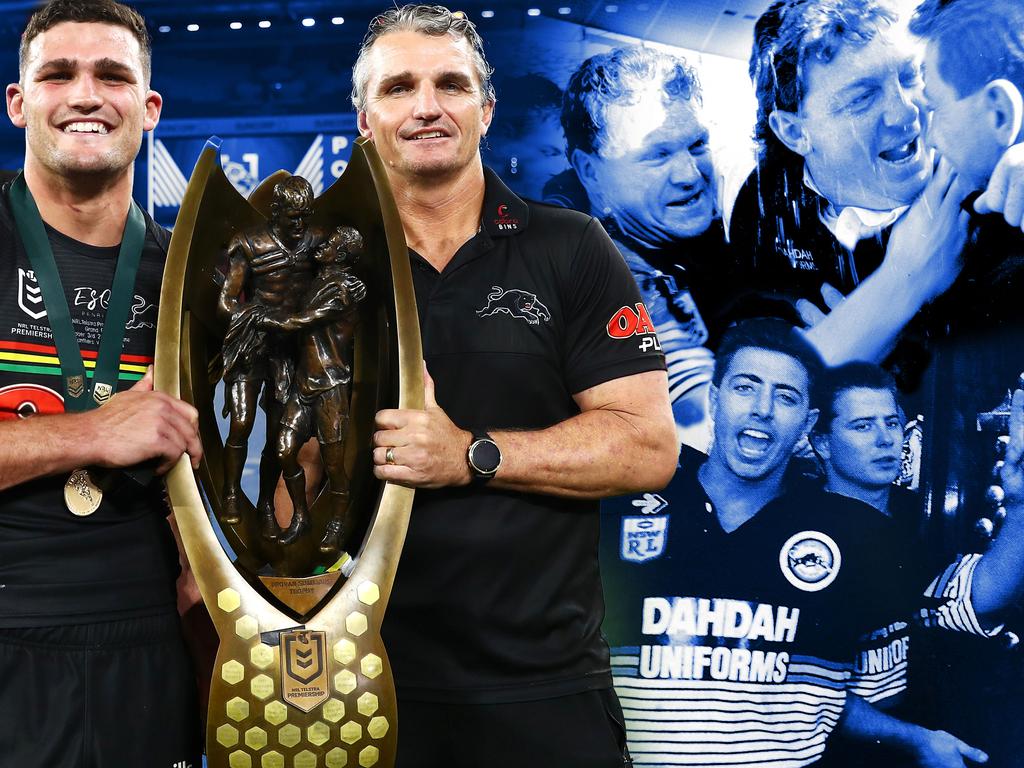 Greg Alexander, Penrith's 1991 premiership-winning captain under legendary coach Phil Gould, couldn't hold back his emotions as the Panthers won the 2021 grand final with Ivan and Nathan Cleary at the helm.
I don't know how to explain what came over me as I wept. You might have seen the footage. With the lights up and cameras rolling at Fox Sports, I let the emotion take over. I had no choice. I lost control as soon as the full-time whistle blew and Penrith had won our third premiership.
I was overwhelmed with relief and emotionally spent from pacing the greenroom during the grand final, one eye hardly daring to glance at TVs hanging on walls all around. And once it was over the tears flowed freely.
I've never cried over a rugby league game before and I don't think the raw emotion I felt that night will ever be matched. Looking back on it, I've started to realise why.
*****
I've spent most of my life at the Panthers as a player, part of the coaching staff and now as a board member. To have no contact with the team for months was very strange.
In little ways I still felt a part of it all, even though I stayed in Sydney while the football staff and players were in camp in Queensland. Texts of encouragement were sent when needed, a few messages of congratulations here and there. But mostly I left the players alone. During the two months Nathan Cleary was sidelined with a shoulder injury I knew even if I asked him how he was, I wouldn't get anything out of him other than 'I'm all right'.
Instead, I checked in with the medical team a few times a week to get a clearer picture of how high my hopes should be. I knew it was a serious injury as soon as it happened during game two for NSW earlier in the year. As part of the Blues coaching staff we got word from the field that he had subluxed it, as only those who watched him closely realised.
Knowing how bad it was, I'm still amazed he was able to get through the final eight weeks of the season the way he did and still be the best player on grand final night. We had plenty of courageous stories this season but there are none bigger than what Nathan was able to achieve at the age of 24. His injury was my biggest worry, but the way he battled through it was also my greatest source of pride.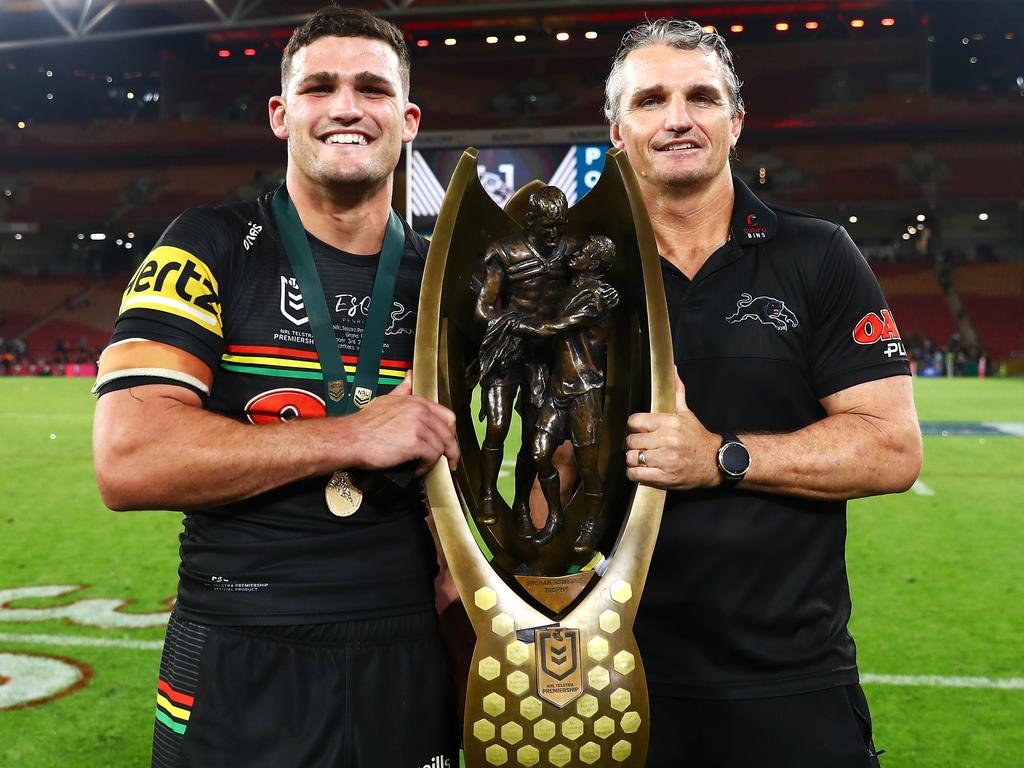 Nathan Cleary's shoulder injury was Greg Alexander's main worry heading into the 2021 NRL grand final. Picture: Chris Hyde/Getty Images
*****
During the season phone calls and Facetime chats bridged a 1000km gap, but it was a world away from how close I felt to the 2003 team ahead of our second premiership. I was part of the coaching staff back then and worked with Craig Gower, Luke Rooney, Luke Lewis and Rhys Wesser a few days a week. That grand final win was the happiest I've been in a game of footy because I was so close to the players and deeply involved in the process.
It was completely different again to the feeling I had winning our first premiership as a player in 1991. That emotion was more relief, remarkable elation and a full sense of achievement. Maybe because we'd lost the year before I knew what that felt like and was so happy to avoid that feeling again. All of those memories came flooding back this year as well. I knew how much pressure we were under to right the wrongs from 2020 and it all bubbled to the surface in the final 10 minutes of the grand final.
Behind the scenes we were broken after a gruelling month of footy. Aside from the four grand finals we've played in, the preliminary final against Melbourne was the biggest game in Penrith's history. We had been bashed by Parramatta the week before and I knew Nathan's shoulder – as well as two seasons worth of work – was hanging by a thread. I worried how much was left in us. Melbourne were fresh and we were anything but. Then, by the time we got to Souths, we were running on empty and I was even more nervous.
There was a lot of talk leading into the game about how Ivan hadn't won a grand final after coaching so many games. He was in my thoughts at full-time, and I texted him to let him know. He'd been vindicated.
Part of the emotion that spilled out of me in the post-game show was relief – I could only imagine the pressure our boys would have been under if they had lost two grand finals in a row.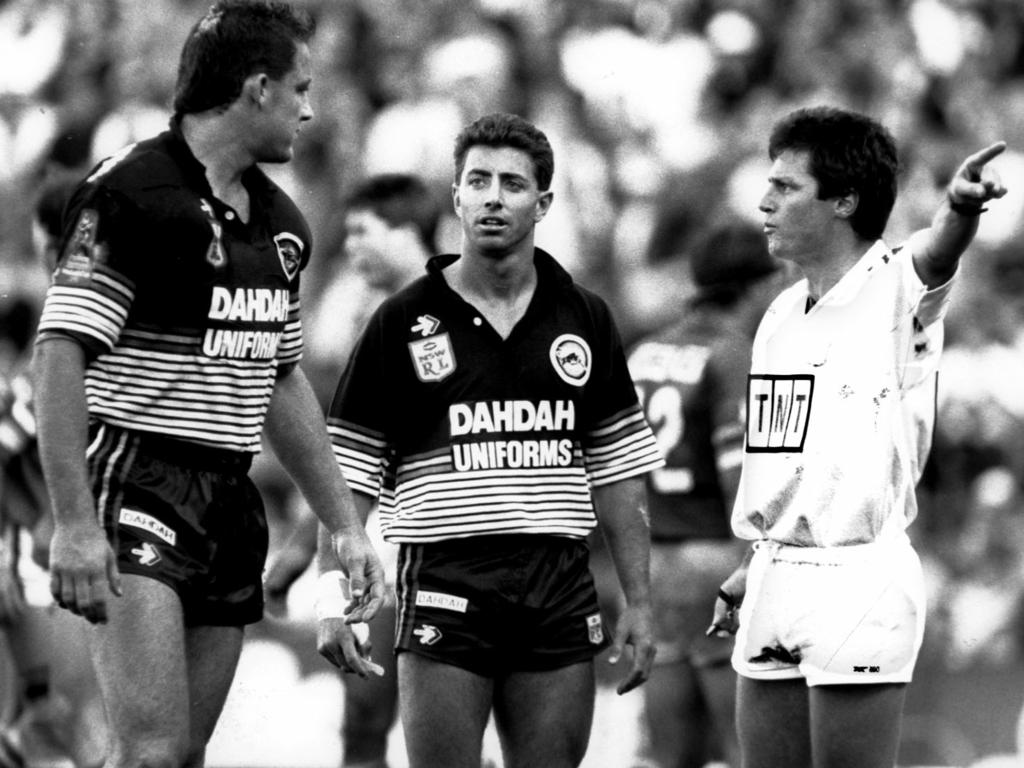 Referee Bill Harrigan threatens to send off Penrith's Mark Geyer (L) as captain Greg Alexander looks on during the 1991 grand final.
*****
And so, watching Adam Reynolds line up that kick was excruciating. I don't believe in fate, I think you have to earn everything you get in life. But there was a fairytale developing for South Sydney. Everything was pointing to a miracle.
The little halfback, in his final game for his beloved club, had a chance to level the scores with a sideline conversion in the 75th minute. Nine times out of 10 he kicks it, too. I was convinced it was going over and was stunned it didn't. I stayed in that heightened state of suspense, pacing that studio, until it was all over.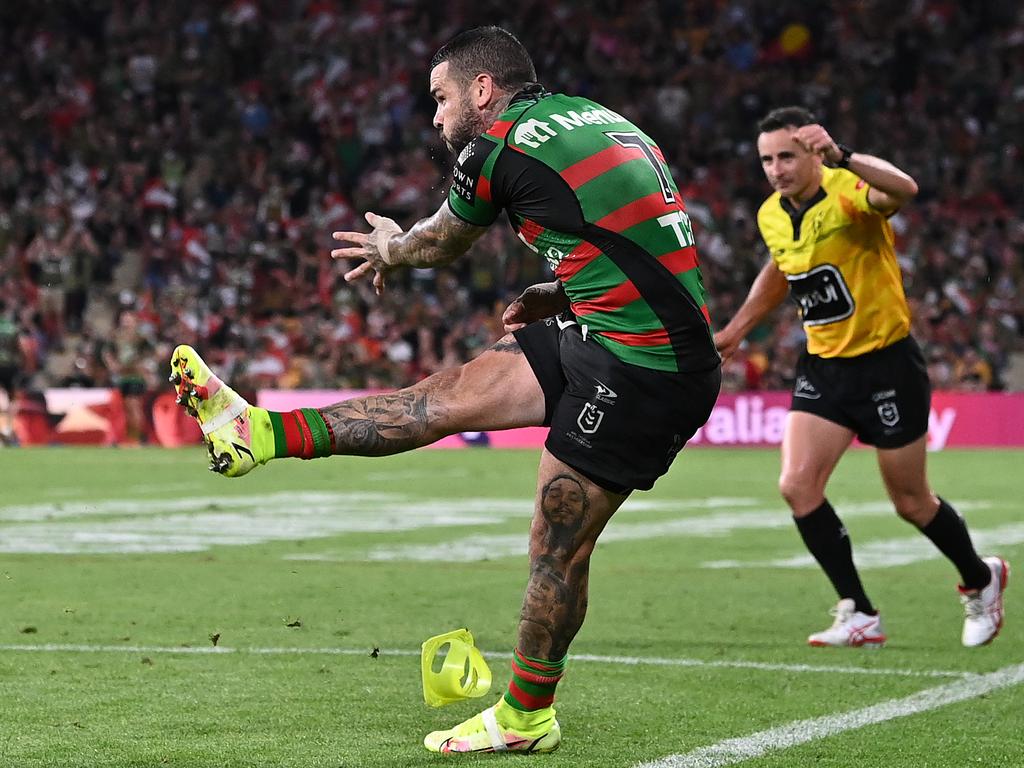 Adam Reynolds kicks those nine times out of 10 ... but not this one in the grand final. Picture: Bradley Kanaris/Getty Images
I paused only a few times to watch the screen, otherwise, I could hear the commentary team of Warren Smith and Mick Ennis calling the game from a studio near the green room. Listening closely, my anxiety levels were dictated by the cadence of their voices. But as anyone in television knows, there is a slight delay between their live reactions and the broadcast feed. And so, when they reacted as Souths were on the attack, my heart sank.
Instead, I looked up as Stephen Crichton took the intercept and ran away for that now famous try. In hindsight it was probably the only way we were going to score. We didn't have the energy in us to do anything but defend. And that play, well, it was the biggest of the entire season. It was all or nothing and we came away with everything.
Penrith celebrate after beating South Sydney in the Grand Final. Picture: Bradley Kanaris/Getty Images
*****
Still in the studio with Yvonne Sampson, Braith Anasta and Cooper Cronk, I watched Ivan put the Clive Churchill Medal around Nathan's neck before I drove home to my family. It was after midnight when I walked through the door to my wife Tanya and our boys Liam, Braith, Ben and Beau. They were all still awake, celebrating in lockdown, waiting for me to join in.
At some point I jumped on a Facetime chat with our head of performance, Hayden Knowles. He and the players were all gathered in the middle of Suncorp Stadium, celebrating long after the last fans had wandered home. So, as many of us were forced to do with loved ones in 2021, I told the players how proud I was of them through a screen. Within half an hour I was able to congratulate most of them before turning my phone off and redirecting my attention to my family. We stayed up until 5am rewatching the game, telling stories and marvelling at how lucky we are.
All the nuances and moments that I'd missed while pacing the studio now held so much importance and I drank them all in. When you're watching a game like that live you're so engrossed in the result, I hadn't noticed the individual efforts. There was nothing between these two teams, only interferences of timing and how it met preparation in the moment. Thirty years after I lost a grand final only to win one the next year, these boys did the same thing. It meant so much to me, and so, I wept.