Benji, JT and Magic Johnson: Daejarn Asi's star-studded influences as he finds his feet at the Warriors
Benji Marshall opened the door two decades ago, now Daejarn Asi is the latest Kiwi Keebra Park graduate to knock it down with an impressive Warriors debut and moving haka to match it.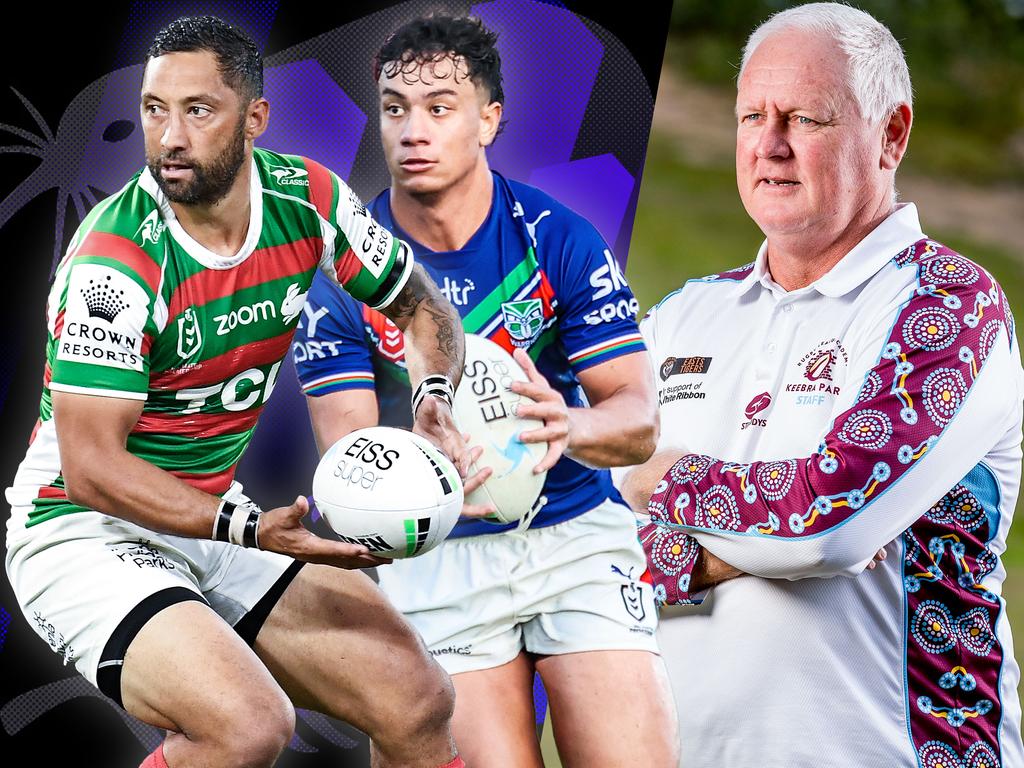 Keebra Park High School coach Glen Campell believes Daejarn Asi is next in the long line of the New Zealand and Queensland's NRL products he's helped to greatness.
When Benji Marshall lit up the NRL after attending league powerhouse Keebra Park High two decades ago, he opened a door that Kiwi-born players have stampeded through ever since.
New Warriors five-eighth Daejarn Asi is the latest Keebra alumni to knock it down, paying tribute to the trail Marshall blazed for him to follow.
"When I was young everyone ran around the back yard wanting to step and throw a flick pass like Benji and I was no different," Christchurch-born Asi says.
"Then I found the highlight videos of Benji that Keebra Park put on YouTube that attract kids to the school.
"There is no doubt Benji paved the way for the next generation of Kiwi kids like me to come over to Australia and make a name for themselves.
"I just count myself very fortunate to play alongside him and get to know him when I played for the Maori All Stars last year."
Benji Marshall debuted for Wests Tigers in a 52–12 win over Newcastle Knights. Picture: News Corp Australia
Glen Campbell was Keebra's head coach when both Asi attended and Marshall arrived in 2002, invigorating the code with his extraordinary flair and skill set for so many to follow.
"The list of Kiwi kids who wanted to go where Benji did is massive and includes Jordan Kahu, Ben Te'o, Briton Nikora, Te Maire Martin, Ben Murdoch-Masila and so many more," Campbell says.
"Initially we put clips of Benji from his Keebra days in the Arrive Alive Cup to music and they were placed on YouTube.
"It was a great tool to show kids what is possible because he became New Zealand captain and legendary. How did he do that? He came to Australia and went to Keebra Park and ever since Kiwi kids who aspire to follow their dreams have done the same. Daejarn is one of a long list.
"We have used the Benji film clips a hell of a lot. Everyone dreams to be at the top of the tree. In my day it was Bob Fulton. For Kiwi kids today, it's still Benji."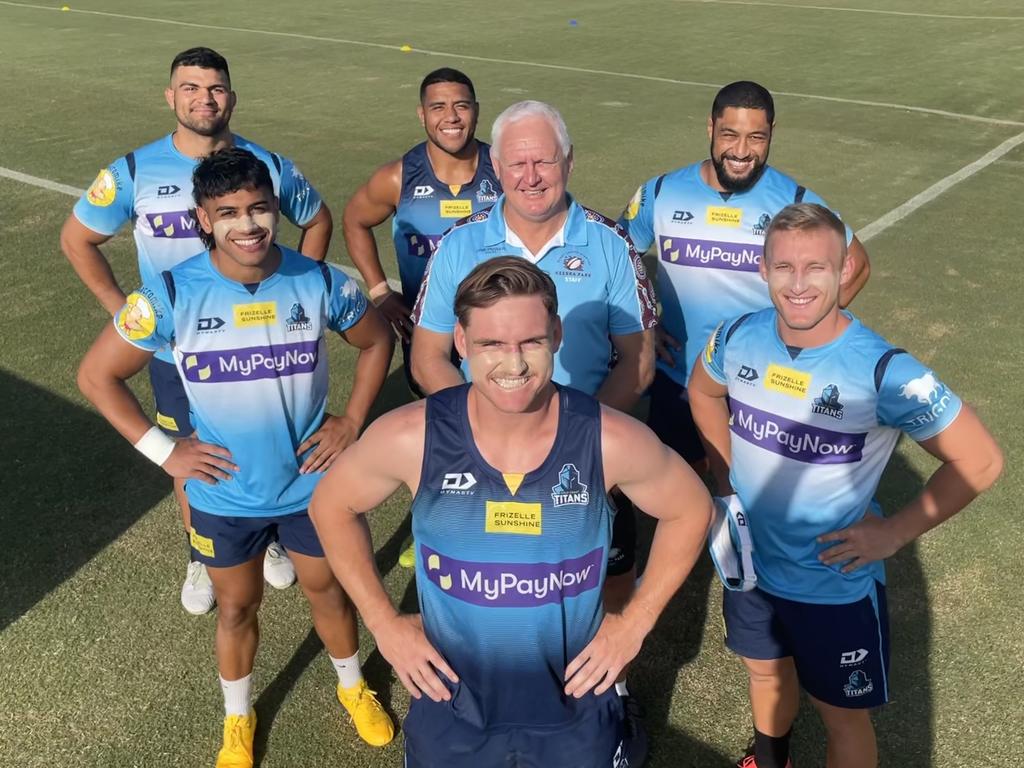 Glen Campbell's role at Keebra Park saw him coach the likes of Titans players (back row from left) David Fifita, Moeaki Fotuaika and Isaac Liu, (middle row from left) Alofiana Khan-Pereira and Tanah Boyd and AJ Brimson. Picture: Nic Darveniza/NCA
A moving Warriors welcome
Asi, 21, had played 10 games with the Cowboys in 2020 and 2021 but found himself behind in-form duo Tom Dearden and Chad Townsend earlier this year. With North Queensland's blessing he completed a mid-season transfer to the Warriors for the rest of 2022, arriving at their Redcliffe-base just four days before playing in the 21-20 win over the Raiders where he set up two tries and was one of the best on the field.
He felt instantly at home following the win, his first victory in the NRL, after a moving and surprise tribute from his family and friends.
"I did a couple of interviews and finally got around to my family in the stands and gave them all a big hug," he says.
"Then they all just started moving down and did a haka. I didn't know they were going to do it but I was extremely humbled and grateful that they did that for me and that they were there to watch me."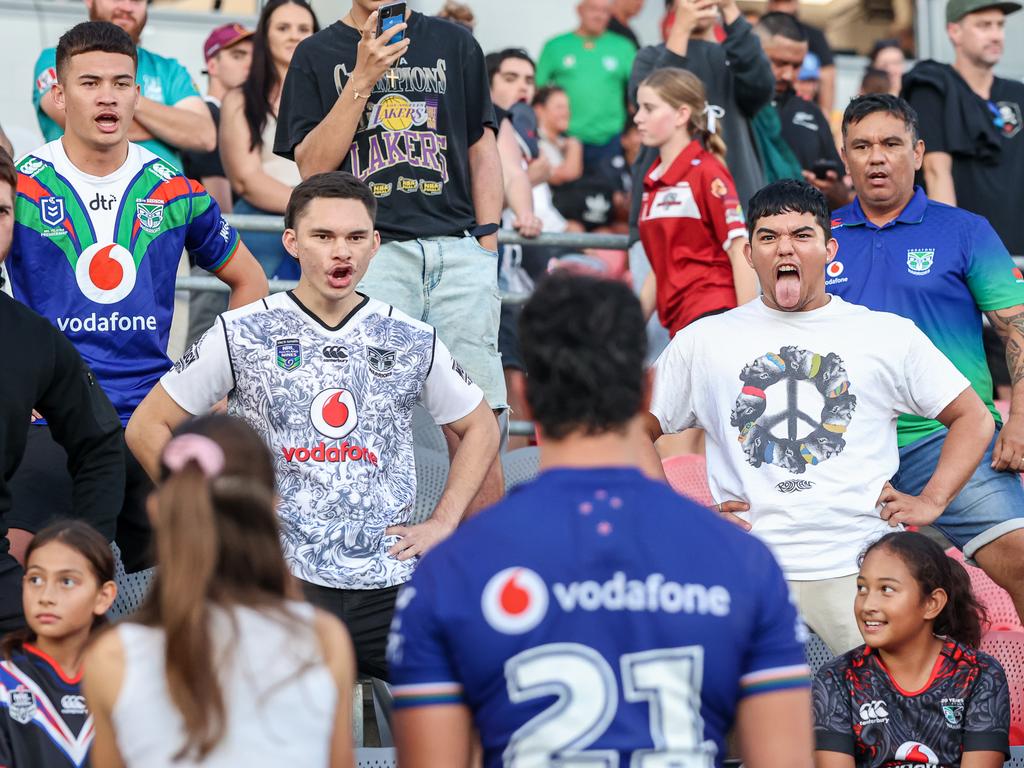 Asi's family have continuously supported him from the stands. Picture: NRL Imagery
Asi's younger brother Xavier and sister Milan were on hand with his mum Tania and dad Peter in the haka tribute.
"As a kid in New Zealand I dreamed of playing for the Warriors and then I moved to Australia when I was 10, and it slipped my mind because you think about the clubs around you in Queensland," he says.
"When the opportunity came to represent the Warriors my thoughts were with my family back in New Zealand and being able to represent them as well. It is an opportunity I will cherish forever.
"I'd had a tough couple of years at the Cowboys and as soon as Shaun [Johnson] kicked the winning field goal it was such a relief to finally get a win in the NRL. I watched the ball go through the posts and couldn't wipe the smile off my face for the rest of the night."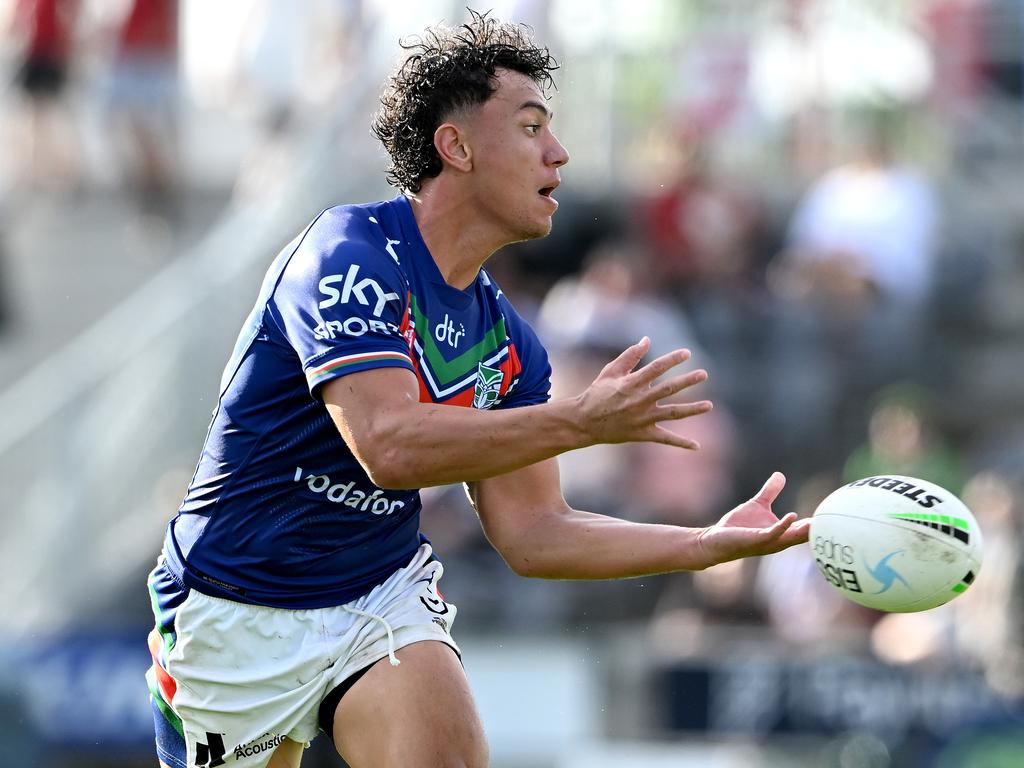 Asi's move to the Warriors has assured him more game time and opportunity to develop his craft. Picture: Bradley Kanaris/Getty Images
Timing and talent
Asi has played hooker and every position in the backline in his short career and Campbell became a fan of his many talents while coaching him at Keebra Park. The legendary schoolboy coach, who mentored the likes of Payne Haas and David Fifita, explains how the Warriors swooped at just the right time when there was interest elsewhere in his former star pupil.
"Wests Tigers hit me up about Daejarn about six weeks ago to find out what I thought of him," Campbell says. "I told them about his utility value and how smart he is between the ears, and he showed that in his Warriors debut at five-eighth.
"He has an enormous boot and used to put these torpedo bombs up for us with his left foot. The only person in the NRL today that I have seen do it as well is Matt Burton. It's all timing.
"Once he gets the confidence to run the show he will be one of the smartest halves running around and a great foil for Johnson.
"Daejarn thinks a couple of plays ahead and has time on his hands. If you want him to execute a game plan and get you across the line he will do it to a tee, like Cooper Cronk used to do.
"If the Warriors ever have to squeeze him in at hooker he won't let them down because his pass is very good out of nine."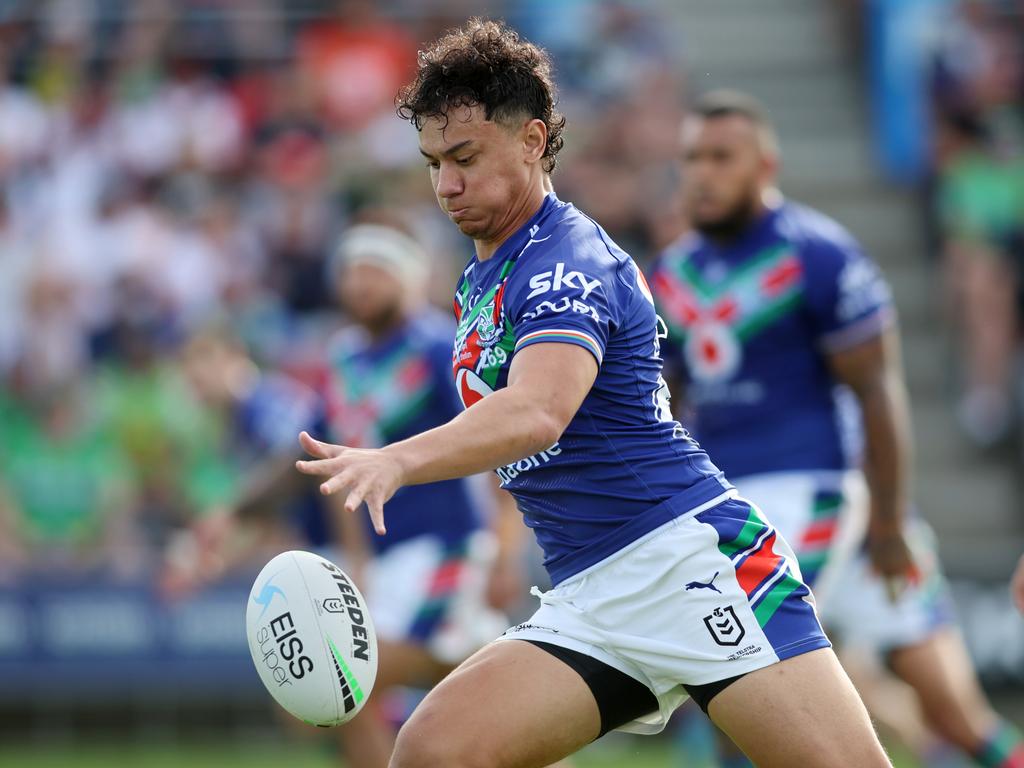 Asi's form has attracted interest from Wests Tigers, who have had a longstanding relationship with Keebra Park High. Picture: NRL Imagery
Warriors recruitment chief Craig Hodges had been watching Asi closely in recent years and his arrival has come at just the right time with Ash Taylor retiring, Kodi Nikorima off to the Rabbitohs and Chanel Harris-Tavita out of action with a ruptured testicle.
"The Cowboys halves have been in form, Daejarn was coming off contract and we needed a bit more depth in the halves so it worked out to be a win for both parties," Hodges says of Asi's mid-season switch.
"At this stage the deal is for the rest of the year where we get to have a look at him and he gets to have a look at us. He has played 11 NRL games now and at the Cowboys some of them were in the centres and fullback so he has great versatility.
"It was a fortuitous pick-up and with Chanel getting injured we threw Daejarn in quicker than expected. He did a really good job against Canberra. I don't think it is overstating it to say that if Daejarn didn't play we perhaps don't win."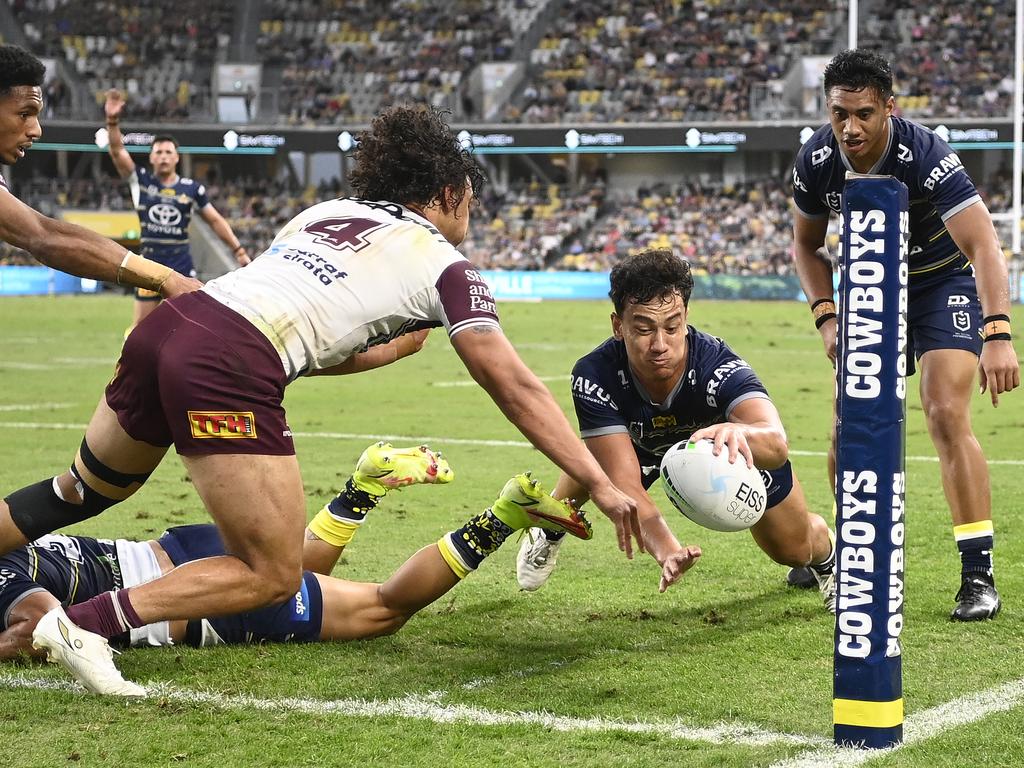 The Warriors kept a watchful eye over Asi after his debut for the Cowboys. Picture: Ian Hitchcock/Getty Images
Magic Johnson
Asi, who stands at 186cm or six foot one in the old measure, has played hooker and all positions in the backline but regards himself a No.6 where his kicking game comes to the fore.
"My preferred position is six," he says.
"I have big legs for a half and I have practised putting up spiral bombs and long kicks since I was a five-year-old.
"I grew up watching Shaun Johnson and trying to play like him so to run out alongside him is something that is difficult to explain and express. It is an opportunity I can't take for granted.
"When I was at the Cowboys JT [Johnathan Thurston] helped a lot, coming into a couple of sessions a week. Learning from him was awesome. Now I am able to learn off Shaun Johnson and Stacey Jones as well. It is an awesome opportunity."
Asi was selected in the Maroons Emerging squad in 2020 but did not get to take part in any camps due to Covid-19. He is yet to make a call on whether he will make himself available for Australia or New Zealand.
First item on the agenda is shining with any chance he gets as Johnson's halves partner and securing a contract extension.
"That's the goal. I would happily move back to New Zealand at the end of the year where I still have a lot of family who would be able to support me," he says.
"I want to focus on the Warriors and hopefully play finals at the end of the year."