Blake Ferguson reveals Eels Mad Monday bender was catalyst for Japan arrest
It took just one drink in Sydney to land Blake Ferguson in a Japanese jail cell. In his most revealing interview to date, the former NRL star explains how this disastrous journey unfolded.
Blake Ferguson secretly spent 22 days in a Sydney rehabilitation clinic in a bid to save his life – not his rugby league career.
In his only interview since signing a surprise deal to play for English club Leigh, Ferguson confessed that he was not a functioning adult and that he booked himself into a rehabilitation centre to confront the childhood trauma that has plagued his life and career.
While he would not rule out a return to the NRL, Ferguson, 32, said his priority was to address the previously untreated issues that contributed to him spending a month in a Japanese jail cell.
Stream every game of every round of the 2022 NRL Telstra Premiership Season Live & Ad-Break Free In Play on Kayo. New to Kayo? Try 14-Days Free Now >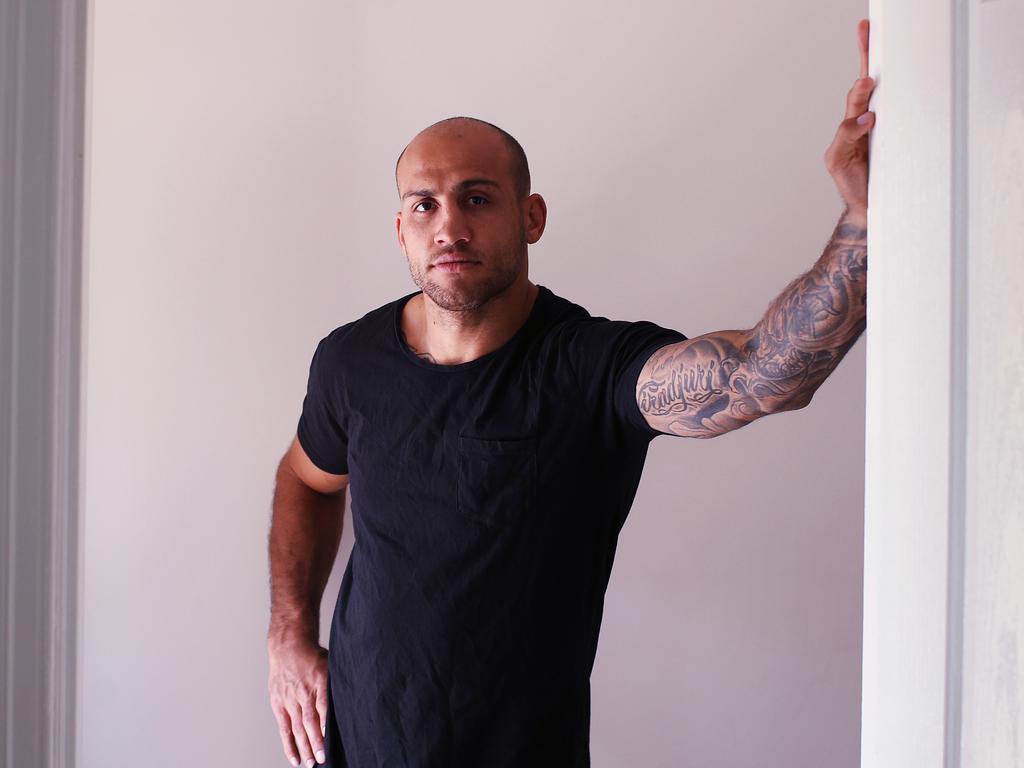 Blake Ferguson opens up on his harrowing childhood experiences. Picture: Phil Hillyard
"I wasn't made to do it this time," Ferguson said of his time in rehab. "I didn't go in because a footy club made me.
"I did it for myself and my family. I decided to retire before I went in. I didn't want to play again. I was going to walk away from it. I had signed up to work in the mines and play park footy for the Thirlmere Roosters in Group 6. I wanted to transition into everyday living."
In an interview conducted on the day he flew to the UK to begin a six-month stint with the Leigh Centurions, Ferguson said he spent 23 hours and 50 minutes a day in a Japanese jail cell after going on a bender that began in Australia while on Mad Monday with the Parramatta Eels.
THE BINGE
It began with just one drink.
"I'd been on the wagon for 12 months," Ferguson said. "I hadn't had a single drink for a year but I decided to celebrate the end of the season with the boys. I just started drinking without even thinking about it.
"I had been a good boy, gone sober all year, and decided to have just one night."
Which would not have been a problem for most, but not someone with Ferguson's issues. A walking headline whose career has been as famous for what he has done off the field as much as on it, he knew his one night of drinking had put him at risk.
"I wanted to go into a clinic before I went over (to Japan)," Ferguson said.
"I know I have a problem with alcohol and I wanted to go to a clinic but they (the NEC Green Rockets) said they needed me over right away, so I didn't have time. I basically signed and went over in a week. I didn't have time to address the lapse and I wasn't in a good mental state when I left."
Ferguson vowed to deal with his problem himself, which he would have to do given his partner Dominique Moraitis and baby daughter Luna had been prevented from going with him because of Covid restrictions.
"I then had to do a two-week quarantine when I got there and I think that made it worse," Ferguson said. "My mental state really deteriorated and I wasn't in a good way."
And that's when the trouble really began.
Blake Ferguson reveals how a Mad Monday session with the Eels landed him in a Japanese jail cell. Picture: Brett Costello
"I was going out and drinking every night," Ferguson said.
"I was drinking heavily, blowing all my money. Over in Japan, it was a real drinking culture. The Japanese people love to have a drink and I got caught up in it. I drank way too much.
"And the worst part was that I was lying to my partner. I told her I was behaving and on the straight and narrow, even though I was a mess.
"I basically got into a lot of shit and it ended up with me spending time in jail."
THE JAIL CELL
Ferguson was so drunk he cannot remember the incident that put him in a Japanese jail cell for the next 29 days.
About to start a rugby union career after signing a $1.5m deal with Japanese club the NEC Green Rockets, Ferguson was taken into police custody for allegedly assaulting a man in a Tokyo bar on December 30.
"I was so drunk that I blacked out," he said. "I just remember coming to and being in handcuffs. I was like 'what's happening?' I ended up getting a bit aggressive because I didn't know what was going on."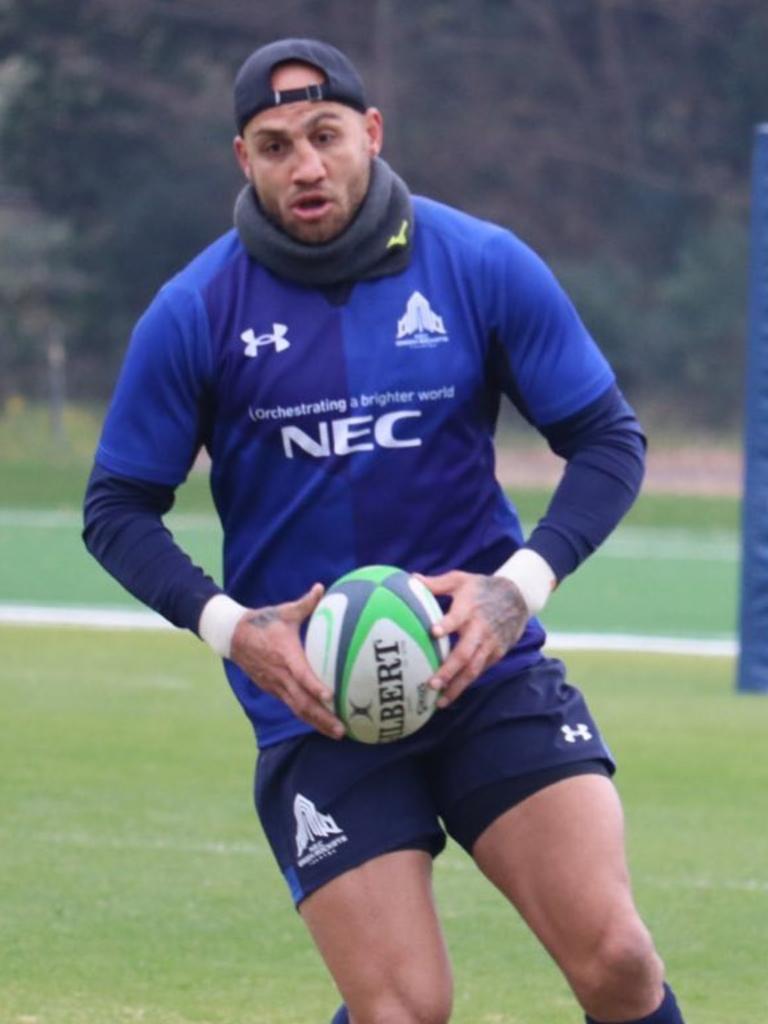 Blake Ferguson training with NEC Green Rockets Tokatsu.
Ferguson was placed in a holding cell and found to be in possession of cocaine.
"I didn't even know I had it," Ferguson said. "I just pulled my wallet out and it was in there. It was like a full bag. It hadn't even been opened. I still don't even know how I got it."
Ferguson spent 29 days in a 4m by 3m cell.
"There was no privacy," he said. "I had to go to the toilet in front of the two guys I shared the cell with. They didn't speak English. I was woken at six in the morning and had to put my bed away. We had 23 hours and 50 minutes a day inside the cell. We got 10 minutes outside to shave and have a bit of a stretch."
Ferguson dealt with the boredom by reading books and relayed messages to staff by writing notes.
"I was lucky because one of the guys in my cell could read and write English," he said.
"I was able to write things down when I needed to say something and he translated the message for me. It must have been weird for them too because I was way bigger. A big Aussie in their cell. I wasn't afraid for my safety, just my mental health."
CONFRONTING HIS DEMONS
Rugby league was the furthest thing from Ferguson's mind when he returned to Australia.
Having only recently rekindled his relationship with his partner, the fallen footballer was solely focused on saving himself so he could be a better partner to "Dom" and better dad to little Luna.
"I have a daughter and the way that I have been living over the last few years is not healthy for her or me," Ferguson said.
"I was putting the relationship that is most important to me at risk with my behaviour. I decided I had to change for myself first and foremost, but also for them. I knew I had to be a better person, a better partner and a better father."
That's when he decided to book himself into rehab.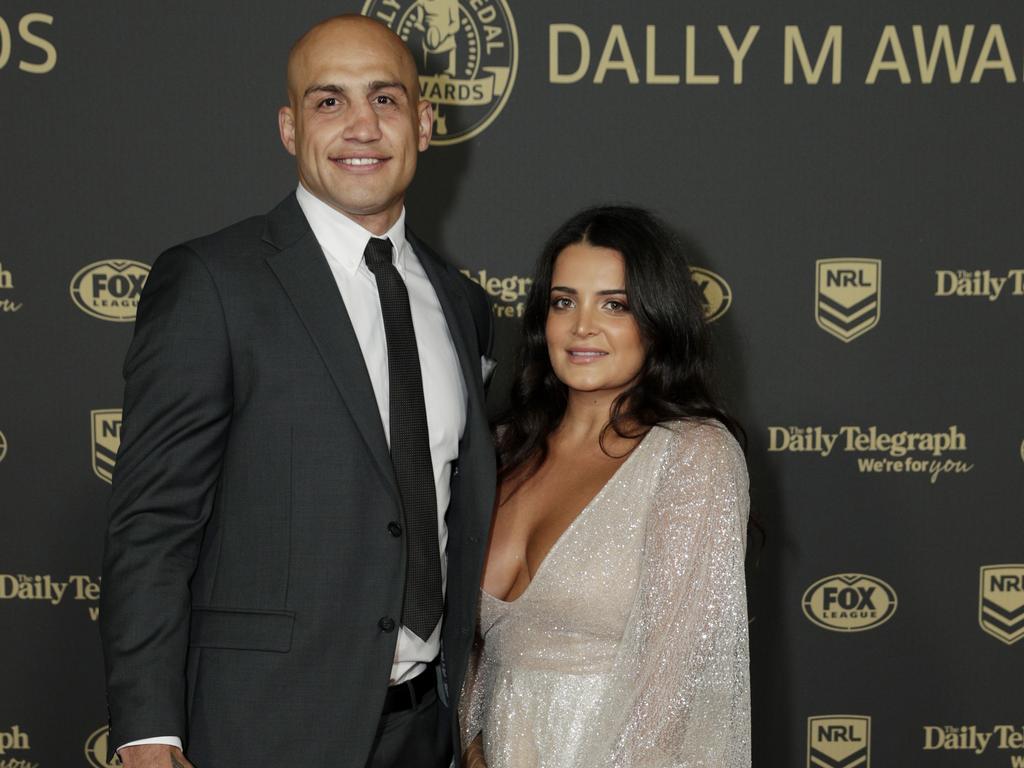 Blake Ferguson with his partner Dominique Moraitis. Picture: Brook Mitchell/Getty
Presenting himself to South Pacific Private in Northern Sydney, Ferguson asked the physicians to not only address his addiction but to treat the underlying issue of his childhood trauma.
"This time around I went in there and confronted my childhood," Ferguson said.
"It was a completely different program. It wasn't easy … really draining, but I think I am in a much better place. It was something that needed to happen."
While reluctant to talk about the specific events he was confronting, Ferguson's difficult childhood has been well documented.
The cousin of famous boxer Anthony Mundine, Ferguson was taken into the custody of DOCS when he was 13 after his mother was ruled to be an unfit parent.
"I had a lot of traumatic experiences in childhood," he said. "I had to confront the fact I am not a functioning adult. You have a wounded child, an adult child and a functioning adult. I had to go back and repair myself. It is done through mindfulness and mental training. I had to repair myself. I had to go back to the wounded child.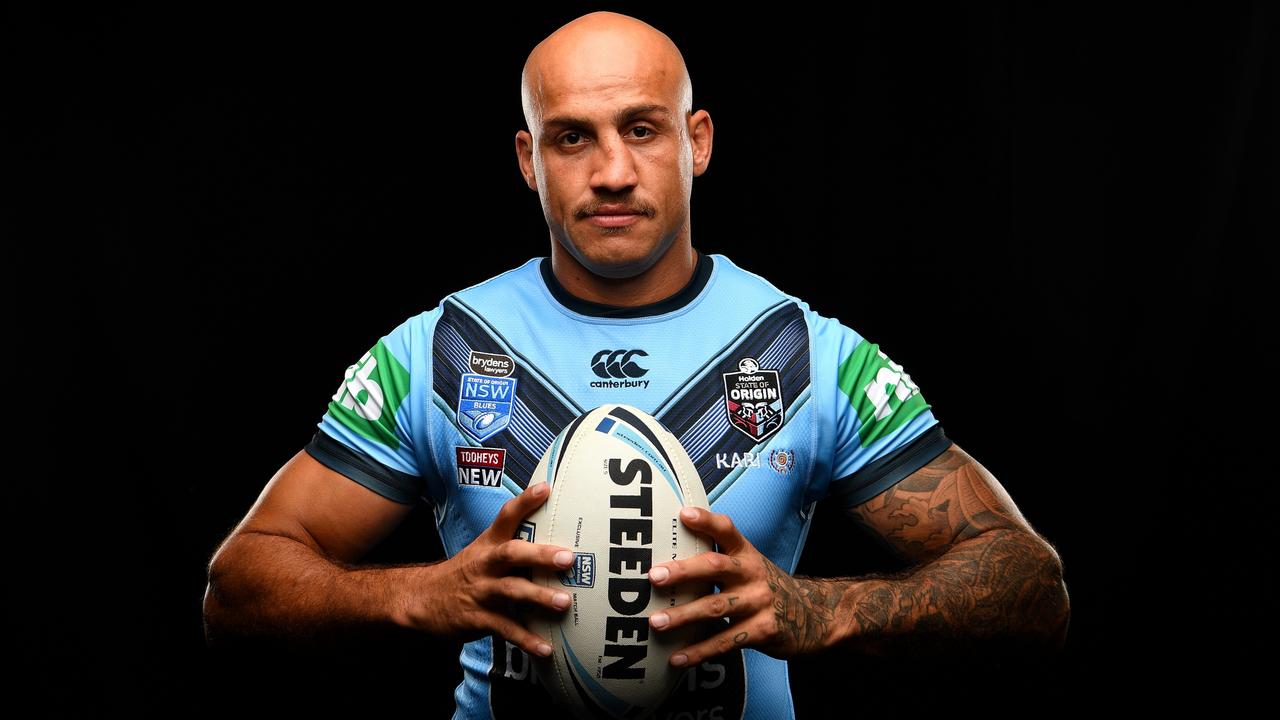 Blake Ferguson played for NSW and Australia. Picture: NRL/Gregg Porteous
"I had to go back and remember uncomfortable things. I am still in the process and doing programs. There are some things I can't remember because I have buried them but it will take time. I am still new to this, but I am in a much better space already."
Ferguson said he was confident that he would be able to stay away from
alcohol now that he is confronting his past.
"These issues had never been addressed until now," Ferguson said.
"I mean, I have been to other rehabs before but that was more about the substance abuse, not what was causing it. It was fine for a short-term fix.
"I could stay sober for a while. I was able to stay sober for a while, but I would always relapse."
THE NEW DEAL
Ferguson will not rule out a return to the NRL – but for now he is happy to go and play for English championship side the Leigh Centurions.
The former State of Origin star said he had opportunities to play in the NRL but decided a move to England would help him deal with his ongoing issues.
"I thought it was a good opportunity for myself,'' he said. "I have been out of the game now for … well a while, so it is a good deal for me to get back into it and be able to play some footy.
"It is also a gig that might not come with so much pressure and I want to be able to enjoy my time on the field and have some fun.
"I don't think the culture of the NRL would have been good for me at this point."
Ferguson said he would not have been able to get through his ordeal without the support of his partner.
"Dom has been great," Ferguson said. "She was there for me when I was over in Japan. If it wasn't for her and the baby, I don't think I would have been able to get through. It was tough.
"They aren't moving to England with me, but they will come over and support me. They will come for a little holiday."
Ferguson will be off contract at the end of the year.
"I am only looking at the next six months," he said.
"I have that time in England and I don't know what will happen after that.
"I won't say no to the NRL and I still think I have the ability to play at that level.
But it all depends on what happens next.
"My family comes first now so my decision will be based on what is best for them."
Originally published as Blake Ferguson reveals Eels Mad Monday bender was catalyst for Japan arrest