Broncos lock Kobe Hetherington showed mum and dad's grit when mining beckoned rather than NRL
Kobe Hetherington was playing third-tier footy and considering a mining job three years ago. How he became a Broncos regular speaks volumes of him and his remarkable family, writes JOEL GOULD.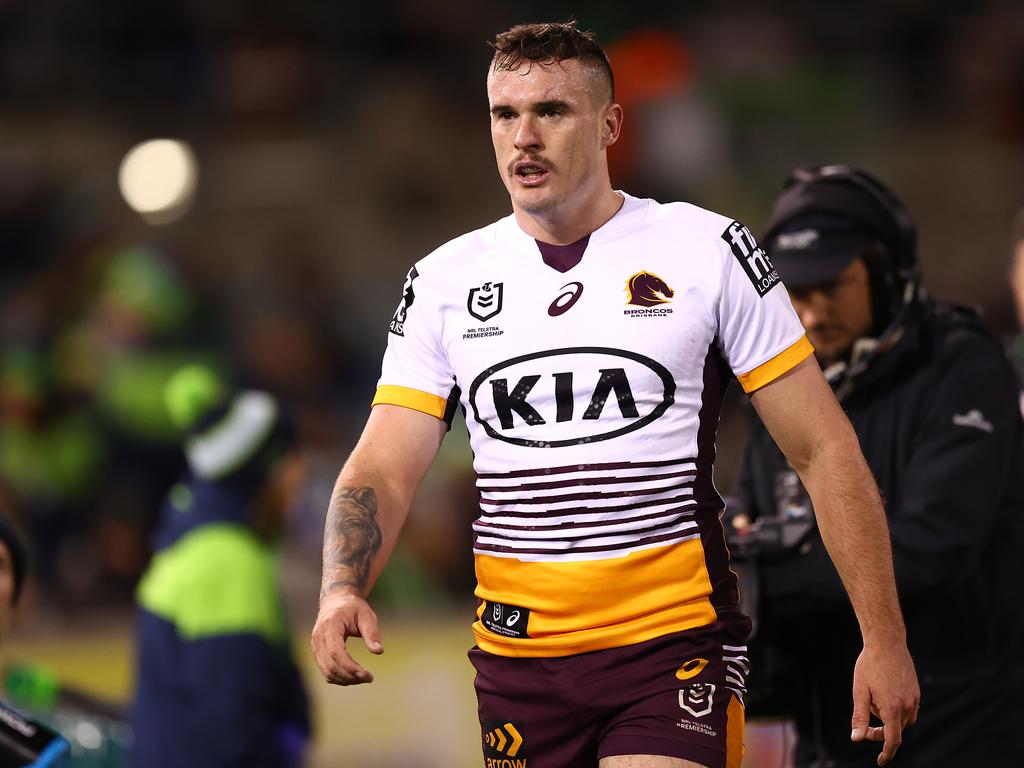 He's in just his second season in the NRL, but Kobe Hetherington is showing plenty of examples of his parents' toughness. Picture: Mark Nolan/Getty Images
Kobe Hetherington was playing third-tier footy with Valleys in Brisbane and considering taking a job in the central Queensland mines three years ago.
The way that the Broncos lock, son of former Maroons and Canterbury hooker Jason Hetherington, has responded is a reflection of both his own diligence and how his family epitomises rugby league at its very best.
Courage. Blue collar, yet aspirational. Chasing the dream of professional footy, no matter the hurdles. Hard work. Resilience. Family-orientated.
That's Kobe Hetherington in a nutshell.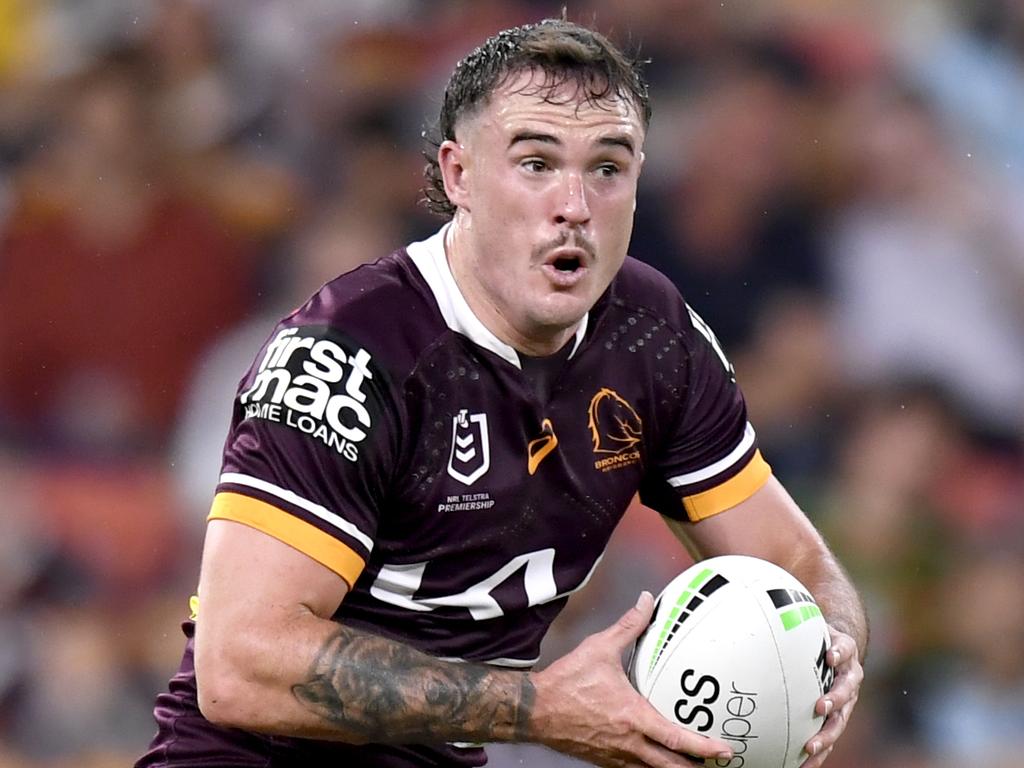 Kobe Hetherington has been a shining light for the Broncos since debuting last year. Picture: NRL Imagery
Since making his NRL debut last year in round 11, off the bench in a 34-16 upset of the Roosters, Hetherington has not missed a game apart from round 1 this year, due to Covid protocols.
Kobe's formative years in Gladstone and Rockhampton, away from the footy field, forged his character and values.
"My old boy always taught us that you've got to work hard. I first started working at the local servo [at 14] and got a school-based apprenticeship as a diesel fitter as well when I was in Grade 12, where I would work two days a week and then work at the servo on the weekend," says Kobe, 23.
"That taught me from an early age that not everything is easy in life.
"Then I did a builder's apprenticeship for three and a half years before I went full-time with footy. I'd go to work early and then to training in the afternoon. It was tough going but I wouldn't be here today if I didn't do that. It taught me a lot about life in general and makes me appreciate what I have right now as a full-time footy player living the dream."
Hetherington was a builder's apprentice before his footy career took off. Picture: NRL Imagery
Valleys to mountains
In 2019, Kobe was signed to the Broncos yet played five-eighth for Valleys for a full season in the Brisbane Rugby League competition; a tough comp with a healthy standard but not where any NRL aspirant wants to be for long.
"When I was playing for Valleys, I had all these thoughts," Kobe says.
"My mates were playing Queensland Cup and I couldn't even make that. At one point, I wanted to go back and work in the mines where I would make more money but my old boy always said, 'If you stick with it, good things will come'."
He played for Norths Devils at the end of that year and then one game with Souths-Logan the following season in 2020, before Covid hit. New Broncos coach Kevin Walters was in his corner and ensured he was retained on a rookie contract.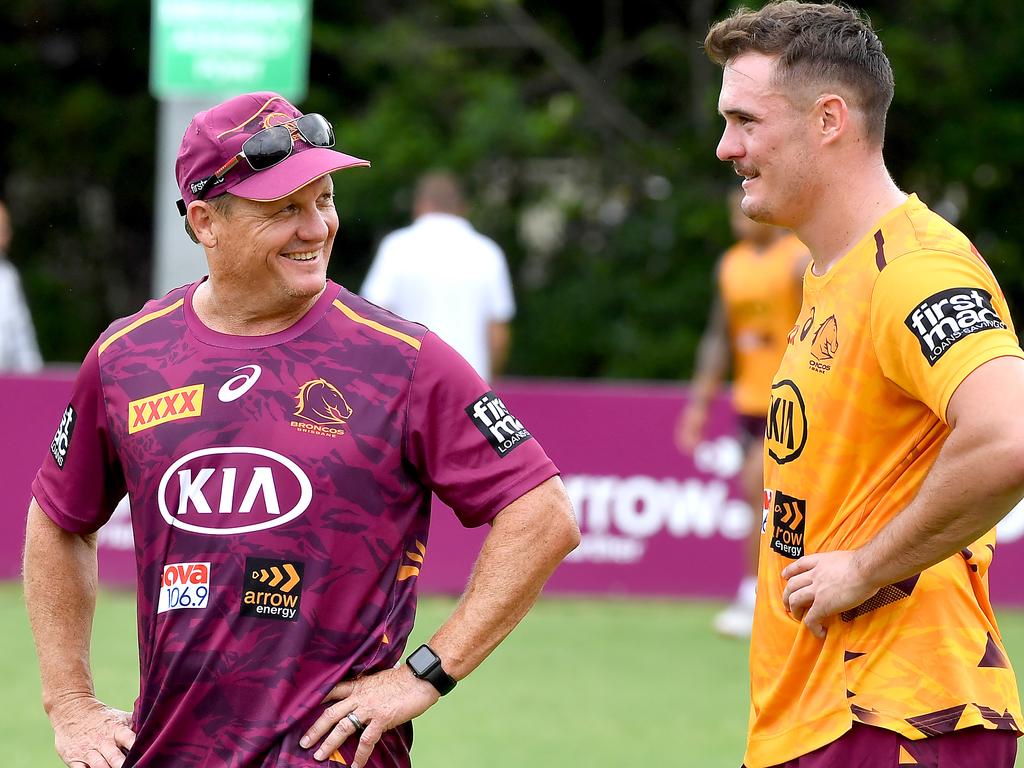 Kevin Walters and Kobe Hetherington at Broncos training earlier this year. Picture: John Gass
Jason Hetherington, who these days works for Gladstone Port and manages coal delivery to the nearby mines, said a crossroads was reached when Walters took over as head coach at the end of 2020.
"Until then, I was trying to get him through the frustrations and find the answers for him, which I didn't have at the time," Jason says.
"Playing for Valleys … he had wanted out. We had to find plan B but he didn't know where he was going to go, and neither did I.
"At the same time, I knew he was very dedicated and works hard – the ingredients you can't coach – but if it wasn't for Kevvie coming along, he would be in a coal mine and up here with me.
"Kev came along and believed in Kobe because he saw how hard he trained and saw his character. He couldn't go much on his footy. He had to go on his character. He gave him an opportunity and the rest is history now. "
Hetherington played a blinder off the bench on debut last year but then faced a new test.
"When he made his debut game against the Roosters, the phone started running hot. He had a lot of opportunities with other clubs, seven of them, but re-signed with the Broncos," Jason says.
"As a father and not a manager, I said, 'If it wasn't for Kevvie, you probably wouldn't be playing. He's given you the opportunity'."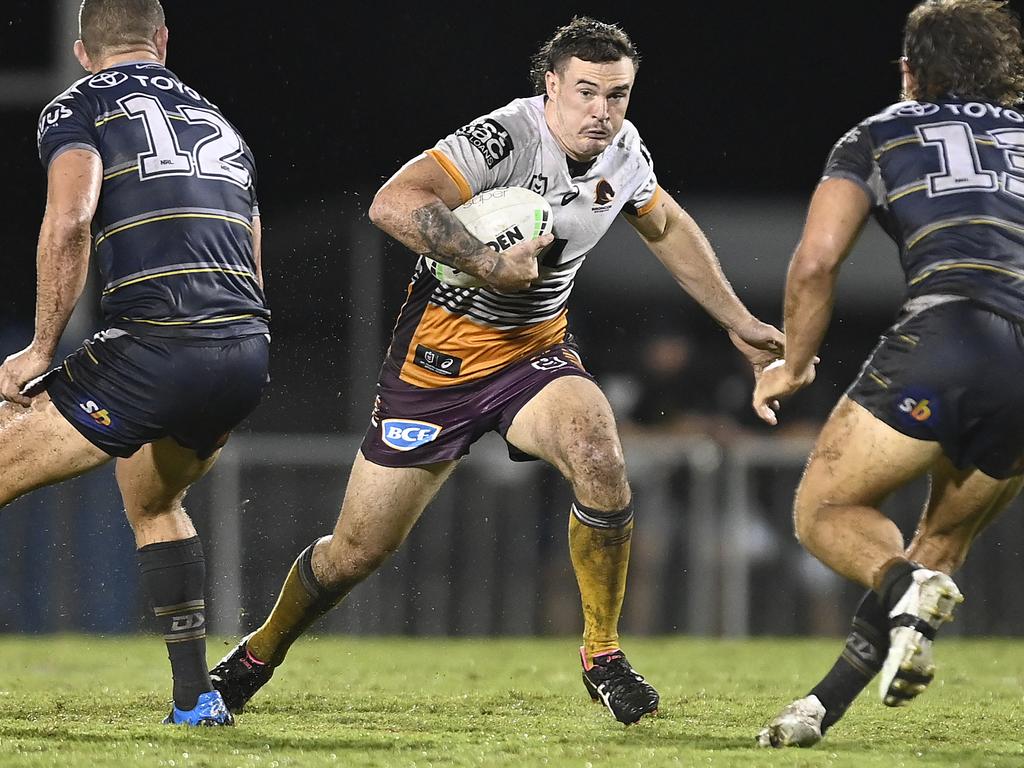 Kobe says Walters has been a huge influence on his career. Picture: Ian Hitchcock/Getty Images
Those words resonated with his son.
"The old boy is right. If it wasn't for Kevvie, I probably would be working up north with him," Kobe says.
"I felt like I owed a lot to Kevvie. That is why I re-signed with the Broncos.
"It was a weird feeling though, when you go from no clubs wanting you to quite a few chasing you. I worked hard and silent and kept plugging away … kept chipping at it. Eventually I got my opportunity and had to run with it. I had to back myself."
'A real big inspiration'
Jason Hetherington's craggy visage tells a story. His wise, salt of the earth character has been forged not only by the rough and tumble of rugby league, but difficult personal times that few could imagine.
"People say, 'Geez your boys are tough', and I always say that they get it from their old girl after what she has been through. They don't get it from me," Jason says.
Jason's wife, Kym, battled cancer eight years ago and came through. His sister, Lyndl, sadly lost her fight with cancer not long afterwards in a distressing time for Kobe, Zac and Jason's other son Eli and daughter Laynii.
"It was a tough time. I lost my sister when she was only 48," Jason says.
"The kids both understood and were relating Kym's cancer with my sister's. We were all nervous but even though it was a different type of cancer, they were thinking they were going to lose their mum.
"It has its effect on a big circle all around you.
"Kym is going good now but that was a terrible time for the kids and everybody. They are all very close to their mother."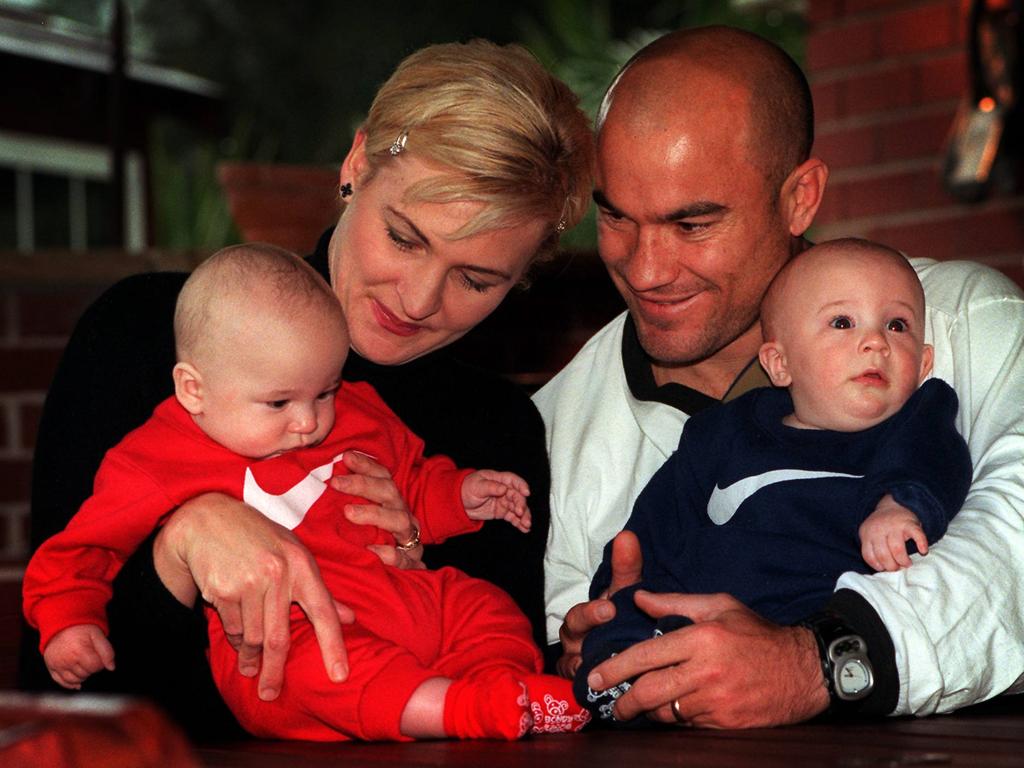 Jason and Kym with Zac (L) and Kobe (R) in 1999. Picture: Brad Newman
The courage of Kym, a former Queensland representative in basketball and netball, is a driving force behind Kobe's own career.
"It was a very difficult time and all of the family stuck together," Kobe says.
"Mum is a real tough lady. She fought cancer the first time and then a couple of years later, she got it again and had to go through the whole process again. It couldn't kill her the first time or the second time.
"She is a real big inspiration to me. Not many people went through what mum did. She went through it and she got through it too, and that is the pleasing thing. She came through stronger and I just look up to her for that."
Twin engines
The bond between Kobe and his twin Zac, signed to the Bulldogs, is strong. It all started with physical confrontations that rocked the Hetherington backyard.
"There were some wild footy matches in the backyard," Kobe grins.
"Once we were playing backyard footy and there was a piece of wood that held the garden in. My brother made half a break and I wouldn't let him through, so I ankle tapped him and he smacked his mouth on it. It split his mouth and rumpled his teeth up.
"He wasn't too happy about it, so we got up and went at it. It always used to end in a brawl.
"Then we got the opportunity to play against each other for the first time in Q Cup, when I was at Souths and he was with Ipswich, and that was special. It was a weird moment. We are brothers off the field but not on the field."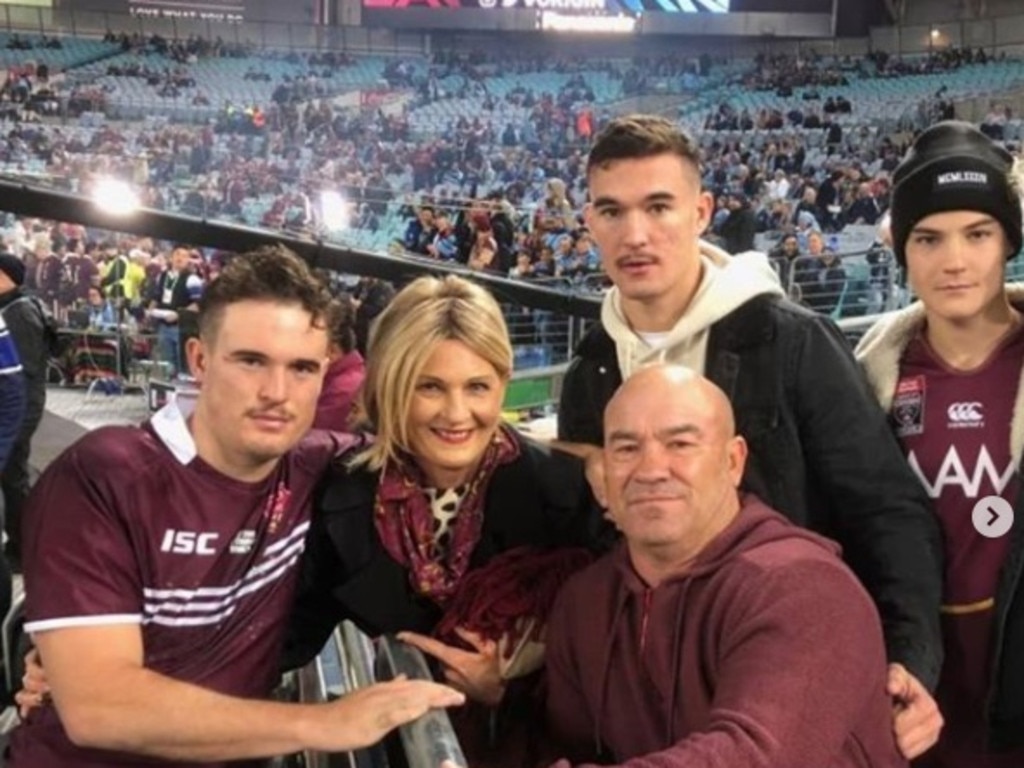 Kobe (L) represent Queensland at U-20s level in 2019.
Jason has been happy to dispense footy advice when the time is right but also to pull back when required.
"They were out on the lawn tackling when they were 12 and I was about to give them a couple of pointers," Jason grins.
"That's when Kobe said, 'Dad, our PE teacher Mrs Coleman says you have got to do it like this'. That's when I realised I was just dad and I took a back seat."
Jason's birthday secret
For the last 30 years, Jason Hetherington's birthday has never been recorded correctly on rugby league websites, Wikipedia, or anywhere else in the public domain for that matter.
On league sites, it is listed as August 23, 1973, and Wikipedia has it as 1970. This is not by chance.
"There are dozens of different dates floating around and they always have me younger, but I was really born in 1969," Jason says.
"When I was at Canterbury, the media started judging players on how old they were and not how good they were. They started saying 'the veteran this' and 'the veteran that' and everyone started believing it. Clubs judge you on how old you are when it comes to signing contracts.
"So once I got to about 26, I stayed 26 for four years. I filled out a medical form when I had a knee operation and changed my birth date. It ended up on club records and it stuck. I was even getting myself confused with the porkies around how old I was."
Bulldogs legend Jason faked his age to fool the media. Picture: Scott Hornby
So is this a tactic he will try with Kobe as well?
"Not yet. Wait until he gets a bit older," Jason grins.
Kobe laughs when told the story.
"And that just sums him up,"he says. "Only he could get away with that. He is a sweet-talker. I don't think we'd get away with that these days. They are on top of all that."
Jason, a rugby union halfback initially, went to Canterbury as the heir apparent to replace Terry Lamb. When Lamb kept playing, Bulldogs supremo Peter 'Bullfrog' Moore decided that hooker was his spot.
"Billy Johnstone told Chris Anderson to give the bloke from the bush a crack, so he cut about four hours of Steve Walters highlights on VHS and said, 'Watch this. This is how you play hooker'," Jason says.
He played the rest of his stellar career at hooker, including eight Origin games for the Maroons.
"Dad took his opportunity. It's a great story," Kobe says.
"He was a five-eighth, Bullfrog thought he was a better hooker and he did a real good job.
"It is a bit like myself. Up until Year 11, I was a five-eighth, went to hooker and then I found a love and passion for lock … and here I am today."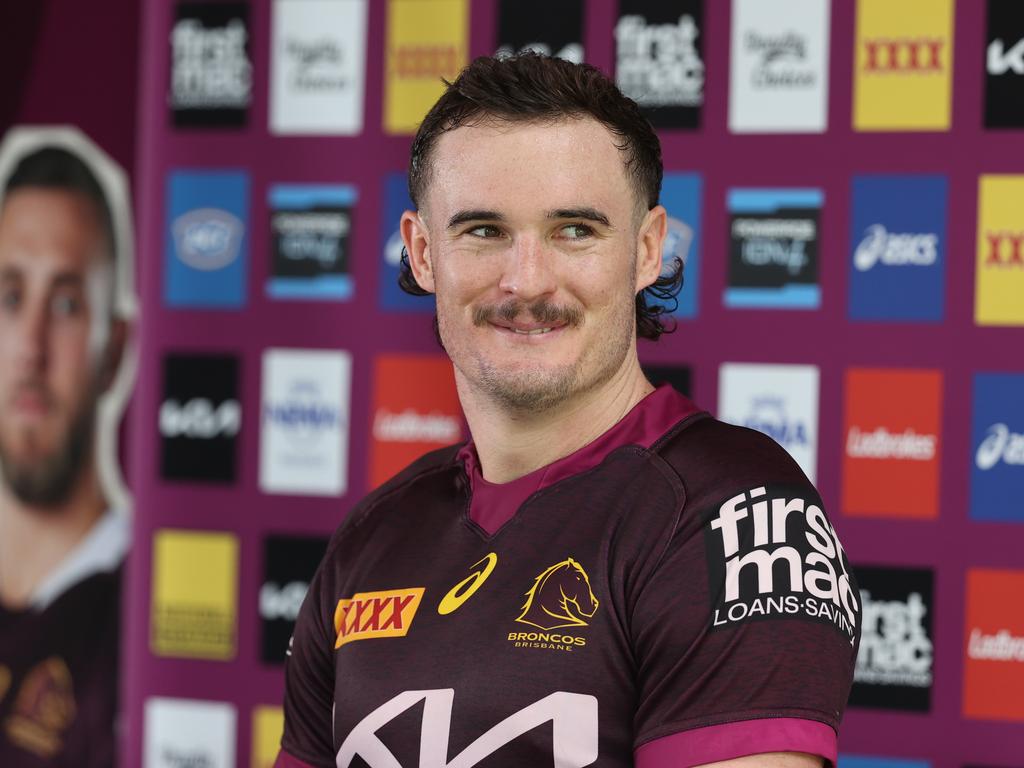 Kobe started playing in the halves, but has transformed into a lock at the Broncos. Picture: Nigel Hallett
Igor, eat your heart out
Kobe's 'under the ball' tackling style came to the fore with a massive hit on South Sydney lock Cameron Murray in Brisbane's 32-12 recent win. It jolted the ball free and secured a key momentum shift.
It is a style that four-time premiership winning Manly forward Terry 'Igor' Randall made his own back in the 1970s and one that Sea Eagles lock Jake Trbojevic has also embraced.
"Kobe and Zac did that style of tackle against each other in the backyard and they did it naturally and well, and I always encouraged them to hit under the ball and keep it in their repertoire because I didn't want them to lose that skill," Jason says.
"[Cameron] Murray is a good tackler himself, and Kobe got him with a good one the other night and came up with the right solution. It was effective."
Kobe, like Victor Radley, wasn't blessed with size as a child and made up for it in other ways.
"Growing up, me and my brother were small kids," Kobe says.
"When I'd go away to rep carnivals the only way to tackle the big fellas was to go in low and under the ball."