NRL 2022: Positives sweep through Sydney clubs but Peter V'landys adamant season is safe
As Sydney clubs come to grips with Covid positives becoming a part of life, NRL boss Peter V'landys has declared a shrewd investment will guarantee the competition's survival.
Peter V'landys has declared that Covid will not stop the NRL season from kicking off in March with the ARLC chairman revealing rugby league's weapon in the fight against the virus is 30,000 rapid antigen test kits.
Guaranteeing the NRL pre-season would start despite the revelation that several NRL clubs had returned up to 10 positive cases since breaking for Christmas, V'landys said the extraordinary number of rapid antigen tests obtained by the NRL would stop a mass outbreak.
V'landys also revealed the ARLC would consider allowing NRL clubs to add more full-time players to their squads as a Covid cover at a board meeting scheduled later this month.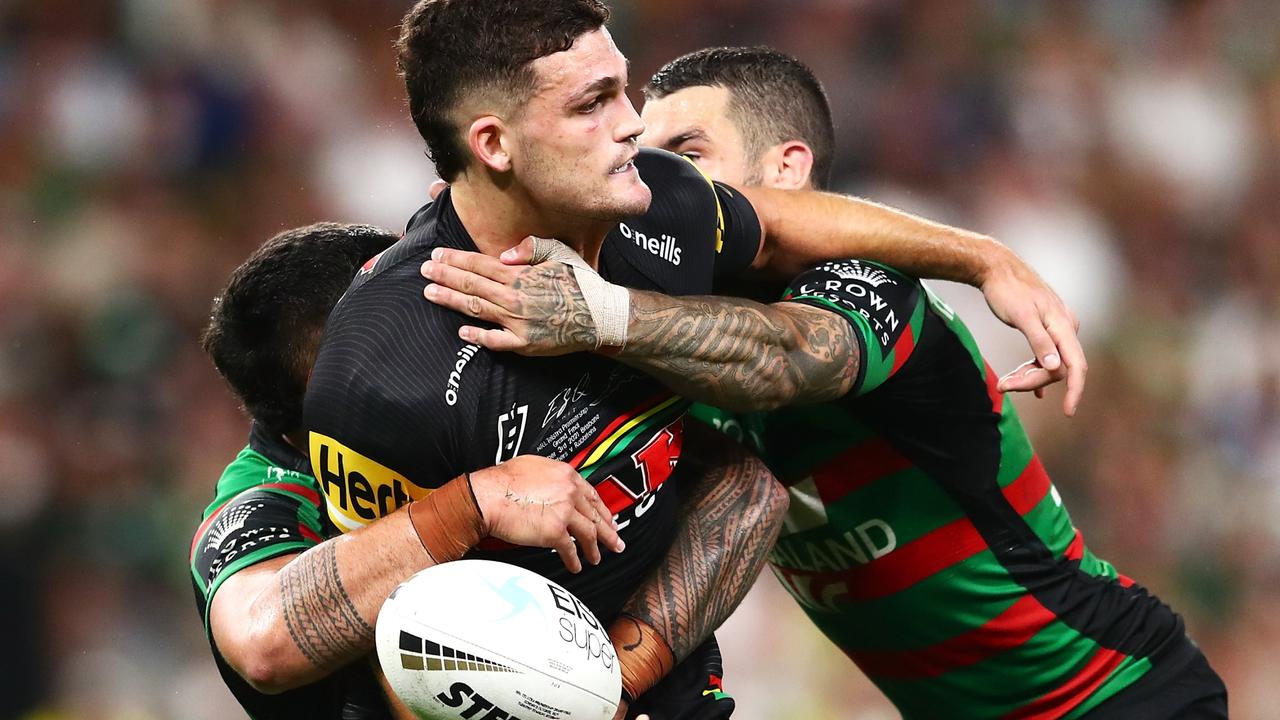 The Panthers are the latest team to take a heavy hit with Covid positives. Picture: Chris Hyde/Getty Images
But V'landys is confident that an unprecedented daily testing program which will be made possible by the mass purchase of testing units will ensure the game goes on.
"Our rapid antigen testing regimen will ensure we continue as planned," V'landys said.
"We went looking for a number of rapid antigen test kits in preparation for our protocols and we were successful in obtaining 30,000 units.
"Those test kits will allow us to test players daily and we will be able to identify cases and isolate them in accordance with health protocols and keep the unaffected players safe."
NRL teams like the Eels, the Panthers and the Tigers will resume the NRL pre-season with as many as 10 players missing on Thursday after recording positive cases or close contacts.
"Covid is so unpredictable and it is a day by day process but the expert advice we have received is that the peak could be reached in a couple of weeks and then it will come down as fast as it went up," V'landys said.
"In the meantime the players that can train will train and they will be protected by the rapid antigen regimen.
"The current spate proves that our protocols work. You just have to look at what has happened since they have had time off and have been out of our system. No one caught Covid in the two years before thanks to our protocols."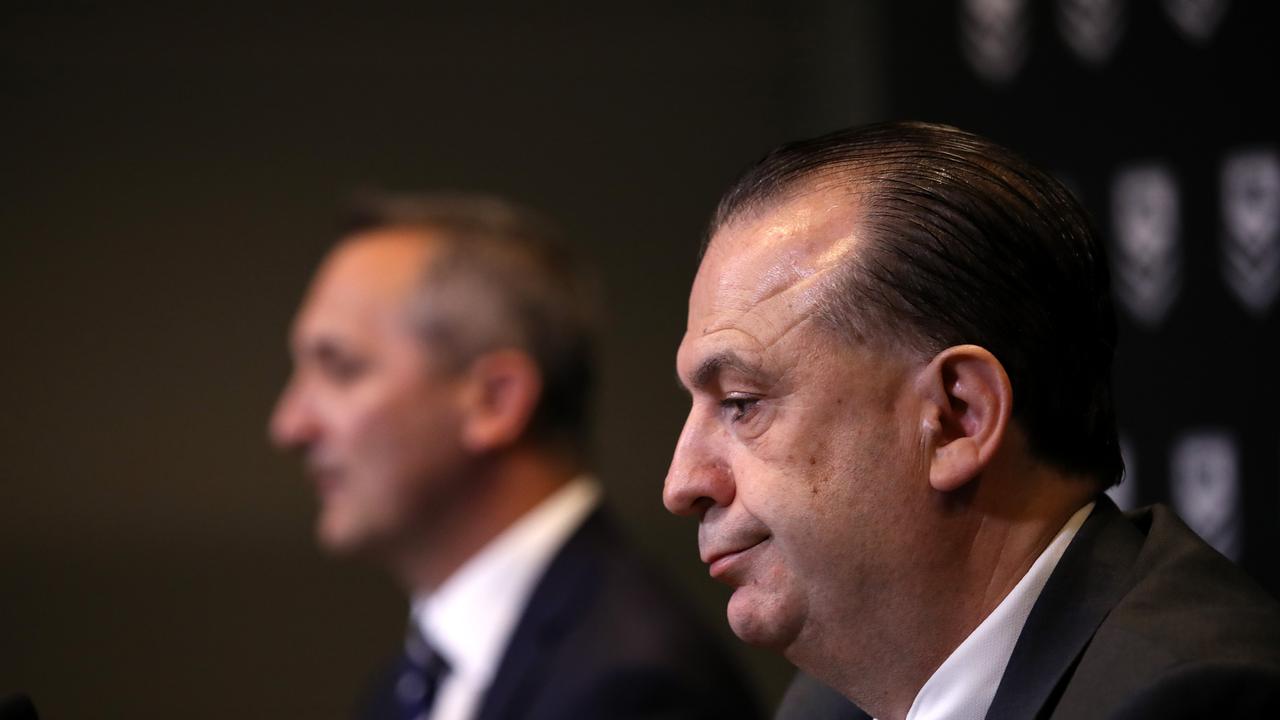 Peter V'landys says rapid antigen system had been a success in the racing industry. Picture: Phil Hillyard/NCA
V'landys explained that daily tests would limit the spread of the new and highly contagious Omicron variant of the virus.
"I have used the rapid antigen system in racing for the last six months and it works," V'landys said.
"We are going to test the players and isolate them if they return a positive test. At the moment that isolation period is seven days. We will pick them up with the tests, they will follow health orders and then we will get them back.
"The test is very easy and effective. It is a process where you take a swab from your nose and put it into a solution. Once placed on the cartridge it takes just 15 minutes for a result to be returned. In racing they have been proved to be 100 per cent accurate."
V'landys said the ARLC would consider allowing teams to add additional players to their full-times squads to ensure a mass outbreak would not prevent them from fielding a team.
"I am confident that the systems we have in place will cause the least interruption," V'landys said.
"The good thing is that there are two months until the NRL season starts. We have an opportunity to access now and then keep the players Covid free going forward. We have contingency plans in place for all scenarios and if it means increasing the size of squads then that is what we will do. The commission will meet to consider that scenario and any others put forward."
Covid wipeout reduces NRL club to just 20 players
A Sydney based club is expecting a skeleton crew of less than 20 players to return for the resumption of the NRL pre-season on Thursday after more than 10 players tested positive for Covid.
The Daily Telegraph has learned that almost every Sydney-based club has at least one active case of Covid-19 and will start the preseason with both players and officials locked away in isolation.
Western Sydney teams have been amongst the hardest hit with the Eels, the Tigers and the Panthers or registering a significant number of covid cases or close contacts.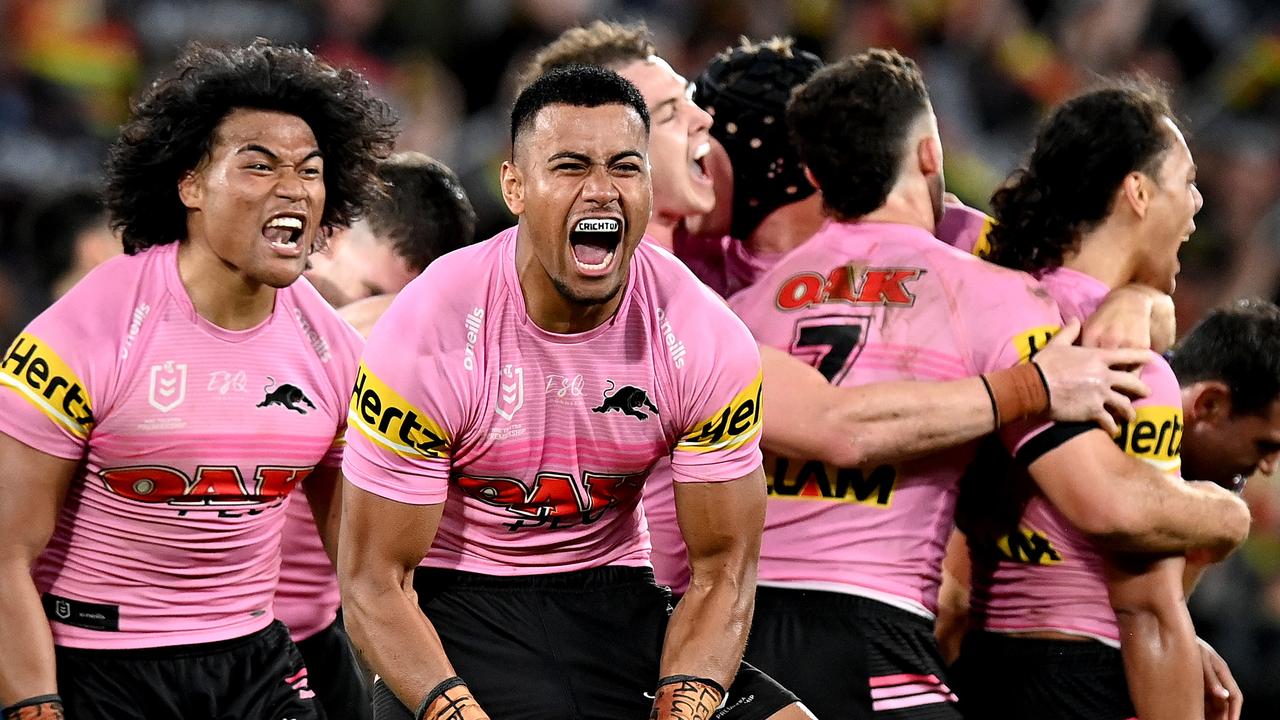 Penrith has been hit hard with teammates struck down and isolated as Covid hits most Sydney clubs. Picture: Bradley Kanaris/Getty Images
While results are still be returned after players and officials were tested on Tuesday, the Panthers are predicting that up to 25 percent of their football department will be forced into isolation.
The Daily Telegraph has also learned the Tigers have been heavily hit with more than 10 players testing positive since Christmas.
The Eels are still awaiting full results but there have been suggestions that 10 players could be prevented from returning this week.
The NRL is expected to give the clubs the go-head to return on Thursday despite the spate of positive tests and close contact cases.
"Penrith Panthers can confirm a significant number of the club's NRL players and staff are currently self-isolating and will not be available for the recommencement of pre-season training this week," the Panthers said in a statement issued on Wednesday.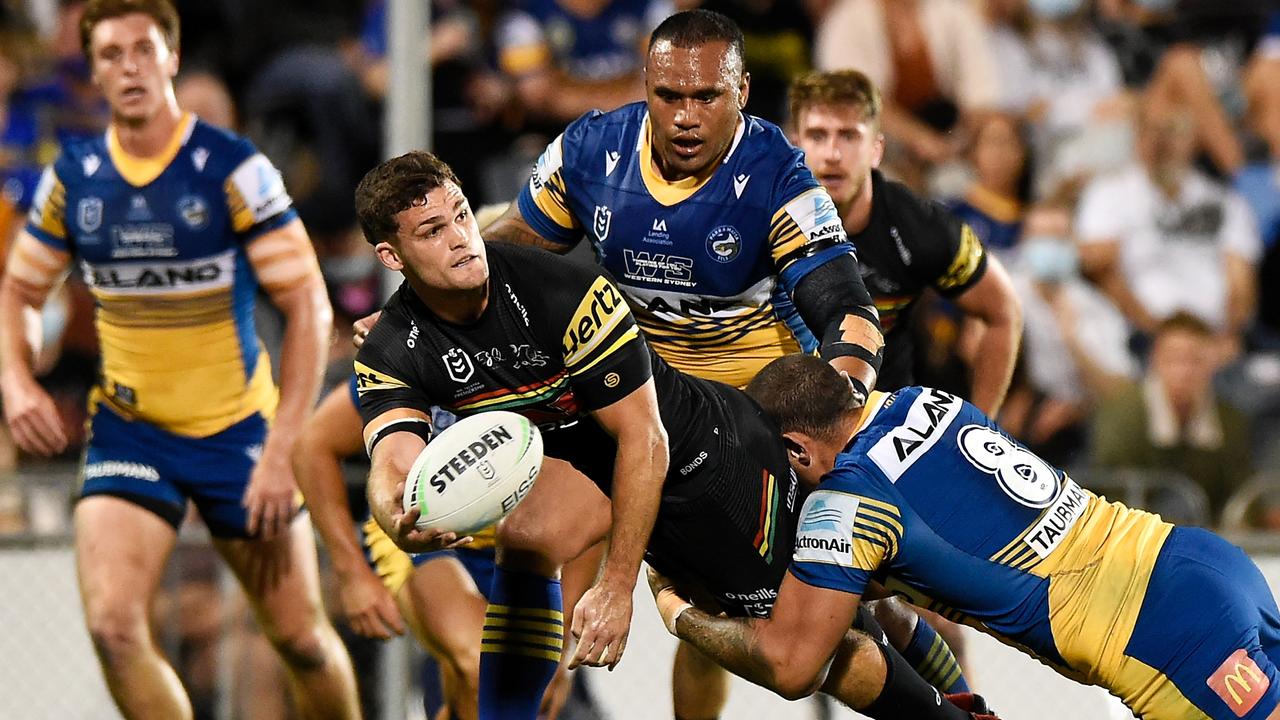 Penrith and Parramatta have both had issues as Covid takes hold in Sydney. Picture: Matt Roberts/Getty Images
"The affected players and staff have either tested positive for Covid-19 or been identified as a close contact of a positive case.
"These individuals will only return to training after receiving clearance in accordance with NRL and NSW Government protocols.
"The club respects the privacy of the affected players and staff, and will be making no further comment on the matter at this time."
The virus has not been restricted to Western Sydney with the Cronulla Sharks reporting up to five cases in the playing group.
Stars hit out as Covid causes more headaches for NRL
The NRL's new Covid restrictions have been met with blowback from players suffering bubble fatigue following two seasons under protocols.
The Brisbane Broncos' return to pre-season training hit a hurdle with at least four players contracting Covid as the NRL ramped up restrictions ahead of a turbulent 2022 premiership.
Canberra Raiders star Jack Wighton made it clear he was unimpressed with the fresh restrictions.
"Thought I was getting the stupid vax so I didn't have to do another year off (sic) this shit,'' he wrote on Instagram.
Rabbitohs star Latrell Mitchell wrote: "WTF? Got double vaxxed to just stay the same?"
Bulldogs recruit Josh Addo-Carr posted: "Unbelievable. Got double vax for nutta!! (Nothing)."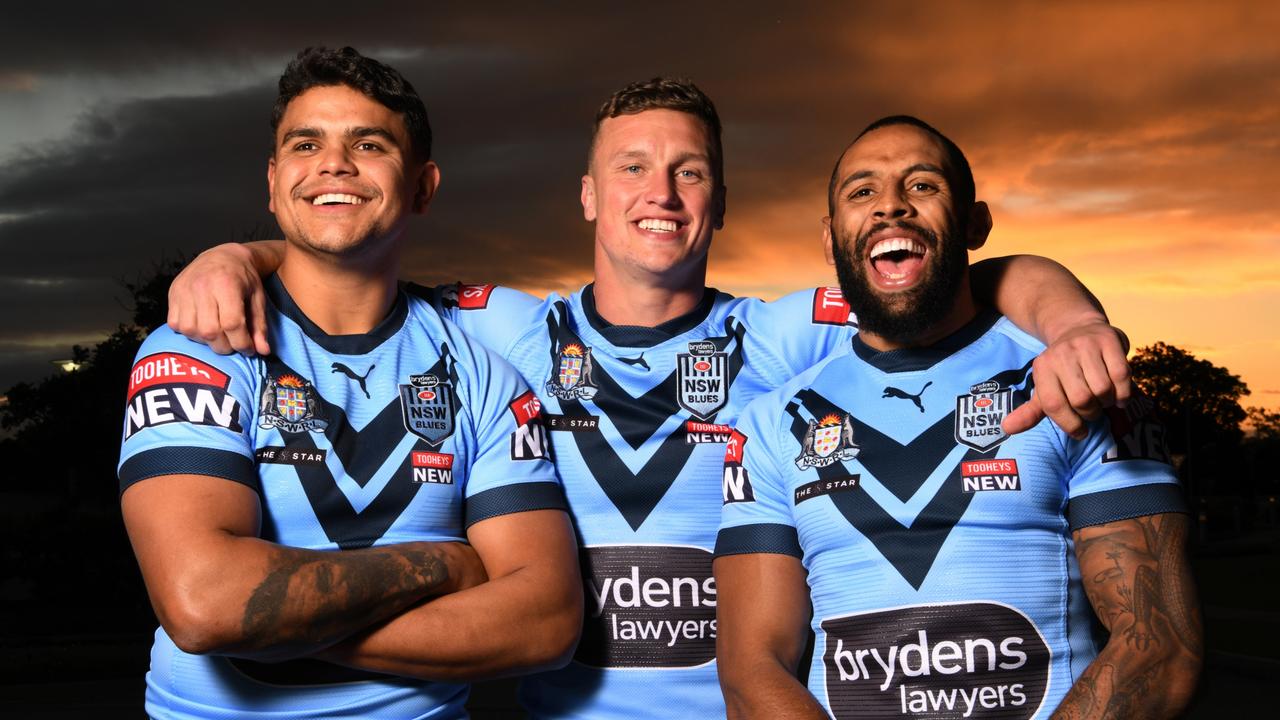 Latrell Mitchell, Jack Wighton and Josh Addo-Carr have expressed their frustrations at new Covid restrictions. Picture: Grant Trouville/NRL Images
The NRL is overhauling various rules and restrictions to ensure the competition can continue while Covid-positive players are banned from training and playing, potentially within hours of games.
Players and some club staff will be subjected to daily rapid testing when they arrive at training and will be tested on game day, opening the door for late withdrawals that could wreak havoc on teams.
While the NRL has not introduced a formal "bubble", players have been banned from attending indoor venues and had restrictions placed on gatherings at their homes.
NRL head of football Graham Annesley said the league was trying to mitigate mass outbreaks at clubs which could seriously hurt the competition.
"Given the current incidence of Covid in the community, our primary strategy involves a strict daily testing regime to identify potential positive cases before players and staff interact with each other," he said.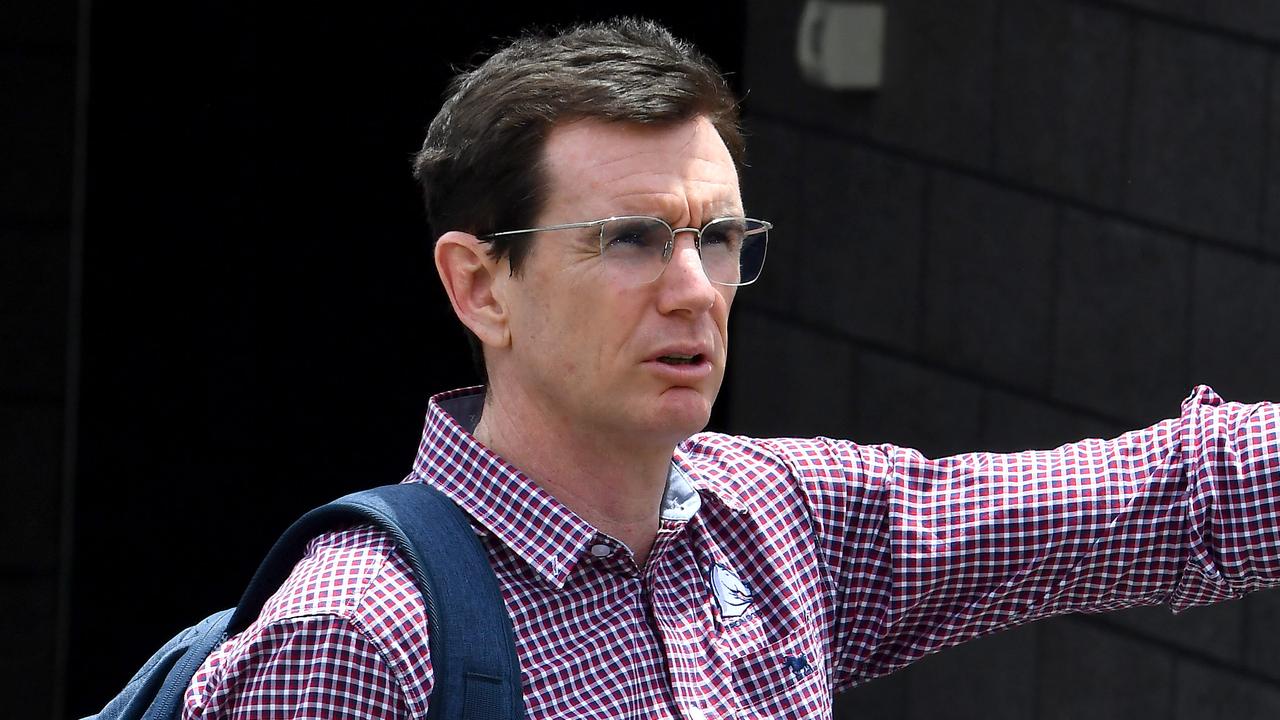 Broncos head of football Ben Ikin said the club was managing multiple cases. Picture: John Gass/NCA
"This will minimise the risk of the virus spreading to other members of the squad. We are also implementing new protocols that allow players to get on with their daily lives, with a few sensible precautions to minimise infection risk."
While Covid spreading throughout clubs is inevitable, the NRL is desperate to ensure weekly matches are not severely impacted or forfeited.
Having to cancel games, which the NRL is contracted to play for broadcasters, could have serious financial implications and also tarnish the integrity of the competition.
After nearly two years of bubbles and uncertainty, Covid is still wreaking havoc on sport around the world and the NRL is bracing for another rollercoaster season.
A number of players will be missing when NRL clubs resume pre-season training on Thursday as Australia's Covid crisis continues.
After navigating two seasons without a single Covid infection in the competition, the NRL has been working feverishly over the New Year break to settle on protocols to help manage the crisis.
Four Broncos players have tested positive to Covid. Picture: Josh Woning/NCA
The Broncos would not reveal which players had contracted Covid, but they will be absent when the squad hits the paddock at Red Hill on Thursday for the first session of 2022.
Football chief Ben Ikin confirmed the Broncos were managing multiple cases but none were seriously ill.
"We've had four players test positive for Covid, with all being asymptomatic," he said.
"They are presently obeying Queensland Government protocols and will be absent from training when we return on Thursday. Once cleared they will return to the club under the NRL's Graduated Return to Play guidelines."