16 Brisbane Broncos players and three staff members test positive for Covid
The Brisbane Broncos playing list has been completely decimated, with half the roster contracting Covid-19, hijacking their pre-season.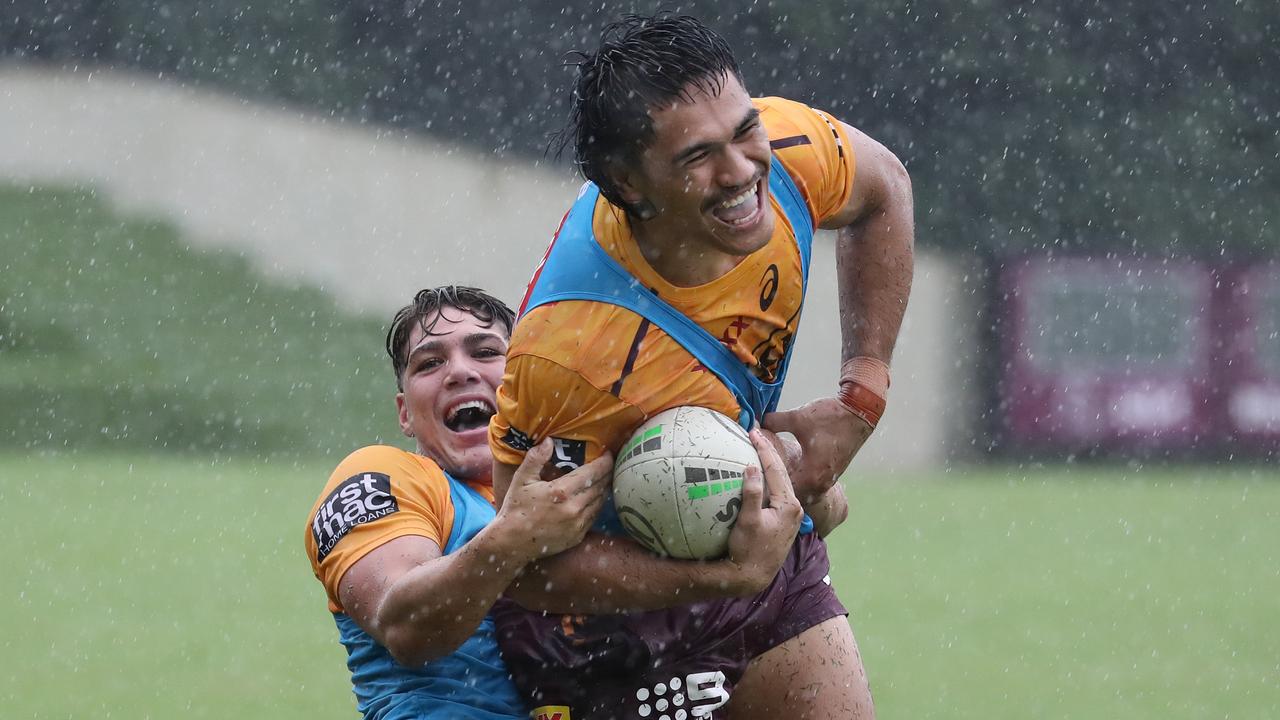 Brendan Piakura at Broncos training . Pic Annette Dew
The Broncos have been decimated by Covid, with nearly half of Brisbane's playing list sidelined from pre-season training after testing positive to the virus.
Sixteen of the 38 players, plus three football staff, have been banned from returning to training on Thursday.
The Broncos had four positive cases earlier this week, including rising stars Pat Carrigan, Brendan Piakura and Keenan Palasia.
But a full round of PCR testing conducted on Tuesday resulted in 16 positive cases within the playing group.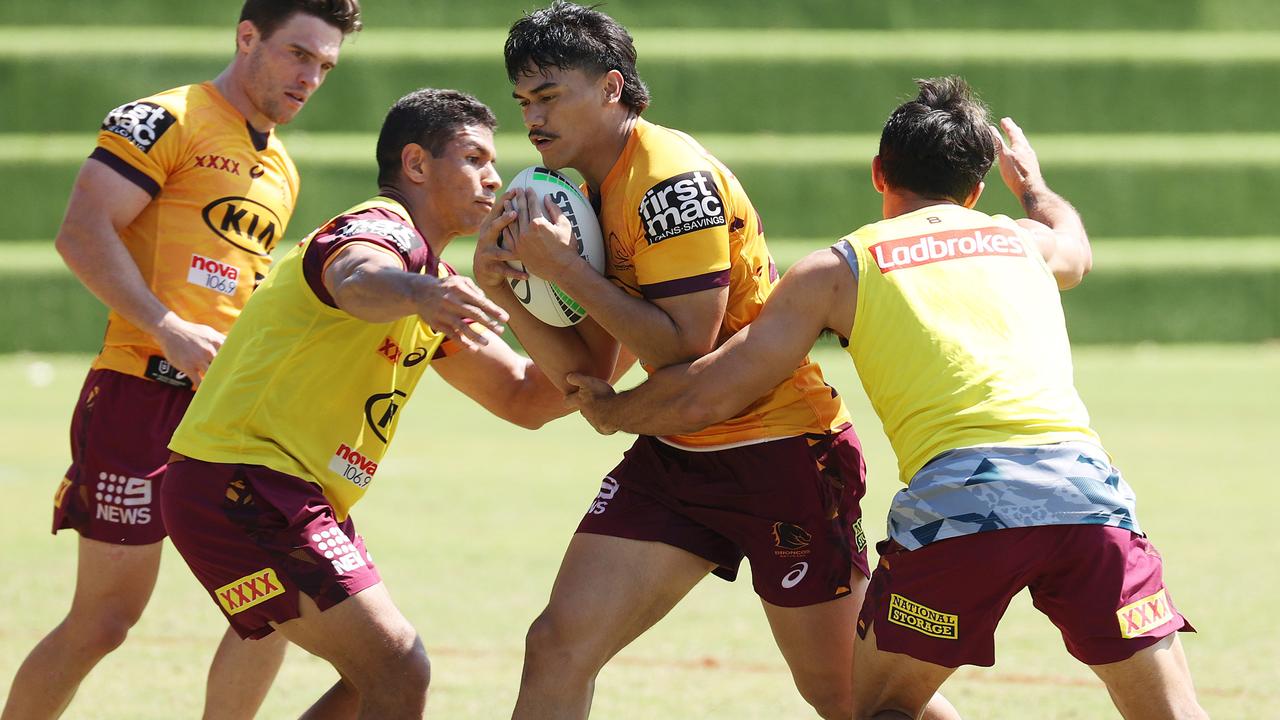 Brendan Piakura was one of the first Broncos to contract the virus. Picture: Liam Kidston
The players must observe at least a seven-day isolation period before commencing the NRL's return to play protocols.
Broncos CEO Dave Donaghy said the entire squad and football staff had been double-vaccinated.
"Our main concern is the health, safety and wellbeing of our players and staff, and we are fully focused on ensuring they are looked after while isolating," he said.
"The Covid testing measures are in place to protect our people and our program and these results show that the system is working.
"These cases have been picked up early, allowing us to deal with them promptly and effectively, and then move forward with our pre-season.
"We've taken a proactive approach to managing this challenge, which will have many turns over the coming season. Our goal as a club is to tackle each challenge as they arise.
"As the spread of Covid grows across the community, we will continue to work closely with our players, staff, the NRL and the Queensland Government."
The NRL has been rocked by more than 100 positive cases amongst players that were due to resume pre-season training on Thursday.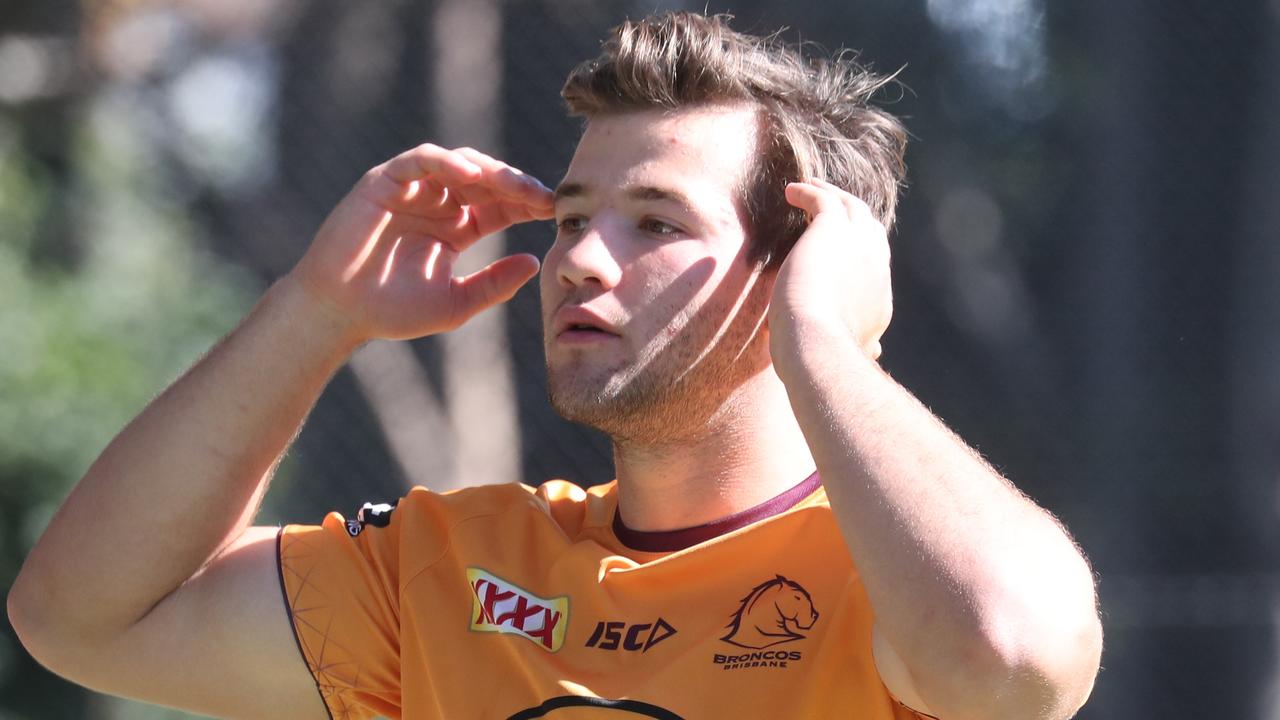 Pat Carrigan tested positive for Covid-19. Picture: Annette Dew
COVID RUNS RAMPANT ON EVE OF PRE-SEASON
The NRL has been flooded with positive cases on the eve of pre-season training resuming on Thursday, prompting the league to implement new restrictions.
Players and football staff will be subjected to daily rapid Covid tests upon arrival at training, with anyone testing positive to be immediately separated from the group and sent for PCR testing.
Exact figures are unknown but at least 50 players across the code are understood to be currently isolating due to either testing positive or being deemed a close contact of a Covid infection.
The Redcliffe-based Warriors have been severely affected with a number of players currently stranded in NSW and Victoria after travelling over the Christmas break.
The players have either tested positive or been deemed close contacts interstate, meaning they cannot return to Queensland.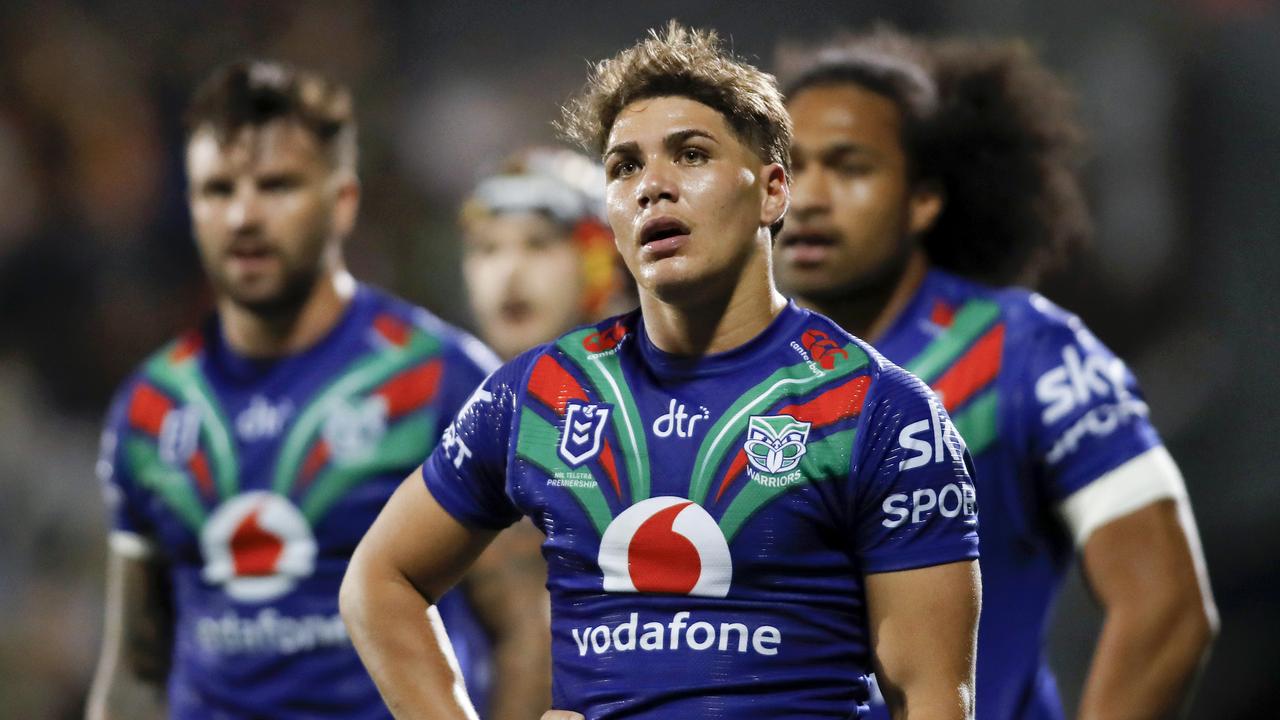 The Warriors have reportedly been severely affected.
The NRL's nine Sydney-based clubs have been hit hard by the NSW Covid outbreak, with one expecting a skeleton crew of less than 20 players to return for the resumption of the pre-season after more than 10 players tested positive.
Almost every Sydney based club has at least one active case and will start the preseason with both players and officials locked away in isolation.
Western Sydney teams have been among the hardest hit with the Eels, Tigers and Panthers registering a significant number of Covid cases or close contacts.
While results are still being returned after players and officials were tested on Tuesday, the Panthers are predicting that up to 25 per cent of their football department will be forced into isolation.
The Tigers have been heavily hit with more than 10 players testing positive since Christmas.
The Panthers have been hit hard.
The Eels are still awaiting full results but there have been suggestions that 10 players could be prevented from returning this week.
The NRL is expected to give the clubs the go-head to return on Thursday despite the spate of positive tests and close contact cases.
"Penrith Panthers can confirm a significant number of the club's NRL players and staff are currently self-isolating and will not be available for the recommencement of pre-season training this week," the Panthers said in a statement issued on Wednesday.
"The affected players and staff have either tested positive for COVID-19 or been identified as a close contact of a positive case.
"These individuals will only return to training after receiving clearance in accordance with NRL and NSW Government protocols.
"The club respects the privacy of the affected players and staff, and will be making no further comment on the matter at this time."
The virus has not been restricted to Western Sydney with the Cronulla Sharks reporting up to five cases in the playing group.