South Sydney Rabbitohs fans booed, but without conviction, as Adam Reynolds returned with the Broncos
After 231 games for Souths, Adam Reynolds returned 'home' as a Bronco. And, as ADAM PEACOCK writes, emotions were conflicted.
"Boo him?" asked the old timer. "No way. Not his fault!"
It was an hour before kickoff in the return of Adam Reynolds to Souths, and as the early arrivals milled around the tunnel before kickoff hoping time would go quicker, deep down they wished a night like this didn't have to happen.
Why did he have to go? Salary cap pressure is the reason.
Never mind interest rates. Adam Reynolds' going rate is still of interest to Souths fans.
Nothing against the new halfback, Lachlan Ilias. He's just a kid.
Nothing against Reynolds. He's a veteran, deserving of another big payday.
But it's hard to find one person to blame. An executive? A system? Salary cap pressures are a faceless conundrum. So, with that in mind, Souths fans, like the old-timer near the tunnel before kickoff, weren't seeking retribution. Just a nagging thought followed them to the ground, twisting the gut in a tiny little knot.
"He could stuff us tonight," the old timer said.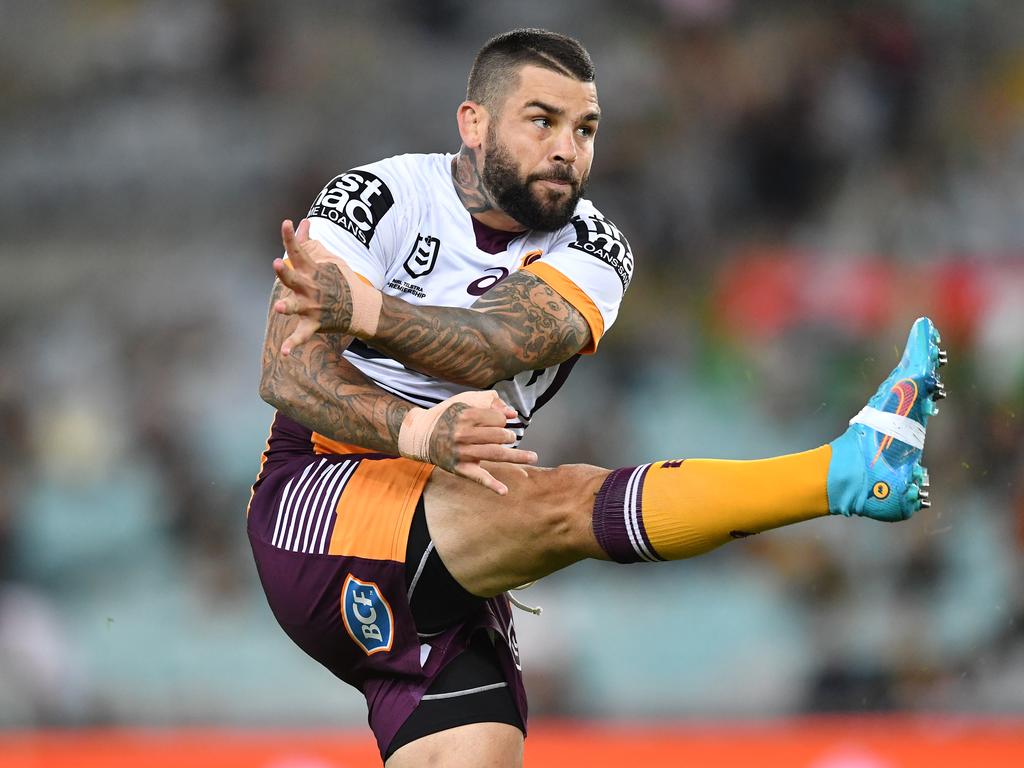 Adam Reynolds made his awaited return to Accor Stadium last night, to take on his old teammates at South Sydney. Picture: NRL Imagery
*****
The club Reynolds now plays for - the once mighty, now flighty Brisbane Broncos - can't believe what they've got. Especially after a night like this. A 32-12 victory over last year's grand finalists, on their home patch.
Reynolds wasn't the out-and-out star. The young bucks aimed up. Forwards like Pat Carrigan and Kobe Hetherington left fear at home and tore in. Flyers like Selwyn Cobbo added to rapidly expanding highlight reels.
Reynolds didn't win the game. He controlled it.
Souths have struggled for control all season, and it was absent against the Broncos.
Control is at the heart of why Reynolds is no longer a bunny. Or, rather, a fear of a lack of control.
Over their cap.
Over long-term plans.
If you don't get the figures right, the figureheads cop it.
Reynolds helped the Broncos to their third straight win, having defeated Cronulla in Round 8. Picture: NRL Imagery
Brisbane were ok with giving Reynolds a three-year $2.4 million deal. And days into Reynolds' new life, Broncos officials knew they had spent well, securing the ultimate professional.
They knew they were getting a fine player but, just as importantly, they quickly learned they had also acquired an on-field coach, a dressing room standard-setter and a family man of integrity, rather than a child known to the integrity unit.
Months into life without Reynolds, Souths still don't have direction.
There's a plan, yet they don't have the control to execute it.
Thursday night was a glaring example.
They didn't boo Reynolds much. Nor cheer him. Cody Walker's son, one of Souths' ballboys, gave him some lip pre-game. "We're gonna smash ya," was the general vibe of the sledge.
It was hard to be too critical of a man who grew up two streets from Redfern Oval, playing footy well after dark with his brother, honing that kicking game for hours on end, the famous cardinal-and-myrtle the subject of his dreams. He lived out those dreams across 231 games, 1,896 points (the club's all-time record) and a drought-breaking 2014 premiership.
To sum up Souths fans in one word before kick-off: conflicted.
Then reality set in.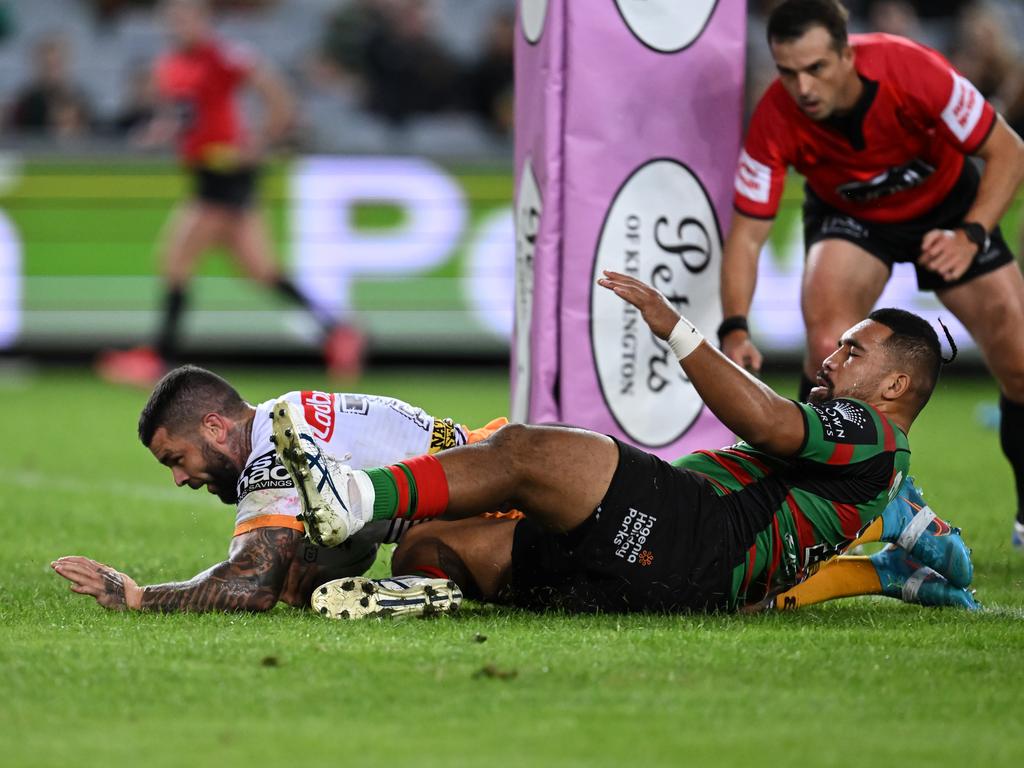 Reynolds punished a gap in the Souths' defence to score directly under the posts. Picture: NRL Imagery
A collective groan could be heard around 8.35pm on Thursday when Reynolds punched through a gap and scored under the posts to give Brisbane a handy 12-point lead.
"Ahhh, f— you!" exhaled one Souths fan, but it didn't feel vitriolic. Just frustrated. The insult was directed at the situation rather than the person. The few boos that could be heard felt similarly reflexive, not emotional, and certainly lacked the invective of, say, a Roosters match.
As Reynolds converted, the stadium loudspeaker belted out Avalon by Roxy Music, a track dripping in deep feelings, fitting of a broken relationship, Bryan Ferry crooning as one half stared into a photo of their former other half, reminiscing.
How fitting.
*****
It wasn't Ilias' fault.
Reynolds' replacement in Souths' No. 7 jersey, Ilias has the unenviable task of learning a role mastered by his predecessor. Unfairly, his early career will be measured against someone who meant so much to Souths.
In coach-speak, Ilias has the reputation as a halfback who "touches jerseys", meaning he's more than prepared to run to the defensive line in the knowledge he will get belted. He'll carry the ball into one or two beasts who want to send him to next week, and leave his distribution to outside backs as late as possible. The last action before contact is a pass.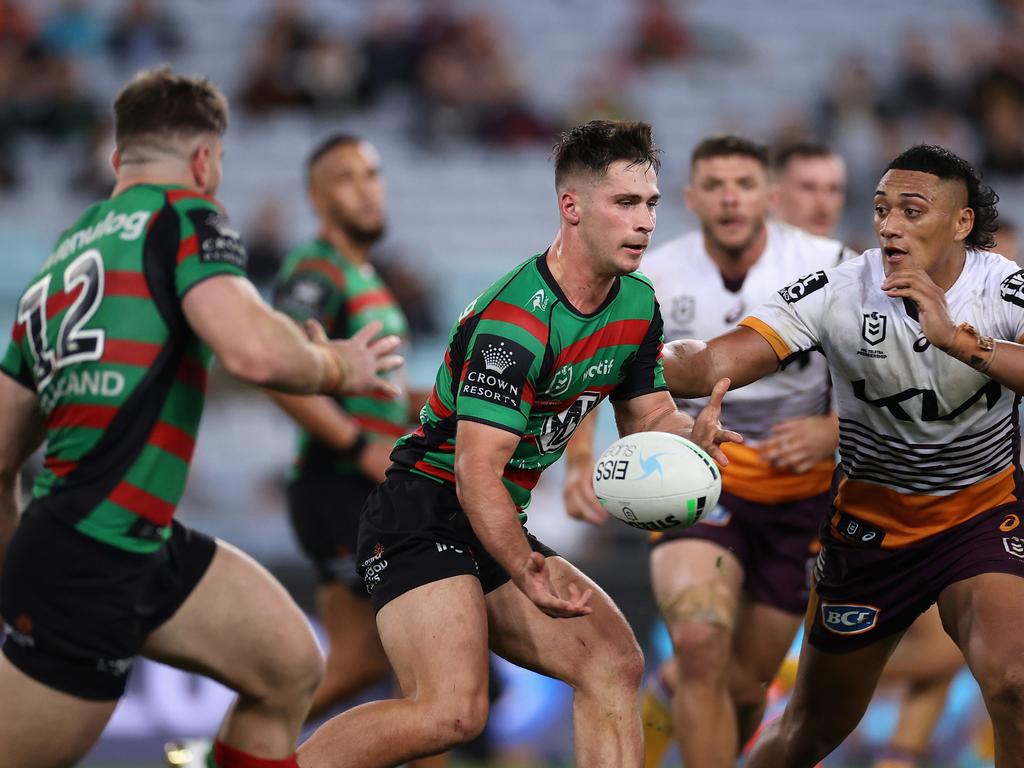 Lachlan Ilias has served well as Reynolds' replacement for the Rabbitohs, yet the team appear to lack the control required to execute his vision. Picture: Cameron Spencer/Getty Images
More space for them. Indecision and chaos for the defensive unit.
He did it terrifically twice. The first didn't result in a try, just a bruise from Hetherington, who attacked Ilias like a bull at a red cape. As Souths tried to conjure a second half comeback, Ilias presented the hope by touching jerseys again, freeing up space for a Taane Milne try.
Souths aren't quite what they want to be and Ilias' bravery was immediately undone off the kickoff. They dropped the ball. They dropped it throughout.
Over the line when tries seemed certain. In moments of half chances. In regulation tackles.
There was no control when control was badly needed.
As it stands they are racing cars without air in their tyres, tennis players with loose strings, sprinters without spikes. They have enough players to win games. Walker, Cam Murray and, of course, Latrell Mitchell when he's back. But in order to win games, control needs to be established.
Who can do that?
There's a guy in Brisbane …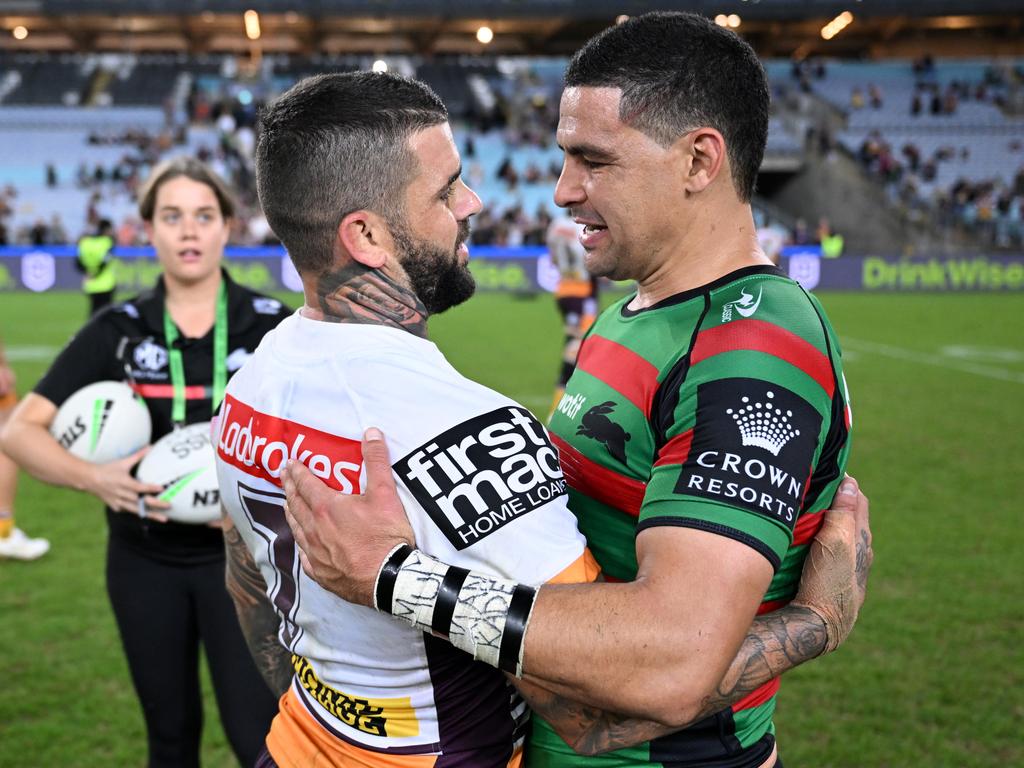 Ex-teammates Cory Walker and Reynolds shared a word together after the game. Picture: NRL Imagery
*****
You can't put a price on how much Reynolds' new teammates value their halfback and captain.
Carrigan, the prop who flung himself at warp speed into every task, has had a wretched two years, part of a Broncos team that became a punchline. Worse still, amidst the gloom, Carrigan suffered an ACL knee injury that cruelled his 2021 season.
It's now brighter at the Broncos. Reynold's arrival has been a game-changer for players like Carrigan.
"Nothing too hard, too difficult," Carrigan told CodeSports after fulltime. "He's really big about enjoying the little things and the process of getting better and just think he's a breath of fresh air. Making me love my footy."
Carrigan is charged with getting Brisbane going forward. Reynolds barks orders during sets, then finishes them with pinpoint kicks. Time and time again against Souths he landed kicks within a metre of where they needed to land.
Then attitude kicks in. Standards set at training and in team talks need to be met.
"For a few of those years we worked hard without rewards," Carrigan continued. "I love playing footy, but love winning more, and Adam is a winner. We're lucky Souths lost the grand final last year because he's so motivated, intent on having success at this club, and that's rubbing off on everyone."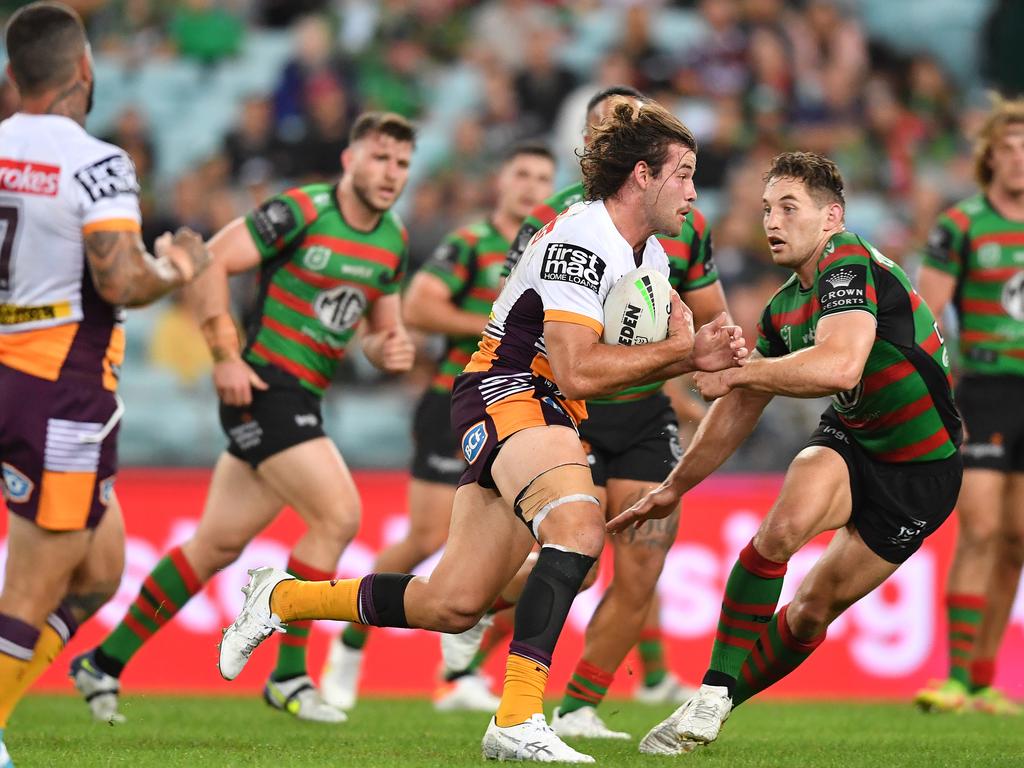 Pat Carrigan believes Reynolds motivation from last year's grand final has spurred him on with Brisbane. Picture: NRL Imagery
*****
For the first time in three years, Brisbane have won three games in a row.
Reynolds is in the first year of a three-year deal, and the price-tag feels irrelevant.
There was a lovely moment at the end of the night as Reynolds headed over to The Burrow, where the most ardent Souths fans sit. They had waited patiently to say goodbye, with last year's Covid-19 caravan keeping footy out of Sydney.
The highlight of Reynolds' rugby league career to date happened in this corner. After his try in the 78th minute of the 2014 grand final confirmed Souths' 43-year premiership drought was over, he sprinted to The Burrow, smacked the black bunny crest on his chest and kissed it.
Tonight, Reynolds smiled and politely clapped the fans he once sent into delirium.
They clapped and smiled back, but trudged home.
And with them all the way, that little knot in their stomach.