Hook, Red V rejection and Dog Days: Matt Dufty's Dragons exit and Bulldogs beginnings
Matt Dufty is out the other side of his toughest NRL experience – rejection from his junior club and the rumours that came with it. Yet here he is, happy and thriving once more at Belmore.
Matt Dufty bid farewell to his Red V dreams, but still has a point to prove in Cantebury colours.
The giggle isn't quite like Josh Addo-Carr's gaggle, but it's the soundtrack of a happy soul, one who loves living in the now at Belmore.
And why wouldn't he smile? Dufty is doing what he always wanted to do, and given his form in other brief pursuits, was simply made for – playing rugby league for a living.
His old man Glenn remembers it well, the day his son and apprentice carpenter made abundantly clear that the back-up plan might've been a tad superfluous.
"We were doing an upstairs extension and Steve, the bloke I was working with said, 'Where's Matt?'" Dufty snr recalls.
"We looked down out of the top story window and he's asleep on the front lawn at about 9am.
"I think having his father as boss allowed him to take a little bit of advantage!"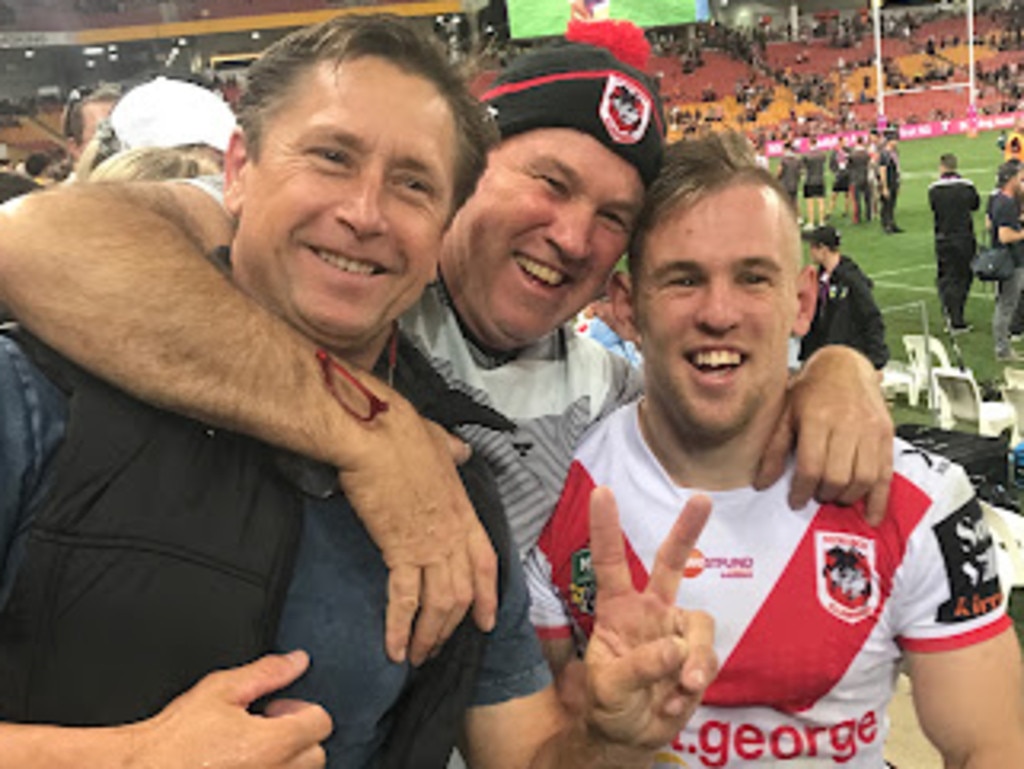 Matt Dufty with his father, Glenn (middle) after a Dragons match at Suncorp Stadium. Picture: Supplied
A standout junior and signed with the Dragons at 13, Dufty jokes that, "from four years old, everyone telling me I was going to make it … well, mainly Mum."
Nevertheless, Dufty blazed a trail to the top grade, making something from nothing in the land of NRL giants.
And then, suddenly it stopped. Just as he felt he was hitting his peak; the dream was over.
The Dragons had binned him. That smile went missing for a while.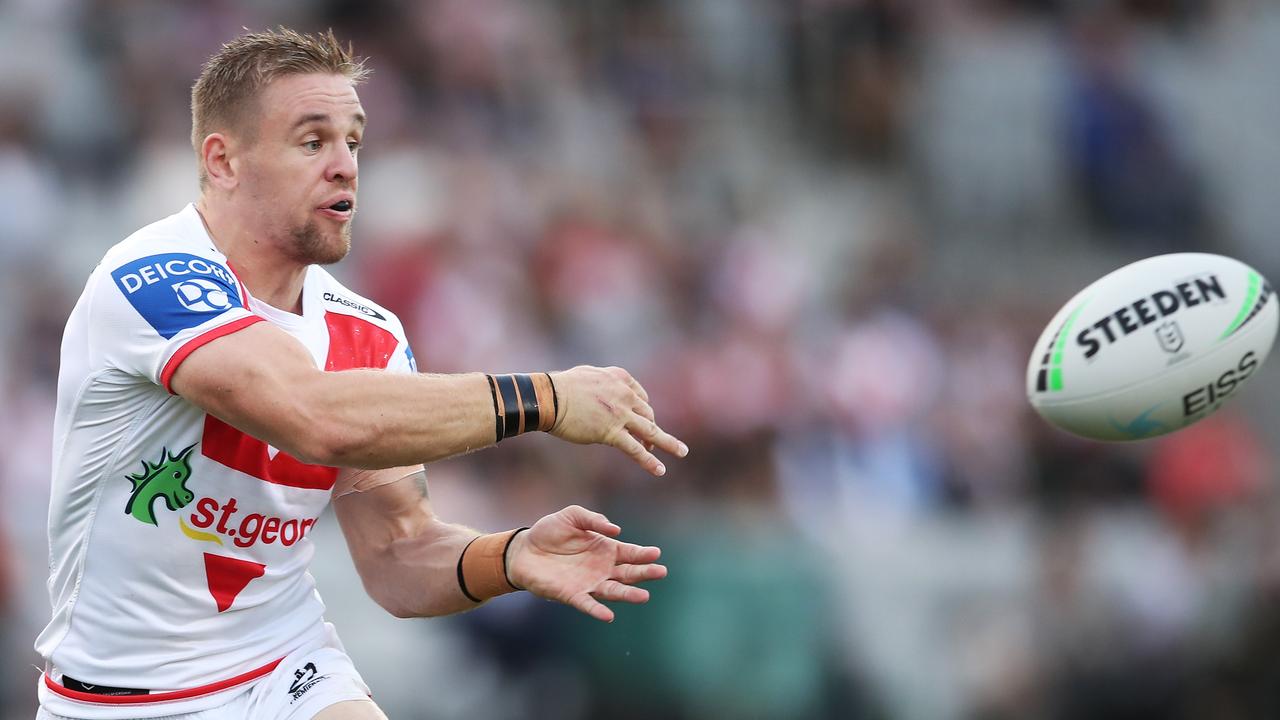 Matt Dufty played four seasons with the Dragons, before being unceremoniously dropped from the side in mid-2021. Picture: Matt King/Getty Images
*****
At a touch over 80 kilos, and a tad under 180 centimetres, Dufty survives among the modern rugby league monsters through his ability to spot a weakness in an opposite defensive line and then act upon it with searing pace, all before anyone can do anything about it.
"The thing I'm most proud of him for is he did it as a small kid," Glenn says, fondly recalling junior days in the green and gold of the Penshurst RSL Kookaburras, Dufty's hair dyed the same as he scored tries for fun.
"Always been that way, running around with the big boys, he used to cause havoc because they couldn't get hold of him."
Dufty can deal with getting smashed. Always the little kid, he's used to it. But nothing he's worn on the field compares to the hit copped as the Dragons season spiralled into another missed finals outing and his contract became a focal point.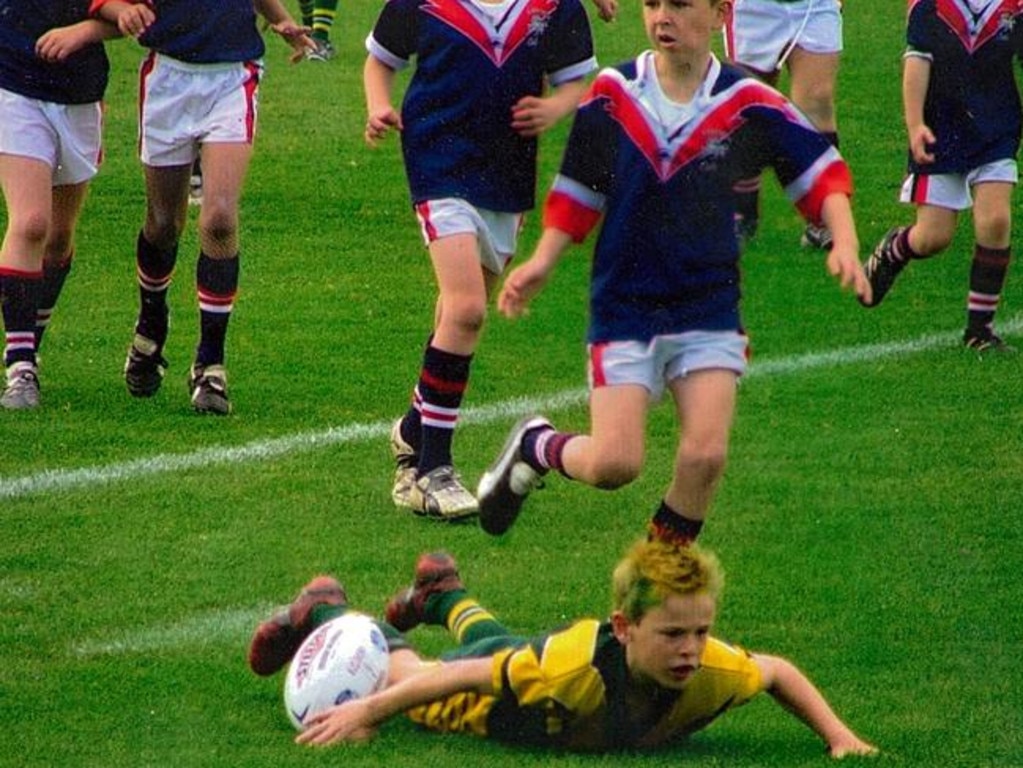 It was obvious from Matt Dufty's Penshurst Junior Rugby League days that he was going to be a force in the NRL. Picture: Supplied
The Dragons didn't want him. Fans cobbled together petitions. Observers scratched their heads that a team struggling to score points would allow their main attacking threat to leave.
Coach Anthony Griffin stuck solid to his plan, one which didn't include Dufty, but rising star Tyrell Sloan instead. Coach and unwanted player kept it civil.
"I was upset. All year I just wanted to stay there," Dufty says.
"[But] I kept reading stuff in the media that Hook (Griffin) and I were having blues and none of it was true.
"I actually had to go in after one article and tell him, 'I didn't say this', and he was understanding. He's black and white, pretty straightforward."
It took time for Dufty to come to terms with his Red V rejection, relying on support from his parents, girlfriend and other mates to see the bright side, which he quickly did.
He's no jilted lover who burns clothes and blocks social media accounts.
"I love the Dragons, growing up I always wanted to play for the Dragons, I was lucky to debut and play 82 games there.
"I could never not like the club. Footy is a business, loyalty flushed out a little, but there's no hard feelings. It is what it is."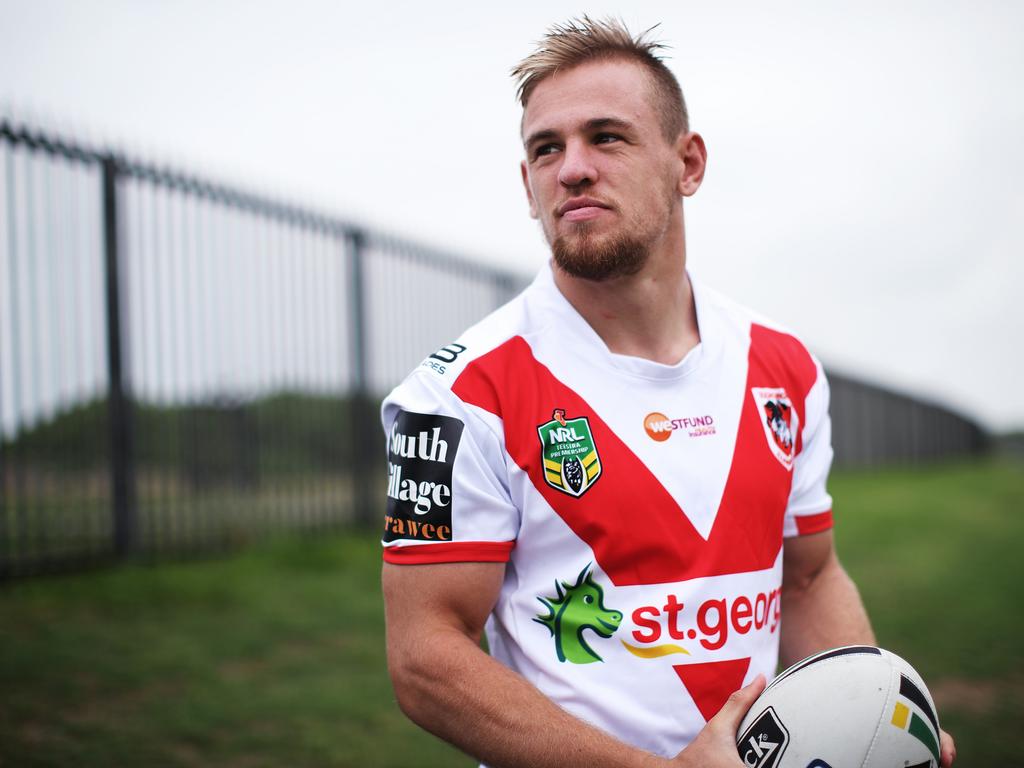 Growing up just down the road from Jubilee Oval meant Matt Dufty had always dreamt of playing in the 'Red V.' Picture: Phil Hillyard/NCA
*****
Which brings Dufty back to the present. The place he likes to be. A full-time footy player, living in the now.
He could have gone to England commanding big money and tore the Super League up. But Dufty knew he had something to offer the NRL.
Balancing his supreme attacking ability is the knock on his game; defensive positioning.
The Bulldogs, in total rebuild mode after a wooden spoon campaign where points were harder to get than toilet paper in a pandemic, felt the positives in Dufty's game outweigh the negatives and agreed on a one-year deal.
If there is anything that screams living in the now of a professional sport, it's a one year-contract.
"I tend to play pretty well when I'm under the pump," Dufty says.
"You've got something to play for, you're playing for your future."
Matt Dufty is geared up for the Bulldogs in 2022, and eager to prove himself, with 'something to play for.' Picture: NRL Imagery
With the Dolphins entering the NRL in 2023, he reasons more opportunities will present themselves to those in form. To make sure he is, Dufty is doing everything he can at Belmore, joining pre-season a week earlier than planned at the behest of coach Trent Barrett.
The Bulldogs mentor called Dufty out of the blue last October while he was sitting around doing nothing, but the new Dog jumped at the chance.
"Yeah of course mate," he told Barrett.
So Dufty got his gear together, walked through the gates of the Dogs home at Belmore for the first time and in his words, "got ab-so-lute-ly flogged, haha!"
There was nowhere he'd rather be.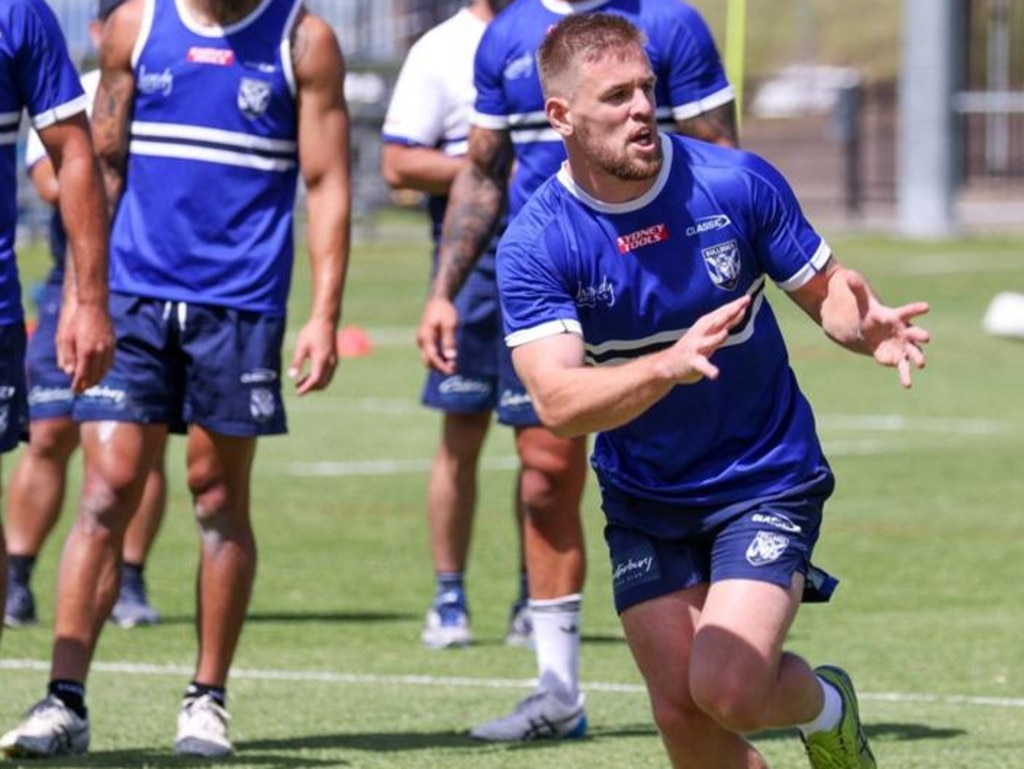 Canterbury's newest fullback turned up to pre-season a week early to prove his eagerness to Bulldog's coach Trent Barrett. Picture: News Corp Australia
*****
Dufty knows the heat will be on everyone at Belmore this season, starting Sunday evening in Townsville against the Cowboys.
Every year, Glenn, mum Leonie and a bunch of friends travel from Sydney to North Queensland to watch Dufty play.
"Couldn't care less about the Dragons at the moment, on the Dogs bandwagon," Glenn laughs, unlikely to ever tire of watching his boy play.
Much is expected of star recruits and genuine topliners, Josh Addo-Carr and Matt Burton. But it's Canterbury's other gains who intrigue most.
Paul Vaughan, punted by the Dragons for hosting a BBQ that helped sink their season, Tevita Pangai Jr released from the Broncos after attitude failed to match talent, and Brent Naden, sick of being left out at the Panthers. And of course, Dufty and his one-year-deal.
Motivation is in rich supply.
"We've signed a lot of people with a point to prove," Dufty says, deadly serious for once.
"It's been a tough carry here at the Dogs. We just want to turn it around."