The Matt Burton moment against Parramatta that sums up Canterbury-Bankstown's attitude shift
Canterbury-Bankstown scored more points than they have all season against Parramatta, but that wasn't what captain Josh Jackson was most impressed with, writes BRENDAN BRADFORD.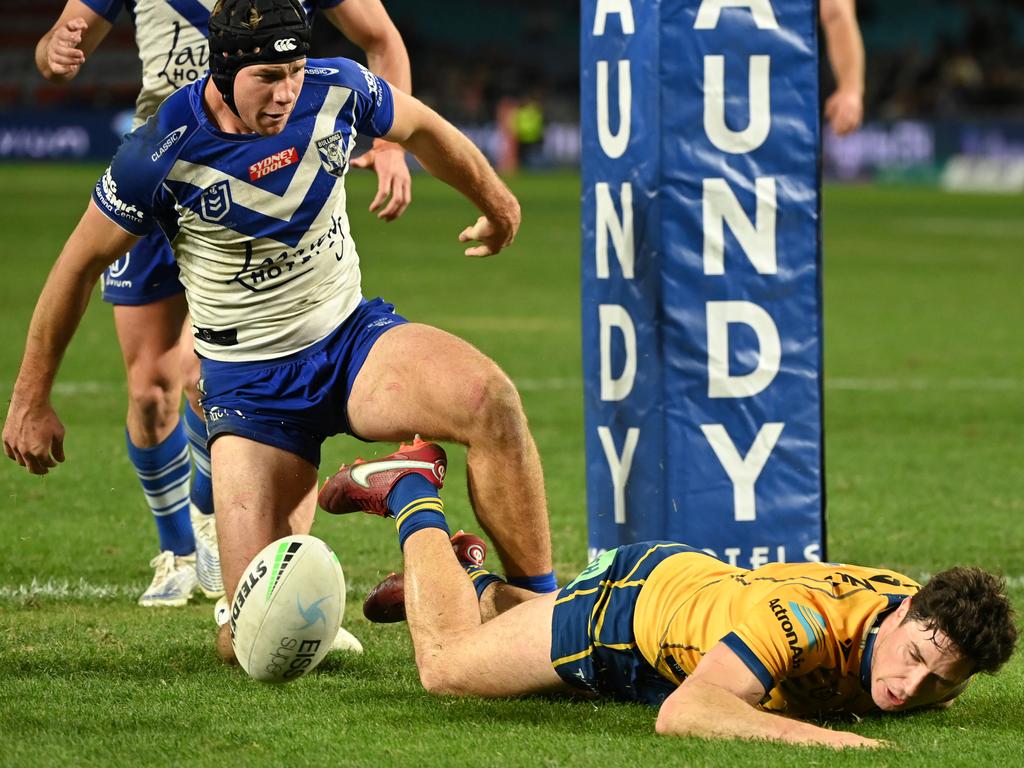 Matt Burton was sensational in attack in a win over the Eels, but it was a defensive moment that showed his true worth to the team. Picture: NRL Imagery
Matt Burton kicked five conversions and set-up three tries in a masterful attacking performance, but it was a 90-second effort late in the game that best summed up his mindset in the Bulldogs' 34-4 win over the Eels in round 14.
Leading 28-4 with eight minutes remaining, the Dogs were already assured of just their third win of the season when Eels halfback Mitchell Moses ran onto a Junior Paulo offload and darted under the posts.
Most of the Bulldogs' defensive line had given up on the play. What's six points when you're already up by 24? All Moses had to do was fall to the ground and bag a consolation try.
Burton didn't get the memo.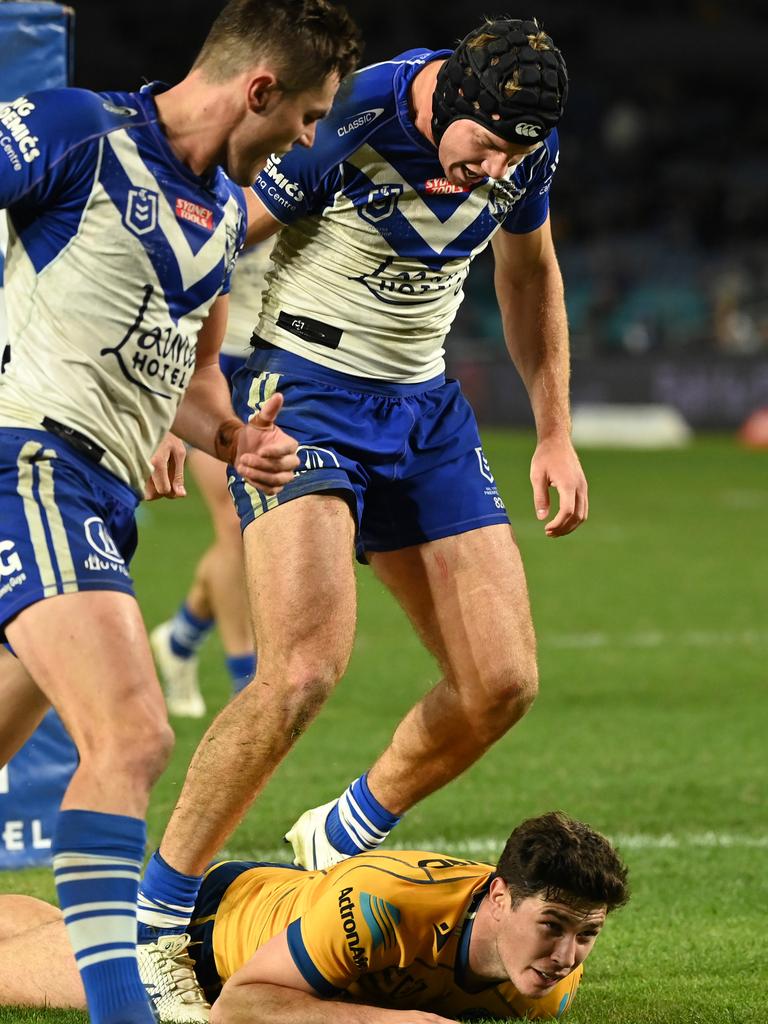 Matt Burton give it to Mitch Moses after his try-saving tackle. Picture: NRL Imagery
From a standing start, the 22-year-old made a 20m chase and knocked the Steeden out of Moses' hands just as he was about to score.
There had been a bit of niggle between the pair earlier on, and as Moses laid face down on the turf, Burton gave him a blast and stepped over him in the tradition of Allen Iverson.
Burton wasn't done there.
Two tackles into the next set, he was on-hand to take a pass from Kyle Flanagan, before dropping the ball onto his foot for Jake Averillo to score the Bulldogs' sixth try of the evening.
The two plays – one showing his grit, the other his finesse – happened within 90 seconds of each other in junk time of a game the Dogs were winning handily, but it's the kind of approach that the side needs if it wants to avoid a second consecutive wooden spoon.
"I didn't really expect it, I thought he was going to dive over the line," Burton says of his tackle on Moses. "I just thought I might as well keep chasing and I was lucky enough I got to him before he put it down.
"I was just happy. We were hanging on there, they were coming over the top of us at the end there and I was just happy he didn't put it down."
If Burton's late-game heroics capped off a memorable night, it was Tevita Pangai Junior who set the tone for the clash in the opening minutes.
He ran straight at Parra's two best forwards, Junior Paulo and Reagan Campbell-Gillard, with the first hit-up of the game, then flew out of the line to put a hit on Moses in the next set.
He was pinged for offside, but he'd made his intentions clear: The Dogs weren't going to be easy-beats.
Over the next 18 minutes, Pangai Junior put a similar, legal, shot on Dylan Brown, shoved Campbell-Gillard off the ball, threw a nice off load, dropped the ball and conceded another penalty when he hit RCG late.
It wasn't all pretty, but when you don't have the polish of the Penrith Panthers, you fall back on what you do well. And it was working.
Parramatta knocked on, missed tackles, threw terrible passes and generally seemed shell-shocked for most of the game.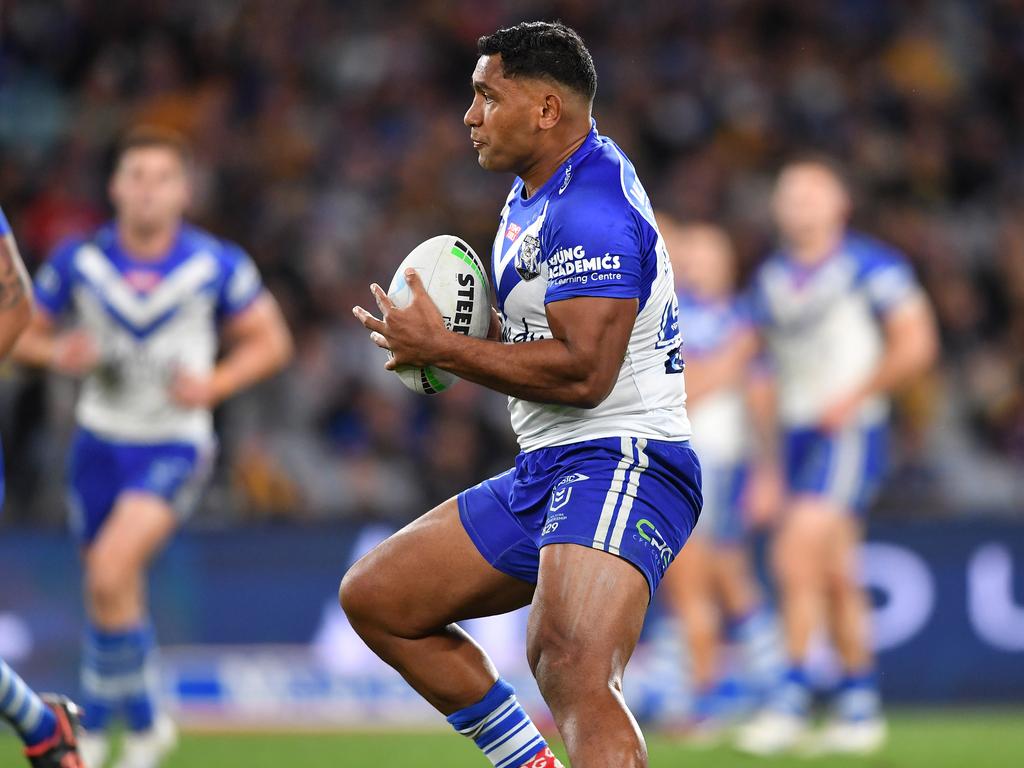 There were a few penalties, but Tevita Pangai Junior set the tone for how the Bulldogs wanted to play. Picture: NRL Imagery
"When he's on, he's an absolute wrecking ball," Burton says of Pangai Junior. "You saw what he could do there in the first half, he can flip the game with a big play.
"He was outstanding with his carries and his defence. I thought he killed it.
"He's working hard on his game. He's a class player and when he's on the whole side gets on the back of him."
For all the long-range tries and highlight reel interplay between Burton and hat-trick hero Josh Addo-Carr, it was his side's defensive resolve that captain Josh Jackson was most pleased with.
"We were resilient on our tryline, and they had a number of shots at us, particularly early, but we held them out," he says.
"For me, that's the most pleasing thing.
"The more that you defend your line, the more your confidence builds and you get belief in yourself. We took that on the whole game."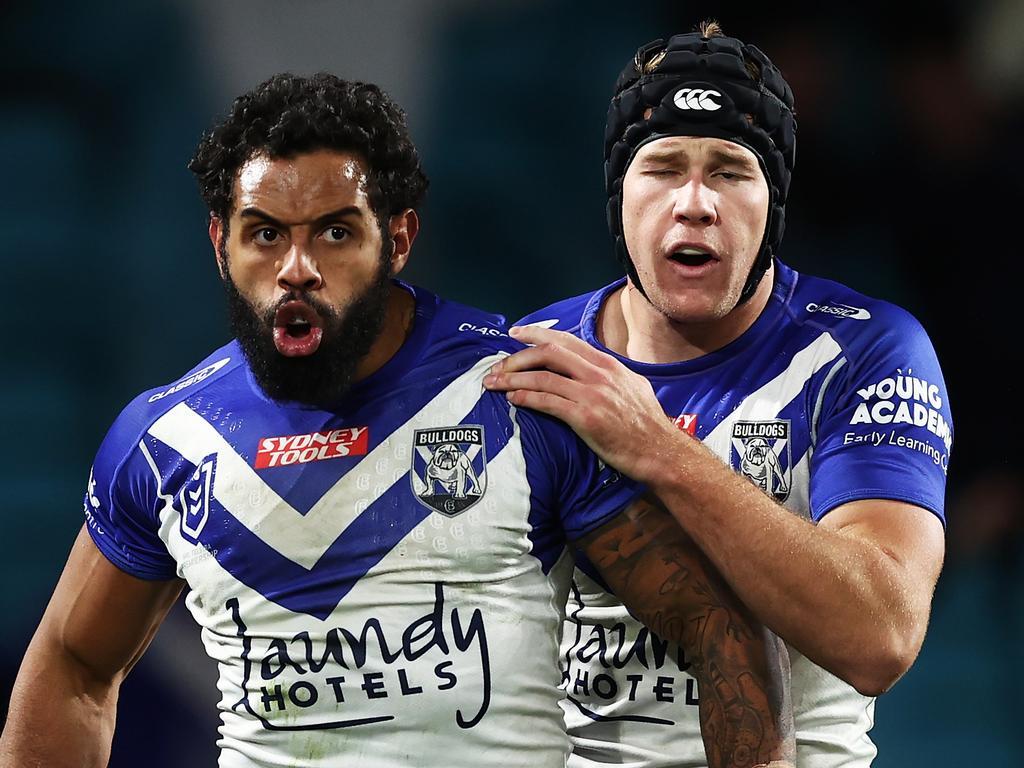 Josh Addo-Carr and Burton have formed a potent attacking partnership on the Bulldogs' left wing. Picture: Matt King/Getty Images
With more than a hint of The Dogs of War of the 2000s about them, the Bulldogs dragged themselves off the bottom of the ladder into 15th.
While the steely mettle was on full display, the Bulldogs played with freedom on attack. The side has only scored more points once in the last three-and-a-half seasons.
"I thought we really threw the ball around – we didn't just play one out," Burton says. "We played a bit of off the cuff footy, and that's when I feel I'm playing my best footy.
"It's just backing ourselves, knowing we can throw the footy around and not force things. We're looking more dangerous which is pleasing.
"We've still got a lot to work on, but definitely happy."