Buzz: Jada Taylor's incredible try, Ricky Stuart's guarantee to Raiders and Cronulla's Covid hit
The fact North Queensland Cowboys' coach is under contract until the end of the season hasn't stopped one lowly ranked NRL club.
If there was an individual try-of-the-year award in rugby league it would already be decided.
It has already attracted 1.3 million views on social media around the world.
NSW Under 19's women's fullback Jada Taylor scored the most spectacular 110-metre try (see the video player above) against Queensland at Leichhardt Oval on Friday night.
It was from deep in her own in-goal area to the opposite end.
Retrieving a kick, she beat two defenders in the in-goal area, put on a left-foot step to beat two more and then dashed away.
This was a display of quality and class, skill and speed and a mixture of Billy Slater and James Tedesco.
Stream every game of every round of the 2022 NRL Telstra Premiership Season Live & Ad-Break Free During Play on Kayo. New to Kayo? Try 14-days free now.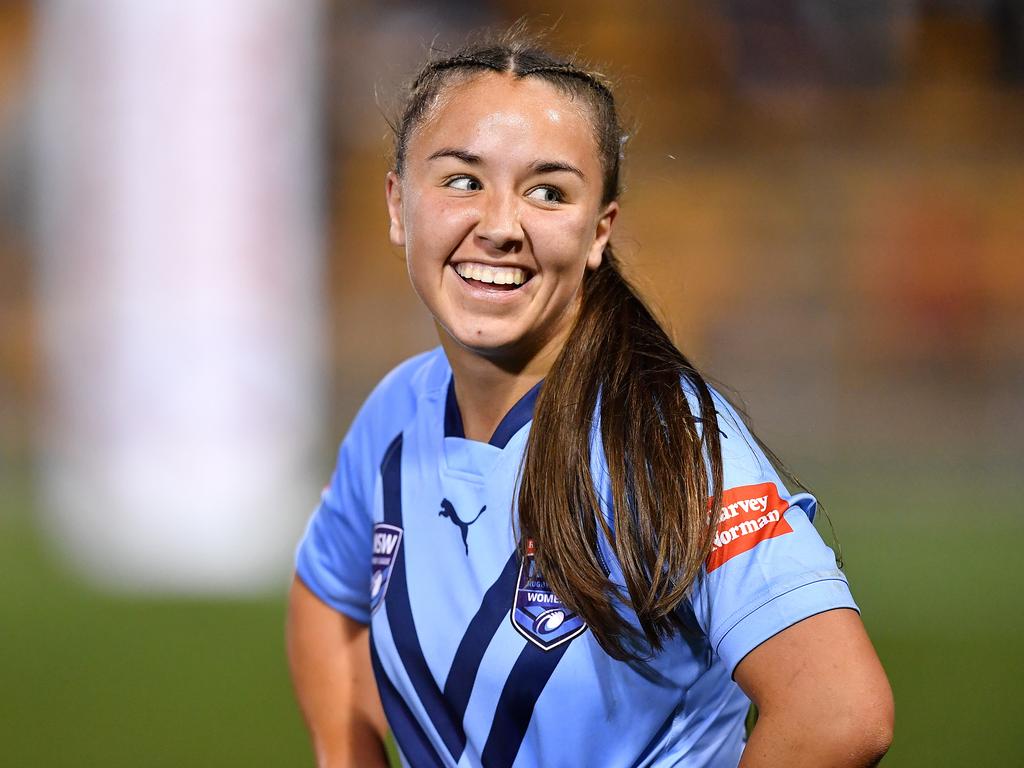 Jada Taylor scored a scintillating try for the NSW Under 19s.
Jada, who plays fullback, will play for the Sydney Roosters in the NRLW.
After the game she even received a message from the eighth immortal Andrew "Joey" Johns on Instagram.
"That try was amazing. We were in the tent behind the goal. So good. Congratulations."
We spoke to Joey on Friday about the skill.
"It was unbelievable," he said. "Me and Fatty (Vautin) were just standing there watching her streak away and seeing how happy she was. We even yelled out to her. She was so pumped."
The try highlighted a wonderful 24 hours for the women's game.
On Friday night, NSW beat Queensland 20-14 in a gripping Origin match in Canberra in front of a crowd of 11,321.
The TV ratings on Fox Sports and Kayo were up eight per cent on their previous game.
The quality and skill level was better than what I've seen in some NRL games so far this year.
* * * * *
SAINT
Two games and two sellouts for rugby league's return to New Zealand at Mount Smart Stadium in Auckland for the first time since 2020. Not one spare seat for the Kiwis v Tonga international or next week's Warriors v Wests Tigers game, despite the fact it's 14th v 15th and both sides are hopelessly out of form.
SINNER
Latrell Mitchell has had a crack at ex-players in TV roles. "I think a lot of people need to shut up," he said of recent criticism of Cody Walker. "Don't just keep running him down." This is rubbish. Walker has always been treated fairly by the media. Recent criticism has been justified.
WHAT'S THE BUZZ: MAL WANTS SNUBBED SPEEDSTER
SHOOSH
The fact Cowboys coach Todd Payten is under contract at the Cowboys until the end of the season hasn't stopped one NRL club – in the bottom five on the premiership ladder – from making inquiries about the possibility of him becoming available.
SHOOSH
The West Australian government is using Origin to lobby the NRL for Perth to become the 18th team in a partnership with the North Sydney Bears. NRL boss Andrew Abdo has confirmed he will meet with Venues WA chief executive Peter Bauchop and government officials who are backing the bid.
SHOOSH
Which high-profile businessman has offered to buy a 25 per cent share of a struggling NRL club? This underperforming outfit could certainly benefit from his management expertise.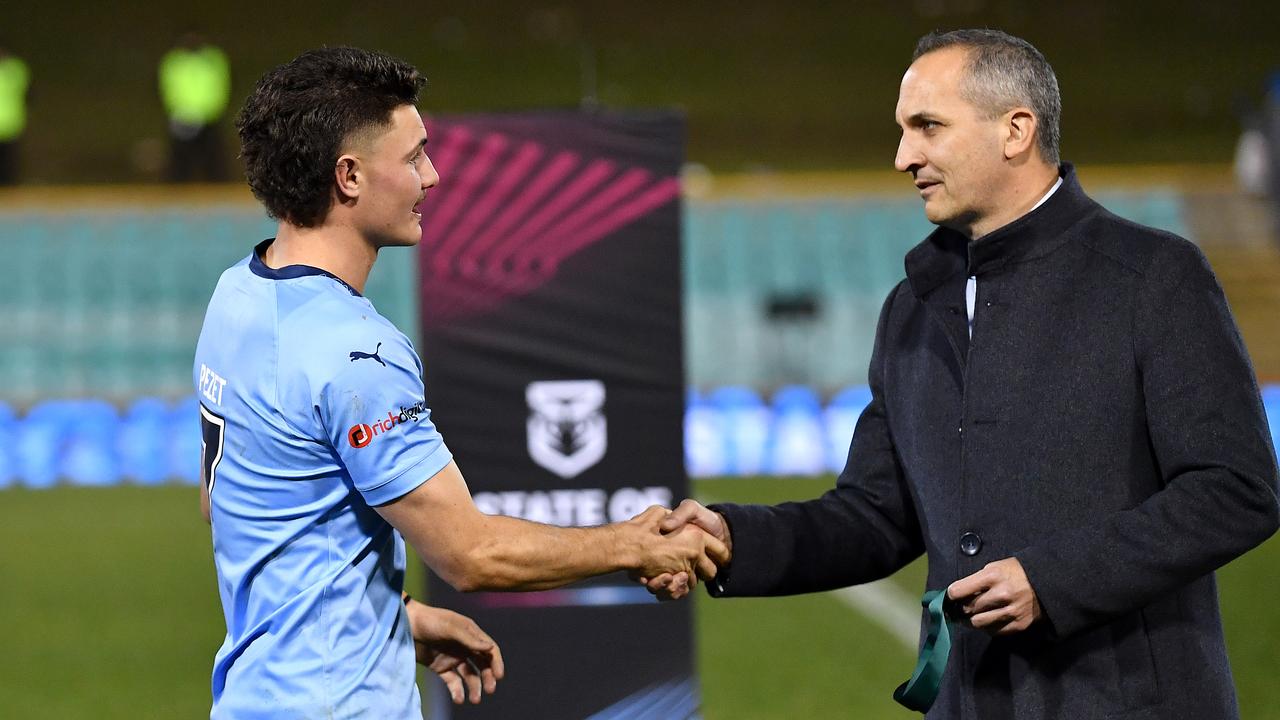 Andrew Abdo with NSW star Jonah Pezet at the U19 Origin match. Picture: NRL Images
SPOTTED
NRL boss Andrew Abdo has had the busiest schedule. He was at Leichhardt on Thursday night for both NSW v QLD Under 19's men and women. On Friday, he took a flight to Canberra for the women's State of Origin. On Saturday, he drove from the national capital to Campbelltown for the Pacific Island tests. On Sunday, he is on an early flight to Perth for the big one. Then back home on Monday morning.
SPOTTED
There was one major positive to Latrell Mitchell missing out on Origin II in Perth. It meant he could be home with family to celebrate the 5th birthday of his beautiful little daughter Inala. Latrell makes his much anticipated comeback against the Eels next weekend.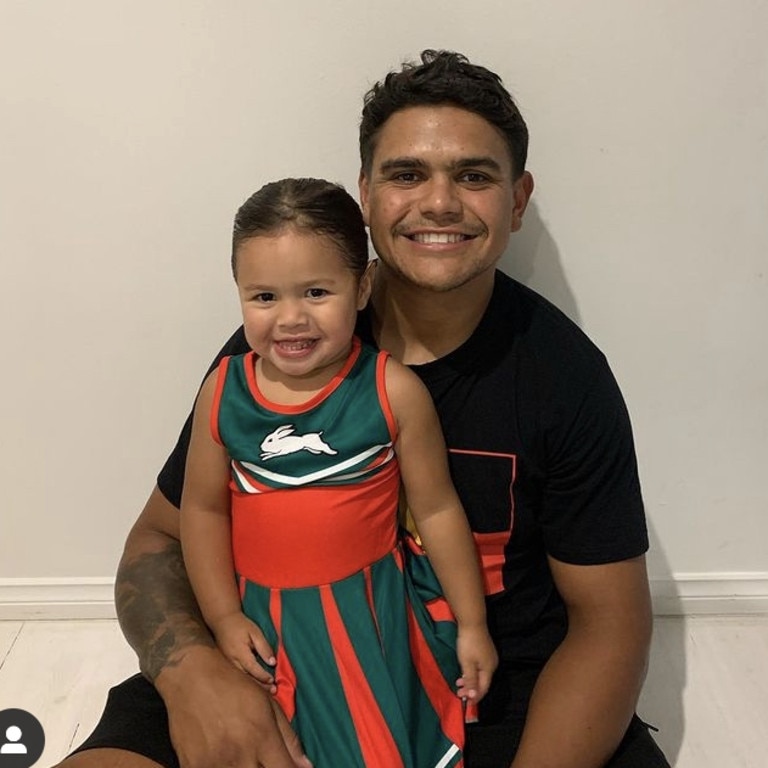 Latrell Mitchell with his daughter Inala. Picture: Supplied
SPOTTED
The days of management instability at the Cronulla Sharks are over with the board recently extending the contract of highly regarded chief executive Dino Mezzatesta for another three years. The Sharks have had so many CEOs in the last decade or so – Lyall Gorman, Barry Russell, Richard Munro, Steve Noyce, Tony Zappia and even Bruno Cullen as an interim.
SPOTTED
NRL head of football Graham Annesley having a quiet beer with Raiders coach Ricky Stuart at a pub in Canberra before the women's State of Origin game on Friday night.
* * * * *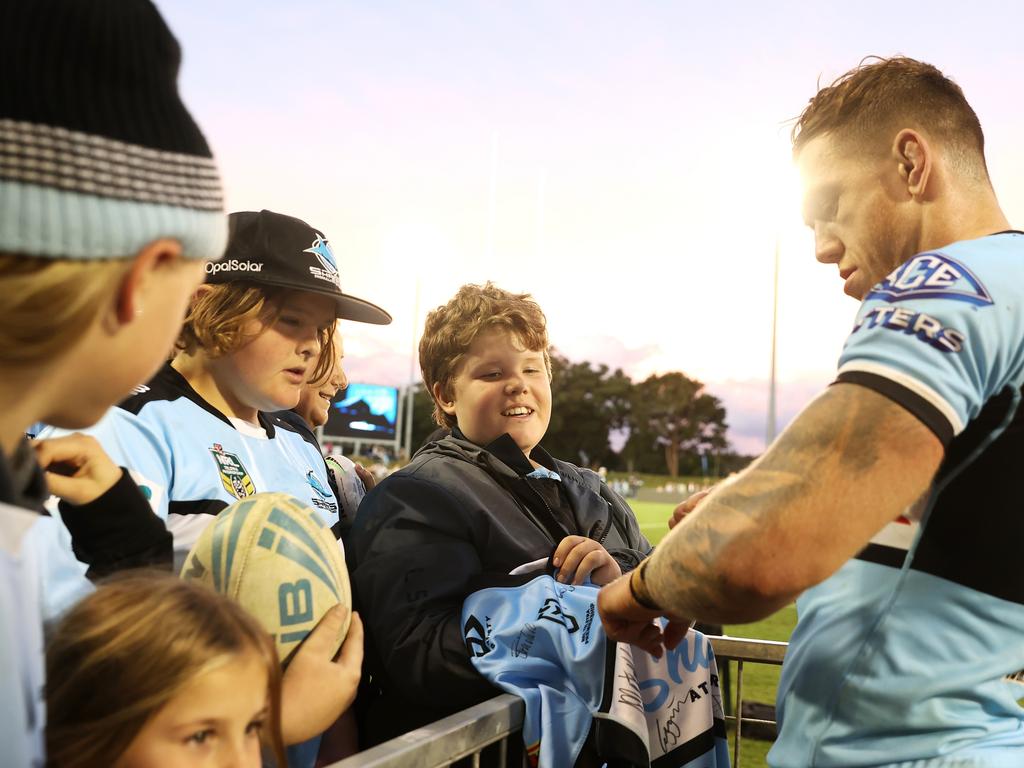 Cameron McInnes signs autographs for the crowd after the Sharks' round 15 match at Coffs Harbour. Picture: Mark Kolbe/Getty Images
Covid has ripped through the Cronulla Sharks with senior players Wade Graham, Dale Finucane and Cameron McInnes all testing positive.
So, too, have general manager of football Darren Mooney and club trainer Tony Grimaldi.
They suspect they caught the virus when in Coffs Harbour last weekend for round 15 clash against the Titans. Lucky for the Sharks in that it is rep round this week.
The players will all be available for next weekend's round 16 match against Canterbury at CommBank Stadium.
It's also fortunate that Siosifa Talakai and Nicho Hynes managed to avoid it and were cleared to be with the NSW Blues in Perth. Assistant coach Steve Price also had to be cleared to join the New Zealand team to help out Michael Maguire with the Kiwis against Tonga.
* * * * *
Ricky Stuart says he will never again coach against the Canberra Raiders, shutting down speculation of a possible move to a premiership rival.
His name has been linked to two clubs – the Canterbury Bulldogs, where Phil Gould says he is looking for an experienced coach, and the Wests Tigers, where he is so close to Tim Sheens.
We rang Stuart on Friday to check on his position.
"I have no interest in coaching anywhere else," he said. "I started at the Raiders as a player and I'll finish here as a coach."
Stuart is off-contract at the end of next season in the national capital. He has been at the Raiders since 2014 and next year will be his 10th as head coach.
Stuart, who is now 55 and has coached 456 NRL games, is reluctant to discuss his long-term future.
"There are some important people at this club I'll be speaking to first," he said. "We'll have a chat and take it from there. There's only one thing I'm certain of and that is that I'll never again coach against the Raiders.
"I just don't want to do it."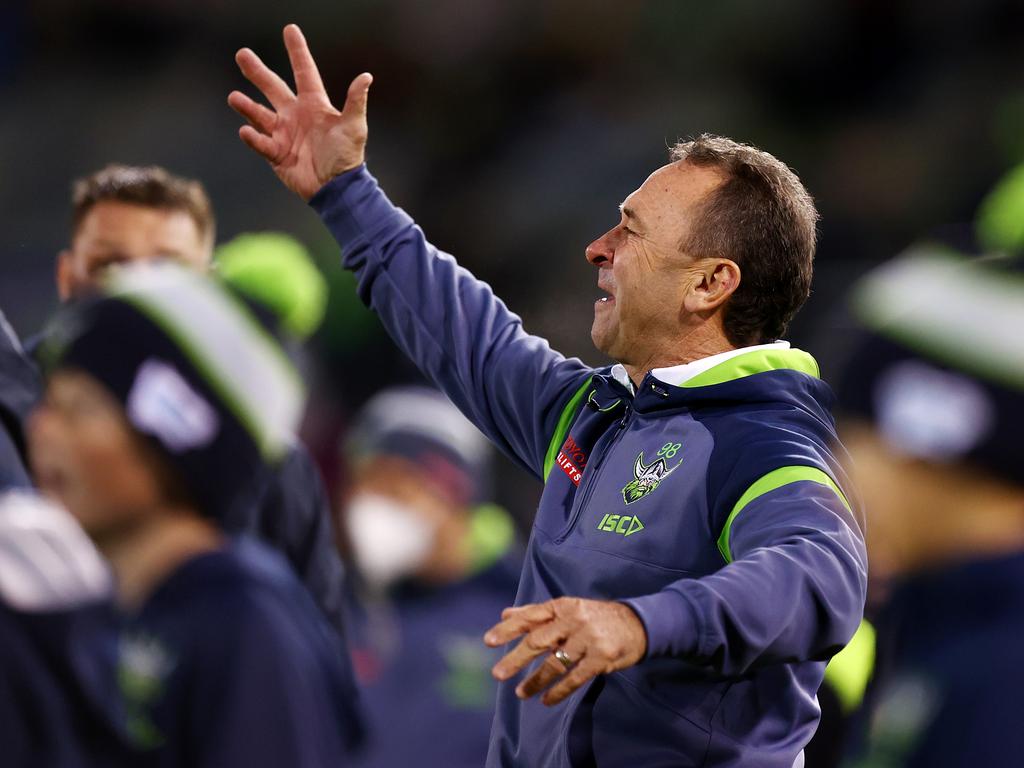 Ricky Stuart will never coach against the Raiders. Picture: Mark Nolan/Getty Images
Stuart has done a remarkable job this year to lift the Raiders into finals contention after a shaky start. They still have a bye and a softish draw that includes four of the lower-placed clubs – the Warriors, Titans, Newcastle Knights and Wests Tigers.
Stuart's talks with Raiders group general manager Simon Hawkins and CEO Don Furner will happen in the near future.
"I've never gone into a season knowing I'm off contract," he said. "I'll have that discussion with Simon and Don at the appropriate time."
Whatever happens he will hopefully remain at the Raiders in a key role.
You would think most likely as a director of football in a similar position to that of Sheens at the Wests Tigers or Gould at the Bulldogs.
That's if he's to quit coaching.
He is still young compared to the likes of Wayne Bennett, Craig Bellamy and Dessie Hasler.
And you know he will never lose that trademark passion, desire and determination to win footy games.
* * * * *
The NRL is using rep round to continue trialling forward-pass technology.
The two Pacific Test matches in Campbelltown on Saturday night had microchip implanted footballs. Although the system will not be used for decision making during the games, the data will now be collated and reviewed for accuracy.
The technology can measure the exact angle the football leaves a player's hands.
The NRL's football department is hoping to show the independent commission the results in the next month. There is a chance the new technology could even be used in this year's finals series.
* * * * *
Caretaker coach Brett Kimmorley has abandoned the Wests Tigers' five-man captaincy model.
He will instead run with experienced front-rower James Tamou as skipper for the remainder of the season as the club fights to avoid the wooden spoon.
Former coach Michael Maguire surprisingly named five players to share the captaincy at the beginning of the season – Tamou, Luke Brooks, Adam Doueihi, Ken Maumalo and Tyrone Peachey.
Peachey has asked to look elsewhere and Brooks is fighting to keep his starting spot.
James Tamou will lead the Tigers for the remainder of the season. Picture: Jonathan Ng
The shared captaincy was always seen as a strange move and almost an admission that was no strong or obvious standout.
Kimmorley says Tamou is the ideal man to be in charge.
"James is there for the rest of the season," Kimmorley said.
"He plays his 300th game in two weeks, he's won a premiership and he's played for his country.
"It's been an unbelievable career. He knows how to get ready for a game of footy and he's an on-field leader.
"And he is respected across the game, not just at the Wests Tigers."
The Wests Tigers are now $3 equal favourites with the New Zealand Warriors to win the wooden spoon. They meet in Auckland next weekend.
The Warriors have the advantage of a bye and the easier draw.
* * * * *
Channel 9's State of Origin caller Mat Thompson is off-contract at the end of the season.
He has signed up with high-profile agent George Mimis, who has a thriving media stable that includes Yvonne Sampson, Billy Slater, Tara Rushton, Hannah Hollis, Michael Ennis, Emma Lawrence and Darren Lockyer.
Thompson stepped up to replace legendary Nine caller Ray Warren in Origin I and did a fine job.
"Mat's been there a long time doing his apprenticeship," Mimis said. "We'll start the process with Channel 9 in the near future."
Mimis is hoping the network will do more to promote Thompson on air.
While Warren was heading up the commentary Nine have kept Thompson off screen and almost anonymous.
* * * * *
Boxer George Kambosos is prepared to reject a multimillion-dollar offer to buy out his rematch clause with American Devin Haney, the man who took his world title belts.
"The money for the rematch is not the driving factor," Kambosos said. "I want my belts back."
Kambosos is financially set up for life as a result of his first bout with Haney for the undisputed world title that attracted almost 45,000 fans in Melbourne, a 70,000 Main Event pay-per-view audience in Australia and 1.4 million viewers on ESPN in America.
There is talk Haney's promoter Lou DiBella wants to avoid the rematch to look at other options, thinking a rematch is a hard sell in the United States given Haney's dominance in the first fight.
Kambosos will have none of it.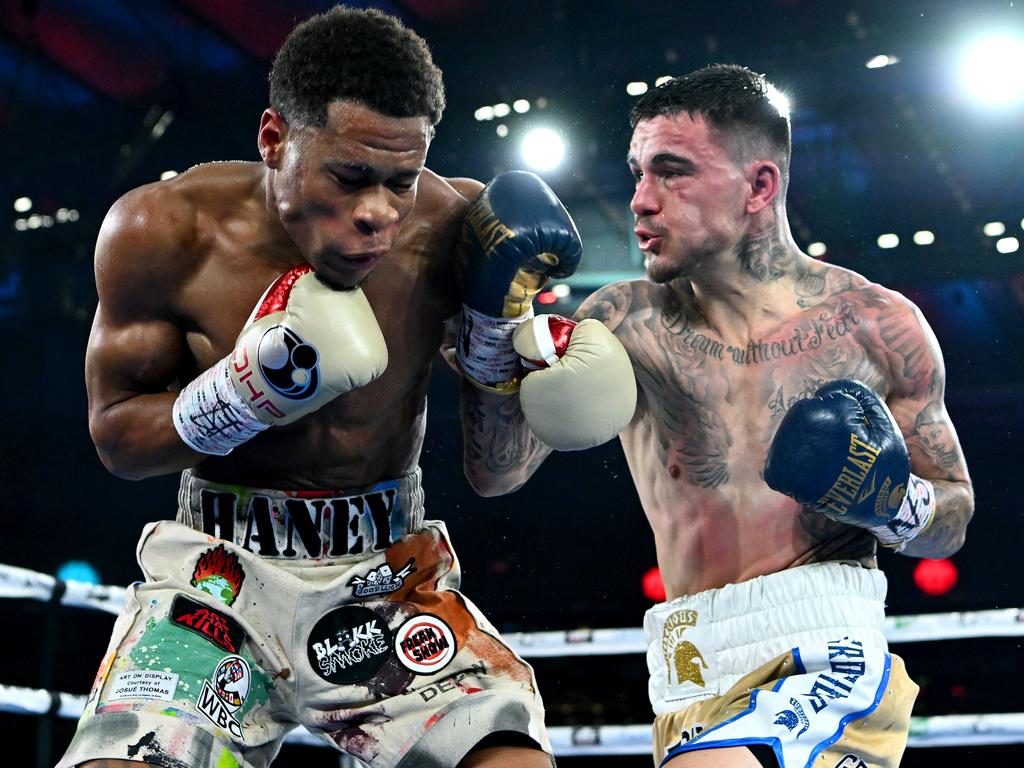 George Kambosos Jr (R) wants a rematch against Devin Haney. Picture: Quinn Rooney/Getty Images
"This is about my legacy, not my bank account," he said, "They are bound by the two-fight agreement, it is legally binding. I'm making no excuses. He won but I know what I have to do next time. I know I can beat him."
The loss in Melbourne was the first of Kambosos' 21-fight professional career.
Rather than being down and depressed, he was actually fired up like never before when we caught up for a coffee in Brighton.
"At first I didn't know how I'd react because I'd never lost," he said.
"It's actually made me hungrier and more determined.
"Once you've experienced being a champion you know how much you want it back.
"I will do anything to get those belts back, anything it takes."
As part of the original fight contract, the rematch has to take place in Australia.
Rather than fight again in Melbourne, the Kambosos camp is looking at options in Sydney.
Originally published as Buzz: Jada Taylor's incredible try, Ricky Stuart's guarantee to Raiders and Cronulla's Covid hit