Christian Welch reveals NRL salary, saying he'd be happy for all players' wages to be public
Christian Welch is a rarity in the NRL: a player who will speak candidly about everything from his salary to drug use in the code. He discusses why all player wages should be public.
Christian Welch wants more transparency in the NRL and he's prepared to put his money where his mouth is. Picture: Ian Hitchcock/Getty Images
Christian Welch quickly puts his money where his mouth is when talk turns to publishing NRL player salaries.
"I've seen it written that I am on $480,000 and $600,000 but both those figures are wrong. I am actually on $425,000," Welch says.
"I understand that numbers sell and you journos need to have a crack at someone's value, but you really don't know for sure because there is no accurate information available to you."
Welch is a rarity among NRL players today. A commerce graduate and currently studying an MBA, he will shoot the breeze with journalists and fans any time about the big issues in the game. He's thoughtful, but unfiltered.
More thinking out loud in an interview than pushing an agenda.
Publishing player salaries comes up only when asked if he has a manager or does his own contract negotiations.
"I would love to do it myself but I just don't know the market," Welch says.
"That's why I wouldn't mind seeing it like the NBA and NFL where salaries are published.
"I don't think fans understand how well some clubs can manage a salary cap, and potentially some that don't manage it well. That's why you hear fans saying, 'They are cheating'.
"Publishing them would give you real accountability and stop players getting slammed for inaccurate salaries that they are said to be on.
"There is probably a negative to it as well and if I took that to the RLPA I expect there would be a fair bit of push back, but I personally wouldn't be against it.
"It would help me do my next deal by myself because I would know what someone comparable to me is earning. At the moment you just don't know. That is the player managers' strength because they know the landscape. They know who just got X amount of dollars and where."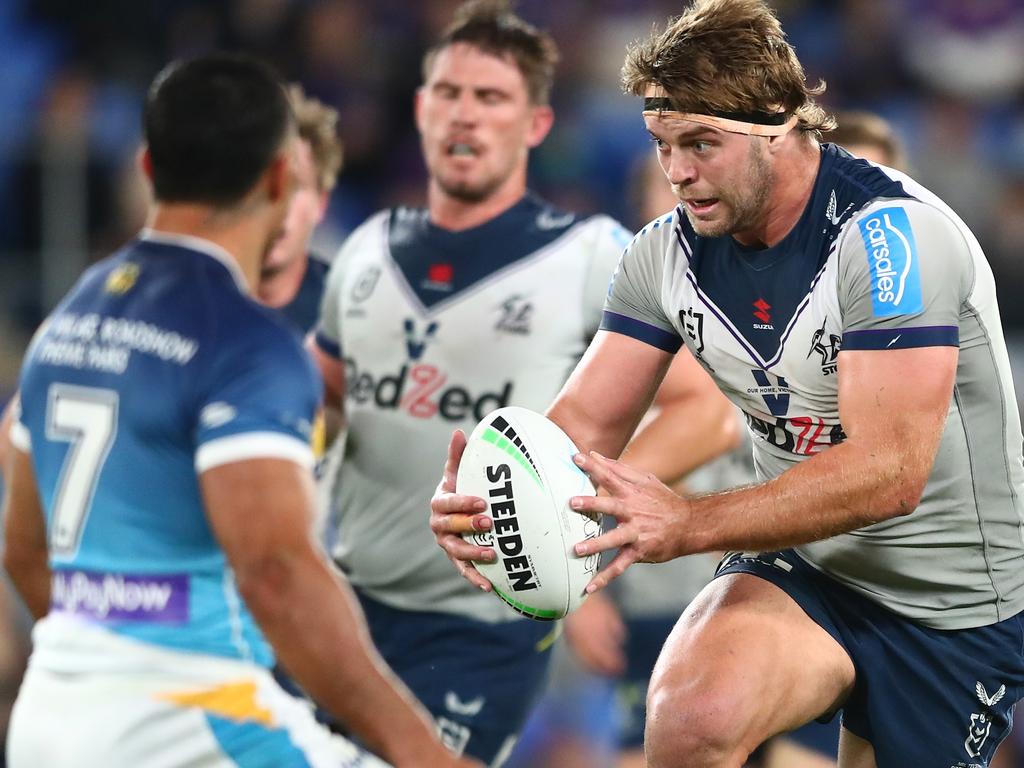 Christian Welch re-signed with the Storm in 2020 for $425,000 per season. He thinks players' salaries should be public knowledge to give fans a greater understanding of their club's salary cap and contract negotiations. Picture: Chris Hyde/Getty Images
Lofty ambitions
There's a good chance Welch will have the responsibility of juggling dollars and salary caps at an NRL club if he eventually attains his lofty goals.
The 27-year-old wants a post-playing career in sports administration and has set his sights on being the CEO of an NRL club.
The COVID-19 situation has so far prevented Welch from taking up work with Storm sponsor Hostplus while studying his MBA at the University of NSW.
But already he is renowned for holding court with fans on all matters an administrator could, but few do.
"I just think that gone are the days where a former player – without any training or education – can just walk into a top role like that and I think that is a good thing," Welch says.
"That has only raised the professionalism so it has been important for me to upskill in that area, and I think my knowledge as a player can only help me to work in that field one day. We will see how we go. I haven't worked a day in my life in sports admin. I could be terrible."
Welch isn't the first athlete to wade into the cut and thrust of social media with punters, but none in rugby league do it as regularly or coherently as the Storm prop.
With a worldly reading list that ranges from The New York Times to Israeli newspaper Haaretz, and now a subscription to The Economist as a birthday gift from father John, Welch presents as one of the game's deepest thinkers.
He chuckles that "people probably think I am smarter than I really am" but is happy to share his thoughts on most any issue in the game you care to mention.
A briefly proposed new rule in August that would have seen a seven-tackle set awarded if the opposition kicked the ball into touch (excluding 40-20s and 20-40s) was given short shrift on Welch's Twitter account.
He was already not a fan of the six-again rule for defensive ruck infringements which he says has "changed the fabric of the game".
"It is a game of attrition, not a game of touch football. We get a bit obsessed with the broadcasters and optics. We need to trust that our game is good and people love it," he says.
"There is no tension or pressure in the game now. A team can change how they are going in one set whereas in previous years you had to really fight your way out of an arm wrestle."
Welch's elevation to the RLPA board earlier this year has only furthered his commitment to the game's future, with a fairer and better deal for the women's game a priority.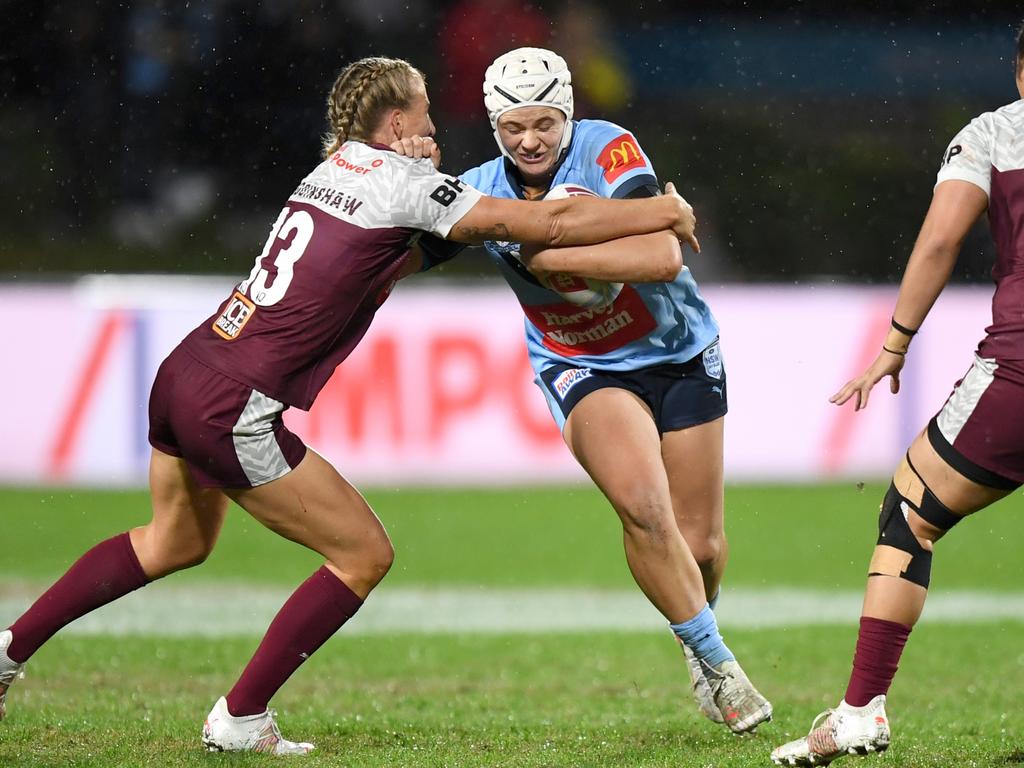 Earlier this year, Blues and Roosters second-rower Hannah Southwell was the first-ever woman to join the RLPA board. Alongside Welch and the other players on the board, one of their goals is to put together a CBA for female players. Picture: NRL Imagery
"I think the NRL needs to see it as a business case and not as an extra to the men's game, because we've gone past the point where the women should be just grateful to have an NRLW competition and an Origin," he says.
"The crucial thing in the coming months is going to be putting a CBA together for the women because at the moment they don't have any protection or standard minimum working conditions. The NRL needs to come to the table and treat them seriously."
Also on his wish list, alongside more fan-friendly timeslots to boost in-person attendance, is "a bit more transparency" around broadcast deals and reasoning behind the recent scaling back of the NRL's digital properties.
A trade window potentially being implemented solely at the end of a season is another bone of contention. Welch argues that allowing NRL players to sort out their futures at any time is "one area we have it over the AFL".
"I have had two pretty bad knee injuries and both times had the ability to sort my future out mid-year and get that security put away," he says.
"So why would I wait until October at the risk of getting injured for the rest of the season? You can have promises and guarantees from clubs but I know from experience that if you get injured that can all be over.
"I get it from a fan's point of view and I think we can tweak it. We probably don't want players signing 12 months before a season starts but strip it back to an employee/employer relationship and it is a great freedom. Why would we give that up?"
The good Samaritan
Away from Welch's administrative goals are ambitions closer to the heart.
A 2019 trip to Uganda with Storm teammate Ryan Papenhuyzen and former Eels forward Tim Mannah has added further inspiration to his own charity work.
Just as The Mannah Foundation sponsors a child in the African nation, Welch is now supporting the schooling of a child in southeast Queensland through the Smith Family.
It continues the work he has taken up as a Camp Quality ambassador supporting children and their families through cancer treatments.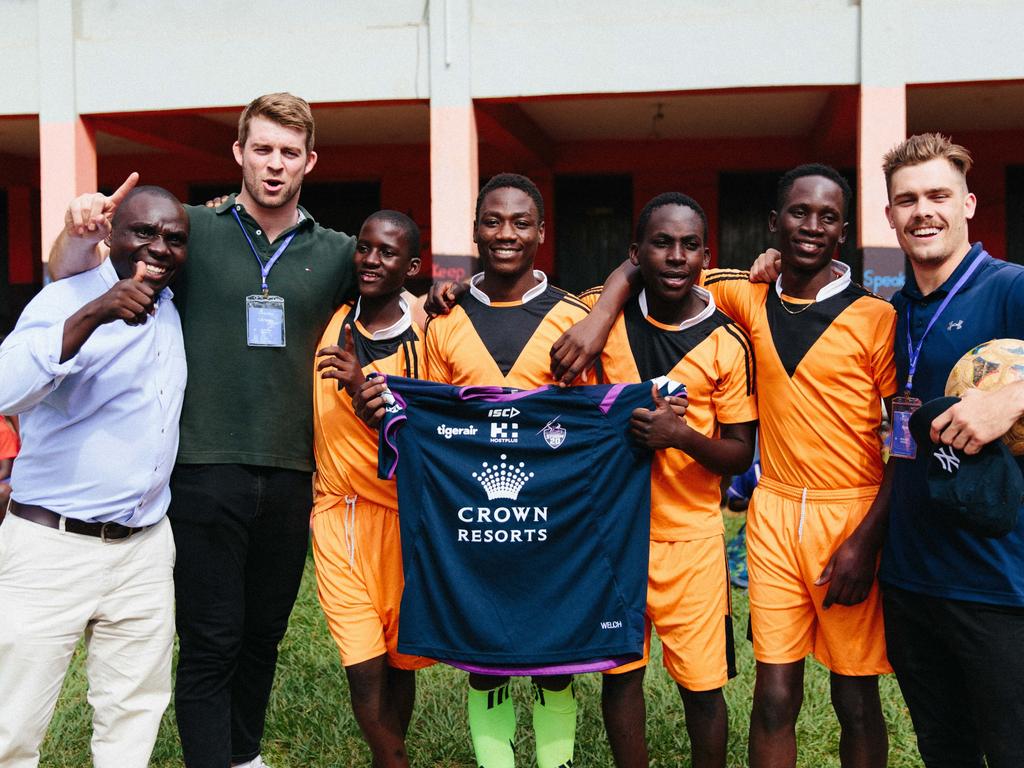 Welch joined Storm teammate Ryan Papenhuyzen and Eels legend Tim Mannah on a trip to Uganda in 2019. Source: Supplied
"I was inspired to get involved in 2017 when I had done my knee. We were coming first and I was on my way to see my surgeon. I was walking through the hospital thinking, 'How bad have I got it?'" Welch recalls.
"Then I saw people with permanent disabilities, cancer and other illnesses. It gave me a big reality check about my own issues.
"I knew I had a fair bit of spare time so I reached out to a few charities through email and Camp Quality said they would love to have me. It is something I am really passionate about."
Powder keg
Welch's wide reading and philanthropy flies in the face of many perceptions regarding the 13-man game but he insists he is no saint, or that league players should be marked by choir boy standards.
Storm trio Cameron Munster, Chris Lewis and Brandon Smith were all sanctioned in the aftermath of the 'white powder saga' in what was a sour finish to the season for the 2020 champions.
It was a tough one to watch for Welch on several fronts. He has been close friends with Munster for several years, living with him in Melbourne and being enlisted to present the star five-eighth with a commemorative jersey for his 150th NRL game.
"Cameron has come through tough times and he will come through this," Welch says of Munster, who spent time in rehab after the incident.
"I don't condone what they have done but it is a wider societal issue with young males.
"Social drug use is a societal thing that is often championed and celebrated.
"I was recently on radio with [former England international] James Graham and he brought up some good points about The Wolf of Wall Street [Jordan Belfort] and the terrible things he did, but he is celebrated in Hollywood and people love it.
"It is almost a bit hypocritical when we champion these guys who are rock stars and Hollywood actors, and then when a sportsman does it, they are a terrible human."
Decision time
Welch's initial sporting forays as a kid came first through hockey, and then rugby union rather than league.
An opportunity with feeder outfit Easts Tigers eventually led to the Storm's door. Welch truly bashed it down in 2020 with Melbourne's premiership triumph, rounded off with an upset Origin series win under Wayne Bennett.
"My story shows there is always a spot in rugby league for a guy who likes to work hard, as in … I'm not that talented," Welch says.
Now one of the game's premier props and in the prime of his career, Welch is off-contract and able to field offers for the 2023 season and beyond.
The emergence of The Dolphins and his own desire to return to Brisbane at some stage will give him plenty to mull over.
The day before Welch was interviewed for this story in October, he attended the funeral of his grandmother Myrna Thompson, which also gave him pause to think about his next step.
The reality is that Welch's value has gone sky high since he signed his last deal and there will be no shortage of suitors for his services.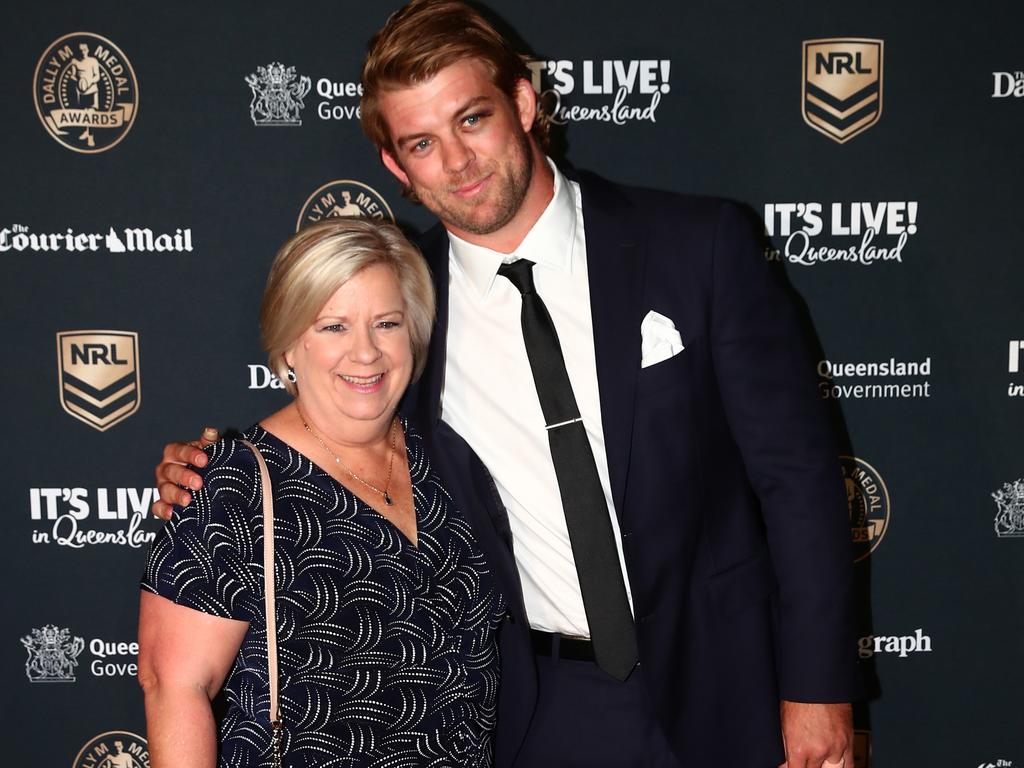 Welch, pictured with his mum at the 2021 Dally M Awards, has a desire to be closer to his family in Brisbane. He's open to offers from Queensland clubs when his current deal with the Storm expires. Picture: Chris Hyde/Getty Images
"My grandmother passing really gave me awareness of how much I am missing out on with my family back here in Brisbane," Welch says.
"You miss out on weddings, birthdays and anniversaries. I want to be around my parents and my brother and sister.
"I have been away for nine years so it is a lure to come back to Brisbane – whether that be during footy or post-footy.
"I will certainly have discussions with the expansion team, Brisbane [Broncos] or the Gold Coast.
"My first priority will be talking to the Storm. I am in such a great system at Melbourne and I'm very grateful to be there but obviously there are more things to life than footy."