Christian Welch: State of Origin's invisible success tax and why it's actually good for NRL
State of Origin is a unique and bizarre contest with impacts on clubs that no other sport would cop. Yet behind the annual NRL chaos is a big winner, writes CHRISTIAN WELCH.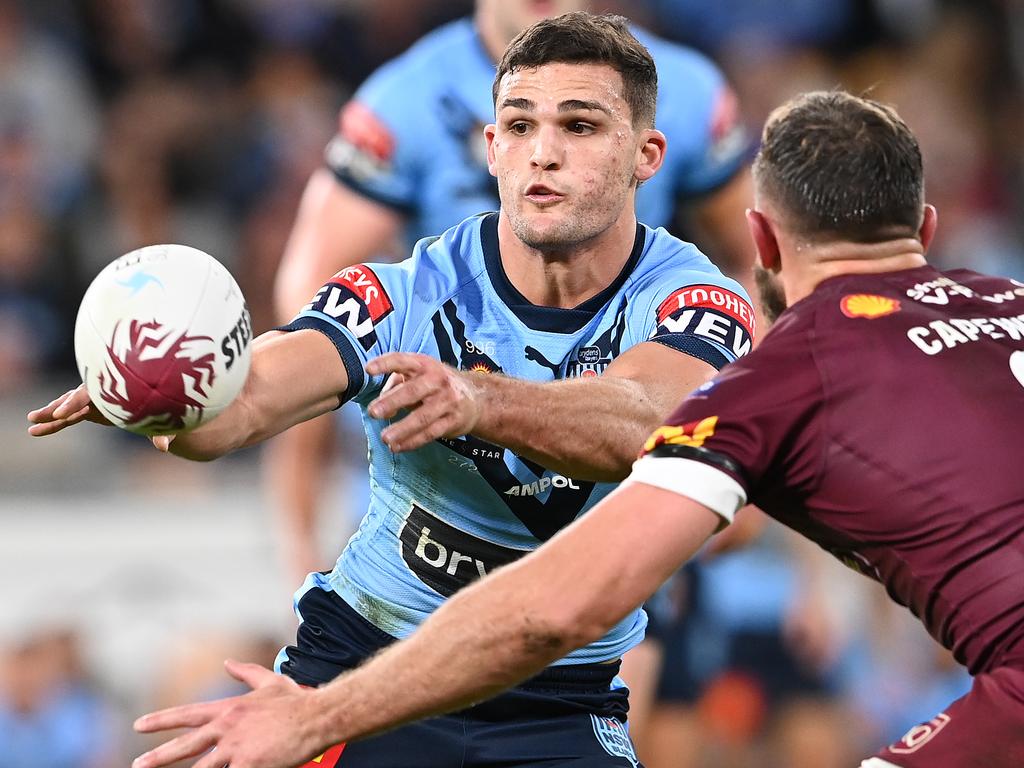 Penrith won the NRL premiership last season despite the State of Origin commitments and subsequent injury of Nathan Cleary. Picture: Bradley Kanaris/Getty Images
State of Origin is a truly unique and bizarre competition, like no other anywhere in the sporting world.
The AFL tried but could not replicate it. Origin is so deeply rooted in the fabric of Australian rugby league and the identity of each state that we've just come to accept the quirks and obstacles it brings to the game.
But when you step back and look at it, it's a pretty crazy concept, particularly in a full-contact sport. The way rugby league has adapted to it is a big part of why the series is so unique.
NRL clubs, as the employers of players, understand Origin and its significance; but no other sporting business would accept the conditions it imposes on their operation. Clubs release their marquee players, often paid above $1 million a year, to play in a series of games which are arguably the most physically demanding and intense form of rugby league.
Every year, we drag out the maroon and blue, abuse our interstate mates over who is the best and schoolkids get to stay up late on those special Wednesday nights. After a hard-fought series, only one team holds up the Origin shield. But there's also another winner hidden behind this bizarre competition.
The competitive balance of the NRL is the big winner. I look at it like an invisible success tax on the season's dominant teams.
Gold Coast's Tino Fa'asuamaleaui, Melbourne's Christian Welch and South Sydney's Jai Arrow line up for Queensland in Origin I last season. All three of their NRL clubs made the finals despite impacts from the marquee series. Picture: Ian Hitchcock/Getty Images
Competitive balance means every team on any given day has a roughly equal chance of winning the match. That uncertainty of outcome is necessary to keep fans engaged in any professional sport.

Take football or any other low-scoring sport. The uncertainty of outcome is easier to achieve because the margins are low and often there's only one or two goals in an entire match. A team can absolutely dominate, have 20 shots on goal but not land one in the net, yet the opposition could have a counter attack and have one lucky shot on goal, score, and they win. In high-scoring sports like rugby league and AFL, it's much harder to generate that unpredictability.
In the NRL, you can have a length of the field intercept try but after 80 minutes, it's much harder to turn those one-off moments into wins, because 20 or 30 points are scored each game. As a general rule, the better team on the day will win.
The NRL understands that having a reasonable competitive balance is a good thing for them commercially and probably the right thing for the game's stakeholders, too. They want outcome uncertainty because it keeps fans interested and engaged.
When outcomes become more certain, when it's clear a team will win on the day, fans – particularly losing fans – don't come to the footy. They don't buy tickets, they don't watch the games. To try to protect and improve competitive balance, you've got to put some mechanisms in place.
A draft system is used in American sports and the AFL. Major European football leagues don't use drafts and you could argue that that's why only a dozen teams completely dominate the sport. The NRL tried a draft but it was thrown out by the courts of law.
Most people think the NRL's only tools to maintain competitive balance are the player salary cap and the football department cap. The caps' goals are to create market pressure across the NRL. We're pretty used to dealing with it at the Storm.
Brutal market dynamics mean dominant teams cannot retain all the quality playing talent under a salary cap. The football department cap is another way to create a level playing field, so that no matter how wealthy a team is, they can't just buy more trainers and physios and coaches to get a competitive advantage.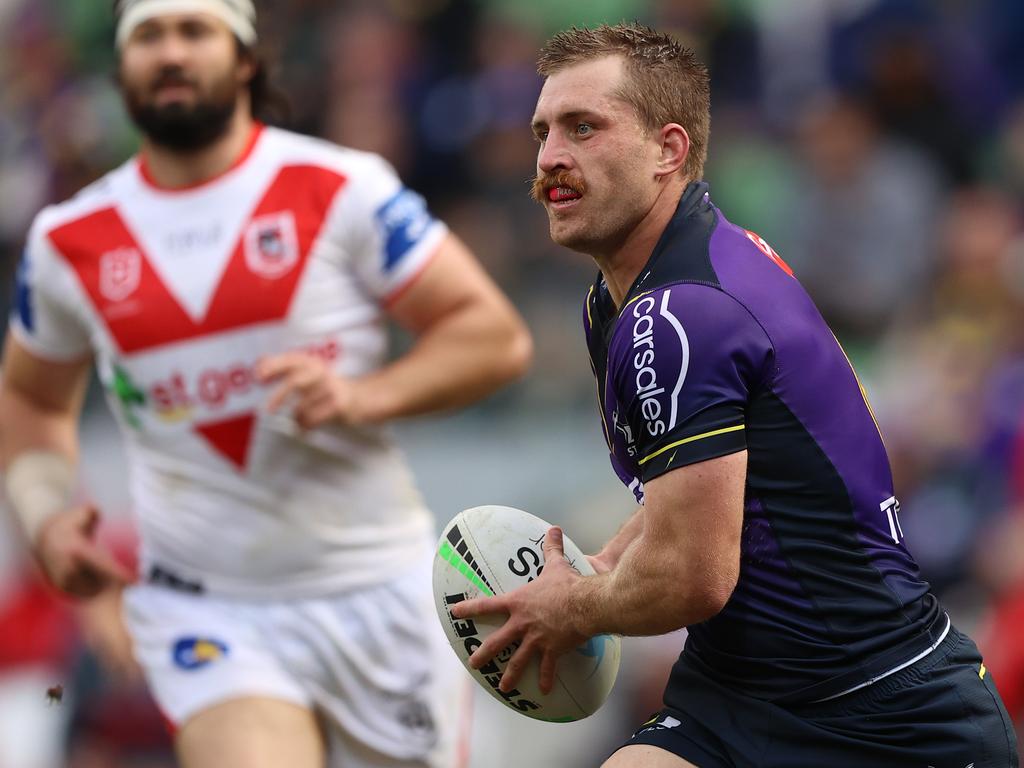 Salary cap constraints and State of Origin commitments are constant pressures at successful clubs like Melbourne Storm. Picture: Robert Cianflone/Getty Images
The way I look at it, having Origin running simultaneously to the NRL season is another tool, probably unrecognised by the powerbrokers, to keep the competitive balance in play throughout a season.

The NSW and Queensland teams are made up of the best players in the NRL. These players often dominate at club level, meaning their team is generally winning. It's no shock to anyone but most players who make the Origin sides each year come from teams in the top eight.
For about a month in the NRL season, teams at the top are heavily tested, having to manage both their star players and replacements who step up to fill vacant spots. The stars are often rested or unavailable for selection for club games. It's a crucial period for teams striving to make the finals with few or no Origin players, where they might be able to grab a win they otherwise may not have against a team with a full complement of Origin stars.
The numbers support it. Across the 2021 three-game Origin series, 102 players were used. To break down that figure: 52 players came from the top four sides, more than half the people on the field; 75 were from top eight teams; 27 players were from the bottom eight and only 15 from the bottom four. There were more than three times as many players from the top four than the bottom four, which is understandable.
This year, there's every chance that number of bottom four players could drop, too. Last year, the Cowboys and the Broncos had pretty tough seasons and Queensland obviously gets a lot of their players from those sides. You could argue that the number of bottom four players in 2021 was inflated.
The argument over the right placement of Origin within an NRL season always comes up at this time of year. The stand-alone series at the end of 2020 was driven by Covid. I see no alternative than to run it simultaneously with the NRL season, despite the disruption. I also believe we need to protect the post-NRL season window to place value and importance on growing the international game.
Wests Tigers scored a brilliant, and otherwise unlikely, win over eventual premiers Penrith during last season's State of Origin period. Picture: Mark Evans/Getty Images
While the NRL rages on in the background of Origin, some magic happens for success-starved fans.

In round 13 last year, the Wests Tigers beat eventual premiers Penrith 26-6 at Leichhardt Oval. Penrith only lost three games through the regular season and the Tigers only won eight. Wests Tigers had a tough year but they were able to deliver some joy at home in front of their faithful fans who had been doing it tough.
The loss broke Penrith's 12-game winning streak at the time but gave them a chance to blood some up-and-coming players. Izack Tago and Lindsay Smith made their debuts in that game, and we've seen how good Tago has been for Penrith this year. Obviously, the Panthers were disappointed with the loss but they got the benefit of giving some experience to young players who wouldn't otherwise have had the chance. That all pays off in the long run.
The little wins from struggling clubs keep fans engaged. It's such a long NRL season and if those teams who are battling can grab a win in June or July, it keeps them in touch with the top eight, which creates an exciting climax to the regular rounds. The alternative is more dead rubbers towards the back end of the season, which runs the risk of fans disengaging.
But importantly, I don't think the quirks created by Origin ultimately impact who wins the premiership each year.
Generally, the season's best team wins on grand final day. A winning team is not just the run-on 1-13 but the whole 30-player squad. A major injury to a crucial player during Origin doesn't necessarily cruel their finals performance.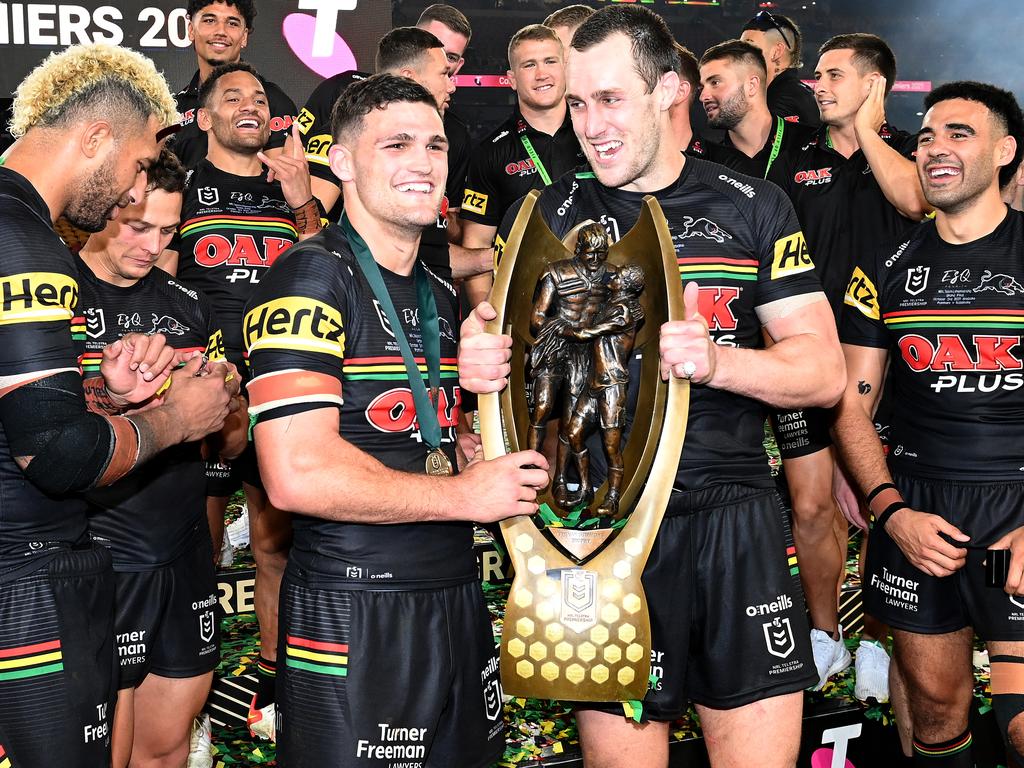 Penrith were a major contributor to State of Origin teams last season but the likes of Nathan Cleary and Isaah Yeo were still winners on NRL grand final night. Picture: Bradley Kanaris/Getty Images
We saw proof of that with Penrith last year. They contributed the most Origin players and still went on to win the premiership, even with Nathan Cleary missing for the better part of two months through NSW duty and then a shoulder injury he suffered playing for the Blues. They were the best side all year and were rewarded with the trophy.
Top clubs can test out their depth and use their squad of 30 players during Origin and its aftermath. At the Storm, when we had premiership success in 2020, we used well over 30 players. There's probably not enough appreciation for depth in a club during a tough period like Origin, where you can have players come in and play a role.
In our game, crisis merchants love to trade on the negatives, which is a shame because it's not all bad. There's always a silver lining and if Origin means we have fans of teams engaged for longer and deeper into the season, with more hope to play finals, that's a sneaky tax we shouldn't avoid.
And if there's a few things you learnt from this column, I hope it's clear that the Maroons are winning back the shield this year. Only Queenslanders get Origin and the people of NSW are all nuffies!