Corey Parker: Broncos and Cowboys earned their Origin picks but now must deal with impacts again
The Broncos and Cowboys are about to cop the hard part of earning Origin selection. COREY PARKER reveals how Wayne Bennett handled this time of year and gives a blunt verdict on the premiership race.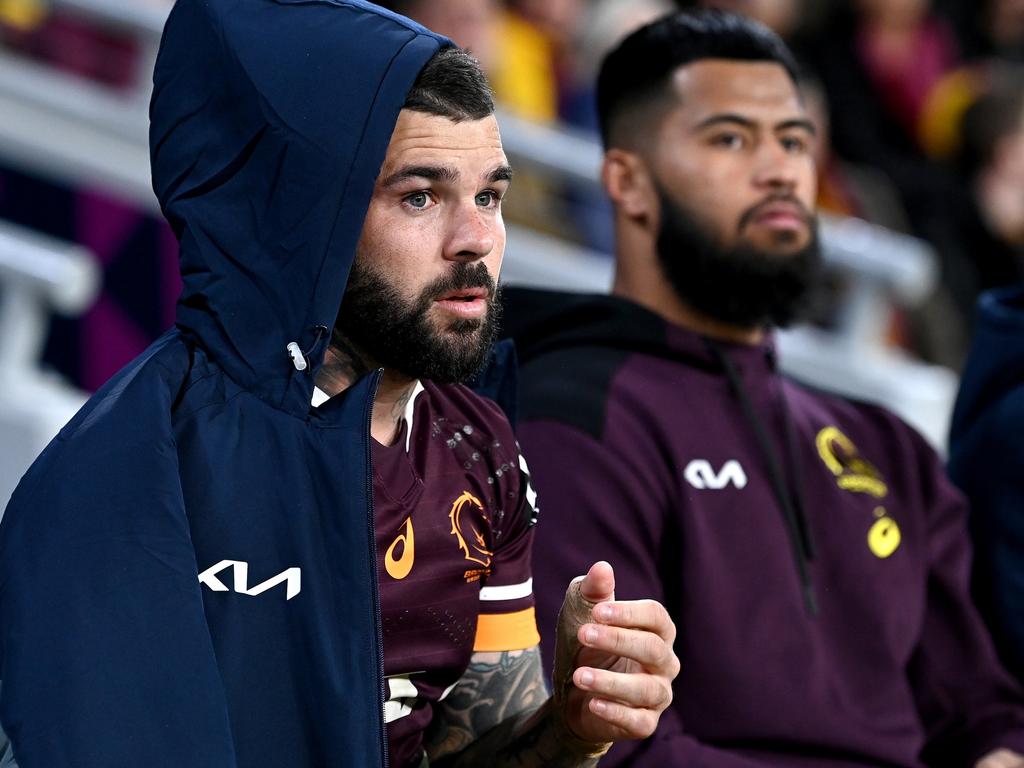 Adam Reynolds and Payne Haas on the Broncos bench after being injured against the Raiders. Picture: Bradley Kanaris/Getty Images
Wayne Bennett always looked at a season in four-week blocks. He called them base camps.
You've got to be a realist in the NRL. You can't win every game.
So you'd go through a four-week block and say, 'Right, we're playing this team, this team, this team and this team. That game's 50-50, this one we should win, that's another 50-50 and this one we should win too. So that's two wins out of four – now what do we do to turn those 50-50 games into wins?'
That's how we did it at Brisbane with Wayne as coach. Base camp one, base camp two and so on, throughout the season. You'd look at each base camp as a team, reassessing where you were at after each. Everyone bought in. 'Should we win this game? Yeah, we should.'
Wayne's approach was especially useful during State of Origin, as you were working out when to rest players; something no footballer likes but genuinely benefits from late in a season. You might have rested Origin players when pretty confident of victory, perhaps not if it was a 50-50 game that you needed to win. Some games, during Origin camps, you were just depleted.
So you'd have an honest look at how many wins you could reasonably expect during the Origin period to keep your season on track. Then you'd keep forecasting games through the back-end of your season to see what ladder position you could realistically target, hopefully with those Origin players somewhat recharged.
I'm sure most clubs do a version of that system these days.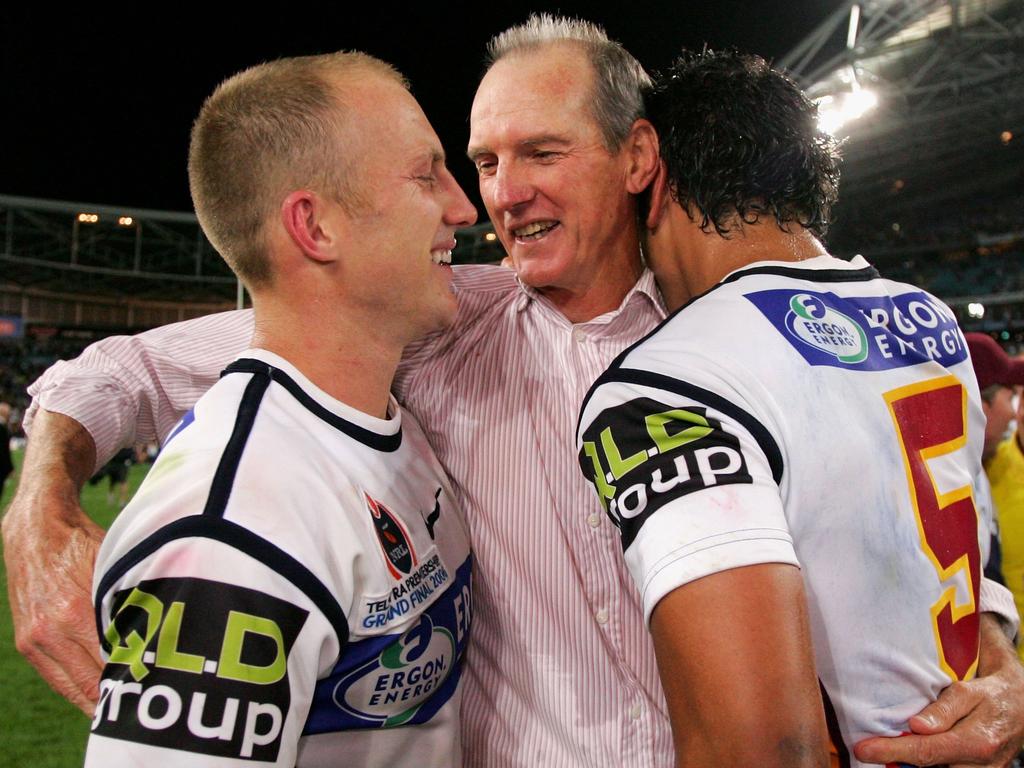 Wayne Bennett's approach to managing the Origin period and the back end of the season tended to work. Picture: Cameron Spencer/Getty Images
Honestly, with how the Cowboys and Broncos have performed so far, sitting third and fourth respectively in the NRL, I reckon they'd be confident of emerging from Origin in close to the same shape.
They play each other in a couple of weeks, a huge game that's effectively a four-pointer, given their proximity on the ladder. Their full draws, through to the game following Origin III, are:
Broncos – Storm (A), Cowboys (A), Dragons (H), Titans (A)
Cowboys – Sea Eagles (A), Broncos (H), Bye, Sharks (H)
The problem, of course, is when you blow wins that you think you should get. Parramatta against the Bulldogs on Monday was a prime example and they didn't even rest their three Origin players. That loss dropped them one win behind both the Broncos and Cowboys.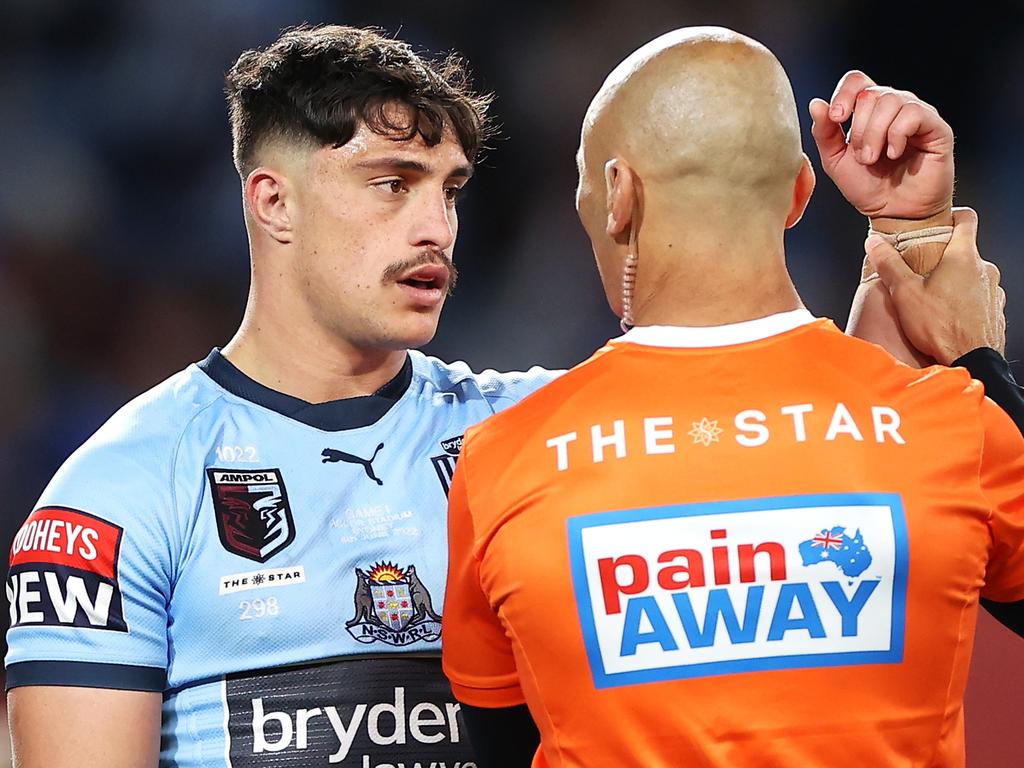 Kotoni Staggs receives attention for a shoulder cork during Origin I, cutting short his NSW debut and giving the Broncos a headache. Picture: Mark Kolbe/Getty Images
Origin's inevitable impacts
Origin selection is the reward for the Broncos and Cowboys players who have contributed to their clubs' great success in the first half of the season.
They had five and three players picked, respectively, across the Queensland and NSW teams that took the field in Sydney.
That's a deserved nod to both the team and individual's success – but with that, of course, comes impacts that neither club has had to deal with quite so much in recent seasons.
Kotoni Staggs corked his shoulder with NSW and couldn't back up for the Broncos. Selwyn Cobbo and Kurt Capewell were rested. Patrick Carrigan, after an exceptional Queensland debut, was terrific again for the Broncos on the weekend, the mark of a true Origin player. Payne Haas played but now has a shoulder issue.
These are only compounding the usual injury problems at a club, with Brisbane copping the loss of Herbie Farnworth (biceps, potentially season) and Cory Paix (knee, 4-6 weeks), while Adam Reynolds (ribs) is also out for this Friday against Melbourne.
The Cowboys rested Reuben Cotter after he played 80 minutes on Origin debut, plus Jeremiah Nanai after that big ankle scare. Val Holmes backed up but on the other hand, had Heilum Luki tear an ACL after a terrific start to the season.
To the credit of the Cowboys and Broncos, both sides won. North Queensland already beat the Titans in the one game where players were absent due to Origin camp, while Brisbane have a round 17 game against the Dragons before Origin III.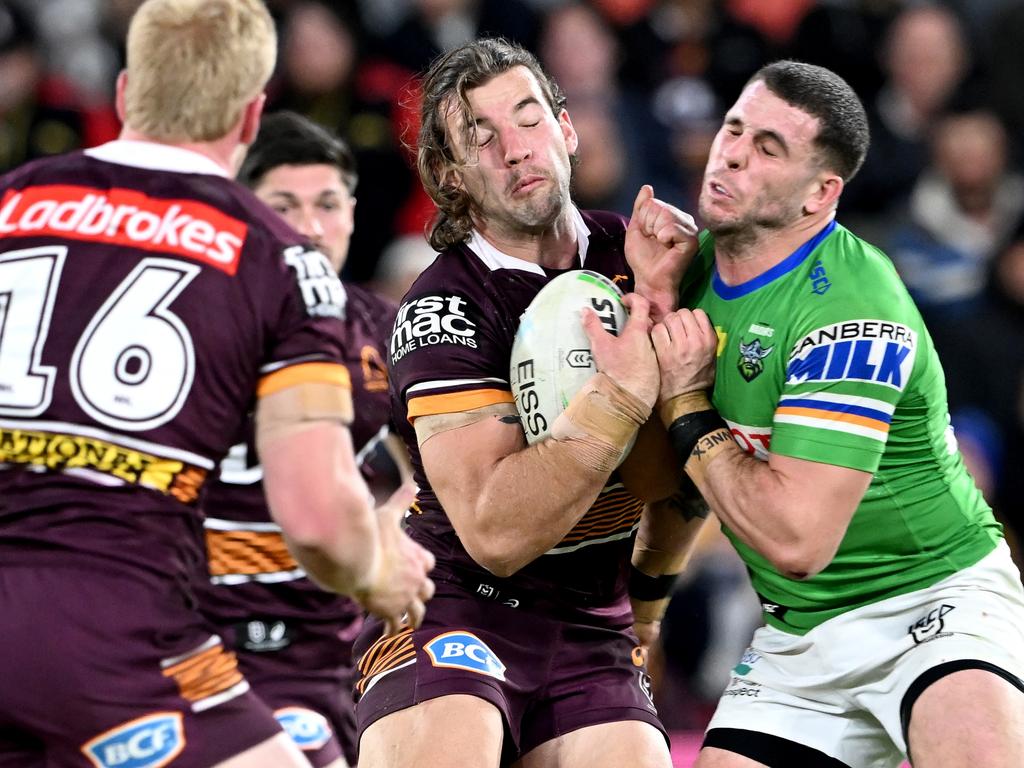 Patrick Carrigan backed-up a barnstorming Origin debut with a great performance for the Broncos, and then sat out training on Tuesday. Picture: Bradley Kanaris/Getty Images
While you may get lucky with injuries, there's another factor that's virtually unavoidable with players on Origin duty: the drop-off in form afterwards.
So much goes into Origin. There's so much energy invested by players in those three camps and games. Mentally and physically, it's enormous.
You almost invariably come out the other side of Origin pretty drained.
No player intentionally drops their level of performance but there is a dip. It's just human nature and some will dip further than others. These guys, of course, are your best players and their form has a huge bearing on the team's success.
That's where you lean on your depth. Also, on the runs you already have on the board. With those things combined, you do your utmost to not let it affect your season too much, until those Origin players have regrouped and recharged.
You can't have players involved in Origin camps and not expect some sort of blowback. That's just how it is and both the Broncos and Cowboys would be aware of that. They'd be trying to give their Origin players plenty of time off.
These are things that top sides of recent seasons – the Storm, Roosters and Panthers – have all dealt with successfully. Penrith had that unavoidable dip last year and still went on to win the comp.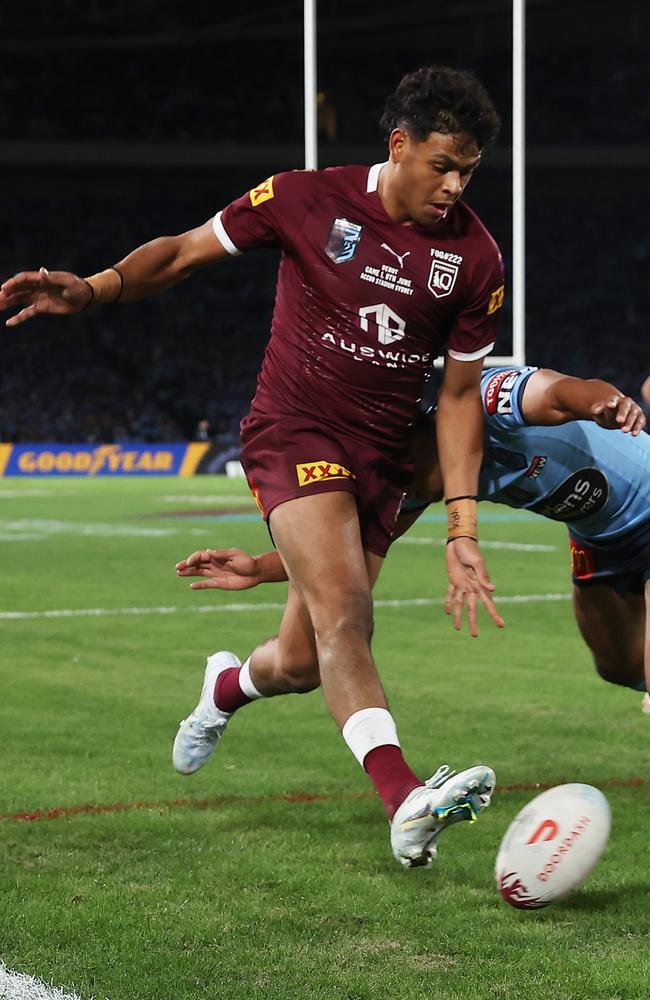 Origin players like rookie winger Selwyn Cobbo, seen here in his debut kicking for a Dane Gagai try, will almost invariably have a dip in form after the series. Picture: Mark Kolbe/Getty Images
There's an upside to this period. This is where a good club can really test its depth. We saw Brisbane field guys like Jordan Pereira, Brenko Lee and TC Robati on the weekend, while Brendan Elliott got a club debut for North Queensland in their depleted round 13 side and Ben Hampton had a run in the halves.
The 'Baby Broncos' were perhaps the ultimate example of a club finding massive upside in an Origin-depleted team, with that famous 2002 win against Wests Tigers.
We were just a bunch of kids playing in the NRL because the club had so many first graders in Origin. The memories that we took from that game, we'll never forget. Some guys only played that one NRL game, or perhaps one more in their career. Others, like Scott Prince and Nathan Friend, went on to have great careers.
It was a special moment. It set a benchmark at Brisbane that no matter who you were, if you were handed a Broncos NRL jersey, you were expected to do the job.
There's also no better feeling than watching a win like that as a current Origin player, while you're sitting in camp. You've just had dinner together and you're sitting around watching your team, your young players, go out and do you proud.
I've seen makeshift Broncos teams get spanked while away in Origin camp and I've seen them put in huge performances, and the latter is certainly a great feeling. The difference between a good team and a genuinely good club is so often the players who are No.20-30 on a roster.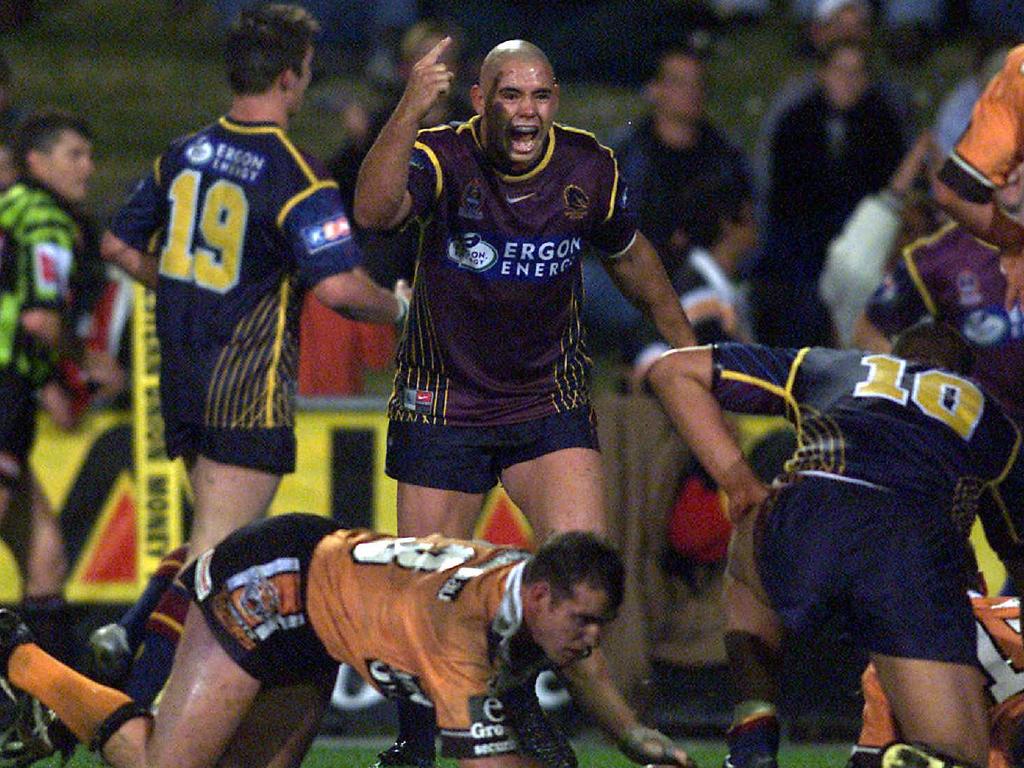 Corey Parker celebrates the final try and impending victory of the 'Baby Broncos' over Wests Tigers in 2002. Picture: Brett Costello
Can Broncos or Cowboys win it?
The one player Brisbane can't afford to lose is Reynolds.
He's starting to miss a bit of footy and that was the one question mark over him as a marquee signing for the Broncos. His injury history was well known. He should be a huge plus at this time of the season, as an elite player untouched by Origin, but he's out for Friday's big game against the Storm.
Fingers crossed that all goes right for him moving forward but if it doesn't, it's a huge problem, even after some bright early games from Ezra Mam.
Reynolds has been the one who's provided the Broncos with direction and game smarts. For them to go where they want to go, he needs to be part of the team. He just does.
Brisbane can't do it without Reynolds. They might win here and there, but they can't go to the 10th, 11th, 12th rounds of the season – in boxing parlance – without a player like him running the show.
That's every team. You take Nathan Cleary out of Penrith, they can't win a comp. Take Cameron Munster out of Melbourne, they can't threaten anyone in the biggest games.
Brisbane with no Reynolds … the Broncos might still compete hard but when you're playing for keeps, you need your top players in the team. Managing him through this period is another crucial job for the Broncos, on top of dealing with the Origin players.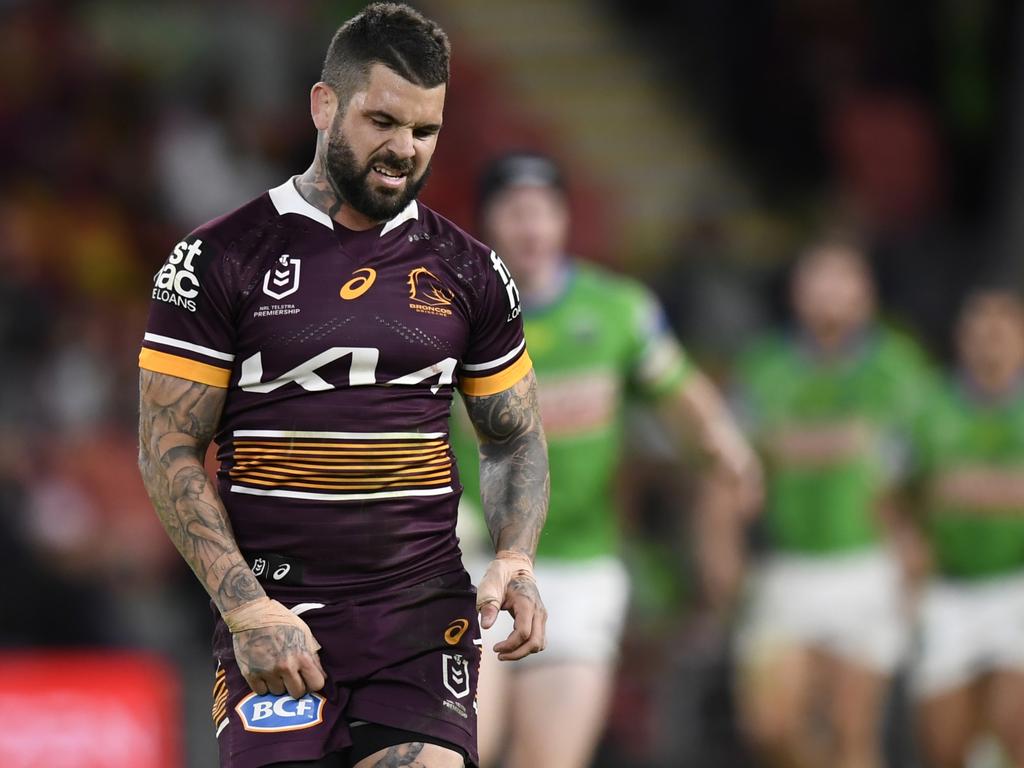 Broncos halfback Adam Reynolds feels the pinch during his side's win over Canberra. He'll miss his side's big game against Melbourne. Picture: NRL Imagery
I'd love to say otherwise but I can't see either the Broncos or Cowboys winning the comp this season.
Honestly, that's no slight against either team because I can't see anyone getting close to Penrith.
The Panthers are incredible. They have so many different gears and layers to their game that it's bloody scary.
And Penrith would know that. It's very powerful when all the guys in a team know that if they play well, no one can beat them. When you have that sort of confidence, you're flying. Usually, you can't have the confidence that you're good enough to win a premiership unless you've already been there and done that, just as the Panthers did last year.
We've marvelled at the Cowboys' resurgence but in round 12, Penrith beat them 22-0. Clinical, tough, didn't let North Queensland near them, even when the Cowboys did little wrong. Penrith beat Brisbane 40-12 in round 6 and one of the Broncos' two tries came late. The Panthers scored seven and were on another level.
The Broncos and Cowboys might say publicly that they're feeling like genuine chances to win the comp. I doubt, just yet, that they're feeling that way privately.
Melbourne have dipped, they've been off in a few areas this season. They get Ryan Papenhuyzen back soon but I haven't been convinced by the Storm thus far. You'd still have them as the most likely side to challenge Penrith but that's just the Storm's pure history of success, more than their performances this season.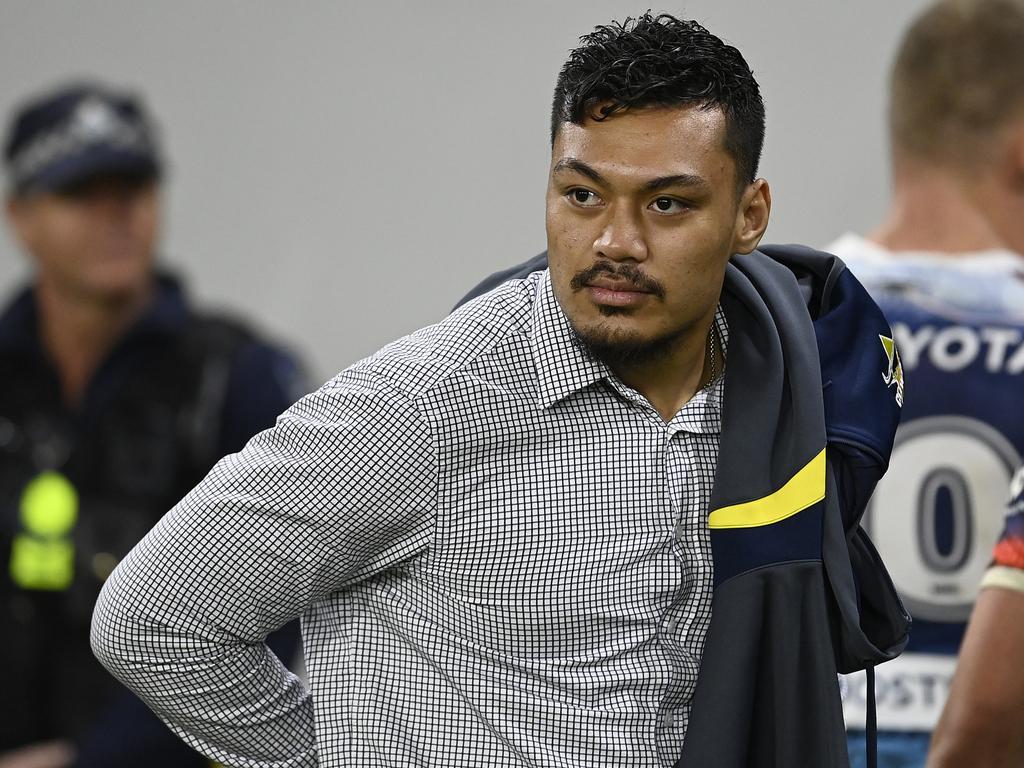 Jeremiah Nanai looks on during the Cowboys' round 14 NRL match against the Dragons, having injured his ankle in his Origin debut. Picture: Ian Hitchcock/Getty Images
If I'm looking at a team currently playing a brand of football to have a chance against Penrith, I actually go back to the Cowboys.
You can't fabricate quality defence for 14 rounds. They are nearly point-for-point level with the Panthers and well ahead of the Storm for points conceded. Penrith concede just under 11 points per game on average, North Queensland just over 12; basically a one-point difference. Brisbane are conceding a bit over 17 points per game.
If the Cowboys can maintain that defensive standard, which I'm sure they can, that gives them a real chance. Traditionally, the best defensive teams are there when it counts at the end of the season and one of them will win the comp.
A team that I had as a grand finalist, in my pre-season tips, but now can't see it: Parramatta.
In their past six games, going 3-3, they've conceded at least 20 points. In the three games they've lost, they've conceded more than 30 points. There are real problems there and they were awful in their upset loss to the Bulldogs.
The Eels beat Penrith in that six-game stretch, 22-20, but it was the Panthers' only loss this season and the depth in their club is incredible.
Brian To'o goes down injured and you think they may struggle – and in comes Taylan May. Matt Burton heads to the Bulldogs, a 2021 Dally M Centre of the Year – and there's Izack Tago.
Their depth chart is ridiculous. They haven't missed a beat and clearly remain the team to beat. The Panthers are a huge chance to go back-to-back.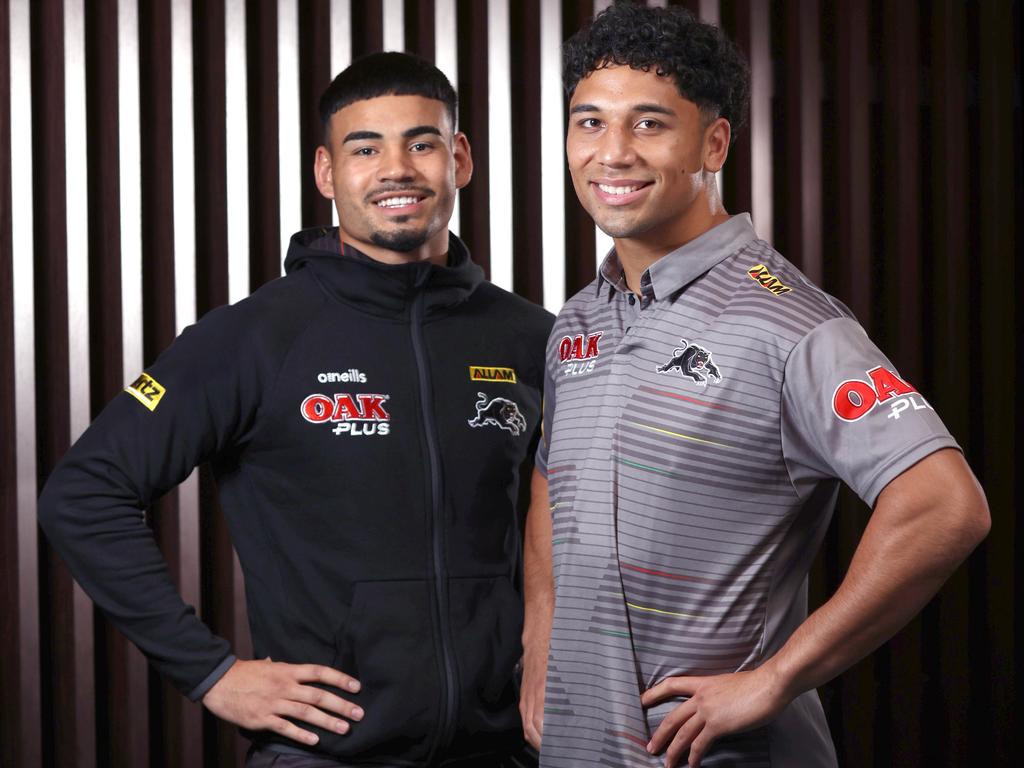 Rookie outside backs Taylan May and Izack Tago have proven Penrith's incredible depth of talent this season. Picture: Steve Pohlner
Origin state of play
State of Origin football is very hard to explain. It's simply a different beast.
We've seen really good club players go into the Origin arena and not fire a shot. Then on the flipside, some players who simply go about their business in club football and aren't the flashiest guys in the world, they enter that arena and stand tall.
You have a gut feel about who belongs and who doesn't, yet you honestly don't know until they run out onto the field. For that reason, my mind immediately turned to the Queensland debutants before Origin I, wondering how they would go. With four rookies, their fortunes going to have a significant bearing on the game.
Two of the four, Patrick Carrigan and Reuben Cotter … unbelievable.
Patty Carrigan off the bench was enormous, arguably the best player on the park. He didn't get man of the match but he was exceptional, really changing the flow of the game when he came on.
He would have been pumped up and excited, but again, you truly don't know if you belong in Origin until you go out there and prove it. Patty did that resoundingly.
Reuben Cotter also revelled in the game. We all hoped and thought that he would, but now he's proved it. Another exceptional performance.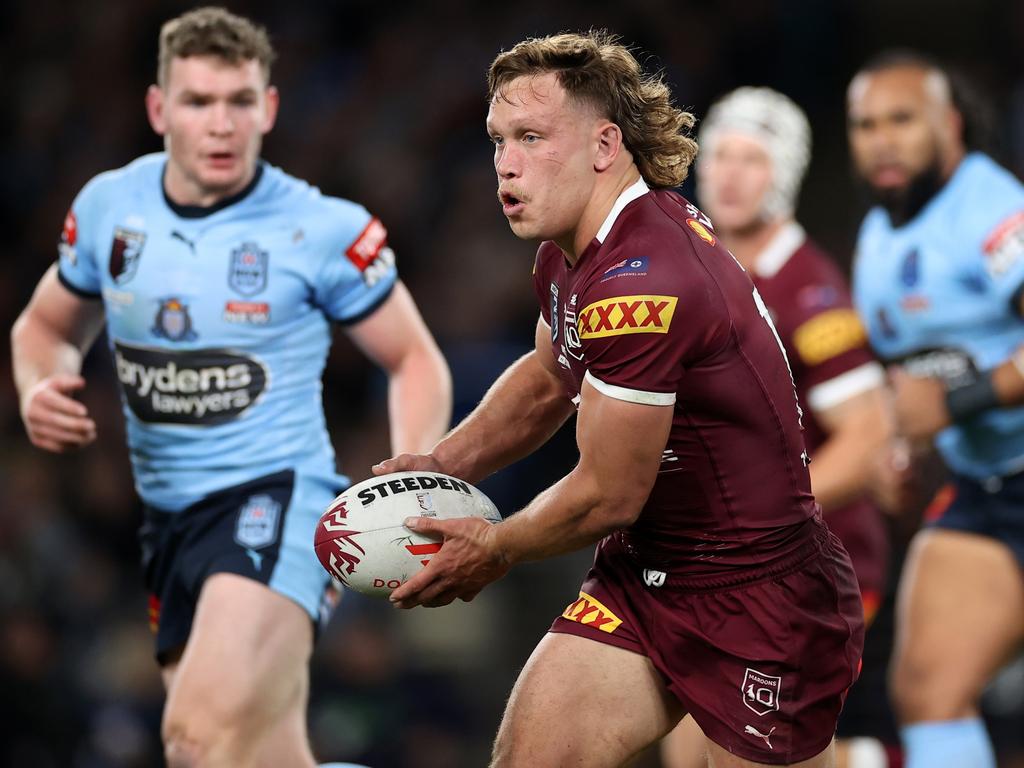 Reuben Cotter had a Queensland Origin debut for the ages. Picture: Cameron Spencer/Getty Images
Jeremiah Nanai did what he had to do, which included coming back and playing through a painful ankle injury. Selwyn Cobbo showed his talent by laying on the first try for Dane Gagai and also contributed plenty of hard carries out of his own end.
Cameron Munster was exceptional, again showing how much he loves the big games, but the injection of youth made a big difference for mine. The Maroons didn't have a bad player.
It was Queensland's first win in five years in Sydney. Having gotten the hard one out of the way, there's potentially a 3-0 whitewash within their grasp with games to come in Perth and Brisbane, or perhaps a decider at Suncorp Stadium; the Maroons have won eight of 10 deciders held on their home turf.
Either way, Queensland are in a really good situation. They're certainly in the box seat now, though NSW will lift for Origin II and the Maroons will also have to find another level.
Billy Slater knows that one win doesn't matter much at all. He'll have them physically and mentally ready to go again, just like in Sydney.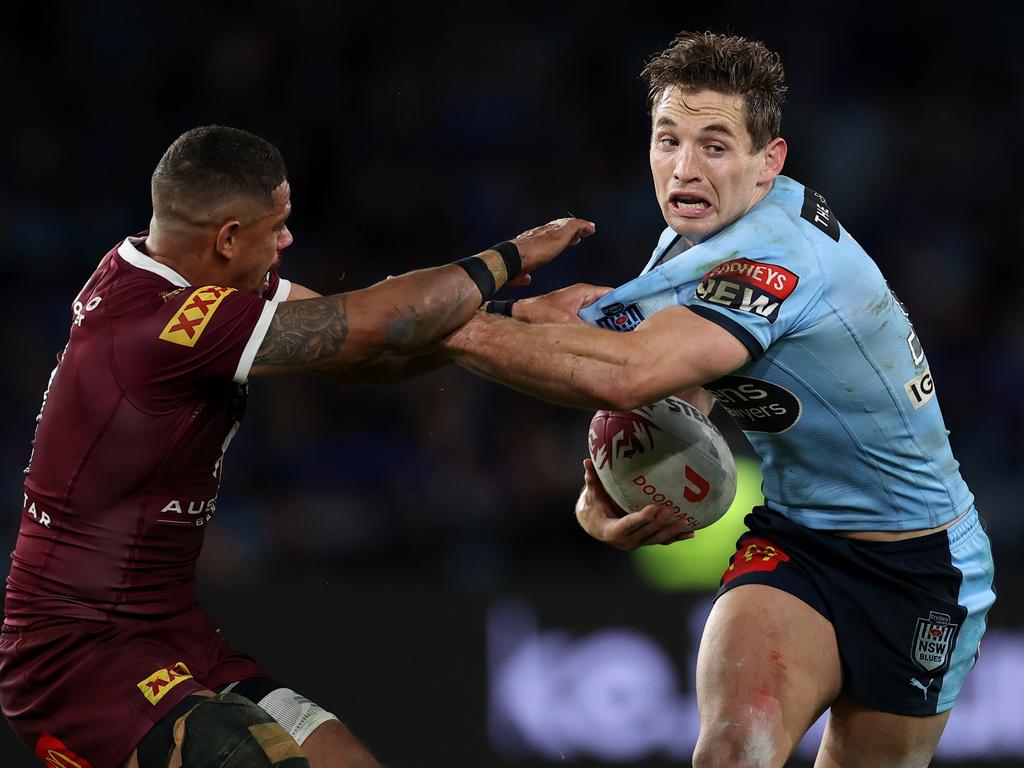 Cameron Murray curiously shifted to the bench right before kick-off in Origin I. Picture: Cameron Spencer/Getty Images
It's easy to say in hindsight but I thought NSW got Origin I wrong in a number of areas.
The line-up change right before kick-off perplexed me, starting Reagan Campbell-Gillard and Liam Martin in place of Junior Paulo and Cameron Murray respectively. That really surprised me.
Benching Murray, they said, was because he was carrying an injury. Well, if he's injured, why do you pick him in the team? Or at the least, why don't you play him in his normal role?
I think they got those decisions wrong and it proved pivotal. Paulo, when he came on, was then trying to ball-play rather than just running hard and direct.
The Blues have made it hard on themselves leading into Origin II. Perhaps internally they know exactly where they're going with the team but externally, there's now all this speculation about who's in and out. Will Josh Addo-Carr and Jake Trbojevic get back in the side? Will Latrell Mitchell return from injury despite having played just a handful of games in the past 10 months, and none for the past 10 weeks after a hamstring problem that required a trip to the US to repair?
There's now a massive spotlight over the NSW group.
Both teams are able to take extended squads to Perth, due to the strict Covid restrictions, so it will be interesting to see who is picked for the Blues and who actually runs out as they try to take the series to a decider.