How Cowboys five-eighth Tom Dearden survived the NRL rollercoaster
Eight months ago, Cowboys No.6 Tom Dearden had won just five of 34 NRL games and there were doubts he would fulfil his potential. But his mental toughness has turned it all around, writes JOEL GOULD.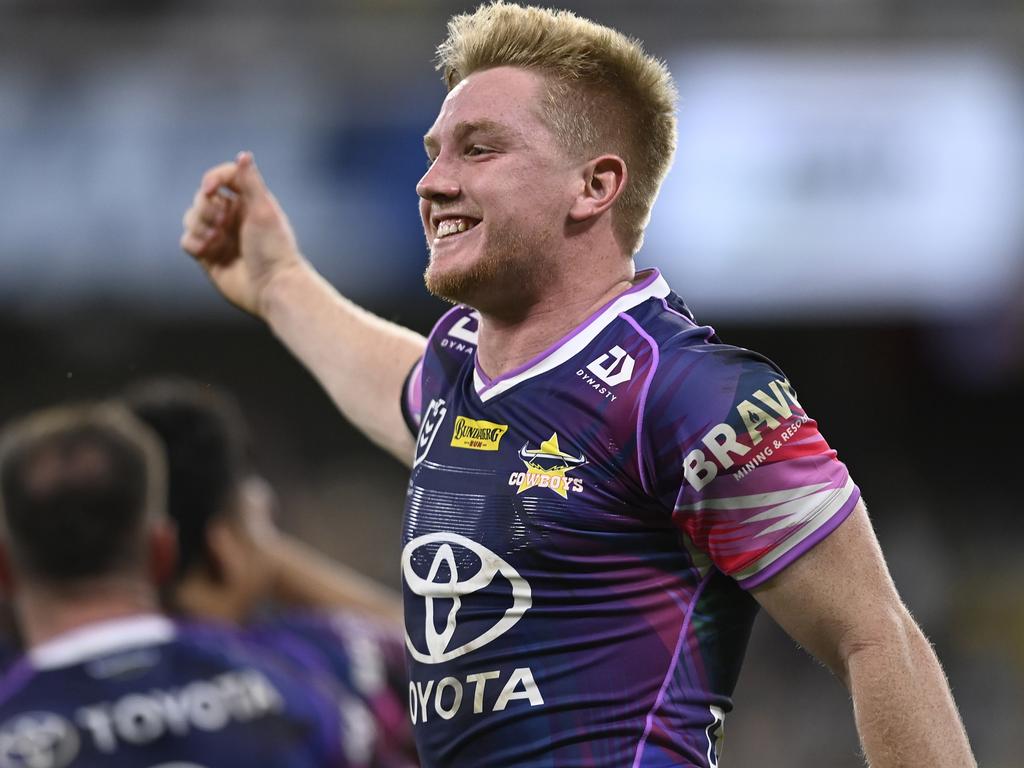 Tom Dearden is enjoying his best season yet. Picture: Ian Hitchcock/Getty Images
"If you said to me at the start of the year that I would have been in Queensland's Origin squad I probably would have laughed in your face."
That's 21-year-old Cowboys No.6 Tom Dearden talking about where his career was at the start of the year, compared to where it's at now.
Dearden played the game of his life on debut for the Maroons in their stunning 22-12 win in the State of Origin series decider and has been a prime reason why the Cowboys have risen to second on the ladder in a stellar individual season.
Go back eight months and Dearden had won just five of the 34 NRL games he had played.
His career was in the balance and there were doubts about whether he would reach the heights good judges at Palm Beach Currumbin (PBC) High had predicted for him.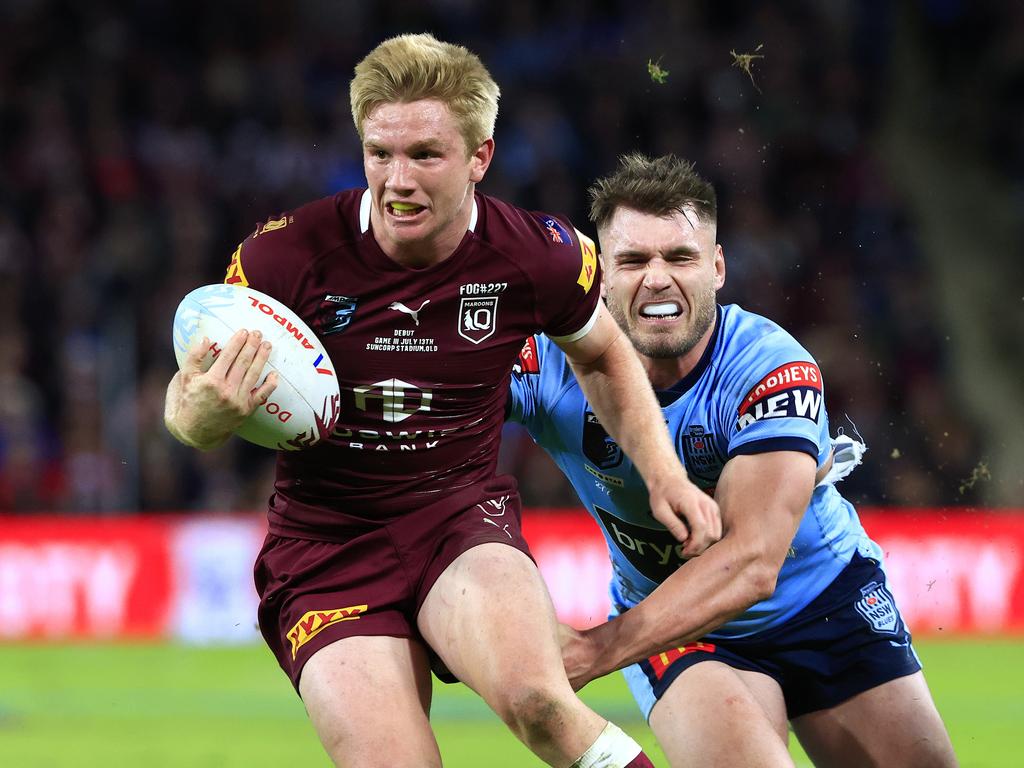 Tom Dearden surprised himself by making Queensland's Origin side this year. Picture: Adam Head
The 'rollercoaster' begins
Dearden scored a 70m try in PBC's 20-12 win over Patrician Brothers Blacktown in the NRL Schoolboy Cup final in 2018, the same year he also won the Peter Sterling medal as the best player of the competition. He was on top of the tree.
Just over six months later he was making his NRL debut for a Broncos side that would go through turmoil in the ensuing years.
In two-and-a-half seasons Dearden was in and out of the side and missed a large chunk of football with an ankle injury. Talk to the young man for a while and you realise he is pragmatic, a realist and mature beyond his years. His reputation for being also mentally tough, which he clearly is, was tested in those early Broncos years.
"I was new to the NRL and it was a rollercoaster, but I think the game of rugby league really is a bit of a rollercoaster," Dearden says.
"I still feel that to this day. It is always up and down, but when I reflect back on those first few years at the Broncos I still feel like I benefited from those experiences.
"It was just a massive learning curve … where I got to learn so much about myself and how competitive that environment is and how hard you work to become the player you want to be.
"I did test my belief. When you are going through those tough times it tests every player. Me being the halfback, I probably took the brunt of it and felt more of that."
A young Tom Dearden on debut for the Broncos in 2019. Picture: Brendon Thorne/AAP Image
Mixed messages
In 2019 former Brisbane half Kodi Nikorima gained an early season release to the Warriors and on landing in New Zealand gave an interview where he said coach Anthony Seibold had told him that Dearden was his choice as Brisbane's long-term half.
Dearden debuted for Brisbane, later starred against the Roosters and then suffered an ankle injury that kept him out for the season. At the end of that year Seibold then signed Brodie Croft who started at half in 2020 ahead of Tom. Looking back, Dearden concedes it was "a confusing and messy period" where he learned first hand that "the NRL is a business".
"It was kind of mixed messages I'd say but it is no one's fault and I don't blame anyone. That is all part of the journey," Dearden says when asked how he coped with the coach's initial change of direction.
"I was a young half and there was a lot of pressure on everyone at the club, especially on the coaches and the coaching staff, and they were trying to do what they thought was best for the club to bring success.
"When you are a young half and you get told one thing, and then something else happens, it is a bit of a kick in the guts … but there is no point sooking about it. You've just got to keep your head down. The only thing that gets you through those periods is hard work."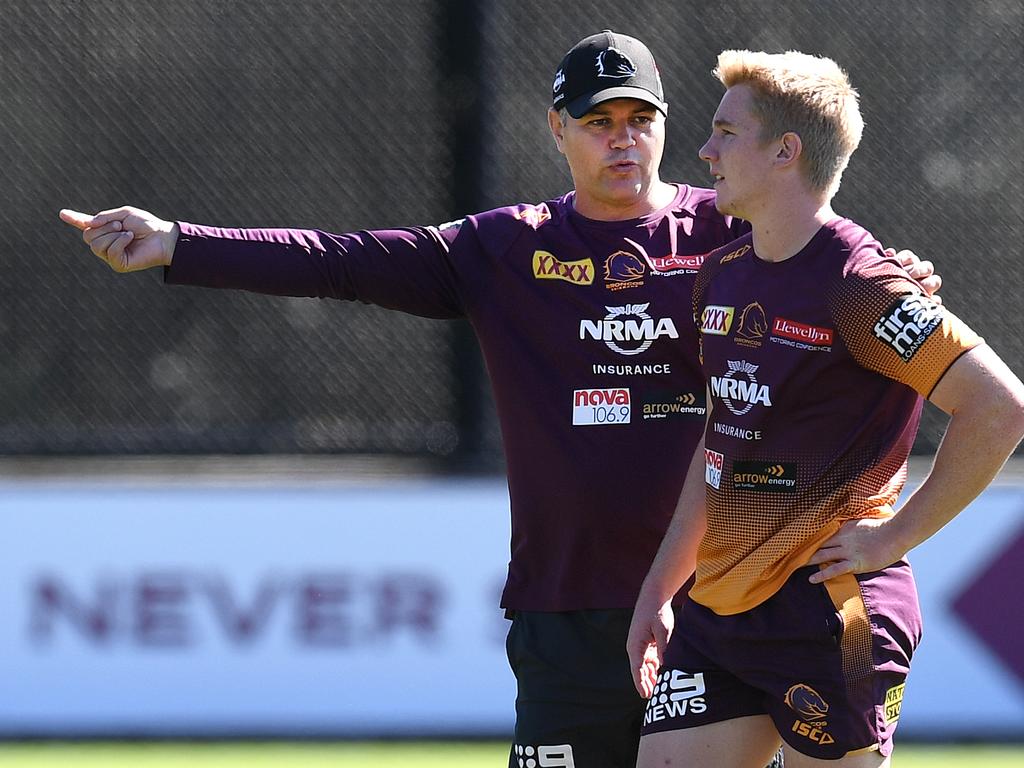 Anthony Seibold replaced Tom Dearden with Brodie Croft in 2020. Picture: Dan Peled/AAP Image
Revival with Chad and Todd
Dearden was again in and out of the Broncos side early last season and signed with the Cowboys for 2022 in April last year. A month later he took the opportunity to make the move a year early to get to know the players, the club and what coach Todd Payten wanted from him. It was another tough year on the field for Dearden and the Cowboys but there was a silver lining.
This pre-season Dearden wanted to discover the best of himself. What kind of player am I? That was the question he needed to answer.
"That involved finding out what my best strengths were and simplifying my game down to that. Now my focus is clear," he says.
"My strengths are running the footy, getting my edge and players around me organised and making my tackles and defending well. All pre-season I worked on those three things and that has really helped get my footy back on track.
"At the start of my career I lost a fair bit of confidence. The way Toddy and the coaching staff spoke to me, and the way they taught me, really helped me to regain my confidence.
"It is one of Toddy's real strengths as a coach. He calls a spade a spade but he has that way about him that makes you feel confident playing underneath him, and you know what he is telling you is right."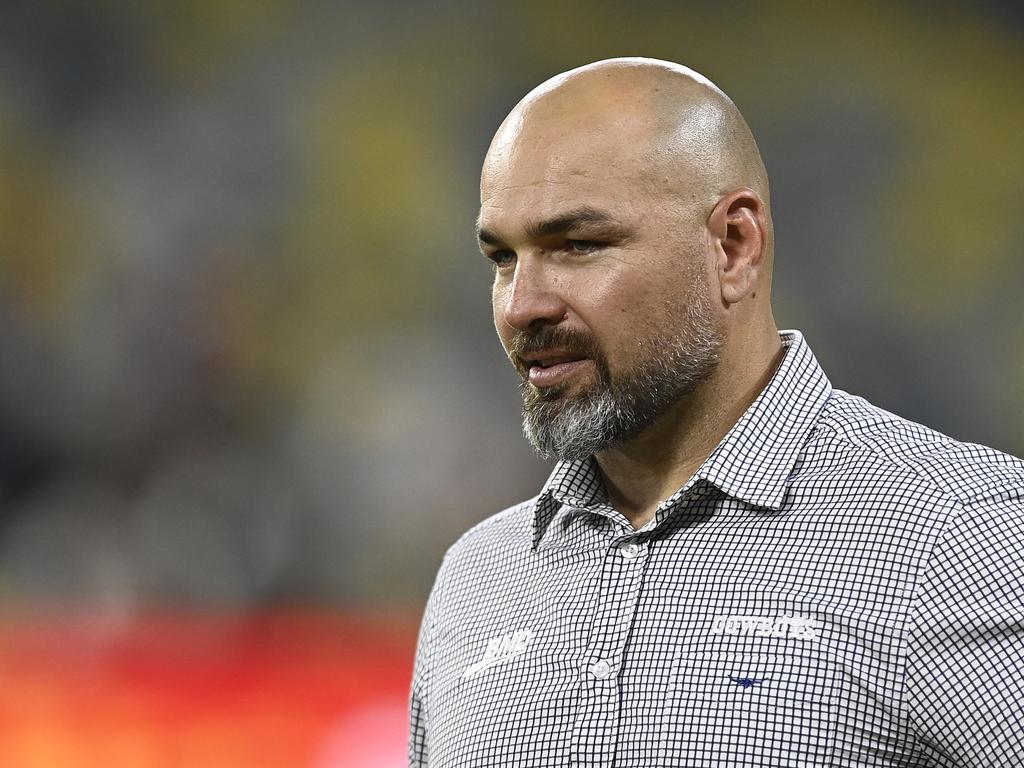 Todd Payten has bolstered Tom Dearden's confidence. Picture: Ian Hitchcock/Getty Images
Veteran half Chad Townsend's move north to Townsville came at just the right time. Dearden and the 2016 premiership-winner have clicked and are one of the NRL's most lethal halves duos.
"Chaddy has been awesome for me and all the young players and I love learning off him," Dearden says.
"One thing he is really big on is everyone focusing on exactly what their job is and he has been very clear with me about how I can bring my strengths to the team."
"Chaddy always talks about finding our balance and being connected, and as a result our spine members are really confident in each other as individuals and as a team.
"It is so enjoyable. I love it up here. We know we still have a lot of hard work to do but we have put ourselves in a position to do really well."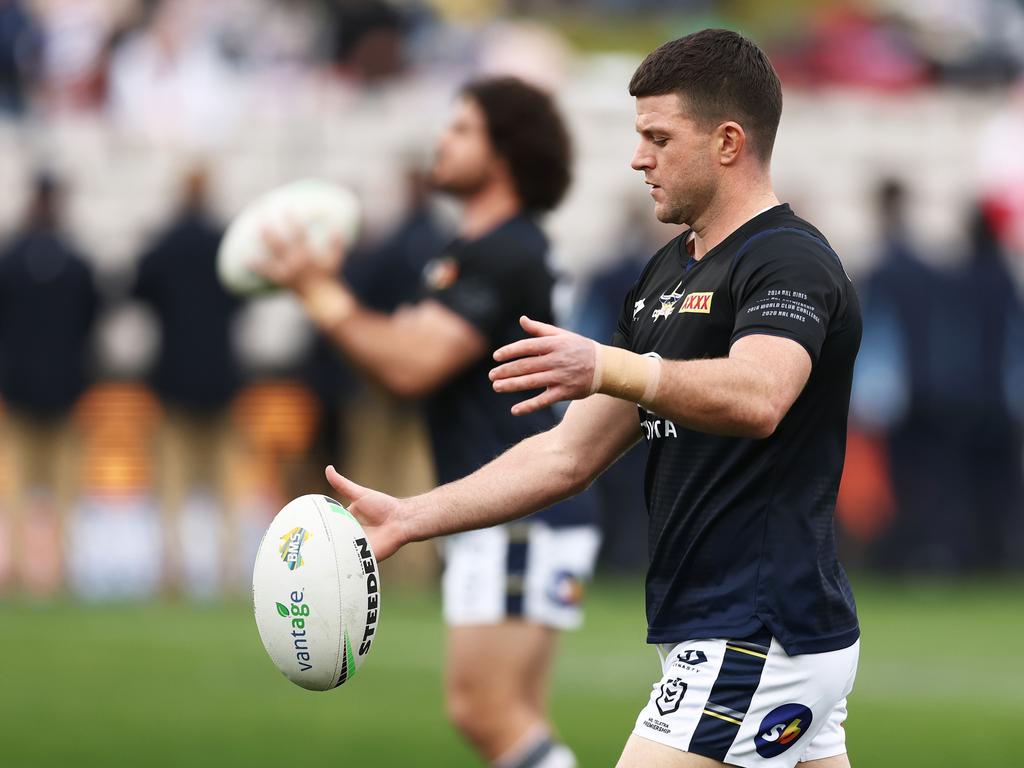 Chad Townsend has had a positive impact on Tom Dearden. Picture: Matt King/Getty Images
Sixes and sevens
This is the first season in Dearden's NRL career that he has played five-eighth but his former PBC coach Aaron Zimmerle has shed light on why he really is a classic number six and not a halfback, and why there was some confusion early in his professional career.
"Tom wore the seven for us but he always played as a six," Zimmerle says.
"Him wearing the seven at school was more about him being a dominant character in the side and our captain. He was the bloke who would do the show-and-go and go through and score the match-winning try.
"We had Toby Sexton, who wore six, but he played like a seven and would finish most sets and kick us out of trouble. Their numbers were reversed and I think in Tom's case people got confused by that. The Broncos were looking for a seven, but Tom was always a six."
Zimmerle, who Dearden still keeps in touch with, has been watching his former star pupil this year and says the Cowboys have "worked out so well that he is a six".
"You have a controlling seven in Chad Townsend who plays without fanfare and directs the team around the park and that gives Tom the opportunity to make a run when it is on," he says.
"He is brave, so he will always dig into the line and create holes for his runners. Tom's greatest asset is his defence. You saw that in Origin where he went out and buried his shoulder into them and the rest took care of itself. That is what he is doing at the Cowboys."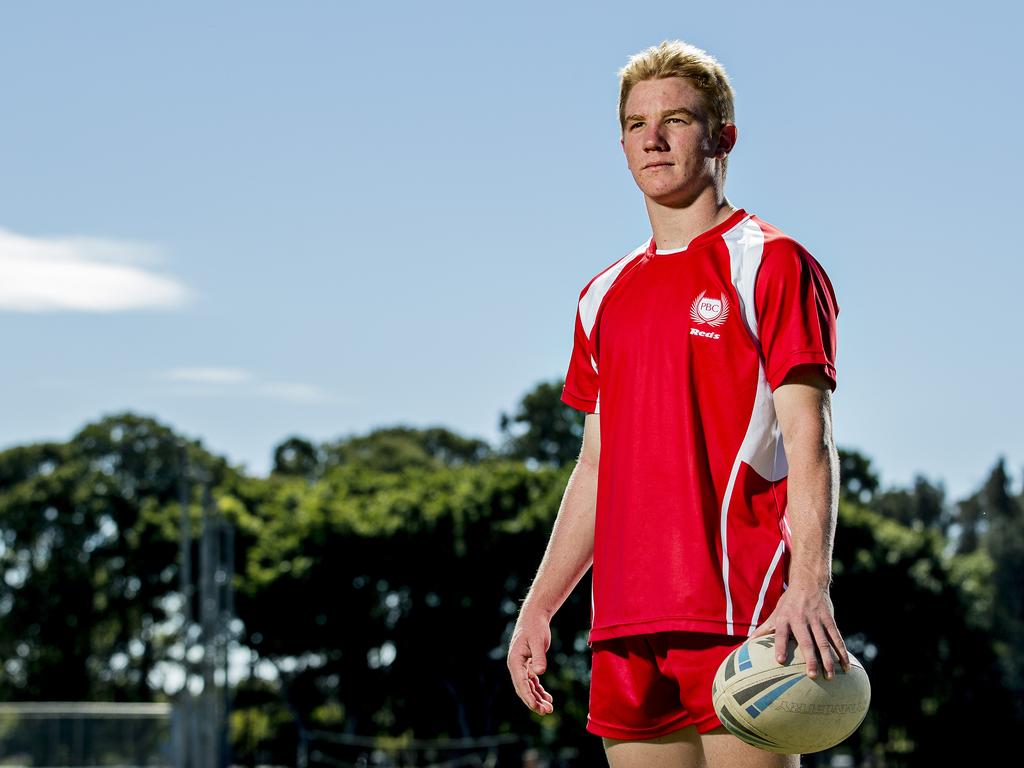 Tom Dearden wore the No.7 for Palm Beach Currumbin but always played at second receiver. Picture: Jerad Williams
Origin heroics
When Cameron Munster was ruled out of the Origin decider with Covid, Dearden was thrust into the toughest cauldron the game knows. He was calm and ready for his assignment. Coach Billy Slater and captain Daly Cherry-Evans played their part.
"I still can't believe that I have played Origin. I dreamt about it as a kid but I never thought it would come true," Dearden says.
"I was lucky that I had spent the first two games in camp so I knew what Billy expected from his players and how he wanted the team to play.
"Billy gave me that air of confidence going into the game. He said that I could bring my own game and strengths to the table and that I didn't need to try and be Cameron Munster. That made me very clear about what I wanted to do.
"I had a coffee with Daly Cherry-Evans and we worked out how we were going to play together. He was awesome and very supportive. Having those chats and getting the connection with the players around me gave me the confidence to get out there and do my job.
"I have reflected on Origin … a special experience. I couldn't believe I was in the squad for the three games. That was a massive thing and a big turnaround for me in itself."
Daly Cherry-Evans and Tom Dearden gelled perfectly in the Origin decider. Picture: NRL Photos
Dearden's dad Steve, uncle Don and brother Steve have all given him the right advice throughout "the rollercoaster" of his early career. It is what his father told him in the dark days that still resonates to this day.
"In the rough times dad used to tell me to stay positive and to keep enjoying my footy. He reminded me that since I was a kid it was my dream to play in the NRL," Dearden says.
"Whether you are playing in a struggling environment or winning you are still achieving your dream. There is nothing in the world I would rather do."