NFL lessons, Castle Hill vomit sessions and Maroons magic: Valentine Holmes discusses his resurgence with the Cowboys
It's only June, but the Cowboys have given themselves every chance of striking September gold, writes ADAM PEACOCK.
The Brookvale air was no worse than cool, but the Cowboys stood there frozen.
Reuben Cotter, the team's energy barometer, had pinged a hammy in the warm up.
Twang went the game. Twang went Origin II.
Well, that's how the script was supposed to read.
And yet two hours later, as "Sweet Home Alabama" blared from the jubilant away dressing room, the Cowboys celebrated a miraculous win.
Three miracles, in fact, in the last ten minutes - a late hat-trick propelling North Queensland from a 14-point deficit in the blink of an eye to silence the Manly faithful.
Premierships, of course, aren't won in June.
But ingredients are found, and the Cowboys may have found a vital one on Friday.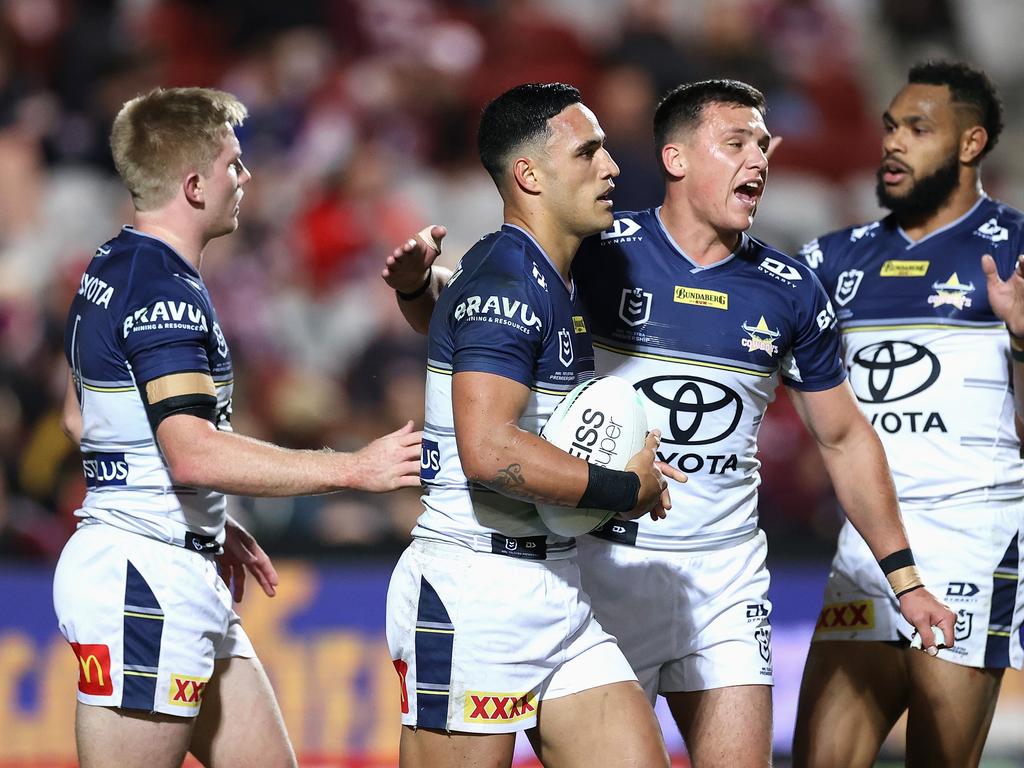 The Cowboys defeated the Sea Eagles at Brookvale 28-26 in round 15. Picture: Cameron Spencer/Getty Images
*****
Valentine Holmes capped the comeback from 26-12 down by searing across the turf to score the match winner in the crazy 28-26 Cowboys victory.
No longer a surprising unit, North Queensland players have spoken extensively about how a gruelling pre-season set them up for 2022.
Homes could see a direct correlation between those Castle Hill vomit sessions and his side's late heroics that left Manly fans feeling sick.
"I honestly think it was because of all that," Holmes told CodeSports.
"It wasn't arsey. We train like that, we always support each other, know what each other's strengths and weaknesses are and we always try and strive for that."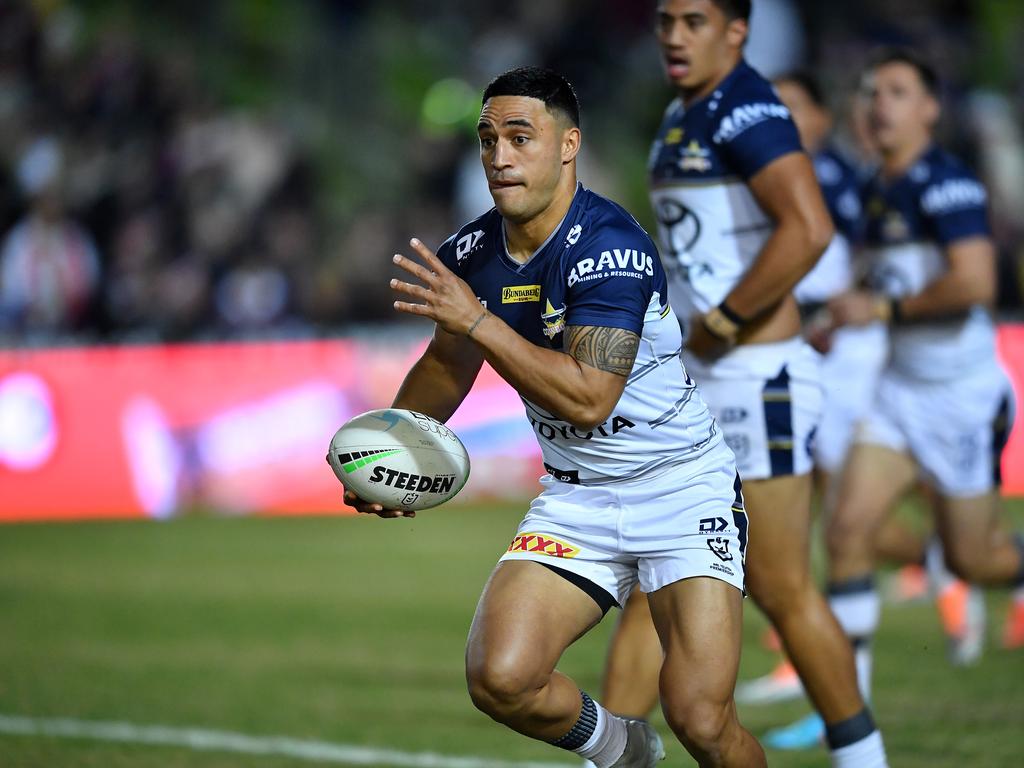 Holmes earned a try assist and scored a breakaway in the second half to secure the win for the Cowboys. Picture: NRL Imagery
It took the Cowboys 20 minutes post-game to get back to the dressing rooms, as they mingled with their small band of fans on the browning Brookie turf.
After a boisterous rendition of the team song in the sheds - performed with three cases of the Sea Eagle's sponsored product - it was impossible not to notice the buzz of camaraderie.
It was one of those wins where every player doesn't have to think too hard to give a teammate a compliment.
Holmes was sharp in describing his match winner, made possible with Scott Drinkwater forcing Daly Cherry-Evans to spill the footy.
"It was a massive play from Drinky – I got the cookies because I scored – but the play from him to pressure DCE, it's huge," Holmes said.
"We all help each other. Something we've built on since pre-season."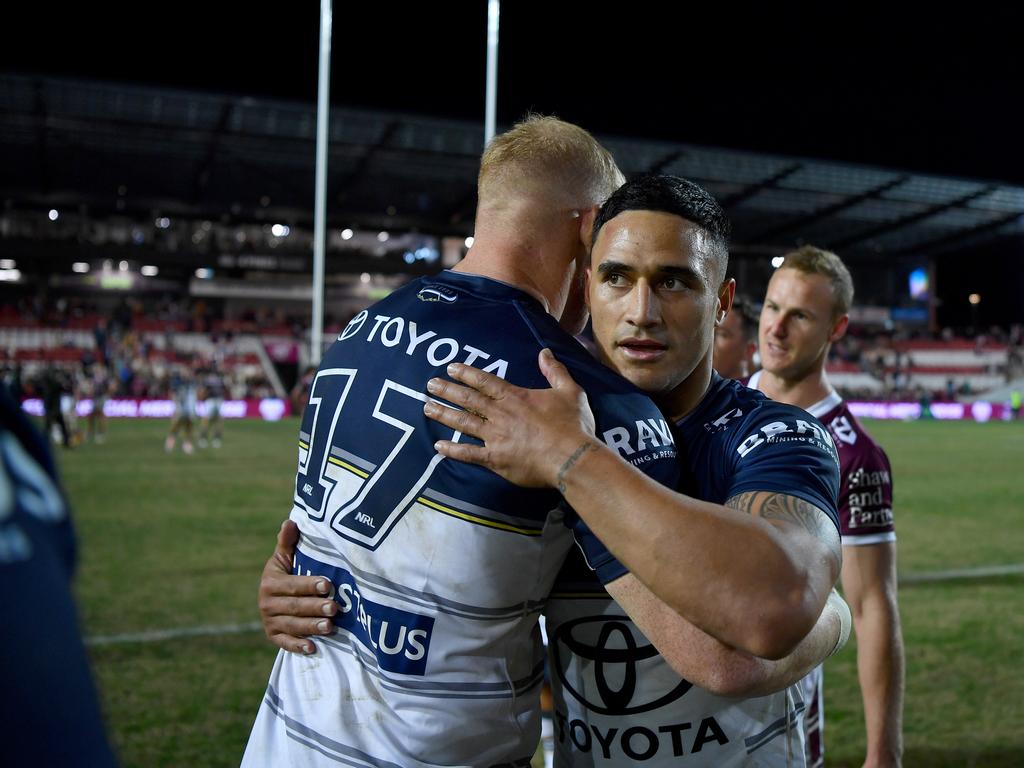 The Cowboys were slow to leave the field, savouring their come from behind victory. Picture: NRL Imagery
*****
It's taken Holmes time to readjust from his 2019 dalliance with American football but he's truly established back among the rugby league elite.
Now, the Cowboys are reaping the benefits of that mid-career change up.
It was hard not to recognise the similarities between Holmes' match winning streak down the sideline, and that of an NFL punt returner who'd stepped free of the defence to run for his life in open territory.
"That was (like) the NFL. Once in open space it's a foot race to the corner, usually a couple of safety's there!" Holmes said.
"I knew Jason Saab, the fastest person in the NRL, could see him in my peripherals. Didn't want to make eye contact with him, because that would have told him he had me covered, but always knew I was going to step back in."
Holmes looks back on his five months with the New York Jets program as a wonderful learning experience.
"Learned a lot over there on how to prepare, how to take the game seriously and prepare your body for those situations," Holmes said.
"Tonight was out on my feet (for that last try), but I wanted to get there, determined to get there. That's what it comes down to."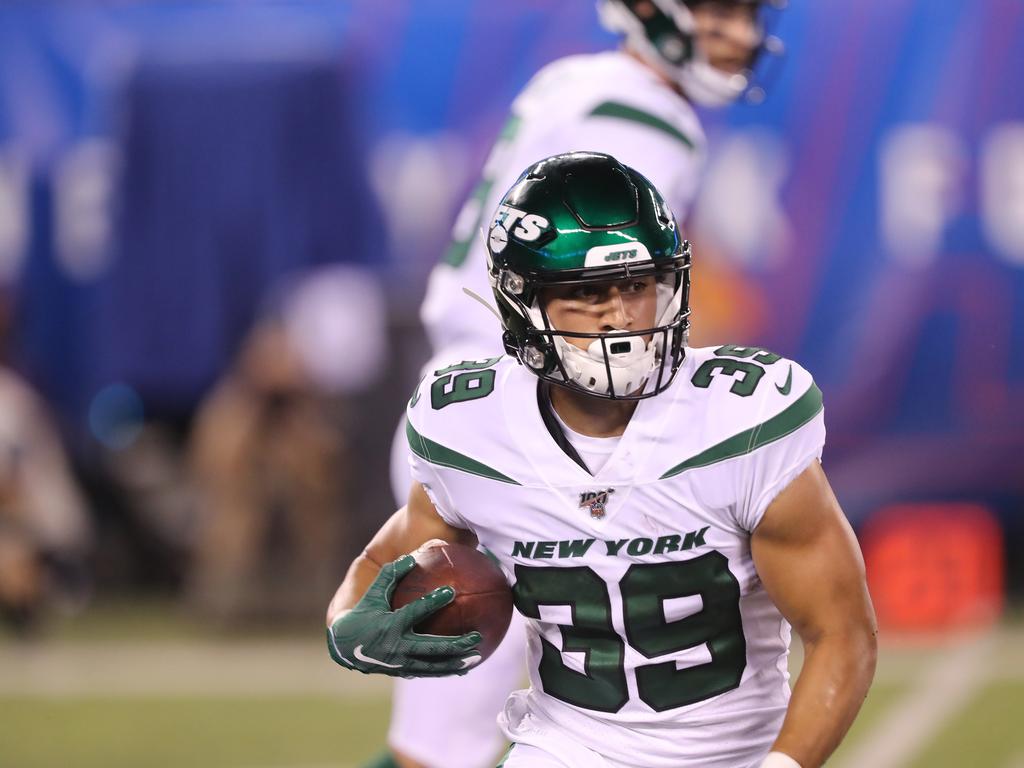 Holmes short lived NFL stint taught him lessons he's transferred back into his league game at home. Picture: Al Pereira/Getty Images
Holmes' attention now turns back to next weekend's Origin Game 2 in Perth.
In Game One, he came up with match-saving play to repel a New South Wales raid, cleaning up a James Tedesco kick from which Nathan Cleary seemed certain to profit.
It was a play made possible by those Castle Hill runs, time in America, and of course, that Queensland magic dust all Maroons love talking about.
"It's what we talked about in camp with Billy, Smithy and JT. Those small moments. It's about being there, knock a ball dead, over the sideline, put your head in places its going to get kicked," Holmes said.
"That's what wearing the Maroon jersey is, and I feel like it's exactly the same in the Cowboys jersey.
"We are willing to put our head where it's going to get kicked."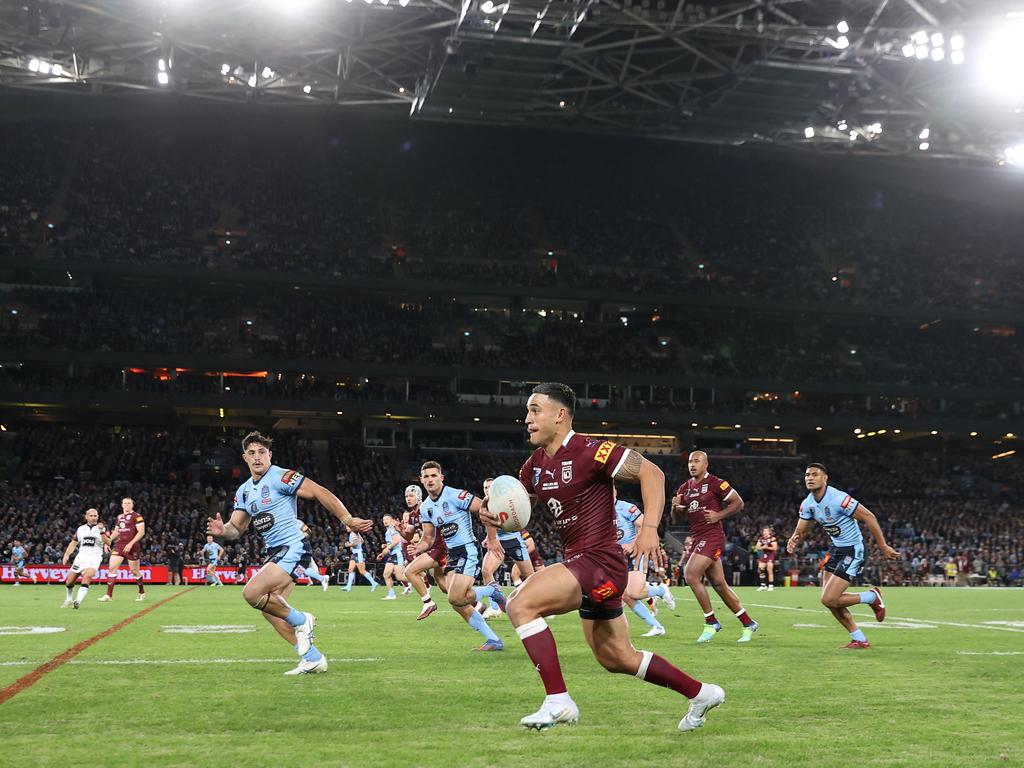 Holmes and the Maroons will be looking to close out the State of Origin series in Perth next weekend. Picture: Cameron Spencer/Getty Images
*****
Friday's victory was North Queensland's eleventh of the season.
"Coming down here to Brookie, and beating them (like that) is probably one of my favourite wins this year," Holmes said.
One or two more wins and finals are locked in. Not bad for a team who finished 15th last season.
Four or five more wins and the top four beckons.
Six or seven more… and stop right there.
North Queenslanders don't get carried away.
Todd Payten, the Cowboys coach who thought up those devious plans to run up Castle Hill all summer, holds the same sentiment close.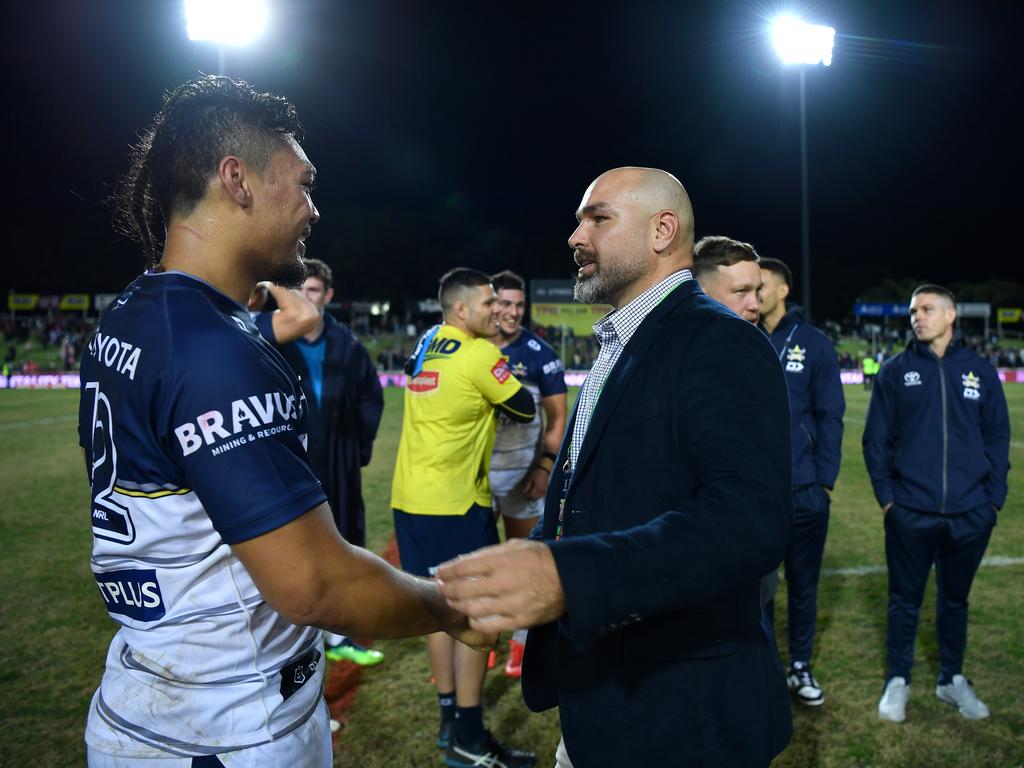 Despite the injury to young star Reuben Cotter, Todd Payten was delighted for his team. Picture: NRL Imagery
You could tell, though, that Payten was bubbling after the win. Proud beyond the norm, he could even find a positive for the hamstring-stricken Reuben Cotter.
"He'll go home, spend some time with his newborn. Some perspective there for him," he told the media conference.
More perspective could be found with the losing home side.
Post-game, Manly's players trudged to their new high performance recovery centre, buried beneath the beautiful new multimillion-dollar northern grandstand.
To a man, it looked like they'd lost their last dollar.
It's only June but the Cowboys have given themselves every chance of striking gold.