Shattering a 'soft' culture helped North Queensland Cowboys make a stunning turnaround
The dismantling of a complacent culture has helped rebuild North Queensland from a group of individually talented players to a close team of winners in 2022, writes PAMELA WHALEY.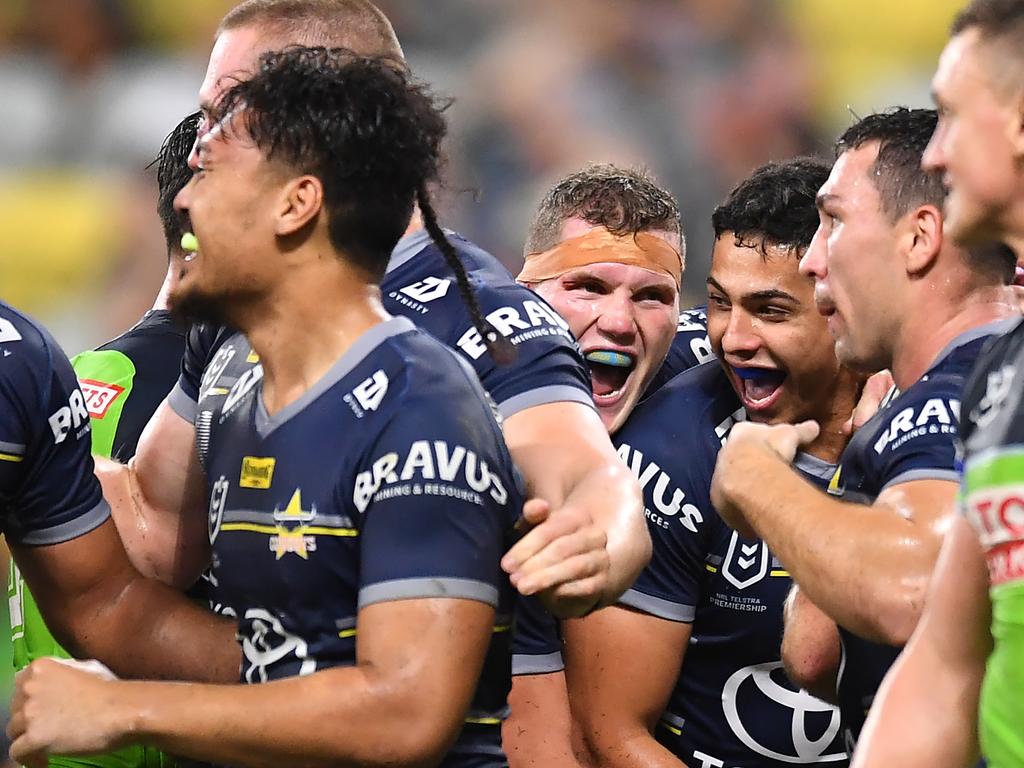 Shattering a 'soft' culture has helped the Cowboys' turnaround in 2022. Picture: Albert Perez/Getty Images
The North Queensland side gunning for five-straight wins on Sunday is a closer team than they were at the start of November.
Surprise runs up and down Castle Hill with no notice, early morning wake-up calls only to sit around and do nothing, and tackling until they couldn't stand developed a resilience in the Cowboys they haven't had for years.
They had to learn to expect the unexpected. But the most unexpected part of it all is how well it's worked on the field.
They're now sitting third on the ladder with a six-year record ready to be matched. Not since early 2016, when Johnathan Thurston, Matt Scott and Michael Morgan were still stalking their prey at 1300SMILES Stadium have the Cowboys won five games in a row.
From the outside looking in it appears the revival happened overnight. Because it wasn't that long ago they were, for lack of a better word, dreadful.
"We're a lot closer than we were a year ago," says Cowboys forward Reuben Cotter.
"I reckon you can tell on the field. We've all got each other's backs and we're all in it together."
Reuben Cotter believes that this Cowboys unit is the closest knit team the club has seen in years. Picture: Ian Hitchcock/Getty Images
*****
Cast your mind back to the end of 2021, to their slow and painful slip into 15th.
Last year they were better than only Canterbury, who had three wins for the season. For Todd Payten's men it was a miserable end to the year with 11 losses from their last 12 games, with Chad Townsend the only big addition to the squad to look forward to. Their chances of improvement were not given much hope, despite the calibre of talent on the books – superstars Valentine Holmes and Jason Taumalolo, and a group of young and robust kids ready to learn.
There was a lot of talent but not a lot of team.
He didn't nail it in his first season in charge, but over this pre-season Payten set about changing the culture that had developed in Townsville. There was a tendency to give up when things got difficult, or to shirk responsibility. No one liked being uncomfortable, and no one knew how to fight their way out of it.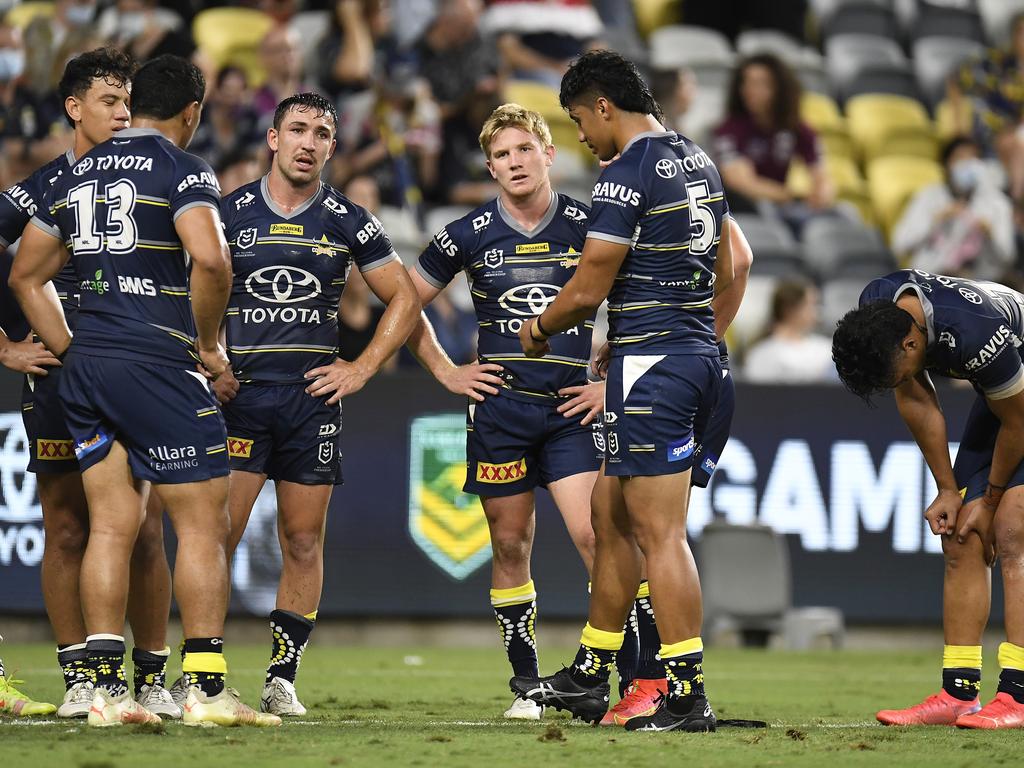 The Cowboys suffered 17 losses through the 2021 season, finishing 15th on the ladder. Picture: Ian Hitchcock/Getty Images
When they got behind on the scoreboard they stayed there. And their defence was horrible.
The potential was there, but they had to find the fight.
This year already the Cowboys have improved in almost every stats category available, but more importantly, it's obvious the team is a closer unit. They wholeheartedly celebrate the little wins. They rally around each other when there's a mistake. Their heads are up. They believe.
"It's been a massive change. We're a completely different group than we were a year ago," Cotter says.
"There's a better feeling among the group. We're a lot more resilient. We're more of a team.
"That happened through training, through our pre-season last year, it was my hardest pre-season.
"That helped us go from being a team that probably rolled over a lot last year to a team that fights for anything."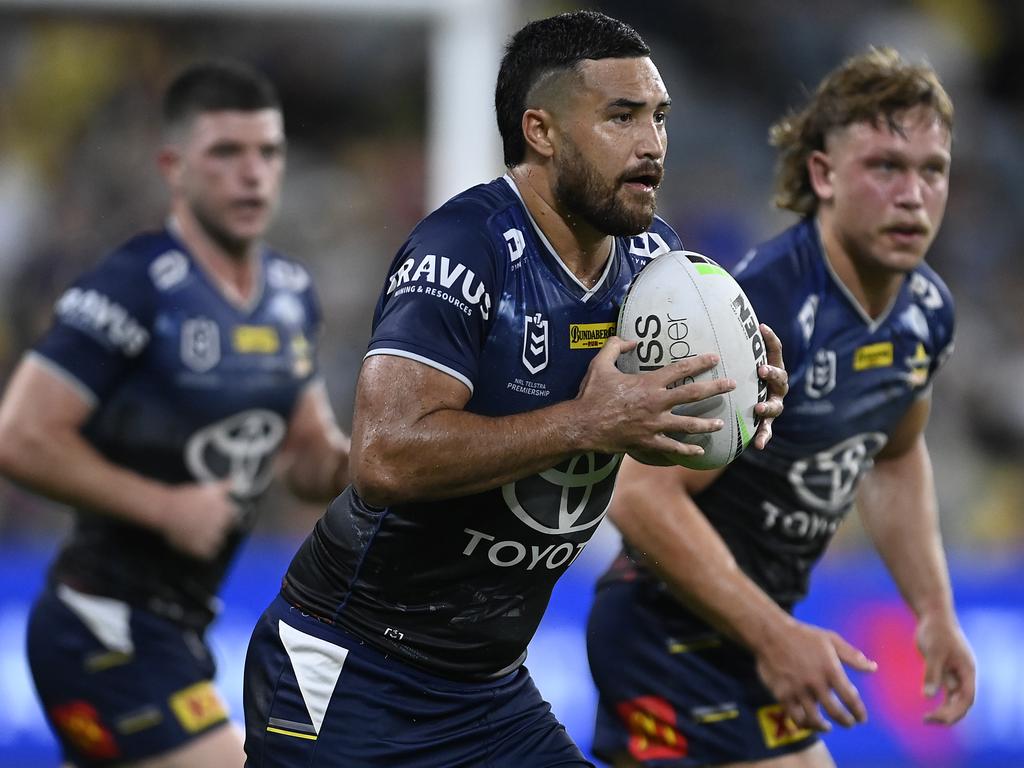 The Cowboys have improved on their 2021 statistics in almost every category. Picture: Ian Hitchcock/Getty Images
Players had an earlier call time for training, but sometimes they were forced to wait around all day without instruction before a surprise session was called. They slogged up and down the gruelling Castle Hill in Townsville and did more tackling drills than anyone could believe.
It was about pushing players out of the comfort zone they'd created for themselves to literally shatter the culture of complacency.
"The running load increased, the intensity of drills, there was less rest, there was more running up hills, we were running up Castle Hill every week," Cotter says.
"[Todd would] scatter it, so it would be when you least expected it. There was a lot of dealing with things when it's unexpected and how to fight back from that. I think that's what's been most important for us this year."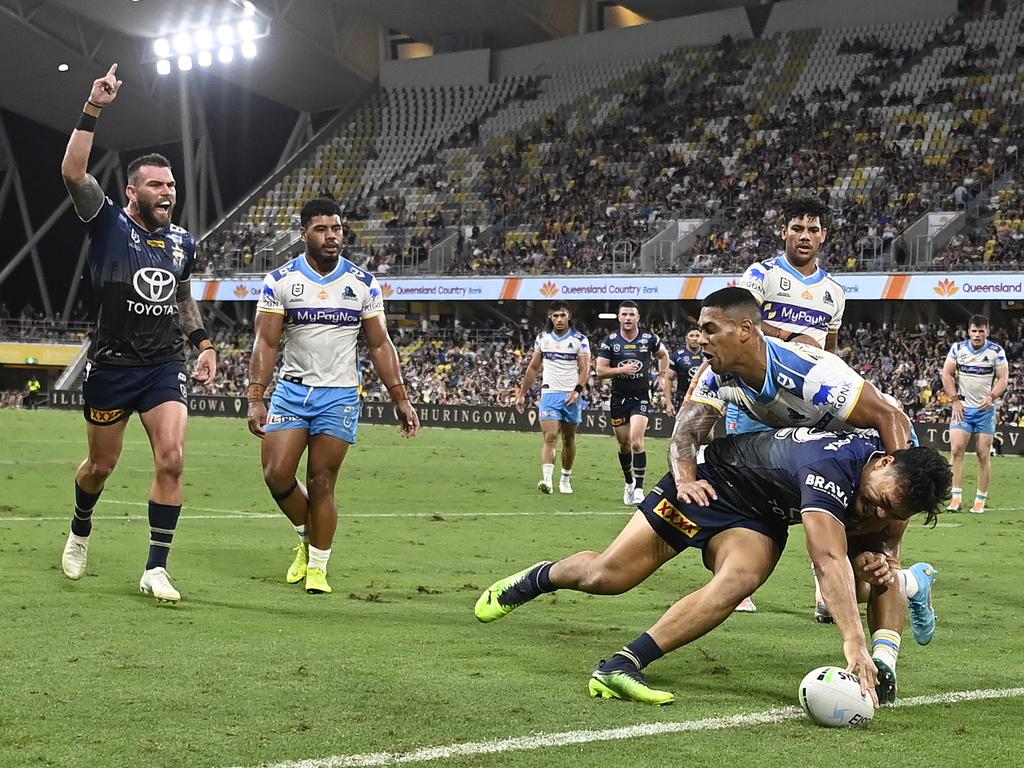 The Cowboys appear to have found a run of form this season, winning their last five matches back-to-back. Picture: Ian Hitchcock/Getty Images
*****
A change was expected, but no one could have predicted it would be this effective.
From nine games this year the Cowboys have won six, and sit third on the ladder behind competition heavyweights Penrith and Melbourne.
Losses to the Bulldogs, Roosters and Warriors tarnish their 2022 record.
Payten's brutal change in training habits and a focus on workload has tightened up their defence noticeably. In 2021 the Cowboys ranked last in the competition for points leaked with 31.17 per game, but already this year they've narrowed it down to 12.56 per game, third in the competition.
Numbers from Fox Sports Lab show they have gone from 14th to first for post-contact metres (456.79 per game in 2021 to 507.11 this season), from 13th to second for errors (10.92 per game in 2021 to 8.89 in 2022) and 16th to third for missed tackles (36.83 in 2021 to 26.78 in 2022) - cutting out a whopping average of 10 per game.
Cowboys' stunning NRL overhaul.
The club, and the no-nonsense Payten in particular, has been reluctant to speak too highly of their improvements so far this season, citing they haven't done anything yet.
But their 35-4 win over Parramatta a fortnight ago showed the numbers are not just flattering. They can be the real deal this season.
A win over the Wests Tigers on Sunday will mark five consecutive wins for the Cowboys for the first time since 2016, with their last loss coming against the Warriors in a golden point shoot out back in round five.
Their real test will be in the following fortnight when they face a rampaging Melbourne side in Townsville and the premiers Penrith at Blubet Stadium in their first trip to Sydney all season.
It won't be comfortable, but they're getting used to that now.