Daniel Tupou sin bin: Senior NRL referee Adam Gee axed after bunker blunder
One of the game's most experienced referees has been axed for his role in the Daniel Tupou sin bin blunder as NRL boss Andrew Abdo addresses the incident.
The referee who made the contentious call on Tupou, Adam Gee, has been dumped but the bunker official, Ashley Klein, has been retained and will officiate two games this weekend.
A perception about top teams being favoured was discussed by multiple clubs on Tuesday after the Roosters retained 13 players against St George Illawarra despite Tupou committing a high tackle that even Abdo said warranted sin-binning.
Stream every game of every round of the 2022 NRL Telstra Premiership Season Live & Ad-Break Free In Play on Kayo. New to Kayo? Try 14-Days Free Now >
Tupou was finally whacked for his indiscretion when the NRL match review committee laid a grade two careless high tackle charge for the hit on Dragons opposite Mikaele Ravalawa. He pleaded guilty and accepted a one-match ban.
Fans remain confused about what constitutes a sin bin after players have been marched this year for inconsequential leg pulls, face slapping, being tackled off the ball, milking, borderline high tackles, breaking early from the scrum and conceding six again through repeated infringements.
"Under the current rules, intentional contact to the head, and the Roosters couldn't argue it wasn't intentional, then it's a sin bin or send off – it's one or the other, those are the rules. There was no grey area in this one. You just want it to be consistent," said Dragons chairman Craig Young.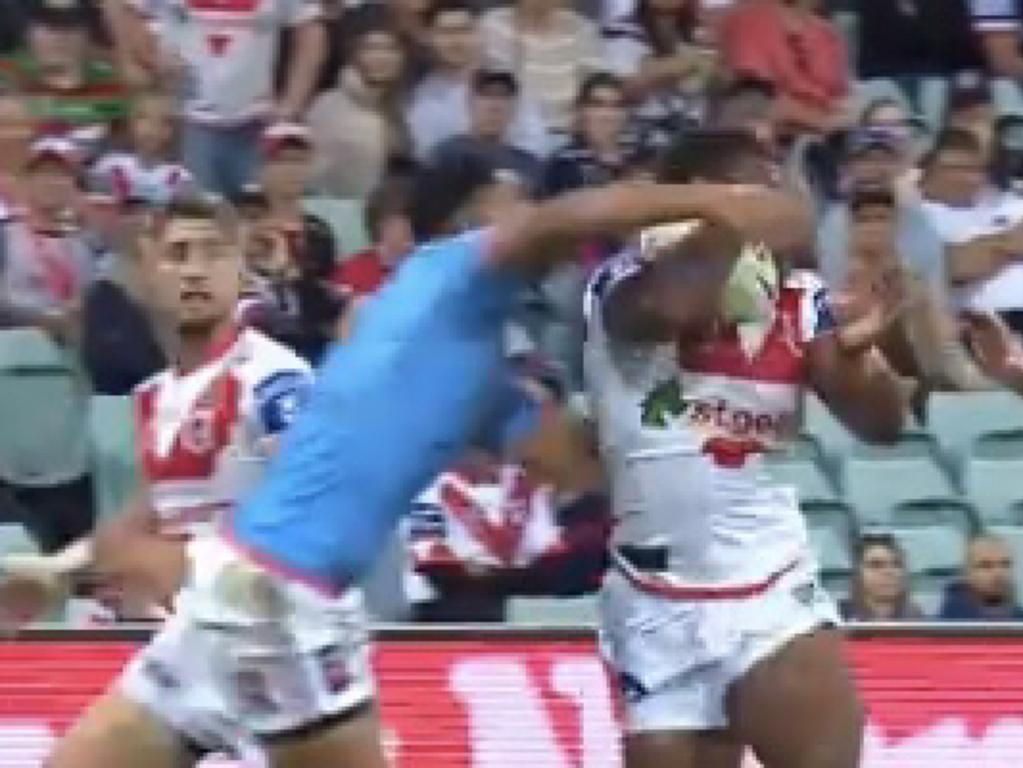 Still showing the point of impact of Daniel Tupou's tackle. Fox League
Former leading referee Greg Hartley added: "I watched it twice and Tupou should have been sin-binned in today's game. What warrants a sin bin these days? It's totally confusing. The public doesn't understand. We don't know what's going on with the game."
Bulldogs forward Jack Hetherington was sent off and suspended for five games for a high tackle on Cowboys star Val Holmes last year yet Tupou stayed on the field for a tackle that Dragons coach Anthony Griffin fumed was "direct contact with the head."
"It was clear that it should have been a sin bin. We are all frustrated. I won't comment on anything that is still going through the match review or judiciary process but I'm happy to say that in my view that should have been a sin bin," Abdo said.
"If there is confusion, I understand it because there were a few that were missed on the weekend. I think (on Sunday), they got it wrong but not necessarily all the other (sin-bins this season). In watching the game on Sunday, I was disappointed with the decision so I can understand that others might as well.
"We are very quick to jump on (referees) when something goes wrong and we are very quick to focus on an error, and that is the right everyone has in sport. But I think if you take a step back, the referees have been playing their role in what has been a really good, entertaining season.
"We look at the statistics after every round in detail. Each referee is being scrutinised, we look at the trends, compliance rates, play the ball speeds, penalties, ruck infringements and inside 10 metres. Our job is to make sure we are as professional as possible and that we are improving and increasing the ability to provide a fair and entertaining spectacle."
Dragons hardman Josh McGuire said he would have got "two years" and needed a leading lawyer if he had dished out a similar high shot.
"He didn't get sent off because of the occasion, but I'm glad," said McGuire, who has a lengthy rap sheet over the years.
"If that's the precedent, then stay like that.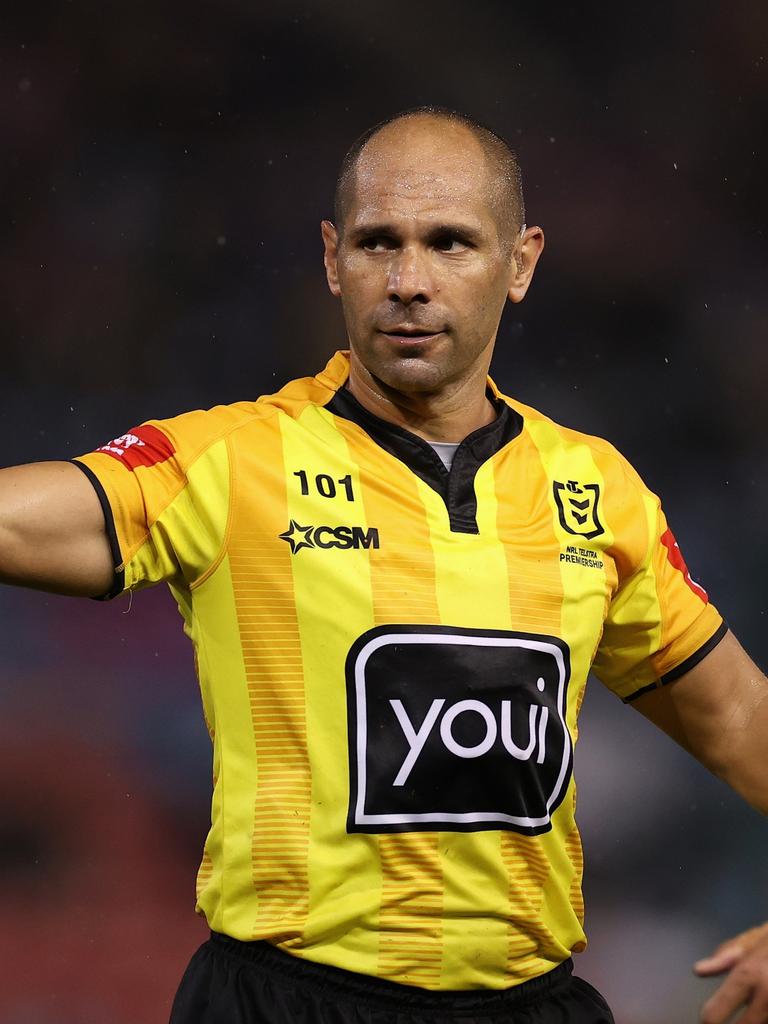 Ashley Klein survives. Picture: Cameron Spencer/Getty
"I thought the worse one was the hip drop (by Jared Waerea-Hargreaves) on Jaydn Su'A. We lost an Origin back-rower. Just injury-wise, it will hurt us long-term."
Weaker clubs – and players with past history - continue to complain they are being discriminated against in what they claim is a perceived two-tier rules system. And that, they say, was evident again on Sunday at SCG.
Asked did certain clubs receive preferential treatment, Young said: "You could perceive that to be right."
Raiders CEO Don Furner agreed, saying: "The top teams with influential captains and high-profile players without a doubt have more sway than the others.
"And I'm sure in our heyday, when we were winning, with Mel Meninga, Laurie Daley and Ricky Stuart in the referee's face, we got more than our share."
Abdo vehemently denied any club was given preferential treatment over another, no matter the club's standing in the game.
"Comments made by individuals after a game, that's their view, that's their right but we've got no concern around there being any bias toward any club whatsoever," Abdo said.
"Is it disappointing that people come out with comments saying that teams are not getting a fair go? That is always disappointing, particularly when they are in positions of leadership and without the benefit of statistics.
"Of course there will also be individual decisions that are always debated. That's the nature of sport and there are going to be mistakes that are made. I'm never happy because there is always more that we can do."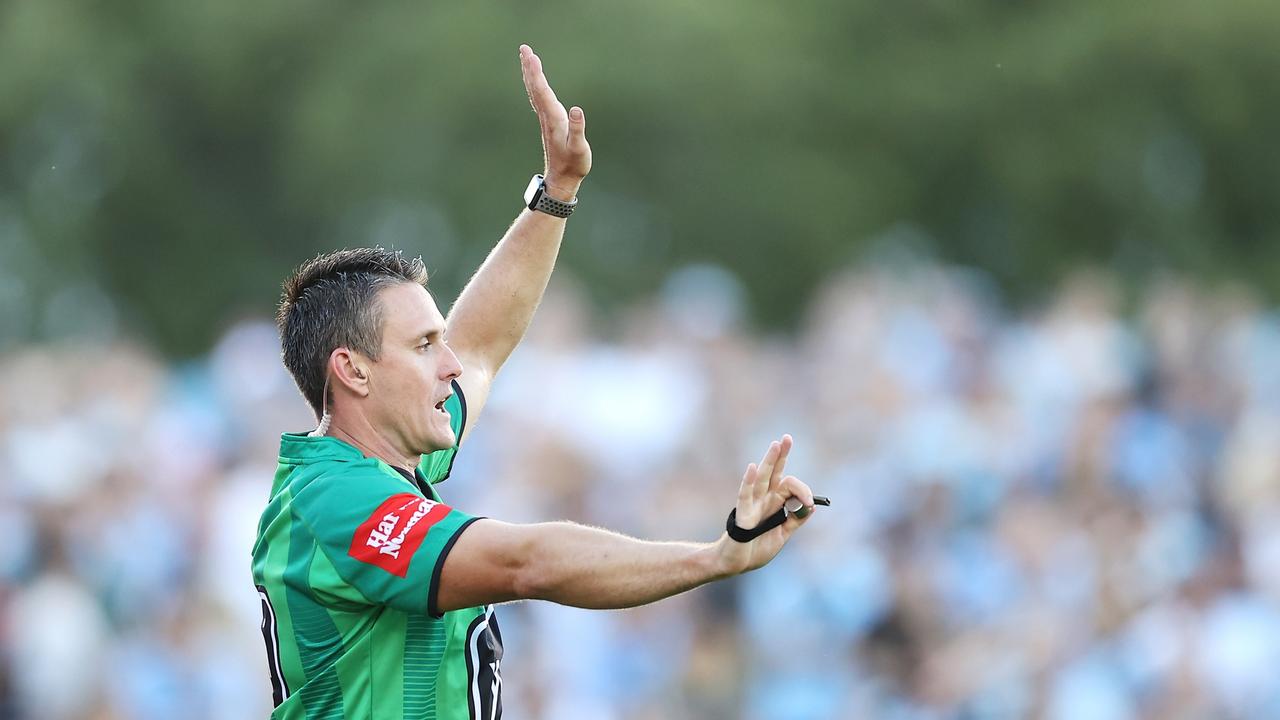 On-field referee Adam Gee wasn't as lucky as Klein. Picture: Mark Kolbe/Getty
Pressed whether there were NRL favourites, Bulldogs CEO Aaron Warburton said: "At the end of the day we can only control what we do on the field, the rest is out of our hands. We just need to focus on our own performance".
In March this year, Titans coach Justin Holbrook said: "It is about us as a club being not one of the big clubs and not getting anything."
In April, North Queensland coach Todd Payten said: "Teams that have been up the pointy-end of the competition for a while now or have higher-profile players, get the benefit of the doubt too often. That's frustrating."
Former Australian star Garry Jack was critical of Gee's decision on Monday and then doubled-down on Tuesday.
"Looks even worse this morning," Jack tweeted.
At the post-match press conference, Griffin, when asked about the non-action on Tupou, said: "You would have got two years in jail for that in Magic Round last year."
Opinion: NRL outrage merchants miss the point
- Paul Crawley
Anthony Griffin's outrage over Daniel Tupou not being sin binned or even sent off for his controversial Anzac Day high shot on Mikaele Ravalawa is just ridiculous.
And the St George Illawarra coach should be very careful what he wishes for.
The NRL match review committee has got it spot on after handing the Roosters winger a grade two careless high tackle charge, meaning Tupou will cop a one match ban if he takes the early guilty plea or two games if he takes it to the panel and loses.
But what has got Griffin and some others up in arms is why wasn't action taken during the game, given what has happened with other dangerous tackles in recent times.
It's a fair call that fans are frustrated about some of the inconsistencies.
But the flip side of that is if the refs go too hard everyone will be blowing up that the game is going soft.
Griffin even declared Tupou would have got "two years in jail" if that had happened during Magic Round last year.
Seriously, he's blowing this out of all proportion.
Everyone knows the NRL went overboard during Magic Round.
But do we really want that to be the norm going forward?
There is no question Tupou can consider himself lucky he was not sin binned.
But it certainly wasn't in the category of those grubby and nasty incidents you immediately associate with a send off.
And while no one wants to admit it there is also no doubt the referee and the bunker would have been influenced by the fact Tupou is a cleanskin.
It's got nothing to do with the argument relating to this being another case of the big clubs getting preferential treatment.
The refs just got one wrong.
And you take what Griffin says with a grain of salt because he is obviously still cranky that Jaydn Su'A was sin binned earlier this season against Penrith for a tackle that cost his team.
But in fairness he probably got one go his way last year when Jordan Pereira escaped with being binned when he nearly decapitated James Tedesco.
The point is the inconsistencies are always there, and it works both ways.
But if Griffin wants this to be the benchmark for what constitutes a send off going forward, let's hope he doesn't blow up if it happens to Su'A or Frank Molo or Josh McGuire the next time they get one wrong.
Originally published as Daniel Tupou sin bin: Senior NRL referee Adam Gee axed after bunker blunder