Locker Room: Nathan Brown shows why Eels have the roster to break title drought
How stacked is the Eels 2022 roster? Strong enough to leave a State of Origin player in reserve grade and be the envy of every other NRL club, writes DAVID RICCIO.
Nathan Brown is the poster boy for why the Eels should be thinking premierships in 2022.
A NSW State of Origin player who Parramatta coach Brad Arthur can afford to play the long game with, by not picking him in the NRL team for round one.
Next to Brown, are another 634 reasons why Parramatta have a trophy-winning roster, which runs deeper than what halfback Mitchell Moses can play into the line.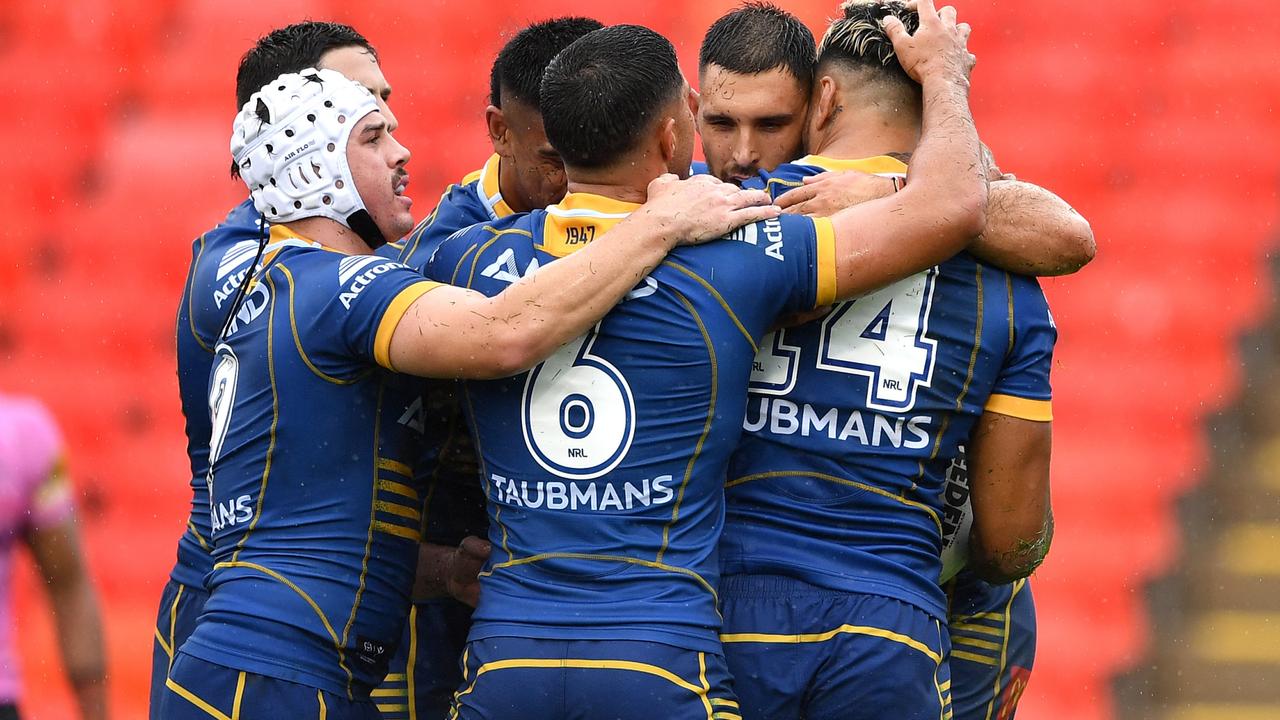 The Eels will have no better time to break their title drought than in 2022. Picture: NRL Photos
Three years ago, Arthur would've had no other choice but to play Brown in Parramatta's season-opener against the Titans on Sunday afternoon.
Arthur's roster was paper-thin on experience and NRL-ready players.
"Absolutely, I would've had too,'' Arthur said.
"Even last year, 'Brownie' was 60 per cent fit for the entire season...too tough for his own good, playing busted.
"He's since had his foot operated on and then on the other ankle, he's had that operated on and they had to be a couple of weeks apart. So he's completed a maximum of four team sessions since November. Last week was his first full week of training where he did everything unrestricted."
Three years ago, with just four sessions in the bank over a four-month pre-season, a player like Brown would've had to be an automatic pick.
Not this year. In 2022, the Eels well is deeper than any other club in the NRL.
How so? Of the 17-man NSW Cup side chosen for Parramatta to play the Dragons on Saturday in Wollongong, Brown is one of the 11 other players - that's almost 65 per cent of the team - who have NRL experience.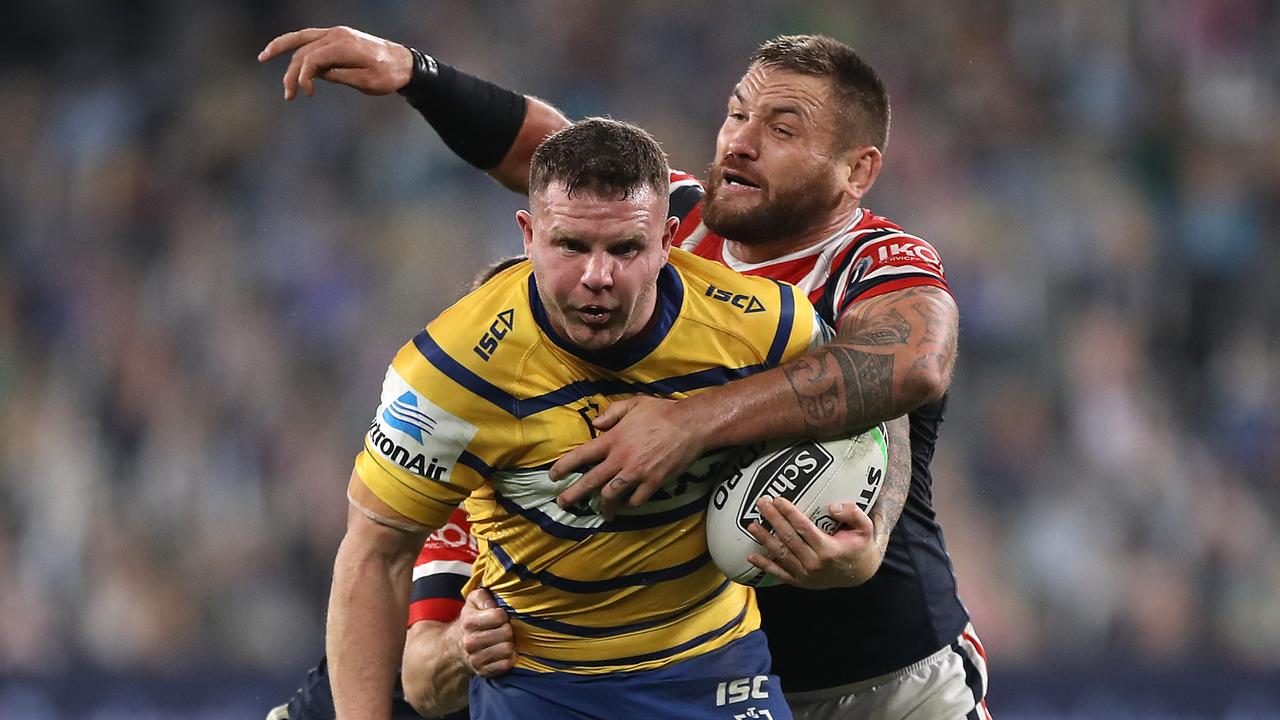 Nathan Brown will begin the season in reserve grade. Picture: Mark Kolbe/Getty Images
In total, the Eels NSW Cup side has 634 games of NRL experience.
Not including Brown's two Origin appearances with the Blues in 2020, his 124-games of first grade isn't even the top score.
Back-up dummy-half Mitch Rein is also playing with 208 NRL games against his name.
Bryce Cartwright, who was selected in the Eels semi-final team that were beaten by eventual premiers Penrith last season, is chasing 150 NRL games this year with his current total at 131.
Tom Opacic, the trustworthy centre who played every game for the first 16 rounds of last season in the NRL, before being rocked by the tragic passing of his brother, brings another 64 first-grade games to the table.
Ofahiki Ogden, the hard-running prop that the Eels signed from the Bulldogs, will lead the reserve grade pack with 45 first grade games under his belt.
Eels NSW Cup five-eighth Jordan Rankin has played under the bright lights of the NRL on 40 occasions.
Fullback Hayze Perham boasts 10 first grade games.
He may have a great roster but Brad Arthur knows the Eels have to deliver the goods. Picture: Jonathan Ng/NCA
Then there's a fresh recruit from the Wests Tigers, who also spent the pre-season chasing a contract at the Sharks, Zac Cini on the wing for the Eels on Saturday with four NRL appearances.
Wiremu Greig, Ky Rodwell and Samuel Loizou have also had brief NRL stints.
Using the Eels NSW Cup opposition on Saturday as an example, the Dragons line-up features just three players with NRL experience, including Tariq Sims (204), George Burgess (149) and Brad Deitz (seven).
In a season that will be stymied by the unexpected omission of players due to Covid, depth is the buzzword of the 2022 season with clubs preparing to shine the boots for everyone except the ball kids.
The key to the Eels deep roster is smart recruitment. The dark days of the Eels salary cap scandal seems a lifetime ago.
From the carnage of 2016, the Eels have developed a recruitment system reminiscent of an episode of Extreme Makeover: walk in feeling unloved, walk out feeling a million bucks.
It comes with some painful goodbyes, but the Eels salary cap is no longer bent out of shape like the bad old days. Instead of paying millions for representative players on the back-end of their careers, they're bringing in raw players at a low price, who with some spit and polish, become better players for the Eels, or cash-in by joining a rival.
Yes, Parra have copped some bruises for several key losses. But ultimately, the club is where they are today, due to their ability to secure players that punch above their value.
Reed Mahoney looms as a huge part of the Eels' premiership plans. Picture: Mark Evans/Getty Images
Marata Niukore (Warriors), Isaiah Papali'I (Tigers) and Reed Mahoney (Bulldogs) made their NRL debut with Parramatta on half the wage that they will receive from their new clubs next season.
That art of obtaining more bang for their buck, has allowed Parramatta to increase their spread of talent - and depth of experience - across the entire club.
Bryce Cartwright, who fans will recall, had nothing on the table before accepting a lifeline deal from the Eels in 2021.
Shaun Lane came from Manly for next to nothing. He's now one of those wage-doubled players.
Bailey Simonsson came cheaply this year from the Raiders, Opacic has played 60 NRL games and would be one of the game's lowest-paid centres.
Ogden has played 45 NRL games and is on a development contract.
The Eels' next challenge is to replace Niukore, Papalii and Mahoney with three more players, who the club can buy for $100,000 and develop them into $500,000 players.
Arthur is under no illusion he's a coach with roster luxuries his rivals would crave. He gave an insight into how the Eels are in a position of such experienced depth and preparedness to call on a NSW Cup player with hundreds of first-grade games worth of experience.
"Using Brownie as an example, he understands this is going to be better for him in the long run and that he gets 50-minutes of Cup instead of tiring out after 15-minutes of NRL, given the problematic pre-season he's had'' Arthur said.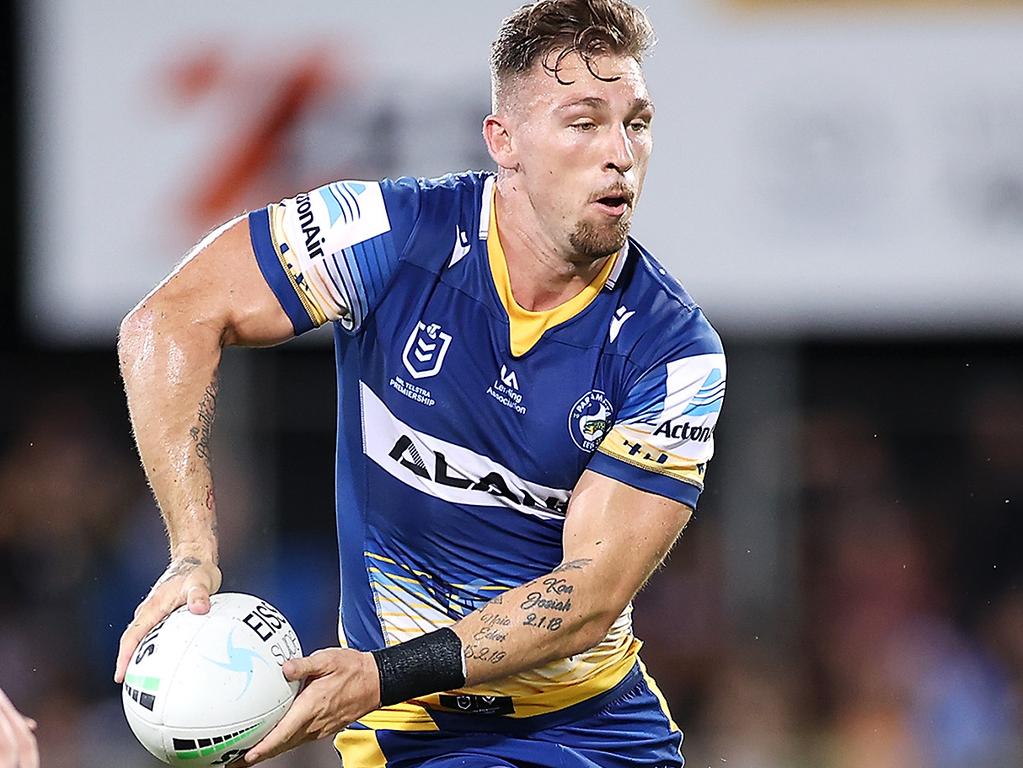 The Eels gave Bryce Cartwright a lifeline in 2021. Picture: Mark Kolbe/Getty Images
"But the bottom line is, I would've had to play him three or four years ago. Now I've got full confidence in our squad and we can call any of them up.
"Just giving the guys that made their debut last year, just one game, seeing their confidence, they have really chased pre-season training because they want to be consistent first graders.
"The other thing we want too is, we need to have a strong NSW Cup team so that they still get the style of footy that they need to, so that they're ready to play when we need them.
"It's a strong position to be in, but it doesn't guarantee us anything.''