Former Eel and Titan Keegan Hipgrave's life-changing cuppa after NRL retirement at 24
After Keegan Hipgrave's early retirement from the NRL, he's learned to look outside of himself for happiness and encourages other athletes to do the same, writes PAMELA WHALEY.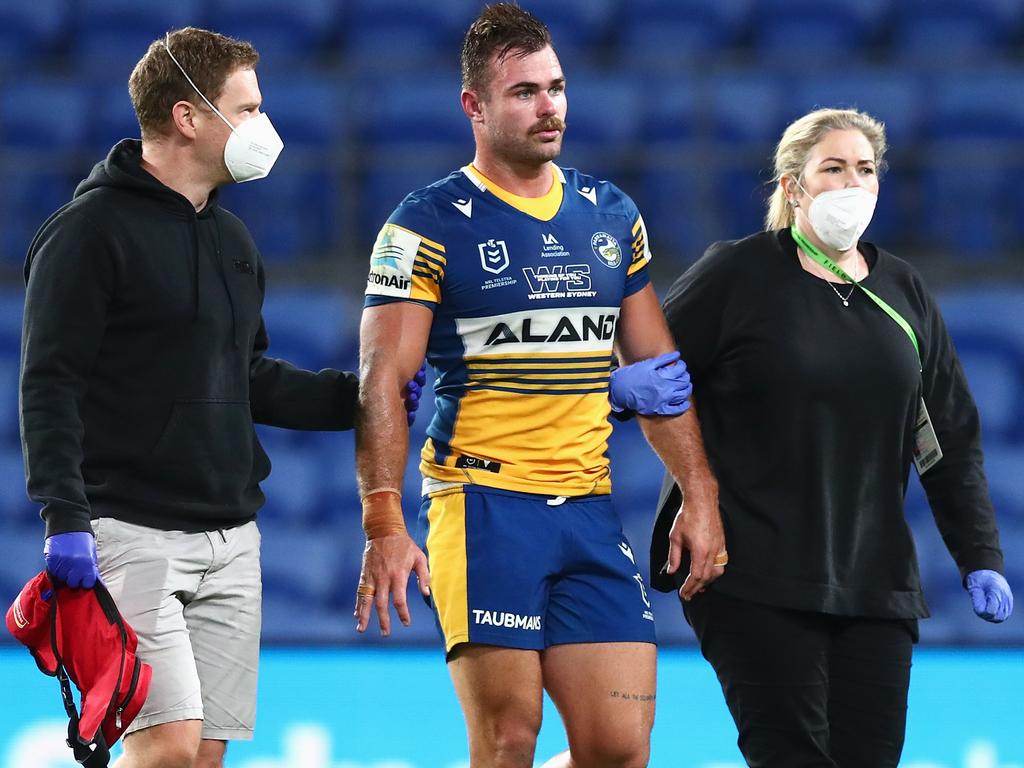 Keegan Hipgrave is assisted from the field in his final NRL game: Parramatta Eels vs Penrith Panthers in round 25 last season on the Gold Coast. Picture: Chris Hyde/Getty Images
It's been six months since Keegan Hipgrave called time on his NRL career and he hasn't had a concussion symptom since.
The absence of rugby league from his life is not as palpable as he feared either. In fact, nothing is as scary on the other side as he could have imagined.
His transition into medical retirement due to ongoing concussion complications was smooth, and it's partly because he threw himself into another passion. Athletes by nature have to be selfish in many ways to be successful. But Hipgrave, who was just 24 when he was forced into retirement in November last year, had long-known how much he could get out of giving back.
And so, with time on his hands, he organised a coffee with an old school friend. By the end of the conversation he was a support worker for NDIS funded service, What Ability. It was a life-changing cuppa that put a smile back on the face of the ex-Gold Coast and Parramatta forward and a new purpose into his life beyond an NRL career.
More importantly, it's helped him impact lives beyond his own.
"I never kicked stones," he tells CodeSports about his decision to retire on the advice of his neurologist.
"Don't get me wrong, it was a really tough decision and probably one of the hardest decisions I've ever had to make, but for me it was all about looking long term and doing what's best for me, which was retiring."
A head knock he suffered in round 25 against Penrith last year was the final straw. He suffered six weeks of consistent headaches and wild mood swings, in addition to a worrying history of concussions.
In 2019 at the Titans, he'd spent six months out of the game on advice from doctors after three bad knocks. That turned into 12 months on the sidelines because of the Covid disruption to the 2020 season.
"I felt really good afterwards. It's one of those hard ones where once you've recovered, you feel good, you can train and you can do everything," he said.
"I was really keen to come back and play, I didn't second guess it. If I was second guessing I probably wouldn't have continued to play. The way I looked at it was pretty much, I've hurt myself, I'm going to rest and recover.
"I played that full season at the Titans and played most of the season last year with Parramatta. It was one of those things where I got unlucky."
He'd known for a while his brain's susceptibility to concussion symptoms could cause the end of his NRL dream.
"I told myself I wasn't going to do anything for six months after I retired," he continues.
"I'd been playing footy and working pretty hard, so I thought, I'll take it easy for a while.
"Then I caught up with Steve [Dresler] who is a good friend of mine. We went to school together and he's the CEO and owner of What Ability.
"I came in and had a chat with him and after that I was sold."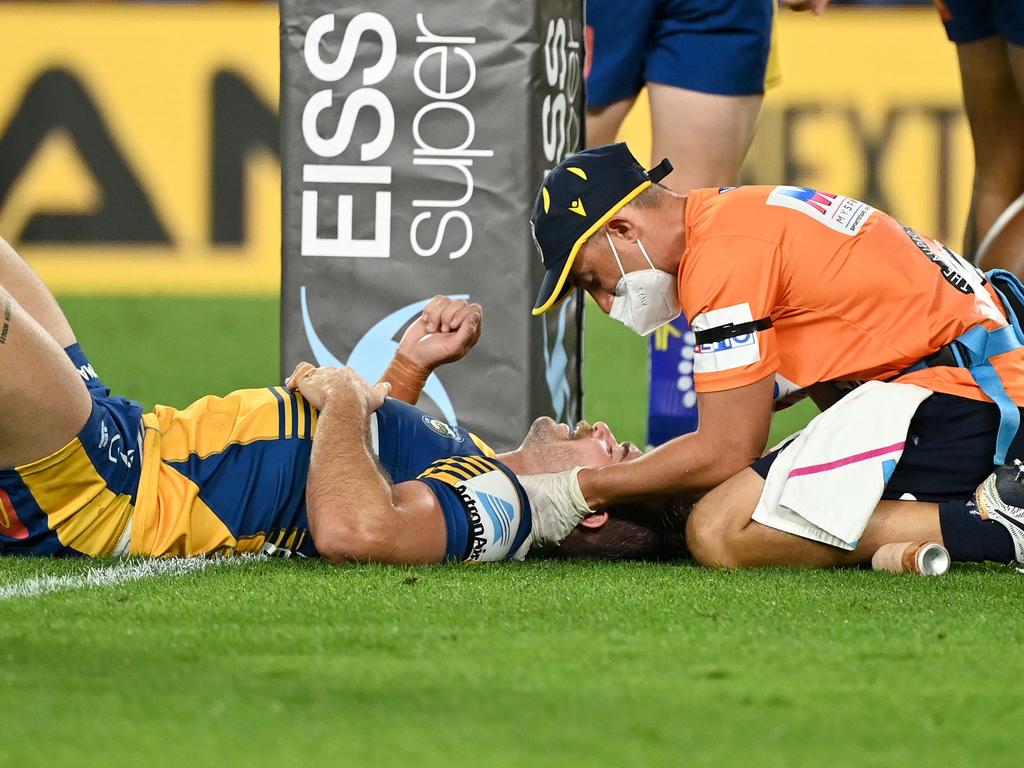 Concussion ended Keegan Hipgrave's career.
*****
Hipgrave is intelligent and bright. He's always been pragmatic about having a back-up plan. He has a business degree and is studying his MBA through Bond University, a course he started while playing at the Titans.
But not until he started volunteering an hour at a time with surfing for the disabled on the Gold Coast did he realise how much he could get out of helping others.
It sparked a new passion for him that he takes into the office every day now.
"We focus on community access, we just go out and have fun with our participants," he explains.
"They can range in age from five years old to 64 years old.
"When I first started (as a support worker), I picked up a kid who was pretty much non-verbal, he had phrases that he knew, pretty severely autistic, but he loves footy.
"We would go to the park and kick the footy for two hours, and then go and have lunch somewhere, and then we might go to Ryde swimming pool or an ocean bath or somewhere because he really liked being in the water. We'd spend the rest of the afternoon in the pool. When the shift was done I'd bring him home.
"A lot of the times you're trying to communicate, some might be non-verbal so they get frustrated, but it's all about working with them and once you spend a couple of shifts with a participant you get to know them and their triggers and what they enjoy."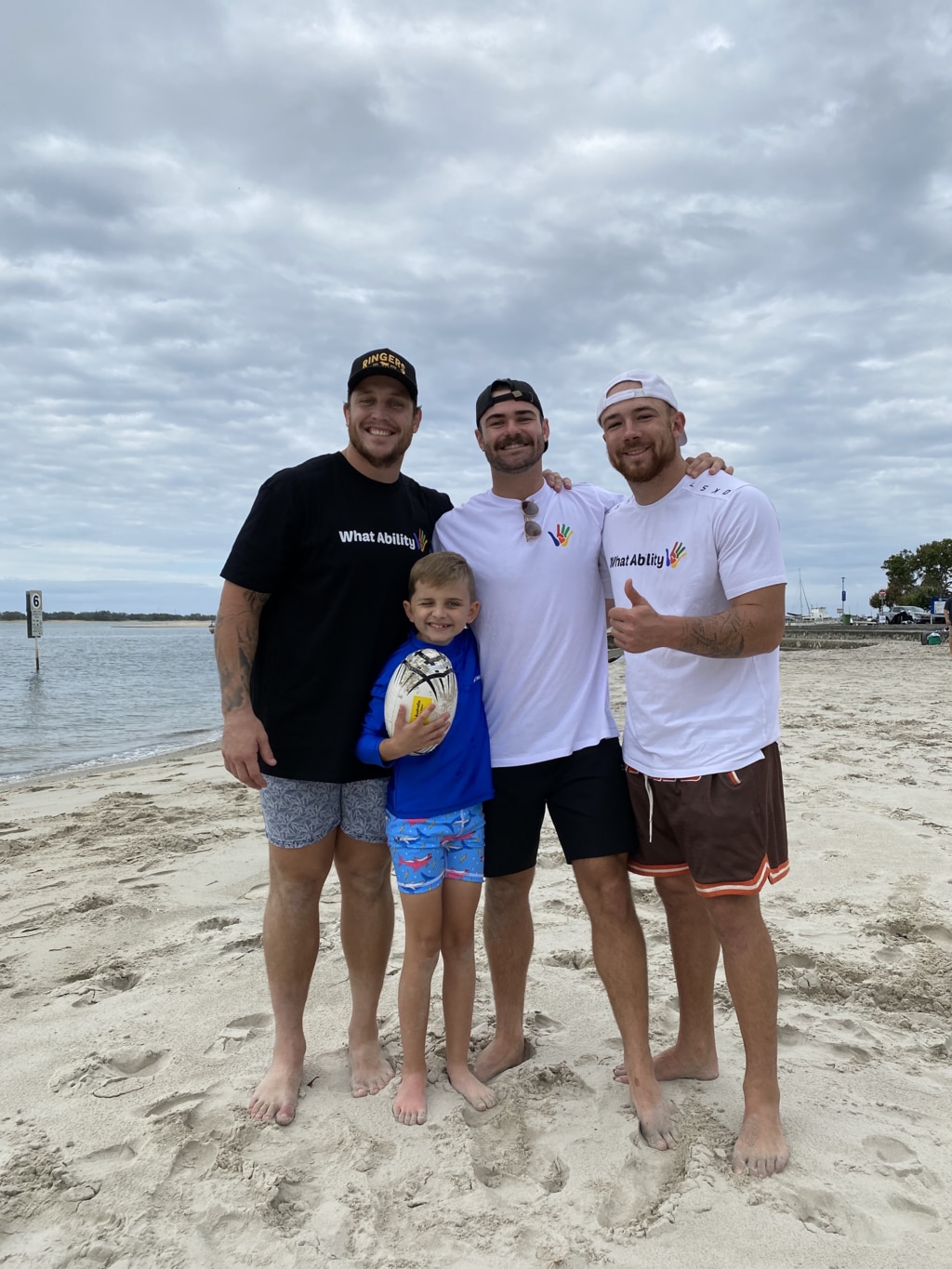 Keegan Hipgrave is enjoying his time with What Ability. Picture: What Ability
Naturally, comparing an early retirement to the struggles of everyday people is a grounding and eye-opening experience.
He's recently been appointed as account manager for What Ability as they expand into Victoria and Western Australia, and his role is to manage and find new athletes to come on board and help the cause.
The pitch is easy. Have fun, help others, and get the warm and fuzzies in return.
"That's why I would encourage any young athletes coming through to experience it because it's so eye-opening and it definitely gives you perspective on how lucky we are and what it's like to give back," he says.
"It's such a small amount of our time but it makes such a big difference to the athletes. They get so much out of it.
"It makes them a better athlete too. It's one of those rare industries where everyone benefits.
"We take participants out and they get so much out of it, but we also selfishly get so much out of it because it's such a good thing to do.
"Football is not forever, it can be a pretty short career at times and you have to be pretty lucky to have a five or 10-year career. It makes the transition so much smoother and it did for me, for sure. If I wasn't proactive in my career I wouldn't have landed in the role that I am currently in."
*****
Hipgrave was one of three players, including Sydney Roosters captains Jake Friend and Boyd Cordner, to retire due to concussion complications in 2021.
Brain injuries and their long-term impacts are a growing concern in contact sports and the NRL, by way of research, resources and rule changes, are doing their best to protect players.
Jake Friend and Boyd Cordner also retired due to concussion in 2021. Picture: Dan Himbrechts/AAP Image
"It's a pretty recent topic, back in the day it wasn't considered and it's an old-school way of thinking where if you get a head knock, you carry on," Hipgrave says.
"It's not until maybe the past five years or so where we've seen the impacts overseas in the NFL, and the NRL are taking a really good stance on it where they're proactively looking to see if anyone does get a knock, that they have to have the rest and recovery.
"There's people on the sideline now full-time looking out for that. The NRL have taken some good steps.
"It's hard because it's such a complicated issue but I do think the NRL are doing everything they can to look after the players' wellbeing."
Despite the difficulties he faced in his NRL career, he still loves the game as much as ever, often going to Brookvale Oval for Manly games to watch his mates or travelling with the Eels on away trips.
Thanks to his work, he knows how lucky he is to be able to do that.