Greg Inglis: The Indigenous All Stars exercise that opened my eyes to our culture
A decade after he first represented the Indigenous All Stars, GREG INGLIS reveals how those early camps changed him, and the moment that still gives him goosebumps.
Greg Inglis leading the Indigenous All Stars in 2017. The team has been hugely influential in his life and career. Picture: Brett Costello
It's been 10 years since I went into my first Indigenous All Stars camp and the lessons I took from it will stay with me for life. I was injured for the first two games in 2010 and 2011 but when my turn came around in 2012, I'd already spent years learning how to be a leader.
I like to sit back and observe how other players go about their business, and I was lucky enough to have great players around me at Melbourne. Guys like Matt Geyer, Robbie Kearns, Cooper Cronk, Dallas Johnston, Ryan Hoffman, Billy Slater, Cameron Smith and of course, Craig Bellamy, instilled in me very early how to carry yourself as a person away from the field. It then carries onto the field, as well.
In that 2012 All Stars camp, we had guys like Sam Thaiday, Johnathan Thurston and Justin Hodges. They were all huge voices, not just in rugby league but in their Indigenous communities.
But looking back, I feel like I was establishing myself as a leader without knowing it or trying to. I realised it when we were standing around talking about the Unity Dance and who would be standing in the middle. The players seemed to look at me.
By that stage in my life and career, I was comfortable with who I was. And so, I said yes. I'm a proud Dunghutti man, so to get that opportunity on such a big platform … it still gives me goosebumps thinking about it, especially knowing the company I was in.
It was incredible.
Greg Inglis leads the Indigenous All Stars' Unity Dance in 2016. Picture: Dan Peled/AAP
*****
That whole week was satisfying and rewarding. Dean Widders was the man who brought the idea of the Unity Dance to us and we all jumped on board wanting to learn. It started out looking very different to what you see today but it was a collaborative effort from all of the players who had different opinions. Some guys took a step back from the planning, which is fine. When you go into these camps, you really find your identity and how comfortable you are within yourself. You're being asked to express things you probably haven't before.
One of the most powerful parts of the week is a very simple exercise.
All of the players stand in a line, in order of who knows the most about their culture and family history, down to who knows nothing. The players at the end of the line are sometimes part of the stolen generation. It's surprising to see how many players don't know who they are.
When I first came into camp, I was in the middle, towards the front of the line. As time went on and I learnt more and more about my culture and my family, I moved right to the front.
This tool in particular is a conversation starter and that's the most powerful thing about these camps. It's a sacred place for Indigenous men to talk about the problems they face, where they may not have been able or willing to talk to other people about them before.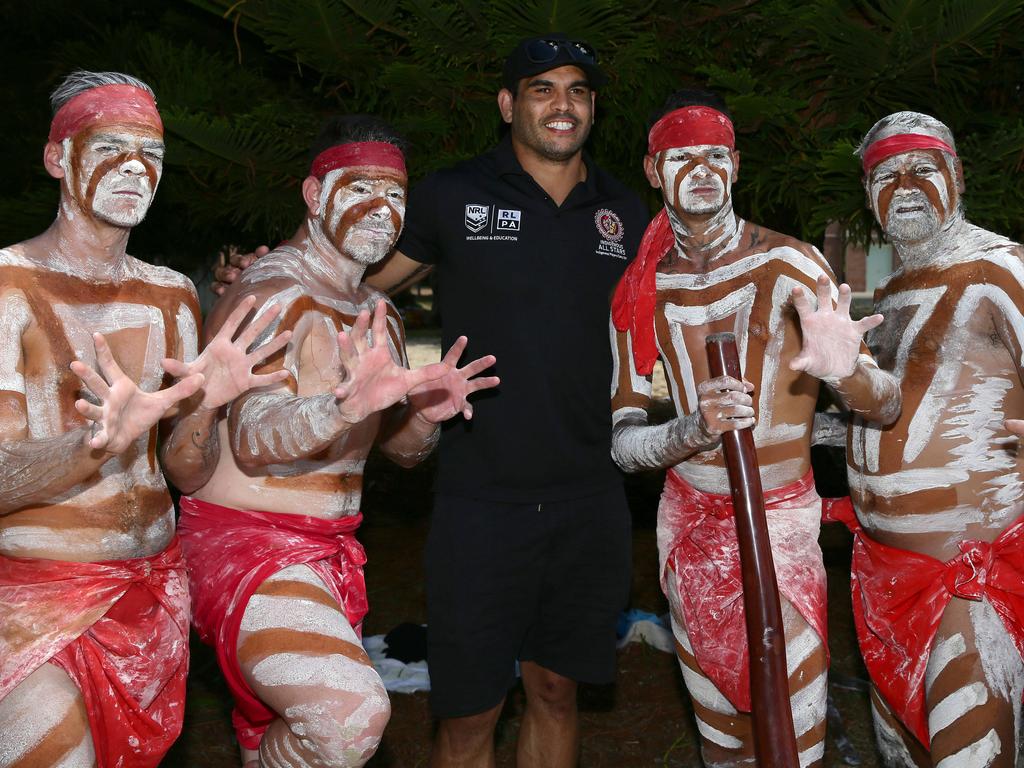 Greg Inglis says All Stars camp is a sacred place for Indigenous players to talk about their families, culture and histories.
This week gives players pride and purpose. It makes them realise who they can be. Hopefully they start to recognise how much of an impact they have, not just in their own little bubble but in the real world.
There's a broader audience out there of fans and Indigenous kids that they can inspire in a powerful way. Little exercises and workshops throughout the week give players a better sense of identity, allowing them to ask questions and be more comfortable with who they are as they walk through life. It's a chance for them to proudly embrace both their culture and their standing in their communities.
That in turn gives other people permission to be curious about their own lives and culture.
*****
A big issue is that it's hard to learn about Indigenous Australian history, even if you're interested and actively trying to learn about it.
If you compare Australia to New Zealand, they are taught Maori culture from the day they're born and it's so ingrained, respected and celebrated within their society. Australian Indigenous cultures are not, so that's where we must get to.
Here, we have thousands of communities who speak hundreds of different languages, which makes things complicated.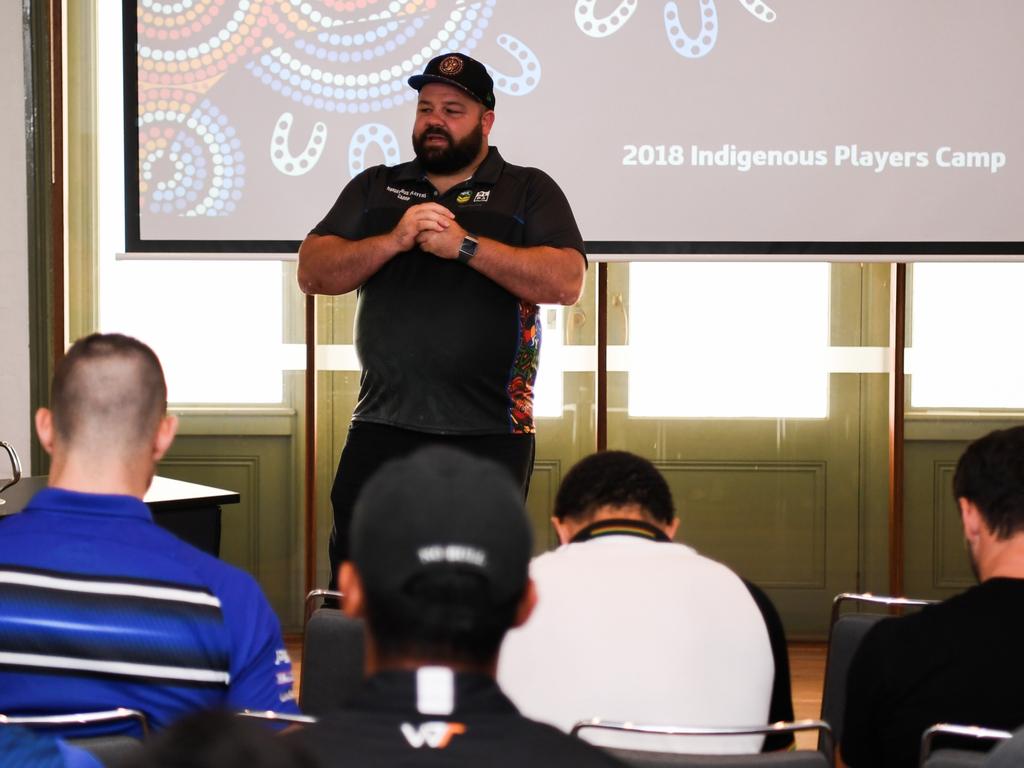 George Rose speaks to players in the Indigenous squad during All Stars week in 2018.
I would love to see the Kangaroos perform a Unity Dance before games, in the same way the Kiwis perform a haka. Previous Australian teams have done it and I'd like to see it happen again. But for it to work, everyone has to be 100 per cent on board, not one foot in and one foot out. It's been spoken about in Kangaroos camps before and Mal Meninga has showed us clips of past players doing the war cry before international games.
But it'll take time. The history and significance of each movement in the dance has to be explained in the right way for players and the public to understand. It's asking not just Indigenous players but the entire Australian team to do something they've never done before, or maybe never even seen.
It's not taught in schools, so I do my best to teach my kids about their family history and culture by talking about it. They get it and if they have questions, I answer them as best as I can, but I'm still learning too.
Working in the mental health space with the Goanna Academy, I'm travelling to different parts of Australia and visiting elders, which has helped me learn a lot. It's taught me about the unwritten rules of respect for each and every community.
Greg Inglis says Justin Hodges and Johnathan Thurston were influential leaders in footy and in the community. Picture: Bradley Kanaris/Getty Images
*****
Leaders come in all different forms but Josh Addo-Carr will be a great captain for this Indigenous All Stars squad.
He's bubbly and funny but also proud and confident. He'll make everyone feel welcome and relaxed for what can be an emotional week. It's cool to see how he's grown as a player and a person. What really helped him was leaving Sydney to play in that Melbourne environment, under Craig Bellamy and the standards he puts in place.
Being thrown into the role of Indigenous All Stars captain will be an eye-opener for Josh but it's another chance for him to learn. He has a powerful voice to bring people together.
When Preston Campbell first came up with this All Stars concept, everyone was excited but no one knew where it would go. To see where it is now, as a ritual on the rugby league calendar and a platform for Indigenous culture, is amazing.
It's a chance for Indigenous people to be proud of who they are and for the rest of the community to celebrate it.