How former NRL star PJ Marsh's life was turned on its head by crusher tackle
This was the day Queensland Origin star PJ Marsh's life changed forever — spiralling into depression, hatred of rugby league and a feeling he was abandoned by the NRL.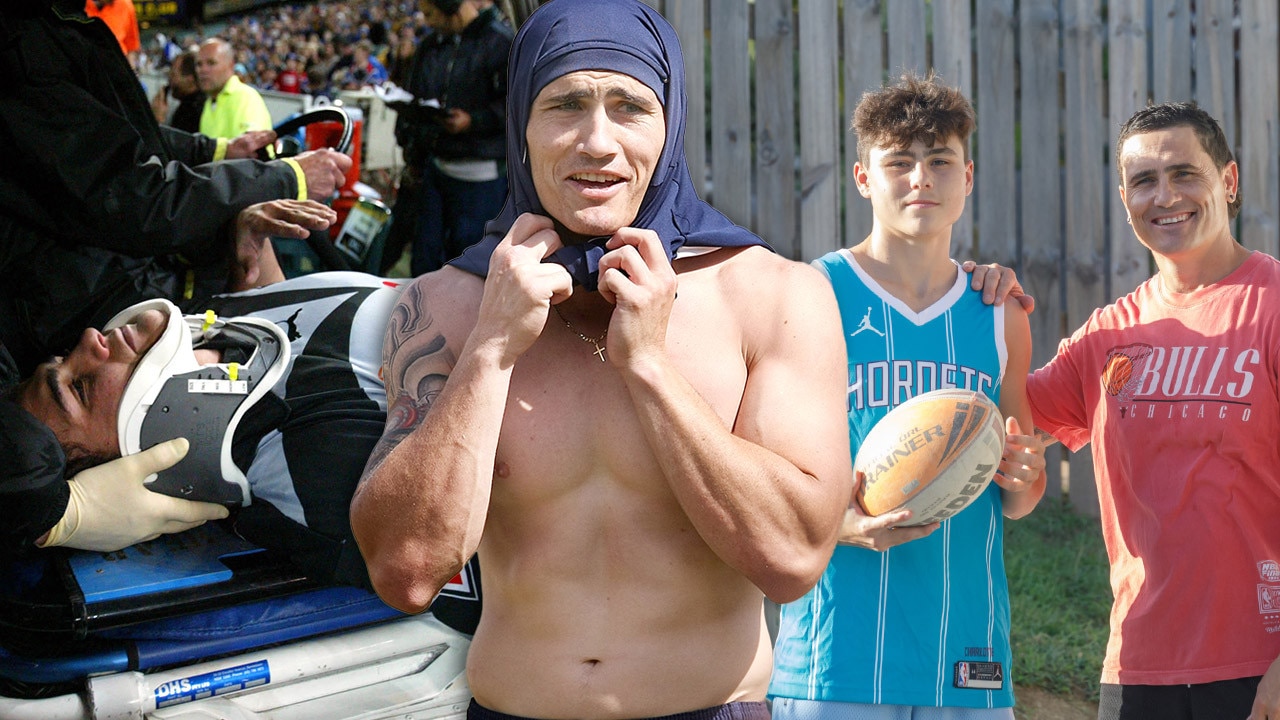 PJ Marsh still feels the pain of a tackle that broke his neck almost 20 years ago.
It is June 14, 2003. Marsh's Warriors team are playing against Parramatta.
He is taken down low but Eels second-rower Darren Treacy completes the tackle with pressure around his neck.
It wasn't the worst tackle we've ever seen but it sent his life spiralling towards depression.
He is the living and breathing proof that the NRL's hard-line stance on spear tackles, head-highs, crusher tackles and cheap shots is the way to go.
And that dinosaurs like Phil Gould, who complain about send-offs and that the game is going soft, need to be ignored.
For years after he was medically retired, Marsh hated rugby league.
So disillusioned, he gave away all his jerseys, even ones from his two NRL grand final appearances.
He wouldn't let his boys play.
The game had abandoned the pint-sized Queensland State of Origin, Eels, Broncos and Warriors hooker and left him with tens of thousands of dollars in medical bills.
Now 42, Marsh is telling his story to encourage the NRL to remain vigilant on foul play.
No more $1000 fines for million-dollar players.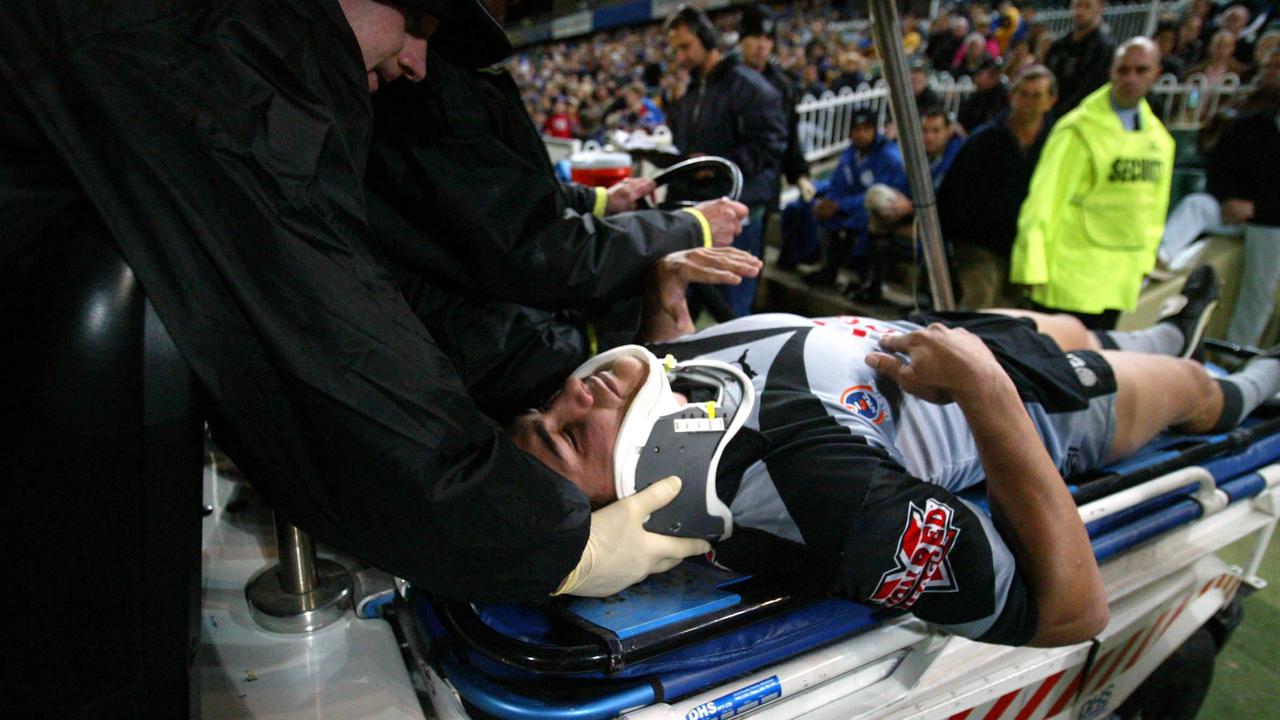 PJ Marsh taken off with what would turn out to be a career-ending injury (AAP/Action Photographics).
"I was just a little fella in a big man's game," says the 173cm-tall hooker, who played at just 78kg.
"A fracture in the neck cost me two years and two surgeries.
"I don't want this to be about 'poor me' but things are hard. I can't even go for a run, the pounding on the footbath is too hard, I can't use the gym.
"I just deal with it and get on with it."
Through the love and support of wife Kelly and his children Waverley, 17, Braelan, 15 and Jay, 13, Marsh is in a much better head space these days.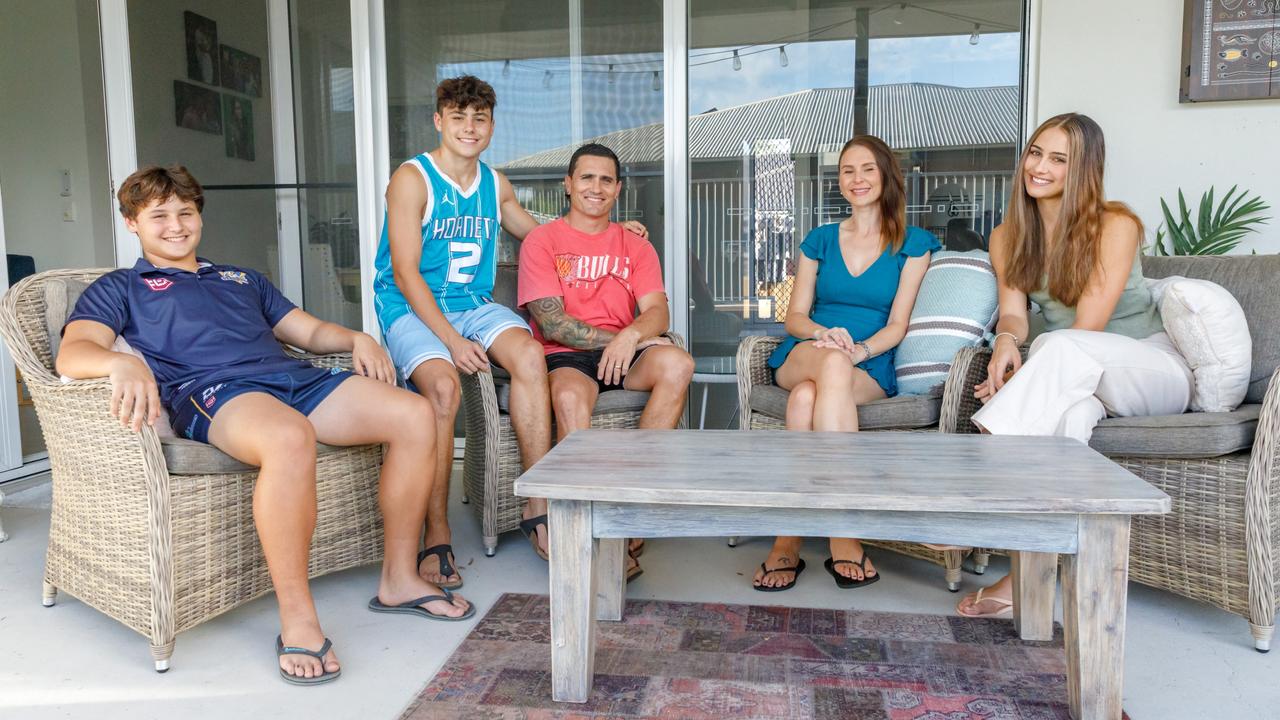 PJ Marsh at home with his family in Yeppoon. Picture: Steve Vit
THE INCIDENT
The fact Treacy's tackle didn't look particularly bad highlights the dangers of the more serious ones. In fact Treacy wasn't even charged, according to NRL records.
"I heard a couple of cracking noises," Marsh explains. "It was probably accidental. I fell into it a bit.
"As I tried to get up to play the ball I had this ridiculous pain through my whole body.
"It scared the absolute shit out of me. You try to wiggle your toes and move your fingers.
"It's shocking fear. They put me in a brace. Then an ambulance. Then hospital and I couldn't move for two days."
X-rays revealed a neck fracture.
He was sidelined until 2005.
WATCH VIDEO OF THE INCIDENT BELOW.
THE AFTERMATH
Marsh made his comeback and played for Parramatta and Brisbane but says: "I was never the same player again."
He played five games in 2009 before getting hurt again, this time a back injury, and drifted off into retirement.
"The cost has been enormous," he said.
"In any other industry where you get hurt as seriously as I did, you get your medical bills paid or at least some help with them.
"I couldn't believe the game wiped me the way it did. I've never had anyone check on me since the day I retired. Maybe I'm partly to blame because I just sucked it up and didn't reach out for help."

The Broncos paid out the final year of his contract when he was medically retired.
However there are still expenses like flights to Brisbane from his home in Yeppoon to see specialists, to get MRI scans and undergo other tests.
"I've tried cortisone injections and exhausted every medical avenue," he said, "It all adds up.
"It's for peace of mind because I still get nervous that something in my neck isn't right."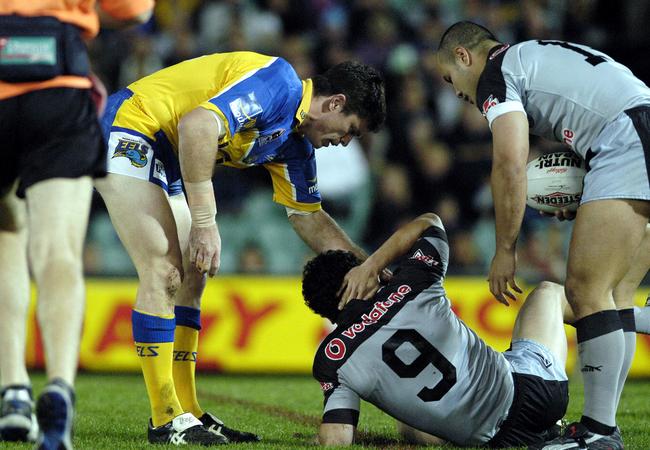 The incident didn't look particularly bad (AAP/Action Photographics)
THE MENTAL HEALTH
"People think you're tough because you played NRL," he said.
"I went and lived in a small country town for a few years and hid away from the world."
Marsh's refuge was in Middlemount, a speck on the map 250km inland from Mackay.
"It was my wife, who has been incredibly supportive, and three beautiful kids that kept me going," Marsh said.
"A lot of people do the old 'there's a lot of people out there going worse than you'. Well, am I meant to feel better because some poor bugger feels even worse than me. At my lowest points I felt pretty damn ordinary. I hated football, I hated everything. I didn't watch it, I didn't want my kids to play. I gave all my jerseys away. My Warriors grand final jerseys. I didn't want anything to remind me of the shit I'd been through."

He did however give his mum his Queensland Origin jumper, which remains a family treasure.
Marsh is now on top of his mental health.
"I got better and I've done a Cert four in youth work," he explained.
It gave him the skills and knowledge to deal with social, behavioural and welfare issues.
"I worked at Head Space for a couple of years and learnt a lot about myself that I could give back to kids," he said.
He now works on a drill rig on coal mines. It's not physical but his shifts are long and often overnight.
It keeps him away from home for seven days each fortnight.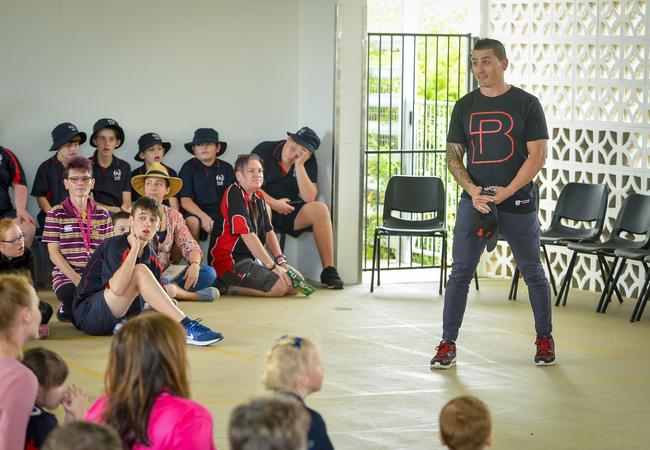 PJ Marsh speaks to children at Rosella Park School, Gladstone.
THE RECOVERY
Marsh has fallen back in love with rugby league.
"I didn't want my kids to play because I was that filthy on the game," he said. "I was still angry about what had been taken away from me."
Marsh was out of town when wife Kelly registered his boys.
She could no longer hold them back. They had dreams of being like their dad.
And it has since inspired their father to get back involved to the game.
"I started seeing the enjoyment and the smile with my first boy," he said. "You could see it in one of his first runs. And I stood there thinking: 'How can I not want him to play?'"
THE TALENT
Marsh's 15-year-old son Braelan recently signed with the Dolphins.
He's one of the hottest kids in Queensland.
Like dad he is a hooker who can already pass like any NRL dummy-half and he tackles like a demon.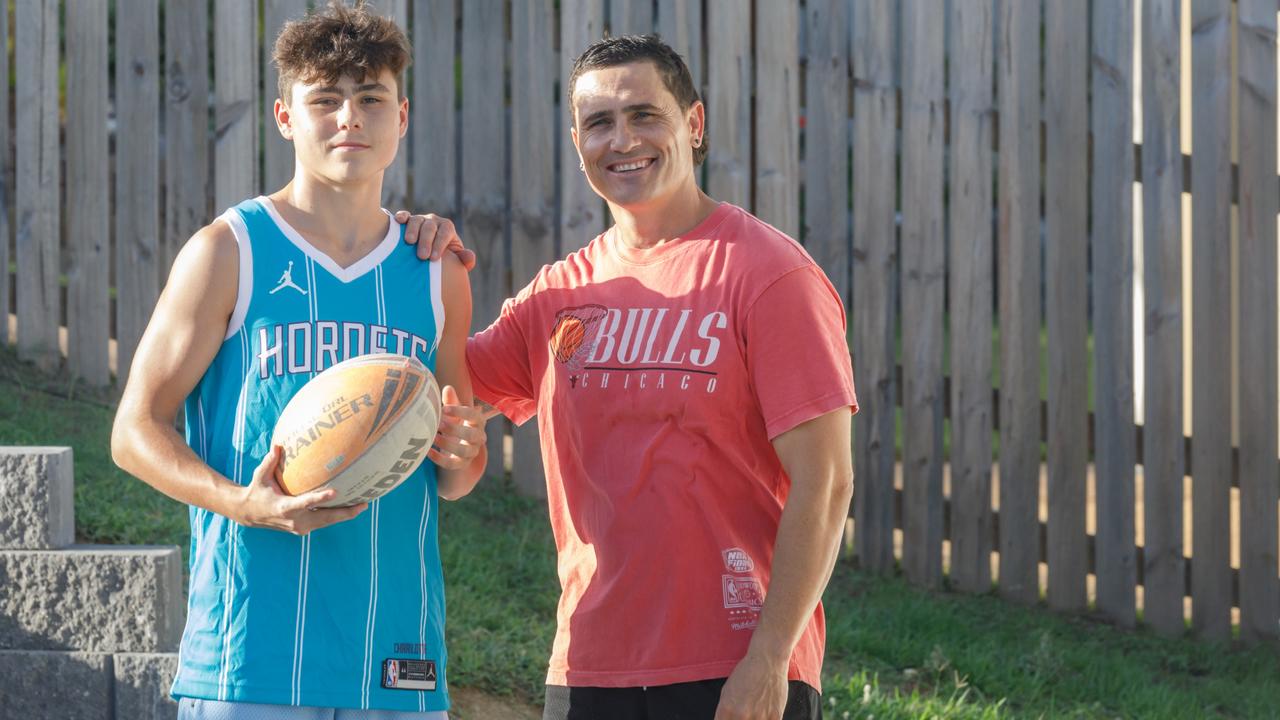 PJ Marsh with eldest son Braelan, who has signed with the Dolphins, at home in Yeppoon. Picture: Steve Vit
Braelan has been in the Broncos and Cowboys development squads at different stages.
The Roosters brought him to Sydney for trials but he's settled on the Dolphins because they are closest to his hometown.
Marsh speaks with enormous pride of his children and their footy.
"I'm really happy they're doing something they love," he said. "Actually my daughter is the most talented of all of them but she couldn't care less.
"She played in her first carnival last year and made the Queensland under 17s side.
"She's just happy doing life. Footy's not for everyone.
"But it's made me start to appreciate what I achieved, not what was taken from me."
WATCH VIDEO OF BREALAN BELOW!
THE NRL CRACKDOWN
Marsh is telling his story he wants strong penalties and deterrents to continue.
He starts out on crusher tackles: "You've got to make the consequences serious to stamp them out.
"They can potentially end a career. They're worse than a punch.
"The bunker should be able to pick them up and they can act on it.
"Not just on report but use the sin bin. You don't see a punch anymore because you're immediately off."
He insists players can be easily coached to avoid pressure on the neck.
"When I first saw it come into the game, I thought what a load of shit," he said.
"I understand some players grab their neck and are taking dives and acting.
"But players can avoid them. You know when you've got an opponent in a bad position.
"You have got to let go and regrip. There needs to be more education on the tackle. Bring in appropriate suspensions because $1000 fines mean nothing to highly paid athletes.
"Missing games is the best deterrent."
Marsh has never been a headline chaser. Just a tough little competitor who played above his weight on every occasion he stepped onto a football field.
"The pain in my back and neck still gets me," he says. "Not every day but it's there. I've learnt to live with it.
"I just don't want my kids or any other footballer to experience what I've been through."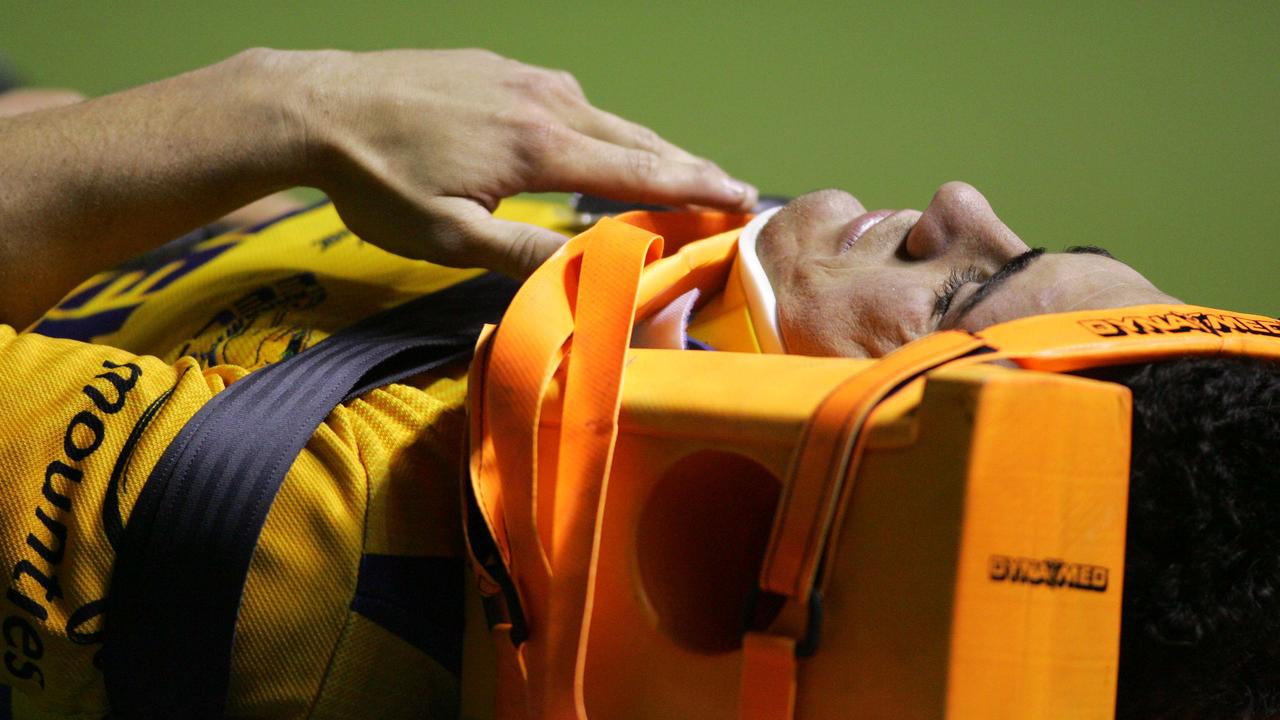 PJ Marsh in a neck brace while playing for Parramatta. Picture: NRL Photos
THE NRL RESPONSE
The NRL's head of football Graham Annesley has crash-tackled opponents of the game's hard-line stance on dangerous tackles.
"Anyone who thinks the game has gone soft or we should back away from our approach to prioritising player safety must be living in some kind of parallel universe," he says.
"If we want to ensure the next generation of young players have the opportunity to become the superstars of tomorrow, we have to convince their mums and dads they can play the game safely without endangering their short-term safety or their long-term health."
Annesley has been involved in rugby league for four decades as a referee and official.
"I have absolutely no doubt the most positive improvement over that period has been in the area of foul play and player safety," he said.
"With the immense scrutiny the modern game is under, intentional foul play has been virtually eliminated through a combination of tough sanctions together with continuously improved systems, accountability, education, and compliance.
"I don't believe any player goes onto the field to deliberately hurt an opponent, however, we have to maintain a strong approach to careless and reckless acts so we can constantly reinforce safety awareness and drive technique change to minimise the chances of unintended accidents."