How 'Valekapa Ball' at the Ipswich Jets shaped Roosters halfback Sam Walker's footy genius
Roosters playmaker Sam Walker was only 10 years old when the Ipswich Jets and a training game named after their star centre Nemani Valekapa unearthed an instinctual star in the making, writes JOEL GOULD.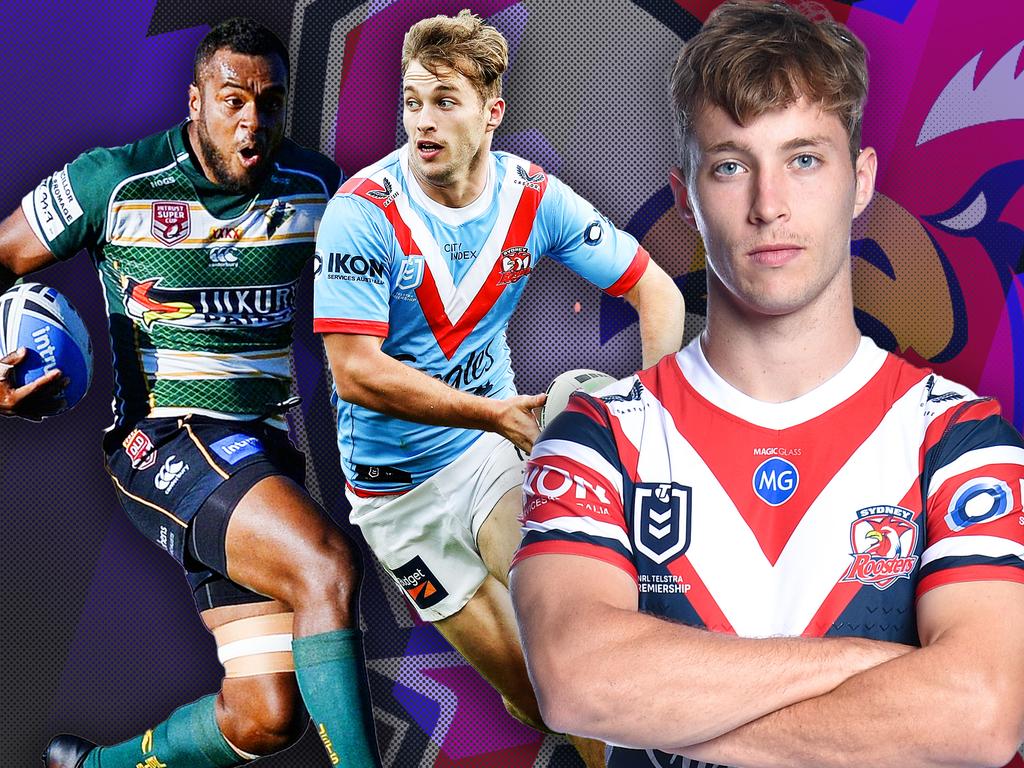 The Walker tradition of playing heads-up footy has continued with Sam at the Roosters.
To understand the instinctive rugby league genius of 19-year-old Roosters playmaker Sam Walker – the 2021 Dally M Rookie of the Year – look no further than a suite of razzle-dazzle training games he played a decade ago at the Ipswich Jets.
'Valekapa Ball' was named in honour of Fijian international and Ipswich's 2015 premiership-winning Queensland Cup centre Nemani Valekapa, who would wrap himself in a magical traditional leaf before carving up opponents with flair and skill.
Sam's father Ben Walker and uncle Shane, both outstanding NRL players in their day, co-coached the Ipswich outfit to the 2015 title and Sam was on-hand from a young age to join the players in attack-oriented training games including Valekapa Ball, eight-touch and a homespun version of 'backyard footy'.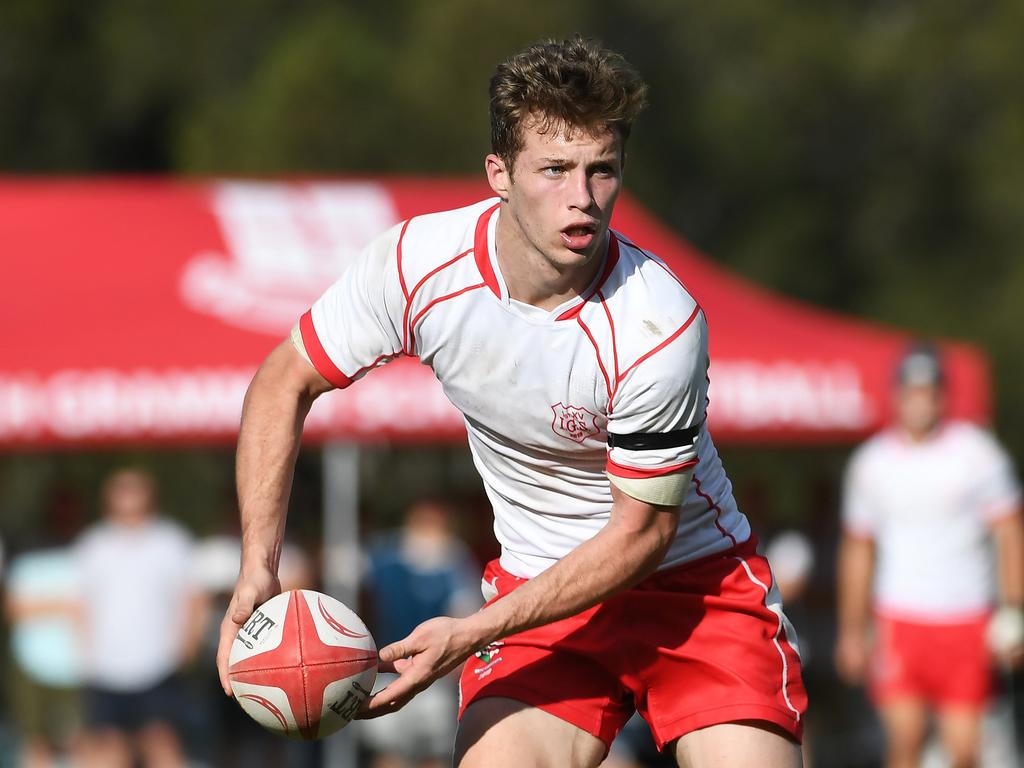 Walker as a 16-year-old playing for Ipswich Grammar. Picture: Rob Williams
In November of 2017 Shane, who played alongside Darren Lockyer and Allan Langer at the Broncos, rang his father Garry and said he had just seen the best footballer he had ever laid eyes on.
Garry, all ears, wanted to know who it was. Shane responded: "It's your grandson."
"Some of the things Sam did that afternoon playing backyard footy and Valekapa Ball were outrageous," Shane recalls.
"Sam would have been 10 when he started shining against adults in Valekapa Ball and other training games. You can draw a correlation from then with how he plays for the Roosters.
"Valekapa Ball was named after Nemani Valekapa. He was called the Fijian Ferrari because he had sublime skills. We had some minor adaptations of one-touch, a full-width field with one tryline and the 40-metre line as the other tryline.
"You couldn't kick but you could offload. If the defensive team snuffed out the offload you had to turn the ball over.
"As soon as you scored you'd turn around and try and score at the other end, so it forced a lot of broken play for the defence and in attack you had to always be in a position to get the ball and keep it alive. That's where Sam shined."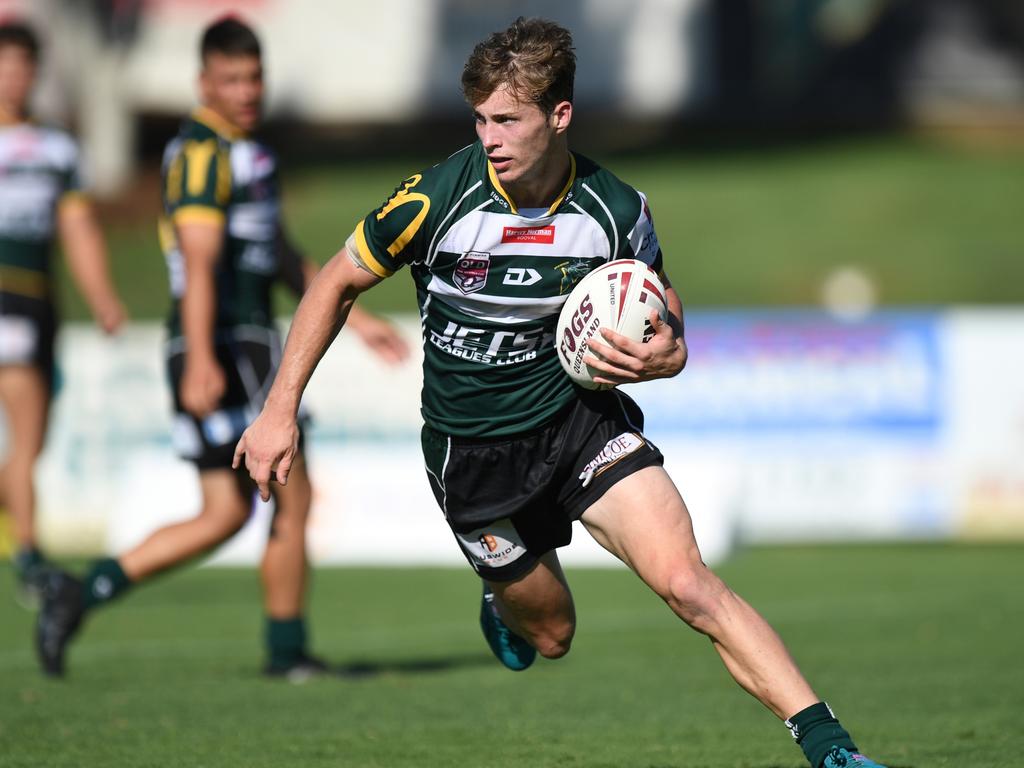 Walker thrived in broken play for Ipswich Jets. Picture: QRL Media
Eight-touch had the same field dimensions, but to start the game the attacking side had to get eight consecutive passes or kicks together without being touched, or it was a turnover.
They were games Sam embraced as he forged a playing style Roosters coach Trent Robinson has enhanced.
"I loved going to Jets training with my old man and my uncle to play those games and they put me in really good stead for coming into the NRL," Sam says.
"Those games I played at Ipswich make you react fast. In the NRL you don't get many opportunities, so you've got to take them.
"One great strength of Robbo (Trent Robinson) is that he allows everyone to play their own game. He somehow makes it all work and allows me to excel with the way I have grown up playing football."
In just 30 NRL games Sam has 25 try assists, 11 linebreaks, 10 tries and 32 linebreak assists. When he gets his hands on the ball it is edge-of-the-seat stuff.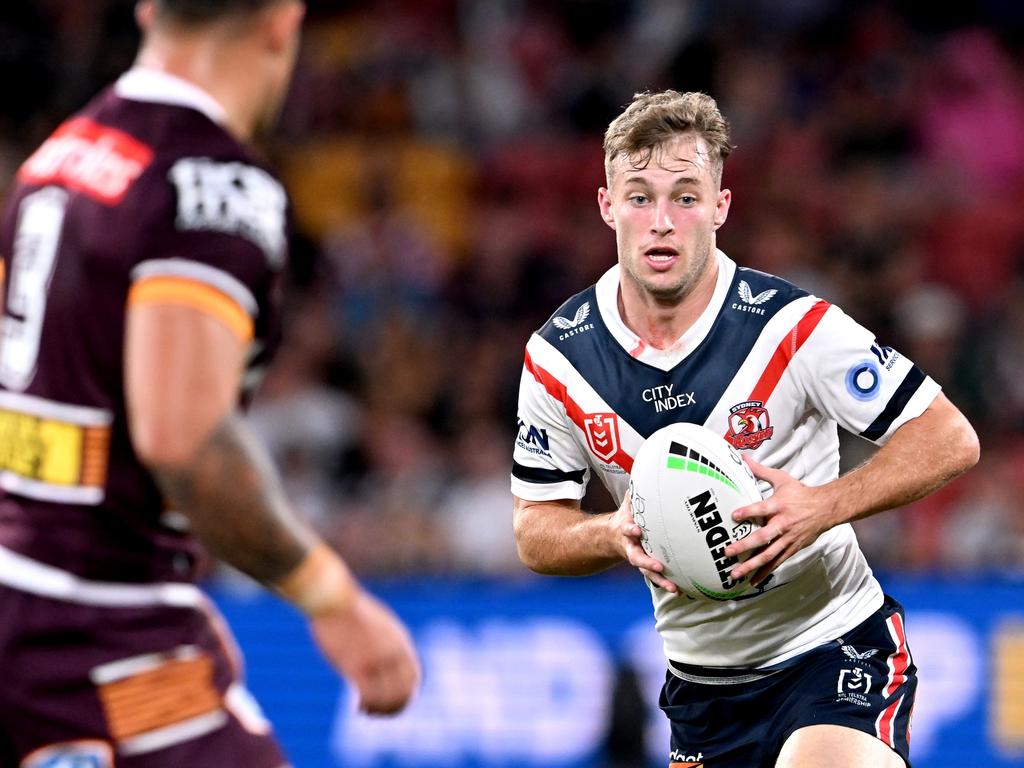 Walker has carried his Ipswich form into the NRL for the Roosters. Picture: Bradley Kanaris/Getty Images
Backyard specialist
When Sam excelled at a modern adaptation of a childhood backyard game the Walker brothers once played, Shane knew his nephew was headed for the top.
"The backyard footy we played at the Jets, which was three-on-three, was a very good metric for myself and Ben," Shane says.
"The better they were at backyard footy the further you knew they would go. Guys like Kurt Capewell, Matt Parcell, Nat Neale and Rod Griffin … you knew they would be NRL footballers.
"Sam, from a young age, was sublime at backyard footy. I'd seen him do stuff on the field that I'd never seen before."
In the Walker backyard in the 1980s, one side of the field was bound by a fence the ball could be kicked into. If it ricocheted, it was play on. Towards the other side of the playing field there was a long oval-shaped garden, called 'mum's garden', which was out of bounds. Beyond that was a green alley and then the other sideline where the brothers and their mates could run free towards the tryline.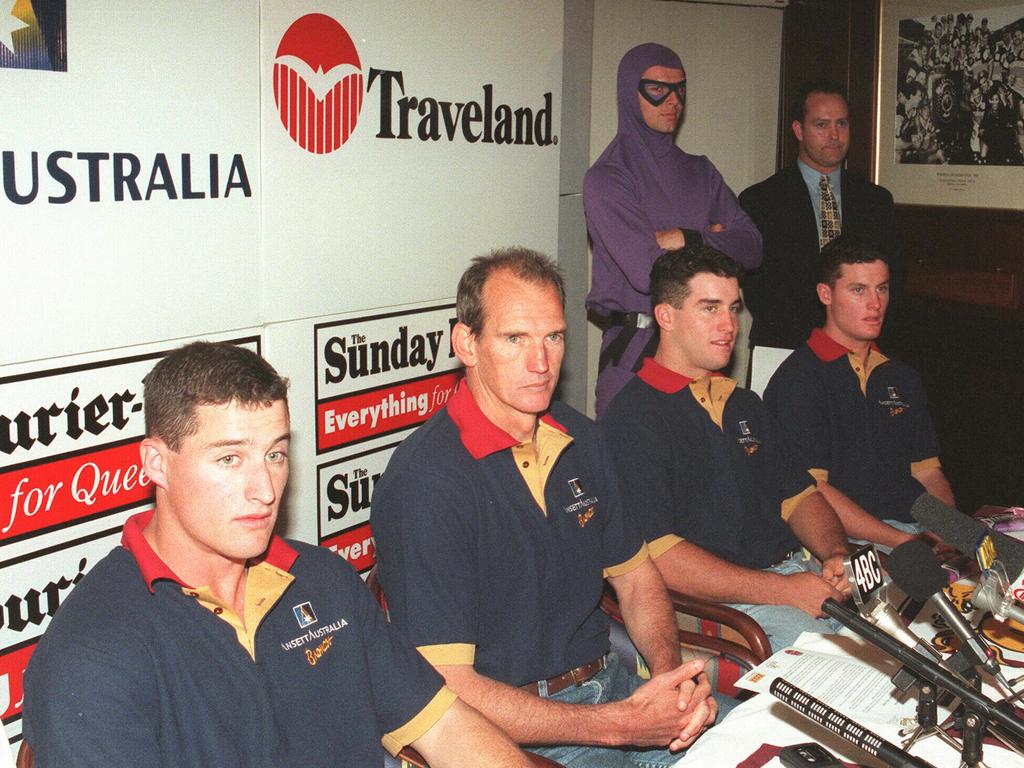 Wayne Bennett announcing the signing of Ben, Shane and Chris Walker for the Brisbane Broncos in 1996. Picture: Graham Hutton
On the training field in Ipswich, 'mum's garden' was cordoned off with markers and the brothers put tackle bags down on the ground as obstacles to make players aware of their surroundings.
"Mum's garden was one metre off the other sideline. You couldn't run in the garden but you could use the garden to your advantage and run between it and the sideline," Shane explains.
"What that created in a game-sense was like making a downfield break and having support on the inside and cover coming across. Players couldn't run through the garden. They had to run around it.
"Players in attack would get themselves in between the garden and the sideline but the defence couldn't get them until they came out the other side. Then players would learn to position their support players on the inside with a flick-pass, an infield pass, a chip kick or an infield kick … just all the skills that Sam shows each week today."
The Roosters are still to hit their straps in attack this season. Last year, Walker's combination with skipper and fullback James Tedesco worked a treat and there's scope for him to provide the inside balls Cooper Cronk used to deliver so well.
"Coops [as Roosters halves consultant] has been awesome as another voice I lean on each week," Sam says.
"I'm loving the connection I'm building with Keary. The way our whole spine plays, we're instinctual footballers and as we keep getting time out on the field together I think the connection is building.
"It is not so much about calling plays. It is about moving for each other, and we'll find each other eventually."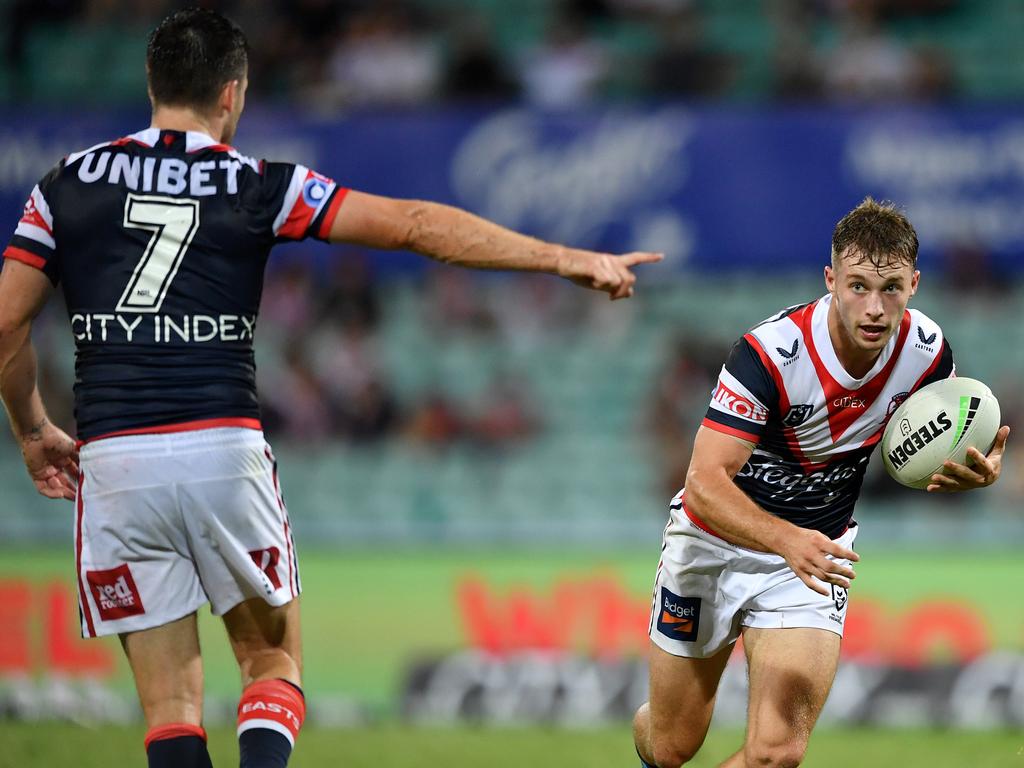 Keary and Walker are slowly finding their feet as a halves combination. Picture: NRL Imagery
Walkerball roots
To hear Sam talk about 'movement' in such a way is no surprise. Ben and Shane Walker's coaching ethos, embraced by Sam, has a rich history.
Ben would have happily played video clips of 1991 Rothman Medal winner Ewan McGrady, one of the most exciting and gifted Indigenous players of recent times, on loop in the dressing room before each game just to reinforce the style of footy he wanted his Ipswich teams to play.
Walker-style also has its roots in the 'contract football' that was a feature of the powerhouse Toowoomba sides coached by legendary Queensland halfback Duncan Thompson. The 'contract' was essentially to distribute the ball to someone in a better position to promote the ball as far as possible down-field in each play.
Growing up in Toowoomba themselves, that style resonated with the Walkers, as did the football of Indigenous and Pacific Islander players.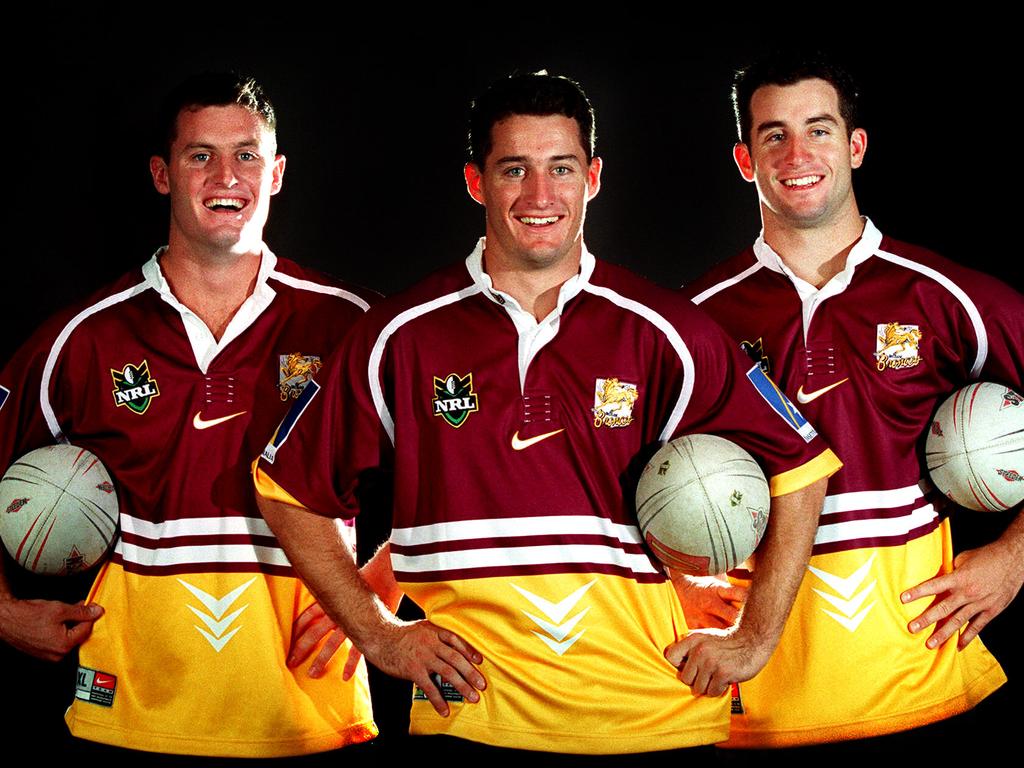 Chris, Ben and Shane Walker loved playing attacking footy. Picture: David Kapernick
"We didn't reinvent the wheel with these training games. A lot of them were adaptations of our time playing with and coaching great players from Indigenous or Fijian communities. I'm talking guys like Owen Craigie, Steve Renouf, Lote Tuqiri, Ricky Bird and Nemani Valekapa," Shane says.
"When we played at the Broncos we went to Lote's village in Fiji and played a game of touch against them on a rough field. You'd have signed five of their guys that day straight-up.
"Ben spent some time up at Lockhart River and we've been to the Torres Strait and admired the way the guys play footy. Sometimes it might not be with a ball. It might be with a shoe or a Coke can."
Sam has noted how his father and uncle were ahead of the curve on several fronts.
"When you see the way the game has been going the last couple of years, you realise they had that vision early on. The game is slowly getting to where Dad and my uncle had seen it heading," Sam says.
"They were pioneers of the newer things happening in the game like short kick-offs and a lot more transitions and early shifts. If they ever got the opportunity to coach NRL they would go really well I think."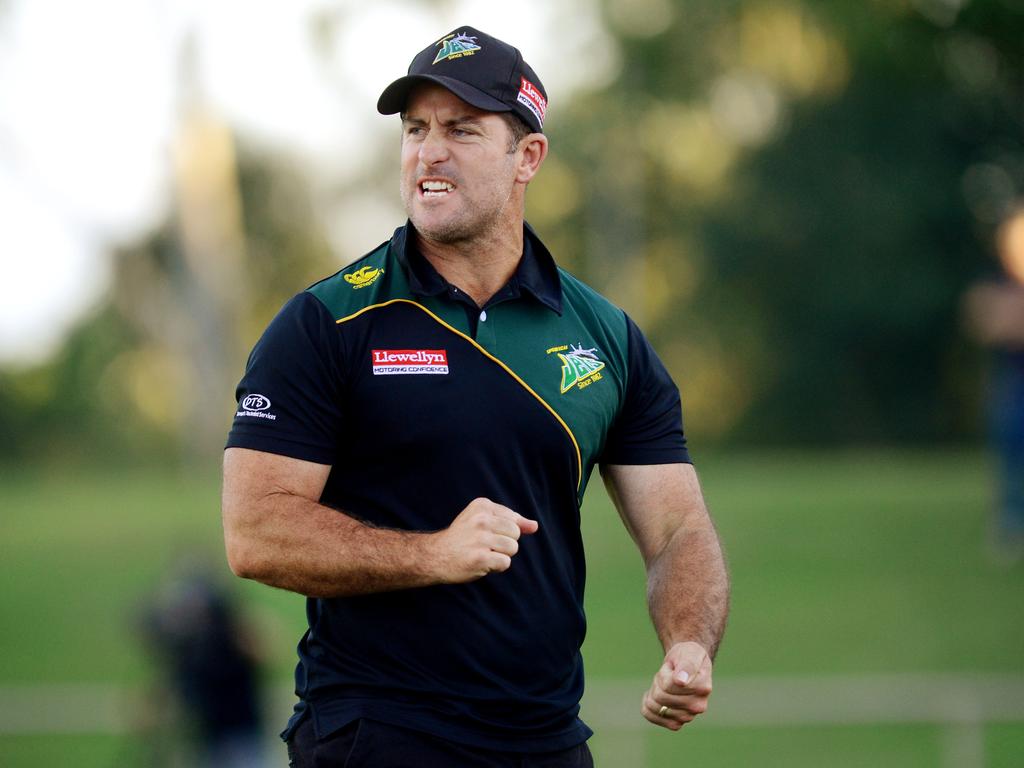 Shane Walker took his attacking prowess into his coaching style. Picture: David Nielsen
As a lad, Sam would watch the nuances of how the Jets players would initiate attacking ball movement.
"He was far smaller and lighter than he is now but from his continual reading of those intricacies in games like Valekapa Ball, Sam was able to put himself in the right positions to get the ball and not get cleaned up by the defence at the same time," Shane says.
"In eight-touch you have to be able to throw the pass to a teammate but in order to execute the next pass double around and get back onside. That's why you will see him continually wrap around in position to receive the ball.
"The Roosters have the ability to adapt and react. Against the Warriors near the tryline recently the fullback Reece Walsh charged out of the line from A-defender at him.
"Sam had a play in his mind he was going to run. As soon as he saw him charge he burned him on the outside. Then when he got to the rest of the defence he stepped back off his left and spun back into the hole where Walsh was. That's just using instinct.
"There was a Newcastle game last year where he set up a try when Kalyn Ponga was A-defender. Sam dummied back under to Isaac Liu and then put a kick in behind for a try."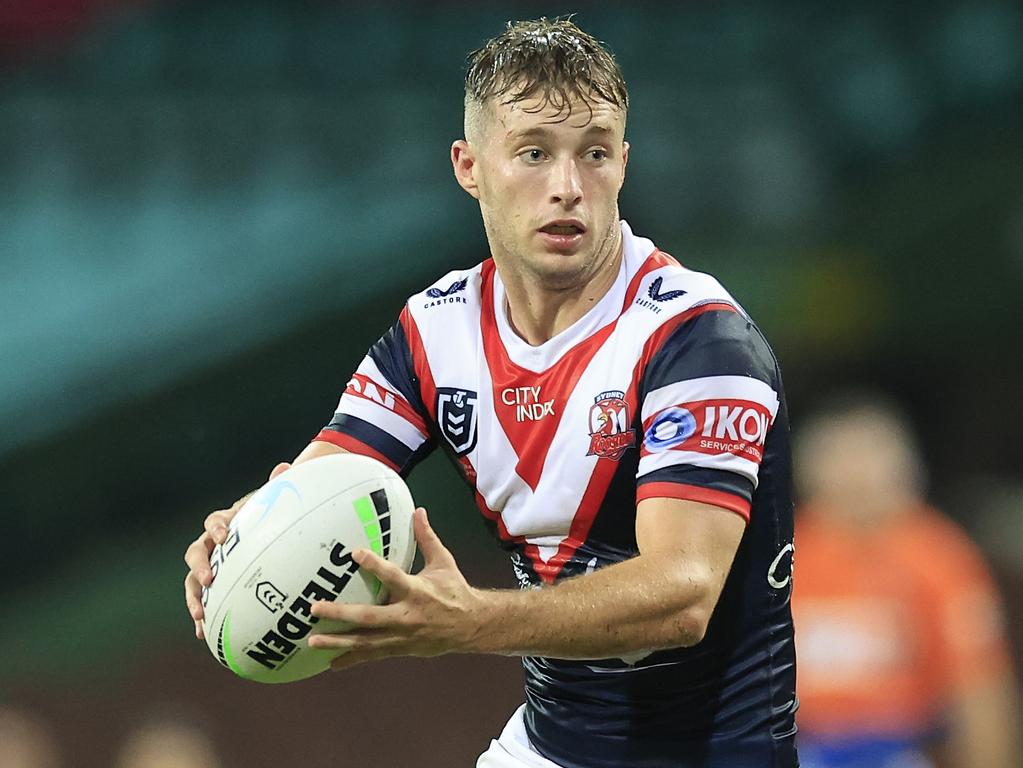 Sam Walker has already shown elements of the Walker attacking flair. Picture: Mark Evans/Getty Images
Shane later asked Sam why he did that and he explained that he didn't even know he was going to kick the ball until he saw, out of his right eye, that Ponga was in the line. He knew that if he got the ball into the in-goal the Roosters would gain a repeat set or score.
"And that's instinct as well. It's not playing to any set rules," Shane says.
As a mark of respect, the Walker brothers had one not-negotiable rule when they coached, and that was that their attacking players should never throw a long pass when an Indigenous player was in the defensive line.
"And Sam broke that rule against the Bulldogs," Shane laughs, referring to a runaway intercept try by winger Josh Addo-Carr courtesy of a Walker long ball.
When it comes to magic though, both agree Valekapa was in a league of his own.
"Nemani had a magic Fijian leaf he would wrap himself in. If he had a broken bone or an injury of any kind he said, 'I will put it in leaf'. He always stunned our medicos with how soon he came back," Shane laughs.
Nemani Valekapa's ability for Ipswich set him apart from the rest. Picture: Rob Williams
Secret kicking lessons
After four rounds this year Sam had landed just eight goal kicks at a strike rate of 53 per cent. That was after a success rate of 54.76 per cent the previous year. Since round four, starting with the 24-20 win over the Broncos, he's nailed 15 from 17 attempts at 88 per cent. The full story behind his improvement has not been told until now.
Before the win over the Broncos, where Sam landed three from three, Ben took his son down to the GPS Rugby Club to practice goalkicking and to go through some drills that served him well in his career.
"Ben told me he had put Sam through the same routine he used to do when he played. He did the same warm-up drills and that included goalkicking with a soccer ball off the ground," Shane explains.
"With a soccer ball it will give you true feedback. If you're hooking your kicks, it will hook. If you are slicing, it will slice. If you are hitting it pure it will go through the air spinning backwards."
Tireless work down at the local rugby club was the fix Walker needed for his goalkicking. Picture: NRL Imagery
Ben fixed his son's set-up, where he had previously been aiming left and right of the posts and kicking it there.
At the end of his warm-up drills when he played, Ben would attempt 10 goals from all around the park and all angles.
"The best he ever did in 13 years was nine out of 10," Shane says.
During the tutorial before the Broncos game, Sam had landed nine from nine. Then two of his mates turned up and his father encouraged them to heckle Sam, just to make it tougher. They were on the sideline giving it to him deluxe when he landed 10 from 10.
That night at Suncorp Stadium, Sam had a kick from near the sideline to make it 18-16 late.
The Walker brothers both have corporate boxes at Suncorp and as Sam lined up the kick, Shane rang Ben.
"I said, 'Can you see his set-up?' and Ben said, 'No, I'm too far back to see, but the kick he had today to make it 10 from 10 was in exactly the same spot, so he will put it over'.
"Ben said when he kicked the last one, Sam went back and re-set the ball twice. On that night he went back three times and re-set … and he nailed it."