Humble legend and stand-in Bulldogs coach Mick Potter is misunderstood in modern NRL
Mick Potter's playing career and personal accolades make him worthy of being known as an NRL great, but his calming personality can be misread as a lack of passion, writes PAMELA WHALEY.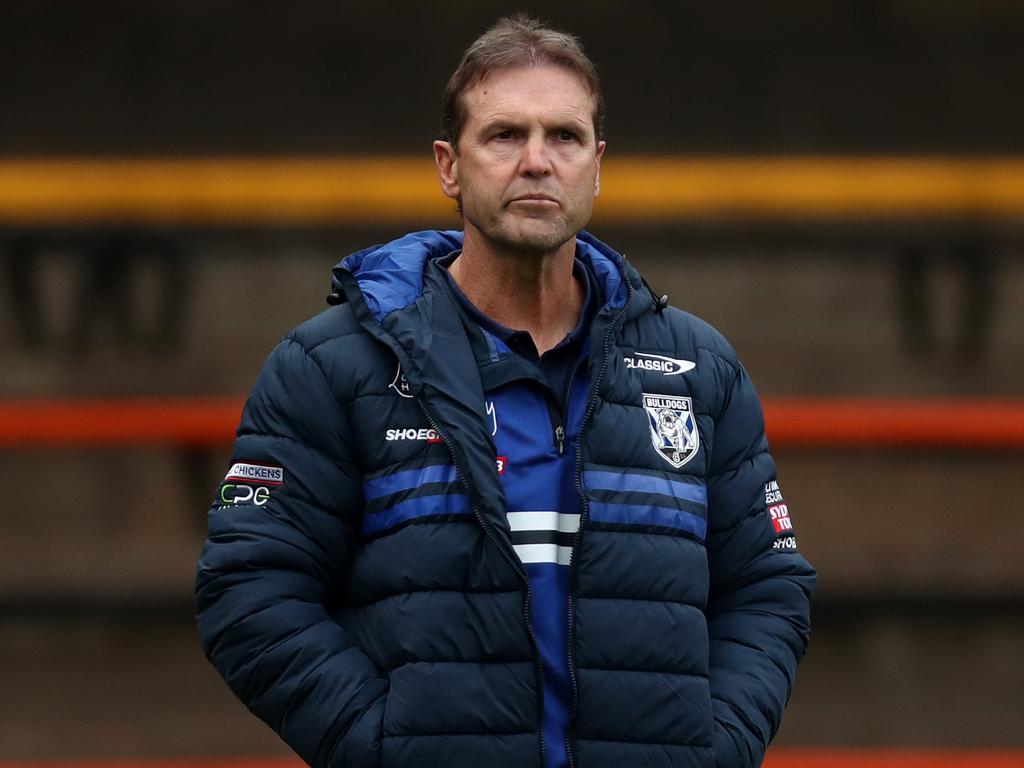 Mick Potter's stellar career deserves more recognition than he currently gets. Picture: Jason McCawley/Getty Images
That's the word that keeps coming up when people talk about Mick Potter, the man.
Those who have worked with him closely have never seen him angry. They've never seen him flustered or aggressive.
It goes the other way too. He's not overly excitable or particularly outrageous in any way.
And from the outside looking in, that can be misconstrued. Calmness in rugby league is rare, especially in a coach. It can come off as disinterest or lacking in passion. But Potter is neither of those things.
He's careful and tough and calm. And that's his superpower as much today as it was when he was playing.
It's what won him the extraordinary feat of two Dally M Medals at two different clubs, seven years apart. One with Canterbury in 1984 and another with St George in 1991. To put that in perspective, the only other player to have won dual player of the year awards across a greater span of time is Johnathan Thurston, who claimed his first in 2005 at North Queensland and his next in 2007 (and two more later in 2014 and 2015).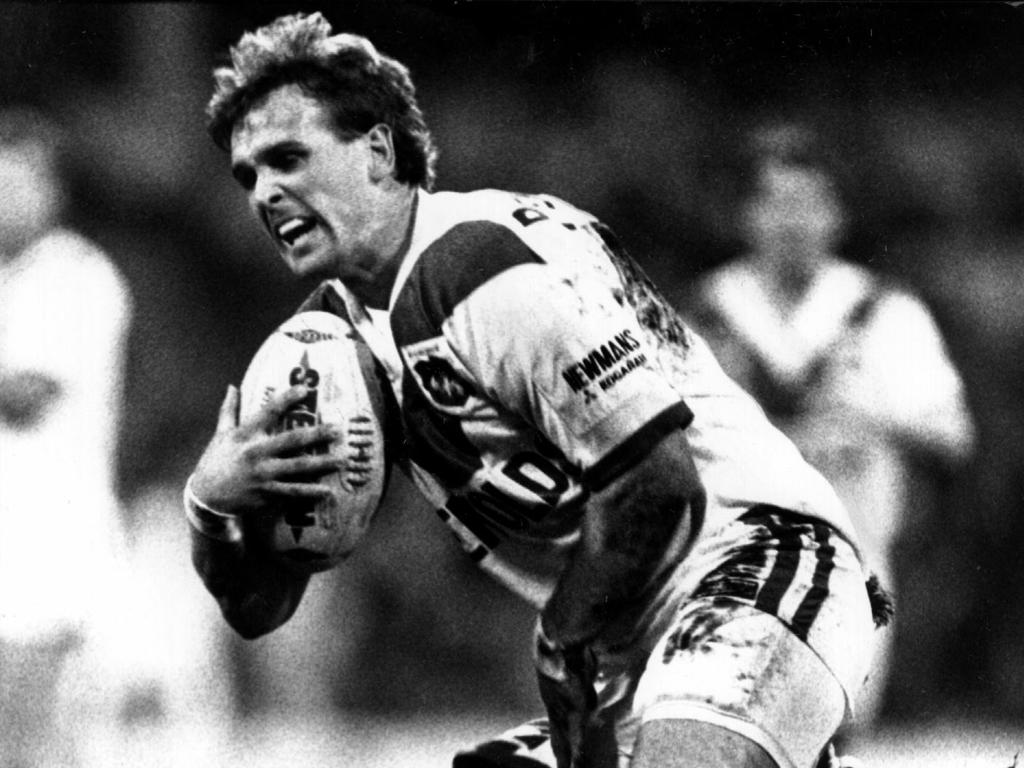 Potter won his second Dally M medal playing for St George in 1991. Picture: File
It's incredibly unique. And that doesn't happen by being inconsistent or lazy.
By this standard alone, Potter should be considered an NRL great. And yet, he's known simply as a club legend by diehard Bulldogs and Dragons fans.
Some of that comes down to personality, and some to circumstance.
But to those who know him well, he's a ripper who deserves another shot at an NRL coaching gig. If he wants it, that is.
*****
Part of the reason for Potter's unassuming reputation is his lack of representative football experience. Despite winning two premierships with the Bulldogs (1984 and 1985), the Dally M Medal and fullback of the year awards in 1984, he wasn't the NSW's State of Origin No.1 at the time.
That honour went to Balmain Tigers legend Garry Jack, who didn't get the same individual accolades (he won one three Dally M fullback of the year awards in 1985, 1986 and 1988 and the Golden Boot in 1986) but was the Blues and Australian fullback while Potter was running around.
Potter played just the one game for NSW in 1984, in game three of the series from the bench.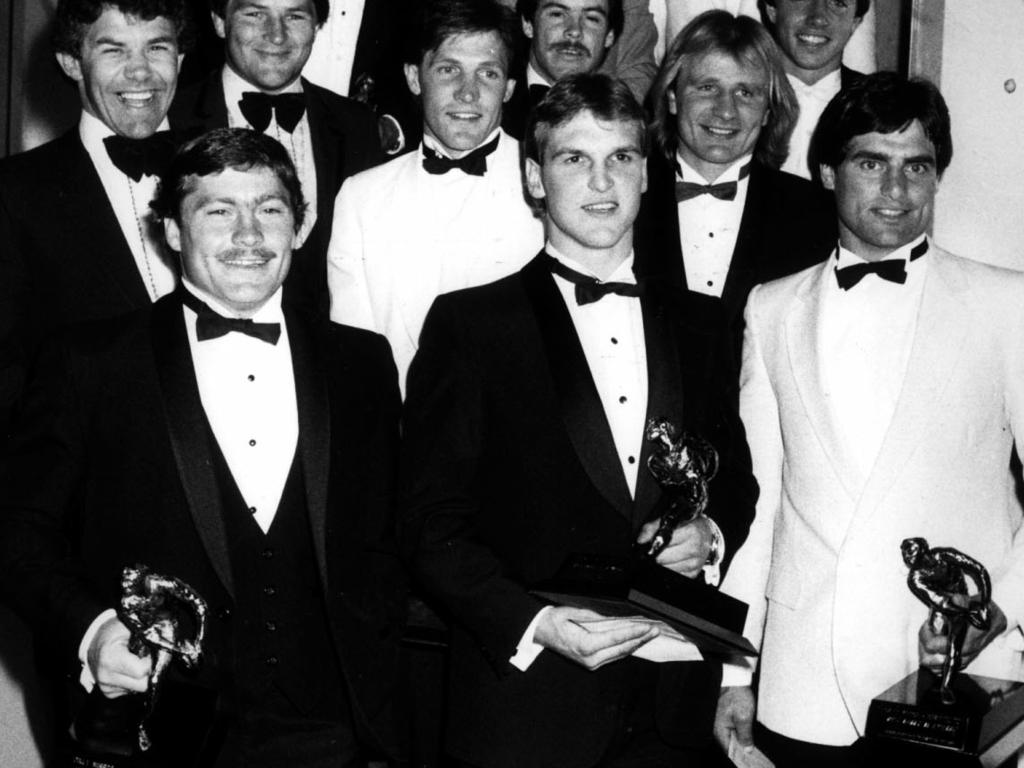 In 1984, Potter (C) won the Dally M award and made his only appearance for NSW. Picture: Peter Kurnik
In a time when not every match was broadcast on television, representative stars were household names unless you were a diehard fan of a particular club and went to Belmore Sports Ground or Kogarah Oval every week.
Potter's brilliance as a player was a niche known to only those who knew his reputation or watched him running around in massive shoulder pads in the flesh on the weekends.
Even rival players didn't get the chance to see the competition every week.
"His strength was that he was a great runner of the ball. The thing about Mick Potter was he was a great kick-returner. He was just tough. Really tough," says Panthers legend Greg Alexander.
The pair never played together, but were opponents through the mid-80s into the early 1990s as two of the best players in the competition.
"The thing that stands out now was his ability to break tackles and get through the line," Alexander continues.
"Fullback was a different position back then. I guess it started to change back in the early 90s. Mick was very good at what the fullbacks didn't do in that era and that was return the footy, they didn't chime into backlines often."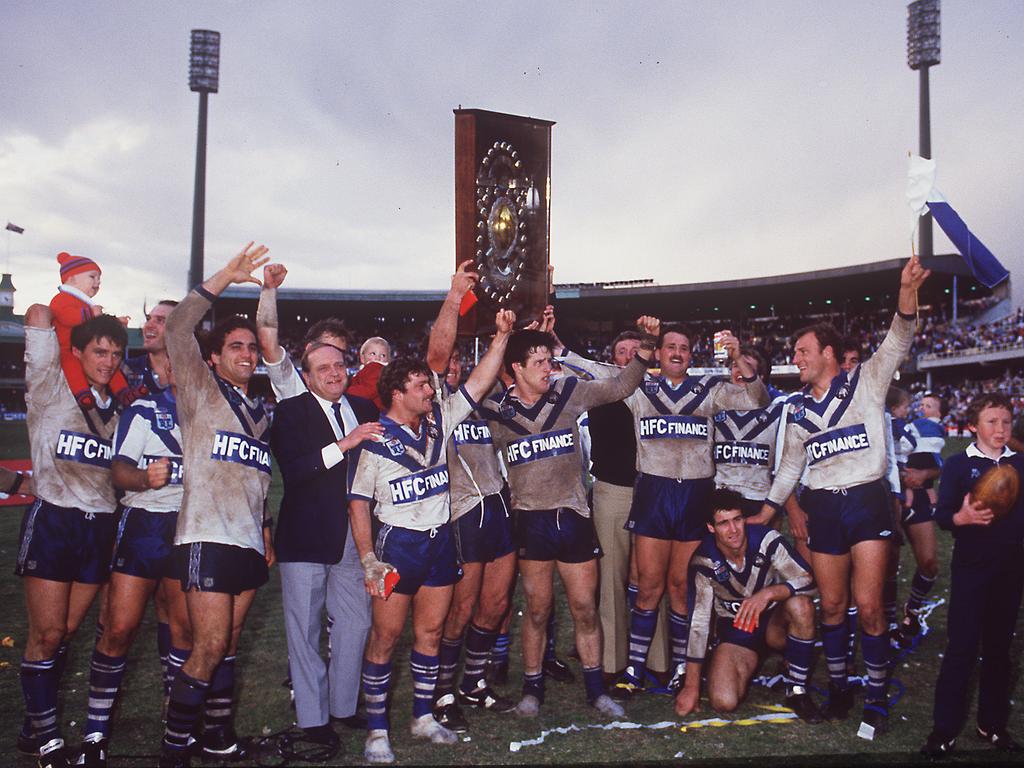 Potter was part of the 1984 premiership-winning Bulldogs side. Picture: NRL Imagery
Even as a player of the same era, Alexander also finds it hard to understand why Potter's exceptional career isn't held in higher regard by the general public. Few outside of Bulldogs and Dragons fans would even realise what he achieved.
Ex-Sharks second-rower Gavin Miller falls into a similar category of dual Dally M Medallists who tend to be forgotten in conversations of league greats.
"There's another player who falls into that category too, and that's Gavin Miller. You have to explain to people how good he was. Mick probably falls into that category as well," Alexander says.
"I guess it had to do with rep footy as well. In the days when no one saw every game, but if you're playing State of Origin for NSW and for Australia, you're in everyone's eye, but until then you're not. That's part of the story."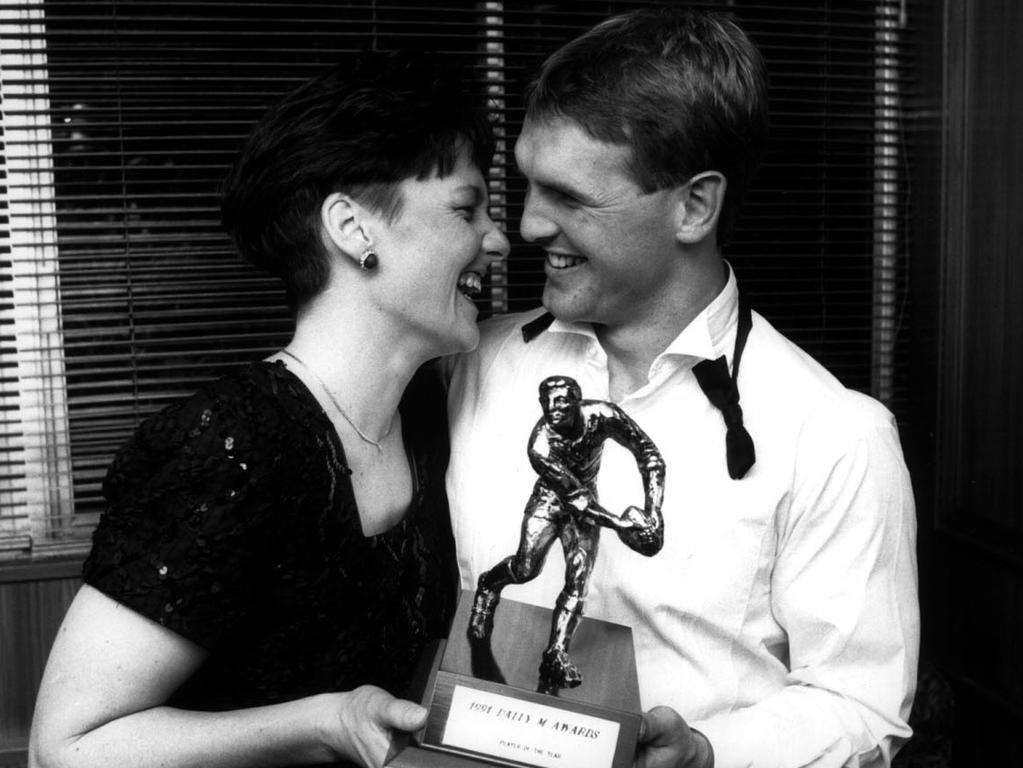 Potter with his 1991 Dally M trophy. Picture: Michael Amendolia
*****
This unassuming reputation has followed Potter into coaching, even if those who have worked closely with him insist there's more to the eye than his stony face to camera in press conferences.
A miserable exit from the Wests Tigers at the end of 2014 probably did enough damage to make him nervous about coaching in the NRL again. Back then, there were suggestions he had lost the playing group and it ended in a very public spat with then-captain Robbie Farah.
Farah and Potter are opposites. One emotional and passionate, the other calm and stoic.
They did not mesh.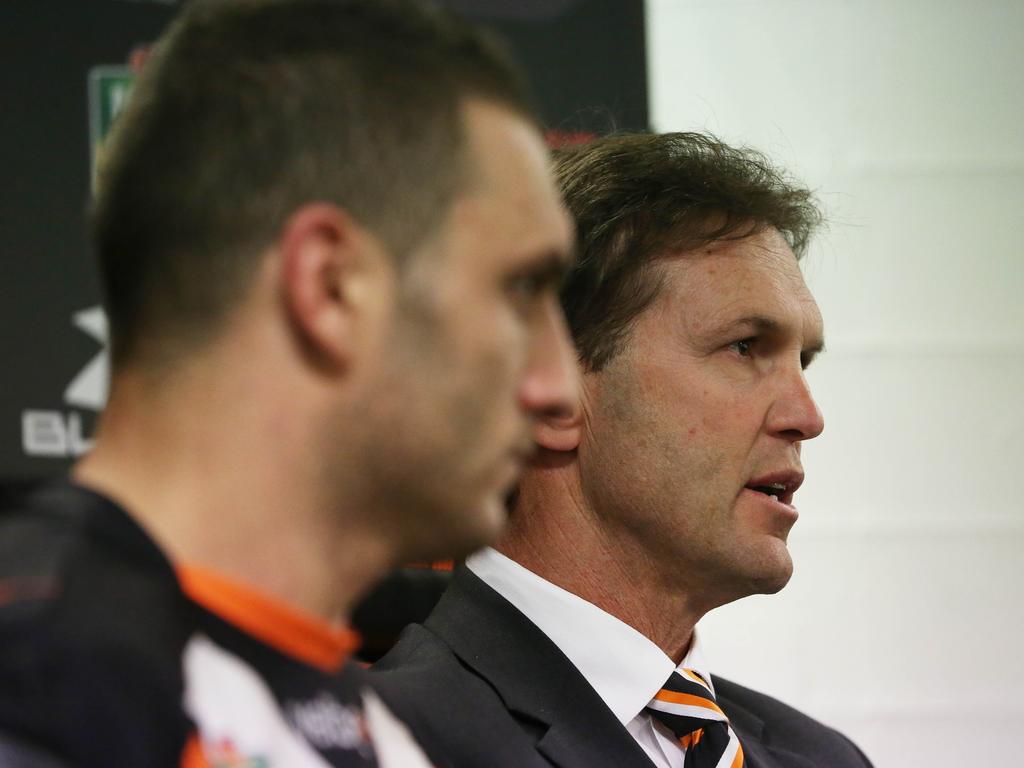 Potter was unable to mend his relationship with Wests Tigers captain Robbie Farah. Picture: NRL Imagery
Potter later claimed he didn't have enough support from Tigers management and the board to make decisions for the betterment of the team, and his two-year stint as head coach was snuffed out when they didn't offer him another contract for 2015.
It's enough to give anyone pause about jumping back into a tumultuous workplace.
After his controversial exit from the Tigers, Potter went into behind-the-scenes roles where he could work without the spotlight.
He took assistant coaching gigs at Newcastle and then into a development role with Parramatta, where he worked with rising young stars and helped them transition into the top grades.
None would have been alive when he was playing, and his reputation as a gun fullback does not precede him, even now.
But young and impressionable players gravitated towards his calming demeanour and his ability to simplify difficult tasks. His soothing personality and level-headed approach to the game takes away the pressure.
Colleagues describe his tactical nous as some of the best they've seen from any coach they've worked with, but the ability to communicate it clearly and simply is what matters.
Potter spent time at the Knights and Eels before heading back to the Bulldogs. Picture: Mark Kolbe/Getty Images
And that's exactly what the Bulldogs need in a head coach at the moment.
When Trent Barrett left the club a month ago it was a hot mess. And yet, within four weeks, the bottom-placed club were able to pull off a surprise upset against premiership threat Parramatta last weekend.
Bulldogs captain Josh Jackson described it as one of the best wins at the club in the past two or three years. Their attack has improved week on week.
An interim coach could have come from within the assistant coaching stocks – for example, David Furner is an ex-NRL coach with tons of experience across decades in the game.
But instead the club went for Potter, who was coaching feeder club Mounties at the time. It was a targeted move for two reasons. One, an ex-Bulldogs player who knows the fabric of the club. And secondly, his presence could do wonders to take the heat out of the situation at the club.
So far it's worked. No one is walking on eggshells. There's a simple game plan. Run hard, tackle hard, and get the ball from Matt Burton to Josh Addo-Carr.
Potter's made a difficult situation seem easy, and that's no coincidence. That's who he is.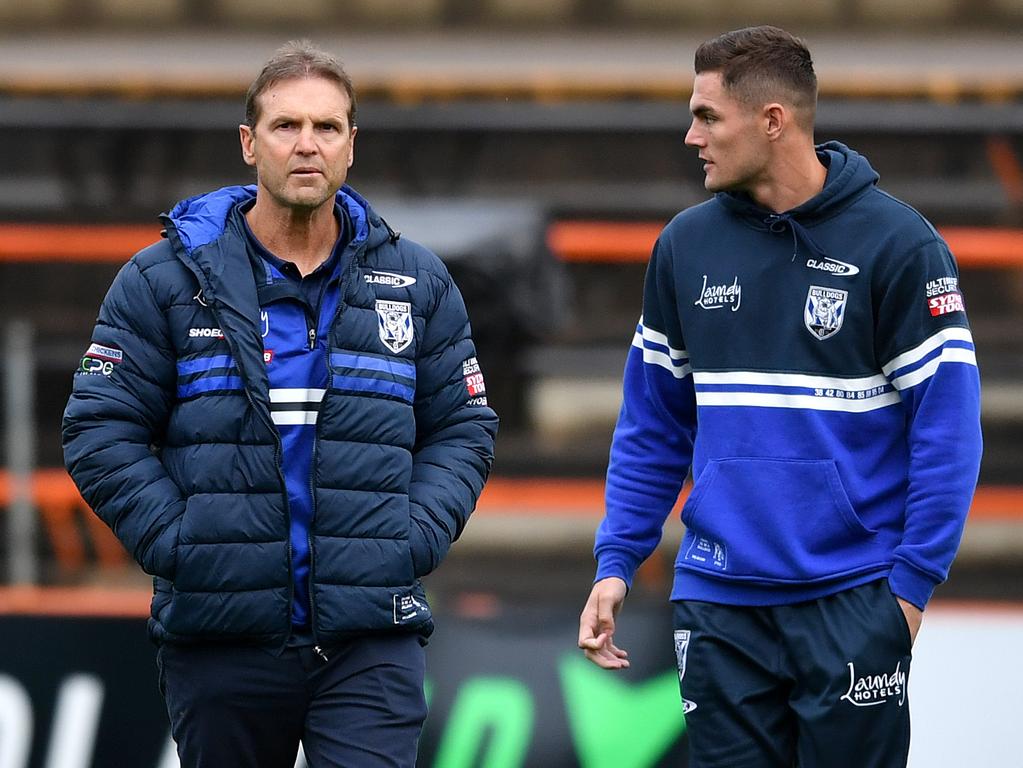 Potter has already helped the Dogs show signs of progression. Picture: NRL Imagery
*****
He's careful, too, about putting his hand up for the role full-time beyond the end of this season.
Potter still has time to match his coaching history with his playing legacy. Picture: File
Since his exit from the Wests Tigers, which was dramatic and messy, his life has been calmer.
"I like playing tennis in my spare time," he said on Sunday, when asked if he's considered taking on the job as head coach in 2023.
"When you win a game it seems a lot more relevant to you but again, I'll discuss that further down the line.
"It is a tough job, you've got to be ready, you've got to have a lot of energy and you've got to be able to back up every week and you've got to be able to take adversity in your stride and it does wear you down. I'll weigh that up in a few weeks."
He wants to see how things unfold.
Potter is humble and considered, and if he puts his hand up for the job it'll be because he's ready.
He's a legend worthy of greater respect either way.