Penrith Panthers NRL news: Mark Geyer opens up on the impressive trial form of his son, Mavrik
He may have been one the stories of the opening weekend of NRL trials, but there's no question of success going to the head of Mavrik Geyer, according to the man who knows him best.
Mark Geyer insists his son, Mavrik, won't let pre-season success go to his head.
"He hasn't got an ego," Geyer said.
"He is not allowed to have one in this house - his sisters would give it to him."
Stream every game of every round of the 2022 NRL Telstra Premiership Season Live & Ad-Break Free During Play on Kayo. New to Kayo? Try 14-days free now.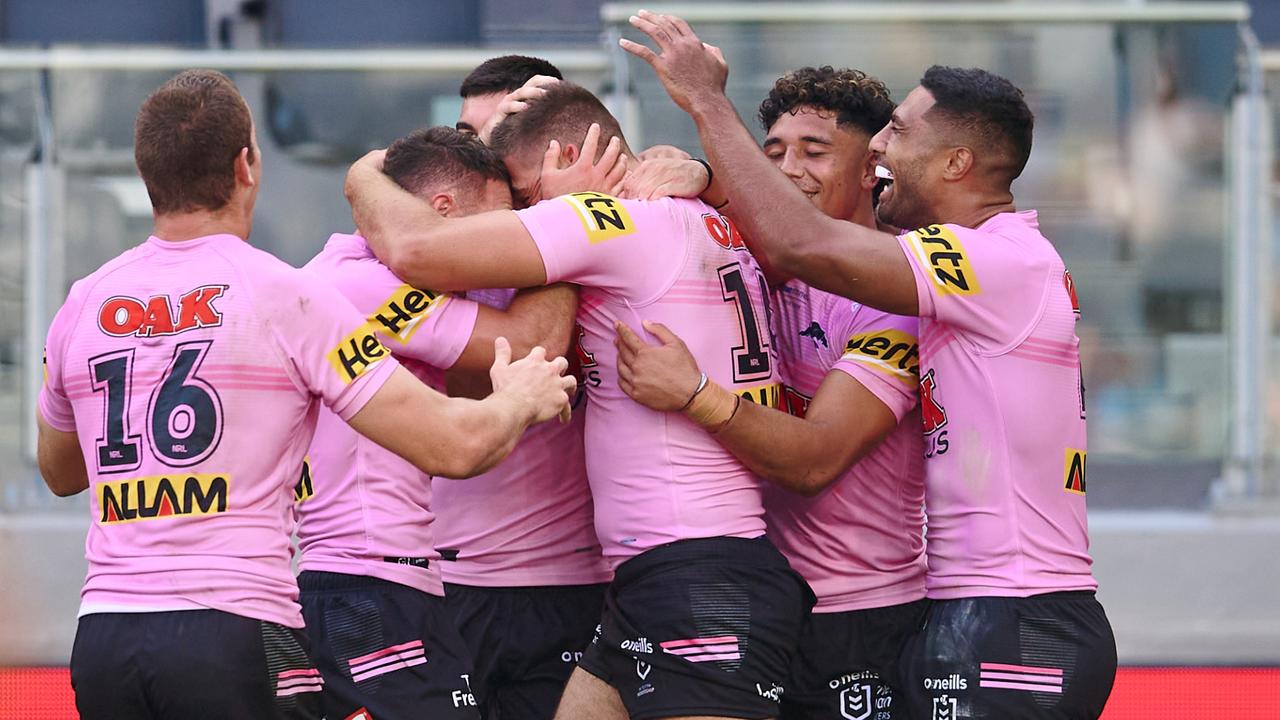 Mavrik Geyer scored a try with just his second touch.
The young Geyer was one of the stories of the opening week of the preseason, scoring with his second touch for the Panthers against Cronulla and earning rave reviews for his maiden appearance in the big time.
The 21-year-old has the pedigree to be a star. His father was one of the most intimidating forwards of his era and Mavrik quickly showed at the weekend that he has the talent and desire to follow in his famous dad's footsteps.
His performance against the Sharks was all the more impressive given he suffered a staph infection in the pre-season that sidelined him for a month.
"It took me back to coaching him in under 6s," Mark said.
"I was just proud. He has worked his arse off to get there. Because he worked on roofs all his life - he did a roofing apprenticeship - he just wanted the opportunity to train without going to work first.
"I think he has flourished under it. He loves training. He is a completely different player to me. He is a bit more flamboyant, he is fitter, he has more ball skills than I had, he is a lot faster than I was as well.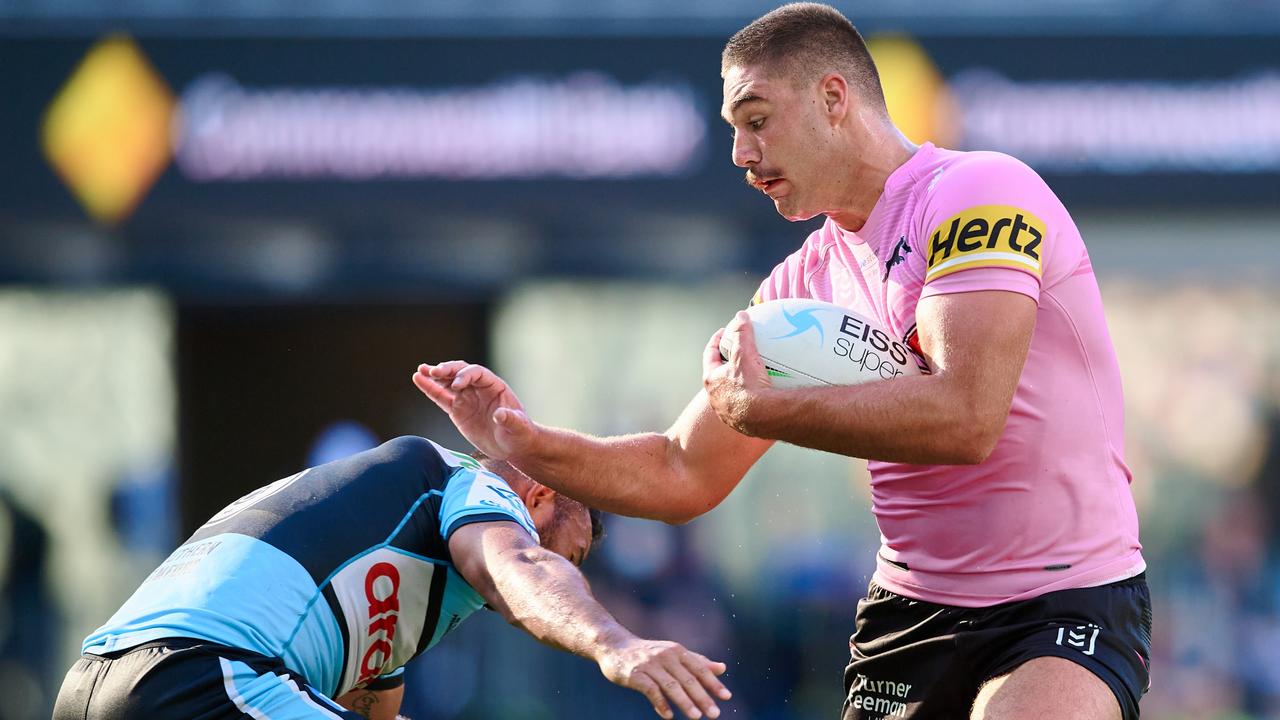 Mavrik Geyer proved a real chip off the old block.
"He was just happy to get a run yesterday - second touch of the ball he got a try. It was a bit surreal."
Surreal is becoming a regular sensation where Mavrik Geyer is concerned. Last year, he grappled with a choice between Melbourne and Penrith as super-coach Craig Bellamy tried to entice him to the Storm.
Geyer opted to stay with Penrith and pursue his dream at the club where his father's reputation looms large.
His reward came on Sunday, although the journey is closer to the beginning than the end.
"He got home about two hours after us and we were watching the replay (of the game) on the tele," Mark Geyer said.
"So he said can you go back to the start. We watched the first half again. It was one of those really fun nights you get every now and then.
"Obviously that is not going to happen every time he plays, he is a realist. It is a fickle game rugby league - one week you are up, the next you are down.
"You have to get ready to ride the wave."
Mark Geyer knows that better than most. He scaled the heights and experienced the lows during a career that saw him represent state and country.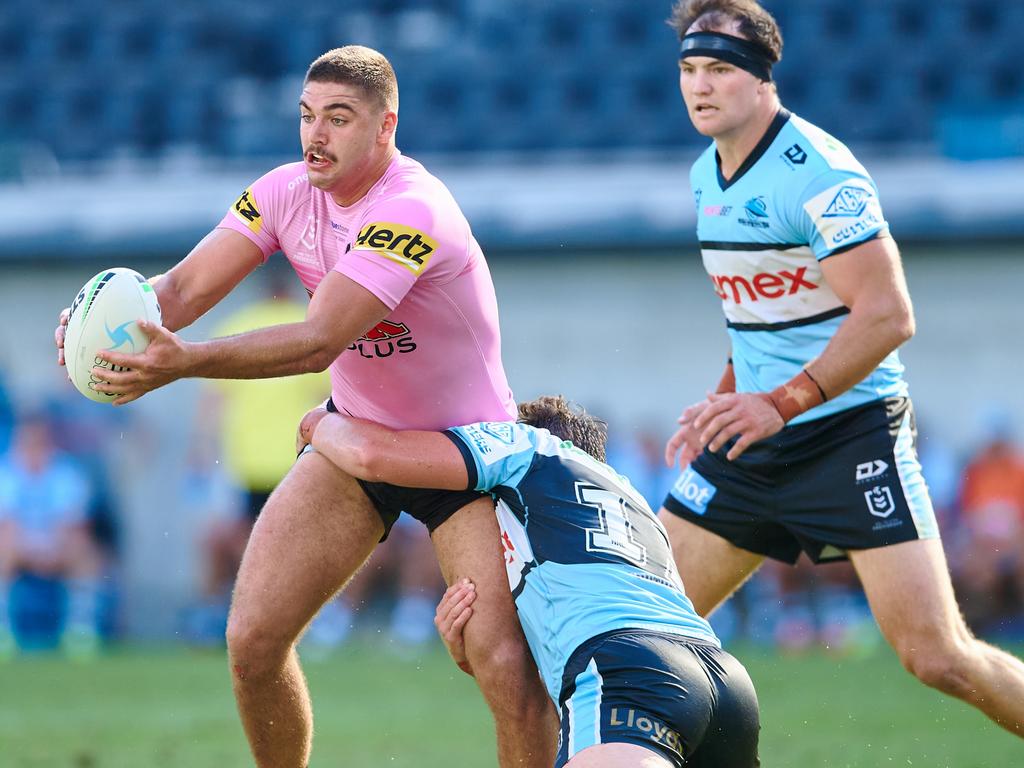 The 21-year-old created quite an impression over the weekend.
Mavrik, he insists, is cut from a different and more circumspect cloth.
"He is 21 now," Mark Geyer said.
"If he wants to be a footballer, a lot of hard work comes with it and a lot of scrutiny. He is very easy to manage.
"He is not a rebel in any way. He is a kind, loving kid. He takes after his mother - thank God."
'Slow process' leaves Panthers sweating on Cleary
- Michael Carayannis and Fatima Kdouh
Nathan Cleary hopes there can be a time where he has "two good shoulders".
But for now the Panthers premiership winner is getting used to answering questions about his injury.
From well-wishes in the street to almost every interview Cleary's shoulder has been a topic of conversation since he played through pain to help lead Penrith to the title last season.
Cleary has resumed some contact training and is confident he could push to be ready in time for Penrith's round one clash against Manly.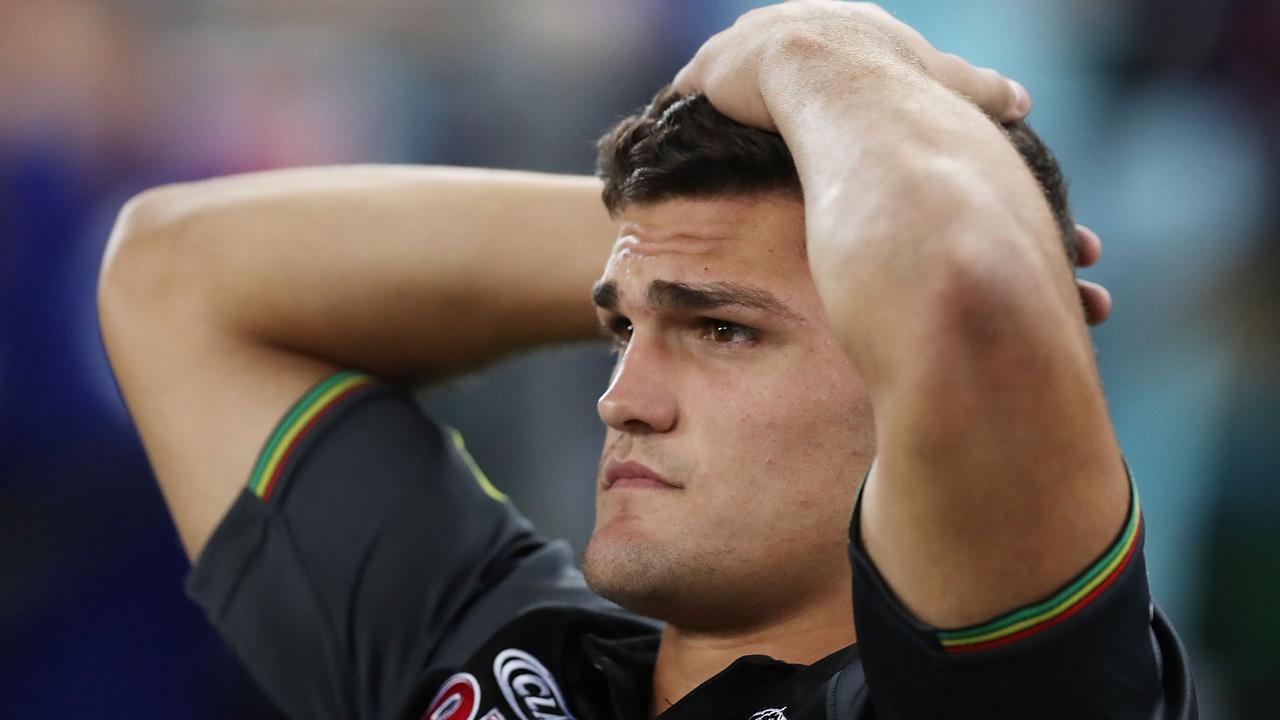 Nathan Cleary says he's still targeting Round 1.
"It's going pretty well," Cleary said.
"It's a slow process but I am progressing through each stage.
"I'm at the contact stage. It's hard to forecast how it's going to go or how it's going to react to that but so far it's going pretty well.
"I'd love to be out there for round one. I'm not a good watcher of footy — it drives me insane especially when my team is playing. I'm not going to push or rush it."
Cleary was on hand to help launch major sponsor OAK's $100,000 commitment to Penrith's Panthers on the Prowl community program. OAK will also give-up the front of the jersey commitment to Panthers on the Prowl for the club's trial match against Parramatta next Saturday night.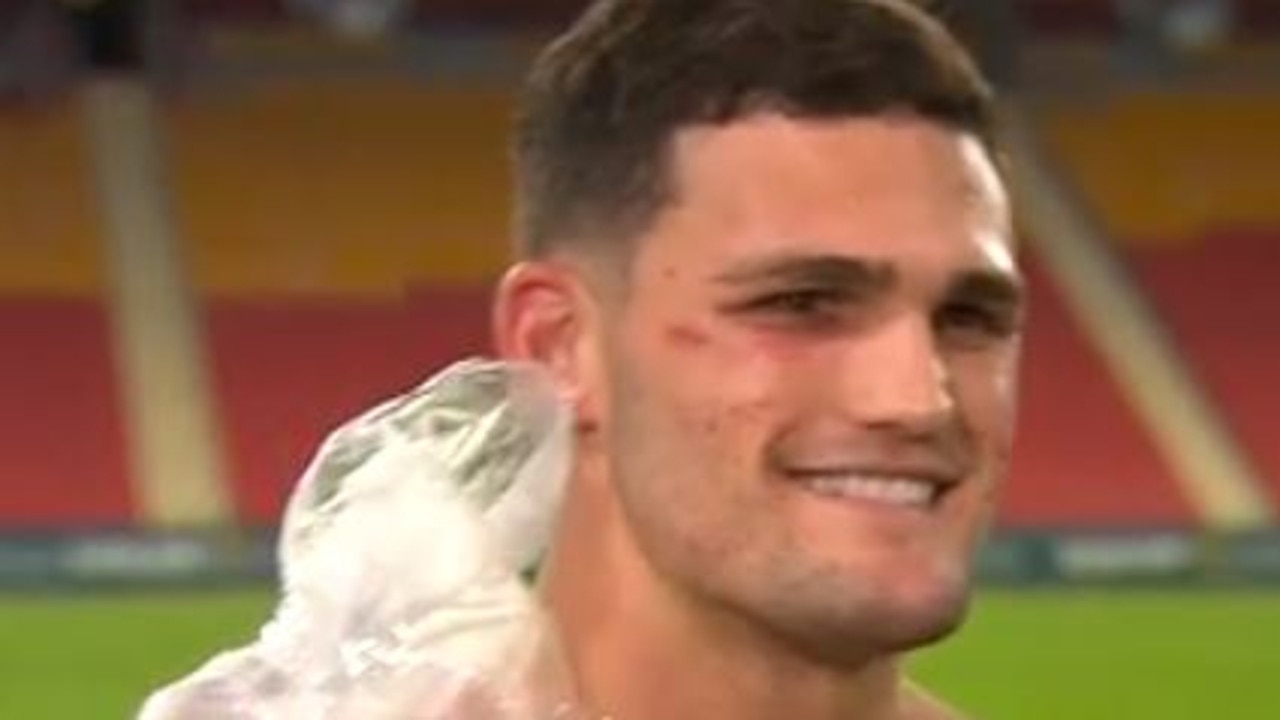 Nathan Cleary with his shoulder iced after a State of Origin game.
Cleary said he felt more secure in his shoulder already after navigating through the injury last season.
"I'm doing modified stuff (such as) in tight wrestling," Cleary said.
"Hopefully over the next two weeks I'll get into the team scenarios. I've been able to do pretty much everything on the field except the full contact. It feels a lot better than last year. Just a lot more solid. I'm more confident now."
While Nathan is pushing for the season opener coach Ivan is expected to take a conservative approach.
Ivan said he was in no hurry to rush his son back onto the field.
"He will be fine," Ivan said. "I don't have a time on it yet. We're hoping he will start the year but we haven't set that in yet. There are a few things he hasn't done yet but there a few things he needs to do before we make a decision. Long-term he will be good."
INSIDE PENRITH'S EMOTIONAL GF WATCH PARTY
As the image of Nathan Cleary looking to the heavens and saying a prayer is replayed on a big screen on the turf at Penrith, coach Ivan Cleary looks to his son.
"Talking to grandad?," Ivan asks.
On the night of Penrith's 14-12 grand final win over South Sydney at Suncorp Stadium last October, the halfback looked to the night sky and said the prayer he wanted answered most.
Stream every game of every round of the 2022 NRL Telstra Premiership Season Live & Ad-Break Free During Play on Kayo. New to Kayo? Try 14-days free now.
"Yeah, just saying a prayer to grandad, I think he looked after us," Nathan replies.
It's the touching ritual that the star halfback has been doing to honour his much-loved grandfather and biggest fan since his death.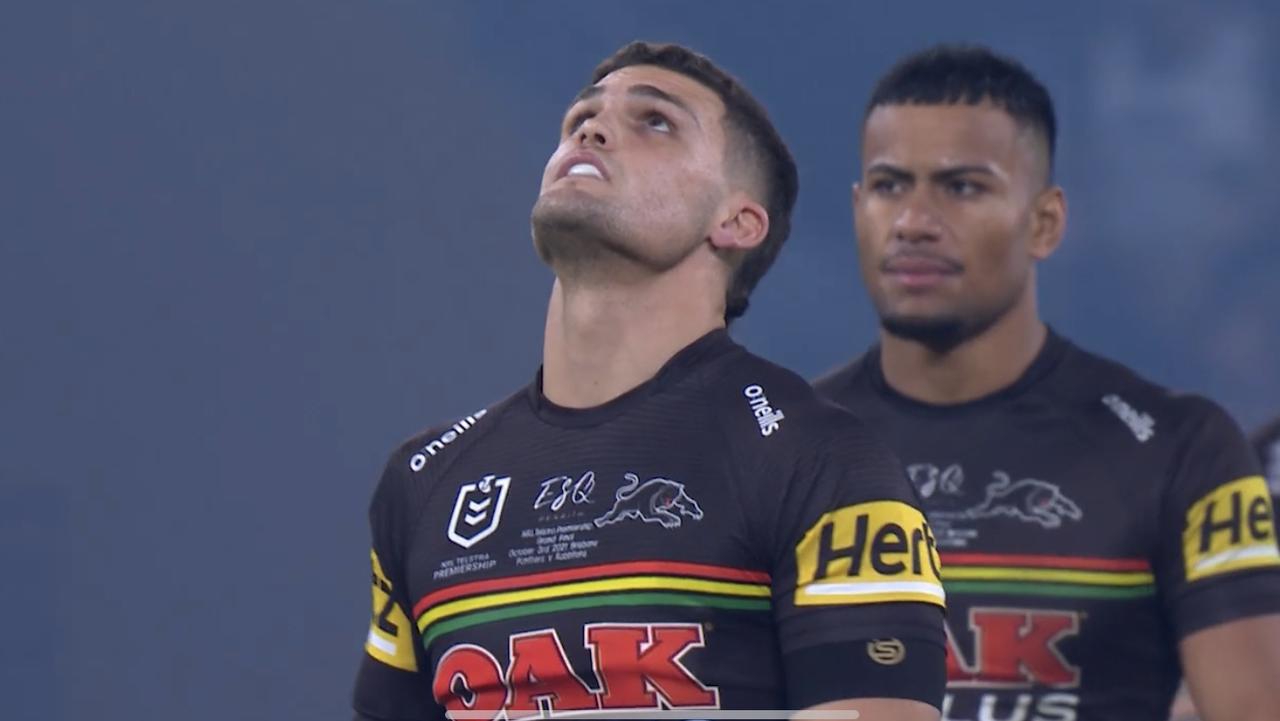 Nathan Cleary looks to the skies before the 2021 NRL grand final.
"I do that pretty much before every game," Cleary told The Daily Telegraph.
"It's just a prayer to get looked after and to say a prayer to my grandad as well, who was a massive footy fan and No. 1 supporter … I just ask him to look over us."
The father-son duo were joined by teammates Isaah Yeo, Brian To'o, Jarome Luai, Stephen Crichton and Dylan Edwards at Penrith's Bluebet Stadium as Fox League treated the group to a grand final watch party, complete with lounges, a big screen and pyrotechnics in the middle of the field.
It will air on Saturday night after the trial match between the Gold Coast Titans and Brisbane Broncos.
The group dissect where the Provan Summons Trophy was won and delivered to Penrith for the first time in 18 years, following the heartbreaking 2020 defeat against Melbourne.
"There was definitely no demons from last year," Nathan insists.
INJURIES
For coach Ivan — who carried at least eight injured players into the grand final, including Nathan's seriously compromised right shoulder – the health of his players was a recurring theme.
"His knee was ordinary too, when he went down in that first tackle I was just like 'oh no'. So that was my first worry, the injuries," Ivan said as he watched the replay of enforcer James Fisher-Harris take the first hit-up of the match.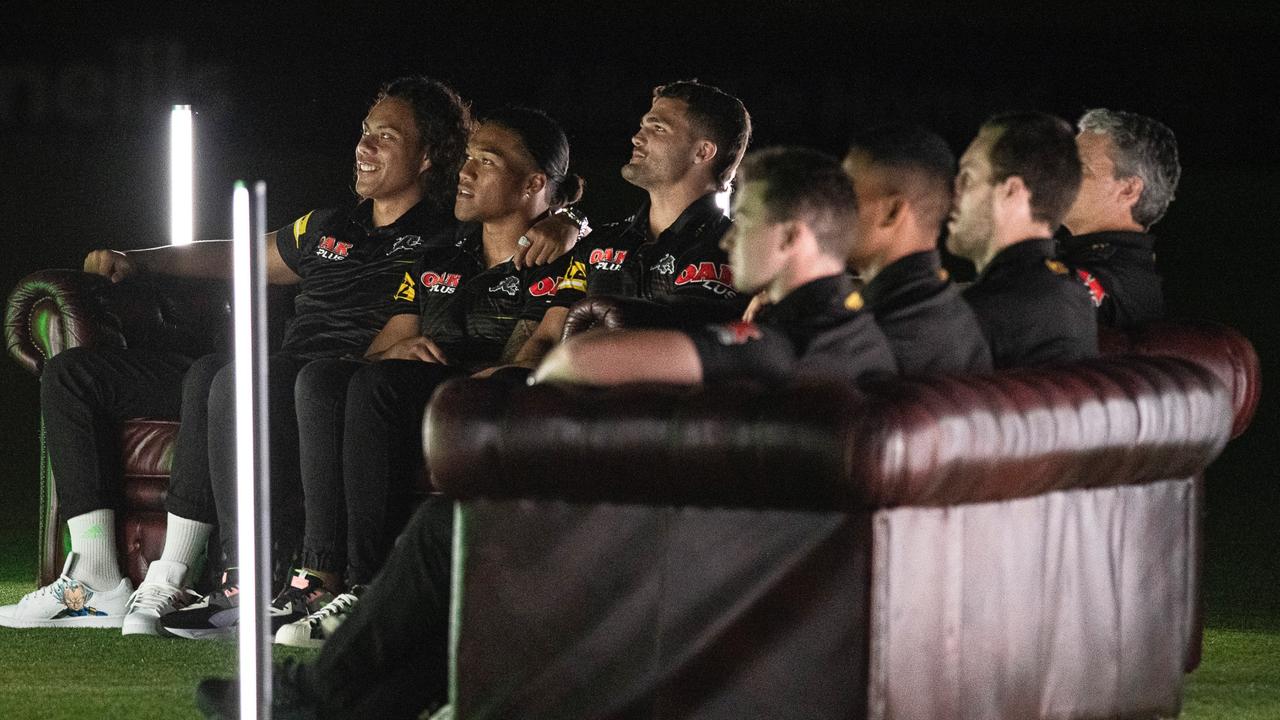 The Penrith Panthers sit down at Bluebet Stadium for the first time since their grand final heroics to watch the match. Picture: Fox League
ROLLING THE DICE
Nathan reveals he went against co-captain's Isaah Yeo's reluctance to use a captain's challenge two minutes into the match.
He instead decided to back his halves partner, Jarome Luai, who had been ruled to have lost control of the ball trying to play it.
"Yeoey never likes challenging," Nathan said. "He was looking at me on this one and was like, 'nup'."
"Back your brothers, bro!" Luai quipped.
"I'll always back Romey," Nathan replied.
SOUTHS' DEFENCE
While Penrith threatened the Rabbitohs' line on a number of occasions in the early exchanges, the defence was up to the task.
"They were scrambling well all game," Nathan says.
"It's funny," Ivan adds, "When a team scrambles well it just becomes infectious."
GRAND FINAL SERVICE
With hooker Api Koroisau taking a hit-up close to the line, Yeo finds himself in the unfamiliar position at dummy half.
"Outstanding service from dummy-half," Ivan says, jokingly, referring to the Yeo pass that helped set up Penrith's first try through Matt Burton.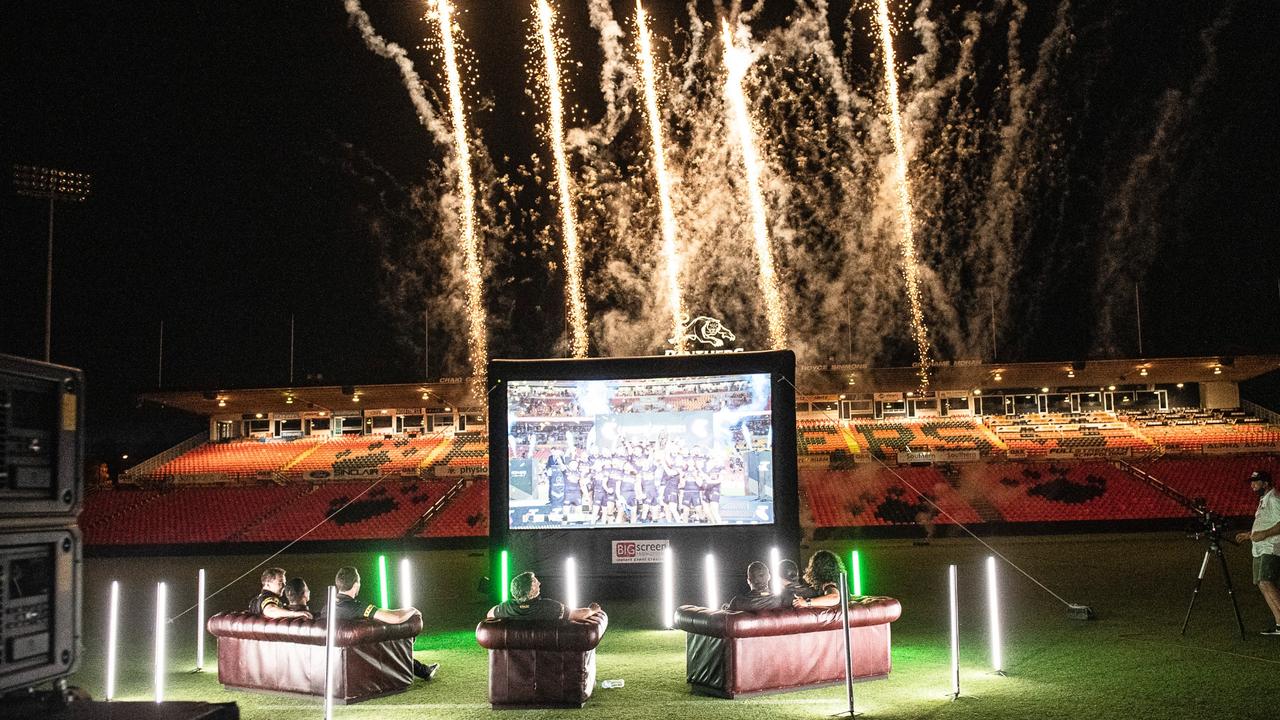 Fireworks go off in the background as Penrith watch their grand final celebrations on the big screen. Picture: Fox League
THE CONTROVERSY
"Did you sneak that one in a bit further as well?" Ivan asks Nathan of the successful conversion, a reference to the halfback moving the ultimately unsuccessful conversion attempt several metres infield from where To'o's try close to the sideline the mark in the previous week's 10-6 preliminary final win over Melbourne.
"Nup, I wasn't trying to cheat," Nathan tells him.
FRANTIC FINISH
With five minutes on the clock, Penrith lead 14-12 after a Souths comeback and Rabbitohs sharpshooter Adam Reynolds is lining up a conversion attempt to equalise the match.
"I was at panic stations at that time," Yeo said.
Nathan agrees.
"I thought he was going to get it. I was thinking how we were going to set up a field goal."
Reynolds misses the sideline conversion, which Yeo compares to the Johnathan Thurston conversion attempt in the 2015 grand final that cannoned off the post in the dying moments.
"I've seen him kick so many goals from that spot. It's funny though, I had this weird feeling he might miss," Ivan said.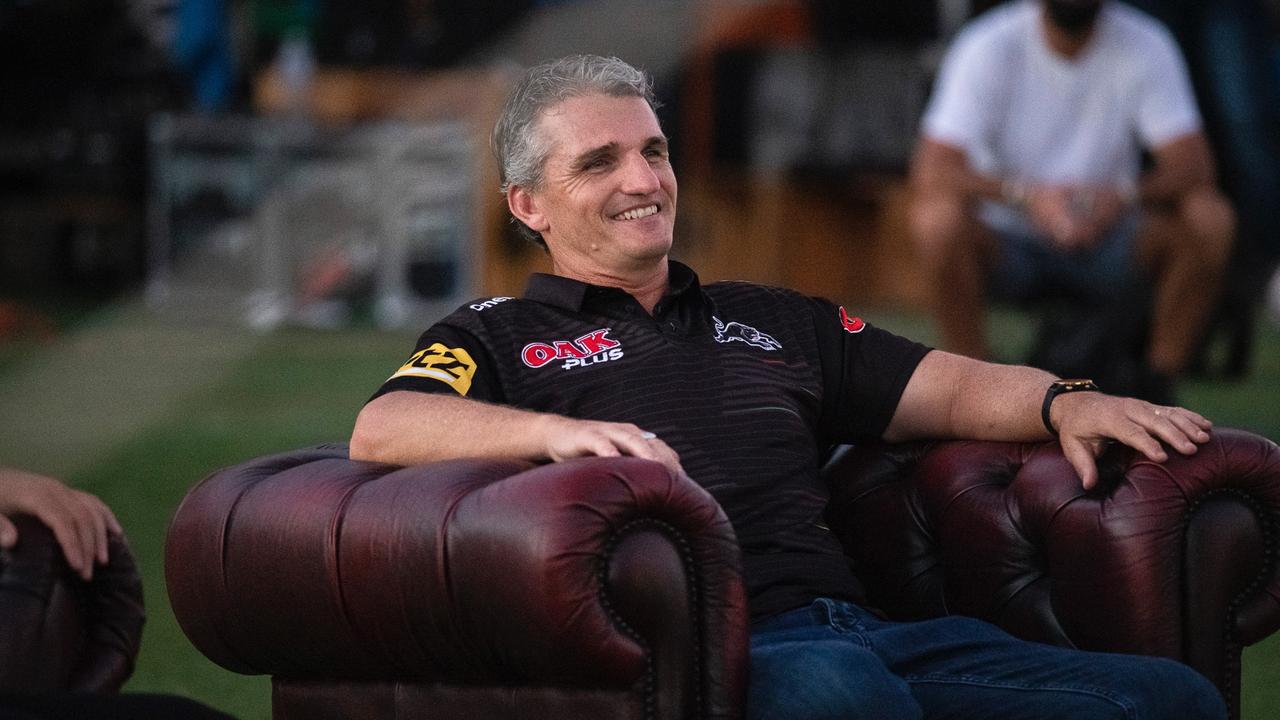 Watching the grand final was easier the second time around for coach Ivan Cleary. Picture: Fox League
NATHAN CLEARY, CLIVE CHURCHILL MEDALLIST
Not only did coach Cleary climb his Everest with his son, he got to drape one of the game's highest individual honours around Nathan's neck.
"This was definitely starting to feel like a dream at this point. There were too many good things happening at once," Ivan says.
"So proud of Nat, especially how much he's worked through this injury in particular, and just how much criticism he copped from last year's game. It was like a dream at that stage."
Go inside the Panthers' emotion-charged grand final watch party on Fox League live after Saturday night's trial between the Titans and Broncos.
Originally published as Penrith Panthers NRL news: Mark Geyer opens up on the impressive trial form of his son, Mavrik