Johnny Raper led on the rugby league field and off it
With the marriage of stats and memory, it is no exaggeration to say Johnny Raper might have been the greatest ever. But that was only part of who he was, writes PAUL KENT.
Bill Mordey was writing league for the Daily Mirror already back then and his legend, for how fond he was of a bet, was in full swing.
Idle money was no good to Mordey so, before the start of the 1966 season, he put a year's wages on the Dragons to win the premiership, their 11th straight.
As the Dragons marched through the home and away rounds Mordey felt pretty happy with himself, following the Dragons all the way to the minor premiership, and such was their form Mordey knew he might as well have been stealing the money.
The Dragons were certainties, and the week of the grand final Johnny Raper told him as much.
Then the night before the grand final Mordey was in a city pub when the doors kicked open and in roared Raper, Billy Smith and Graeme Langlands, the three of them as drunk as 10 men, and as the pub lit up an entire year's wages flashed before Bill's sparkly eyes.
He grabbed the publican and demanded a phone to call his bookie. He needed to get off the bet.
The bookie resisted but eventually let Mordey off the bet.
It was one of the costliest phone calls Mordey ever made.
He didn't know Raper then like we all came to know him, that the man had a constitution that was simply the greatest ever seen.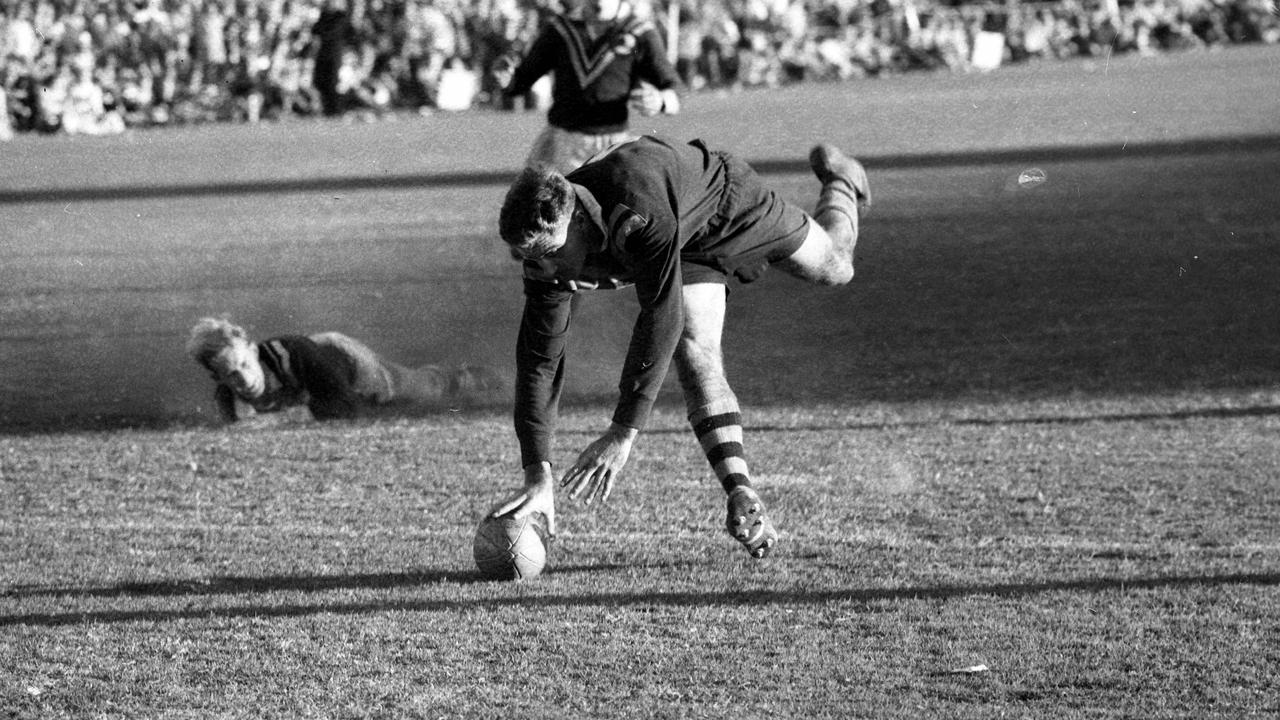 Johnny Raper scores a try during the second rugby league Test between Australia and the British Lions at the Brisbane Exhibition Ground in 1959.
Many years later I remember talking to Raper, who died on Wednesday after breakfast, and picking his brain about his legendary fitness and he said he liked to return after a big night out and, instead of walking in the front door, where wife Caryl might have been waiting, he would get into the back seat of his car and fall asleep there.
The early sun would wake him as the car heated like a greenhouse, the temperature rising to sauna-like temperatures and the sweat beginning to pour out of him until he could no longer stand it over the hangover and he would push open the back door.
Once there, instead of heading inside, he would hit the road and go for a run to sweat out the alcohol.
Tell a tale like that nowadays and the strength and conditioning men would die from a heart attack if a player attempted it today, but that was among Raper's favourites.
The sting to the story is that years later when the stats-men started looking back, NRL Stats tracked every game back to 2007 and every State of Origin played, and then every grand final back to 1966, and when all the numbers were crunched through the computer they found that Raper's 1966 grand final was statistically the greatest performance ever on a football field.
Today, with the marriage of stats and memory, it is no exaggeration to say Raper might have been the greatest ever.
But that was only part of who he was.
If he was not rugby league's original hellraiser, he was certainly it's most celebrated.
Like no other, there was a story to tell for each day of his life.
He led on the field and off it.
He won eight premierships with St George, his performance in the second Test of the 1963 Kangaroo tour is regarded as one of the greatest Test performances ever.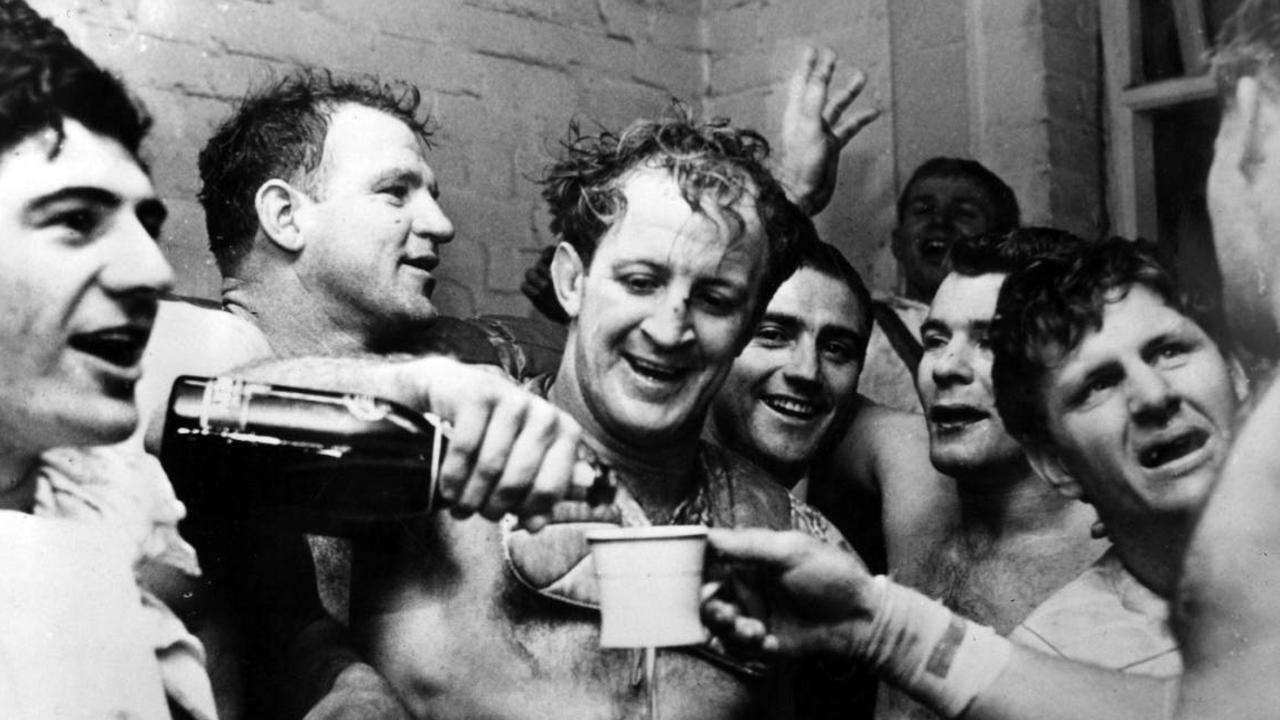 Johnny Raper pours champagne for his Kangaroos teammates after a win over Great Britain.
In an opening 25-minute blitz Raper had a hand in all seven Australian tries, throwing the final pass in four. This was at a time when the Lions still dominated international football.
I remember Bob Fulton telling the story of his first game for Country as a teenager when the City team, filled with internationals like Raper and Provan and Langlands, were giving it to the Country boys so Fulton decided to pick on his opposite, the ageing Brian Clay.
Soon after, a scrum broke up and he got smashed to the ground.
On top of him was Raper.
"Lay off the old bloke," Raper warned him.
"Well you blokes lay off us," Fulton said.
"Deal," and from that moment City simply went through the motions.
These were all simply part of the character. Off the field, Raper's legend grew larger.
At league functions he was always surrounded, often telling a story before becoming the story.
He was the Man in the Bowler Hat, famously admitting to being the Kangaroo player who walked through Ilkley one cold winter night in northern England in nothing but the hat, even if he did not really do it. It was actually teammate Dennis Manteit.
Although he did pose naked for Cleo magazine, a bowler hat protecting his modesty.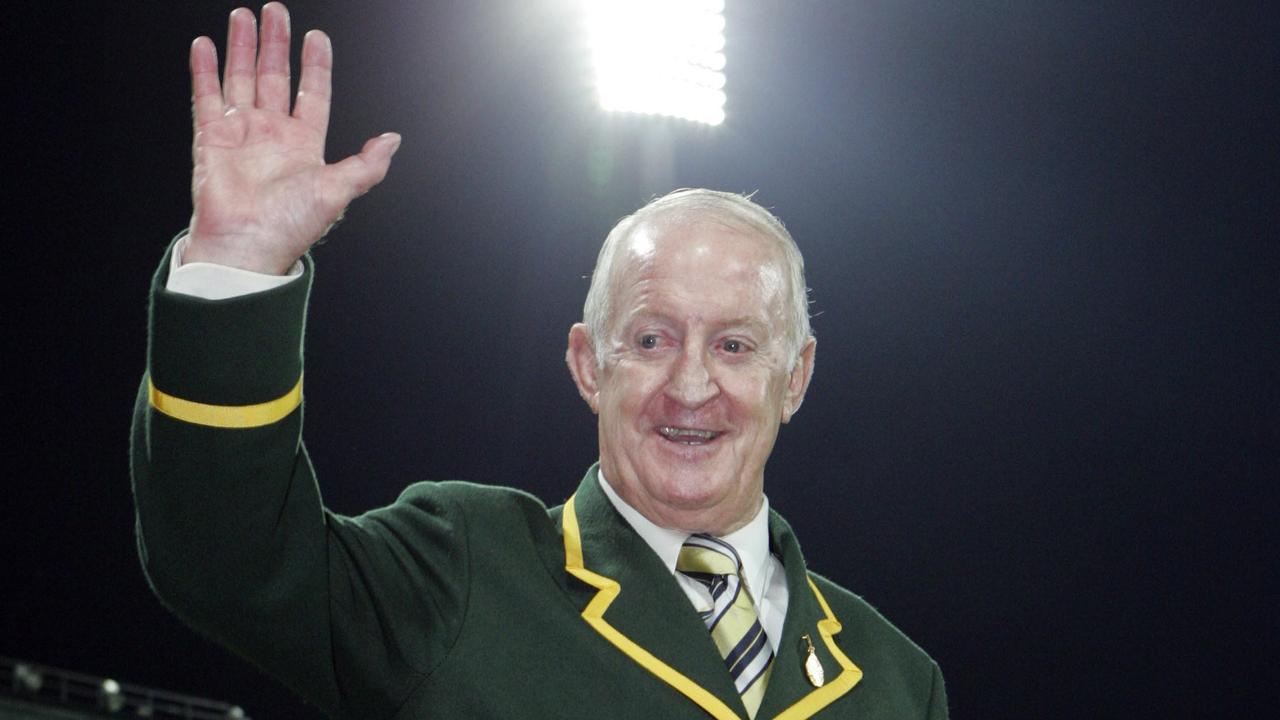 Johnny Raper led on the field and off it.
A brawl erupted at Juliana's nightclub after the 1989 Rothmans Medal and the following day the papers carried pictures of the crowd fleeing, some of the most recognisable names in the game and some with their white shirts stained red with blood.
It emerged Raper was in the centre of it, getting involved to help a mate, dropping a bloke on the way through.
Nowadays, a senior player can't get through a sentence about his future without a suggestion of what it might mean to his legacy, yet, between games, they mostly lead a dull existence.
Raper put enough life in those days between games, and after, that many wondered how he made it all the way to 82 at all.
Nobody trained harder and nobody pushed for more out of their body. It enabled Raper, who really could do it all on the football field, to do things in the game long after fatigue had levelled his opponents.
The sadness is that at the very end that big champion's heart that pumped inside his chest was all that kept him going.
The dementia hit so hard he was bedridden at the end, and had lost the power of speech, and only occasionally would he recognise those who visited.
It was life's sad irony.
That big heart that pushed him to greatness was all that was keeping him going at the end, long after he stopped living, until yesterday when mercifully it beat for the last time.
Childhood hero to final interview: Buzz's Raper tribute
By Phil Rothfield
Johnny Raper played rugby league at just 87kg in the toughest era of them all. He used to say: "It's the size of your heart that counts.
Today's equivalent, million-dollar lock forward Jason Taumalolo, weighs 115kg – a 28kg difference.
It says a lot about Raper's career, his courage and how he became an Immortal and footy legend.
An era where there was no interchange bench to rest the battered body, no physios and no TV cameras to monitor king-hits, high tackles or headbutts.
In rugby league we often talk about hard men playing above their weight.
No one did it better than the St George Dragons legend.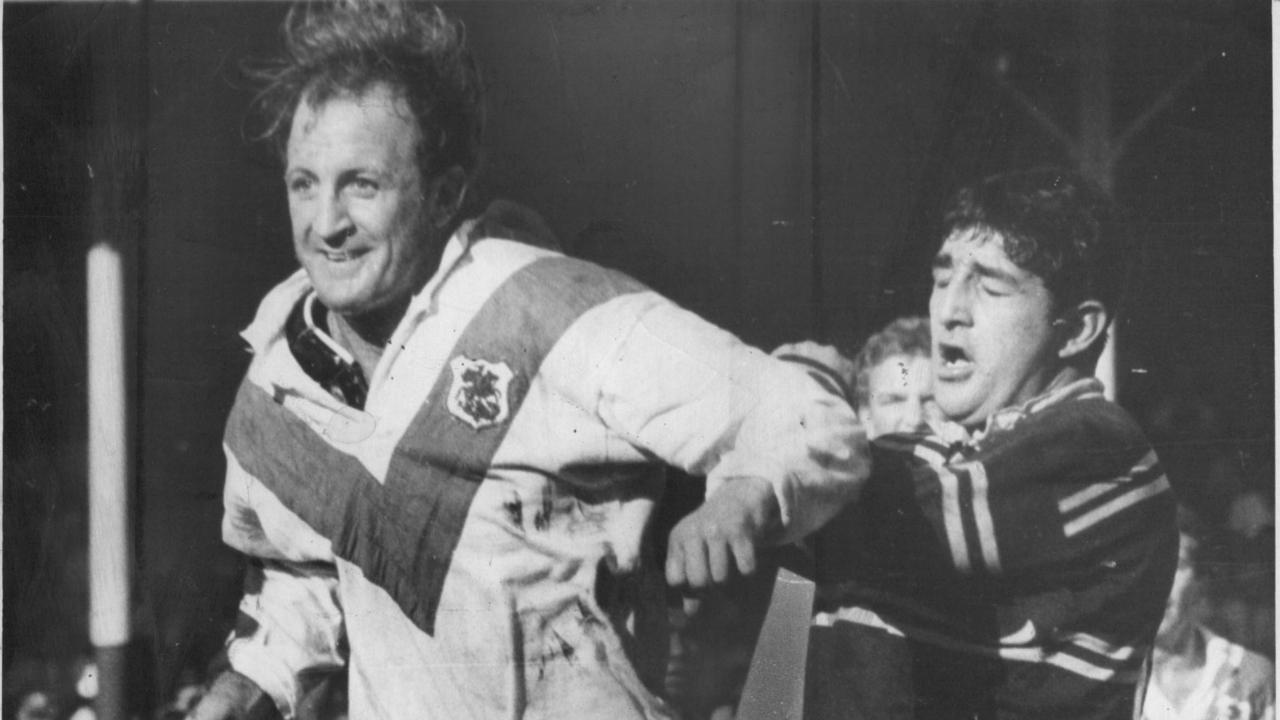 Johnny Raper in action against Manly in the 1969 semi-final at the SCG.
That's what I loved about him.
That's why the first footy jersey I wore as a child was the Dragons jumper with the Red V and Chook's No.8 on the back.
I was Johnny Raper in our backyard.
He was to my generation what Tommy Turbo, Teddy and Nathan Cleary are to today's youngsters.
But an even greater player.
An absolutely fearless footballer in an era when skill meant more than size and power.
He was the most technically correct defender in the history of the game, a man who would cut down and stop heavier opponents then simply say, "the bigger they are the harder they fall."
He had beautiful hands and a motor that would be going as strong at 80 minutes as it was at the beginning … even after a long session at the pub the previous night.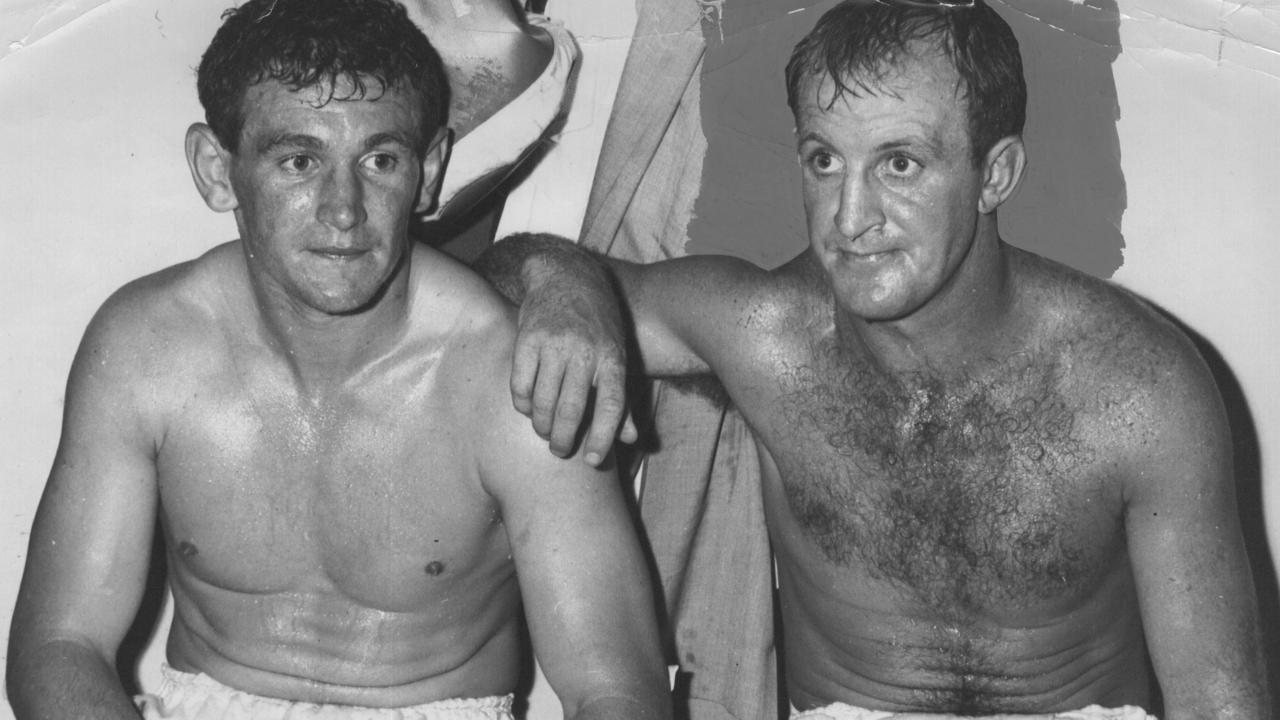 Johnny Raper (right) was a giant of the game, even if he only weighed 87kg.
Your columnist saw Raper play live only at the back end of his career when he left St George to finish his career in Newcastle between 1970 and 1975 at the Wests Rosellas and Kurri Kurri.
I used to run onto old Harker Oval in Newcastle to get his autograph, competing with hundreds of kids to get to him. He'd stay back until way after the full-time siren to get to all of us.
As much will be said and written about Raper's off-field moments as part of the tributes.
The bowler hat story and the boozy all night sessions before he'd rock up to the SCG with a hangover but still win man of the match and Frank Hyde's Seiko watch.
One of my funniest memories of Raper was back in the 1980s at a Rothmans Medal best and fairest dinner.
We were in the ballroom at the Hilton Hotel for the league's night of nights, male only in those days.
Raper was seated opposite the then advertising guru, fellow larrikin and great mate John Singleton.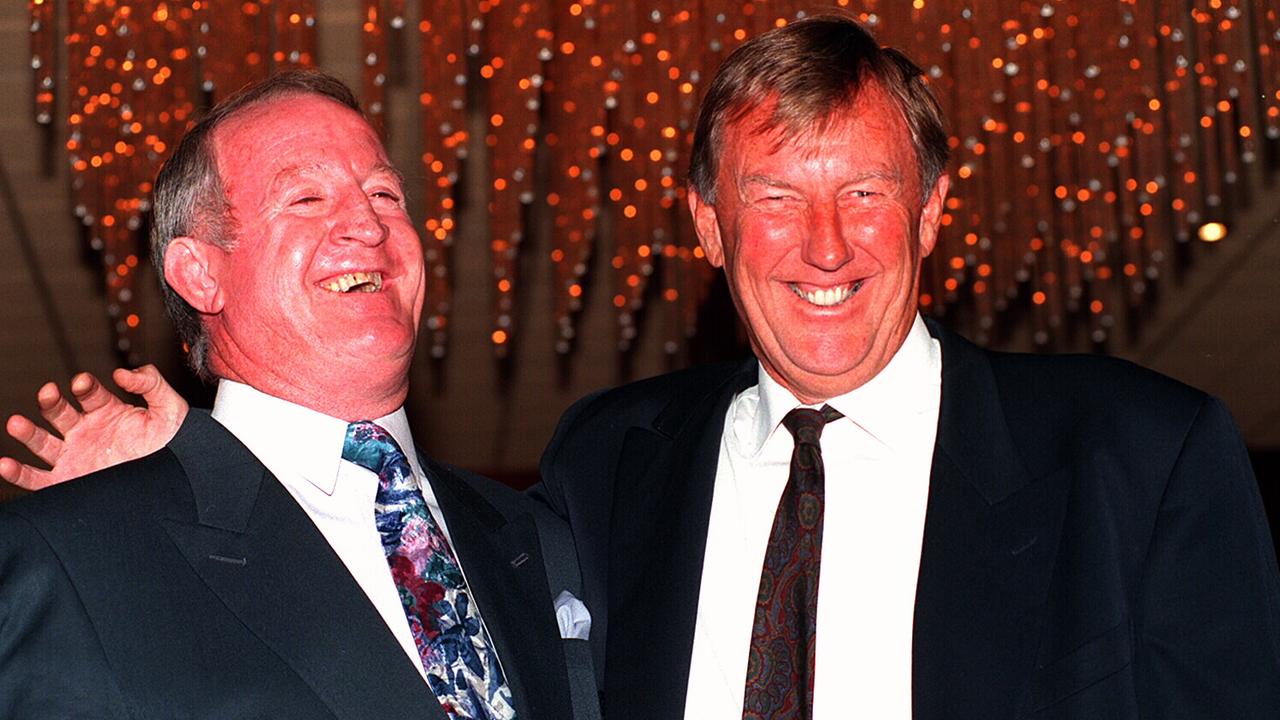 Johnny Raper and his good mate and advertising guru John Singleton.
They'd had plenty to drink and all of a sudden an argument broke out.
Singo stood up, leant over the table, and headbutted the rugby league immortal.
There were no mobile phone cameras around to capture Chook's face now slumped in his entrée or the blood that was all over Singo's forehead.
No sporting gossip columns either to tell the story the next Sunday morning.
Fittingly, Singo was there at his bedside on Tuesday evening in his great mate's final hours in hospital.
Back in 2018, I visited Raper in his nursing home in the Sutherland Shire where he was battling severe dementia.
It was to be his last media appearance.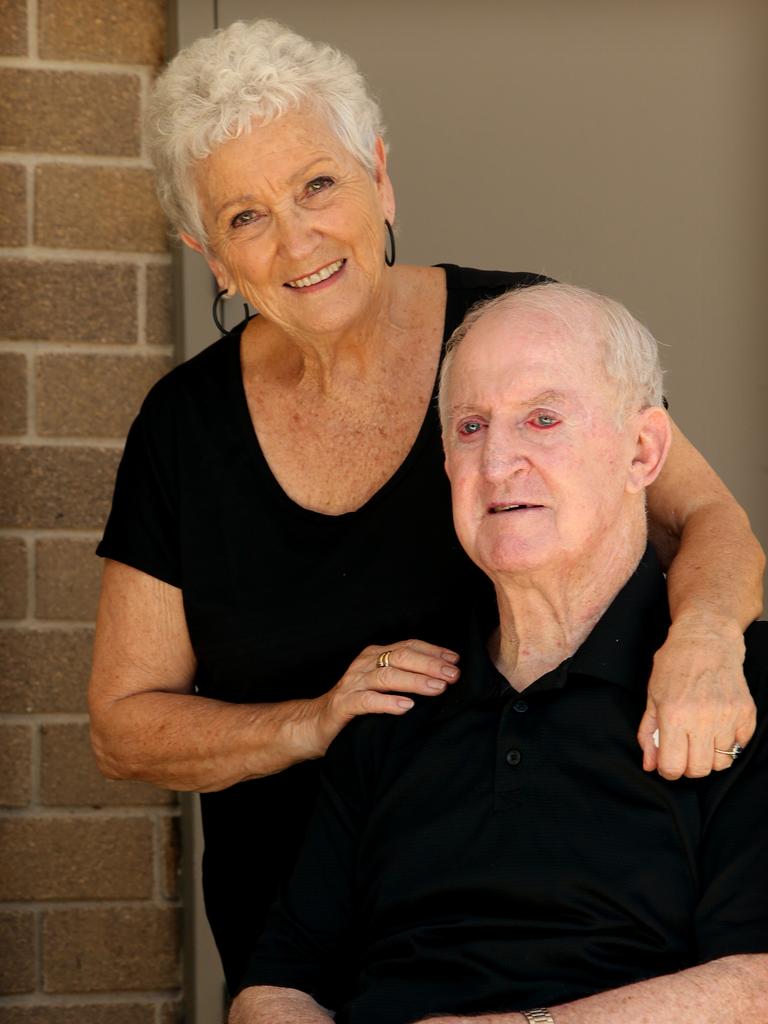 Johnny and Caryl Raper in 2018. Picture: Kristi Miller
The walls in his room were covered in beautiful old footy photos from Newtown, St George, NSW and Australia, framed jerseys, his old police badge from when he was a senior constable and family pictures.
Just wonderful memories.
Chook's beautiful wife, Caryl, is there tidying his hair for a The Sunday Telegraph photo shoot.
It'd been a love affair for more than six decades.
The rugby league Immortal was playing second grade at Newtown at the time they met back in 1959.
Chook was not well enough to be interviewed but Caryl assured us the great man was under wonderful care from nursing staff who love him in the same facility where halfback legend Billy Smith was also staying.
It was tough because us old-timers remember Raper's indestructible playing days so clearly. All the greatness and the glory. His remarkable toughness, the premierships and the Test matches.
Raper's legacy lives on.
His grandson Kai, son of Aaron, plays S.G Ball junior reps for the Cronulla Sharks.
When the news of his death broke on Wednesday I started thinking about Chook when he was stronger and healthier and we spoke at a function around 2016.
I'll never forget him saying; "I was just a knockabout bloke who loved rugby league."
Originally published as Johnny Raper led on the rugby league field and off it