Groundbreaking female referees more than ready to take control in the NRL
Kasey Badger and Belinda Sharpe will make history on Friday night though some NRL coaches have privately raised doubts they will handle the pace of the game.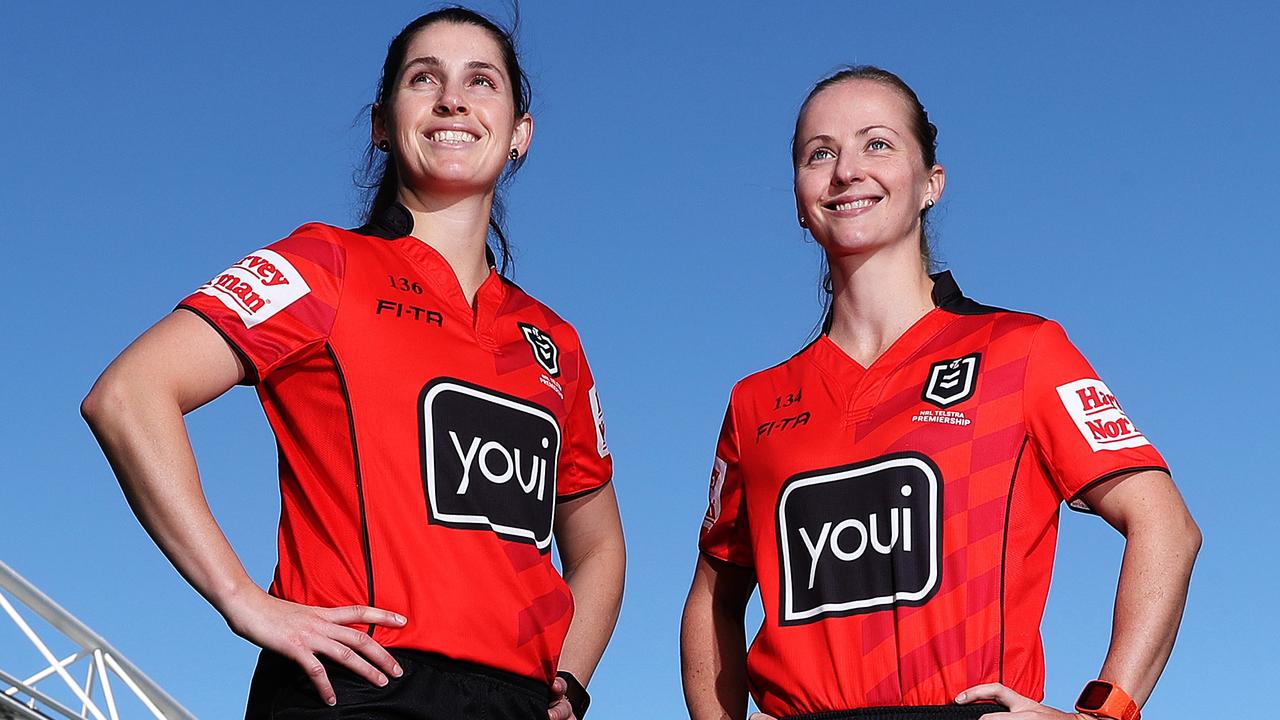 Kasey Badger and Belinda Sharpe are in the hunt to control games in round one. Picture: Brett Costello
The two history-making female referees promoted to NRL trial matches have united to declare they are fit, ready and won't be intimidated.
As first revealed in The Daily Telegraph, Kasey Badger will control the Canberra-Roosters trial with Belinda Sharpe to referee the Manly-Wests Tigers game, both matches to be played this Friday night at Leichhardt Oval.
It is the first time in rugby league that a woman has been appointed to a top-level game under the one-referee structure.
Their appointments have been well received although some coaches have private concerns about whether the pair have the fitness and speed to cope with the breakneck pace of NRL.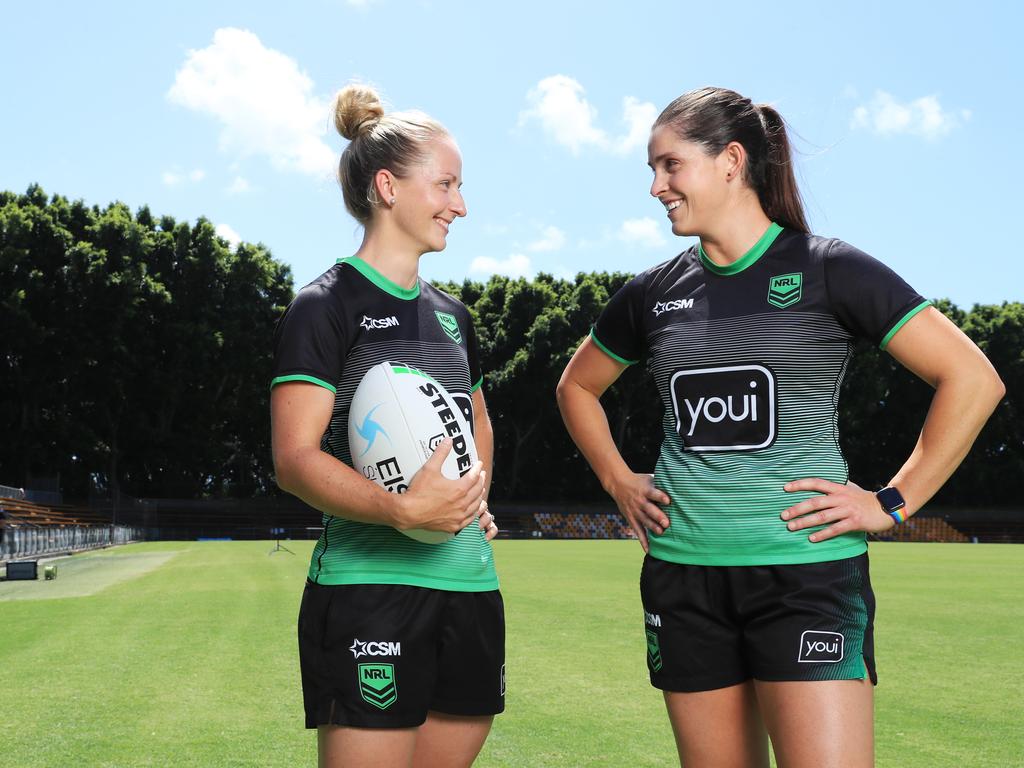 (L-R) Belinda Sharpe and Kasey Badger will break new ground when they control the trial matches on Friday. Picture: John Feder/The Daily Telegraph
"It is the first time in the history of our game that we've got centre referees as female," said NRL general manager, elite officiating, Jared Maxwell " … a momentous occasion."
Strong performances will thrust the women into consideration for an official NRL game this season – and a further slice of rugby league history.
But questions are being asked throughout the NRL. Are they fit enough? Can they keep pace with today's game? And will the pair be intimidated?
"We go out on the field with complete confidence in our ability. If we didn't have confidence in our ability then we wouldn't have made it to the level we're at," Badger said.
"I have absolute confidence in my ability in that respect (to keep up with play). We train full-time. My body is feeling good and we can compare ourselves in training sessions to the guys who are currently refereeing.
"As much as a press event like this can put extra pressure on us compared to someone else refereeing this weekend, I feel like it's something we relish, to show we can perform under pressure. We will have our unique way of speaking to players or having conflict-resolution skills.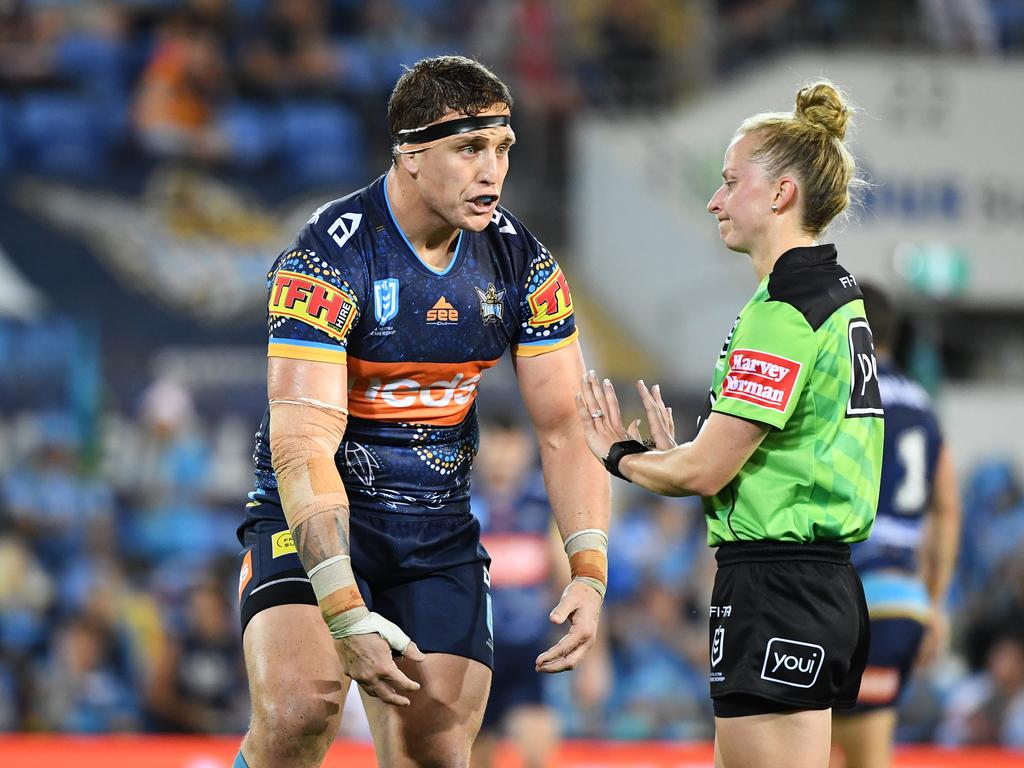 Belinda Sharpe rejects any suggestion she would be intimidated on the field. Picture: AAP Image/Dave Hunt
"There would be a wide range of emotions (to be awarded an NRL game). It would be a proud moment for me individually, knowing how hard I've worked to get that opportunity.
"From a wider aspect, being able to show everyone in the country, even in the world, that females can do this at an elite level and break down those barriers."
Asked if she could be intimidated on the field, Sharpe said: "No, I don't think so. We see it is an opportunity.
"There is a lot of scrutiny at this level but we do it because we enjoy it. The pressure might come externally but we have to focus on what we have to do. Experience is the key and we have been doing this for 15 years plus. It is a high-pressure environment.
"We do so much training and so much hard work during the week, particularly across the off-season to ensure we are prepared physically for this level.
"Everyone knows we do a lot of physical training but people probably aren't aware about how much mental preparation goes into it as well. We train for all sorts of situations on the field and part of our training is that decision-making under fatigue, which is obviously a core component of what we do."
Kasey Badger wants to show that women can referee at an elite level. Picture: Mark Kolbe/Getty Images
Sharpe has previously adjudicated an NRL game but as an assistant to head referee Ben Cummins under the now defunct two-referee structure.
"This is a really positive day for rugby league and an extremely positive day for officiating in our game," said Maxwell. "This is a really important step in not only their careers but the game in general.
"This is an opportunity for 'Bel' and 'Kase' to showcase their skills in a real trial environment. Opportunities don't come along every week – but there is one this weekend and I am super confident they will put their best foot forward."
Asked on social media if the women could keep up with today's game, Kasey's husband and former NRL referee, Gavin, posted: "One-hundred per cent. I can only speak for Kasey at the moment because I am no longer at their training and I know she is fitter than plenty of males that have refereed at that level.
"She has been ready for years now, just needs an opportunity to prove to everyone that she is more than capable."
There are 20 full-time refs with only eight games each week.
FEMALE REFS TO TAKE CHARGE AS NRL HISTORY BECKONS
Kasey Badger and Belinda Sharpe will create rugby league history by being appointed to control NRL trial games this weekend.
The Daily Telegraph can reveal NRL management will announce on Tuesday that the two female referees will take charge of two trials.
Strong performances will advance their chances of becoming the first women in rugby league's 114-year history to adjudicate first grade games under the one-referee structure.
Badger's strong performance refereeing the women's All Stars game at CommBank Stadium on Saturday night pushed her case for higher honours.
Sharpe has refereed first grade previously but only as an assistant under the now defunct two-referee structure.
Informed sources said Sharpe and Badger are charging toward an NRL appointment.
One NRL coach told The Daily Telegraph: "It's only a matter of time."
There is no suggestion either Badger or Sharpe will be rushed into the NRL for round one this year but there is an expectation one or both will be used at some stage this season.
Kasey Badger and Belinda Sharpe are in the hunt to control games in round one. Picture: Brett Costello
"Both those referees are fantastic and if they're deemed to be at the level where they can control an NRL game on their own then I believe they would do very, very well," said former NSW and Australian player Ruan Sims.
"Both these women have all of the attributes to make it at the top level, absolutely.
"Kasey did referee very well (on Saturday). She controlled the match well, her communication was fantastic and her conflict-resolution on the field is very good as well. I know that from personal experience.
"I've been refereed by Belinda and had the pleasure of watching her from the sidelines and she's another one – her communication is fantastic and she is very clear and concise with her directions, which, as a player, makes it very easy to follow to understand."
Sharpe and Badger were awarded full-time refereeing contracts in 2019.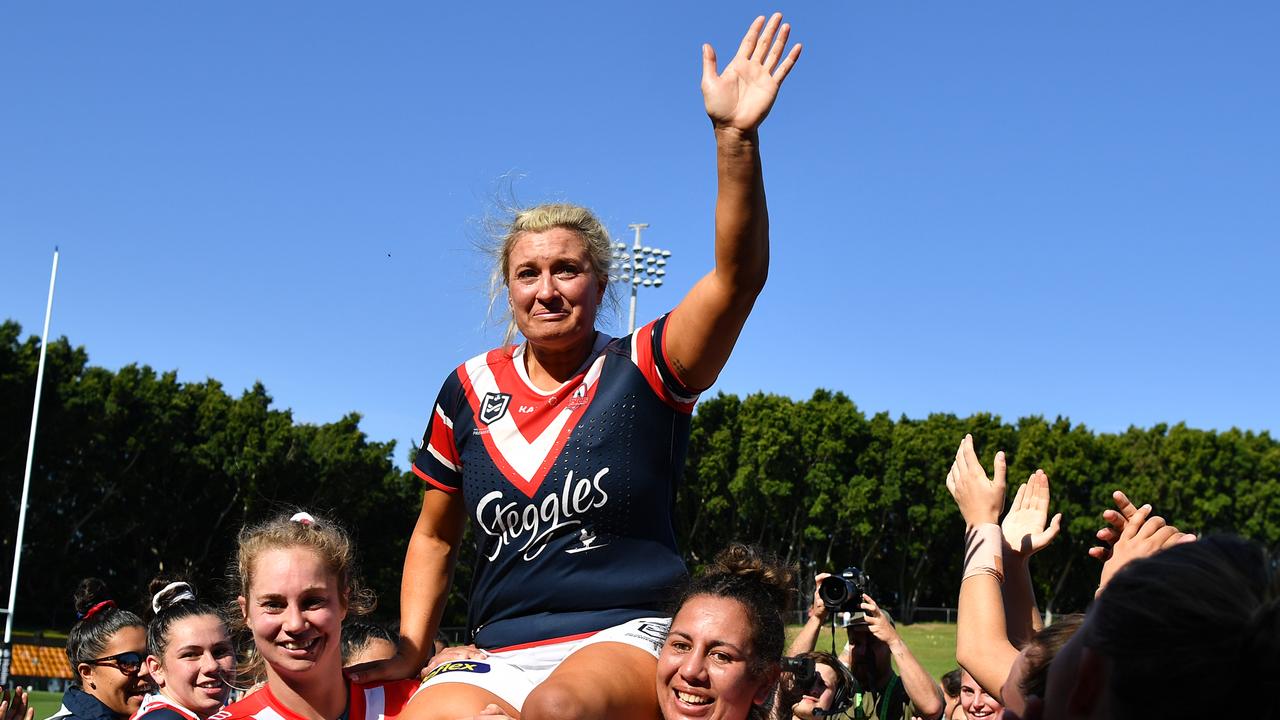 Former NRLW star Ruan Sims says Sharpe and Badger have what it takes to control NRL games. Picture: AAP
There are around 20 full-time referees in the NRL's pool with Sharpe and Badger the only women. Two referees, Matt Cecchin and Henry Perenara, retired after last season.
There is a feeling that Sharpe may be slightly ahead of Badger in the pecking order.
Sharpe made her NRL debut under the two-referee system for a round 18 game between Canterbury and Brisbane in July 2019, alongside head referee Ben Cummins.
Badger controlled the women's All Stars game superbly with NRL coaches saying she showed considerable composure under pressure.
There have been growing calls in recent years for the NRL to select a female to control an NRL game.