NRL 2022: Newcastle coach Adam O'Brien on the tough questions facing the Knights this season
Knights coach Adam O'Brien has revealed the immediate impact Andrew Johns has had in his return to Newcastle, overhauling their attack on a pool table.
Adam O'Brien has a pool table in his Newcastle home which, sometime again this week, will become a canvas for the greatest rugby league player who ever lived.
Not that Andrew Johns actually plays.
No, instead, Joey will use said table as his whiteboard.
Like some green felted field where, for hours, and with a handful of the Newcastle coaching staff watching on, Johns moves pool balls about in a colourful swirl that will soon enough become the attacking structures, strategies, even trick shots for the likes of Kalyn Ponga, Bradman Best and insert new No. 7 here.
Often, Ponga attends these gatherings too.
Same deal Knights assistants Blake Green and Willie Peters.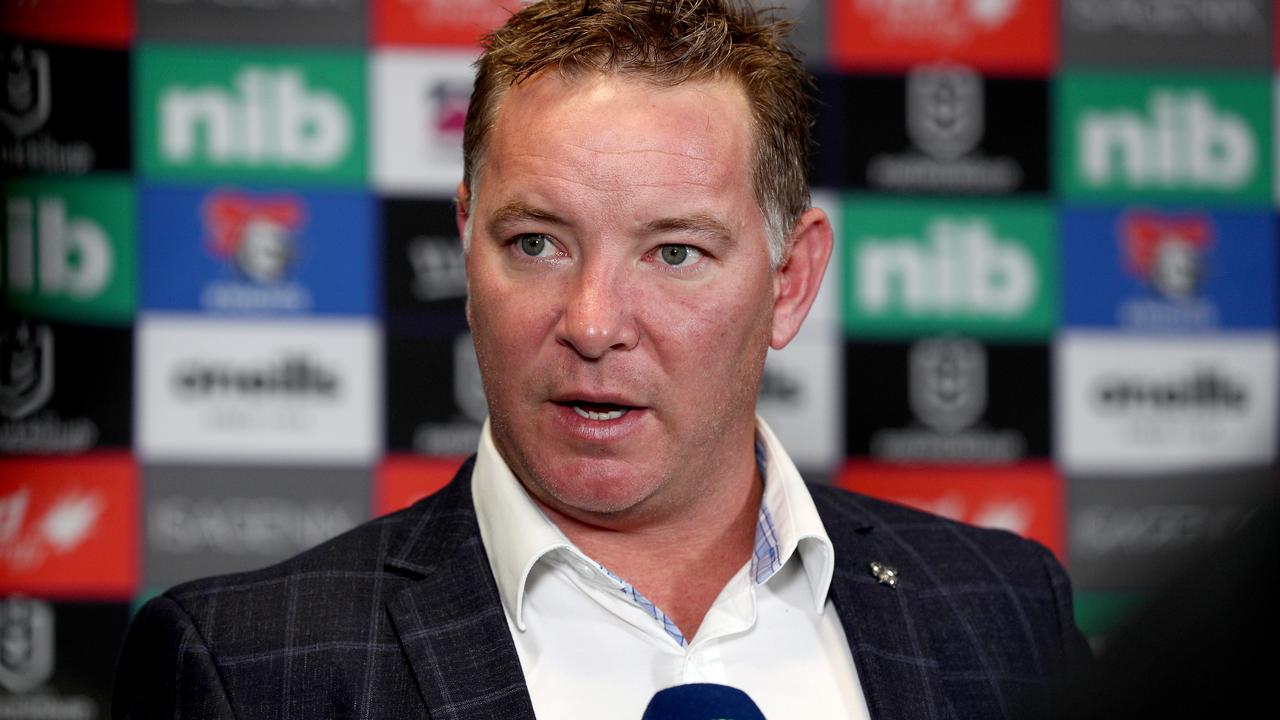 There's some fresh faces in Newcastle to support Knights coach Adam O'Brien, including the return of NRL immortal Andrew Johns. Picture: NRL Images.
All of them gathered, as coach O'Brien puts it: "Watching the beautiful mind at work".
Indeed, if ever you wanted to know how Newcastle replaces Mitchell Pearce in 2022, how they find more points in games, more opportunities for Ponga and finally become a top eight threat, it is here in these regular meetings inside Rancho O'Brien.
Officially, Johns has returned home as a Knights consultant. On deck, they say, just two days each week.
Yet know that when Newcastle runs out next year led by a new halves combination, and fuelled by the new training program of NSW Origin Head of Performance Hayden Knowles, plus the new defensive improvements added by Aussie UFC legend James Te Huna, the fingerprints of this club's favourite son will also be everywhere.
Which is why Nick Walshaw's first question to O'Brien is an obvious one …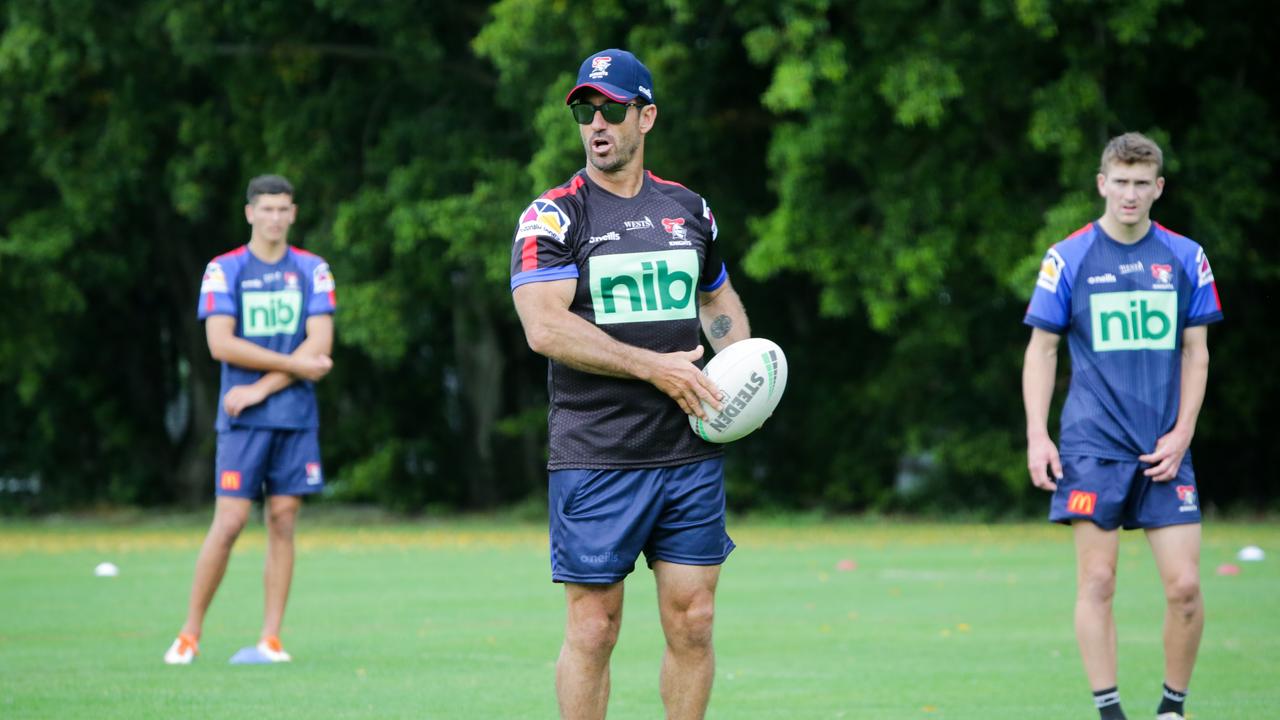 O'Brien and Andrew Johns have been plotting on a pool table how to revamp the Knights attack. Picture: Liam Driver.
NW: Mate, talk us through those pool table sessions going on over at your place …
AO: I think we've been at my house nearly every second day, going over structures on the pool table. Using the balls, and working out how we want to play. And Joey is certainly the conductor of the orchestra. You just watch the beautiful mind go to work. I've also got a home office next to the pool room so we often go from the table to look at vision on the screen, then to whiteboards … Joey is really detailed.
NW: Sounds like 008 is all in?
AO: He has a real passion to get the place going, and I love that. He's also at training twice a week and, walking off after every session, the players have all got better because of Joey. His pockets are filled with gold.
NW: Wish you still had Pearcey as part of it all?
AO: It took me 60 seconds to realise that (Pearce leaving for France) was the right thing for him and the right thing for us as a club. When he came over to my house, we just sat on the back deck with a couple of beers. And after that first minute of talking, I could completely understand where he was coming from. I remember thinking at the time, 'If this was my young bloke, I'd want him to go too'. But the thing I really liked, Pearcey said if we really wanted him to stay, then he would just realign his thinking and get on with it.
But I knew that would've taken its toll after a few months. At the end of the day these guys are fathers, sons, husbands, they're human beings. So (letting Pearce walk) was the right thing to do for him as a person and, ultimately, it will be the right thing for us as a club.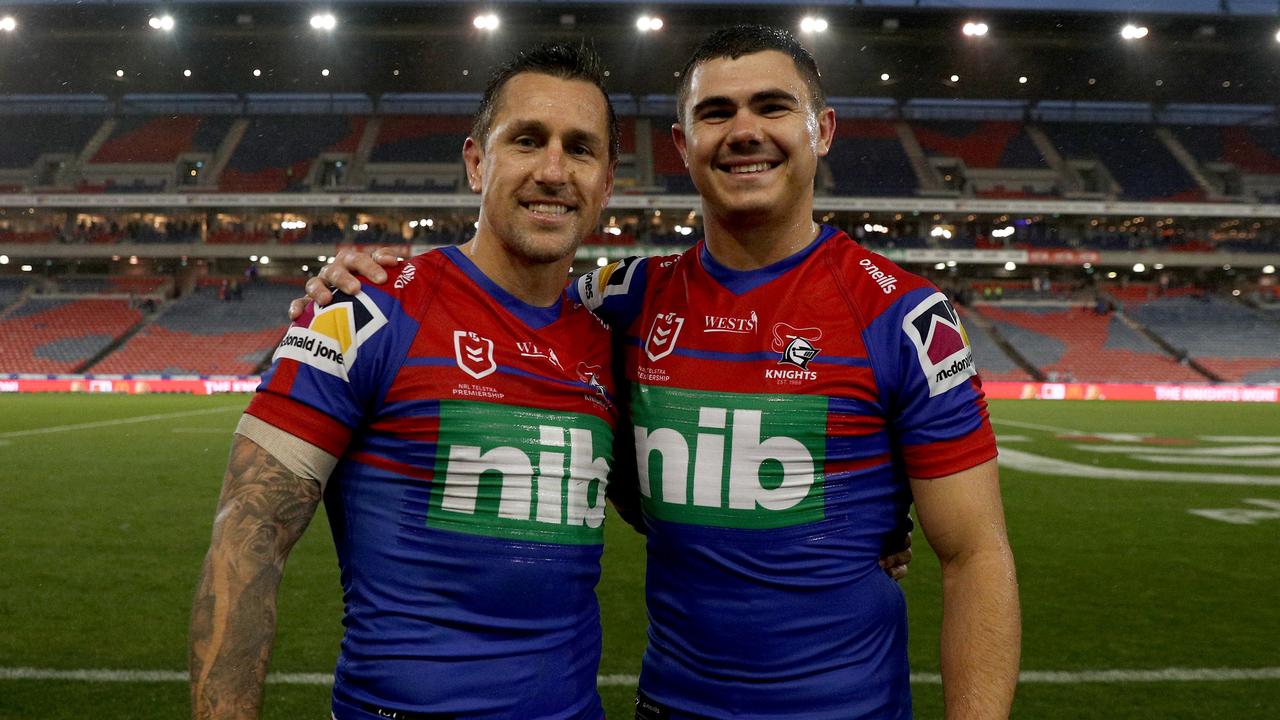 With Pearce gone there is more responsibility on Jake Clifford's shoulders in 2022. Picture: Supplied
NW: Statistically Newcastle had the worst attack of any side not named Canterbury-Bankstown this year – what went wrong?
AO: Because of injury, Mitchell and Kalyn never passed a football to each other until Round 9. Zero reps all summer. Jayden Brailey was also returning from an ACL, we didn't get Jake Clifford until June, so we didn't have our seven, six, nine or one do anything all summer. And no excuses, it is what it is. But certainly the consistency of your spine is important.
And because of those injuries too, we also went deep into the well and handed a lot of young blokes jerseys. Dom Young came out from England and (after only two games in the English Super League) found himself in nine NRL games. Brayden Musgrove went from a grand final with Cessnock to playing NRL too. And when you're not standing next to the same guy continuously, it all takes a toll on both your defence and attack.
NW: Yet you still made the finals …
AO: Our attack certainly evolved, and improved, as the players spent some time together. In our last game we put four tries on Parramatta. Next week, Penrith only put one on them. The six or seven winning games we had at the back end of the year, our spine was together all week, training together, and that started to show. Same as the first five weeks this pre-season, we've had more reps in our spine than we had all of last year.
NW: How do you replace Mitchell Pearce?
AO: Even prior to Pearcey announcing his move, we had started to develop an attacking style that won't be heavily reliant on a dominant seven. We want to use four (playmakers), where we include our 13 as an adjustable, or a link man. We also want to bring Kalyn Ponga into the game more often.
NW: So how will his role change in 2022?
AO: Kalyn's strike rate for something good happening per touch of the footy, it's remarkable. But where we've let him down as a side, he hasn't had enough touches. Where leading NRL fullbacks will get, say, 30 opportunities and ice 10 of them, Kalyn is nailing five from seven. He's nailing everything we get him involved in, but other fullbacks are touching the ball multiple times each set.
But again, it's about finding balance. Not being too reliant on one person. So we've designed an attack that suits everybody.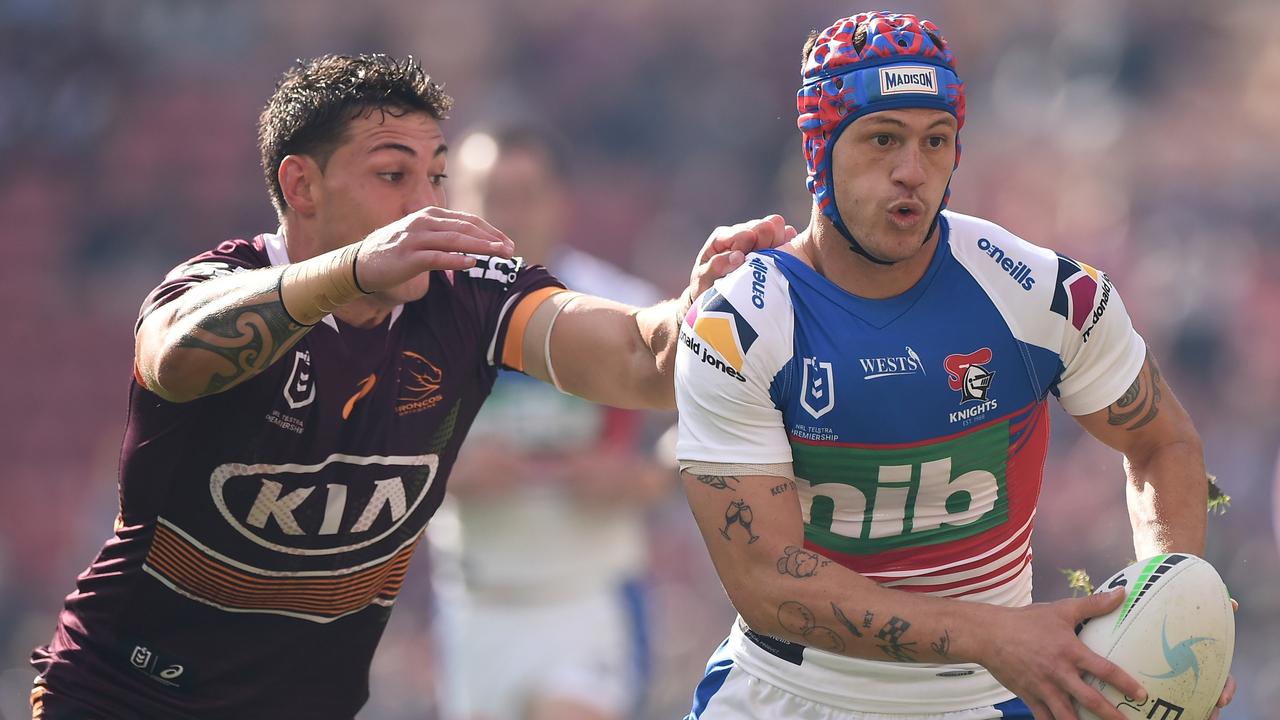 After Newcastle's attack struggled in 2021, there's more pressure of million dollar man Kalyn Ponga to perform. Picture: Matt Roberts/Getty Images.
NW: But still, Ponga is now your $1M man in every sense – which brings truckloads of pressure, right?
AO: The thing about KP, I know when he has that real look of desire in his eyes. You could see it when he came back for Origin III last year, there was a change in him. And I've seen that look from day one this summer. The way Kalyn has been training, he's top two or three for all fitness results. We've also involved him in some of those sessions (around the pool table) and I can tell there's a real determination there. He understands the way we want to play and has also come up with ideas himself.
NW: Will the ongoing discussions around his contract be a distraction?
AO: I don't think so, no. Obviously it gets talked about a lot. But I can only go on how Kalyn is every day and I haven't seen anything affect him.
NW: When does it need to be sorted by?
AO: Haven't given that a thought. My focus is getting January right. One of the great things I learned from Craig Bellamy is that you never look too far ahead. Just get today right.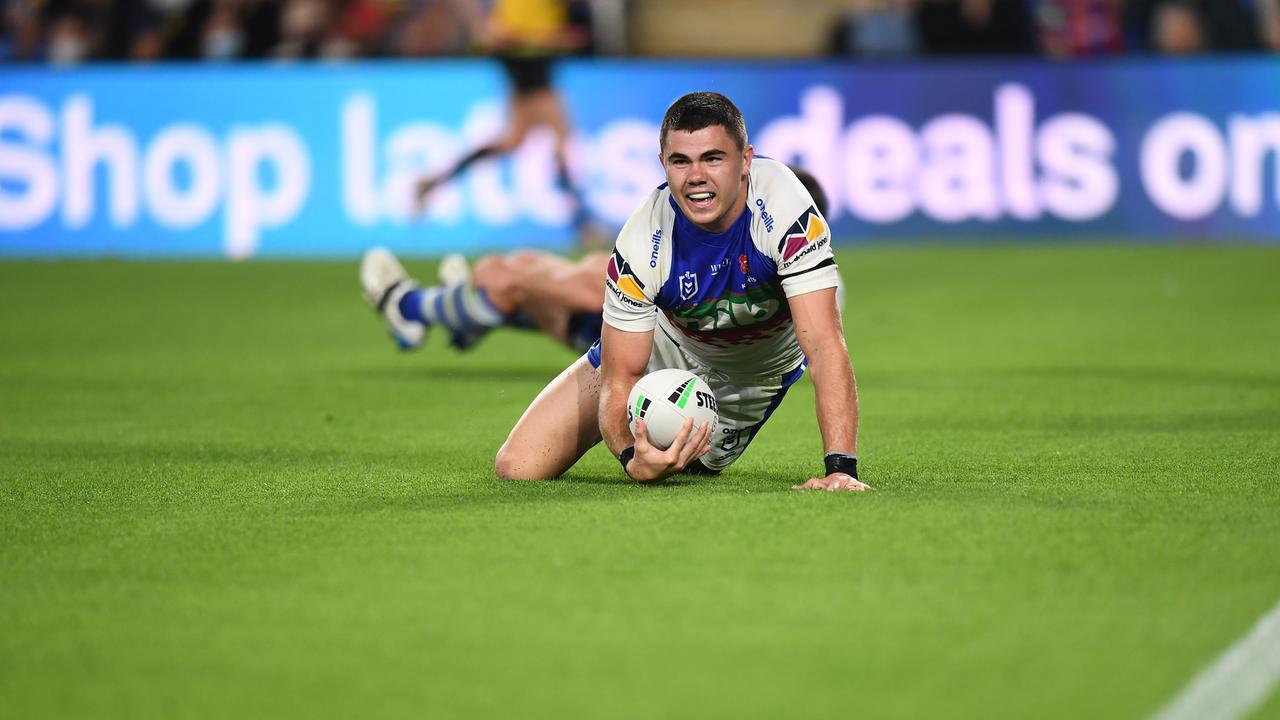 O'Brien has hinted that Clifford will be kicking goals in 2022 over Kalyn Ponga. Picture: Getty Images.
NW: OK, couple of quick ones. Who goalkicks, KP or Jake Clifford?
AO: I'd say Jake, but I always leave it between those guys to work out. So long as we're kicking them.
NW: Captain?
AO: Brails did a great job this year. He has a great temperament with referees and only got more confident as the year went on, so he'll be in the mix. But I'd like to have more of a look. We've got a postponed army camp that we may pick up in January, and leaders really shine through at those.
NW: You've made a heap of changes to your coaching staff – why?
AO: With all the stresses that have come with Covid, and being a relatively inexperienced head coach, you do find yourself jumping across departments. Questioning everything. And because I feel that added to the stress, I wanted to get some experience in. Last year we had 12 grand finals within our staff. Next year we will have 26.
NW: Will Dom Young become rugby league's fastest man?
AO: I'm not sure about fastest in the game but he's fast enough for me. Dom made a linebreak at training the other day, palmed a guy and ran the length. And sitting back that night in my office rewatching the vision, I had a smile on my face. It was a beautiful sight.
NW: What about losing two Saifitis to Origin?
AO: I hope so. I really do.
NW: Like Bellyache, you're also an emotional coach. Ever been tempted to calm things a little?
AO: There are plenty of things I've done wrong. Vented at times which has put pressure on the club. But there isn't a day you aren't learning. And I won't change because I'm not trying to be anyone else. I'm being me. What I will say though is that I've learned to choose my words more wisely. After games, I don't always need to express everything that I'm thinking. But as long as I'm productive in the box, I'm OK with things.
NW: Think fans enjoy seeing that passion from their coach, like they do the players?
AO: There are certainly times where it's not a great look. But whether it is right or wrong, I'm not sure. I'm just trying to be me and the players understand that. They know I'm a bit Jekyll and Hyde. They know there is a fun side to me, that they can have a laugh and I do care about them.
And I don't blow up in the box if a young bloke makes a mistake trying. That doesn't get me out of my chair. But if there is a perceived lack of effort, or if I don't think you're giving what you are capable of – through, say, laziness – I see that as selfish. And that gets me out of the chair. And the day I temper that, the day I don't show a heavy disdain for that sort of thing, I'm not the right guy to be their coach.