NRL 2022: Newcastle Knights season preview, roster analysis, predicted finish, round 1 best 17
The departure of veteran halfback Mitchell Pearce has left a big hole in Newcastle's halves but the inclusion of a club legend onto the coaching staff could provide a few surprises for Knights' fans.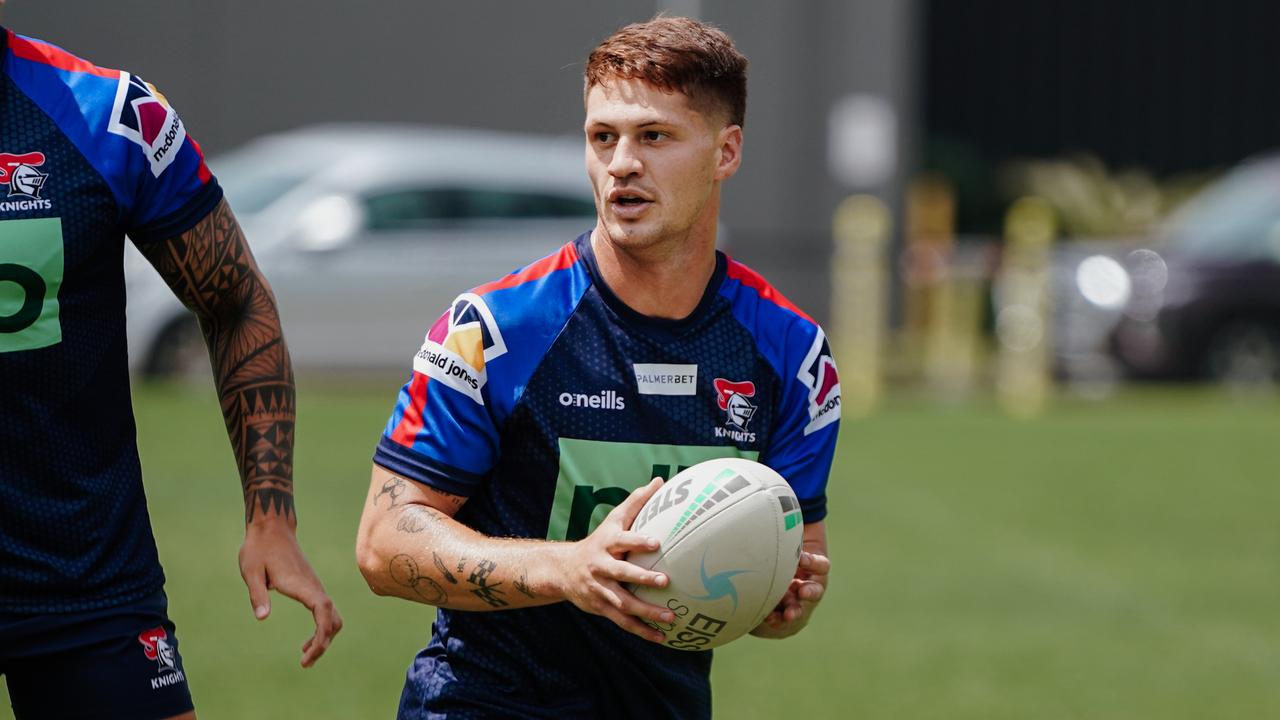 Newcastle star Kalyn Ponga at pre-season training. Picture: Knights Digital
Newcastle's million-dollar man Kalyn Ponga will be under even more pressure to carry the Knights' hopes in 2022 after the departure of veteran halfback Mitchell Pearce.
The superstar fullback will be key in trying to ignite the Knights' attack, which was poor for the majority of 2021. The Knights will be hoping the addition of club legend Andrew Johns to the coaching staff and the return of Origin stalwart Dane Gagai will spark up their attack.
Nick Walshaw takes a deep dive into how the Knights are shaping up for 2022.
FINISHES PAST FIVE YEARS
2021: 7th
2020: 7th
2019: 11th
2018: 11th
2017: 16th
2022 ODDS
Premiership: $21
Top four: $6.50
Top 8: $2.25
Most losses: $19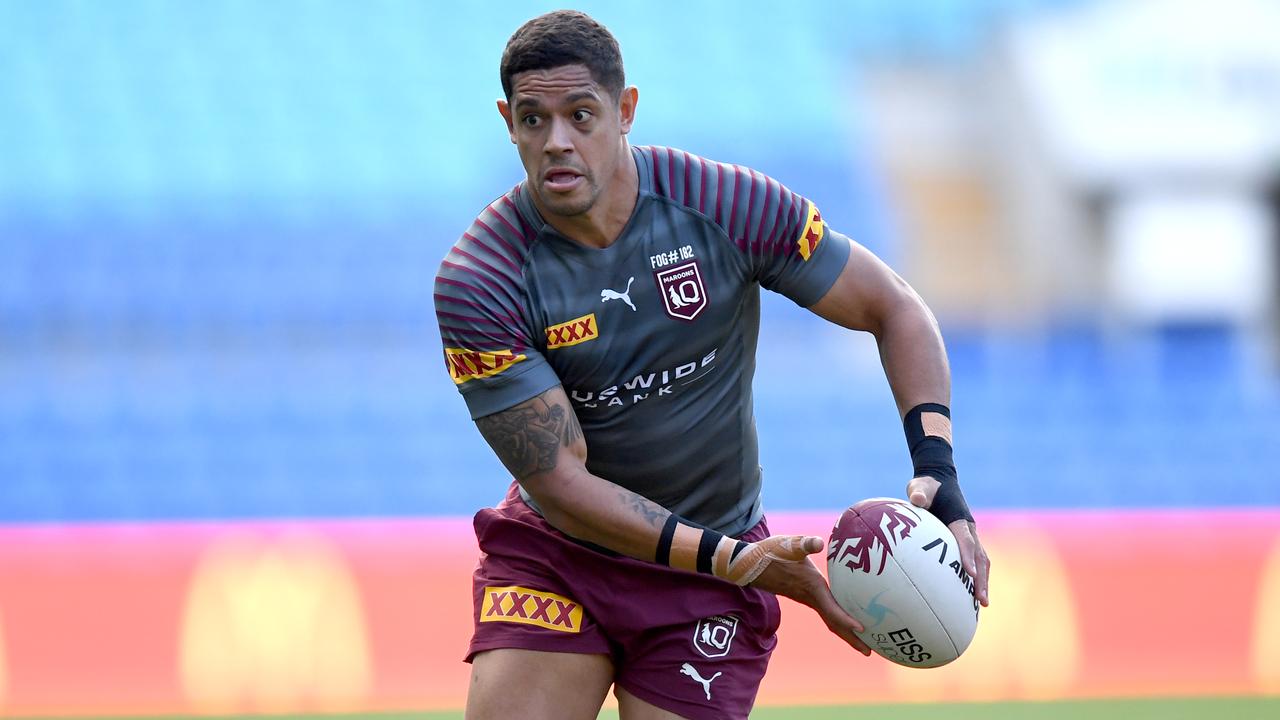 Origin winger Dane Gagai has returned to the Knights after a stint with the Rabbitohs. Picture: NRL Images
2022 SQUAD
Mitch Barnett, Bradman Best, Jayden Brailey, Jake Clifford, Adam Clune, Phoenix Crossland, Lachlan Fitzgibbon, Tyson Frizell, Dane Gagai, Bailey Hodgson, Hymel Hunt, Jack Johns, Brodie Jones, Jacob Kiraz, David Klemmer, Kurt Mann, Jirah Momoisea, Brayden Musgrove, Kalyn Ponga, Chris Randall, Daniel Saifiti, Jacob Saifiti, Simi Sasagi, Pasami Saulo, Sauaso Sue, Starford To'a, Enari Tuala, Dominic Young.
INS: Adam Clune (Dragons), Dane Gagai (Rabbitohs).
OUTS: Blake Green (retired), Josh King (Storm), Mitchell Pearce (Catalan), Gehamat Shibasaki (rugby), Connor Watson (Roosters).
SQUAD STRENGTHS AND WEAKNESSES
No matter your take on Mitchell Pearce – and the rugby league world is full of them – the Knights will be poorer for his absence. Outstanding at NRL level for 16 seasons, Pearce was the guy who not only drove his sides on the field, but in training sessions, the gymnasium, everywhere. So as for who replaces him? That question could take all summer to answer. And maybe longer. Regardless, it all adds up to a giant question mark being placed on the Knights halves, and spine, for 2022.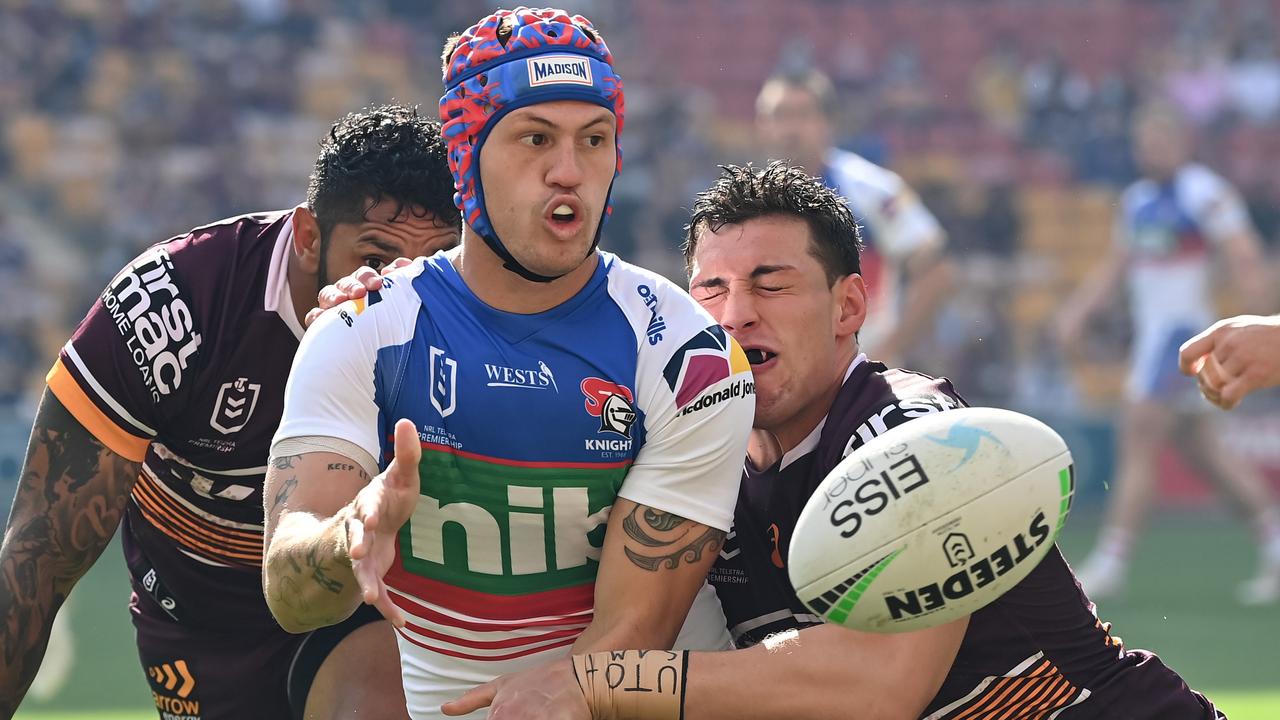 Kalyn Ponga will have even more pressure on his shoulders after the departure of Mitchell Pearce. Picture: NRL Images
PLAYERS IN 2021 RICH LIST: Four
8. Kalyn Ponga $1 million
16. Mitchell Pearce $900,000
28. David Klemmer $800,000
48. Tyson Frizell $700,00
COACHING STATUS AND SAFETY RATING
Now in his third year at Newcastle, Adam O'Brien is facing the greatest test of his NRL career in 2022. Despite making the finals for the past two years – and breaking some major club hoodoos along the way – O'Brien must now go a step further by turning his squad into a genuine finals threat. Which is a goal, of course, made so much tougher by the loss of Mitchell Pearce. Pearce's departure impacts the club in almost every key area, including the coach's fortunes. Certainly the Knights' head office has plenty of faith in the young coach, who is signed until 2024, and has already hit some significant milestones in charge. In his debut year, the former Storm assistant returned Newcastle to finals footy for the first time in seven years. Then in his second, took them to back-to-back playoffs for the first time in almost 20 years. Now, the goal is to create a side that, once into the finals, is capable of winning the season's biggest games.
Safety rating: B+
WHAT THEY NEED TO TWEAK
This is an easy one to address given Newcastle owned the worst attack of any side this year not named Canterbury. And now their chief playmaker has disappeared to France. So this, undoubtedly, will be a key focus over summer – and why the club has signed no less than Knights legend Andrew Johns to the coaching staff as an attack coach. Of course, when O'Brien first arrived in Newcastle, he made no secret about his desires to focus heavily on improving the club's worrisome defence. As a result, and as Johns admitted in a recent interview, the side's attack then suffered because of that. As a result, 008 has now been signed to breath life into a squad that scored just 76 tries – second last, and ahead of only Canterbury (60).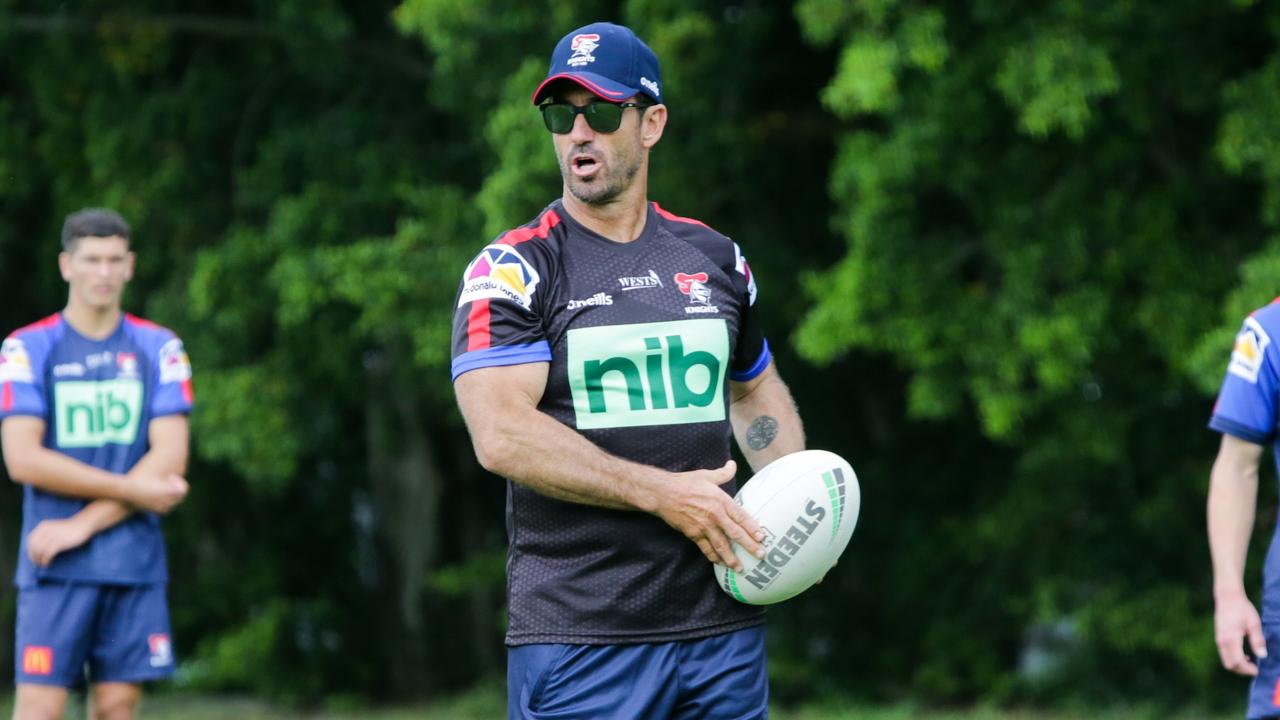 Knights legend Andrew Johns has joined Newcastle's coaching staff to help improve the team's attack in 2022. Picture: Liam Driver
FREE AGENCY WRAP
Dane Gagai is a great get, obviously. Especially given the Queensland Origin favourite is coming off such an outstanding year with South Sydney. Adam Clune too, brings depth to the halves and could potentially train his way into that vacant Knights No.7 jersey come March.
However, the biggest signing could prove to be Andrew Johns, who has been tasked with reshaping the side's attack to fit what will be a completely new halves pairing. The club has also made other big changes to a backroom staff whose fingerprints will end up all over this side – with NSW high-performance boss Hayden Knowles shifting across from premiers Penrith and Australian UFC great James Te Huna signing on as wrestling coach. Importantly, the club still has two spaces in its NRL squad and remain on the lookout for both a senior NRL playmaker and backrower.
Rating: B+
WHICH PLAYER CAN THEY REINVENT? Phoenix Crossland
Crossland is the most obvious choice. But as for what shape that reinvention takes? This shapes as the $64 question for Knights coach Adam O'Brien. Despite growing up as a playmaker, Crossland's toughness and ability to defend has led to talk over the past year about him playing hooker or even No.13.
Yet with Pearce now gone, the 21-year-old also finds himself on a shortlist of potential halves replacements to start the season. Better, the reports of his efforts in pre-season training have been outstanding. Which is a positive sign for the utility whose past two summers have been interrupted by injury recovery.
WILL DEVELOPMENT CONTRACT UPGRADED KIDS MAKE AN IMPACT?
Rather than NRL development players stepping up, the bigger talk at Newcastle is the continuing rise of UK imports Bailey Hodgson and Dominic Young. Both guys have been receiving big raps for their efforts on the training paddock – and in the gym — over the off-season. SuperCoach players, take note.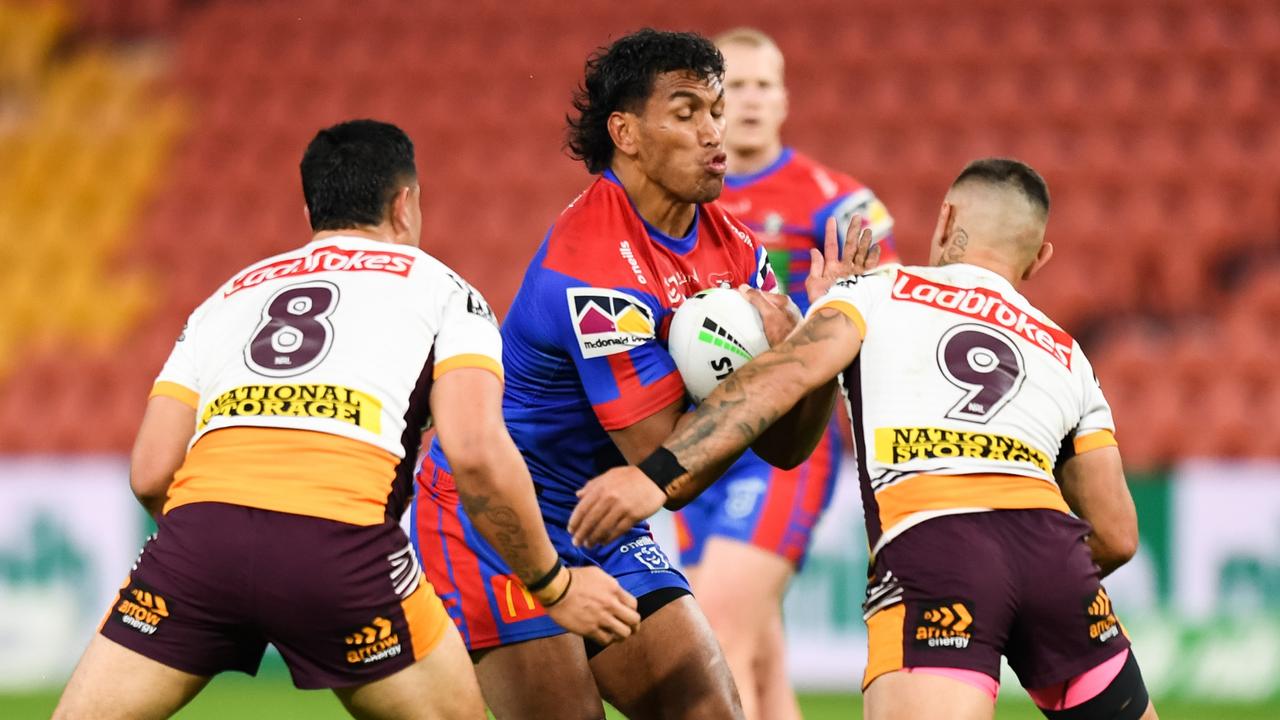 Jacob Saifiti has the talent to develop into an Origin contender. Picture: NRL Images
WHO TAKES THE NEXT STEP? Jacob Saifiti
Of course, this may seem a strange answer to some given he was only recently voted Newcastle's Player of the Year. But there are plenty within the club who believe a second Saifiti brother can be carting Steedens for the NSW Origin side in 2022, such is his ongoing development. Seen as a genuine leader at the club.
IT'S A BIG YEAR FOR ...Kalyn Ponga
With Pearce gone, KP now becomes the club's $1-million man in every sense. Which comes with a weight of expectation — just ask Ben Hunt at St George Illawarra. Undoubtedly, this bloke is a superstar. But no matter how anyone wants to spin it, the changing roster at Newcastle means Ponga will be under more pressure than a circus bear's bicycle in 2022.
WHERE THEY FINISH IN 2022 — 14th
Bookmakers have Newcastle just missing the NRL playoffs, on the 10th line of betting, but plenty will have to go right for them to be in contention at the end. 14th.
CAPTAINCY CONTENDERS
Kalyn Ponga, Daniel Saifiti, Jayden Brailey.
FOX SPORTS LAB'S AARON WALLACE SAYS …
The Knights made the finals for a second straight year, but have certainly been lucky with their draw in both seasons. In 2020 they played the other top eight teams just eight times, the equal fewest of any team and, in 2021, they played just nine, one fewer than anyone else (Manly had 10). The Knights used 15 starting spine combinations in 2021 – the equal most with the Bulldogs and Warriors and will want to improve in 2022.