Laps with Trady: The story behind the Newtown Jets' bike-riding cult hero
John Trad's mum wouldn't let him play rugby league as a kid. Somehow, he turned his love for the Newtown Jets into something more important, writes BRENDAN BRADFORD.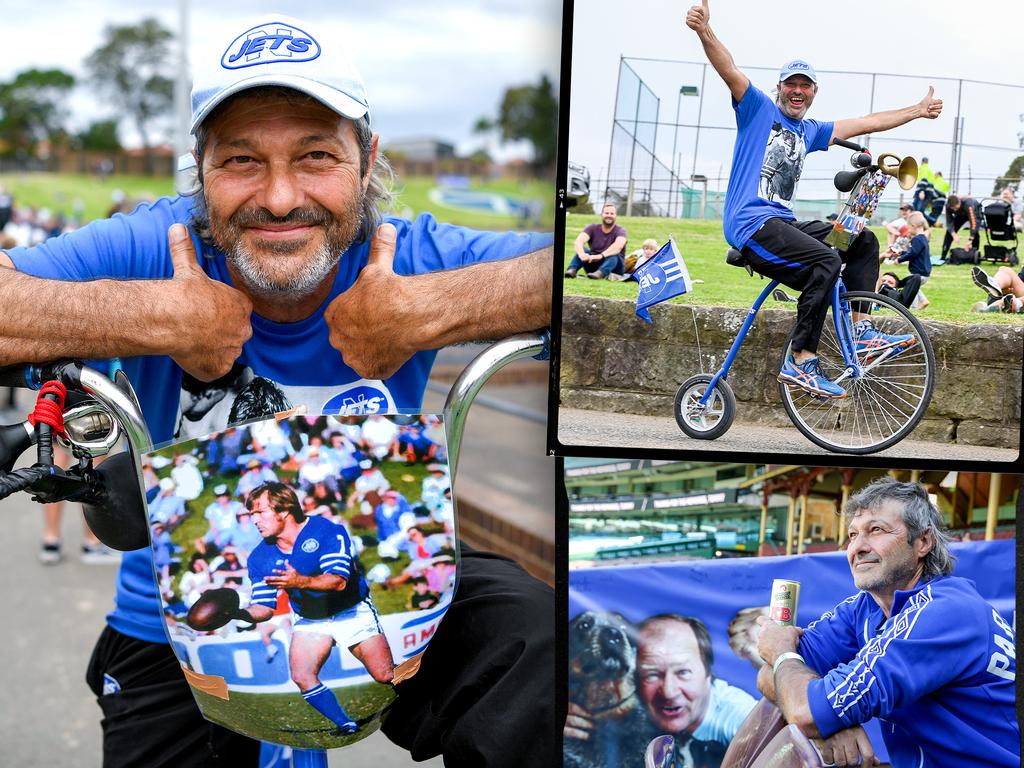 Jets legend John Trad started out as the side's cameraman, but has since turned into a cult hero for riding his bike around Henson Park when Newtown score.
As the sun sets behind the King George V grandstand at Henson Park, Mawene Hiroti makes a clean linebreak and offloads to Newtown Jets teammate Braydon Trindall to score under the posts. The try increases Newtown's lead over the Rabbitohs to an unassailable 34-18 with 13 minutes remaining.
Teammates swamp Trindall as referee Daniel Luttringer points to the spot and South Sydney players trudge towards the posts to await the conversion.
Away from the pitch, under the shadows of the grandstand, there's a rush of excitement. A flurry of kids hurry towards the paved path that circles the field. There, on his tiny blue bike, with a flag in one hand and an air horn in the other, John Trad begins his celebratory lap of the oval.
An ecstatic group of kids, some barefoot, some with footballs under their arms, and others holding ice creams, run along behind him.
Trad does a lap every time the Jets score.
He's got a workout in today, with Newtown running in seven tries in a 42-18 win over Souths.
Add a couple of laps during the earlier Ron Massey Cup game between Glebe and Hills, plus a spin around the ground at halftime, and Trad is pushing 5km for the afternoon.
All in a day's work for the Jets diehard.
"The first couple of laps are always pretty hard, but then the excitement gets to me and I get a second wind," Trad tells CODE Sports.
"When the Jets score and I'm on my bike. I don't get tired."
A lifelong fan
John Trad is the youngest of nine kids, and none of them were ever allowed to play rugby league.
Trad's parents settled in on Redfern Street after emigrating from Lebanon in the 1940s. The family didn't own a TV back then, but a neighbour, who everyone called Mrs K, had one. Mrs K lived alone, and when the football was being televised, she'd put her TV on the verandah and turn it towards the footpath so everyone on the street could watch.
One glimpse of the rough and tumble game, barely recognisable to the version on TV today, and Trad's mum was turned off.
When Trad grew older and the family moved to Dulwich Hill, she wouldn't even let him watch the Jets at Henson Park.
So, they used to trick her.
"Mum would never let us go to the footy, so we used to tell her we were going to the pool," Trad says.
"We'd walk from Marrickville Pool to Henson Park and we'd sneak in – we had no money.
"That's how I started loving the Jets, mate. It was magic when we were young going there."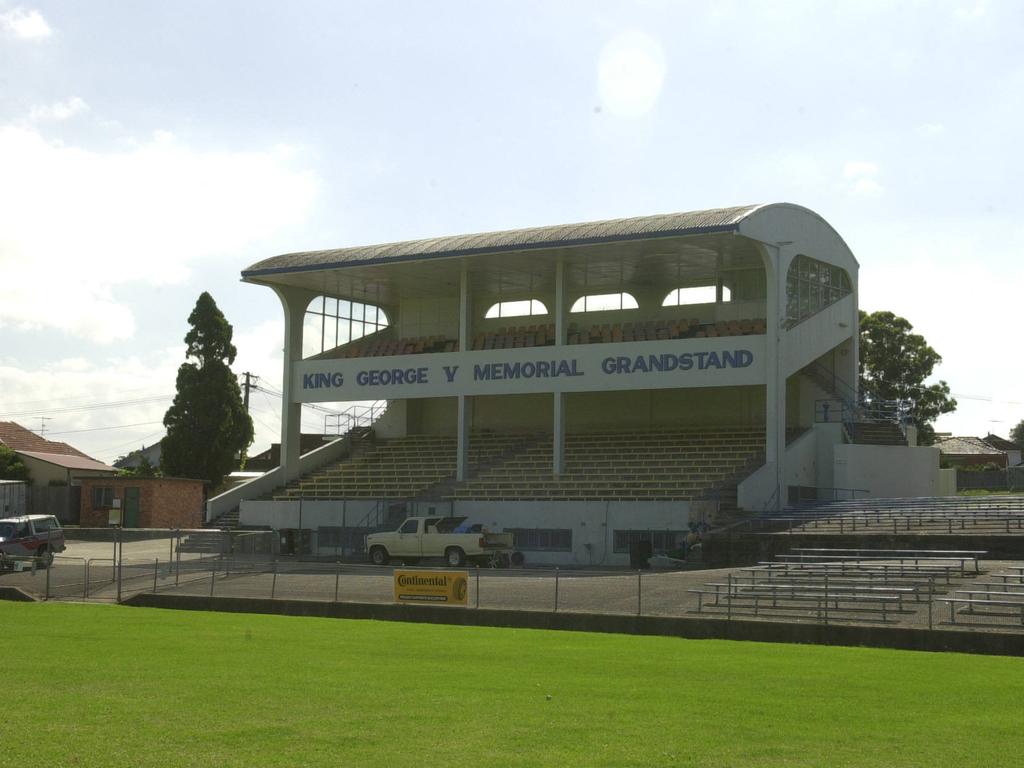 The famous King George v Grandstand at Henson Park. Picture: Supplied
As Trad grew throughout the 70s, so did his love of the Jets.
"We'd go down to Henson Park and we'd meet people like Paul Hogan. He'd be up in the grandstand," he says.
"This was when the Paul Hogan Show was the biggest thing in Sydney, and we'd go up and ask to shake his hand. It was magic."
Manfred Moore
Trad was there for one of the most memorable moments in Jets history.
In 1977, Newtown coach Paul Broughton and financial backer John Singleton recruited Oakland Raiders Super Bowl champion Manfred Moore to play a season of rugby league.
It was a publicity stunt, but it worked.
After a month of training, the six foot, 120kg Moore lined up against Wests at Henson Park for round one of the 1977 season.
Before the game, Moore delighted the crowd by throwing a rugby ball, gridiron-style, over the jam-packed grandstand. Later on, he outjumped future Test fullback John Dorahy for a famous try on debut.
"I was there," says Trad. "I was at that game when he threw the ball over the grandstand.
"The crowd was going wild and there's an amazing photo of him throwing the ball over the stand. I look for myself in it, but I can't see myself."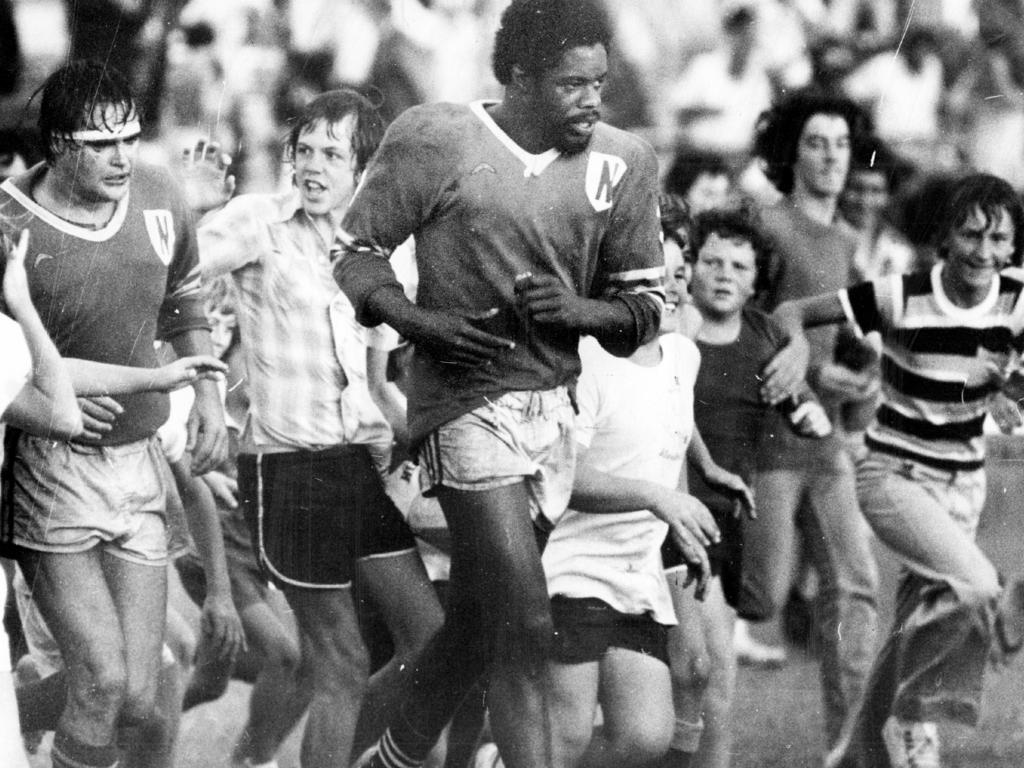 Manfred Moore looks a little worse for wear after his first of rugby league for Newtown in 1977. Picture: Supplied
Moore didn't last too long in rugby league. He was back in the US after four games, but Trad kept showing up at Henson Park, shifting his attention to Tommy Raudonikis by 1980.
"Tommy was everyone's favourite," he says. "Just so rugged. He was everything.
"I was 16 or 17 and we'd follow Tommy everywhere, wherever he played. We loved him.
"We used go to Henson Park all the time until the Jets got kicked out in 1983."
A broken camera
When the Jets were dumped from first grade, Trad shifted his support to the Rabbitohs. His love of the Bluebaggers remained, but he thought his days of cheering on his team from the hill were over.
Newtown reemerged in the 1990s in the Metropolitan Cup (now known as the Ron Massey Cup), and even won a few premierships, but Trad wasn't clued in about the comeback until 2000 when he spied former first grader Col Murphy sipping a beer at a Newtown pub.
"He was all sweaty in a Jets singlet, drinking a beer at the pub and I said, 'What are you doing here in Jets singlet?'" Trad says.
"He goes, 'I'm coaching the Jets, we're back in the reserve grade competition'.
"I said, 'Mate, I didn't even know we were back', and he goes, 'Yeah, it's round six and we haven't won a game yet'."
That didn't matter to Trad. He was just stoked his team was back.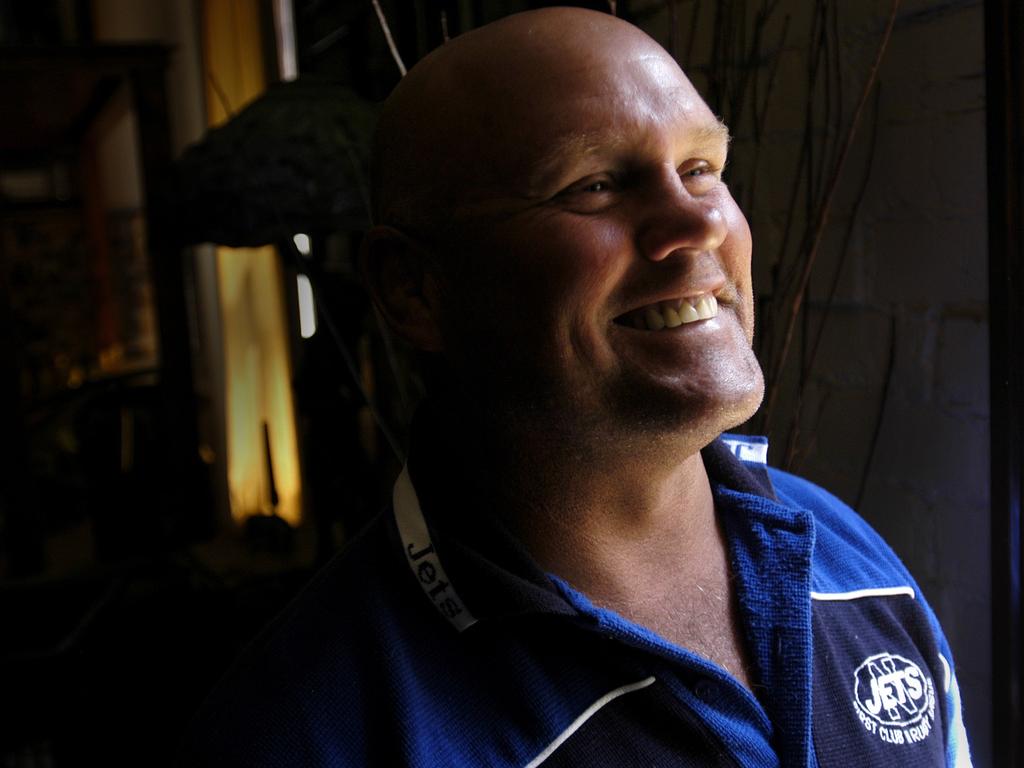 Then-Newtown coach, and former first grader, Col Murphy, told Trad the Jets were back in reserve grade. Picture: Supplied
He'd also purchased a video camera a few days earlier and asked Murphy whether he'd be able to come down to film some training sessions.
Murphy agreed, so that's what he did for the next eight years, becoming a familiar and much-loved character at the famous old club.
That is until his camera broke in 2009.
He took it in to get fixed, but was listless with nothing to do on game day that weekend.
"We scored a try in the last minute to win the game, and I had nothing else to do, so I just jumped on my bike and did a lap of Henson Park," he says.
"I got a few high fives and people cheered. I thought it was a bit of fun."
A week later, his camera still wasn't fixed, so he bought a flag and a horn and rode a lap every time the Jets scored a try.
"The camera place rang me up and said my camera was ready," Trad says.
"I asked how much it was and they told me $350. I just said, 'Nah, you can keep it' and that was it for my camera days.
"I did the bike from then instead."
He was once the Jets' cameraman, but Trad ditched the camera for the bike in 2009. Picture:

NCA NewsWire/Bianca De Marchi
The bike
Trad's bike is an ornament in itself.
It's sort of a mini penny farthing, with no brakes and a fixed front wheel.
He "stole" it from his brother.
In the mid-1990s, his older brother had bought it at a garage sale, but it had been gathering dust in his shed for a few years after one of his kids took a bad fall off it.
John found the curious two-wheeled machine when he was helping clean the shed one day in around 1998.
"I was in Dulwich Hill and he was in Penshurst, so I caught the train out there and found the bike in the shed when we were cleaning," he says.
"I got on it, and did a little loop around the garage, then found myself on the driveway, then on the footpath.
"Then I just kept on riding all the way home. I forgot about the cleaning. I didn't have a mobile phone, so he rang me at home later on going, 'Where are ya?'
"I said, 'I saw the bike and I just took off' and he let me keep it. That was in the late 1990s and I've been riding it ever since."
Look, mum, no hands. John Trad on a lap around Henson Park after the Jets scored a try. Picture: NCA NewsWire/Bianca De Marchi
A decade later, he painted it the royal blue of Newtown's jersey and stuck a flag on the back as it became arguably the most famous pushbike in rugby league.
"I just love it. It's a shame we've only got 10 home games," he says.
"I took my bike to Lidcombe Oval once a few years back. I never took it again.
"People were booing me. I wasn't used to getting booed. All these Wests fans were getting into me, but it was good stuff."
Laps with Trady
Between 2009 and 2019, Trad completed hundreds, if not thousands of laps of Henson Park.
While the ground has always been synonymous with the Jets and rugby league, Henson Park is also steeped in cycling tradition.
Built on an old brick pit in the early 1930s, the ground originally had a state of the art velodrome that was used to host the track cycling events at the 1938 Empire Games.
"That's why it's shaped like that," Trad says.
"There's some great photos of people flying around the track in the 1930s. I wonder if they were riding penny farthings back then too?"
Trad was happily following along in the best rugby league and cycling traditions of Henson Park until Covid struck in 2020.
The NSW Cup season was suspended after just one game (Trad emphasises the Jets scored a big win over the Bunnies that day), and the future of the club looked bleak.
No games meant no money, which meant an uncertain future.
"Everyone was locked down. You couldn't leave your house except for exercise," he says.
"I thought I'd take my bike to Henson Park, ride around for 80 minutes like there was a game there and hope people would donate money to help keep the Jets flying, because we might die in the arse.
"We made no money, we could die."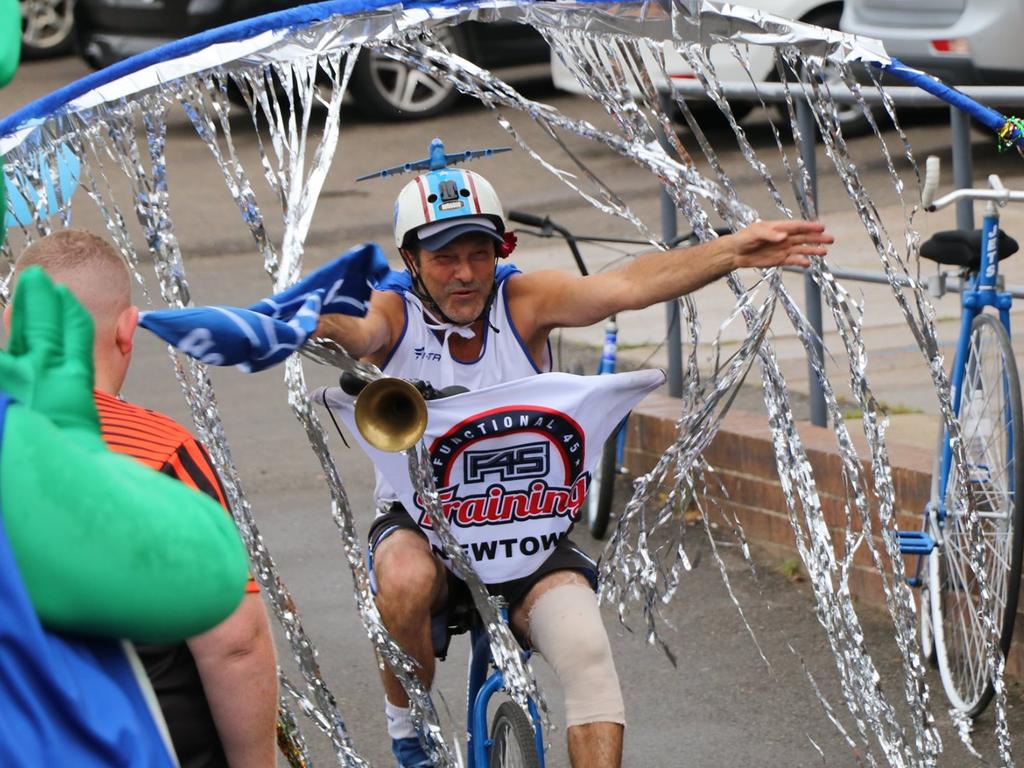 Trad completes another lap during Laps with Trady in 2020. Picture: Supplied
Against all odds, it worked.
With the help of a couple of friends "who've got brains", Laps with Trady was born.
The first week, he completed 33 laps of the ground in 80 minutes and raised a little over $700.
"The next week we came up with some funny videos – cracking eggs over my head, spraying water on me, that sort of stuff – and it worked," he says.
"People were loving it, so I did it for 26 weeks."
The NSW Cup and the Jets didn't return that season, but on the weekend of the NRL Grand Final, Trad rode 50 laps and was featured in the local paper. Channel 9 even did a story on him.
By the end of 2020, he'd raised more than $13,000, all of which went to the Jets.
Not bad for a kid who used to sneak in because he couldn't afford to buy a ticket.
"We're going to extend it next year," he says.
"Next year, we're going to have a Laps with Trady Day at Henson Park and people can donate money straight to the Jets."
Trady and Albo: A couple of Jets tragics. Picture: Supplied
The Covid-affected seasons of 2020 and 2021 were tough on Trad.
A fulltime carer for his older brother, he missed helping out at training during the week.
He missed getting the ground set up on Fridays for a Saturday kick-off.
He missed the camaraderie of the team.
But most of all, he missed the excitement of game day and the joy on peoples' faces as he rode past.
That's why he started in the first place, and the main reason he still does it after all these years.
"It's just the smiles on the kids' faces when they all chase behind me," he says.
"Just giving high fives and seeing all the happy faces and people screaming out.
"It's a happy minute because the Jets have just scored and the reason I'm riding is because the Jets scored and I'm excited."