Locker Room: Shaun Johnson must decide how he'll be remembered
A homesick Shaun Johnson is "struggling" ahead of the biggest decision of his career, a decision that needs to be made sooner rather than later writes David Riccio
Once a game against Penrith is out of the way, the most important fortnight of New Zealand's most influential halfback begins.
A homesick Shaun Johnson will leave the Warriors hub at Redcliffe and head home to Auckland this week.
Back home, in the comfort of his home and surrounded by family, Johnson must discuss what his mind and ego won't want him to do.
Does he retire now, as former Kiwi Test forward Tony Kemp has suggested?
Or keep going until the end of his 2023 Warriors contract, risking the full stop of a stellar career ending in reserve grade?
Or finish up at the end of this season, using the Warriors first home game at a sold-out Mt Smart Stadium in three years on July 3, as the beginning of a fitting farewell tour?
Stream every game of every round of the 2022 NRL Telstra Premiership Season Live & Ad-Break Free During Play on Kayo. New to Kayo? Try 14-days free now.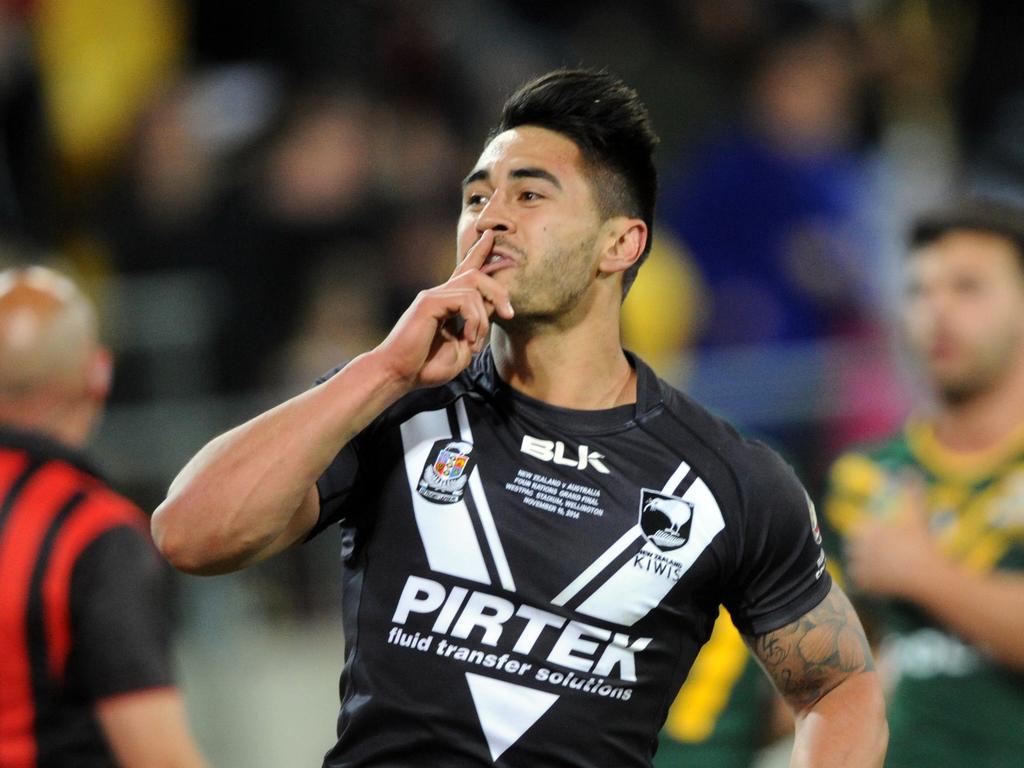 No player has scored more points for the Kiwis than Shaun Johnson. Picture: AAP Image/SNPA, Ross Setford
Johnson has been around long enough to know that if Nathan Brown hadn't severed ties with the Warriors in the week leading up to the game against Cronulla last Sunday, he was going to be dropped.
The coaching staff had decided to go with rookie Ronald Volkman and Chanel Harris-Tevita in the halves against the Sharks.
As it was, interim coach Stacey Jones took the reins on the Tuesday before the Sharks game and in an interview with media on the same day, conceded he needed more time to think about whether Johnson would be in the side.
By Wednesday, Jones had decided to stick with the veteran on the basis of "stability.''
The selection of Volkman against the premiers is a tough initiation, but necessary for the Warriors.
Volkman is the heir apparent to Johnson and Jones, searching for a way to ignite the club's best-ever halfback, called on him to help the kid, before his trip home.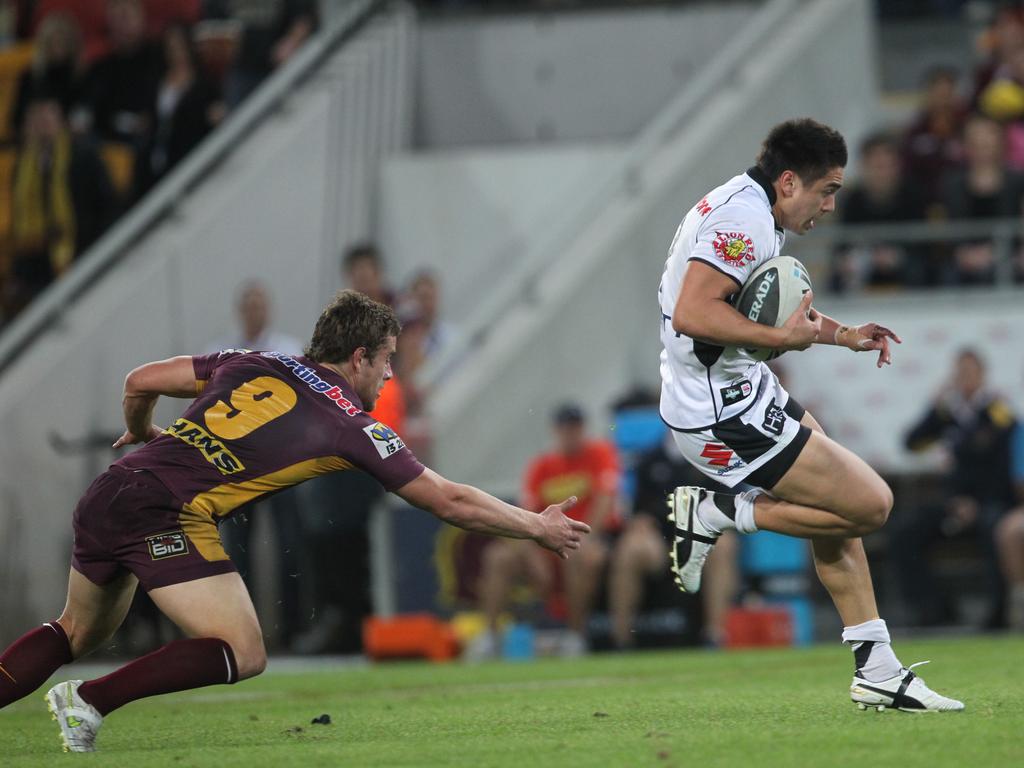 Shaun Johnson on the burst back in 2011. Picture: AAP Image/Action Photographics/Colin Whelan
"We know he's been struggling,'' Jones said this week.

"He's struggling off the field with a couple of things.
"I've spoken to him and a big focus is to get through this week and he can see some light at the end of the tunnel and get home.
"I really want Shaun to be a part of the first game at home, but for him, let's just focus on this and then he can think about getting home.''
Jones' reference to Johnson "struggling" is a combination of personal heartache and his football.
Johnson is one of few Warriors players to be without his wife or family in Redcliffe. That was never the plan.
He had announced his return to the Warriors last June after three seasons with Cronulla, assuming they'd be based in New Zealand to allow his wife to resume her netball career.
His heart has ached ever since.
"It all adds up,'' Kiwi legend Benji Marshall told Triple M.
"Wayne's (Bennett) biggest strength is he sorts the players lives out off the field.
"Because if that's all sorted, there's no stress on the field.''
So concerned were the Warriors last month, they gave Johnson special dispensation to fly home for a few days in the first week of May.

"Got what I came for …" Johnson posted on his Instagram feed with an accompanying photo of him hugging his daughter.

In the next few days, the 31-year-old will fly back into the arms of his girls.
He will land at the same airport that only a few years ago, was the scene for raucous mayhem, with fans forming guards of honour, following big wins with the Warriors over in Australia, or internationally with the Kiwis.

He will jump in a car and out through the window, he will peer out onto the streets that were once lined with concrete pylons holding massive billboards with his face and name.

Johnson's legacy is being gambled with every extra week that he plays.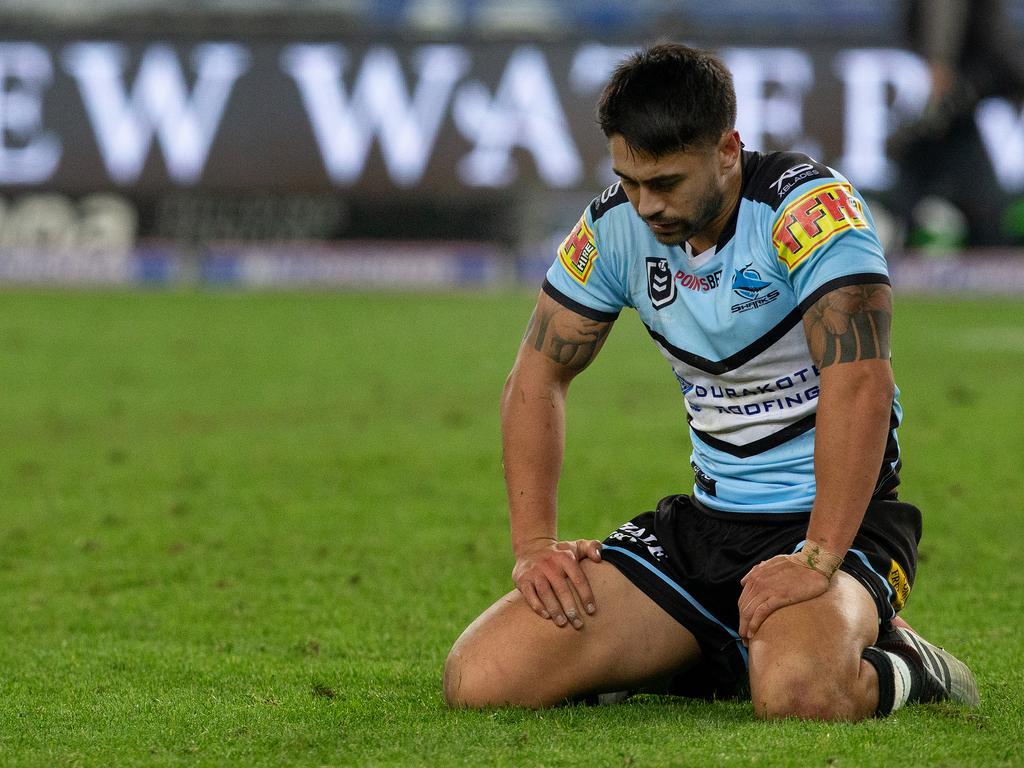 Shaun Johnson showed flashes of magic while at the Sharks but he was far from his best form. Picture: AAP Image/Steve Christo
The trademark energy, deft kick and best of all, willingness to suck in two defenders by sprinting hard at them, before ever-so softly dishing a pass that sends his teammate through the very-gap that the gun half had created, is well, gone.
The Sharks, where Johnson spent three seasons, picked-up on his declining interest in testing the defensive line in the latter stages of 2020 and in his final season with them in 2021.
Johnson camouflaged to the fans on the hill his uneasiness to carry the footy deep into the line by resorting to his pass to deliver the goods.
Sharks winger Sione Katoa scored 25-tries in 32-games during 2020-2021. Watch the highlight reels and it's a rainbow ball from Johnson to the flying winger that you'll see on loop.
Yet on several occasions, his pass hit grass or dribbled over the sideline. The Sharks decided to pin their fortunes on two running halves in Matt Moylan and Nicho Hynes.
Time waits for no one. Even the greatest.

Johnson was left out of the Kiwis squad to face Tonga next weekend - and such is the situation, few if at all, blinked twice.
"I think the Kiwi thing was the furthest thing from his mind," Jones said.
"He wants to play some good footy for the Warriors first and that will take care of itself.
"He would be the first one to acknowledge he probably didn't deserve a spot there.''
Johnson's 223 Test points is 55 clear of the second-placed Ridge, while only 11 players have posted more Test tries for New Zealand than his 14 touchdowns.

Johnson has walked with a spotlight ever since he walked through the doors of the Warriors.
In March 2009, league immortal Andrew Johns commented: "I haven't been this excited about a player in a long time."
Just five years later, Johnson was named the best player in the world, as the 2014 Golden Boot winner.
A few years ago, Phil Gould was talking to an ageing player, who had turned to him for advice on whether he should keep playing.
"He told me people will always remember the highlights of my career,'' the player said.
"But they'll remember that final year the most.''
Originally published as Locker Room: Shaun Johnson must decide how he'll be remembered