Magic Round fight: Manly NRL cult hero Owen Cunnigham caught up in Suncorp Stadium brawl
The former NRL cult hero caught up in the vicious brawl that marred the first night of Magic Round has broken his silence.
With his arm in a sling after recent shoulder surgery, the 55-year-old former State of Origin player tried to protect his son and break up the fight but was pushed away and went tumbling over the back of a seat.
His son, Ethan 25, allegedly coward punched, was taken to hospital with a broken sinus bone and needing stitches.
Watch every game of Magic Round this weekend Live & Ad-Break Free In Play on Kayo. New to Kayo? Try 14-Days Free Now >
"There were about eight of them … it was a f…en disgrace," Cunningham told The Daily Telegraph.
"I've never seen anything like it. It was like they were there for a stink, not the football.
"My oldest boy Ethan was sitting with his girlfriend and they were making some derogatory comments towards her.
"Then it started and my bloke got kinged (king hit) between the eyes. It was shocking."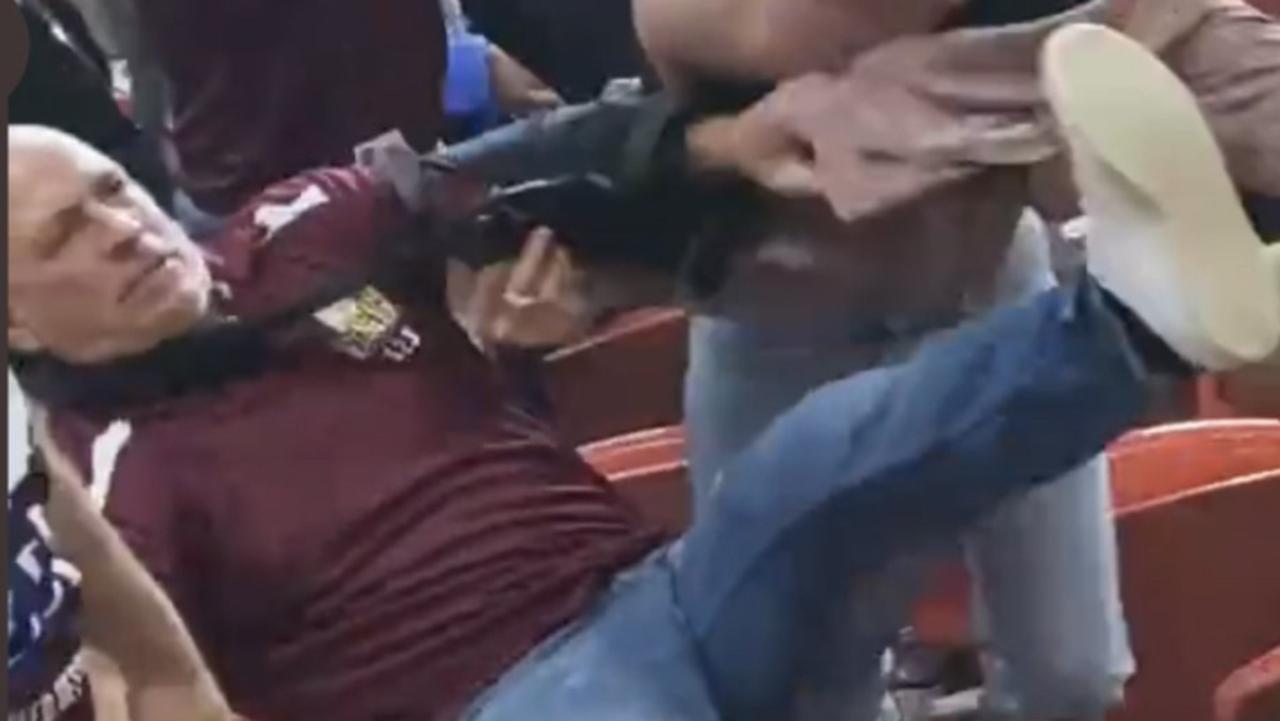 Former Manly star Owen Cunningham was trying to break up a fight at the footy. Picture: NRL Imagery
Former Manly star Owen Cunningham's son Ethan after the Magic Round brawl.
The NRL demanded an increased security presence as a result of the brawl.
Cunningham said his other son and a mate had no option but to join the fight to save Ethan.
"If they hadn't gone in Ethan could have finished up in a coma," Cunningham said.
"It was frightening with their blokes coming down two sets of seats to get involved.
"They weren't there to break it up.
"We got escorted out and took Ethan straight to hospital.
"He had blood pissing down his face. The bloke who hit him must have had a ring on.
"They also broke his sinus bone so he can't fly home to Townsville for university."
Cunningham played 275 NRL games and had 13 seasons at the Manly Sea Eagles.
He was renowned for being a genuinely nice guy throughout his career.
On Friday night he says he felt 'helpless' as his son was attacked.
"I've just had shoulder surgery, so I was incapacitated and couldn't really help my boy," he said.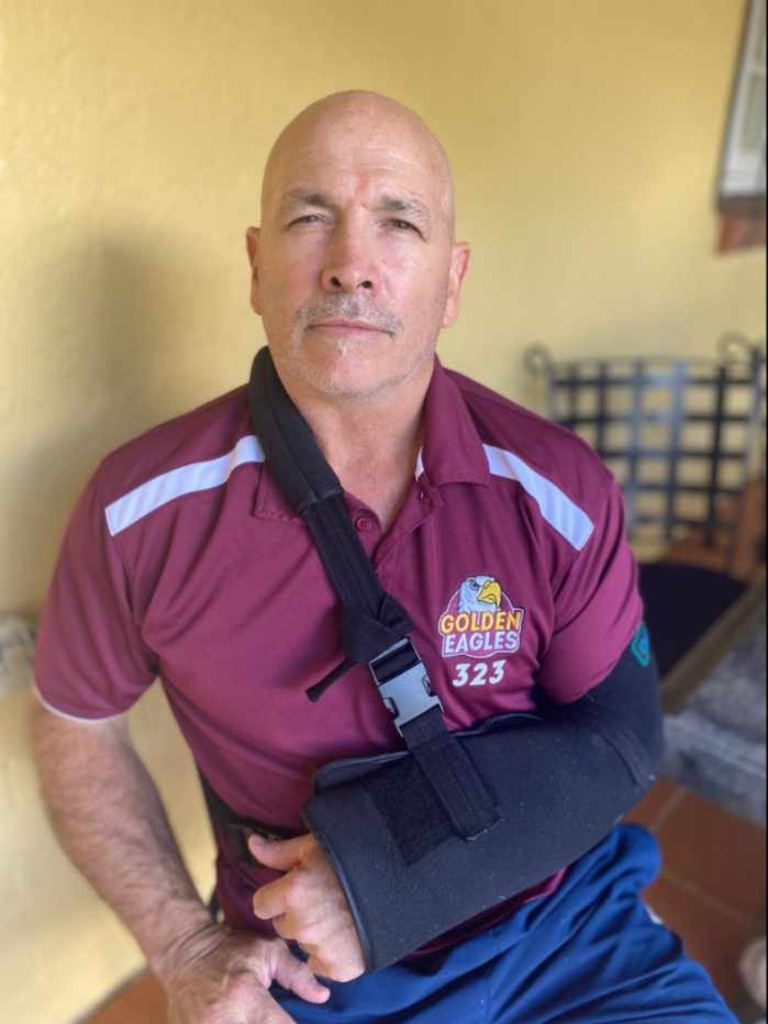 Cunningham recently underwent shoulder surgery.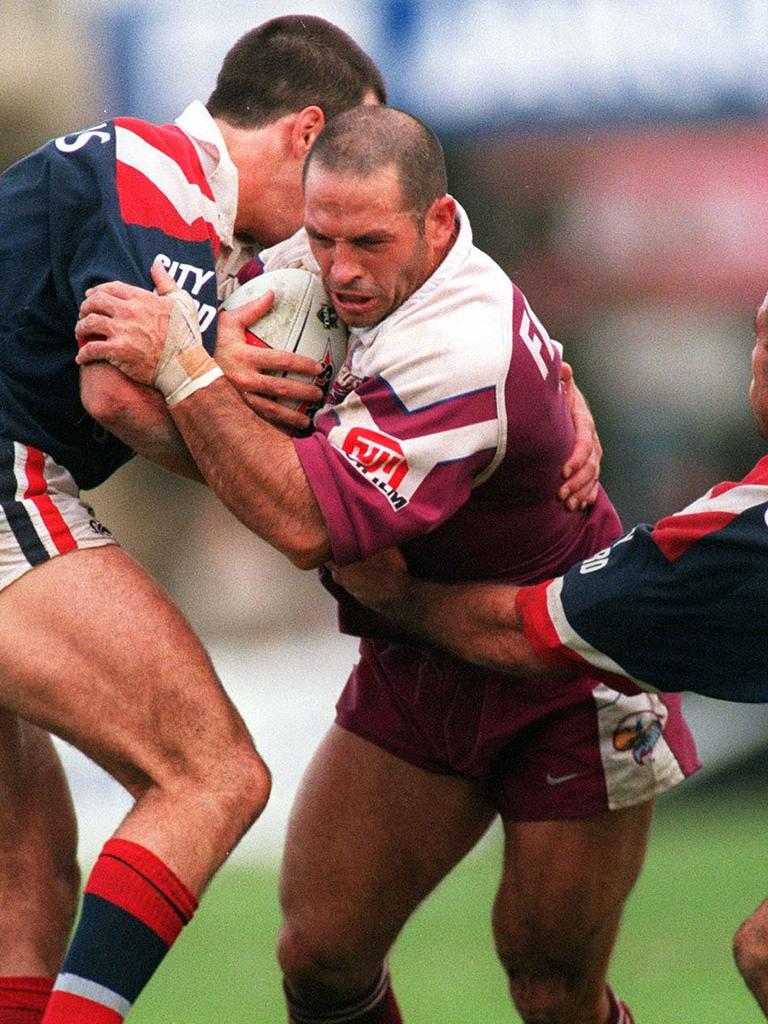 Owen Cunningham played 275 NRL games. NRL Imagery
"I tried to settle the whole thing down. It was like a bad movie.
"I grabbed one guy but I got pushed over the seat.
"I felt helpless. In a way I'm glad I had the sling on. I was so livid.
"Lucky I haven't done more damage to the shoulder."
Cunningham said his group almost anticipated the trouble when they arrived.
"As soon as we sat down I was worried," he said, "There was something in the air giving me a bad feel. They were just smart arses. There were at least eight of them and four of us.
"And they were drunk.
"Seriously they've got to look at the grog distribution at that event.
"Kids don't need to see this sort of stuff. It was frightening and it was disgusting."
Queensland Police Minister Mark Ryan has called for the people involved to be banned from attending games for life.
"I hope those people are not just dealt with by the legal authorities through police and the courts but I hope that they're banned for life from the stadium," he said.
Originally published as Magic Round fight: Manly NRL cult hero Owen Cunnigham caught up in Suncorp Stadium brawl