State of Origin 2022: Billy Slater's coaching career could have been in crisis if he was given job last year
Billy Slater's coaching career could have been on a very different path if Paul Green hadn't jumped on the grenade that was coaching Queensland's 2021 Origin series.
Billy Slater's 'sliding doors' moment has put Queensland's new State of Origin coach on track to create a new Maroons dynasty.
Slater kicked off his State of Origin coaching career in style as the Maroons orchestrated a 16-10 Game One victory against NSW in Sydney on Wednesday night.
The win has put the Maroons in the box seat to reclaim the Origin shield following last year's disastrous campaign in which Queensland surrendered the series within two horrific games.
Slater replaced one-series coach Paul Green in the Queensland hot seat this year and has immediately put his stamp on the Maroons.
Stream every game of every round of the 2022 NRL Telstra Premiership Season Live & Ad-Break Free During Play on Kayo. New to Kayo? Try 14-days free now.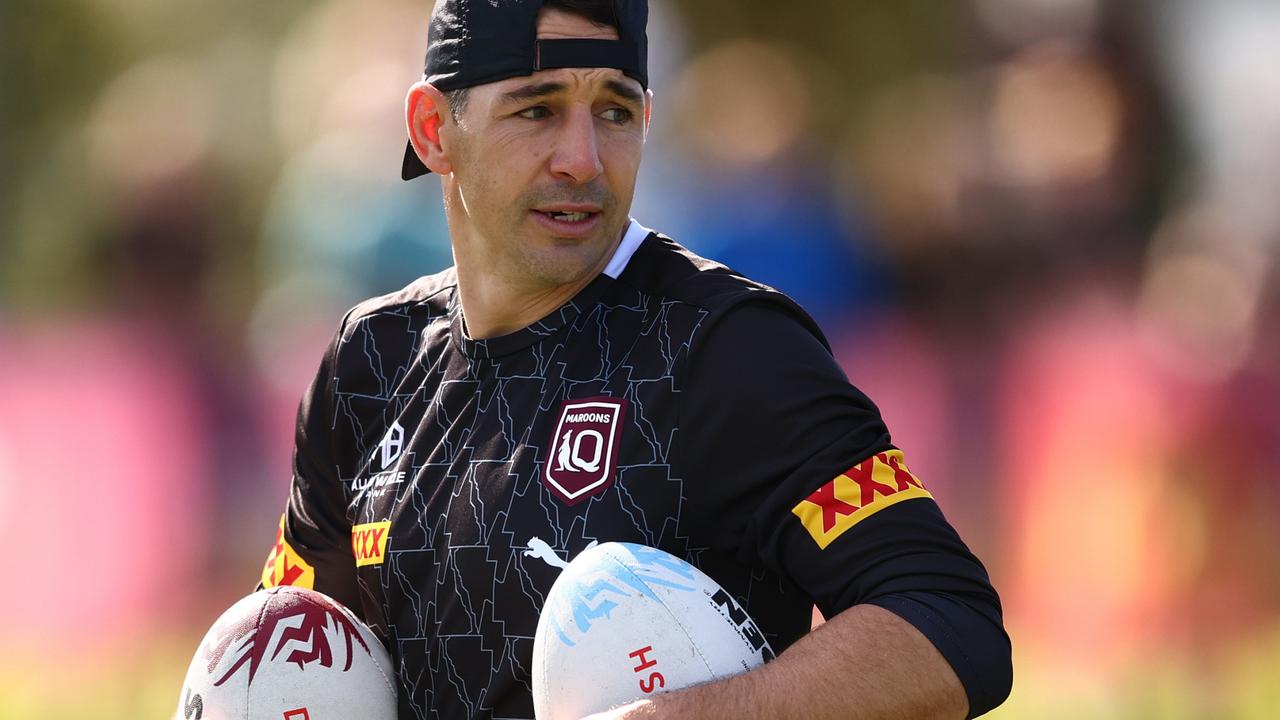 Queensland Coach Billy Slater quickly went about assessing potential Queensland players and setting up an all-star support staff after getting the job.
But his debut success has come on the back of the key decision to overlook Slater for last year's nightmare series.
The Queensland Rugby League was on the hunt for a new coach following Wayne Bennett's miraculous 2020 victory, when a bunch of misfits conjured one of Origin's most remarkable upsets in the concept's 40th anniversary.
After being sacked by the North Queensland Cowboys, 2015 NRL premiership-winning coach Green was the hot favourite for the Maroons post until there was a late push for Slater to be handed the reins.
Green was eventually given the job and QRL chairman Bruce Hatcher said Slater would have been thrown to the wolves last year as a rookie coach amid player depth problems for the Maroons.
"We believed in Billy's ability but occasionally you've got to make a decision that's not popular and the decision was that he hadn't coached before," Hatcher said.
"We had gone well under Bennett but it was one of those results that no-one ever expected.
"Last year there were injuries, unavailability, and we didn't think it was appropriate to bring in a person that had never coached.
"Whether you like it or not, if a team loses it's the coach's fault and if the team wins the players have been outstanding.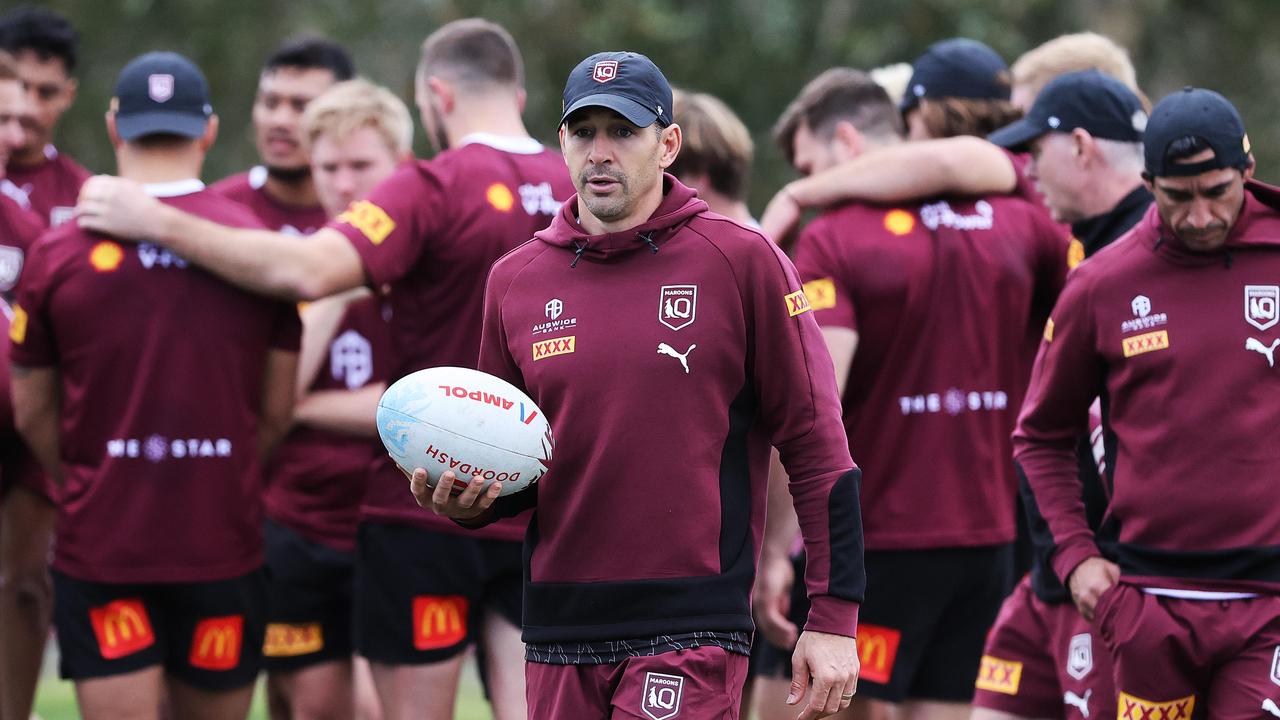 Slater has put the Maroons in the box seat to reclaim the Origin shield.
"We always knew there were guys like Billy, Cameron (Smith), Johnathan (Thurston) and Josh Hannay around. We didn't think it was appropriate last year for him to do it on his own.
"Billy expressed his views honestly and decided he wouldn't do it coming into camp as an assistant (to Green). He stayed out for 12 months and we had to go through the process again. His message was just as clear and we decided to go with him.
"You've got to take your hat off to his approach. He is thorough, firm, loyal and says what he believes."
A proven NRL coach that took the Cowboys to two grand finals, Green's tenure as Queensland coach was doomed from the start.
The Blues were smarting from the surprise 2020 series loss while Queensland struggled to field a quality team on the back of numerous injuries and the Broncos and Cowboys struggling.
The Maroons suffered a record 50-6 Game One loss, lost Reece Walsh (hamstring) on the eve of Origin II then Ronaldo Mulitalo (eligibility scandal) on game day before being held scoreless in Brisbane for the first time ever in a 26-0 defeat to surrender the shield.
They saved face with a 20-18 dead-rubber win in which Queensland's culture came under the microscope following Jai Arrow's Covid breach.
Green was originally signed on a one-year contract and after expressing a desire to return to the NRL it was decided he would part ways with the QRL, opening the door for Slater.
Having never held a head coach's position, it was somewhat of a gamble for 31-game Maroons great Slater to step straight into the Origin arena against a red-hot NSW that has won three of the past four series.
But the 38-year-old Storm, Queensland and Kangaroos legend has never doubted his ability and he wasn't about to start.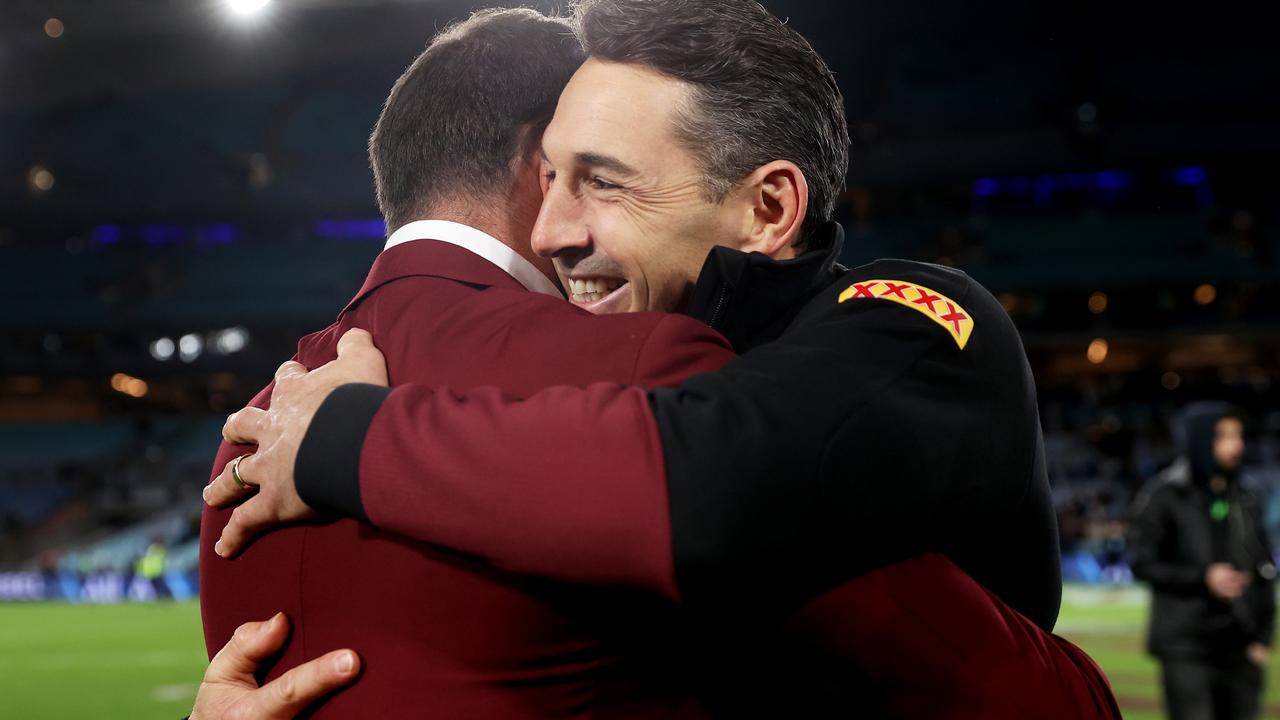 Slater embraces Cameron Smith as they celebrate victory after game one of the 2022 State of Origin series.
"I don't look at it like a risk," Slater said.
"If you don't have a go at something you will never know. If you never try, you will never know. If I never took a risk I wouldn't be sitting in the position I am now.
"The reason I took this opportunity is because it's important to me. This has been a big part of my life ever since I can remember.
"I still have my first State of Origin jersey from when I was eight years old. I've got it with me now. It means something to me.
"That's why I'm here in the position I am."
After securing the role last September, Slater quickly went about assessing potential Queensland players and setting up an all-star support staff.
He retained Thurston and Nate Myles, recruited tactician Josh Hannay and convinced Smith, Origin's most-capped (42 games) player, to join him.
With the Broncos, Cowboys and Storm firing in 2022, Slater selected an in-form team and filled four debutants with confidence to secure Queensland's first win in Sydney since 2017.
It was a seamless preparation and Slater's impact was there to see in a typically gutsy Queensland performance.
"It's hard not to respect and be in awe of Billy Slater when you look at his playing record," Queensland captain Daly Cherry-Evans said.
"Then he has assistants like Cam Smith, Johnathan Thurston and Josh Hannay who have been brilliant. It's hard not to be in awe of guys like Billy, Cam, JT and Nate.
"There's a lot of reasons why Billy can be a good coach. He makes you feel like he cares about you and he wants you to do Queensland proud.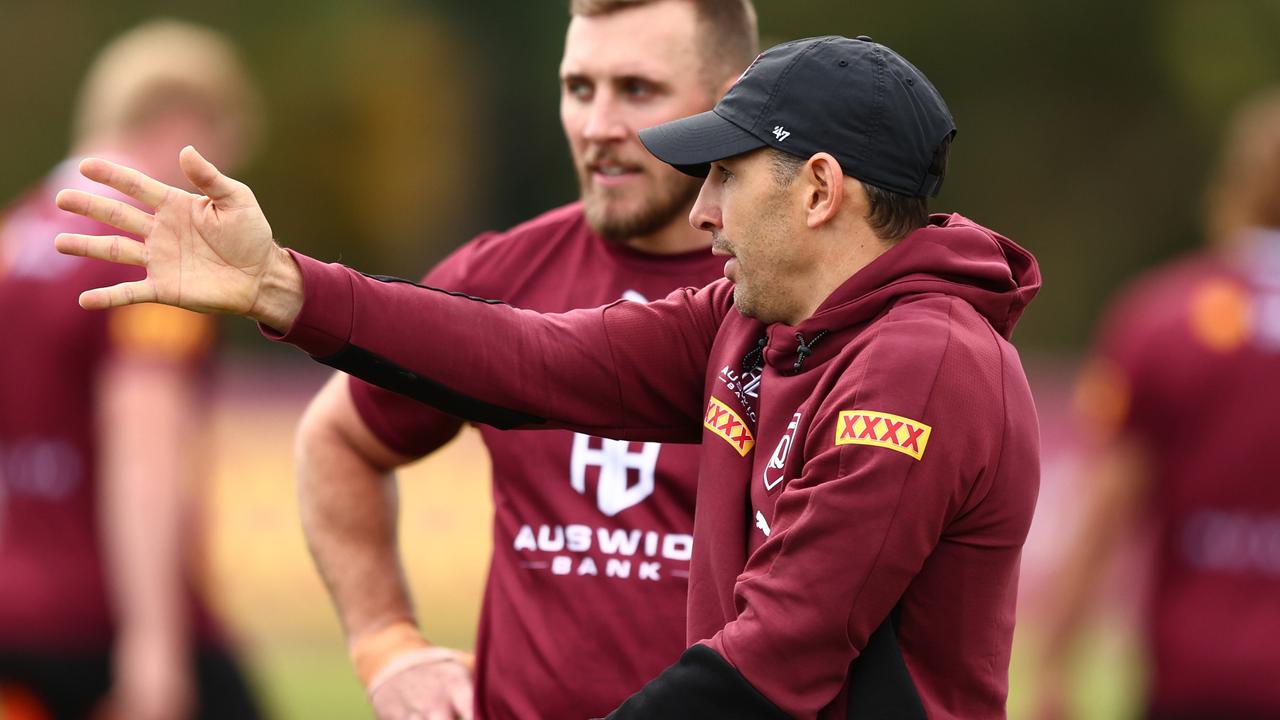 Slater calling the shots during a training session. Picture: Chris Hyde/Getty Images
"He doesn't care who gets the wraps. He just wants us to play for the jumper. He doesn't want the spotlight.
"The imprint Billy has left on us is 'put the jersey before yourself'. That's his mantra. That was the first message at the start of the week.
"We've had a better attitude to apply ourselves than last season. What we have here is a group that will do whatever it takes and once we got out there, no-one second guessed themselves."
The Maroons can reclaim the shield with a victory at Perth's Optus Stadium on June 26 and if they fail there, a decider on home turf at Suncorp Stadium (July 13) will follow.
Whatever happens, the QRL believes it has found the coach to lead the Maroons into a new era of dominance. Although it may be too early to start thinking about matching Mal Meninga's eight-straight dynasty (2006-13).
"Billy is a breath of fresh air," Hatcher said.
"He is meticulous in his preparation, really hard working and one of the best communicators I've ever seen. He is very respectful of all people around him and has very strong opinions.
"I love his communication skills and he is a man of his word. If those guys played well enough to be picked then they would be.
"He doesn't single people out. Everyone is important. Everyone has a job and role.
"Sport is so difficult with people who won't tell you to your face what they think. He is so forthright and direct that he gets his message across and you have to support him."
Johns: The biggest issue breaking rookie coaches
By Matty Johns
Even by rugby league standards the last few weeks has an ungodly amount of blood in the water, with the want to sack coaches spreading like a virus.
Everyone holding a clipboard should put on a face mask immediately because the pandemic may not be over just yet.
When a coach gets appointed you get a gut feel on how long they'll stay in the job.
It's an instinct borne out of wasting 95 per cent of my life on this brutal game.
Back when Trent Robinson was appointed I wrote that he would probably be in the job for 20 years. I was adding a bit of salt and pepper, trying to give people a perspective on how well placed I thought he was to become an NRL coach after his success at Catalans, and how well timed he was in arriving at the Roosters.
Turns out my 20-year prediction was probably more conservative than it was outlandish.
I never expected Trent Barrett to be at the helm of the Bulldogs long term.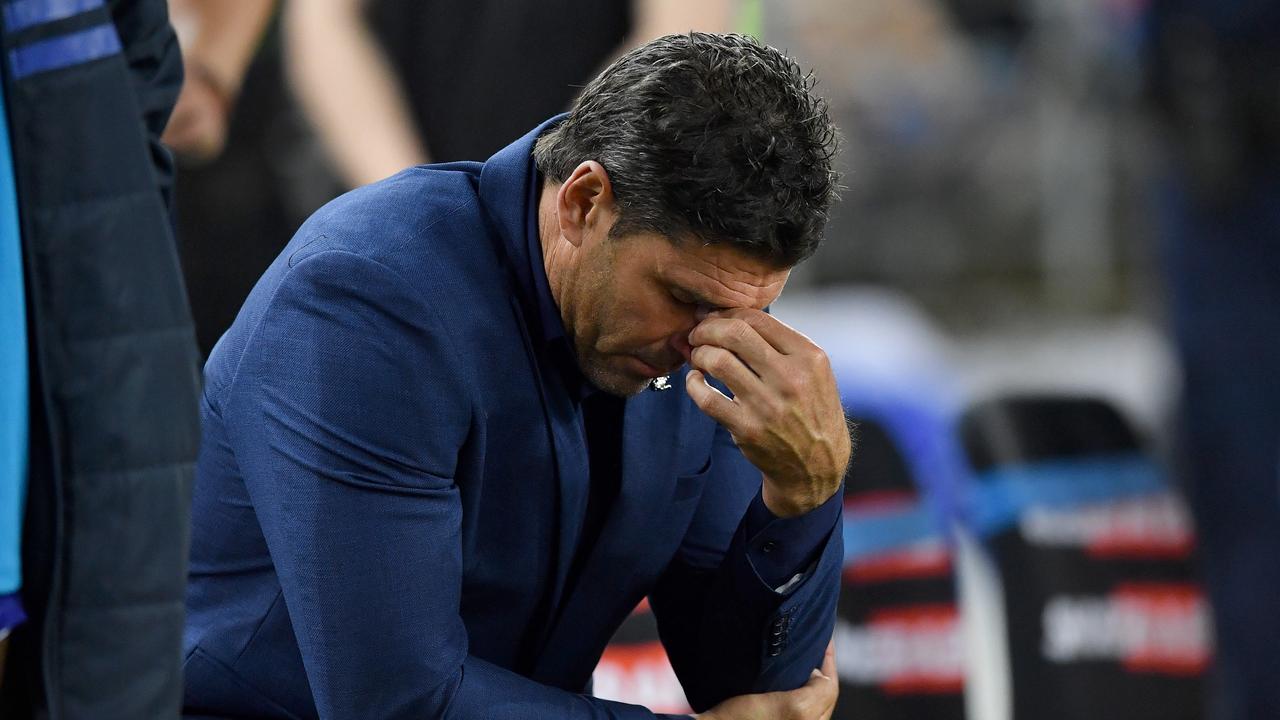 Trent Barrett walked into a couple of tough coaching gigs. Picture: NRL Photos
Trent left Manly worn out by the politics and the pressure, and the Bulldogs was never going to be any different. In fact it was always going to be worse.
Coaching is an experienced man's game, and the job he was walking in toward could even drive the most journeyed coach insane.
I thought it was a bad choice for both parties, particularly Trent. After leaving Manly, he had to make his next job a win.
Nathan Brown always felt like an interim coach at the Warriors. The Warriors were in an incredibly difficult period. The Covid pandemic impacted the Warriors more than any other team in the NRL, maybe even in Australian and New Zealand sport.
He took over a team of players whose lives had been tipped upside down, forced to leave home separated from wives, girlfriends and children.
In the last month the players appeared exhausted, they've had enough and I understand why.
The whole experience has been so fatiguing that Brown has declared he will never head coach again.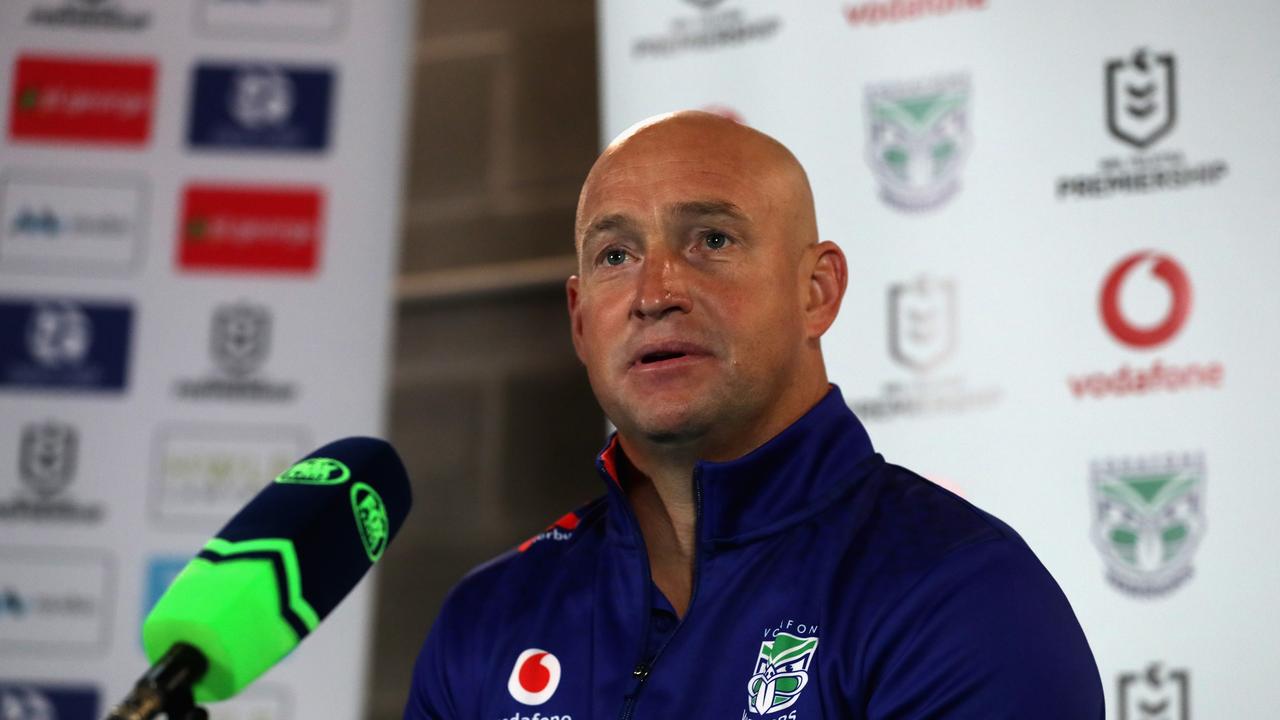 Nathan Brown always felt like a short-term option for the Warriors. Picture: Getty
A huge call given how much coaching is in his blood and how much he loves to do it.
In coming years Nathan Brown will appear in a role which is so underused and under-utilised in the modern game. The older, experienced right hand man to the young head coach, who needs help navigating through the pressure of the job.
Too many young head coaches appoint assistants based on what they perceive as tactical nous. The first person they should employ is a mentor and confidant.
Michael Maguire is easy to admire. No coach has ever been held dangling over a balcony for so long.
He barely got any breathing space. In the last couple of years it feels like all that a win gave him was a few days reprieve.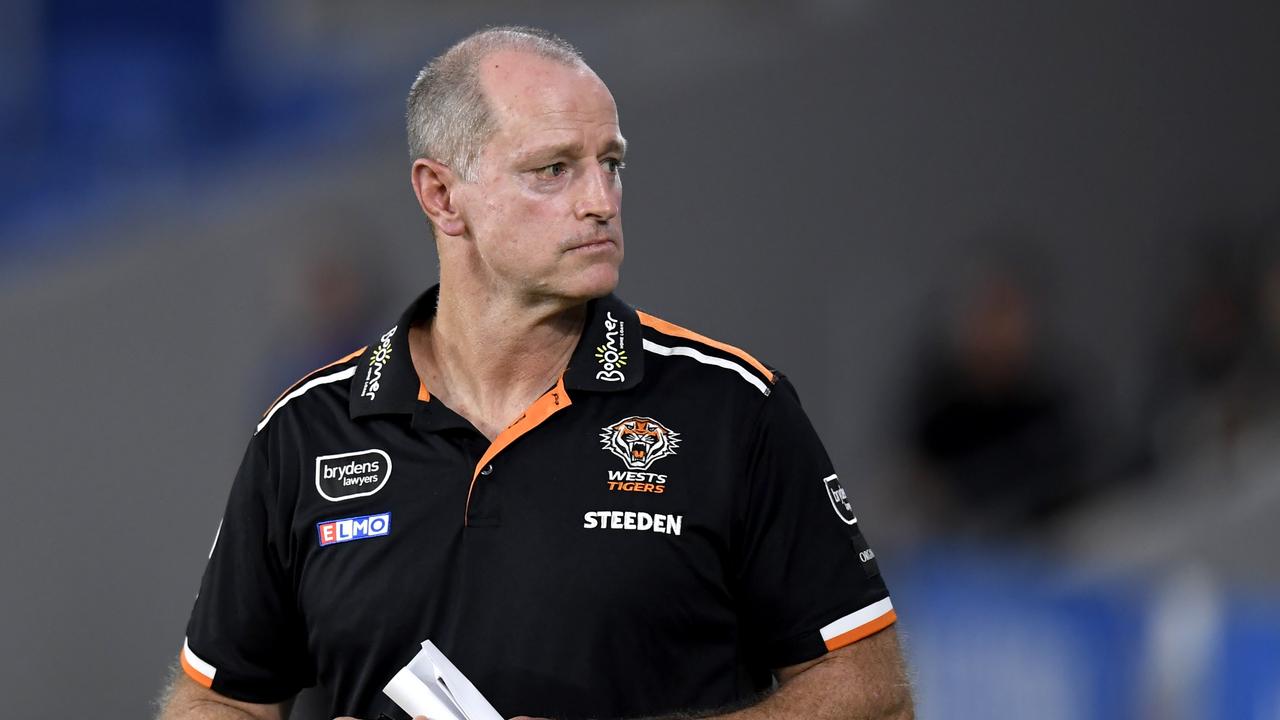 Sacked Wests Tigers coach Michael Maguire has some big decisions to make on his future.
Each loss catastrophic. I can't remember a coach enduring such a sustained period where, week by week, rumours abounded that, "Any day now he's going to be sacked."
He's to be commended for his grace under pressure.
The public hold a warmth and admiration for Michael Maguire because we witnessed first-hand the challenges he faced in the Fox League documentary, 'Tales of Tigertown.'
Ahead of that season there was a fair degree of optimism surrounding the Tigers, certainly within the club.
The documentary hoped to capture a season where the underdogs punched above their division, a Rocky story of sorts.
Instead it rapidly turned into a tragedy, 'Nightmare on Elm Street.' A team without confidence and leaders, and a coach without a solution.
The documentary is one of the greatest insights into a professional sporting team because it was so raw and real.
But for Madge and his players, not fun. They won't be renting that video.
Michael Maguire will certainly get another coaching job, but to succeed again, like he once did at Souths, he needs to change a lot of his principles on the game.
That can be hard for a man like Madge. There's no more disciplined coach in Rugby League, but discipline and stubbornness are first cousins.
I wouldn't be surprised if Maguire is offered another head coaching job within the month, but my belief is taking it would be a mistake.
A short stint on the couch will serve him well.
Originally published as State of Origin 2022: Billy Slater's coaching career could have been in crisis if he was given job last year