Matty Johns: Jason Demetriou to discover Wayne Bennett is the hardest act to follow in the NRL
When Wayne Bennett moves on the club left behind invariably falls over. Even with Adam Reynolds gone too, the list remains strong, but new Souths coach Jason Demetriou knows he's in the hot seat.
Given how dramatically teams fall off a cliff when Wayne Bennett departs, new Souths coach Jason Demetriou is probably expecting to find a turd under the bed at some point, courtesy of the supercoach.
Of all the clubs that Wayne has coached, only the Canberra Raiders of 1988 kept form and status after he left. Truth is it's not what Wayne leaves, it's what he takes … himself.
All great coaches carry with them a blueprint, a style of play, a structure which delivers success. When that coach leaves that blueprint remains embedded. If the next coach is smart he uses it to build his own success, if he's dumb he'll tear it all down and wonder why he finds himself at Centrelink 12 months later.
Stream every game of every round of the 2022 NRL Telstra Premiership Season Live & Ad-Break Free During Play on Kayo. New to Kayo? Try 14-days free now.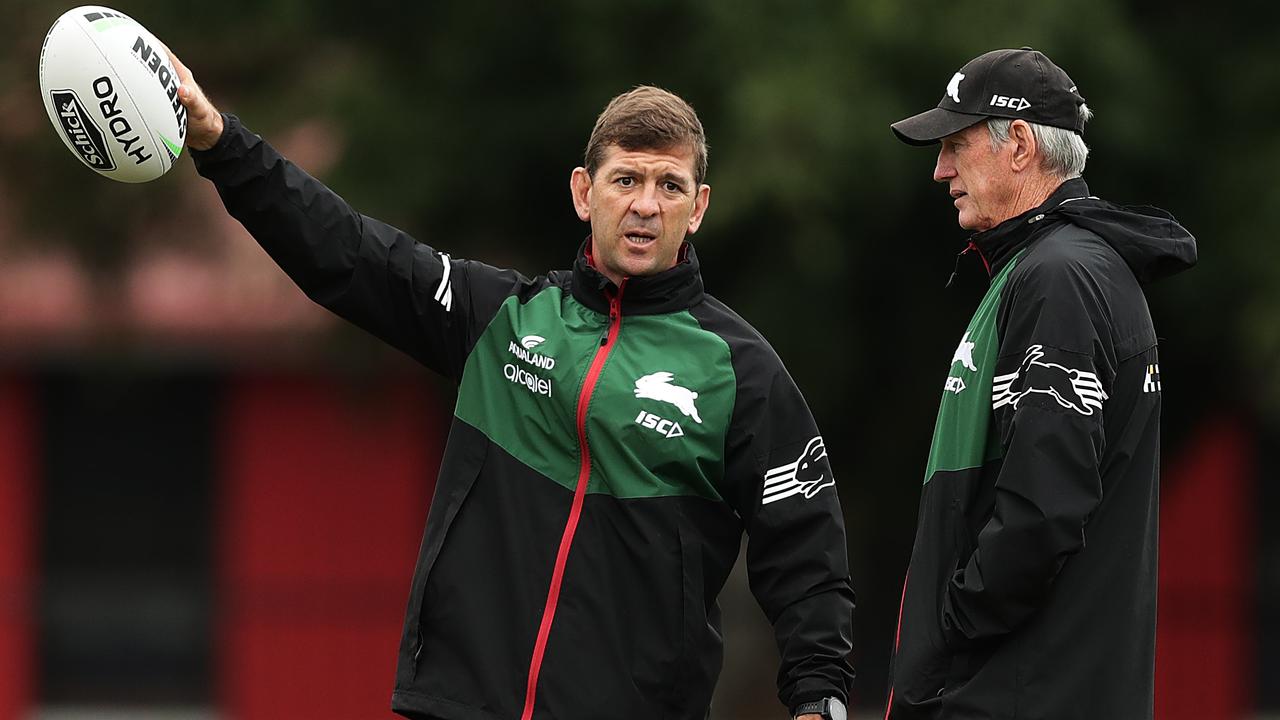 New Souths coach Jason Demetriou has big shoes to fill now that Wayne Bennett has departed.
But Wayne's different, he doesn't leave much for the next bloke because the magic of Wayne's success is Wayne himself.
When Wayne leaves, so does the magic.
Wayne is a relationship coach, he spends five minutes with a player and knows exactly how to motivate and nurture that player to peak performance.
There's a million little things Wayne does which can't be taught, it's not in the game plan, you won't find it on the game tape, it's invisible. The knowledge sits in Wayne.
So, in a season where most of the coaches are under varying degrees of pressure, Jason Demetriou has the biggest challenge.
It's not often a first-year coach is handed a team like the one he's inherited, a club who expects to be in the top four as a minimum.
But those expectations will be hard to meet. When a side loses their long term halfback it becomes a different football team.
Allowing Adam Reynolds to leave still flaws me. Not having his composure and all manner of kicking could be a defining loss for the Bunnies.
Adam's absence will ask a lot of Cody Walker, they were a fabulous combination. Adam's attack is about organisation, he talks a team through a set and he ensures the set finishes with the right type of kick.
Cody stalks a defensive line, watching, and suddenly 'WHAM', he reacts.
Their differences made the combinations so effective.'
Without an experienced seven alongside him, Cody will be required to do more organising, and taking more responsibility with kick options.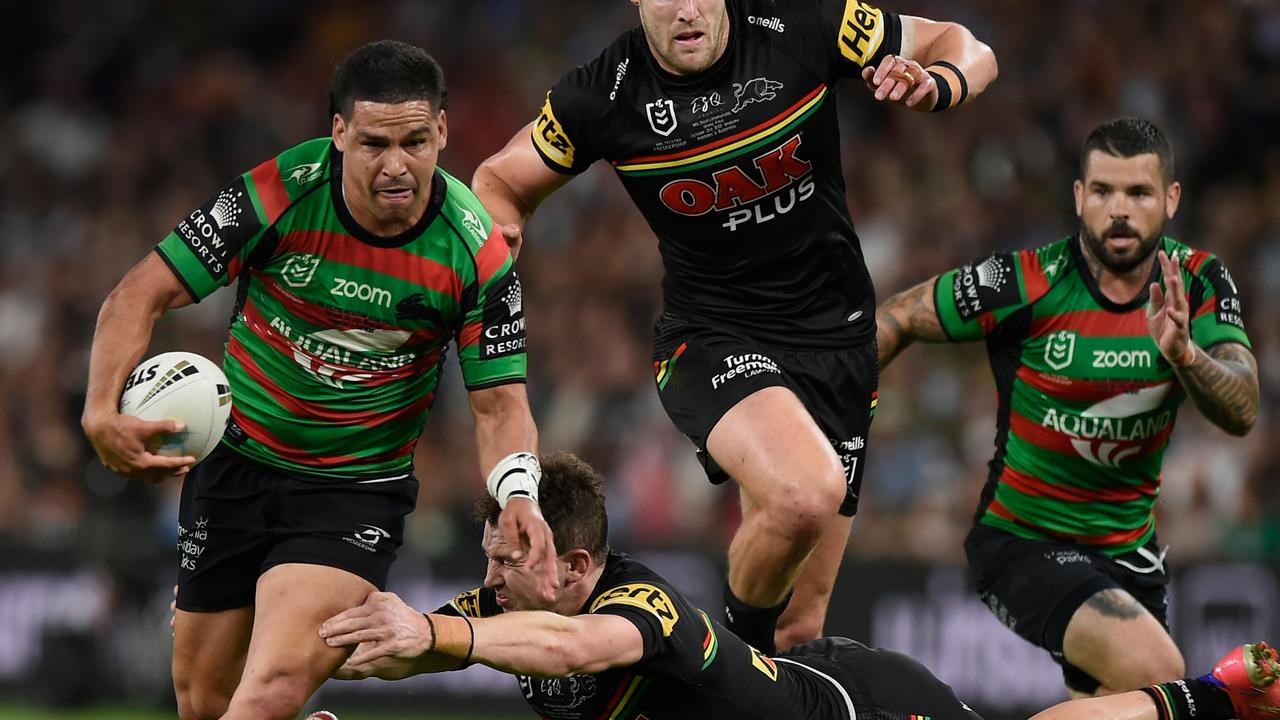 Cody Walker will be required to do more organising under Demetriou. Picture: NRL photos
These adjustments read minor, however in practice, it's anything but. For Cody, finding the balance between organising the team, and sitting back and reacting will be tricky. He's carrying a heavy load. If Souths finish top four, Cody might just be the Dally M medallist.
The challenges for Demetriou are many. In a season there are things that a coach has to address every day, some are Rugby League related, some not. Players aren't robots, they have lives outside of football and they look to their coach for emotional support. It takes a lot of empathy and intelligence to handle this right.
I can only imagine how difficult this is for a coach, let alone a rookie coach with their own pressure.
Chris Anderson has a great line he used in relation to rookie coaches, "A coach has no idea of what type of coach they are until they've lost three in-a-row and have to find a way to turn things around."
Here's the thing … Souths have the core to remain in the top four.
If Cody, Latrell, Cook and Murray stay fit and can adjust successfully with no Adam Reynolds, they are a title threat.
But what type of coach will Jason Demetriou be when inevitable pressure arrives?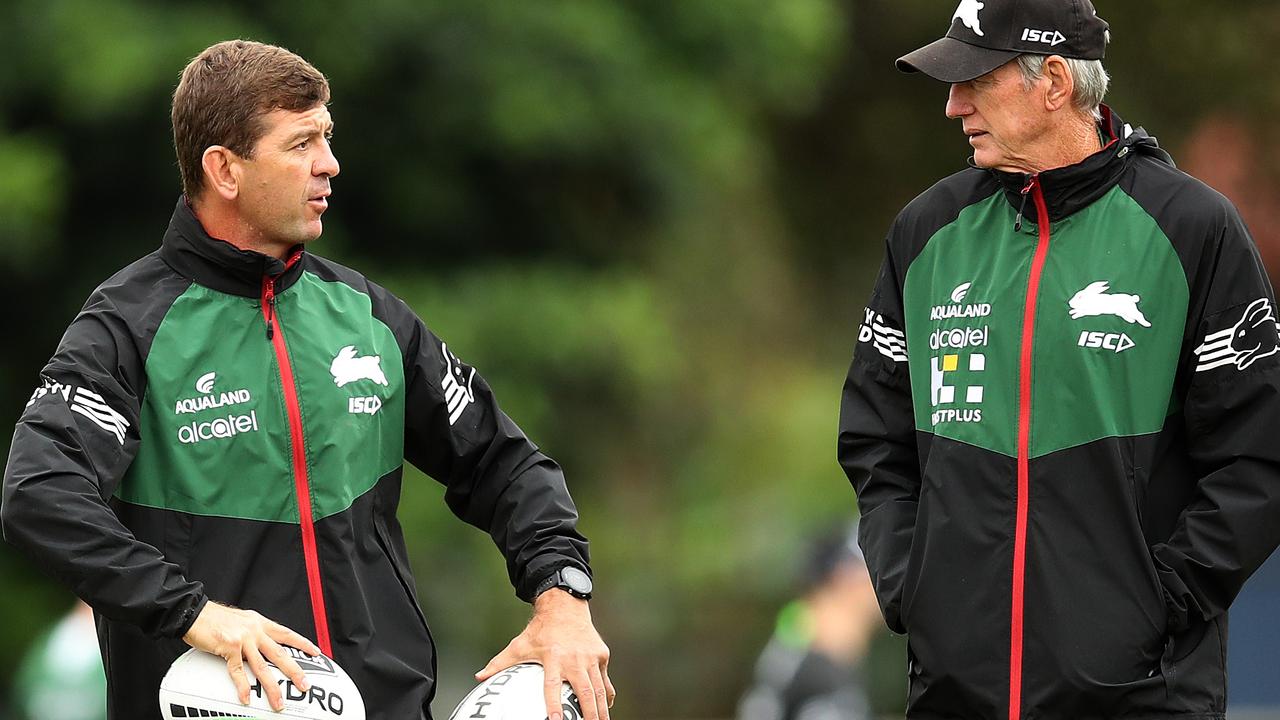 Demetriou when assistant coach under Bennett at the Rabbitohs. Picture: Phil Hillyard
Speaking of Adam Reynolds, what a shame he won't be taking on his beloved Bunnies tonight due to Covid.
For the NRL it was the best storyline in Week 1.
This may sound crazy but I think missing tonight's game does Adam a favour.
The mail was his hamstring isn't 100 per cent, but it's more than that.
Reynolds has been lumped with an almost unfair amount of responsibility at his new club.
Playing his beloved Souths, Week 1, in a Broncos team which is still a long, long way off gelling, is not an ideal start.
I worry what a heavy loss would do to Adam's mindset. He has a lot of pressure on him in 2022, it doesn't need to start in this manner.
Take it from me, playing against a club you had a decade with and love is very difficult.
In 2002 when I returned to Newcastle to play the Knights, it felt surreal, and not in a good way.
We got belted and the night concluded with me skulking off and getting a standing ovation from all the Knights fans in the Western Grandstand.
It was so embarrassing. It was like the Knights fans were applauding me for playing so shit.
One smart arse remarked that at last I'd contributed to a Knight's victory. Oh well ….
Tonight I think the Broncos will follow a similar pattern from previous seasons. They'll do a lot right early, but without their key play maker they'll struggle for composure in key moments. No Latrell is a big out for Souths, but they have the class to get the job done.
Souths by 10.
Originally published as Matty Johns: Jason Demetriou to discover Wayne Bennett is the hardest act to follow in the NRL