Mourners farewell rugby league legend Olsen Filipaina in moving memorial service
Olsen Filipaina was remembered as a 'firm Tigers favourite' and the conqueror of a rugby league Immortal during a moving memorial service at Leichhardt Oval on Monday.
Olsen Filipaina was remembered as a "firm Tigers favourite" during a moving memorial service at Leichhardt Oval on Monday morning.
Filipaina, 64, died in Westmead Hospital earlier this month from kidney failure and lupus. He had been in ICU for 17 days.
An 80-strong choir, comprising Filipaina's family members, sang Polynesian hymns during a traditional Samoan service.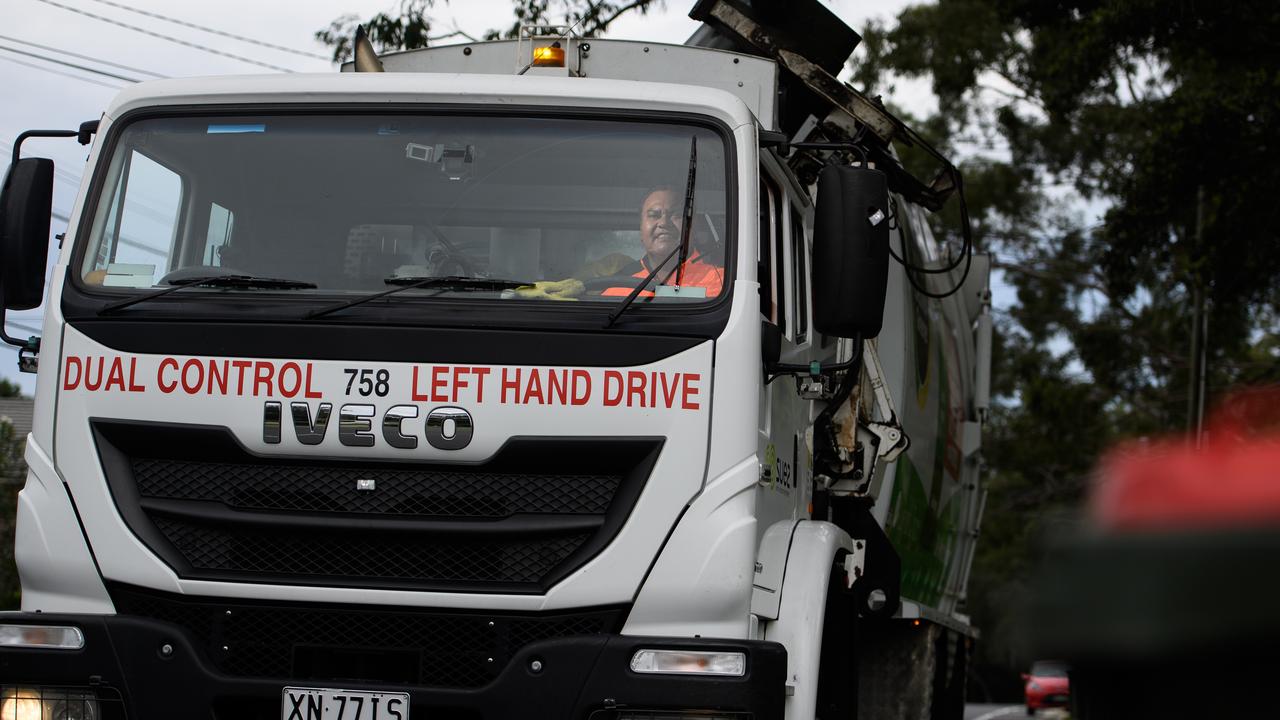 The one-time 'Galloping Garbo' had settled for life behind the wheel in recent years.
Friends also performed a stirring haka.
Filipaina was an enigmatic star, a player credited with being a pioneer in rugby league's Pacific revolution.
A popular Sydney garbage collector during his playing days, Filipaina played club footy for Balmain, Easts and Norths but kept his most powerful performances when representing his beloved Kiwis.
NSWRL CEO David Trodden – the Balmain chairman between 2002 and 2013 – delivered a heartwarming eulogy.
"In his five seasons at the Tigers, he became a firm Tigers favourite while also adding to his Kiwi legend with dominant displays over an Australian team, particularly dominant displays over the great Wally Lewis," Trodden said.
"He had a season with the Roosters followed by a couple of years at the Bears but it was as a Tiger that Olsen's Australian footy career is most celebrated.
"There's no player who played for the Tigers that I haven't supported but some just have a special appeal about them.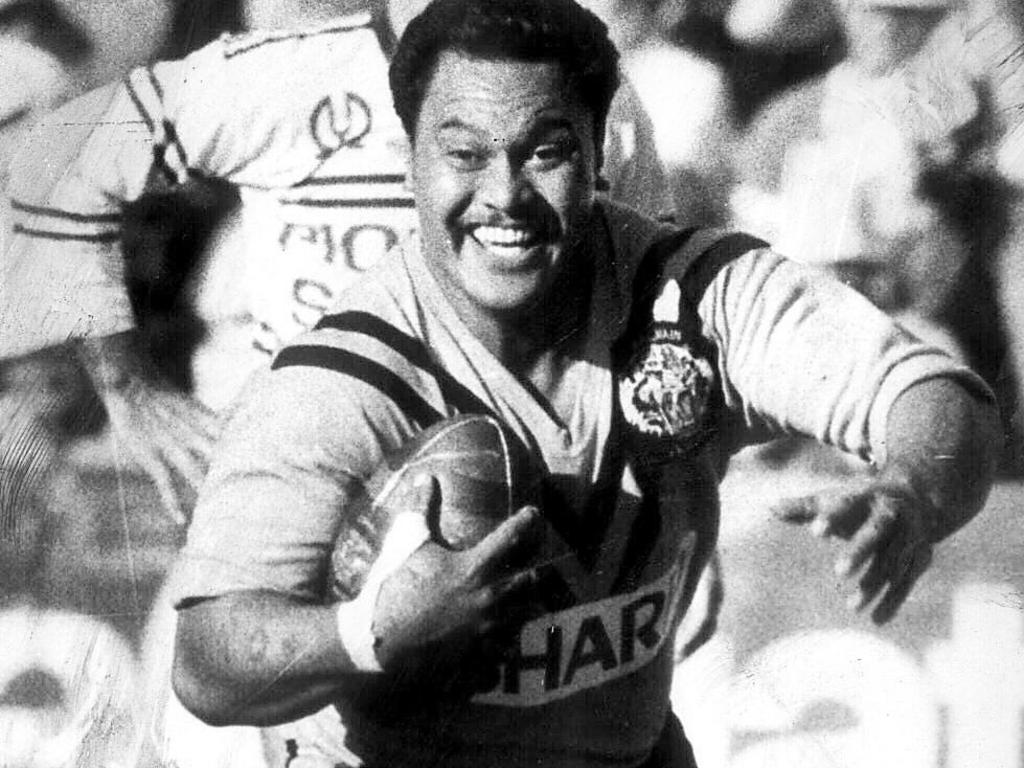 Olsen Filipaina in his Balmain heyday.
"Rarely is a player held in such fond regard that he is instantly recognisable only by his Christian name. Olsen was one of those rare players.
"Olsen was all you needed to say. He was definitely one of my favourites. I loved the way he played his footy."
He played 28 Tests for New Zealand between 1977 and 1986 and was named man of the series against Australia, when he marked and overpowered Lewis, in 1985.
Remarkably, in 1983 and 1985, Filipaina was chosen to represent New Zealand from reserve grade.
Vale 'Big O': Rugby league loses another legend
Rugby league legend Olsen Filipaina has died in Westmead Hospital.
The former Kiwi, Norths, Easts and Balmain champion was 64. Filipaina had been battling kidney failure and lupus while in ICU for the past 17 days.
A true rugby league enigma, Filipaina was an od thern-field powerhouse with a giant smile.
While he could drift in and out of games, when focused and fit, there were few more damaging players.
Teammates said Filipaina had extraordinary hand-eye coordination through a love for tennis and squash.
Filipaina was twice famously plucked from reserve grade - in 1983 and 1985 - to represent New Zealand in Test matches where he inspired his beloved Kiwis to victory.
He claimed man of series honours in 1985 when marking Australian great Wally Lewis.
"I am devastated, it's terrible news. I'm really upset," said former Balmain teammate Garry Jack. "Olsen was a great fellow.
Olsen Filipaina was unstoppable when he pulled on the Kiwi jersey. Picture: Barry McKinnon
"When he put his mind to it, Olsen was unstoppable. Not too many get over the top of Wally but Olsen did that in 1985.
"Olsen was a very proud Kiwi. Once he pulled on that black and white jersey, my God, he became unstoppable. I've never seen a player transform the way he did when playing for his country.
"He was a very easy-going bloke, just a lovely bloke. I'm so sad."
Filipaina was admitted to hospital on January 13 with a stomach infection before specialists recognised his kidneys had deteriorated.
He had been on a ventilator for the past fortnight and passed away at 3.30pm on Thursday.
"It's so sad to hear Olsen has passed," said ex-Tigers teammate Ben Elias. "This is another massive personality who has left us. He was always smiling.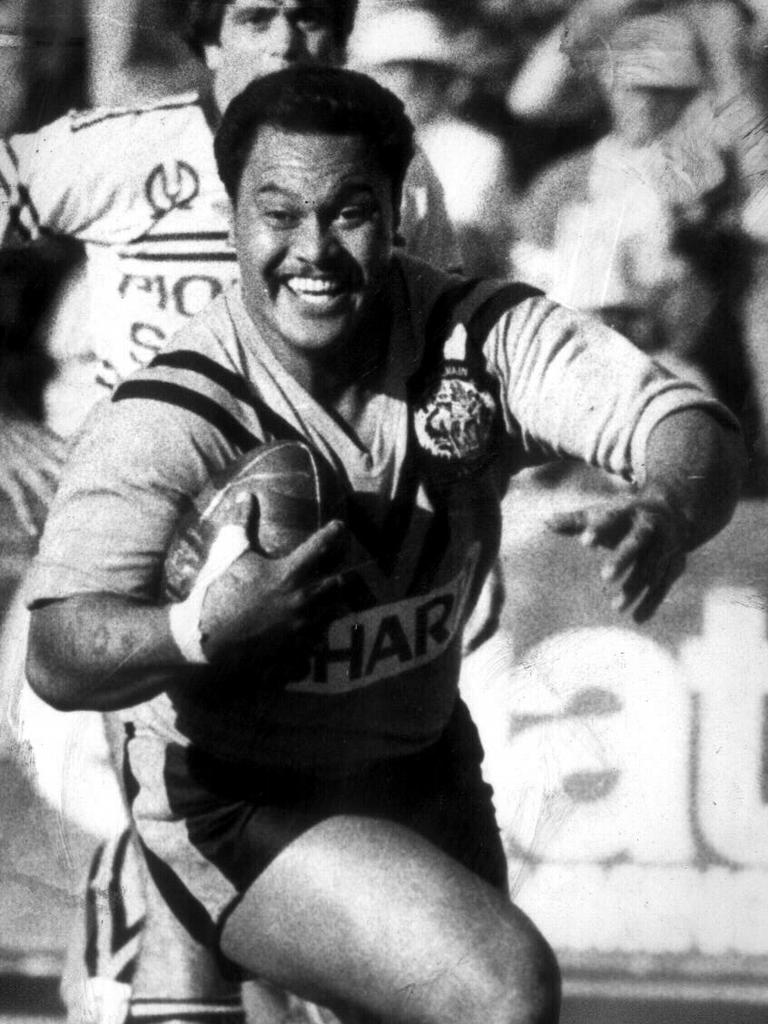 Olsen Filipaina playing for Balmain. Picture: Geoff Henderson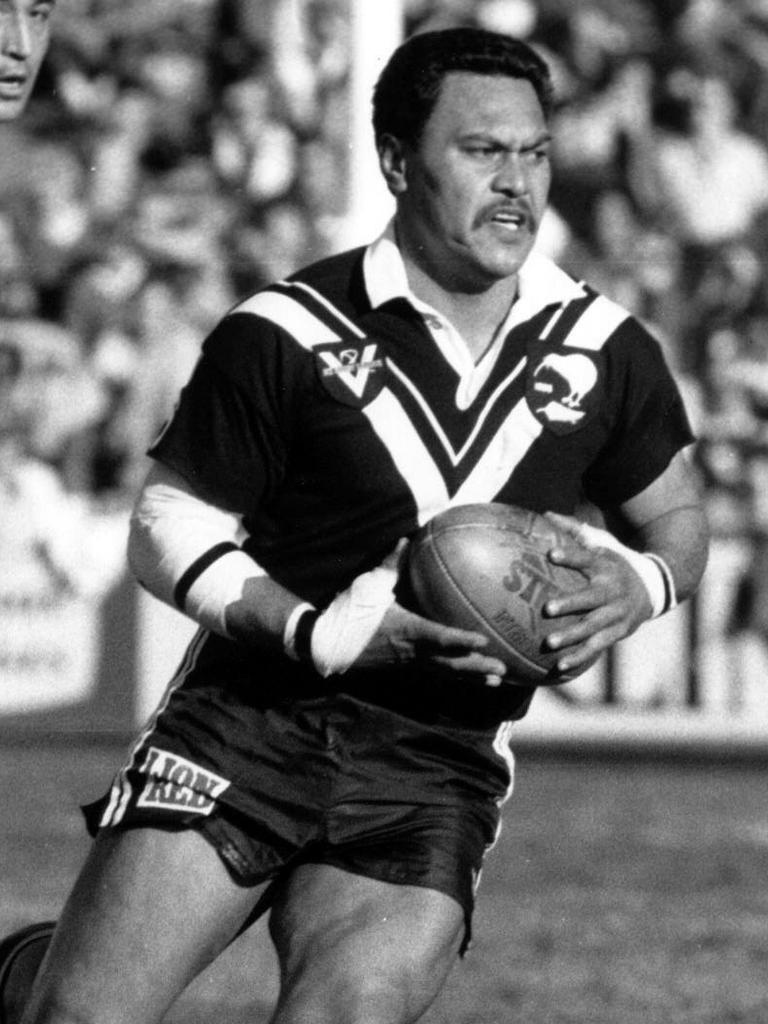 Olsen Filipaina was a Kiwi legend. Picture: Barry McKinnon
"It was a pleasure to be in the same dressing room with him and a pleasure to socialise with him. Olsen never complained about anything.
"I played with him and against him. Playing against him was horrific. He was a big, powerful unit. He defined the word powerful. You'd look at him and wonder where you should start when trying to tackle him.
"He was all strength, a strong, strong man. On behalf of the rugby league world, I send condolences to his family. He was a wonderful human being."
Filipaina played 28 Tests for New Zealand and 50 games overall for the Kiwis between 1977 and 1986.
He represented three Sydney clubs – Balmain (77 games), Easts (eight games) and Norths (18 games).
Some knew Filipaina as the 'Big O', others called him the 'Galloping Garbo' through being a rubbish collector in Sydney during his playing days.
Filipaina captained Ryde-Eastwood to the inaugural Metropolitan Cup final in 1990 and also led Western Samoa in the 1988 Pacific Cup.
Originally published as Mourners farewell rugby league legend Olsen Filipaina in moving memorial service