NRL rep round 2022: New Zealand Kiwis win test 26-6 over Mate Ma'a Tonga
The Kiwis have sent a warning to rival nations that they're ready for the 2022 World Cup, after cruising past Tonga in the return of international footy to New Zealand.
A Joey Manu masterclass has provided a reminder to the world that New Zealand are ready for glory at the World Cup later this year.
In an emotion-charged return to Test footy in New Zealand for the first time since 2019, the Kiwis dominated Tonga 26-6 at a rocking and rolling Mt Smart Stadium in Auckland.
Led by a fearsome Kiwi pack, that included standout performances from James Fisher-Harris and Joey Tapine, New Zealand dominated from the opening whistle against a Tongan side that missed more than 30 tackles.
But it was the stunning display from Manu that inspired the Kiwis and in-turn should give every Roosters fan hope that they remain premiership contenders in 2022.
Stream every game of every round of the 2022 NRL Telstra Premiership Season Live & Ad-Break Free During Play on Kayo. New to Kayo? Try 14-days free now.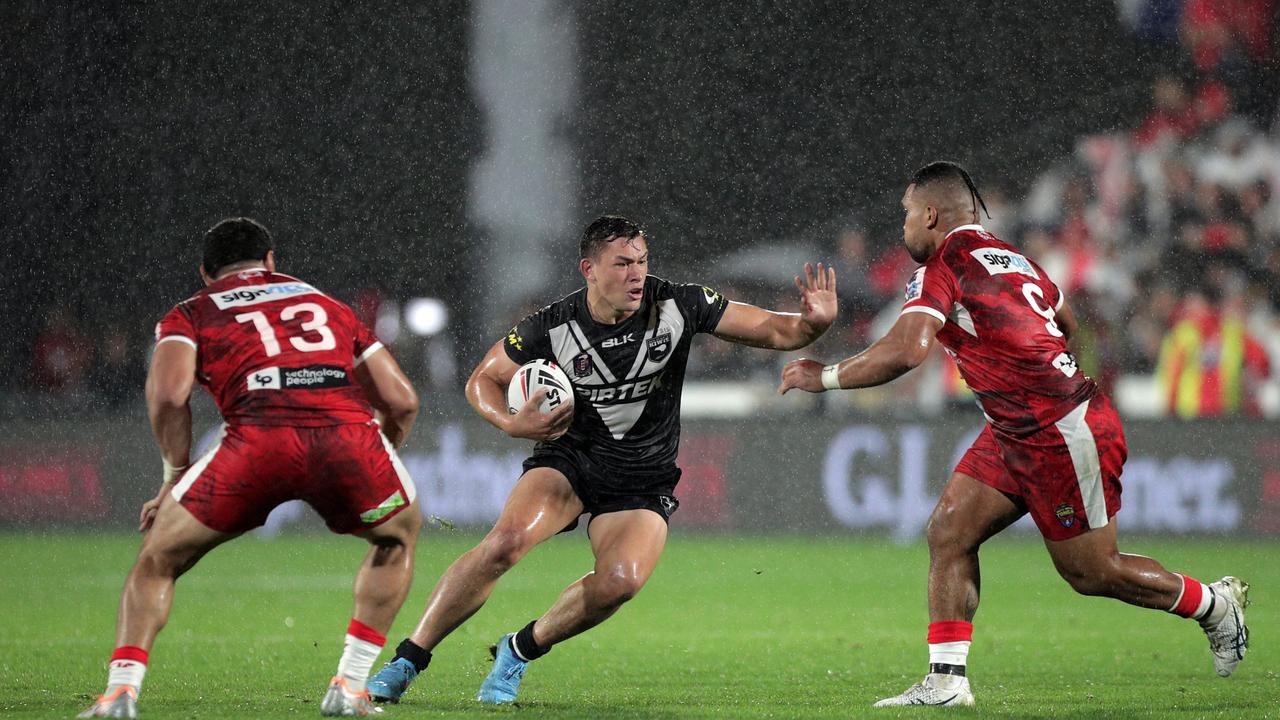 Joey Manu was unstoppable in his first game at fullback for New Zealand. Picture: Getty Images.
Virtually unstoppable, Manu was the man of the match, running for the most metres of his entire career.
The Kiwi fullback ran for a game-high 27 runs, 302 metres, six tackle busts, two offloads and one line-break.
"Honestly every time he wears a number one of six for the Roosters (he's dangerous) and this is his first starting fullback spot for the Kiwis - just some of his numbers tonight, he was involved in everything and making metres for fun,'' Fox Sports Cooper Cronk said.
"He was inspiring, he was energetic, he was tough.
"They (Kiwis) should be going after the World Cup this year after that performance.
"They are red hot.''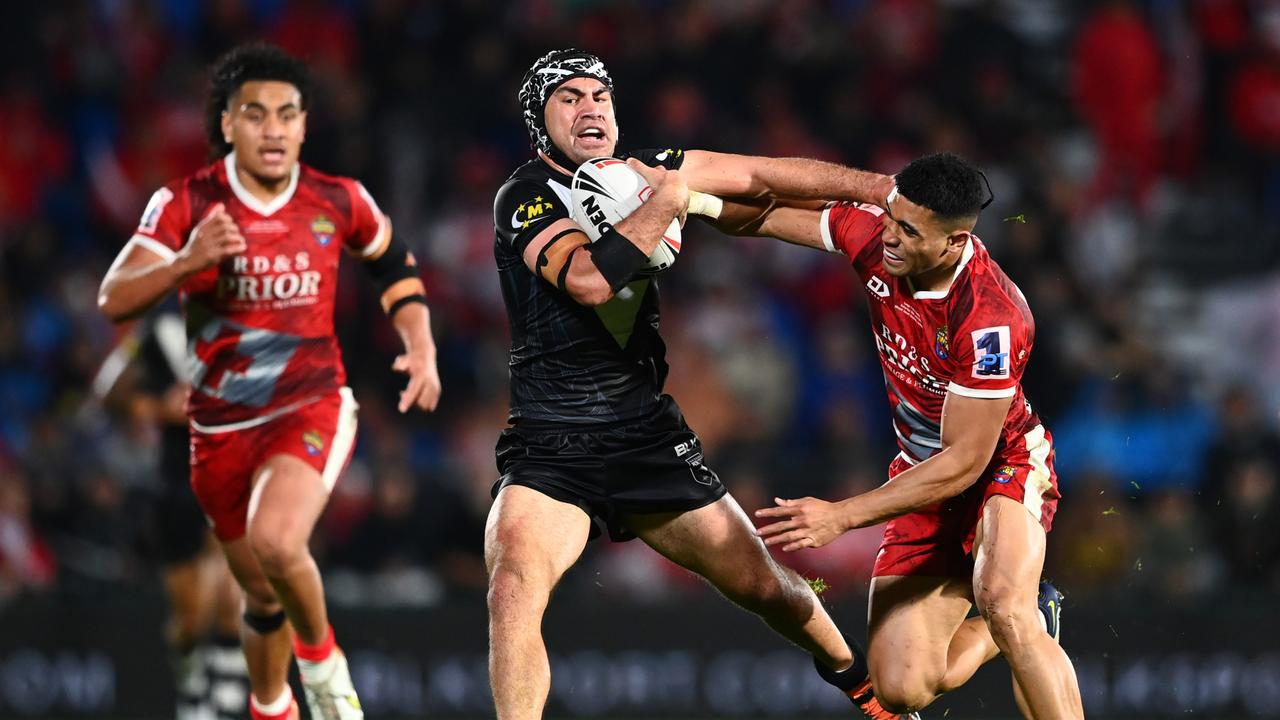 Jahrome Hughes also played his first game as a starting halfback for the Kiwis and was a constant handful for Tonga. Getty Images.
Currently ranked the number one rugby league nation in the world according to the IRL, the Kiwis wasted no time sending the home fans into raptures with Storm half Jahrome Hughes spearing through the Tongan goal line defence to score.
The Kiwis kept the hammer down racing to a 12-0 nil lead after eight minutes when Jordan Rapana crossed.
Tonga's only try came when Sione Katoa skipped over in the 15th minute.
Ronaldo Mulitalo (31st minute) and Isaiah Papali'i (64th minute) also scored tries.
PRIDE AND PASSION
There is nothing else like it in world sport.
Tonga's Sipi Tau and New Zealand's Haka - their respective war dances, that lays down the challenge to the opposition before battle, is now a must-see event within itself.
When the NRL takes a competition game to America next year, it's this five-minute spectacle of frightening emotion that must be advertised to draw the attention of the Americans.
Tonga's Siliva Havilii led the Sipi Tau while Peta Hiku sparked incredible scenes around Mt Smart Stadium by leading the Kiwi Haka.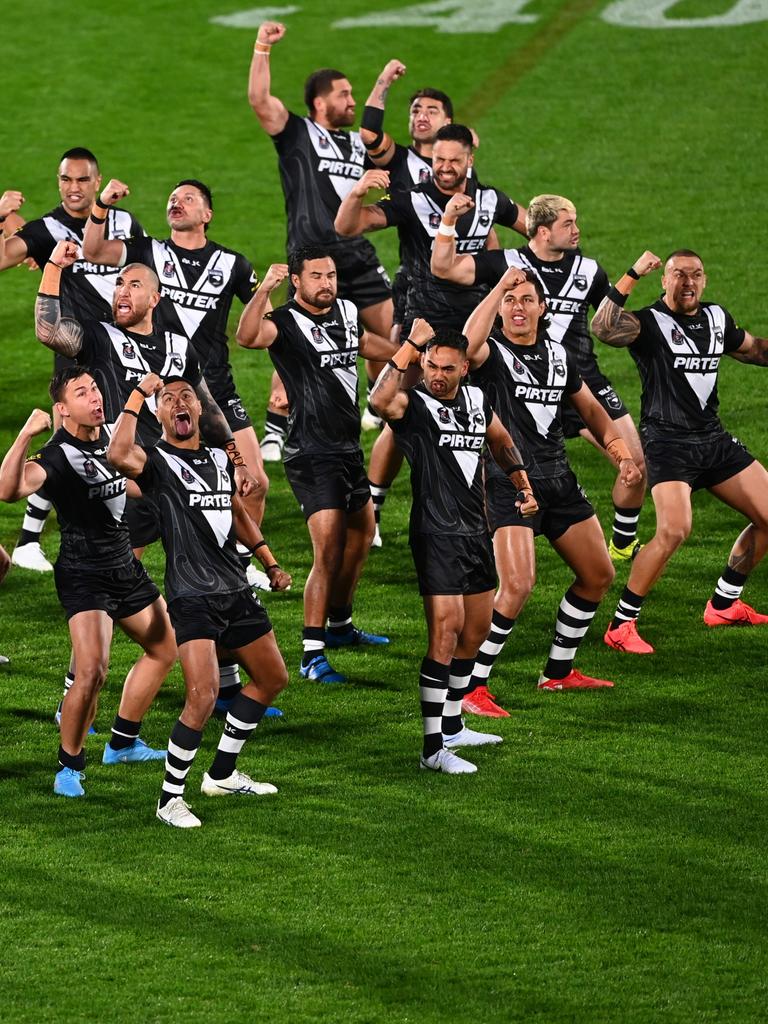 Tonga's Sipi Tau and New Zealand's Haka have become an event in themselves. Getty Images.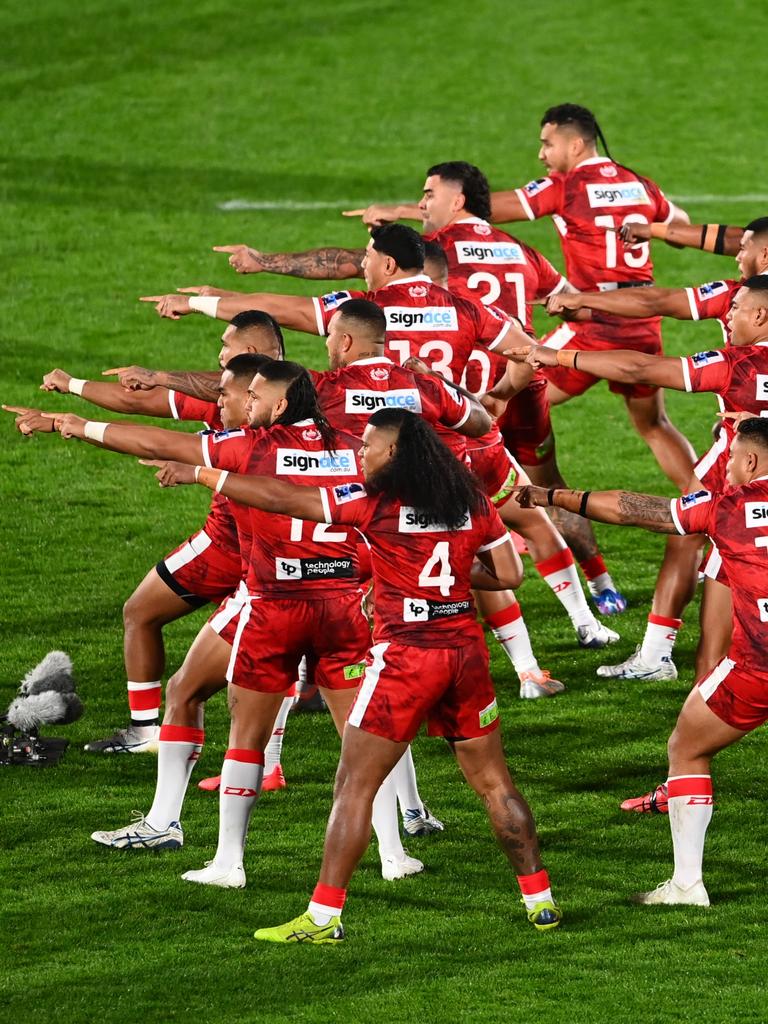 To see players' pride in their culture is one of the greatest sights in world sport. Picture: Getty Images.
SILKY EEL
In his Test debut, Dylan Brown was superb for New Zealand.
The Parramatta five-eighth pulled on the famous jersey for the first time and delivered a performance that should give Eels fans great hope heading into this year's finals.
The 22-year-old was involved in two of the Kiwis opening three tries, with slick support play and classy ball movement.
It's worth noting that Brown's inclusion meant that Kieran Foran - a former Kiwi captain - was named on the bench in his 23rd Test.
He had started in all 22 matches before.
CENTRE NOT SIX
The Blues starting centre in Origin I, Kotoni Staggs was dropped for game two by NSW coach Brad Fittler, allowing him to represent Tongan heritage.
Staggs played five-eighth for Tonga, working alongside Dragons half Junior Amone.
While he refused to back down and kept trying, Staggs never looked comfortable with the responsibility of steering Tonga's attack and in particular, kicking his side out of trouble.
Staggs' greatest asset is his footwork and power at centre, but playing five-eighth, the Broncos star simply doesn't get the time or space to do any damage.
It was both Staggs and Amone's shallow kicking-game that gave Tonga next to no chance of winning the battle of field position.
KIWI MAROON
Almost a year to the day, Ronaldo Mulitalo was the face of rugby league's greatest representative eligibility farce.
The Sharks winger was left in tears when he was told 24-hours before running out for Queensland that he was in fact, ineligible.
It left him no choice but to represent the homeland of his family and in the famous and black and white jersey, Mulitalo was clearly emotional as he performed the haka.
Topping off a memorable night, Mulitalo crossed for a stunning winger's try in the first-half to give New Zealand the ascendancy.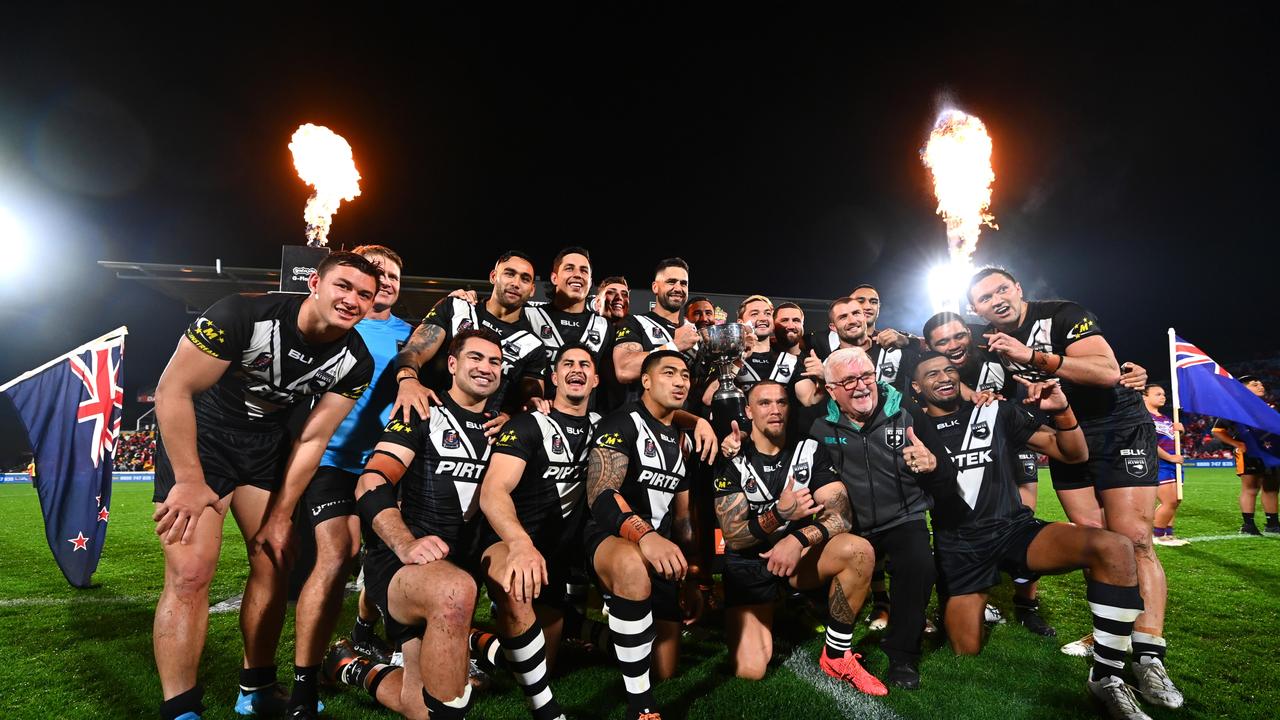 The Kiwis celebrate victory in their first test match since 2019. Picture: Getty Images.
EMOTIONAL SCARS OF ORIGIN'S BIGGEST SELECTION SCANDAL
—Peter Badel
Ronaldo Mulitalo has found peace in the contents packed away in a cardboard box.
His Queensland team blazer. Maroons tracksuits. Team training gear. The pristine, iconic Queensland jumper that was to make Mulitalo Maroons player No. 220.
All of it has been sealed shut and sent far away, ironically to his mum Vaega's home in New Zealand, an apt metaphor for Mulitalo's transition from Queensland to Kiwi representative star.
On Saturday, Mulitalo will celebrate his Test debut for New Zealand against Tonga at Mt Smart Stadium — exactly one year after unwittingly becoming the face of the biggest selection scandal in State of Origin's 42-year history.
"It's been an up and down 12 months since then … but I do feel like I have found my place," Mulitalo says.
Ronaldo Mulitalo will make his Test debut for New Zealand this weekend. Picture: Phil Walter/Getty Images
This time last year, the Sharks flyer was on the cusp of the greatest moment of his rugby league career.
Maroons rookie Reece Walsh had broken down at the captain's run, 24 hours before Origin II at Suncorp Stadium. Mulitalo, chosen in Queensland's extended squad, was summoned to a meeting.
He was to make his State of Origin debut for Queensland. Mulitalo was on the brink of tears.
Then all hell broke loose.
Within hours of his selection, NSW hierarchy fired off a protest to the NRL, questioning whether Mulitalo was actually eligible for State of Origin after it emerged the Auckland-born winger had left New Zealand in his teens.
An NRL investigation confirmed the worst. Mulitalo had arrived in Queensland after his 13th birthday, the cut-off age for Origin eligibility. He was given the option of playing Origin II until all paperwork had been analysed, but Mulitalo put the integrity of the Maroons before himself and stood down on the morning of the match.
Fast forward 12 months and the 22-year-old refuses to be bitter, finding solace in a maiden Kiwi jumper and a representative switch to his country of birth after NRL authorities extinguished his State of Origin dream.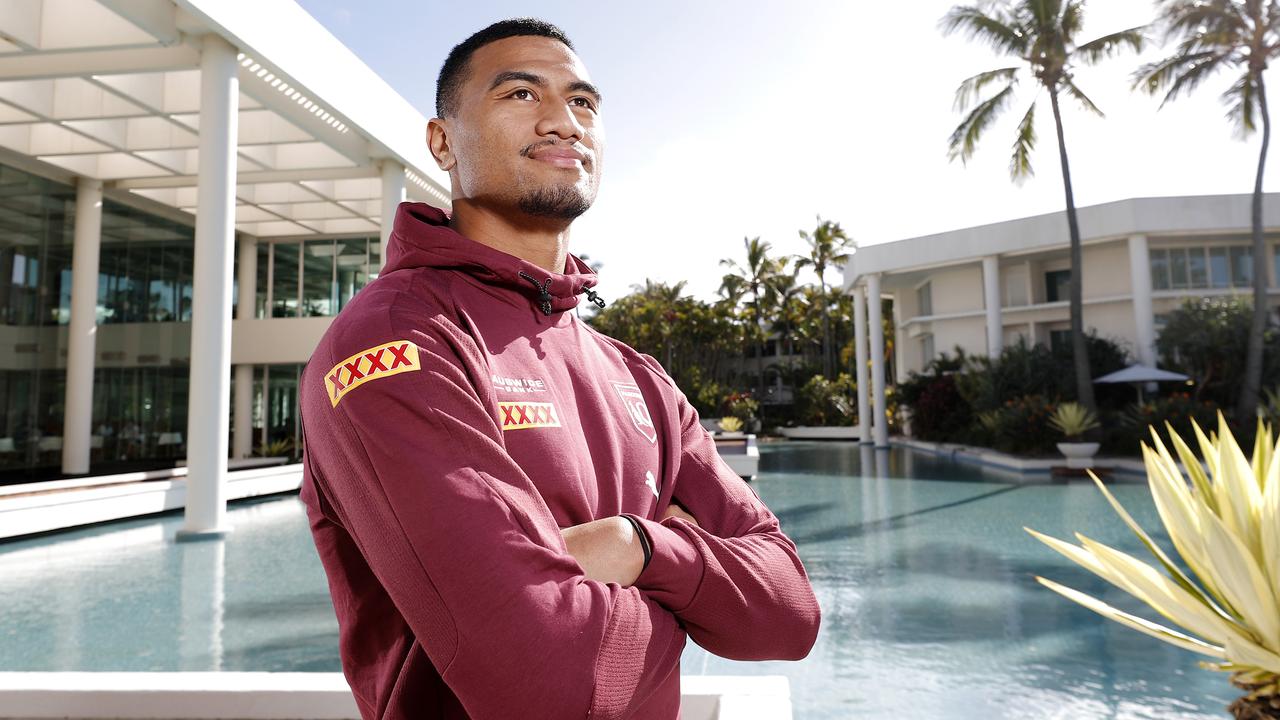 Ronaldo Mulitalo was picked for the Maroons last year but withdrew after he was ruled ineligible. Picture: Getty Images
"It has been an emotional week thinking about what I've gone through and this new chapter of my life," Mulitalo said. "I had a dream to play for Queensland but I was born in New Zealand and it feels right pulling on this Kiwi jumper.
"It's special to play for your country. I watched guys like Shaun Johnson, Kieran Foran, Simon Mannering, Manu Vatuvei and Stacey Jones all do great things in the New Zealand jumper and I want to do those great Kiwis proud.
"That situation with Origin was all pretty crazy. I was devastated at the time, but I feel I belong with New Zealand and the boys and 'Madge' (Kiwi coach Michael Maguire) have all been really welcoming."
Mulitalo says at no stage was he trying to be deceptive. After moving to Ipswich just shy of his 14th birthday, Mulitalo had been selected for Queensland junior representative sides, including the under-20s Origin outfit.
Now that the dust has well and truly settled on the Origin eligibility furore, Mulitalo holds no grudges. The football fan in him couldn't resist watching Origin I a fortnight ago, but his emotional attachment to the Maroons has evaporated.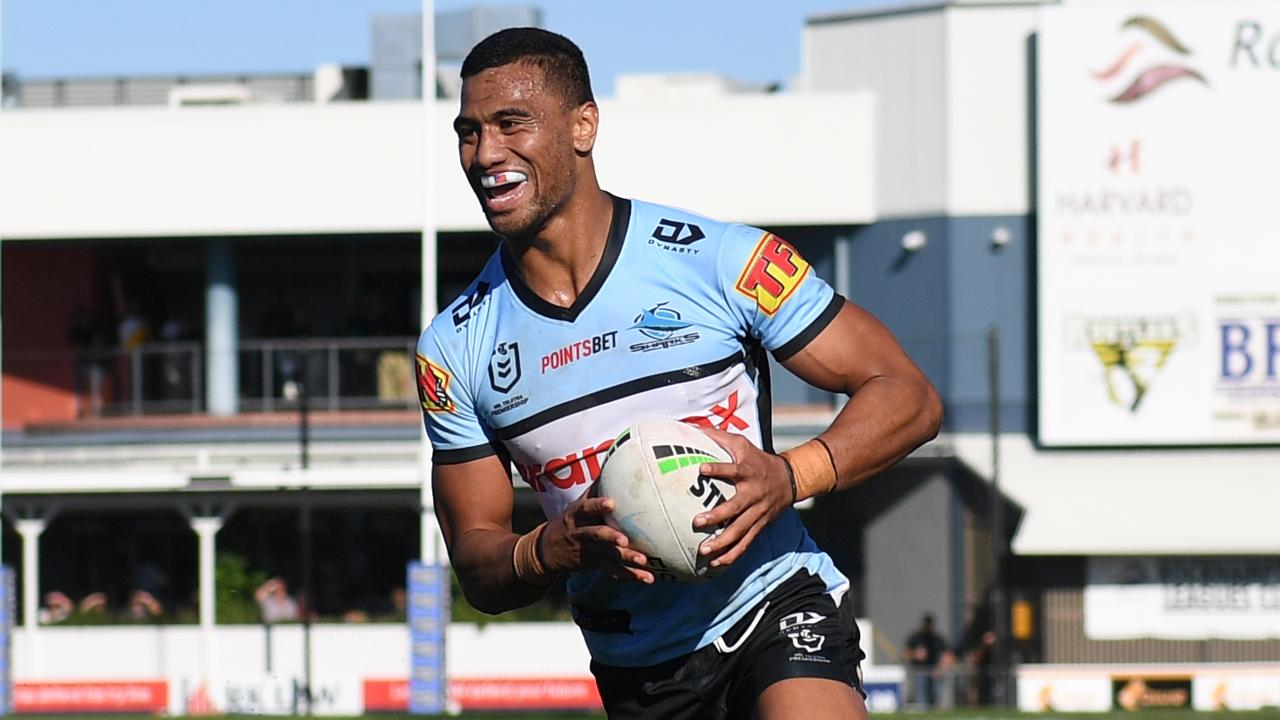 Ronaldo Mulitalo has been a consistent performer for the Sharks. Picture: NRL Photos
"I don't want to play the blame game on who was at fault," he says.
"The bottom line is the NRL said I can't play for Queensland and I can't change anything now. I have no bitterness towards anyone, that's not how I live my life.
"I still watch State of Origin, but I don't put my mind back to what it would have been like to run out for Queensland that night. All my energy is with the Kiwis now. If I kept thinking about Origin, I would never get over it.
"I still have my Queensland gear, but I have packed it away and sent it to mum's house. That will always be a massive part of my life, being called into Queensland camp and the Maroons guys were so good to me.
"Looking back, it was one of those things and there are much harder things in life for people than me missing an Origin game. Now I've reflected on it, I have moved on. I have closed the door on that time and all I want to do now is be respectful to the New Zealand jumper and give my all for the Kiwis."
Call it poetic justice, but Mulitalo's switch to New Zealand was sealed after a meeting with Kiwi coach Maguire … at a Queensland hotel.
Mulitalo will oppose Sharks teammate and Tonga winger Sione Katoa at Mt Smart Stadium and is mindful of the competition for Kiwi jumpers ahead of this year's World Cup.
"My first job is to help the Kiwis get a win this week against Tonga and that will start off my legacy in this black-and-white jersey," he said.
"I can't believe I am playing with world-class players like Brandon Smith and the Bromwich boys. It's a brilliant team and I will be following those guys into battle.
"I see my identity differently now. I'm a Queenslander supporter, but I was born in New Zealand. Like anyone who moves to Australia, I respect Queensland and I will always appreciate the opportunities that state gave me and my family.
"But I was born and bred in Auckland and all my family is here, so you never forget about.
"This is home for me."
Originally published as NRL rep round 2022: New Zealand Kiwis win test 26-6 over Mate Ma'a Tonga