North Queensland Cowboys centre Valentine Holmes might just have found his calling in the centres
At 26, Val Holmes' career has been defined by seismic change. Now, writes JOEL GOULD, he might have finally found a home.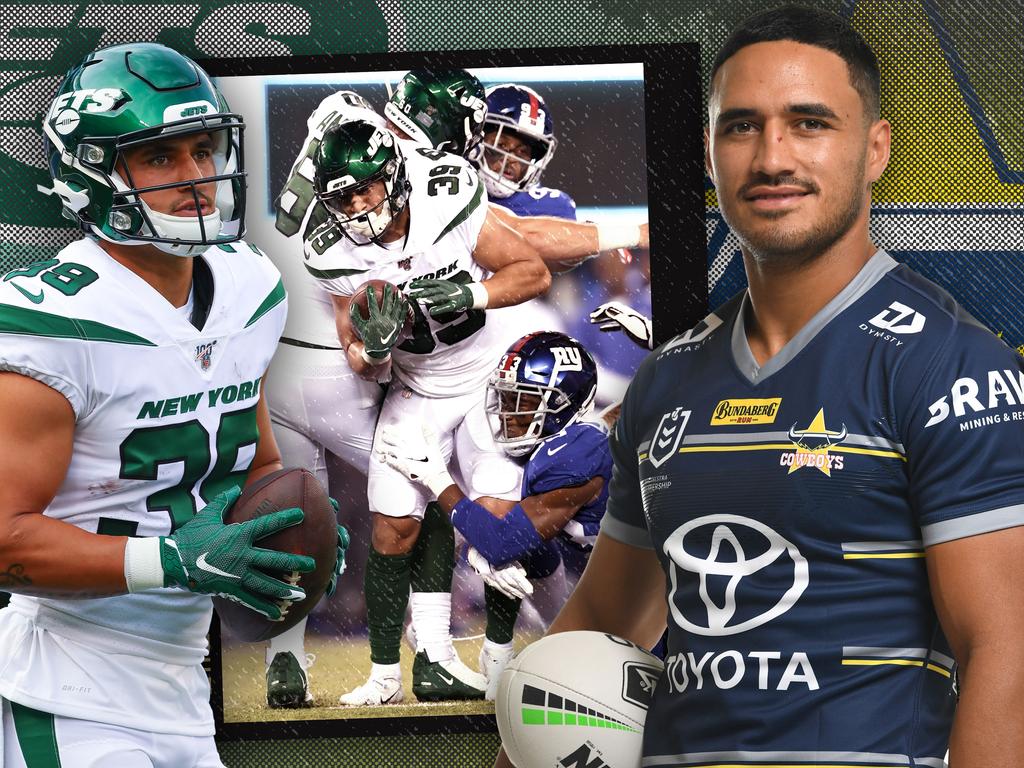 It required patience, but Valentine Holmes adjustment from the NFL back to the NRL finally feels complete.
Val Holmes has changed hemispheres and sports in recent years, but it is the relatively minor matter of a positional change that could have major implications for the Cowboys this season.
Adaptation has been a central theme to Holmes' career ever since his decision to quit the security of the Cronulla Sharks, with whom he won a premiership in 2016, for the unknown of American football two years later. After being signed to the New York Jets' practice squad, primarily as a running back, Holmes returned home a year later to a new team, a different state and a confronting set of challenges as he sought to transform his body and his game back into NRL mode.
It wasn't easy and there were stretches where the Cowboys' hierarchy might have wondered whether Holmes would experience a similar fate to Jarryd Hayne, who never rediscovered his NRL spark after a stint with the San Francisco 49ers. But the club's faith was steadfast and it has been repaid handsomely in 2022.
After yet another change, this time a positional switch to centre, Holmes has averaged 132 run metres in his first ten games this season and made 29 tackle breaks and five line breaks along with four tries.
He is the competition's second highest points-scorer with 95.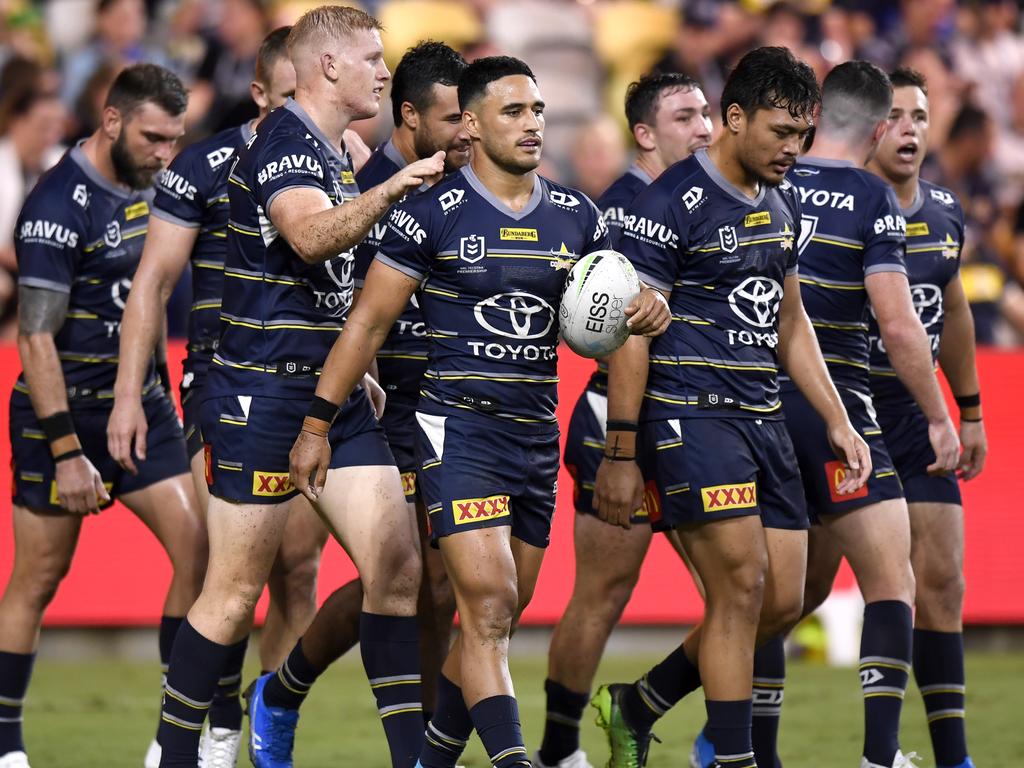 Valentine Holmes has been integral to the Cowboys' brilliant start to 2022. Picture: NRL Imagery
Holmes' form has been a critical factor in the Cowboys' rapid rise to the top four entering this round – an astonishing thought when you consider he had never started a first grade game in the centres until the last two games of 2021, and that all nine of his Origin and 17 for the Kangaroos have been scored on the wing.
"I like challenging myself and I like proving people wrong," Holmes says. "Toddy Payten put it on me in the pre-season and presented me with the challenge to play centre full-time. He asked if I was prepared to make it my own. I embraced the challenge he set me.
"When I played fullback and wing I always thought that centre would be one of the hardest positions to defend at. It is a do-or-die situation, which I like.
"You either have to shut it down out the back, shut the fullback down or if they hit leads you've got to have the halfback covered.
"It is one thing I really worked on with Dean Young, our defensive coach. I always knew I could run the ball catch and pass and do all that creative stuff, but I want to be known as one of the best defensive centres."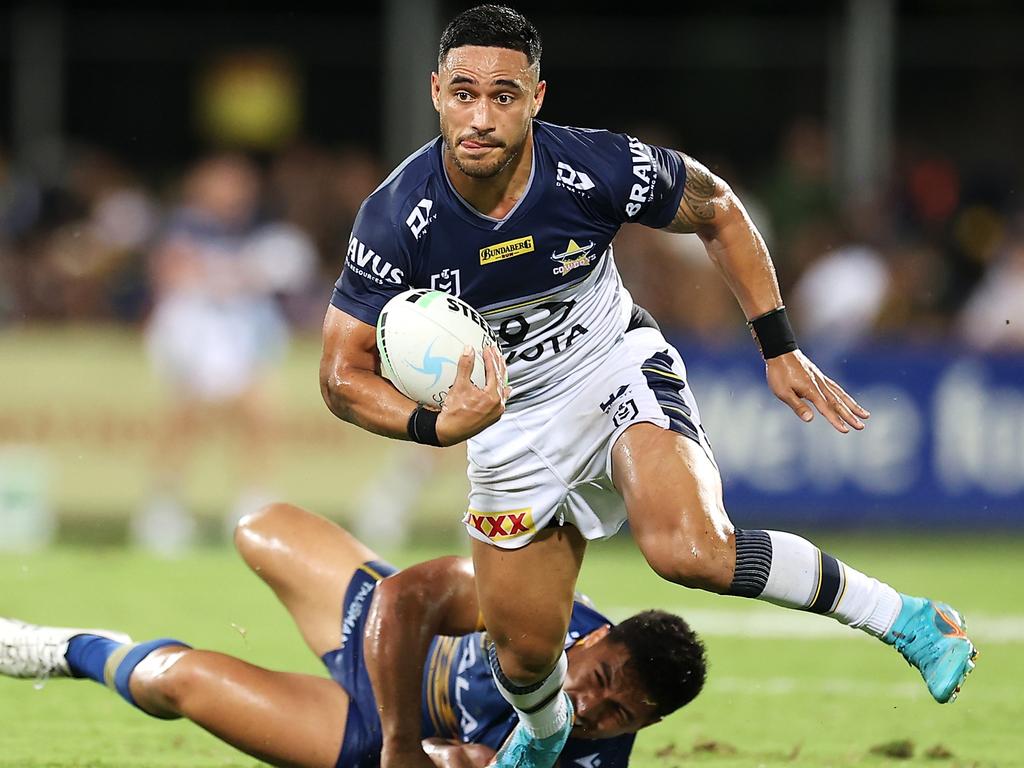 Holmes always felt like he had the ability with the ball to play centre, but has finally added the defensive edge he needed. Picture: Mark Kolbe/Getty Images
Among those to question Holmes' ability to reacclimatise to rugby league after his stint in New York was one of Australia's NFL pioneers, Colin Scotts.
Scotts made the transition from Australian Schoolboys' rugby union star to defensive end for the Arizona Cardinals in 1987 and has been surprised – pleasantly so – by Holmes' successful second chapter in the NRL.
"I don't know any athlete in the world that has left to take on the challenge of cracking the NFL and come back and done well in their chosen sport," Scotts says. "I am just really proud that Holmesy initially had the balls to have a crack and leave his comfort zone.
"I called it. I came out and said he would come back and struggle in rugby league, because the NRL moves on so quickly.
"In the beginning when he returned he didn't seem to have the same rhythm or be the same player, but to his credit the old Holmesy is back. That is incredibly hard to do. It is a great story of a guy who never gives up.
"[The Jets] would have drilled him on explosive high-twitch reaction. His weight has gone down now and he has that rugby league IQ of playing 80 minutes whereas with NFL it is explode and then stop. The game moves on, but credit to Holmesy for moving with it."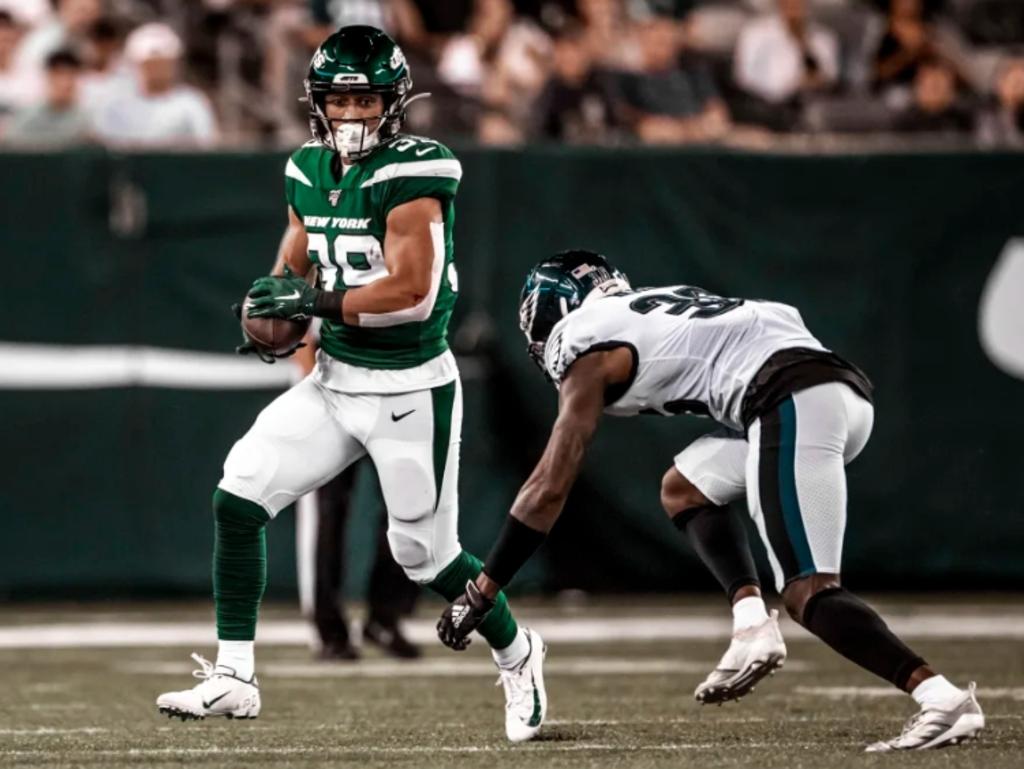 It took Holmes time to adjust after returning from America. Picture: New York Jets/ Supplied
Holmes carries the lessons of his American sojourn with him to this day. While at the New York Jets, he would go to his locker and look around at his teammates beside him. A few days later Holmes would return, but their lockers were often empty.
They had been moved on without warning.
They were never to be seen or spoken about again.
For a player used to camaraderie of rugby league, Holmes found very little of it in the NFL environment. It did teach him a valuable mindset lesson, though.
"I will always be grateful to the NFL and the Jets for the opportunity," Holmes says. "I did learn a lot. The NFL players do not leave any stone unturned with their game preparation.
"That experience in the NFL made me focus on the here and now. I need to earn my jersey every week and nothing should be expected. Now I never take my career, my chosen sport or my talent for granted."
Or his position, for that matter.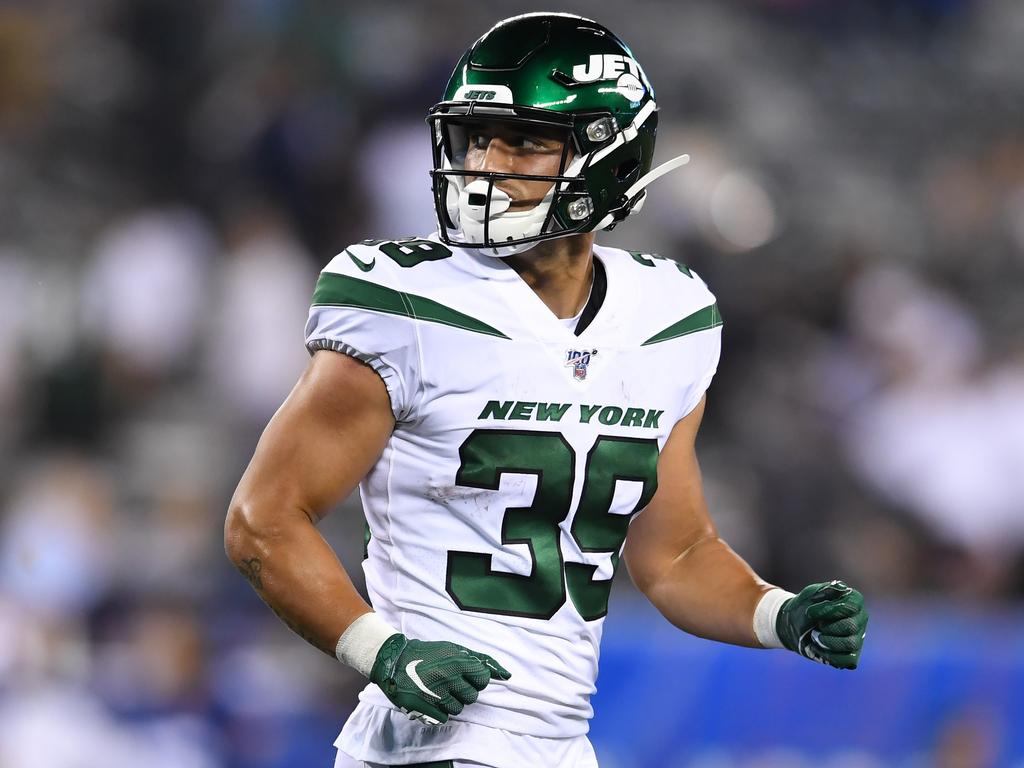 Holmes is grateful for his brief NFL experience. Picture: Sarah Stier/Getty Images/AFP
Having accepted Payten's challenge of switching to the centres in the off-season, Holmes has emerged as a wise head who provides a tremendous link between five-eighth Tom Dearden and blockbusting winger Murray Taulagi, while offering Scott Drinkwater and Hamiso Tabuai-Fidow the freedom to thrive in his old No. 1 jersey.
And he has proven just as effective on the other side of the ball with a tackle efficiency north of 80% as part of a Cowboys' defensive unit that has conceded the second fewest points in the NRL this season.
"I am not trying to be the best centre in the competition," Holmes continues. "That's not my mindset. I am just trying to be the best I can be for the team I am in.
"That's why our left edge is going so well and why Murray [Taulagi] is on fire. He's obviously big, strong and can finish. Centre is one of the hardest positions to defend and I don't always make right decisions. When I make the wrong ones, Murray is there to cover my backside.
"That is what we are doing really well this year. If one person makes a mistake another is there to cover for his teammates. We are a real team."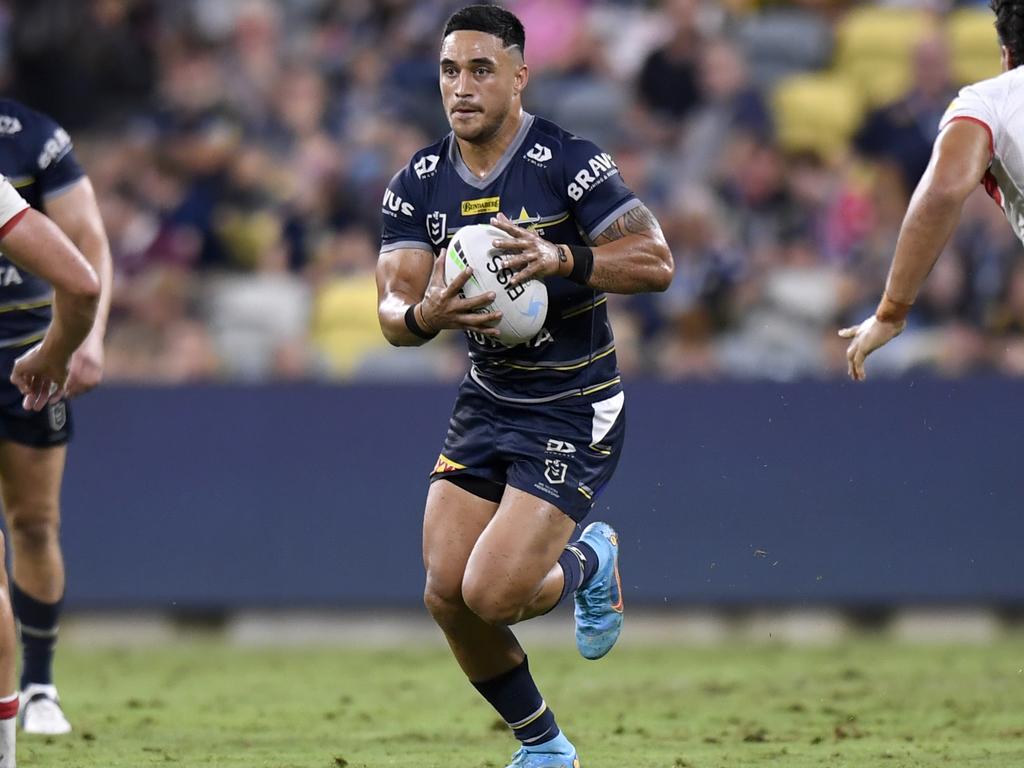 Holmes is focused on being the best team player he can be. Picture: NRL Imagery
Brent Tate, the former Maroons and Cowboys centre, has been impressed with the skills and humility Holmes has displayed this season as he has navigated the new challenge of playing in the centres.
"The hardest thing when you see yourself as a fullback but have to play another position for the team is swallowing your pride and putting aside your ego," Tate says.
"Val has had mental fortitude to prove to himself and everyone else that he can be the best in his new position of centre. A lot of people in all walks of life can't make changes. Val has, and that is the measure of the man and person he is.
"What has impressed me the most about Val though is his willingness to get into every contest in every game now. Val will be the first picked in the centres for Queensland. His name is written in ink."
Another decorated member of Queensland's centres alumni, Steve Renouf, has been similarly taken by Holmes' form in his new position after initially harbouring doubts about the move.
"I wasn't convinced about Val at centre before that day [round three against the Broncos]," Renouf says. "I thought Kotoni Staggs would tear him apart, but Val cut Kotoni down time-after-time.
"Not too many centres can do that. I am surprised how quickly he has adjusted in defence. It wasn't a one-off. It's not the stats I look at. It's the one-on-one battles and Val has been winning them. He has found a new home."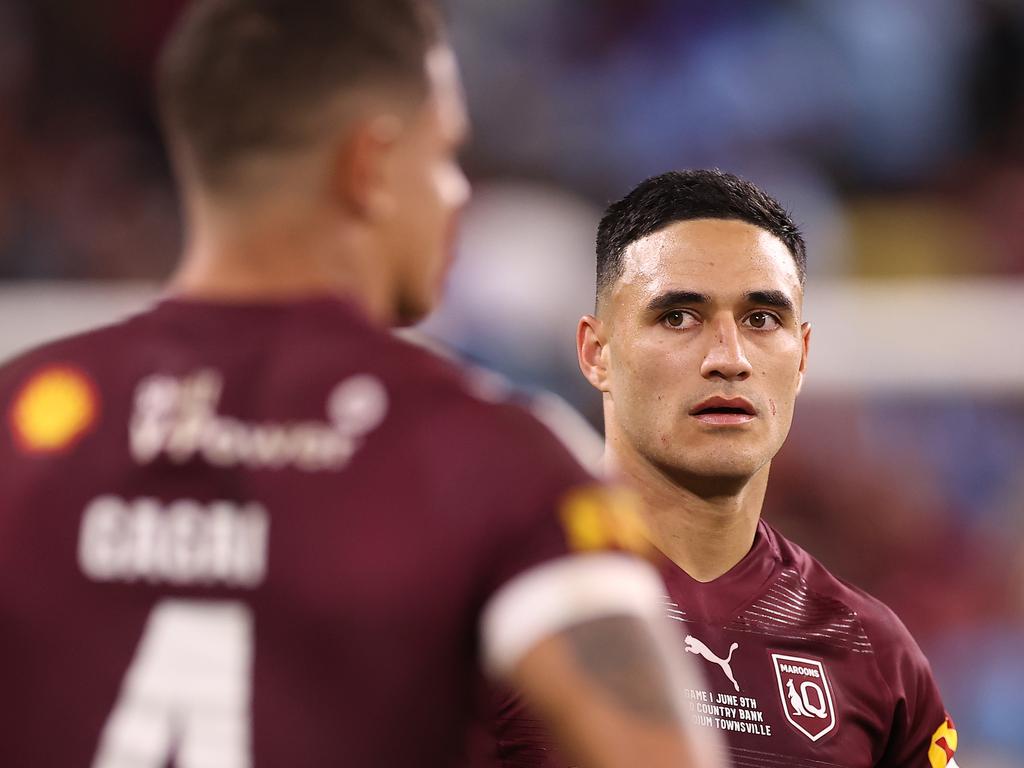 Despite his brilliant Origin record on the wing, Queensland legends have no doubts he will play just as well for the Maroons at centre. Picture: Mark Kolbe/Getty Images
In addition to shutting Staggs down in defence in the Cowboys' eventual 38-12 win, Holmes also scored 18 points, including a try, ran for 200 metres and made two line breaks in that match-up with the Broncos.
Maroons coach Billy Slater is another to have taken notice.
"Val is enjoying himself. He is enjoying the challenge of playing in a youthful team and the challenge of playing in a new position," Slater says.
"He is very dangerous. He's got great leg speed. He's an aggressive player and I am enjoying watching him play."
With all he has crammed into his career to this point, it's astonishing to consider that Holmes is still just 26 and might just have his best years still ahead of him.
Change is all he has known to this point. But, with more than two years remaining on his contract and stability in his new role at centre, it may well be that Holmes has finally found his home.
"He has fought back, got his confidence up and just had to hang in there," Scotts says. "I'm sure there were some demons he was fighting. He was copping criticism at the start, but he has turned it around and got to the pinnacle again."