NRL 2022: Selwyn Cobbo reveals his struggles after State of Origin concussion
Broncos and Maroons star Selwyn Cobbo has opened up on the after-effects of his sickening concussion in Origin III, which he admits had a lot of people worried.
Selwyn Cobbo insists he won't change his fearless approach to the NRL in the wake of the sickening Origin concussion that sparked fears the Broncos flyer would not play again this season.
In his only interview on the subject, Cobbo opened up to News Corp about his savage head knock, revealing his personal struggles as he battled headaches and neck pain that prompted him to take time out of the NRL to rest with family in Cherbourg.
Cobbo has passed a series of concussion tests and will make his comeback for the Broncos in Thursday night's blockbuster against the Roosters at the SCG — three weeks after being taken off the field in Origin III wearing a neck brace.
The 20-year-old was desperate to return to help the Broncos to the finals, but admits he experienced some difficult concussion symptoms that further vindicates the NRL's push to address head-trauma injuries in the sport.
"I wasn't the same person for a few weeks," Cobbo said.
Stream every game of every round of the 2022 NRL Telstra Premiership Season Live & Ad-Break Free During Play on Kayo. New to Kayo? Start your free trial now >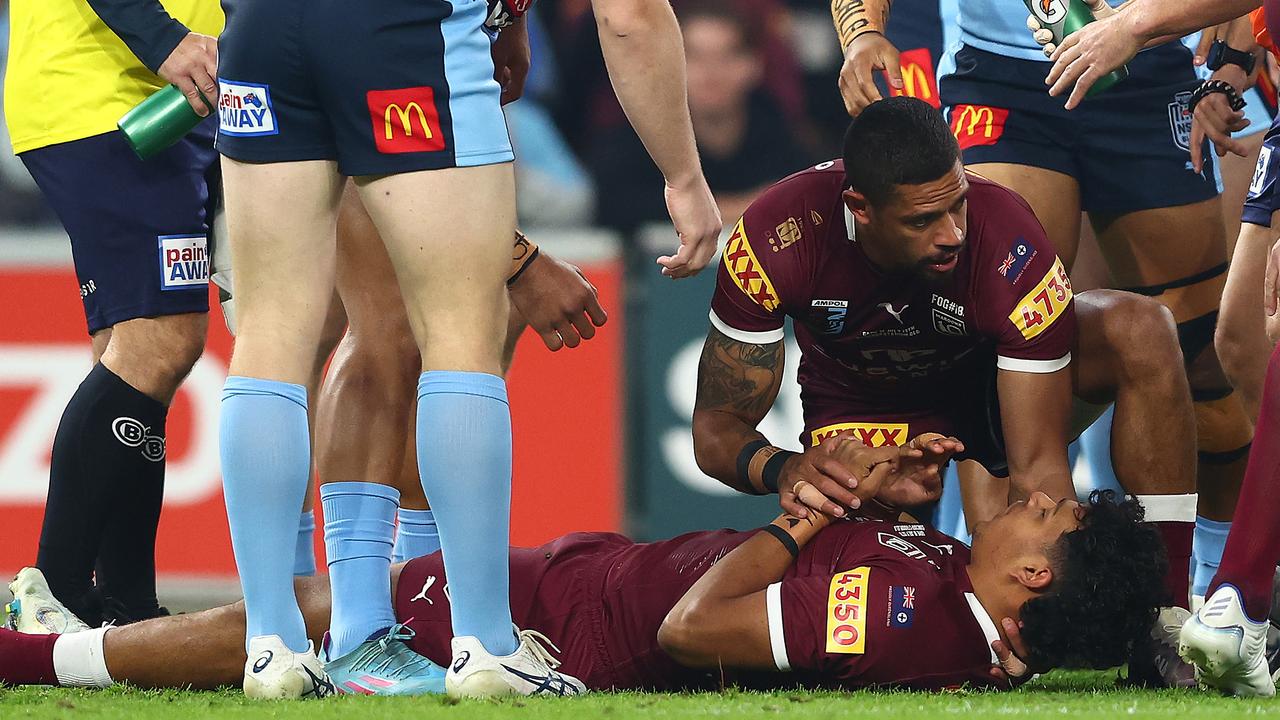 Dane Gagai assists Selwyn Cobbo after he was knocked out in the opening minutes of State of Origin III. Picture: Chris Hyde/Getty Images
"I've had a couple of head knocks before when I was younger but that one in Origin was the biggest one I ever had.
"I had a lot of people worried about me that night.
"A couple of days after the incident, I was getting headaches and neck pain. I was taking painkillers to get rid of my headaches. I wasn't feeling too good for a little while.
"The first few days, mentally I just wanted to get away from everyone and rest. I didn't want to be around the city, I was pretty sleepy so I just wanted to get away and feel better again.
"After the head knock, I didn't want to be around footy, but now that I'm back on track, I've missed footy and I can't wait to be back this weekend for the Broncos."
Cobbo's knockout moment in the Origin decider was one of the most brutal collisions seen in the NRL in recent times.
Cobbo lasted just two minutes of Origin III when his head slammed into the hip of Maroons and Broncos teammate Pat Carrigan as Queensland players raced in to tackle NSW centre Matt Burton on a kick return.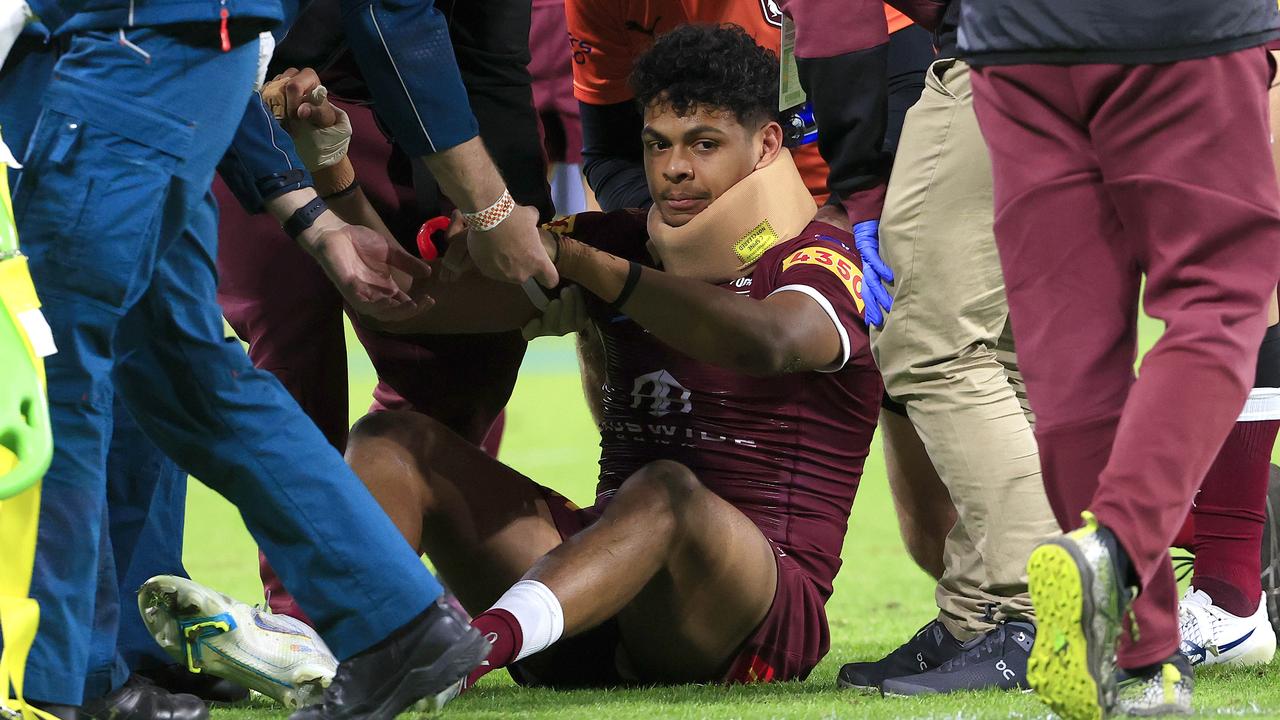 Selwyn Cobbo was taken from the field in a neck brace. Picture: Adam Head
Cobbo was knocked out instantly and didn't move. As fired-up NSW and Queensland players engaged in push and shove, there were fears a motionless Cobbo would be trampled amid the melee, prompting Maroons centre Dane Gagai to shield his teammate.
The Broncos rookie has won plenty of admirers this season, including NRL Immortal Andrew Johns, for his lack of self-preservation on kick returns and Cobbo is determined to keep charging into the teeth of rival defences.
"I will keep playing my natural game," he said. "I remember parts of the game. I came off the field and then everything started to come back to me.
"I remember going into a tackle and just waking up. I am very thankful to Dane Gagai for doing what he did, he was standing over me while I was knocked out and protecting me while the boys were fighting, so I was very lucky for him doing that.
"I watched the incident again. It was like friendly fire, my head went into Patty Carrigan's hips … Pat felt pretty sorry about what happened to me. He owes me a few free lunches.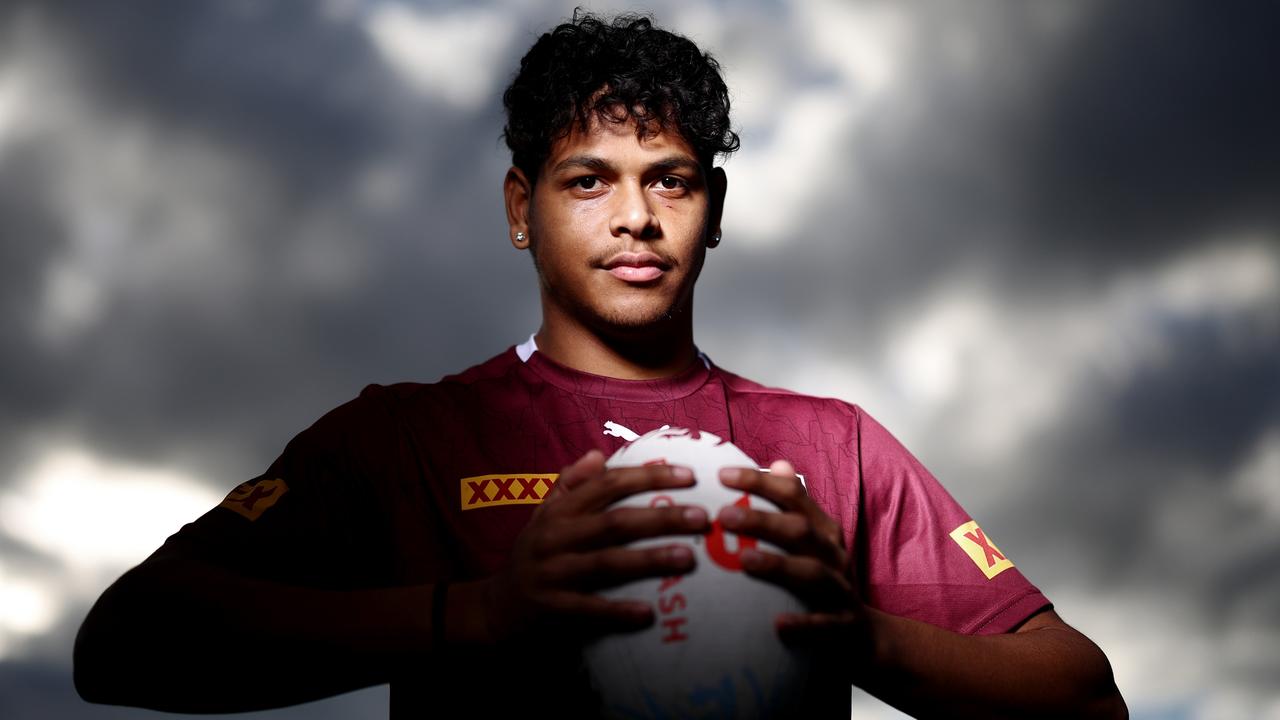 Selwyn Cobbo returned to Cherbourg for a few days during his recovery. Picture: Chris Hyde/Getty Images
"I went home to Cherbourg for three days. I needed treatment on my neck at the Broncos, so I had to get back to the club, but it was good to go back home for a few days."
Rugby league has been rocked by a number of serious head knocks in recent weeks.
Roosters and Maroons prop Lindsay Collins will miss the Broncos clash after a heavy collision against Manly last week, while Cobbo's other Origin teammate Kalyn Ponga is out indefinitely following three concussions in six weeks.
The Broncos have taken every precaution with Cobbo. He was due to face the Wests Tigers last Saturday, but Broncos medicos delayed the return of the Indigenous ace, who has been wearing a red bib, signalling no contact, at Brisbane training.
"I've had all the medical tests in the last few days and I passed all the concussion tests, so I'm ready to play," Cobbo said.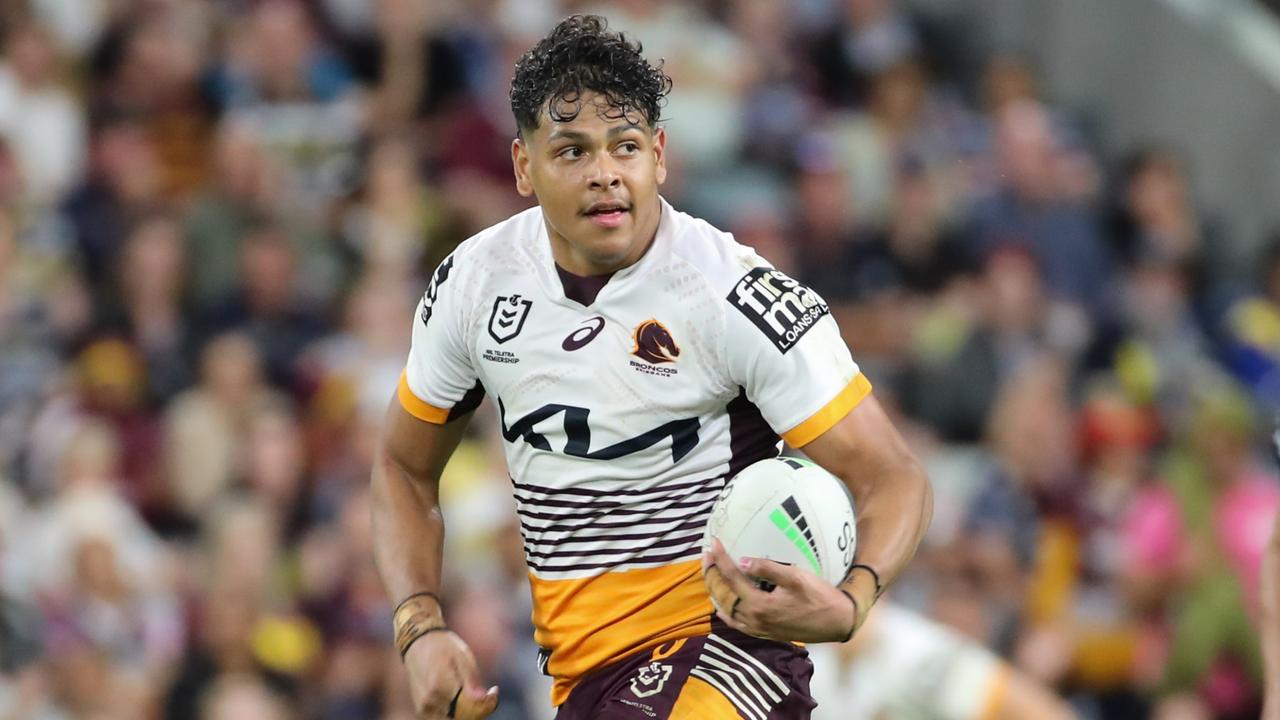 Selwyn Cobbo will make his return for the Broncos this week. Picture: NRL Images
"I have been doing light running and some stuff on the bike. I started to get back into training last week with no contact, but (Tuesday) was my first day in contact and it went pretty well.
"It's good to get back on the training paddock again. The Roosters are a good team, so I wanted to get back and help the guys and do my part for the team.
"Hopefully there's no more concussions for a while."
Broncos coach Kevin Walters is confident Cobbo will not be gun shy in his return against a resurgent Roosters side.
"He is good, he is ready to go," Walters said.
"Cobbo is a footballer and he will be ready for whatever the Roosters throw at him.
"It's been some time but it will be good to see Selwyn back in the Broncos jersey."
Cobbo said he was blown away by the intensity of State of Origin and believes his first full series has steeled him for Brisbane's upcoming finals campaign.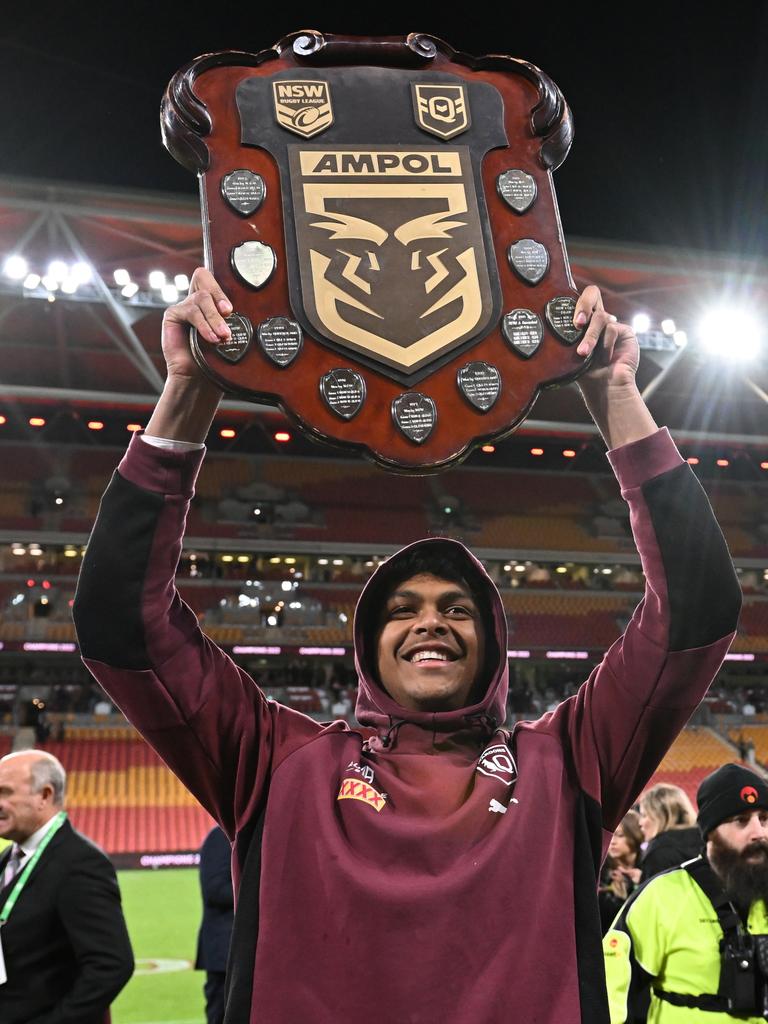 Selwyn Cobbo lifts the Origin trophy. Picture: Bradley Kanaris/Getty Images
"Origin was amazing," he said. "Everything moved so fast for me this year, I still can't believe I'm an Origin player.
"I was hoping to score a try in Game Three but after the first two minutes I was gone.
"The hardest thing was everything about Origin. The contact was huge and the speed of the game was faster than anything I had experienced. I never expected it to be that hard. My lungs were burning early in the games.
"I can't wait to play finals football. Last year we didn't get that top eight spot, so I'm excited to play in the finals this year and see what we can do.
"I want to help us get that premiership."
Broncos' stall tactics with superstar lauded
-Callum Dick, Robert Craddock
Broncos legend Steve Renouf has lauded the club's handling of Selwyn Cobbo's concussion symptoms and says the cautious approach could yield a massive pay-off come the post-season.
Renouf, who like Cobbo hails from the South Burnett region, believes the Broncos have held the young flyer back long enough that he will be "champing at the bit" to make an immediate impact on his return.
Whether that comes as soon as Thursday night against the Roosters remains to be seen, after the 20-year-old looked on track to face the Wests Tigers last weekend only to be held out.
Cobbo has not played in a Brisbane jumper since round 16, as he continues to fight through the remnants of the heavy concussion he suffered early in State of Origin game three on July 13.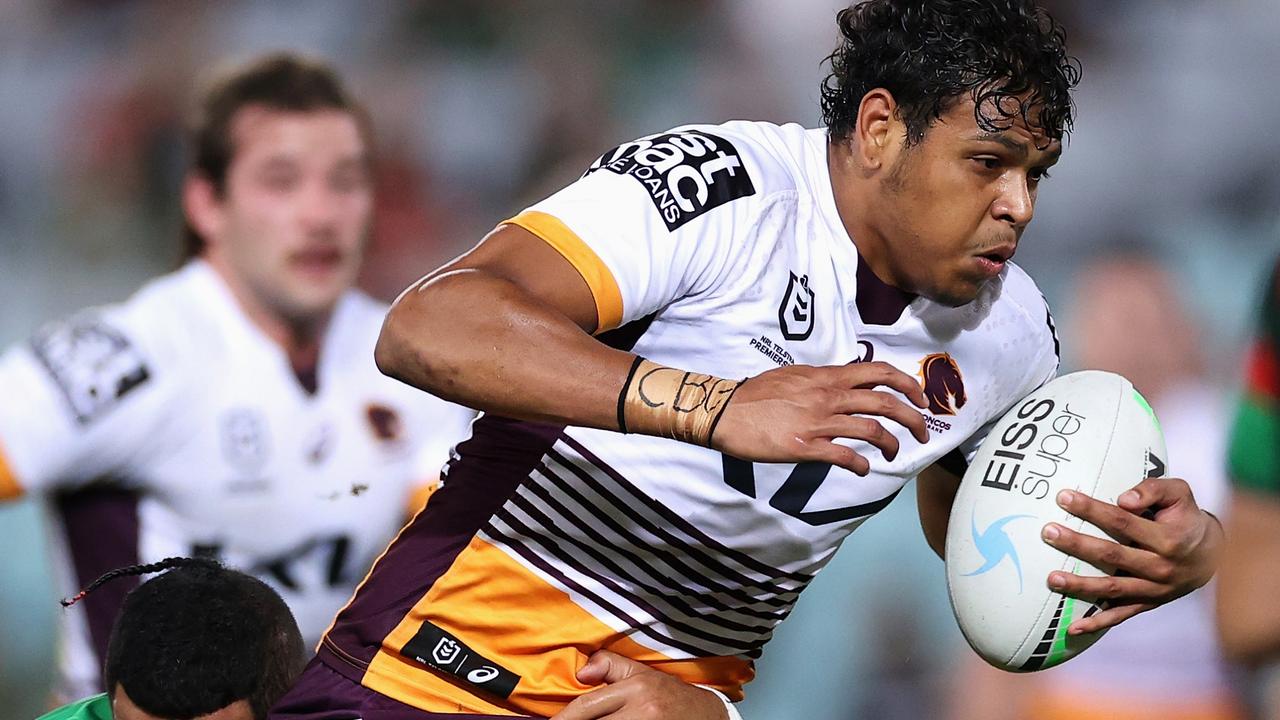 Selwyn Cobbo hasn't run around in a Broncos guernsey since round 16.
Broncos coach Kevin Walters was optimistic Cobbo would be ready to roll for the Thursday night blockbuster against the Roosters and that news was welcomed by Renouf.
"They've given him that extra week (to recover) from the head knock which is good," Renouf told News Corp.
"When you see how Selwyn threw himself into that tackle … in hindsight he probably didn't have to, but he was trying to get himself into the game early which is great from a young player.
"After a big head knock you can get a bit shy (in the tackle). I've had a few like that. You have to step up and not worry about it (and Cobbo) will be champing at the bit I'm sure.
"He's got a few games before finals (to find form) and that's a good thing."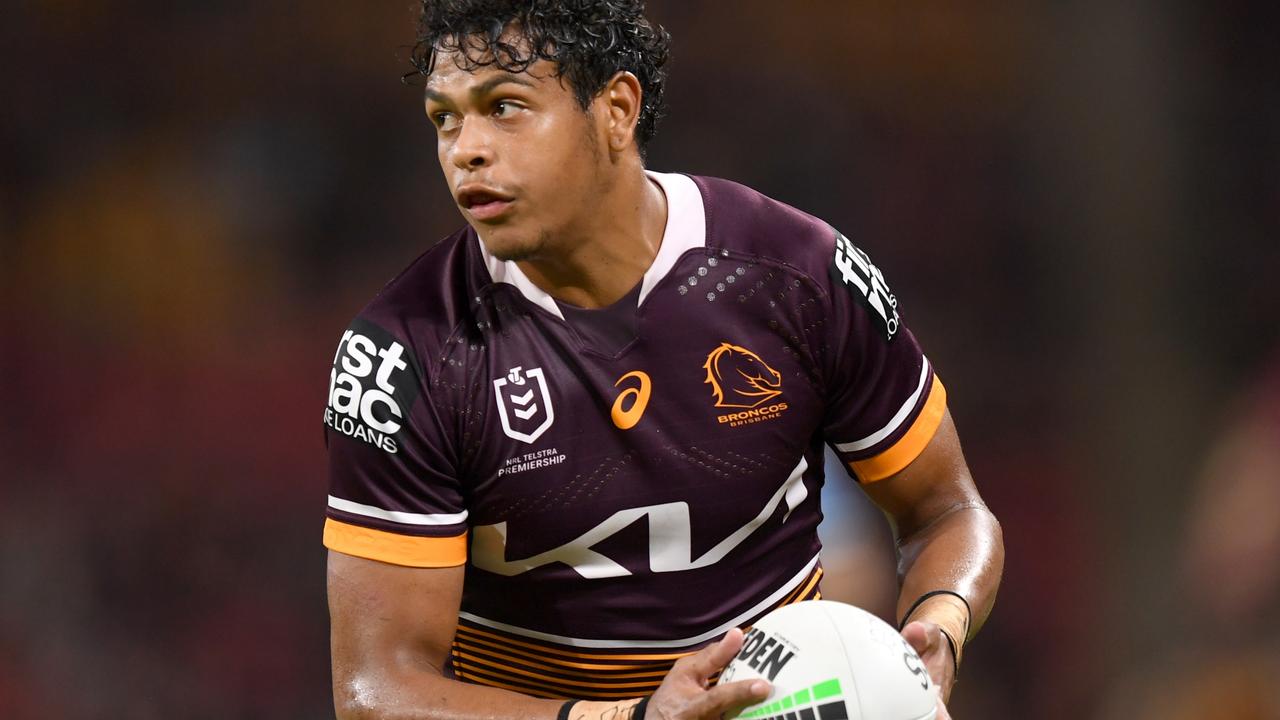 The Broncos teen sensation was given an extra week to ensure he had fully recovered from his recent concussion.
The Roosters have won three on the trot and are fighting for their finals future, while the Broncos dropped out of the top four following the shock 32-18 loss to the lowly Tigers at the weekend.
Cobbo's return would only add to the compelling intrigue of a Broncos-Roosters prime time script, with two of the competition's most exciting young wingers in he and Joseph Suaalii duking it out.
Both Cobbo and Suaalii have posted 12 tries in 14 NRL appearances this season.
Renouf shrugged off the loss to the Tigers as an aberration and said the Broncos would do the same when they fly to Sydney to prove their top-four credentials.
"I think their (prior) form and especially the win against Parramatta shows they can beat any of these sides," he said.
"There's no reason they can't and they need that attitude (on Thursday night)."
Broncos' teetering title hopes boosted by miracle recovery
– Peter Badel
The Broncos' teetering premiership assault has received a huge boost with strike centre Herbie Farnworth making a stunning recovery from a serious bicep tear to be ready for the NRL finals.
And more star-studded cavalry is on the way for the Broncos, who are set to welcome back Queensland Origin young gun Selwyn Cobbo for Thursday night's blockbuster against the Sydney Roosters at the SCG.
Cobbo suffered a sickening head knock in the Origin decider and Broncos medicos have taken no risks after ruling the matchwinning winger out of his planned return against the Wests Tigers last Saturday night.
But Brisbane are hoping to have Cobbo on deck for the top-eight showdown with the Roosters – and Farnworth has rocketed into the selection frame to give Brisbane more firepower for the finals.
Brisbane's top-four ambitions copped a blow following Saturday's shock 32-18 collapse against the Tigers and the return of their two classy outside backs is a timely shot in the arm for the fifth-placed Broncos.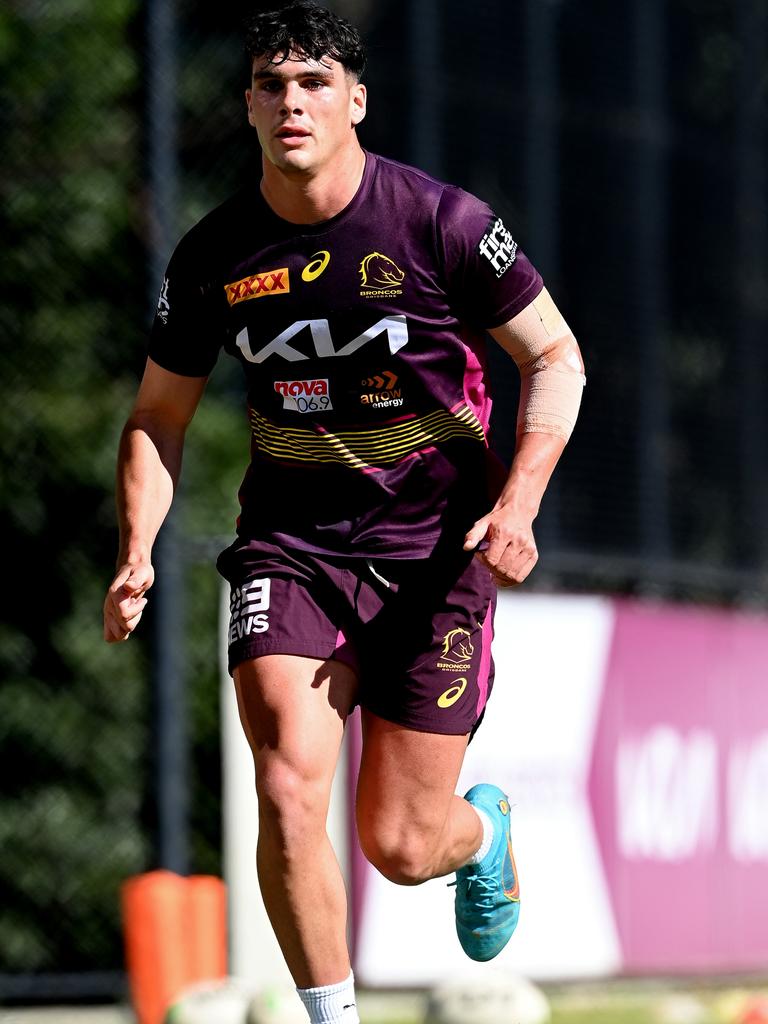 Herbie Farnworth is on his way back. Picture: Bradley Kanaris/Getty
Herbie Farnworth during a drill at Broncos training. Picture: Bradley Kanaris/Getty
Farnworth ruptured his bicep against Canberra in June. Brisbane's best player after 14 rounds with 10 tries from 12 games, the British flyer underwent surgery to repair the injury and the Broncos were resigned to losing Farnworth for the rest of the season.
But the 22-year-old worked overtime on his rehabilitation and has resumed training, with Farnworth hoping to return in time for Brisbane's round 24 home clash against the Eels on August 25.
Brisbane coach Kevin Walters is relishing the prospect of reuniting Farnworth with Kotoni Staggs in a lethal centre strike force that can make the Broncos a serious threat in the playoffs.
"Herbie is back running now which is good and he is gradually getting back into some skill work," Walters said.
"I believe he is a bit ahead of schedule.
"We expect him to be back a couple of weeks out from the finals which is great news for Herbie and for us."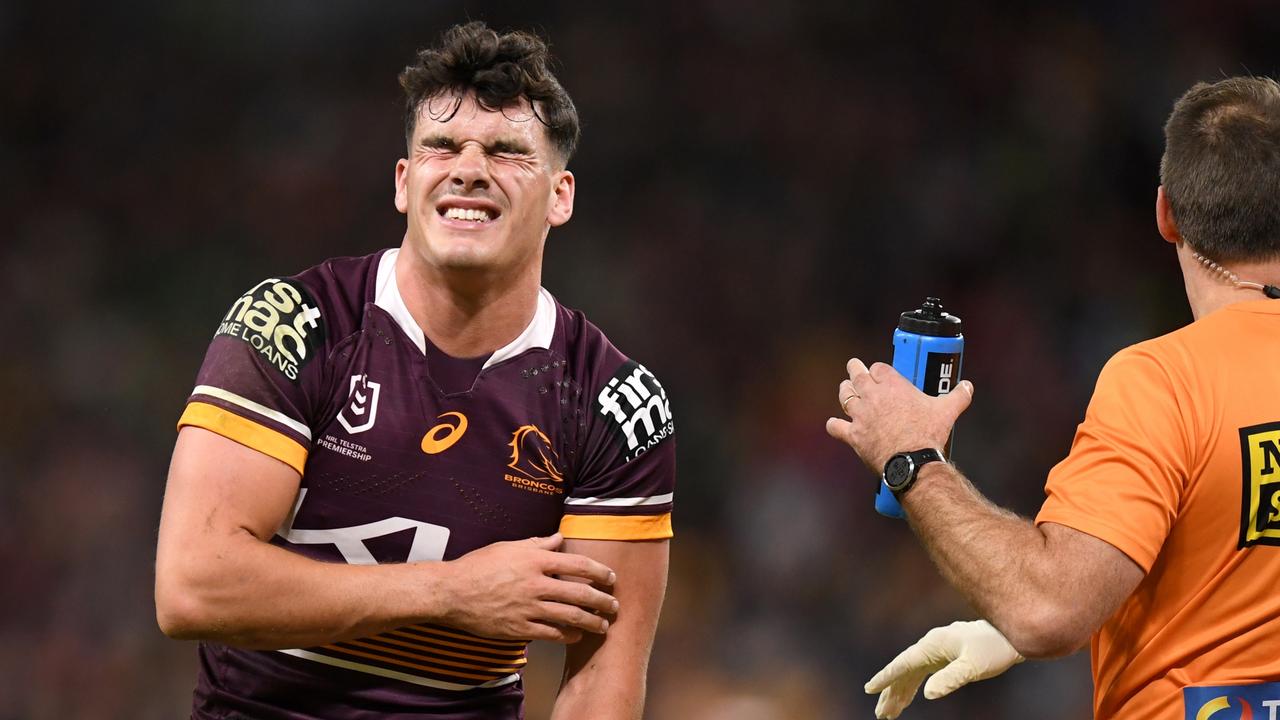 Herbie Farnworth after picking up the injury. Picture NRL Photos
Farnworth was outstanding in the first half of the season and his impending return is a finals coup for a Broncos side which blooded 19-year-old Denie Mariner at left centre against the Tigers.
While Mariner is a player of the future, the Broncos are reluctant to throw him in the deep end during the playoffs, but Farnworth's shock comeback gives them a formidable centre pairing for the sudden-death games.
Meanwhile, the Broncos are hopeful Cobbo will get the green light from doctors to face the Roosters after missing Brisbane's past three wins over the Titans, Parramatta and Wests Tigers.
In the wake of his worrying knockout in Origin III, the Broncos sent Cobbo to his home in Cherbourg to rest with the care of his family.
The Maroons ace trained with the Broncos last week in the lead-up to the Tigers clash but wore a red bib in opposed sessions, signalling he could not be tackled, as Cobbo makes a careful return from concussion.
The 20-year-old may yet be given another week's rest but Walters indicated Cobbo is on the verge of playing.
"He wasn't eligible (for the Tigers game), Selwyn failed one of his concussion tests earlier in the week so we have decided to give him another week off," Walters said.
"We want to make sure he is right because he is a very important part of our team moving forward and we need him at his best health wise as well.
"It's a short turnaround heading into the Roosters game so he should be all right for that game which is great news for us and Broncos fans."
Originally published as NRL 2022: Selwyn Cobbo reveals his struggles after State of Origin concussion