NRL 2022: Bulldogs forward Max King opens up on celibacy vow and christian beliefs
Bulldogs forward Max King is staying true to his faith and vowing to abstain from sex before marriage — and it's a move which has the respect of his teammates.
Rising NRL star Max King has gone public with his desire to abstain from sex before marriage, admitting his teammates respect his deeply personal decision.
The Canterbury Bulldogs forward has emerged as the first professional footballer to openly discuss his plan for celibacy since former Australian, St George and Cronulla forward Jason Stevens told of his own mission to abstain in 1999.
King, 24, said he had made the courageous call due to his staunch Christian beliefs.
"Remaining abstinent is what I'm pursuing,'' King said.
"It can be difficult. There's lot of influences.
Stream every game of every round of the 2022 NRL Telstra Premiership Season Live & Ad-Break Free During Play on Kayo. New to Kayo? Try 14-days free now.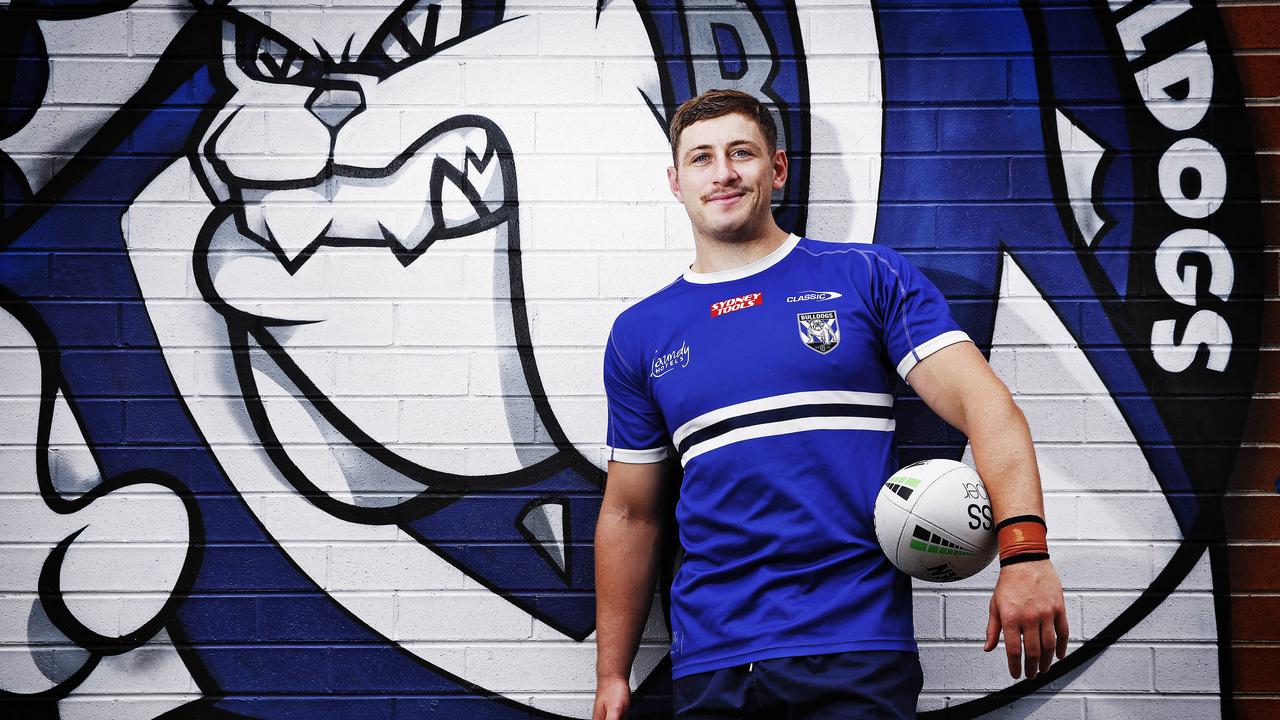 Bulldogs forward Max King is open about his celibacy. Picture: Sam Ruttyn
"It's also about being careful with what environments I put myself in and who I hang around with outside of football.
"Obviously going to church and hanging around with other Christians or other people with faith is what I enjoy.
"And as the saying goes, iron sharpens iron.
"I just like to be conscious of what environments I put myself in.
"I talk openly about it with the boys and they respect me for who I am.
"I don't mind the boys taking the piss, I'm fine with it, because I'll be taking the piss out of them for something.
"It's footy. I know it's not personal, I know a lot of the boys do respect it.''
Stevens, who wrote the book "Worth The Wait", joked: "He's a better looking man than me, so I wish him well.
"But in all seriousness, it's such a great thing. I have met Max and he's a determined guy. He knows why he's taken this stance — it's a strong conviction.
"It's difficult to explain to people, but ultimately he will end up earning people's respect and admiration for being so disciplined.''
King is the grandson of champion St George winger and seven-time premiership-winner, Johnny King.
A hard-running forward who will play for the Bulldogs in their opening round clash with the Cowboys in Townsville on Sunday night, King said his faith has only been strengthened during a tumultuous past 18 months that almost ended his NRL career.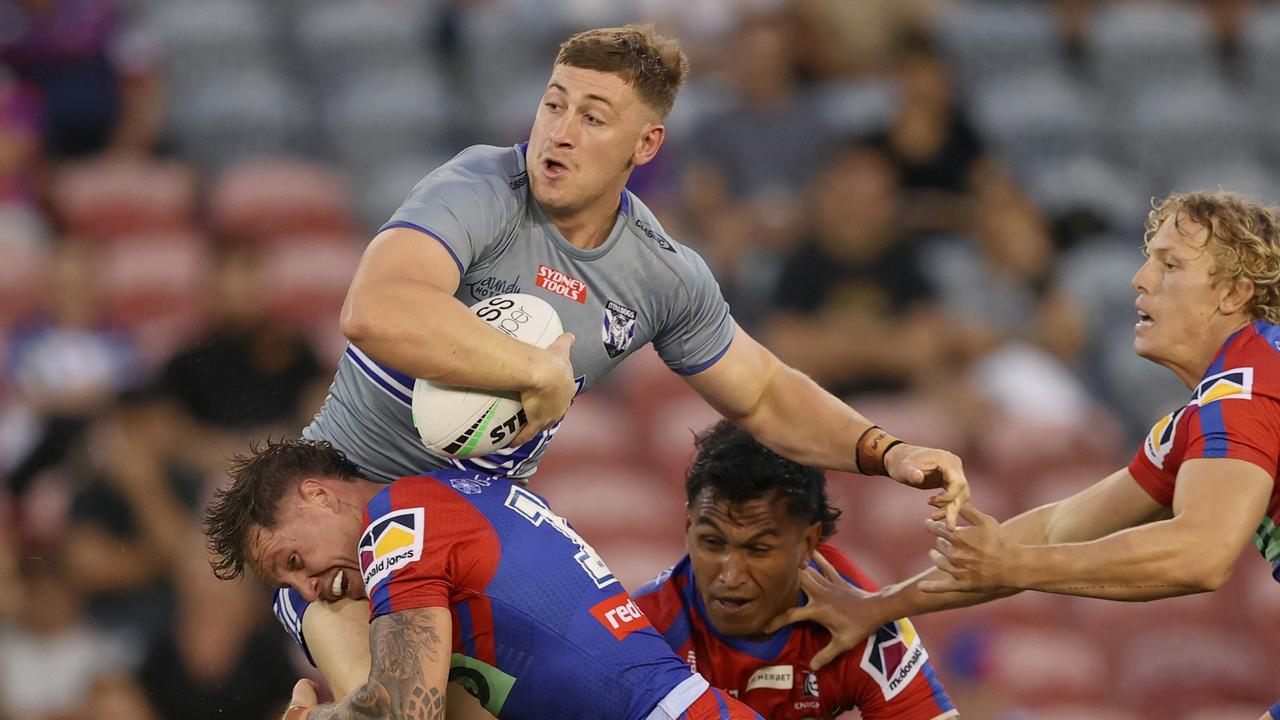 Max King will play for the Bulldogs against the Cowboys in round one. Picture: Ashley Feder/Getty Images
King was forced to stop playing with his previous club the Melbourne Storm last year, unable to run or walk, due to a foot deformity known as Haglund's Syndrome.
"I felt like I hadn't achieved anything,'' said King, who has played 50 NRL games.
"I felt like, if this is it, I'm going to be that disappointed.
"But as bad as I got, I always felt like I had god with me and that's what gave me the confidence to go and get this contract with the Dogs.
"My career would be over, if not for this deal.
"I talk about God's plan for us and just because I follow God that doesn't mean everything works great for you.
"Sometimes you've got to go through those things in life to be stronger and my faith has never been stronger through those adversities.
"I know it will be hard to do, but remaining abstinent is a challenge I'm willing to take on.''
INJURY WOE THAT LEFT BULLDOG IN TEARS
Max King turned on his phone and the text messages just kept coming.
Brandon Smith. Christian Welch. Nicho Hynes.
It was only minutes after the Bulldogs pre-season trial match against Cronulla last month and tears were welling in the forward's eyes.
"I finished the game and I felt like crying," King said.
"The amount of messages I got from my old Melbourne Storm teammates - I hate naming them all because there were so many names.
"Even the medical team messaged me, "So happy to see you back, mate."
533-days since his last NRL appearance, King is back to where he never thought he would be - playing first grade football, against the Cowboys in Townsville on Sunday night.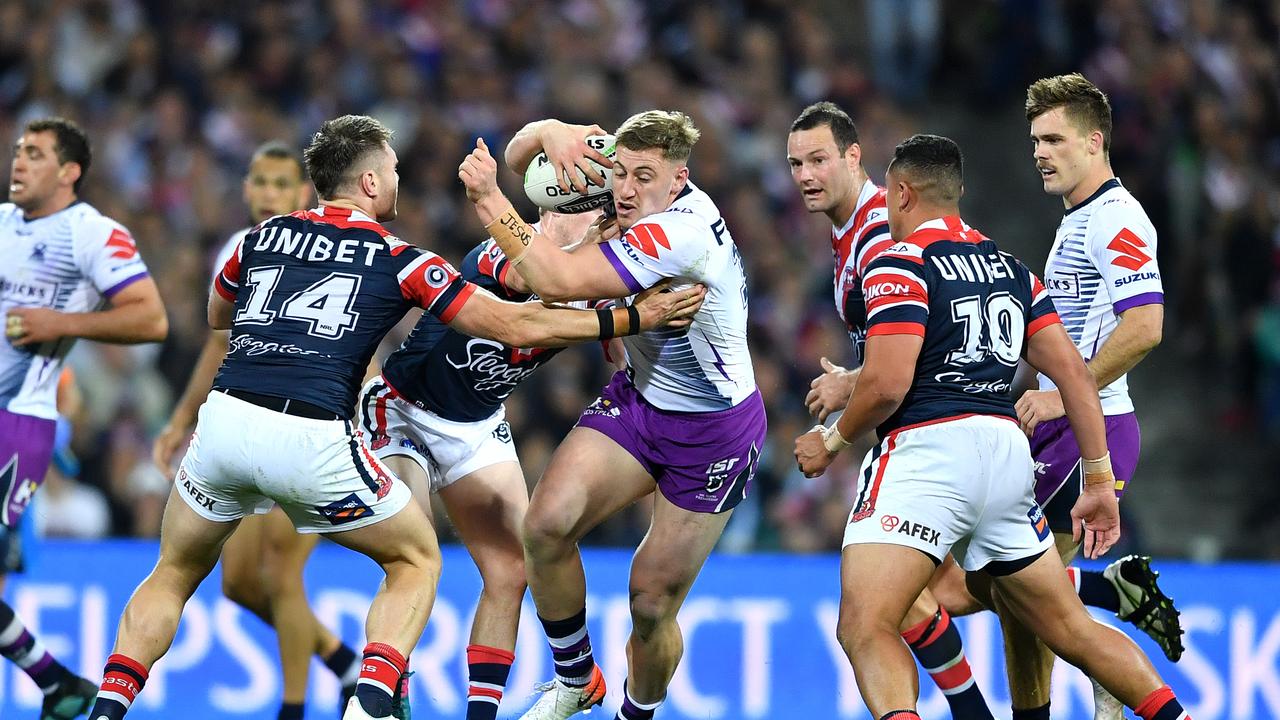 Max King missed the entire 2021 season on the sidelines after complications from Achilles tendon surgery. Picture: NRL Images.
The messages kept coming after the trial match because those same people saw King struggling to walk, incapacitated by a foot deformity called Haglund's Syndrome, which is best described as an enlargement of the bony section of the heel.
"There were dark days," King said.
"I was doing everything to get it right.
"I was getting massages, acupuncture.
"I looked up athletes and reached out to them on social media and one lady was an Olympian long-distance runner, who said be patient, it could take 12-months.
"It took about 14-months to come good and I remember after five-months had passed, I thought, this thing is never coming good.
"I saw a sports injury specialist, who said 'mate, this thing will never come good.'
"He wasn't the only bloke...It was just a kick in the guts.
"I couldn't walk without being in pain.
"I'd be running in the pool, working towards full-load running and that would take six weeks to even get to that point and by the time I got outside and attempted unrestricted running, I just couldn't handle it.''
King, the grandson of champion St George winger and seven-time premiership-winner, Johnny King, feared that his career which began at the Titans in 2017, before moving to the Storm for two seasons in 2019, would end at 50 NRL-games.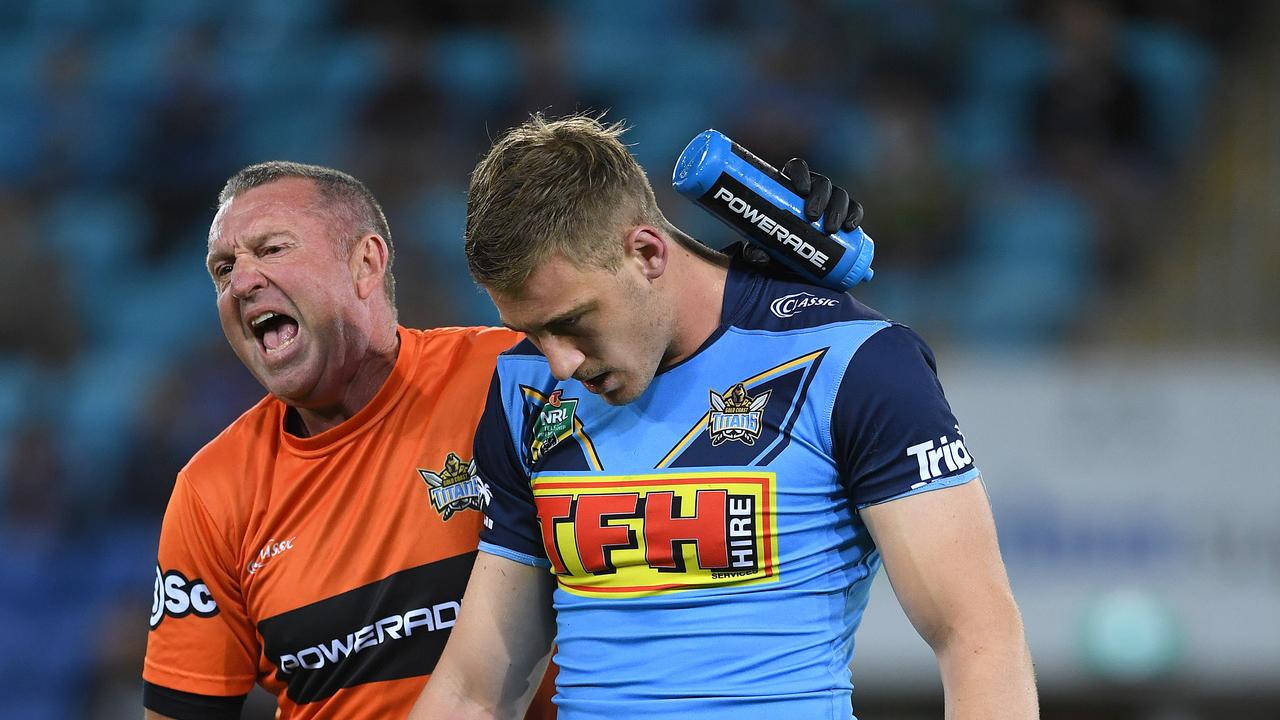 Max King started his career at the Titans before moving to Melbourne. Picture: AAP.
"You feel bad. You're paid full-time and you can't do your job,'' King said.
"There was guilt.
"You not only lose your passion, you lose your identity. You're not a footballer anymore.
"People would message me asking if I still played. Mates were asking what I do for work now. I wasn't Max the footballer anymore.''
A phone call late last year to Bulldogs high performance manager Dan Ferris changed everything.
"I was thinking, I just need a club to believe in me and secondly, I hope this injury comes good," King said.
"I had Dan Ferris at the Titans, he text me and said, 'hey mate, I hear you're looking for a club, would you be interested in the Dogs?"
"I rung him straight away and said, "I would love to be a Dog.
"My foot was going well and a couple of weeks later Baz (Canterbury coach Trent Barrett) rung and I was biting his hand off to come.''
Through resilience and determination, the hard-running forward has impressed Barrett to earn a start on the Bulldogs bench tonight.
"12-months ago, I was looking at my career and it was do-or-die," King said.
"I'm 24 now and I'm thinking I've got 10 years left in me.''
Originally published as NRL 2022: Bulldogs forward Max King opens up on celibacy vow and christian beliefs