NRL 2022: Ricky Stuart calls Jaeman Salmon a weak gutted dog in post-match spray
Ricky Stuart absolutely unloaded on a Penrith player in an extraordinary post-game spray. Find out what was behind the attack and watch the full exchange here.
Canberra coach Ricky Stuart has absolutely savaged Penrith fill-in five-eighth Jaeman Salmon in an extraordinary post-game spray.
Stuart took aim at Salmon following his side's loss to the Panthers on Saturday afternoon.
It was an incident involving Salmon and Canberra hooker Tom Starling which Stuart took exception.
Starling was tackling Salmon when the Panther lashed out with his boot. His legs landed right in between Starling's legs.
Salmon was placed on report.
"I've had history with that kid," Stuart said. "I know that kid very well. He was a weak gutted dog as a kid and he hasn't changed now.
"He's a weak gutted dog person now."
Penrith coach Ivan Cleary said he couldn't imagine that Salmon would have deliberately kicked Starling in the groin.
Told that Stuart had called Salmon a "weak gutted dog", Cleary said: "I don't think I need to respond to those comments."
Typical tactic by Ricky Stuart after losing a match his team was supposed to win.
Blows up about something, anything & the media will focus on that instead of his team's insipid performance. Fancy calling a player that. "I knew him as a kid and he was weak gutted dog"
Bizarre.

— Ross Martin (@RossMartin1960) August 6, 2022
FYI Ricky Stuart will hold grudges against your kids.

— Karate Warrior II (@me_dc) August 6, 2022
In commentary, former Brisbane forward Corey Parker said he was surprised by Stuart's comments.
"The optics don't look great do they coming from Ricky Stuart, who is in a position of power and being a coach. Is he bringing the game into disrepair by saying what he is saying? I am not sure.
"The fact that Ricky Stuart is the head coach of the Canberra Raiders saying that about a player, I don't think it looks great. I can't think in my time think of an incident like that where a coach has personally gone after a player, or said some things about a player …. But the optics aren't great."
Cooper Cronk added: "Salmon will be dealt with by the judiciary. I don't think a head coach should publicly call out someone and personally say things about an opposition player."
The NRL are expected to investigate the comments.
The Sunday Telegraph has reached out to Penrith officials for comment.
PANTHERS WIN SLUGFEST OVER RAIDERS
It was billed as a grudge match – and there were sporadic scuffles.
It ended with the competition's big dog ramming home their premiership credentials and putting down an in-form interloper – while missing star halves and hard-charging, all-action backrower.
The first half was tense and intense. The second half petered out as the Raiders found there was no way through and Dylan Edwards capped a blinder with a try.
In the end the 26-6 scoreline was reflective of the gulf between the teams.
Penrith was inspired by their brilliant and tough fullback Edwards – in game 100 – whose chest area was battered but who scored a try, saved several more and defused all bombs.
Stream every game of every round of the 2022 NRL Telstra Premiership Season Live & Ad-Break Free During Play on Kayo. New to Kayo? Start your free trial now >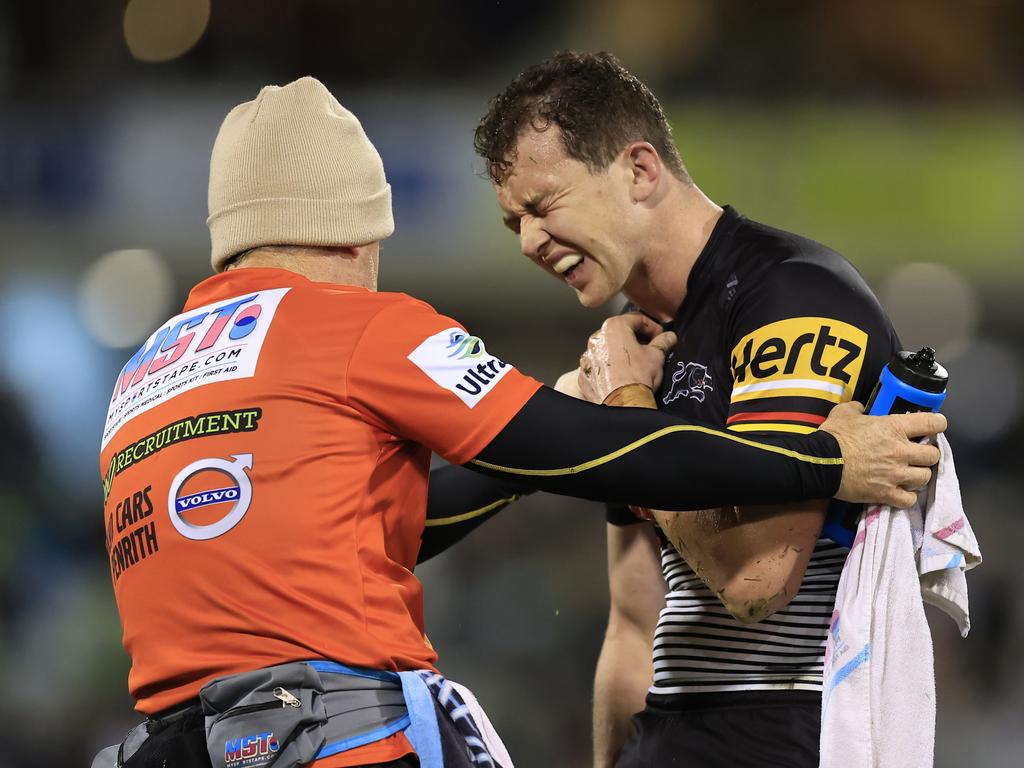 Dylan Edwards battled a sternum injury following a shot from Canberra's Jordan Rapana. Picture: Mark Evans/Getty Images
The game was won, though, by Penrith's defence. They made Canberra's attack look pedestrian in the slippery conditions. They bustled and bothered the Raiders. They gave them no way through.
"We were able to repel them with 12 men," Edwards said. "The boys really dug deep for each other."
The Raiders ran out to the usual reception: rugged-up fans, an old boy blowing the mighty war horn, the pneumatic percussion of the Viking clap.
When crowd favourite Josh Papalii plunged over under the posts, shades of his try against South Sydney in the 2019 preliminary final, the crowd was up as one.
An Elliott Whitehead error and a six-again brought Api Koroisau into the match. The NSW Blues rake squirted through shoddy defence and scored under the posts.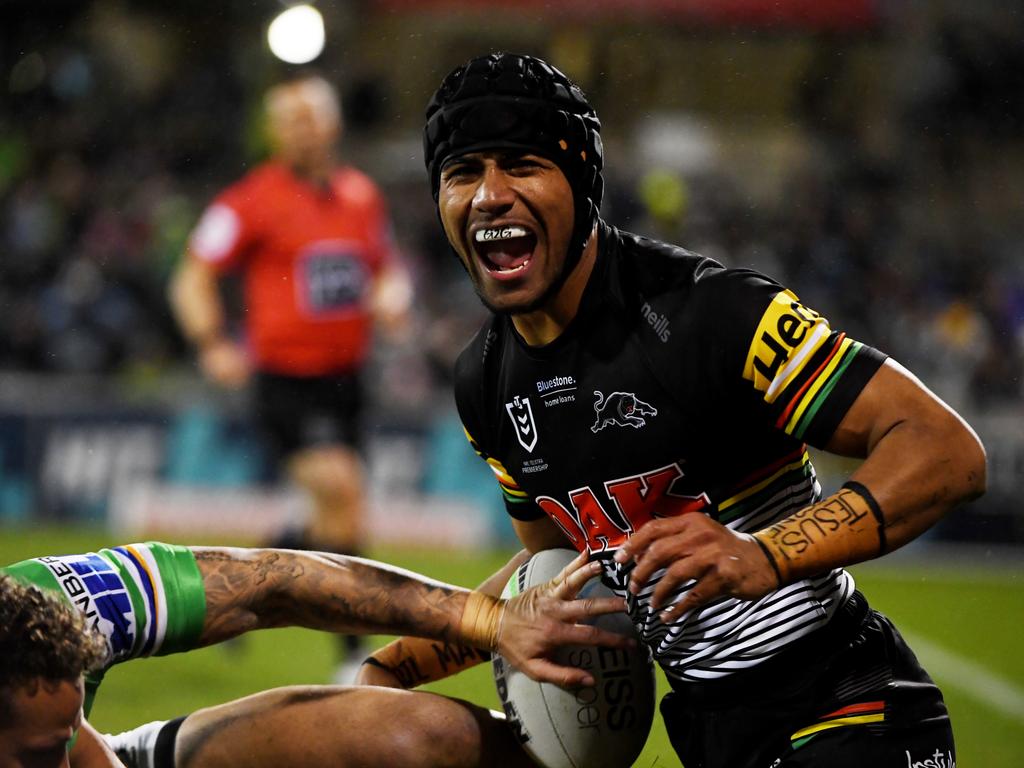 Stephen Crichton celebrates scoring a try.
Rain came down and handling suffered.
A set restart to Penrith begat a bomb by the busy, impressive and Redcliffe-bound Sean O'Sullivan before Hudson Young was penalised for a half-hearted – but just as penalised – shove on the leaping Chris Smith.
It was a dud play by the Raiders backrower and Crichton landed the penalty goal from in front.
Edwards put his hand up, it looked like a sternum injury caused by Rapana's shoulder. The tackler's arms were trying to wrap – he should be okay with match review.
After the break and Edwards, and the Panthers, kept on coming: he scored a fine try and Crichton made it 20-6. The Raiders just couldn't get back into it, try as they might.
When five-eighth Jaeman Salmon went over, the game – and perhaps the Raiders season – was over.
Jaeman Salmon sealed the game when he scored a try. Picture: Mark Evans/Getty Images
A BRUTAL BEAUTY
It was billed as a grudge match following the verbal barbs thrown around after the Panthers 36-6 win over Canberra in round seven at Penrith.
Yet apart from the odd skirmish it was mostly just physical, hard-hitting rugby league – that Penrith largely dominated.
BOOKENDS TOUGH IT OUT
Last weekend against Parramatta, no Panthers forward ran for over 100m. This week after 10 minutes front-rowers Moses Leota and James Fisher-Harris hadn't made a hit-up.
On Leota's first carry (13th minute) Leota was gang-tackled and lost the ball.
The pair got better though and eventually won the middle with physical hard charges (Leota 139m, Fisher-Harris 119m) and jolting shots.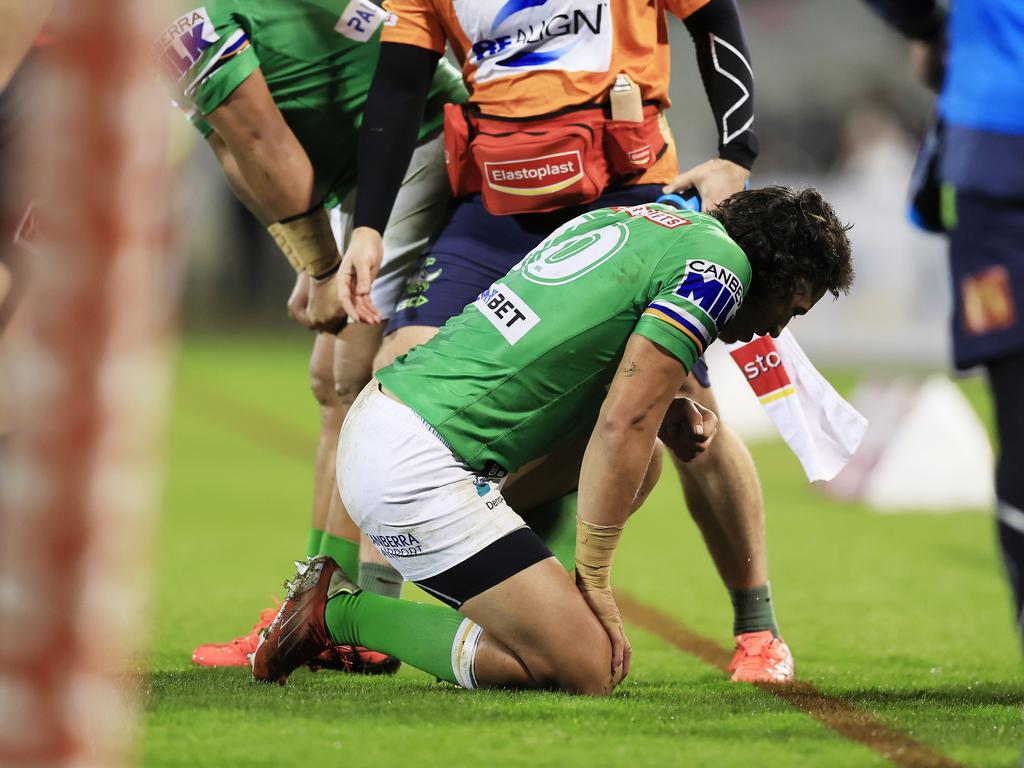 Joseph Tapine injured his ribs in the first half and di not return. Picture: Mark Evans/Getty Images
TAPPED OUT
The Raiders had the NRL's best post-contact metre man – probably best front-rower – Joe Tapine. But when he clutched a rib, put his hand up and buckled over on the sideline, Canberra's season teetered on the abyss.
His replacement Ryan Sutton was on for ten seconds before Fisher-Harr
is was sin-binned for a high shot on him.
Sutton did not return, his place taken by 18th man and debutant Ata Mariota, 21, who knocked on with his first touch.
SOFT TOUCH
Canberra has a 'soft' run home – Dragons, Knights, Sea Eagles, Tigers. But as a Melbourne Cup tipster might put it while surveying the field: prefer others.
TAPINE: MY WIFE'S INSTAGRAM POST AND THE STICKY SITUATION
– Nick Walshaw
Joey Tapine needs to rid his golf game of a troublesome slice.
A truth proved only last fortnight when, standing on the 11th tee at Canberra's famed Federal course — big dog in hand – this hulking Canberra prop shanked a drive so far right it disappeared off and out of bounds.
At which point, the 28-year-old recovered his club, lifted his bag … and walked off course.
Up a short hill and into the carpark while, behind him, a playing group of Raiders such as Tom Starling and Elliott Whitehead lurched about in hysterics.
"I'm pretty sure Elliott even got video of me leaving," Tapine concedes. "The course got me that day".
Yet everywhere else?
Good luck, right now, finding anyone who can lay claim to getting one over this 106kg wrecking ball.
With Tapine not simply headlining a resurgent Canberra Raiders, or becoming that player his talent has long promised, but having no less than Ricky Stuart dub him the greatest prop anywhere on planet earth in 2022.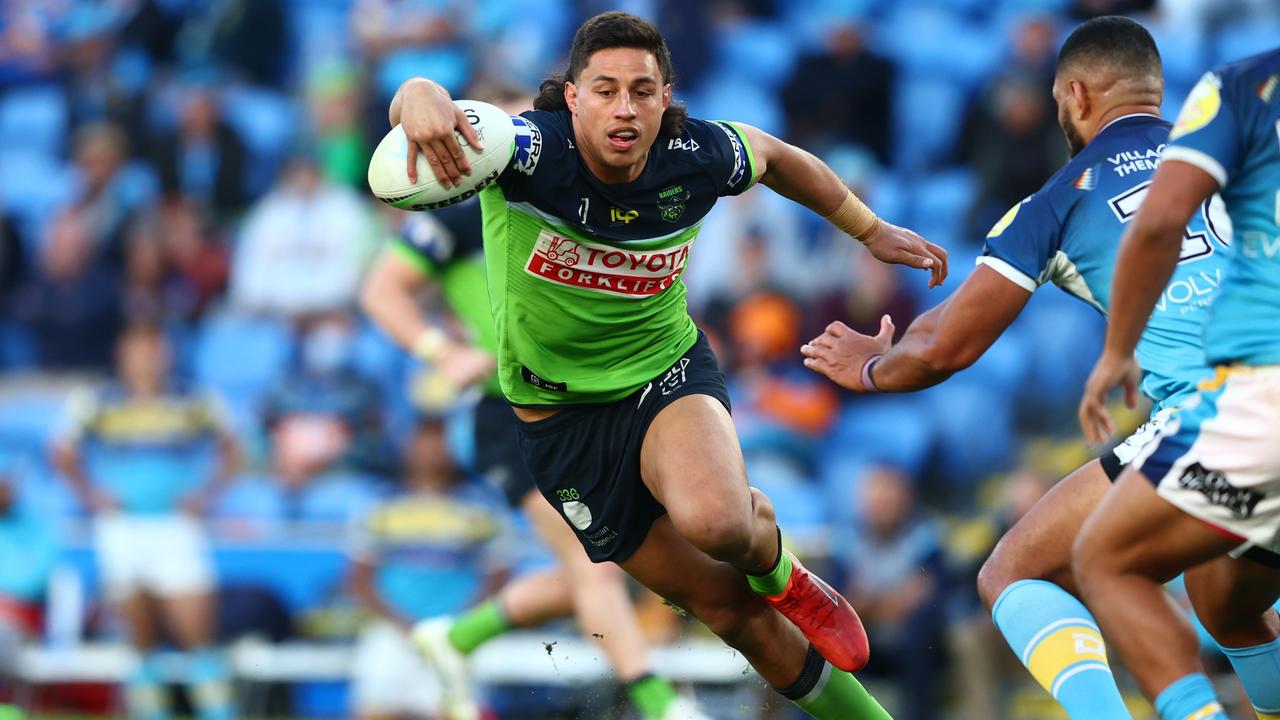 Joseph Tapine on the charge against Gold Coast Titans. (Photo by Chris Hyde/Getty Images)
Which alone, would be some claim.
Yet this is the same coach Stuart, remember, who only last year was so at odds with his middle man, the hostilities bubbled for a month.
Not our words, either.
But an admission from Tapine, who confirms the pair also had a "straight up" conversation following that now famous Instagram post which — launched by wife Kirsten, and aimed toward Stuart — had some even questioning if the prop may quit the club altogether.
"But without it all," the 28-year-old says now, "I wouldn't be where I am".
Unthinkable as it seemed at the time, Tapine credits last year's contentious Instagram saga, and everything that followed, for not only his outstanding 2022 season, but a relationship that now sees he and Stuart meeting regularly over coffee or a feed to talk footy, life, whatever.
Elsewhere, the New Zealand international is not only playing bigger minutes, and with a better understanding of what his coach expects, but also earning the type of numbers to back Stuart's top of the props claim.
According to the Fox Sports Laboratory, Tapine has already run for a staggering 2902m this year – which is not only the most of any NRL forward, but behind only Penrith fullback Dylan Edwards (3661) and Roosters megastar James Tedesco (3305).
When it comes to post contact metres, the lime green warrior is also best among NRL forwards – ahead of Jason Taumalolo and Payne Haas – and sits second to Canterbury's Tevita Pangai Jr for most offloads.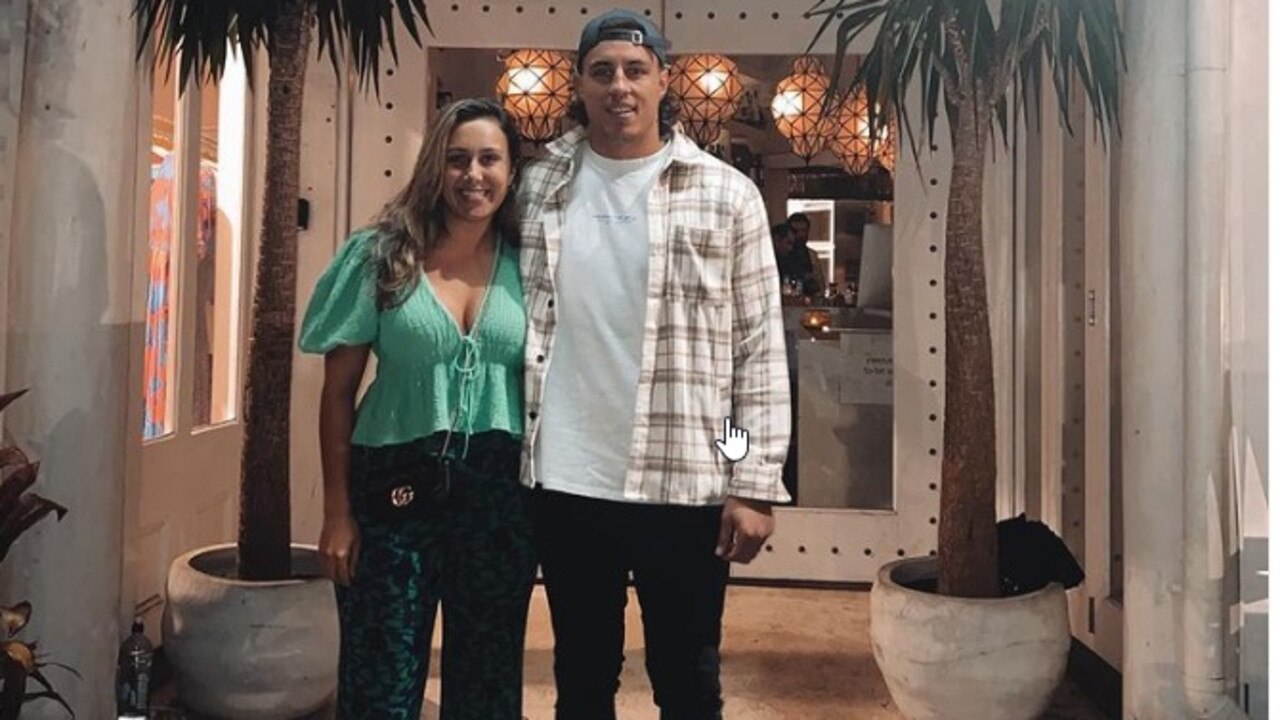 Joseph and Kirsten Tapine. Credit: Instagram.
All of which, the prop says, can be traced in one way or another back to April last year.
When after watching her husband stay benched through large chunks of a Round 8 game against South Sydney, Kirsten Tapine took a social media shot at Stuart, writing: "You have an international player warming your bench for 50 minutes … Your interchanges are killing us!!!"
Elsewhere, another mention of the coach was coupled with a rubbish bin emoji which, overnight, saw the WAG versus coach headlines explode.
"But it's not like Kirsten wrote what she did out of thin air," Tapine says of a season where he started just 11 games and played eight more from the bench.
"Obviously I talk to my wife about things. And while you wouldn't want to have (the saga) over, it's definitely helped with the relationship between Stick and I.
"Because without the conversation that followed, things would've bubbled on, would've eaten away at me.
"And I wouldn't be in the position I am now."
While Tapine won't discuss exactly what was said between the pair – "it was a private conversation" – he admits there were no punches pulled by either man.
"It was a straight up conversation," the prop continues. "And I preferred it that way.
"When I was younger, early 20s, I wouldn't have enjoyed a conversation like that much. But now I want to be told exactly how something is.
"It's actually what I wanted before the incident."
So afterwards, you guys were sweet?
"Not straight away, no," Tapine admits. "Stick and I, we're similar personalities.
"We're both passionate people. We care.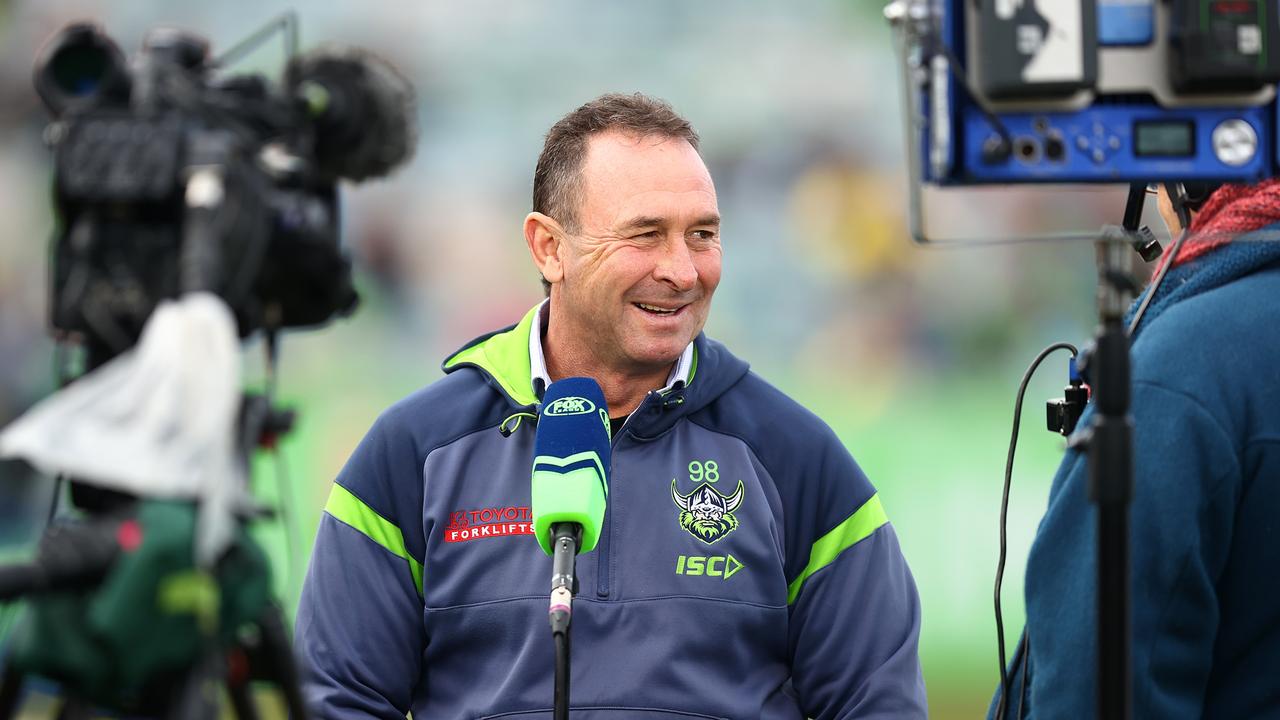 Raiders coach Ricky Stuart. (Photo by Mark Nolan/Getty Images)
"So it took a couple of weeks. Maybe even a month.
"We weren't attacking each other. And each of us knew the other was coming from a good place. Which is why it's helped our relationship.
"These days Stick and I catch up often over coffee, or a feed. Nothing formal, and not just for footy talk, either.
"But we've really grown that relationship away from footy."
Grown within it, too.
Among the major changes from that initial meeting, and those following, is Tapine not only playing bigger minutes or being "clearer in my role", but also ensuring "my ego doesn't get in the way of criticism".
"Being open to where coaches are telling me I need to get better," he says.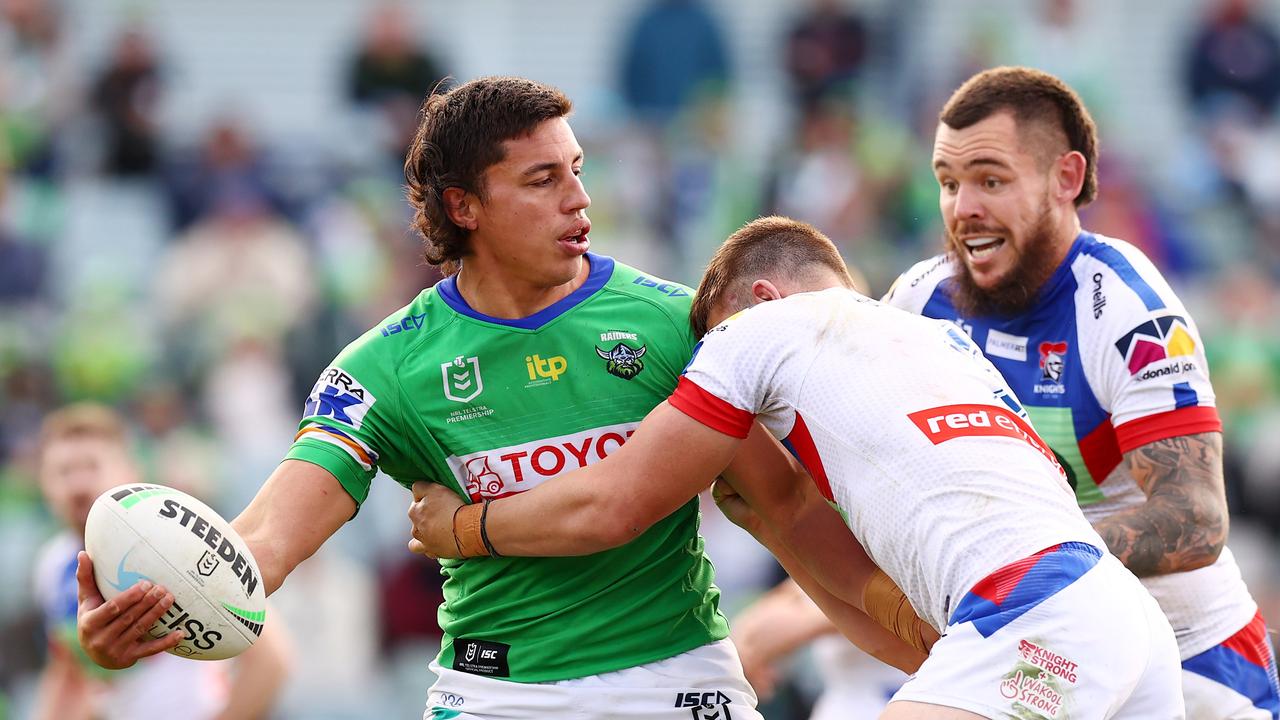 Joseph Tapine looks to offload against the Newcastle Knights. (Photo by Mark Nolan/Getty Images)
As a result, the Kiwi forward has this year overhauled his eating plan, brought greater routine to all areas of his life, and even changed his gym program to include a heavier focus on those areas Raiders staff consider his weakest.
Asked about Stuart's top prop claim, Tapine says: "It's high praise and I'm happy to receive it.
"I think it's also a mark of how hard I'm working this year.
"But my goal now is to remain consistent."

Same deal, his golf game.
"Right now, I'm off 19," the prop grins. "But I only took it up this year.
"While there's a heap of boys play here at Canberra, the best would have to be Jordan Rapana, he's off three. Josh Papalii hits them well, too.
"But for me, the golf has just become part of my routine."
Which is working, he says.
At least, most weeks.
POWDERKEG: CLAP MOCKERY TO FIRE UP RAIDERS IN GRUDGE MATCH
– Dean Ritchie
Penrith fans stand accused of making a "mockery" of Canberra's Viking Clap this year while Raiders coach Ricky Stuart "won't forget" the "bad blood" between his club and the Panthers.
Those are the provocative opinions of Raiders legends before Saturday night's grudge match against rivals Penrith at GIO Stadium, Canberra.
Three unsavoury incidents committed by Penrith players and fans over the past four years have privately riled the Raiders with both clubs acknowledging tension is running deep.
While neither club would comment publicly, Canberra and Penrith are bracing for a hostile and physical game in front of an anticipated 20,000-strong crowd.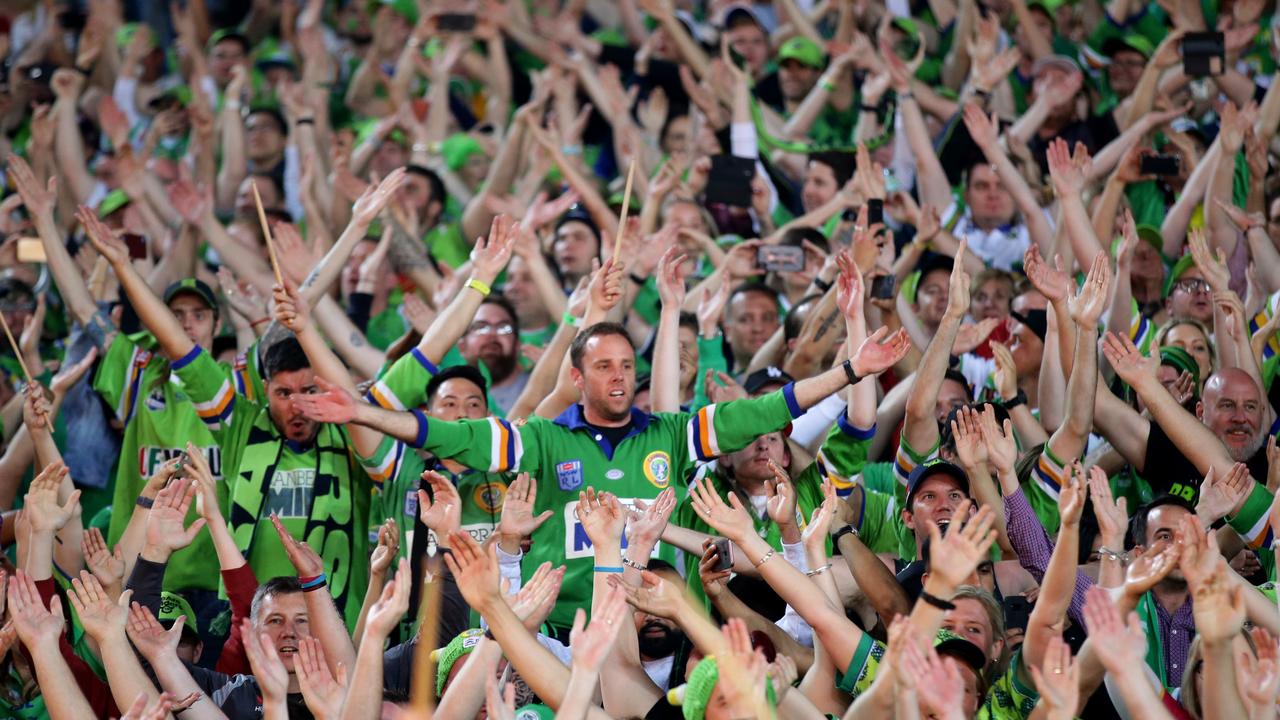 Raiders fans perform their pre-game ritual. Picture: Jonathan Ng
Canberra hasn't forgotten:
Penrith star Stephen Crichton acting "arrogant" and "cocky" in a match between the two sides last year.
Panthers fans mocking Canberra's Viking Clap at BlueBet Stadium in April.
Then Raiders forward John Bateman being whacked high by swinging arm from Penrith's Jarome Luai in 2019.
"Everyone knows what type of coach 'Sticky' (Stuart) is — he won't forget those incidents. There will be things in the past that will motivate them during the week," said former Raiders skipper Simon Woolford.
"Knowing 'Sticky' and the team, I'm sure they will be brought up and there's no doubt some of that will be used during the week.
"He is very good at motivating his team. I'm sure Canberra will be fired up and ready to go but it's also important that they bottle it to some extent. They need to win this football game.
"Rivalry like this is great, Players look forward to it, as do the fans. These rivalries where there is some extra spice, everyone enjoys it."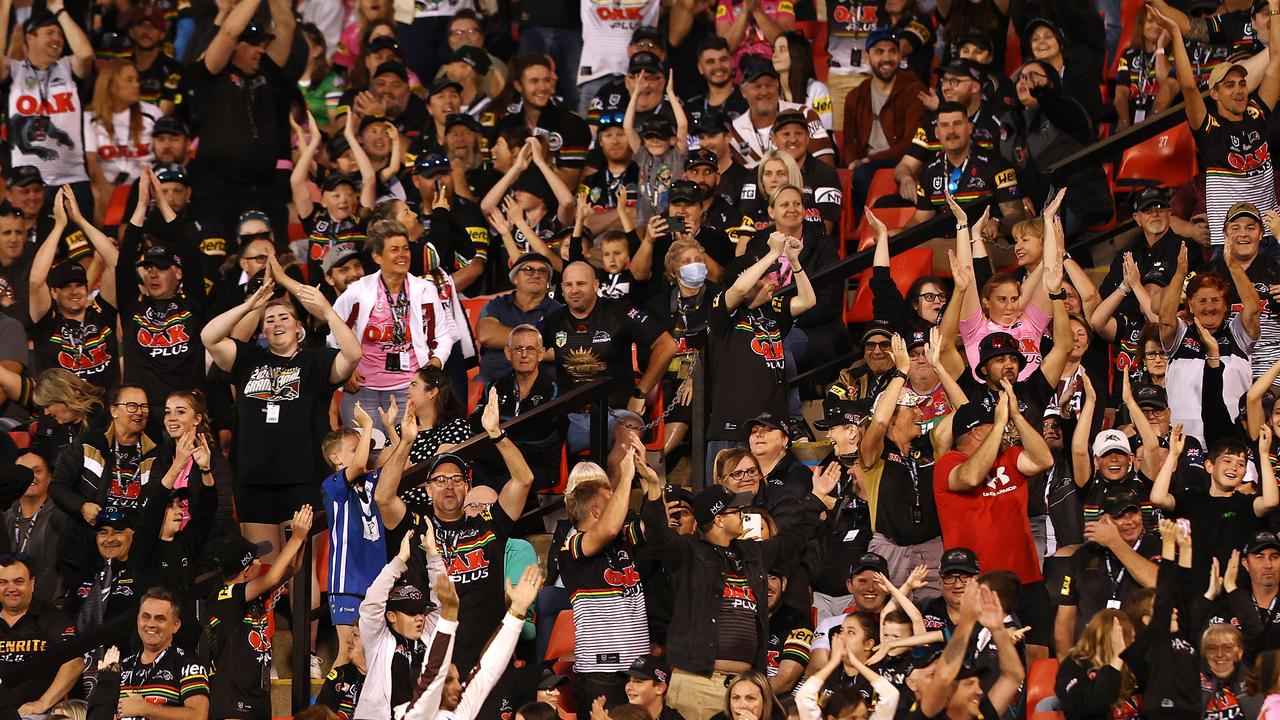 Panthers fans mimicking the Viking Clap in April. Picture: Matt Blyth/Getty Images
Two-time Canberra premiership-winning prop Glenn Lazarus remains filthy at Panthers fans mimicking the Viking Clap in April.
"It wasn't a good look — making a mockery of something that is very precious to the club, fans and all Canberrans. I can certainly understand the bad blood and why Canberrans frowned upon it," Lazarus said.
"It's something they love doing at home games and it's become a ritual now. It's really inspiring for the players so for them to mock that, it leaves an impression.
"I'm sure Ricky has got it in the back of mind. If he thinks it will help the team's performance, he will bring it up. He won't if he feels like it could be a distraction.
"All this (rivalry) clearly stems back to when we beat them in the 1990 grand final and they beat us in '91. It has gone on from there."
To prepare for an expected heated match, Panthers coach Ivan Cleary has taken his team to a three-day pre-camp in Kiama on the NSW south coast.
In April last year, Crichton was charged by the NRL with contrary conduct after dragging Canberra's Joe Tapine — who was standing on the sidelines — into a Panthers' post-try celebration.
There will be no love lost between the Raiders and the Panthers when they clash on Saturday night.
Crichton was unapologetic when later asked about criticism, telling the media: "I try not to listen to what the haters out there say. They try to put us down. I just try to play my own game, and if that's the way I play, that's the way I play."
Canberra CEO Don Furner preferred not to comment on Thursday.
But media reports at the time claimed Crichton had acted "cocky and arrogant".
A year later, Panthers fans — celebrating a massive lead over Canberra — started mocking the Raiders famous Viking Clap.
In commentary for 9, Phil Gould said: "The Panthers are doing the Viking Clap, look out. Dear oh dear oh dear."
Former NRL star Issac Luke hit out at Panthers fans on Twitter, posting: "To rub it in their face like that. That's bulls..t. What goes around comes around. As long as they got the same energy when they lose. I'm good."
After the Viking Clap drama, Cleary said: "How do you answer a question about what the crowd do?"
"The crowd pay their money. They are the lifeblood of the game. It is not just your home crowd, it is every crowd."
And in yet another flare up between the two clubs, Luai — out injured — ran into and smacked Bateman high during a melee in 2019.
Originally published as NRL 2022: Ricky Stuart calls Jaeman Salmon a weak gutted dog in post-match spray