NRL 2022: Cody Walker's soft spot, Mick Potter's coaching future
At his best, Cody Walker is a tremendous asset to South Sydney, but opponents know the trick to bringing out the playmaker's worst, writes Paul Crawley.
We have been warning South Sydney ever since Cody Walker had a preseason run-in with former Rabbitohs teammate Jaydn Su'A in the Charity Shield that the star five-eighth is a ticking time bomb.
Well, here we are heading into round 21 and Walker's angry-ant attitude is still a live issue after his latest episode with Cronulla's Cameron McInnes.
The way Walker carried on again when he refused to shake hands with McInnes after the game was just the act of a petulant child.
Stream every game of every round of the 2022 NRL Telstra Premiership Season Live & Ad-Break Free During Play on Kayo. New to Kayo? Start your free trial now >
But Walker is 32.
Surely it's time he dropped this rubbish and stopped putting a target on his back.
It was only a few weeks back Walker was involved in another push-and-shove with the Bulldogs Kyle Flanagan.
Dragons prop Aaron Woods revealed after their win over the Rabbitohs back in round 15 that getting under Walker's skin had been part of their game plan.
What it shows is that every team will want to try and expose Walker's biggest weakness in the coming months.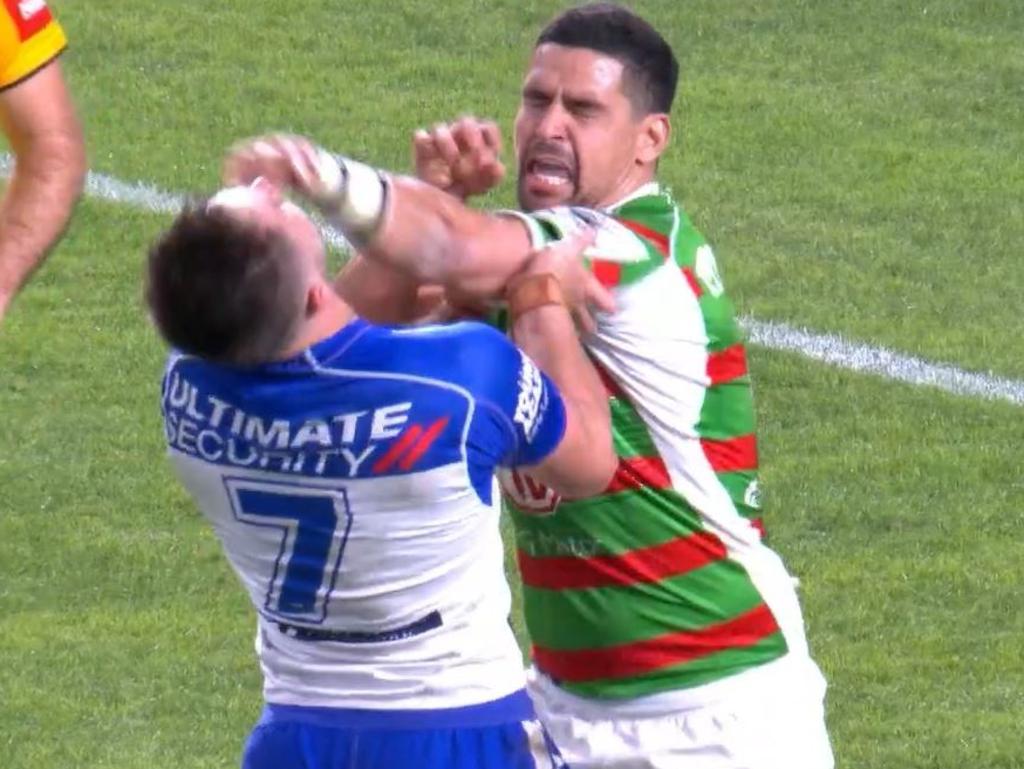 NRL rivals know they can put South Sydney's Cody Walker off his game with some niggle.
POTTER OPEN TO OFFERS AT RIVAL CLUBS
Mick Potter has revealed he is open to coaching a rival NRL club next season.
Potter doesn't hide from how much he is enjoying his return with the Bulldogs winning four off their last six games, while playing some tremendous attacking footy.
It's unbelievable to think the Bulldogs didn't crack 20 points in their first 10 games under Trent Barrett, but have scored 20 or more in seven of their past nine under Potter.
Even though the Bulldogs are expected to announce Cameron Ciraldo as the new head coach any time now, Potter maintains he hasn't given up hope of staying at Belmore.
Interim Bulldogs coach Mick Potter has turned around the fortunes of the club. Picture: Ashley Feder/Getty Images
"It's a possibility. But I think Gus has a plan. Whether I am involved in it … I am just staying in my lane."
But he conceded he would consider coaching a rival club: "It's a possibility, yeah, I'd consider it. I would be open to it."
Potter said the secret to the Bulldogs' turnaround in recent weeks has just been about trying to ensure the players know exactly what their jobs are.
"I don't know if I have simplified it," he said.
"But the game isn't really complicated, and you can make it complicated.
"Maybe I have just given them a bit more clarity. They are clear what they can do and what they can't and what they shouldn't do."
Mick Potter probably has to be the hottest 'available' coaching prospect out there for next year and beyond right?

— Braden (@Bradenjbrady) July 31, 2022
Exciting times for @NRL_Bulldogs fans

After a lean run they're building well. Bloody good to watch. Will be even more competitive next year.

And Mick Potter looks to be doing a superb job.

— Dr Brad Robinson (@DrBradRobinson) July 31, 2022
THE BLOODY GOOD REASON NOT TO BOO ARTHUR
If there is one player who should be getting a universal cheer from the entire NRL this round it's Mitchell Moses' halfback replacement at Parramatta, young Jakob Arthur.
And what some of those nasty Eels fans who booed him recently should also understand is that no one plays NRL unless they are a bloody good footballer.
To do it as a 19-year-old halfback is just exceptional.
Arthur was booed by a small section of his own fans when his name came up on the big screen before the game against Brisbane at CommBank Stadium, and again when he went on the field in the second half.
But for his dad to put his faith in him to be next man up to replace Moses at such a critical time in Parramatta's season shows what faith not only Brad Arthur but the entire team must have in this young bloke, who is said to have an incredible work ethic.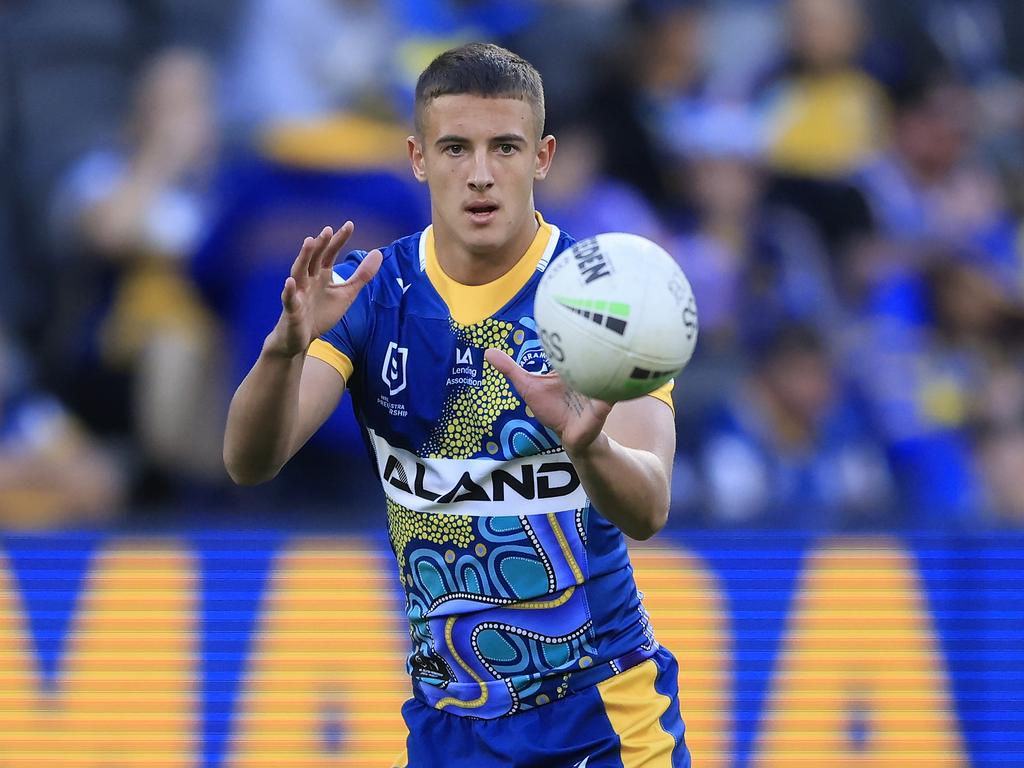 Jakob Arthur is being asked to do a big task for the Eels in the absence of Mitch Moses. Picture: Mark Evans/Getty Images
I really hope he goes out against the Sea Eagles on Friday night and has a blinder at 4 Pines Park.
Any parent would be proud, and not just because he is the coach's son. But because he has had the guts and determination to chase his dream regardless of who his father is.
MAIM GAME HAS TO BE OUTLAWED
Pat Carrigan is not the victim here.
He broke Jackson Hastings's leg with an illegal hip-drop tackle.
It's Hastings who won't play against this season.
On top of that Hastings will spend the next seven months trying to recover from the shocking injury before the start of next season, when he comes off contract.
I'm sick of hearing excuses for Carrigan.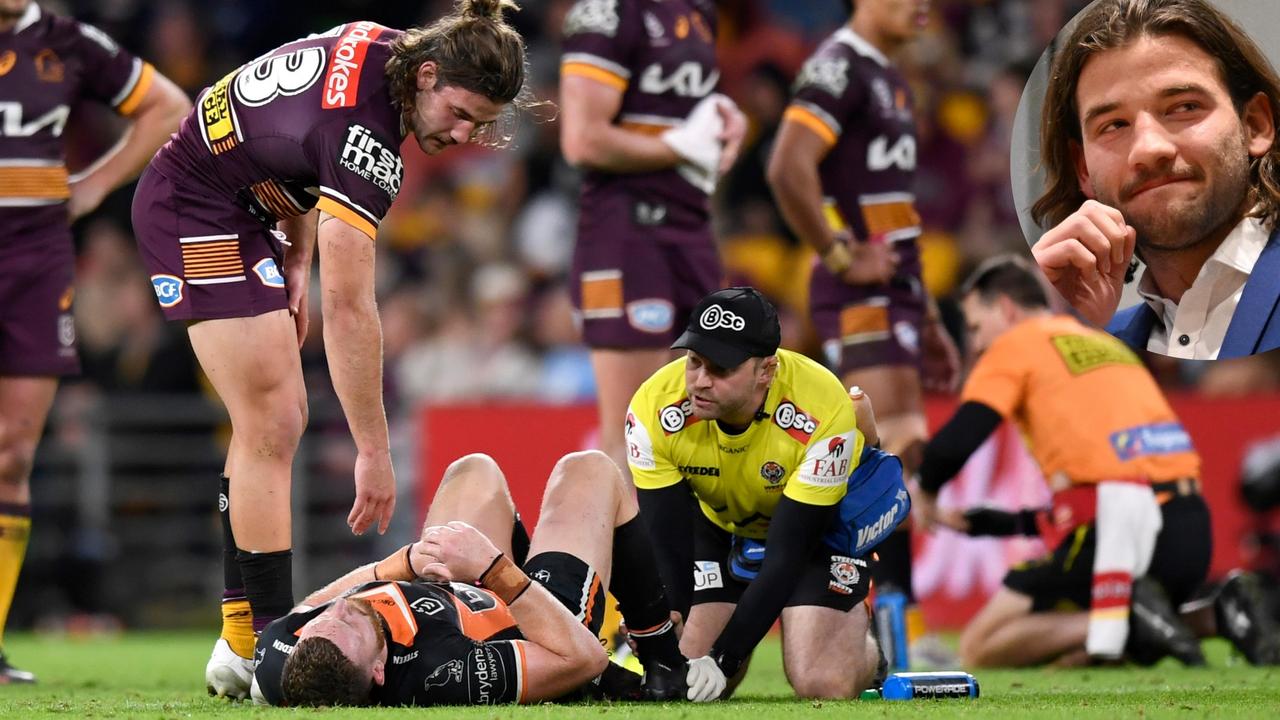 Patrick Carrigan copped four weeks for his hip drop tackle on Jackson Hastings.
The Brisbane lock might be one of the most likeable and smartest young players in the NRL.
But what he did to Hastings was especially awful because the hip drop is a premeditated and coached tactic.
It is specifically designed to slow down the play the ball.
But all the players are fully aware how easily it can go wrong.
And when that happens they know how this tackle has the potential to seriously maim opponents.
So Carrigan's four-match suspension was totally justified.
Now some want to make out Carrigan has somehow been done the injustice because he has been rubbed out in the countdown to the finals.
Even his defence at Tuesday night's judiciary hearing attempted to argue a two-match ban would be suffice.
It's shameful they even try and con us into thinking this is not a serious issue.
Even the four-match ban borders on soft.
Six games would have sent a far stronger message to the entire NRL this tactic will no longer be tolerated.
If the NRL don't make it a priority more and more players will suffer terrible injuries, because it is happening more frequently in every game.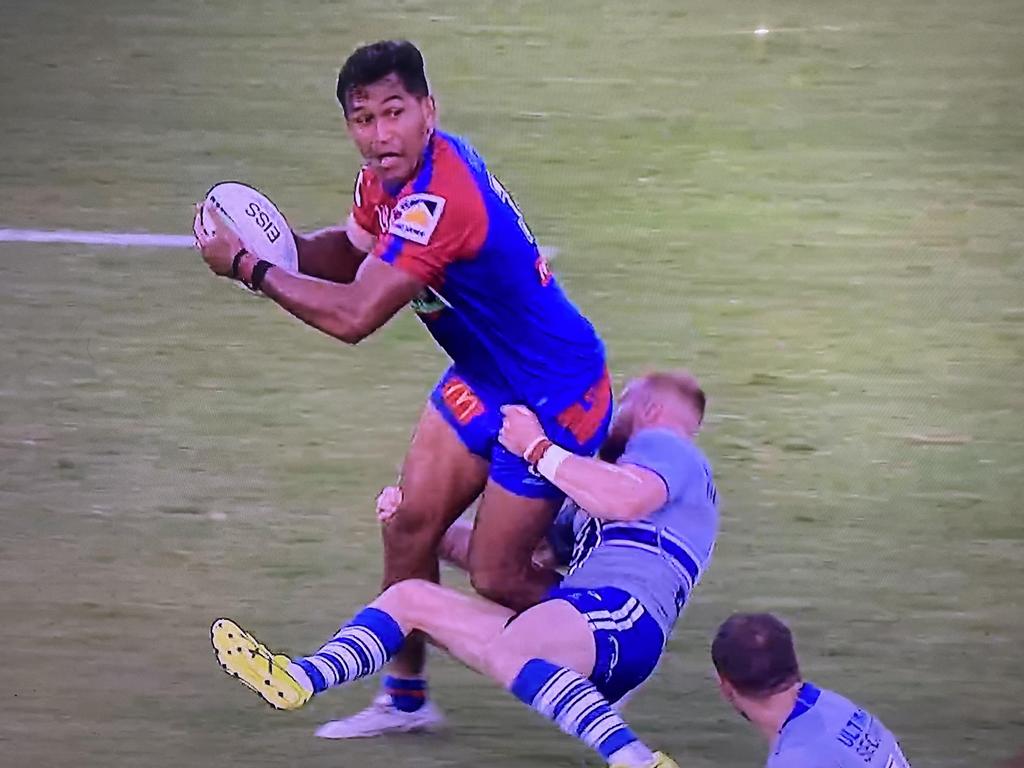 Newcastle Knights prop Daniel Saifiti suffered a broken tibia after this hip-drop tackle from Canterbury Bulldogs forward Luke Thompson.
HOW TO ELIMINATE THIS UGLY TACKLE
If you watch the replay of this particular tackle you can clearly see how the method is coached.
The first two Broncos defenders (Cory Paix and Keenan Palasia) latch onto Hastings with no intention to put him on the deck.
With due respect, tackling Hastings is not like trying to pull down a rampaging Payne Haas.
If either Paix or Palasia went in committed they could have easily dropped Hastings to the ground solo.
But here they danced to buy time before Carrigan arrived and dumped his entire weight on the back of Hastings' lower legs.
That's when Paix or Palasia used their force to push Hastings back awkwardly, specifically to collapse the tackle and slow it down further.
What could have been a two second tackle went for about six seconds before Hastings could been seen screaming in pain.
James Tamou's immediate concern highlighted how the veteran Tigers prop was fully aware what the Broncos had done, even if the ref seemed oblivious.
It was not an accident.
It's a horrible tactic the game must outlaw.
Cooper Cronk suggested this week the way to stop these hip drop tackles is make it so the third man in has to stay on his feet and not use his weight to drop to the ground.
A more simple solution would be for the referee to show some initiative and just call "tackled" instead of "held" as soon as two players slow momentum.
That would allow the attacking team a fast play the ball and take the advantage away from the defending team.
If they don't immediately release the player with the ball penalise them, and sin bin the third man in. Maybe then the initial defender might have a fair dinkum crack at putting the player on the deck with a traditional tackle.
Instead of allowing another of these nasty wrestling tactics to get its ugly grip on the game.
HIP DROPS ALSO HAPPENING AT JUNIOR LEVEL
Braith Anasta had a video sent to him this week from the father of a 14-year-old player from Redcliffe who suffered a snapped leg and a snapped ACL as the result of a hip drop tackle almost identical to the one that Hastings suffered.
It's absolutely despicable that this is also going on at a junior level.
I also received a text message from a coach working with junior players in an NRL funded development program expressing his concerns how the kids he is coaching are trying to imitate what they see at the top level.
"Tell V'landys to stop worrying about politics and get the game in order," he wrote after he got home from training on Tuesday night.
"What they see on TV is what they want to do and they think it is right. As you know our participation numbers are at a critical stage, we need kids being confident in playing."
WILL THIS CRUSH BRONCOS' HOPES?
Who would have thought this time last week that two of the game's most upstanding role models would be wiped out because of two illegal tackles?
But heavy suspensions to Carrigan and Nathan Cleary (who copped five weeks for his spear tackle on Dylan Brown) is a warning to every player how easily a momentary brain snap can derail an entire team's season.
With five rounds of the regular season to play, this is the time when the genuine contenders usually step up their run to the finals.
While the Panthers have proven they can survive without Cleary in the past, the first big test for the Broncos without Carrigan will be Thursday's SCG blockbuster against the Roosters.
What a cracking match this is shaping up to be.
It's going to be an especially huge challenge for Kevvie Walters' team because it's coming on the back of the shock loss to the Tigers.
Carrigan's influence goes beyond the metres he runs and tackles he makes. It is also his energy in defence and how his communication skills just lifts everyone around him.
That footage from earlier in the season on Fox League where Carrigan was miked up showed how he was like a coach on the field.
Kobe Hetherington is a similar style of player but you can't manufacture what a player as switched on as Carrigan brings to the team.
The way Carrigan also tag teams his runs with Haas is the other factor.
Without Carrigan the Broncos will face the Roosters, Knights, Storm and Eels before Carrigan returns for the final round against the Dragons.
They are currently in fifth place but on equal competition points (26) as fourth placed Melbourne and sixth placed Parramatta.
The Rabbitohs are seventh on 24 points, and the Roosters and Raiders eighth and ninth on 22, while 10th placed Sea Eagles and 11th placed Dragons are still in the fight on 20.
The Broncos have come too far this season to drop their bundle now.
But we will see what they are made of when they take on a Roosters side who look ready to start their charge to the finals.
At the start of the year many thought the Broncos would be contesting the wooden spoon, while the Roosters were considered premiership favourites by many.
The Roosters weren't at their best beating a severely depleted Manly last round, but they will be out to make their own statement here in what is always a fiery match between these teams.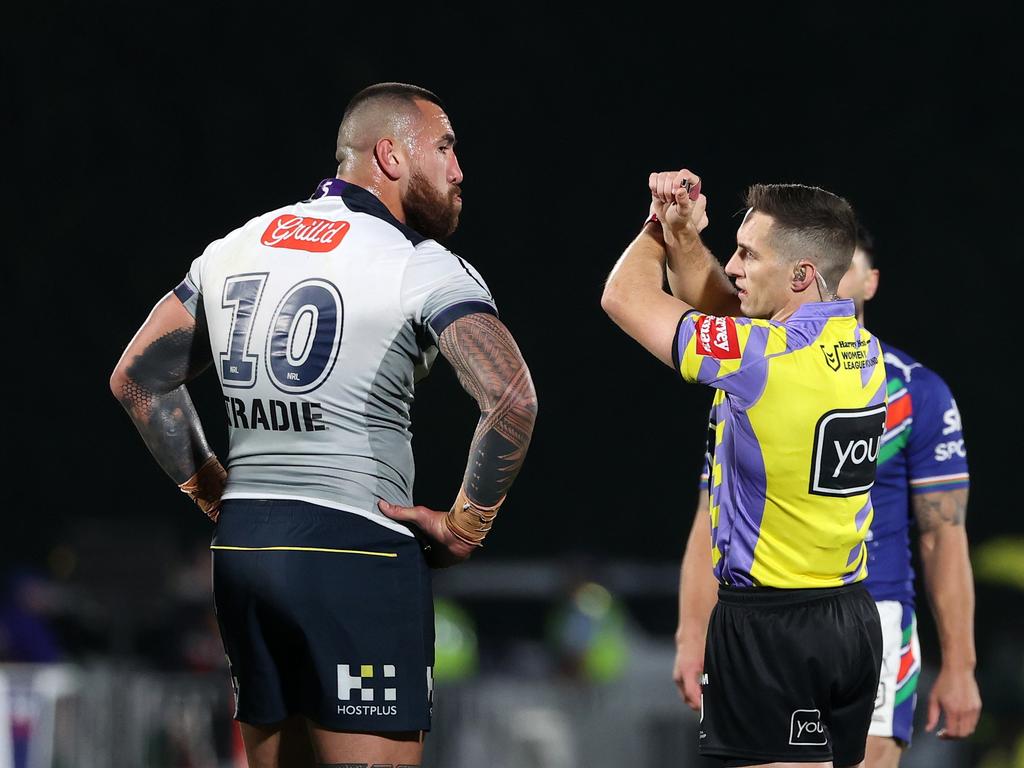 Nelson Asofa-Solomona should have been punished by the MRC for his ugly shot on Wayde Egan. Picture NRL photos
FORMER MRC BOSS ADAMANT BIG NELSON SHOULD HAVE BEEN CHARGED
Luke Patten's explanation for why Melbourne's Nelson Asofa-Solomona wasn't charged for his shocking head slam on Wayde Egan was arguably the dumbest excuse ever trotted out of NRL headquarters.
Seriously, if that is deemed an acceptable tackle by the boss of the NRL's match review committee then the NRL have lost the plot.
But now the MRC's former chief Greg McCallum has given his verdict.
Asked if he thought the tackle was worthy of a charge, McCallum responded: "Absolutely. The key was that (Asofa-Solomona) threw his legs out – classic head slam action. No one suffers an injury in soft contact."
Egan suffered two cracked teeth and initially thought he'd broken his jaw.
Patten labelled it only "minor contact".
I'd hate to see what he calls heavy contact.
For a bloke who has been around the game as long as NRL head of football Graham Annesley to support Patten's explanation only makes it more concerning.
As grubby as Jared Waerea-Hargreaves' forearm to the face of young Zac Fulton was (that landed the Roosters enforcer a $3000 fine), Asofa-Solomona's was next level.
Don't forget the same player had two fines the previous week, and one the round before that.
But then he doesn't get charged here.
To borrow a line from the great Geoff Toovey, there needs to be an investigation.
Originally published as NRL 2022: Cody Walker's soft spot, Mick Potter's coaching future