NRL 2022: Packed suburban grounds proof NRL stadium investment required
Suburban stadiums are community assets, and if the NSW government needed any further evidence that those assets deserved greater investment they got it this weekend.
These are the images that prove NSW Premier Dominic Perrottet doesn't get it.
Two sold-out signs at two of the three suburban stadiums that the Perrottet government had promised to help fund their renovation.
The NRL were told by Perrottet earlier this week the stadium funding is no longer a priority.
A packed house at Manly's Four Pines Park on Friday and Cronulla's PointsBet Stadium on Saturday night is all the proof the NRL needs to show the government that suburban stadiums are community assets.
"The proof is in the pudding," ARL chairman Peter V'landys said.
"All it shows is, it proves that the suburban stadium revamp policy that the government had promised, is the correct one."
Stream every game of every round of the 2022 NRL Telstra Premiership Season Live & Ad-Break Free During Play on Kayo. New to Kayo? Start your free trial now >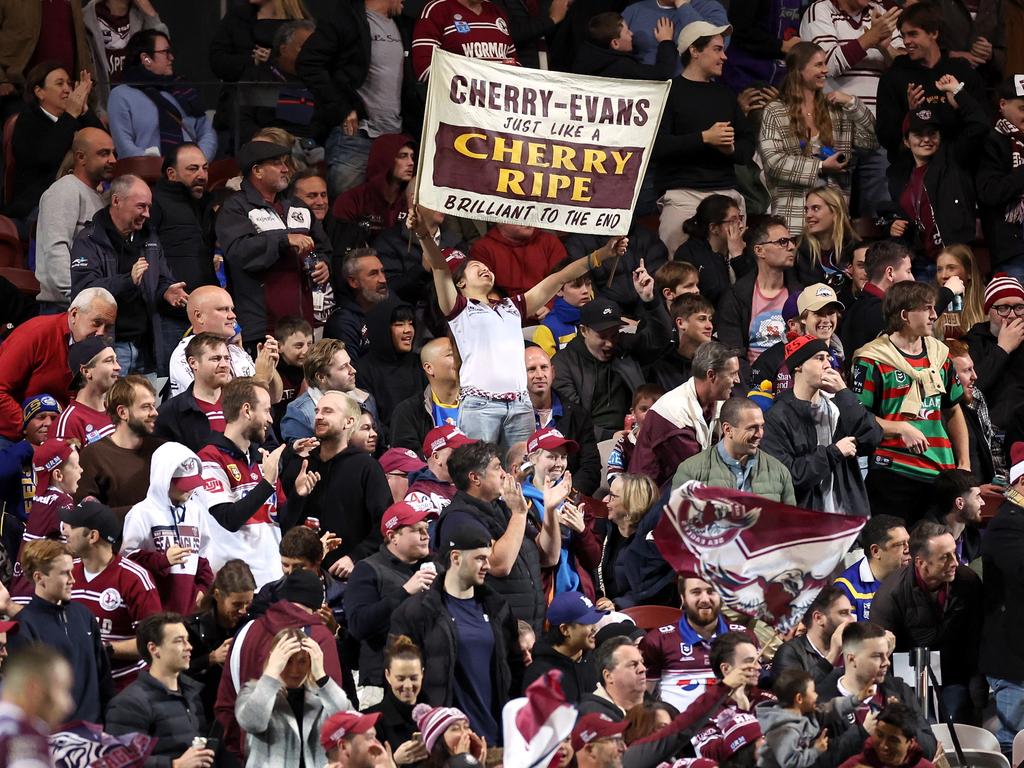 A crowd of 17,134 packed 4 Pines Park to watch Manly play the Eels Friday night. Picture: Cameron Spencer/Getty Images
On the Northern Beaches and in the Sutherland Shire on Saturday night, surrounding pubs, clubs and restaurants were thriving.
But more than that, V'landys said the almost 30,000 combined patrons at both suburban grounds underlined why local stadiums were pivotal for the next generation.
"What people have missed in all of this is, it keeps the money in the local community and local businesses," V'landys said.
"And it has a local economic multiplier.
"These are investments in local infrastructure, which has economic benefits.
"If these two sellouts weren't played there, the local community misses out.
"Young kids will play on those grounds and they will aspire to play on those grounds.
"It encourages them to exercise. It's a preventive policy rather than a reactionary one.''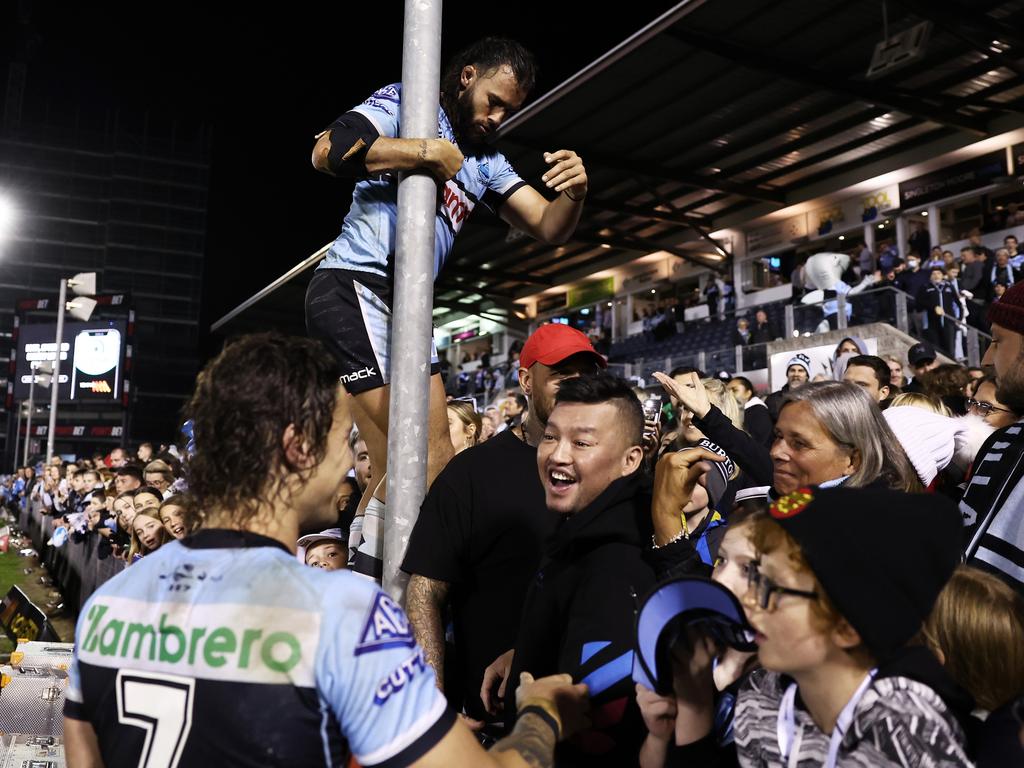 The crowd wedged in at PointsBet Stadium. Picture: Matt King/Getty Images
V'landys also disputed suggestions by members of the government that Allianz Stadium was built for the NRL.
"It's not about rugby league. The $1 billion spent on Allianz Stadium isn't for rugby league, we've only got one team there at the moment, the Roosters.
"Rugby Union, Soccer and pop concerts is what it's going to be predominantly used for.
"The Roosters play 12 games, if that at Allianz. We're a minority tenant.
"It should've been a 25,000 seat stadium so they could've done another four suburban stadiums.
"Allianz will get the honeymoon period where it's sold-out for the first few months, but in 12-months when there's crowds of 15 and 20,000, we'll be asking why it's a 42,000 seat stadium?"
'SELL-OUT' PERROTTET URGED TO HAND BACK TIGERS MEMBERSHIP
- Michael Carayannis and Brent Read
NSW Premier Dominic Perrottet has been urged to hand back his Wests Tigers membership and warned against turning up to a match at Leichhardt Oval after "selling out" the club amid his government's stadium backflip.
Inner West Council mayor Darcy Byrne has savaged Mr Perrottet, a Wests Tigers fan, following the Premier's decision to halt funding to suburban venues including Leichhardt, Brookvale Oval and Cronulla's Shark Park.
"Having lied to and sold out Tigers fans the Premier should just hand his membership ticket back in," Mr Byrne said.
"Anyone willing to kill off the eighth wonder of the world doesn't deserve to wear the black, white and orange of Wests Tigers."
Dominic Perrottet has been urged to hand back his Wests Tigers membership. Picture: Mark Evans
Mr Perrottet said on Monday that the $200m funding allocated to upgrade Brookvale Oval, Leichhardt Oval and Shark Park would be reallocated to help flood recovery.
The decision was made after NRL boss Peter V'landys threatened to relocate the NRL Grand Final to Brisbane if Mr Perrottet didn't come through with promised ­upgrades.
To make the issue more complicated Sports Minister Stuart Ayres stood down from cabinet on Wednesday, with Mr Perrottet giving the portfolio to Alister Henskens.
"Once sworn in, I look forward to meeting Mr V'landys and other important stakeholders to discuss relevant ­issues," Mr Henskens said on Thursday.
There is now genuine concern for the future of NRL matches at Leichhardt Oval. The badly dilapidated ground was in line for a $50 million refurbishment but is now ­battling for NRL relevance.
Mr Byrne called on Perrottet to publicly stop professing his love for the Tigers.
"Any politician who is happy to allow Leichhardt Oval to die off doesn't deserve to pass himself off as a Tigers fan," Mr Byrne said.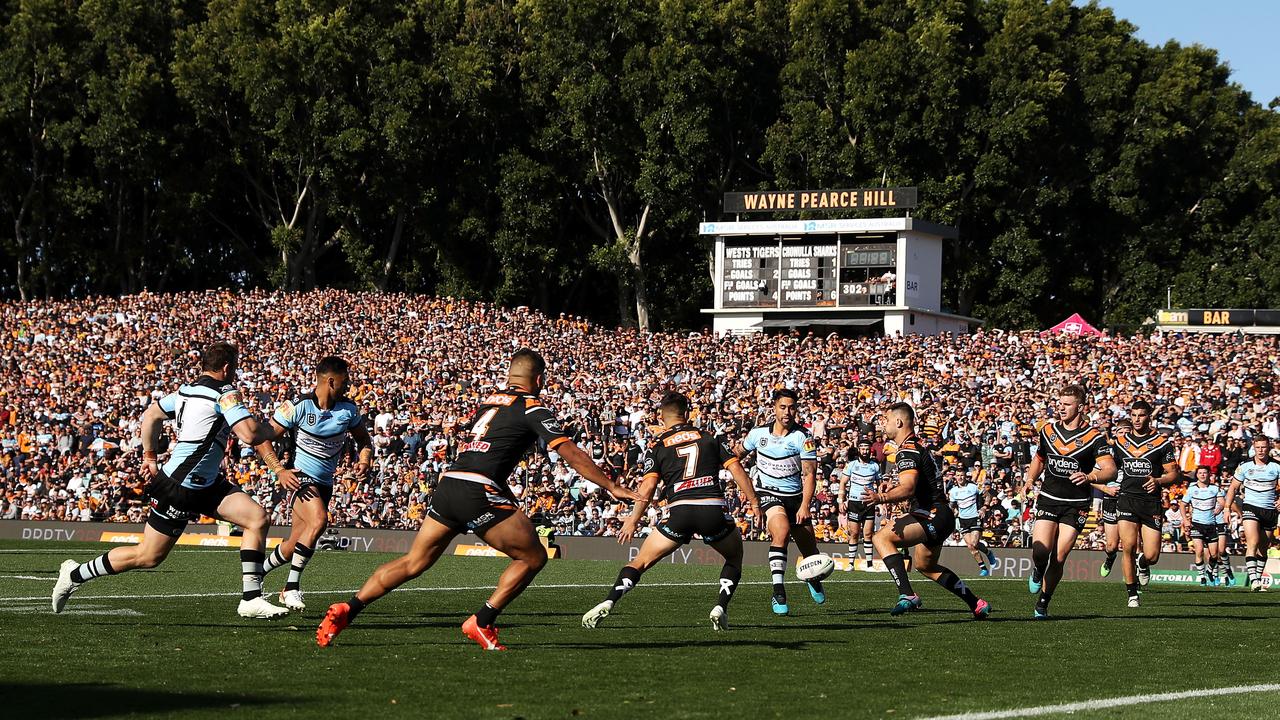 There is genuine concern for the future of NRL matches at Leichhardt Oval. Picture: Getty Images
"Having sold our club down the river he should stop trading off our colours for ­political purposes. He'll be booed by everyone on the Wayne Pearce Hill if he ever has the temerity to turn up there again."
The Tigers are in the process of deciding how they will split their home games next season. The club spreads its Sydney games across four ­venues – Leichhardt, Campbelltown, CommBank Stadium in Parramatta and Accor Stadium in Homebush.
Despite the setback, Wests Tigers chairman Lee Hagipantelis said the club remained committed to Leichhardt.
"We're in the midst of ­developing a stadium policy because our contractual agreements with CommBank and Accor end this year," Hagipantelis said.
"We had factored in an ­upgrade of Leichhardt. Now of course we have to factor into our thinking that there will be no upgrade. The facilities at Leichhardt are not NRL-standard. They are Third World.
"We will not give up Leichhardt Oval but we will have to endure it for longer than we would have hoped."
Originally published as NRL 2022: Packed suburban grounds proof NRL stadium investment required